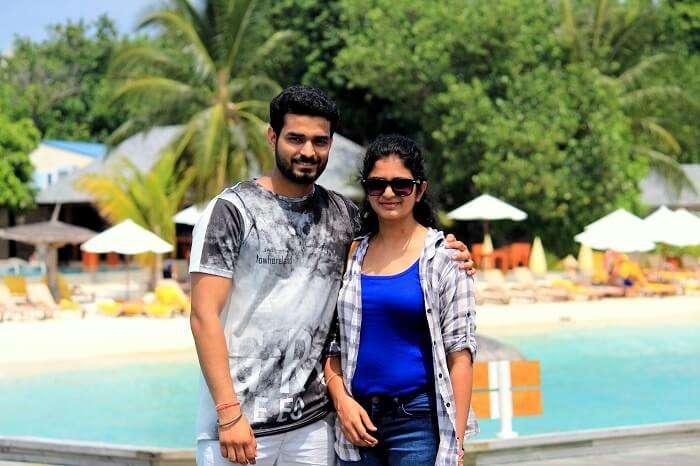 To start their married life in such a blissful manner is every couple's dream. A 3 nights/4 days honeymoon trip to Maldives blessed Akash and Toshi with unparalleled beauty, luxury, and heavenly cuisine. 
What brought us here?
Last year, one of our relatives traveled on a trip to Maldives and we fell in love with their pictures. Since then, a honeymoon in Maldives has been on top of our bucket list. Due to its remote location, Maldives felt very serene, calm, and unexplored.
Who planned our memorable honeymoon?
I got to know about TravelTriangle via an online advertisement. I started comparing their prices to other online travel platforms. In the end, the quotes I received through TravelTriangle had the lowest price and best value for money.
 Honeymoon In Maldives: Best Things To Do For A Romantic Start!
Trip Cost: INR 1,35,500
Trip Duration: 3 nights/4 days
Agent Name: Aditya Grand Vacation
Inclusions: Transfers, accommodation, meals, snorkeling, taxes, and speed ferry ride
Exclusions: Airfare, and travel insurance
Ideally, the quality of a honeymoon is determined equally by a number of factors like things to do, resort, weather, and local cuisine. However, our honeymoon in Maldives was a success largely due to the excellent resort we stayed in. Everything right from the hospitality, accommodation, food, water sports, to even the ambiance at Centara Ras Fushi Resort was tailor-made for honeymooners who craved an unforgettable experience.
Centara Ras Fushi is a wonderland!
Very rarely, have I gone on a vacation and be completed satisfied with staying inside a resort for the entire duration of my trip. The Island itself was such a beauty to admire, and on top of that, Centara Ras Fushi Resort gave the final touches to turn it into a paradise you would never wanna leave.
We took a flight from Mumbai and reached Male at 7 am. From the airport, we were transferred to the pier, and then on to a stylish speed boat which took us to the private island resort. The thrilling ride gave us an exciting build up to the moment we reached the resort.
A free upgrade to luxury!
 28 Best Islands In Maldives For Honeymoon In 2022 For An Instant Cupid-Strike
The staff at the resort were very hospitable and friendly, as they welcomed us with a drink, garlands, and most importantly a million dollar smile. They took us to the reception waiting area where we did some formalities. We had to wait for a few hours as our check-in was at noon. Meanwhile, they invited us to explore the resort and spend some time at the private beach.
At the time of our check-in, we got a very pleasant surprise when the manager informed us that he gave us a free double upgrade from a normal water villa to a sunset water villa with jacuzzi.
Not a bad start for our honeymoon in Maldives, right? Although, we were told to keep it hush-hush as they had limited upgrades and not all the couples in the waiting area were getting one.
A view from the balcony to die for!
 Here's The Perfect 4N/5D Honeymoon Trip To Maldives
The view from our sunset water villa was amazing. An unreal experience, of seeing nothing but crystal clear water all around our room, was something, that I would never forget.
The afternoon naps in the villa balcony were pure bliss! The cool breeze would cradle us to sleep. As the sun went down, the evenings were accompanied with a walk to any of the beaches on the island.
A wide variety of delicious International cuisine!
 Incredible Ways To Enjoy 5 Day Honeymoon Trip To Maldives
In terms of food, we loved exploring the different bars and restaurants on the island. We used to have an early dinner every day, as the resort kitchen timings were very particular about closing at 9 pm.
Oceans Restaurant was the only place on the island that served Indian food. As Toshi was vegetarian, we had our lunches at this restaurant only. Our nights used to end with a visit to the lively Viu Bar to enjoy a few drinks and light music. Most nights, the bar would close at 11 pm, and we would be out sitting there till 1 am having a great time with each other.
On the second day, we went to the Waves Pool Bar at the resort. The pool was pretty close to the beach, as both the waters (pool & sea) almost merged giving it an epic extended beach bar feeling. That night, we chose to stimulate our taste buds with fantastic Italian food at La Brezza.
Snorkeling in waters as clear as day
 6 Days Of Luxury On A Honeymoon Trip To Maldives
On the second morning, we went for a snorkeling test to ascertain how quickly we can adapt to swimming underwater. The diving instructor gave us the equipment and taught us the basics of snorkeling in a small restricted area.
Later on, we couldn't resist dipping into the water again, as we went for snorkeling near the villa on our own. We also took our GoPro Camera and took some great underwater shots.
Although there were other water activities available for us like scuba diving and undersea walking, we chose only to snorkel because we didn't want our honeymoon in Maldives to become hectic and tiring.
The best part about snorkeling was that we didn't have to go too far from our villa. The water around our villa was calm and crystal clear. In fact, one time, I accidentally dropped a pair of goggles into the water, and they were visible clearly from the outside.
A photo session and a fond farewell
My Solo Honeymoon Trip To Sri Lanka And Maldives
On the final day, with the help of hotel staff, we decided to get a photo session done. In the abundant natural beauty of Maldives, we managed to capture some lovely picture which became a precious reminder of the time we shared in Maldives.
Although we checked out at 11 am, our departure to Male wasn't until 6 pm. Meanwhile, we chilled out at the resort and walked to the gorgeous beach for one final time. We finally bid farewell to the hotel staff and got transferred Male airport for our flight back to Mumbai.
27 Best Beaches In Maldives For A Relaxing Time With Your Partner In 2022
The best part about our honeymoon in Maldives was that we got plenty of time to ourselves, in which we really enjoyed each other's company. On our honeymoon, the choice of the resort made a huge difference in maximizing the luxury holiday experience we dreamed of.
Lastly, TravelTriangle did a commendable job in identifying the ideal honeymoon destination for us. We would certainly rely on their expertise to plan our future travels
High points:
The view outside the balcony of our sunset villa took our breath away. It was the most memorable moment of our honeymoon in Maldives by a mile.
The place was so peaceful and secluded, that there were times that my wife and I were practically the only ones on an entire beach.
Tips for travelers:
Vegetarians should take some packed food along with them, as the options in Maldives are limited.
Whereas, the food options for seafood lovers is amazing.
The perfect destination for a luxurious honeymoon. Book your Maldives honeymoon package and let the blissful blue of Maldives sweep you off your feet!
---
Looking To Book An International Honeymoon?
Book memorable honeymoon on TravelTriangle with 650+ verified travel agents for 65+ domestic and international destinations.
---