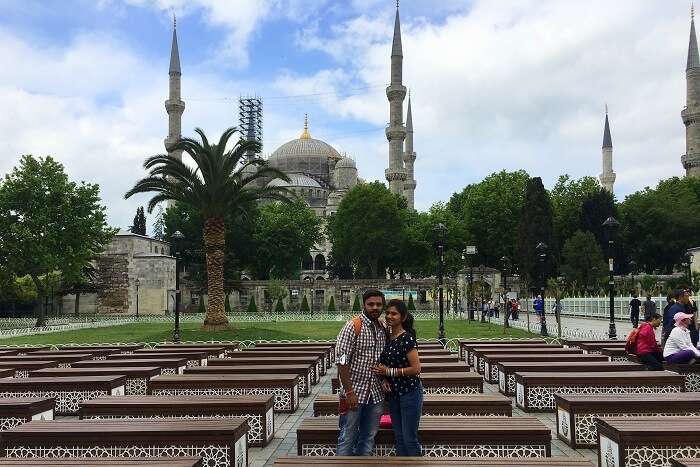 Escaping from the idea of cliched honeymoon destination, Amit and his wife headed off to the historic land of Turkey to spend some relaxing time amidst the raw beauty of the ancient ruins. Their words are enough to understand that their experience was beyond unforgettable, and here's how they enjoyed every bit of their romantic honeymoon trip to Turkey.
It was only justified to call ourselves beginners when it came to traveling which made our honeymoon trip to Turkey all the more exciting. All this time, I and my wife were only excited for the hot-air balloon ride to capture the scenic sunset as we saw on Instagram but this country had much more in its treasures than what we saw in pictures.
Take a look at the itinerary that we followed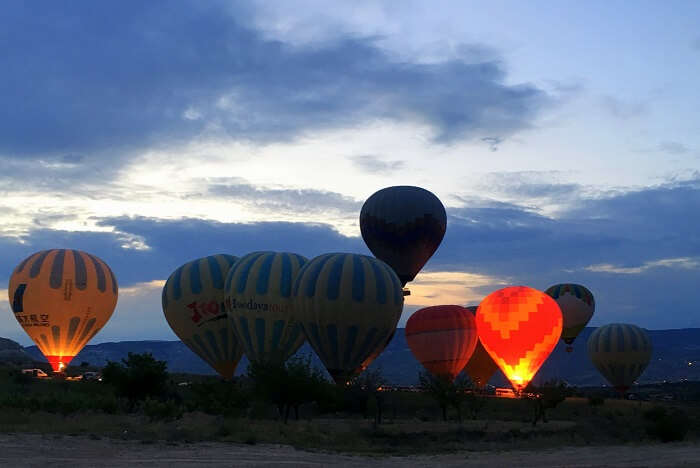 Turkey Shopping Guide: All That You Can Buy From Its Ancient Bazaars & Glitzy Shopping Malls
Day 1: Arrival at Istanbul airport, transfer to Kayseri, private transfer to Cappadocia, overnight at Sakura Cave Hotel
Day 2: Hot air balloon ride, sunrise and sunset tours
Day 3: Local sightseeing, exploring Fairy Chimneys, Goreme Open Air Museum, Evil Eye Trees, transfer to Istanbul, overnight stay at GK Regency Suites Hotel
Day 4: Local sightseeing, visiting Sultanahmet, Hagia Sophia, Topkapi Palace, overnight stay
Day 5: Full-day tour to Bursa, cable-car ride, overnight stay
Day 6: Shopping, Sunset Cruise over Bosporus, departure
---
Europe Holiday Packages On TravelTriangle
Explore the most beautiful places to visit in Europe, from Paris to the Venice canals and from the Greek islands to the Swiss alps. Book customized packages by expert agents on TravelTriangle. Inclusive of airport transfers, cab, resort, sightseeing and meals. Best holiday experience Guaranteed. Book Now
---
As we were traveling for the first time to this country, we decided to stick to only two major cities, i.e., Cappadocia and Istanbul. These two cities took us on a beautiful journey to witness the rustic beauty of the country which stays hidden between the ruins, and gave us a romantic escape.
I know words cannot justify our surreal experience, but we're hoping our blissful journey might give you the urge to visit this country ASAP!
First Up: Cappadocia – A Place Straight Out Of A Fairytale
A magical city that strikes a perfect blend between the modern luxuries and the old-world charm, Cappadocia is truly a heaven for honeymooners. From practicing cave living to welcoming the first rays of the sun on a hot-air balloon ride, we experienced what extraordinary is all about at Cappadocia.
Cappadocia Attractions That Took Our Heart Away!
1. Goreme Open Air Museum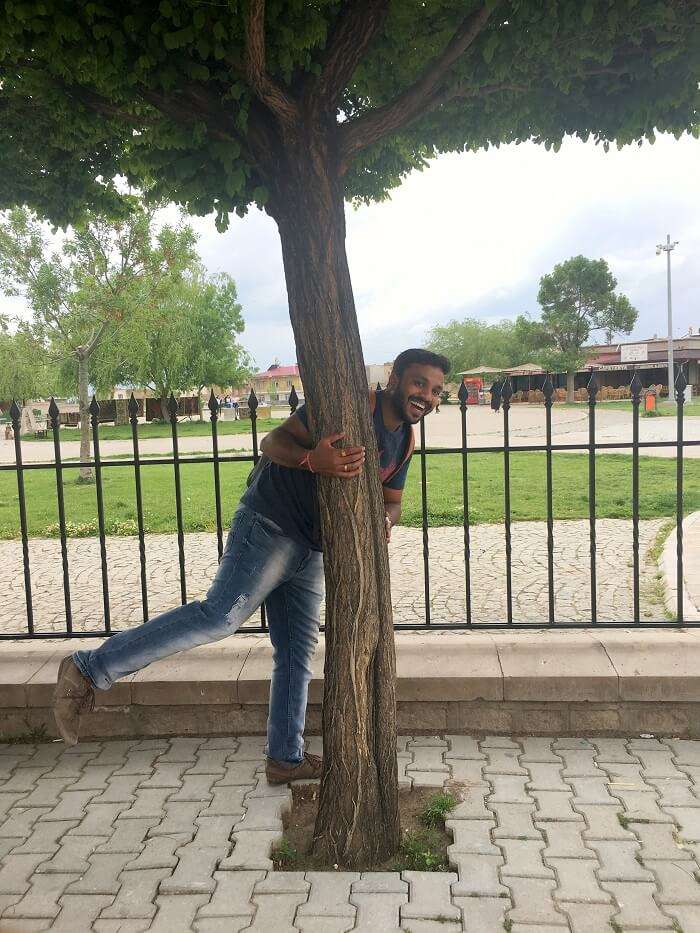 Turkey Honeymoon: 13 Romantic Experiences To Let The Love Blossom In 2022
Probably the best-known and most visited place in Cappadocia, the churches alone aren't the most exciting – but they are built into rocks, which makes all of them extremely special and so different to regular churches. Inside the churches, you can see ancient paintings. The best preserved is the "Karanlik Church" (Dark Church)
2. Evil Eye Trees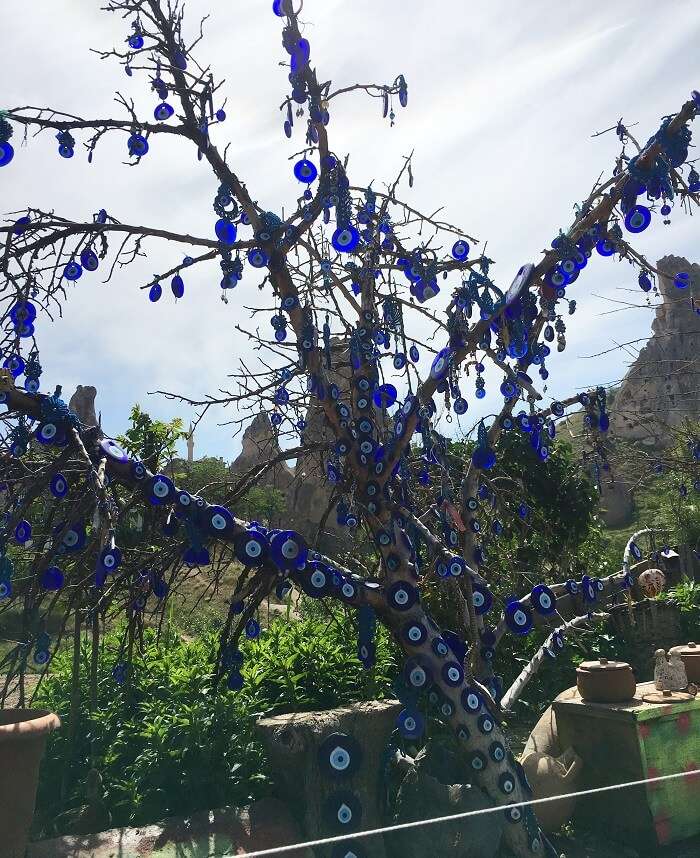 The evil eye trees are adorned with blue glass talismans against a cobalt sky. Receiving those "evil eyes" are believed to cause misfortune or injuries. To protect against that, the talismans were created and are hung frequently on those trees. It's a perfect souvenir for tourists. The trees itself look very beautiful, especially when standing right next to a huge valley.
3. Fairy Chimneys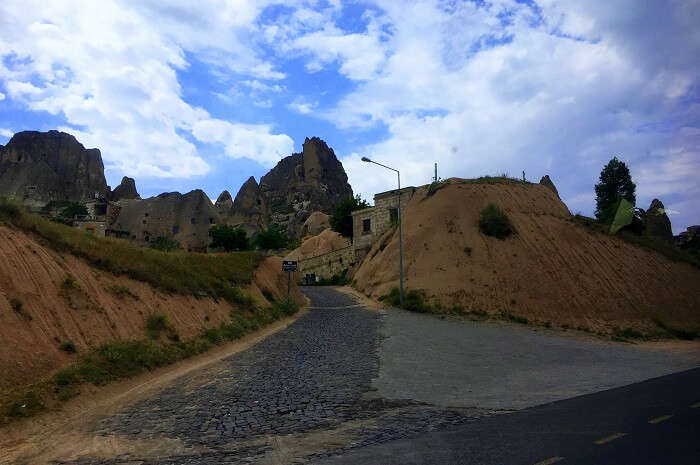 24 Superbly Awesome Hotels & Resorts in Turkey For A Memorable Holiday
While the Fairy Chimneys (Rock Formations) are a product of both nature and human work there is no doubt that they are so special to see. Once we arrived in Cappadocia and saw the first weird looking rocks we were already fascinated, and this didn't stop until we left Cappadocia. Honestly, the Fairy Chimneys are one of the best things to see in Cappadocia, and they are basically everywhere!
Romantic Things We Experienced In Cappadocia!
4. A surreal stay experience in a cave hotel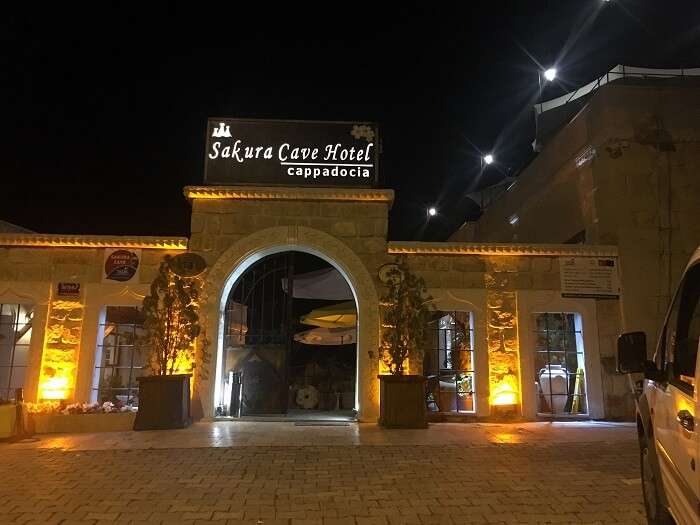 With the mention of staying in a cave was fascinating much for us to jump on our toes. We stayed at Sakura Cave hotel and In our mind we thought it was going to be just an unusual stay for us, but at the end it was an experience which cannot be missed. The stay was comfortable in the hotel and we also enjoyed a mesmerizing view from its terrace.
5. Witnessing the underground city of Cappadocia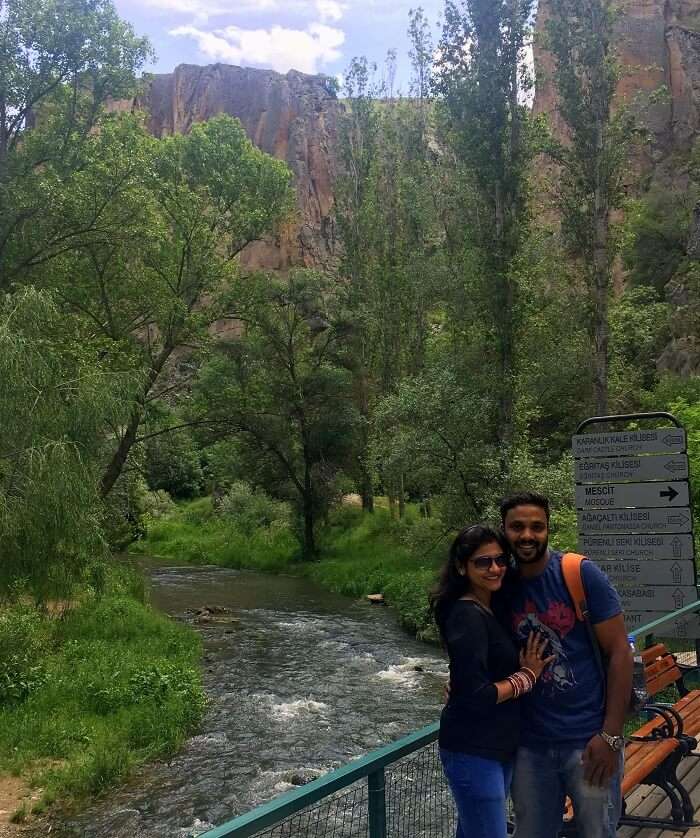 As unsual as it sounds, it was completely a mind-blowing experience for us to witness the beauty of the underground city which is equivalent to the city above our heads when it comes to beauty. We were fascinated to capture the view of these years old cities which were actually a place to live for the people.
What We Loved The Most In Cappadocia?
6. A romantic escape on a hot-air balloon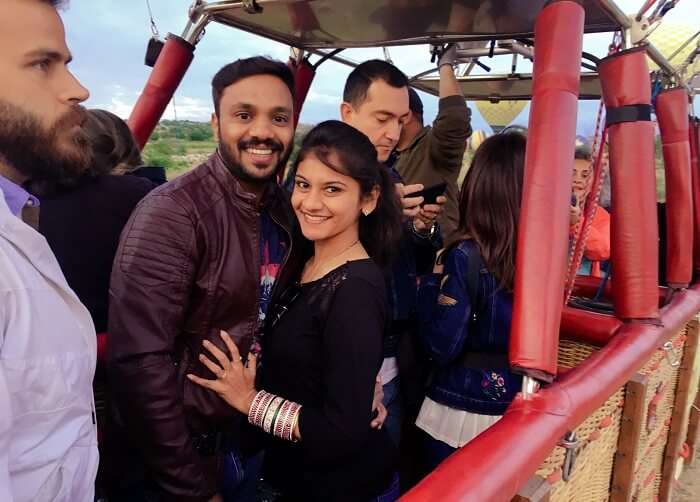 82 Best Places To Visit In Turkey That Must Be On Your Itinerary In 2022
We were secretly wishing for the time to stand still while we were soaring in the sky standing on a hot air balloon. It was meant to be a special highlight of our honeymoon trip to Turkey as we were quite fascinated to capture the aerial view of the city. And while the hot balloon ride was worth experiencing, the sight of the soothing sunset and the sunrise at 4:30 am completely spoilt us during the vacation as we still crave for such a scenic view.
Facts We Discovered About Cappadocia
Some people believe that the geological formations in Cappadocia (Fairy Chimneys) are made by aliens.
Most of the land around Cappadocia is still private property – which is mostly owned by locals.
Cappadocia's landscape was mainly formed by volcanic erosions, which took place over 3 million years ago.
The name "Cappadocia" is deduced from the Persian word "Katpaktukya", which translates to "the land of beautiful horses".
There are over 600 churches spread over the region – probably much more are not discovered yet.
There are numerous underground cities, which were home to over 20'000 people.
Our Next Stop: Istanbul – A Cultural Montage
Considered to be an epitome of cultural diversity, the minarets-dominated Istanbul stands tall as a witness to the legacies of the Romans, the Greeks, the Venetians, and the Ottomans. From the mosaics to the frescoes, from the mosques to the churches, from Byzantine architecture to the legendary Silk Route, Istanbul is a perfect amalgamation of the East and the West.
Istanbul Attractions That Blew Our Mind!
1. Sultanahmet

Sultanahmet was a paradise for my wife as it has the famous Grand Bazaar, a top destination in Istanbul. We were stunned to see only the building and later we also went and explored the stalls which sell famous turkish sweets, rugs, lamps and jewellery. And just in the vicinity we were to smell the strong aroma of spices coming from the spice market. The blue mosque was another highlight of Sultanahmet, which is built completely with blue tiles.
2. Hagia Sophia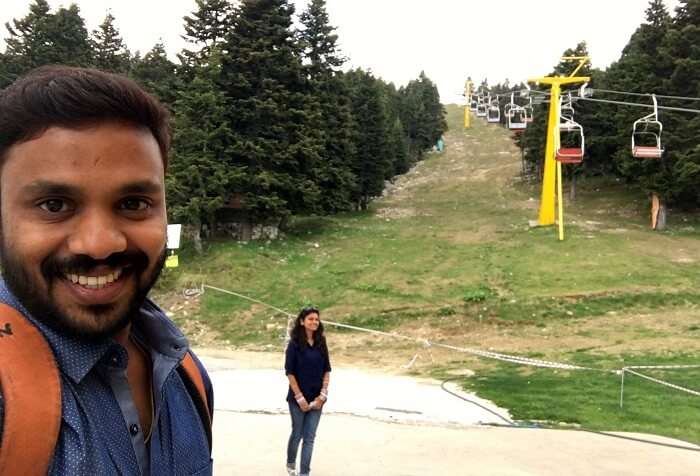 15 Best Honeymoon Destinations In Turkey For A Perfect Romantic Trip In 2022
Hagia Sophia is right next to the Sultan Ahmed Mosque. Moreover, it was once a Greek Orthodox Christian patriarchal basilica, then it was turned into a mosque and is now a museum.We found this place amazing because of Its unique combination of Christian and Muslim history and art, within a building that by itself could draw attention because of the innovative ahead of its time design.
3. Topkapi Palace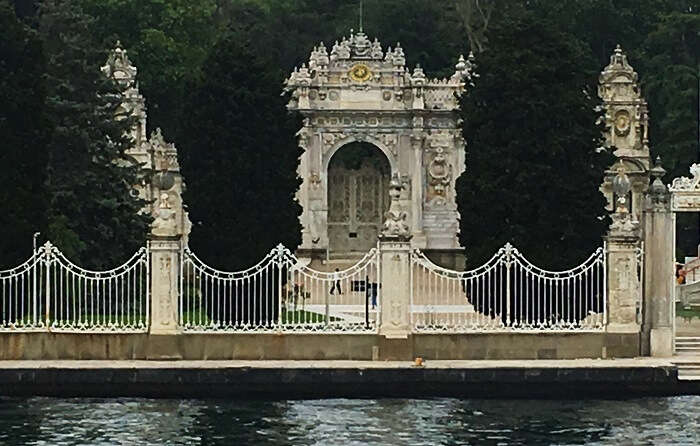 Topkapı Palace was once the main residence for the Ottoman Sultans and now a large museum. This palace displays visions of the true Turkish royalty. It features a stunning imperial gate, four massive courtyards at different levels that have their own set of sections inside, a harem, outer garden and many smaller courtyards.
Some of the things that stunned us is inside are the baths of the Sultans with golden grill, the imperial throne, the fruit room and many stained glass windows. And the icing on the cake was the panoramic view of the Marmara Sea from the palace. The view is simply amazing, the small cafes and restaurants are bonus, we simply sat and enjoyed the view.
Romantic Things We Experienced In Istanbul
4. One Day Excursion To Bursa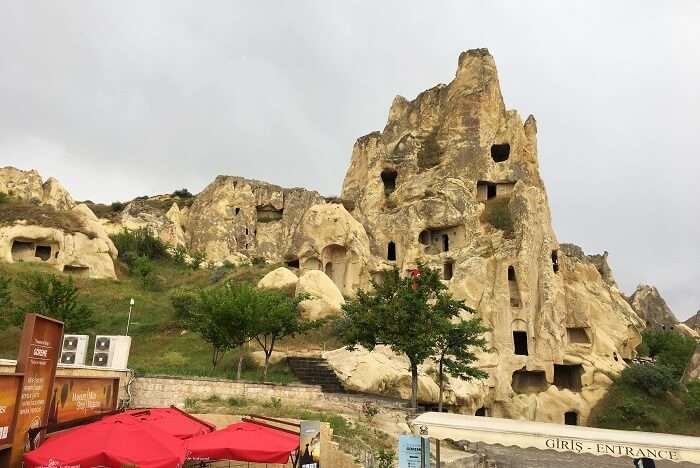 Much to our surprise, Bursa turned out to be a really beautiful city and there is no doubt that we simply fell in love with the markets in Turkey. The market places in Istanbul took us close to the Turkish culture while we interacted with locals in the streets and sipped on a cup of special Turkish tea which is definitely not meant to be missed.
In the meanwhile, we also walked down to the Great Mosque of Bursa to witness the magnificent view of the last rays falling on the tomb. Just to ensure we didn't miss out anything we went for our last adventure on the cable car ride and the view from that height cannot be described with just mere words.
What We Loved The Most In Istanbul?
5. A Romantic Cruise Ride on Bosphorus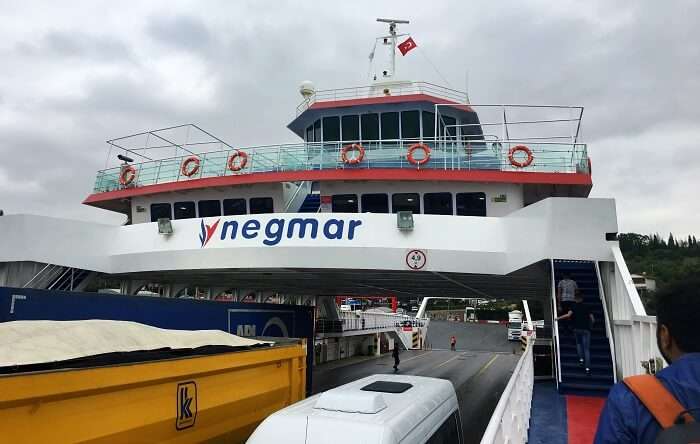 Love Just Got Exotic: 10 Romantic Resorts In Turkey
For us nothing was compared to a romantic cruise ride over Bosporus which was little overpriced and touristy for us, but at the end it was all worth it. As we sailed on the Bosphorus Cruise, we enjoyed the view of the skyline of this unique city which portrays both the European and the Asian side.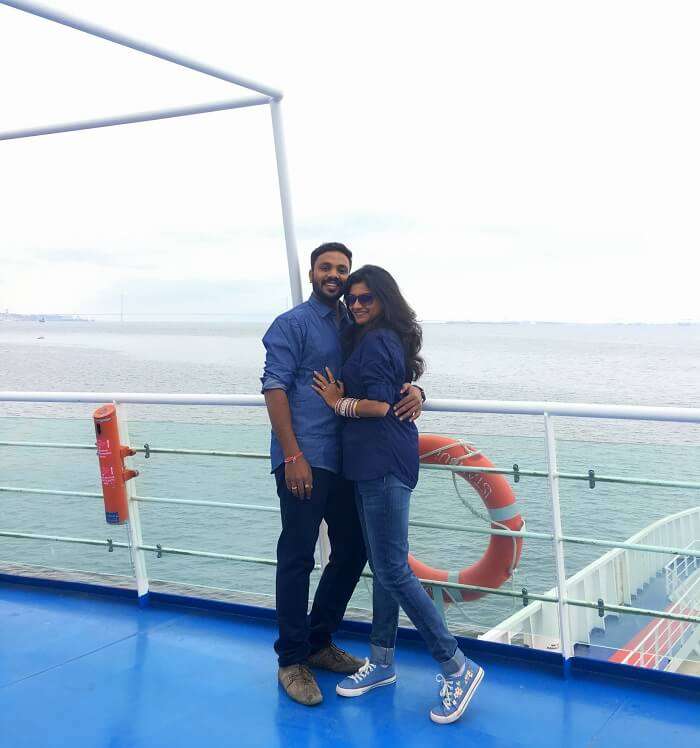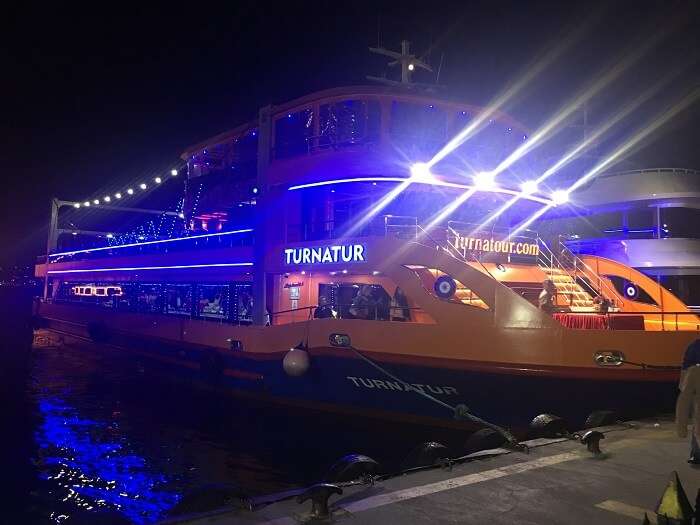 While the view becomes more surreal after the sun sets as the city gets dressed with the lights and gives a magical experience. And to give our day a perfect ending we went to enjoy a mind-blowing performances of belly dance which is the traditional dance of Turkey along with the foot tapping music played in the background.
Sharing Our Trip Details That Might Help The Future Travelers
Trip Duration:b 5 Nights and 6 Days
Trip Type: Romantic honeymoon trip in Turkey
Agent: NM Tourism and Travel Agency
Inclusions: Breakfast and lunch, english speaking guide, accommodation at Sakura cave hotel and Gk regency suites hotel, airport transfer, entrance fees, GST and other taxes
Exclusions: Dinner, Visa, anything which is not included in the itinerary
Recommended Romantic Experiences For Those Planning A Honeymoon trip to Turkey
Stay at the Sakura Cave Hotel
Hot-air balloon ride
Cruise ride on Bosphorus
How was your experience with TravelTriangle?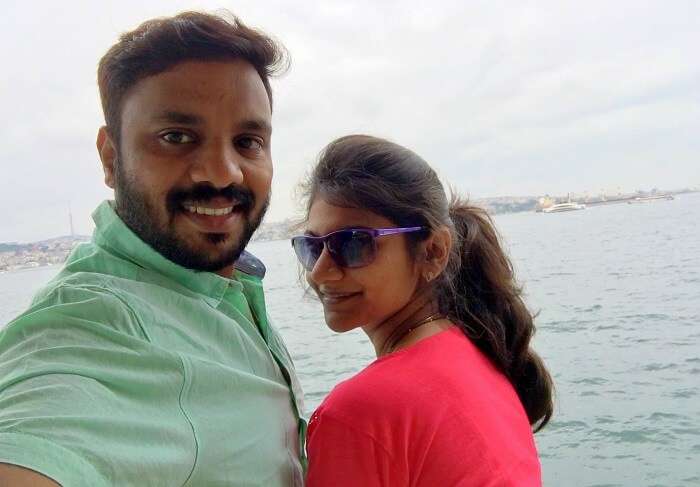 We still insist on the fact that these words are not enough to describe the beauty of this country. Our honeymoon trip to Turkey was a memorable journey, and a great beginning of our new life ahead. To conclude we would say that if you want to escape from the reality for a while and experience fairytale, choose Cappadocia, and if you're a culture vulture, then go ahead with Istanbul. Altogether, we'd like to thank TravelTriangle for planning a holiday in fairyland for us. Cheers!
Do you also feel the urge to witness a romantic and fairytale vacation like them amidst the historical treasures of this country, then book the best of Turkey honeymoon packages with Travel Triangle and escape to this land of ancient treasures.
---
Looking To Book An International Holiday?
Book memorable holidays on TravelTriangle with 650+ verified travel agents for 65+ domestic and international destinations.
---