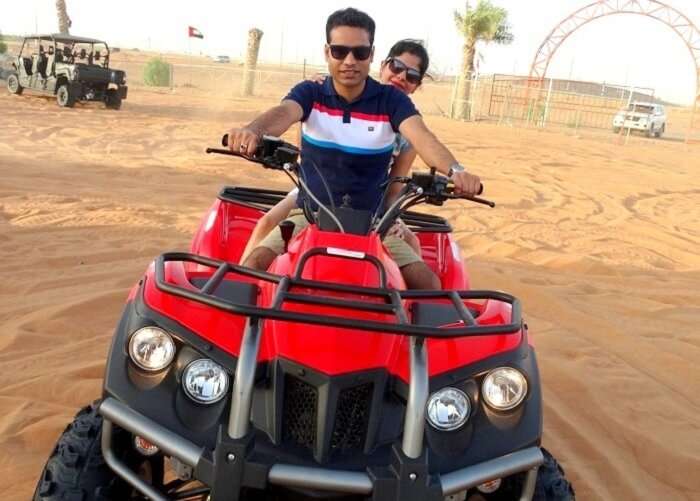 Ankesh talks about his incredible holiday experience in Dubai that he took with his wife. He elaborates on the modern aspects and history of the city and tells us why Dubai is a perfect holiday destination for couples. He booked their Dubai Tour Package from TravelTriangle and it included their hotel, sightseeing, meals, and tours – all for a cost of INR 64,000/-
I had always wanted to visit Dubai. It is one of those destinations that has everything – history, culture, modern architecture, skyscrapers, and what not. A perfect city for tourists and travelers alike – I decided to go for it when an opportunity was presented.
I found TravelTriangle through one of my friends who had booked her package to Bali with them. Calling her experience to be a wonderful one, I was confident that TravelTriangle would deliver the same to me – and I was right!
So after I had submitted my details on their website, I was soon contacted by their travel representative who understood my needs and budget and further connected to various local travel agents for best packages and quotes.
These agents then began sending me various quotes as per my requirements and I soon finalized a package from 'Ittiba Holidays'.
With the Dubai Tour Package in place, my wife and I were eagerly awaiting the day when our international holiday would begin.
Day 1: Witnessing the charm of Dubai on Dhow Cruise

We boarded our flight from Mumbai early in the morning and landed in Dubai by 10:30am. It was a smooth flight and after we had landed, we were greeted by the driver from the agency who transferred us to our hotel.
After check in, we rested for a while at the hotel and then in the evening, proceeded on for the Dhow Cruise planned at 6:30pm. The dhow (meaning a small boat) was lit and very beautiful. There was also a buffet arranged for us onboard and in the evening as we were cruising down the Dubai creek, we witnessed the grandeurs of the city in awesome lighting.
After the cruise had ended, we were transferred back to our hotel. The day had ended well and we were already looking forward to an exciting next day.
Day 2: A fascinating Dubai tour and a grand Desert Safari experience

Suggested Read: Dubai Shopping Festival 2022: All You Need To Know
This was a day planned for the Dubai city tour so in the morning after a delicious breakfast, we proceeded for the same. We were picked up by the driver and the tour began at 11:30am. Our Dubai city tour covered quite a lot of attractions like Marina Walk, Dubai Museum, and Atlantis Monorail. Each of these experiences were awesome and in the end, we concluded Dubai to be a city that is both traditional and modern!
The tour ended at around 3 after which we returned to our hotel. In the evening, once again, there was a desert safari planned and we set off for the desert at 6:30pm.

Desert Safari was the best experience out of the whole trip for us and we particularly enjoyed the quad biking session on sand dunes here. Later on, we were also taken for an Arabian night experience which included a sumptuous buffet and dance performances on Arabic music. The whole desert ambience in the night time was very lively and we loved our time here.
Day 3: Experiencing winters at Ski Dubai followed by Burj Khalifa

This was another exciting day for us. Post a sumptuous breakfast in the morning, we set off for a mall tour which included Mall of Emirates & Mall of Dubai. Both the malls were huge and we particularly enjoyed the Mall of Emirates since it had 'Ski Dubai'.

Our experience at Ski Dubai resort was amazing and we really enjoyed our time at the ski rink which was spread across a huge area.
Next on our list was a visit to the Burj Khalifa and its top. We began with the Dubai fountain and then proceeded on for a grand view of the city from the 124th floor of Burj Khalifa – the world's most famous skyscraper. True to our expectations, the view from here was mesmerizing and we could also see one of the longest roads in Dubai stretch till infinity.

Post our tour, we came back to our hotel and called it a night.
Day 4: Shopping in Dubai and a final goodbye!
This was our final day and since we had nothing planned in the morning and during the day time, we decided to visit the famous Meena Bazaar and Gold Souk market. Both of these experiences were awesome and we saw a wide variety of ornaments and clothes among other things here.
Later, we returned to our hotel and rested for a while before checking out to catch our flight in the evening.

Suggested Read: Nightlife In Dubai: What's In The Store For The Kind Of Traveler You Are
Dubai was a special experience for both my wife and I. It offered us a glimpse into the high paced lifestyle of a super city but at the same time also gave us a glimpse of its past, culture, and history. Overall, all the marvels that we saw here were worth it and given an opportunity in the future, we would definitely like to return here for another wonderful trip.
High Points: Dhow Cruise and dinner, Dubai city tour, Burj Khalifa experience, Desert Safari, and Meena Bazaar.
Tips for travelers: All those looking for a holiday that has both aspects – excitement and leisure, should definitely visit Dubai for a superb experience.
Go on a thrilling vacation in the most modern city ever. Plan your trip to Dubai and experience an awesome holiday!.
---
Looking To Book An International Holiday?
Book memorable holidays on TravelTriangle with 650+ verified travel agents for 65+ domestic and international destinations.
---