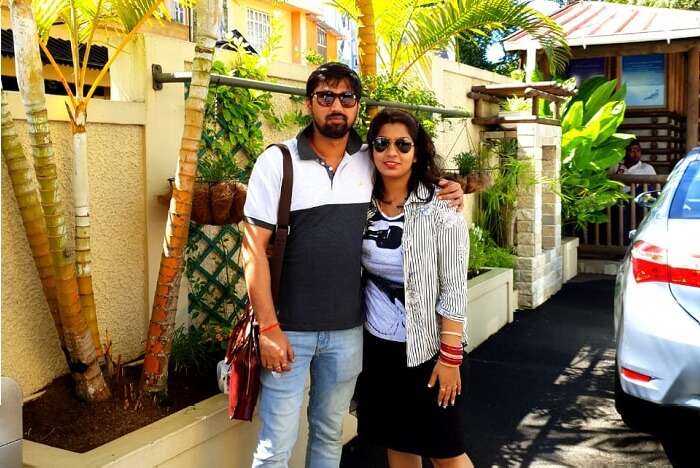 'Mauritius was made first and then heaven, heaven being copied after Mauritius', said by Mark Twain, I feel is completely true as Mauritius was heavenly and our honeymoon there truly paradisiacal. If you'll ask why we chose Mauritius, then a beach destination was always our plan for the honeymoon. We juggled between a few options but finally settled on Mauritius for our escapade. After deciding on the destination, the next task was to book a package that well suited our budget and experiences we wanted to have. TravelTriangle was a name that we had seen quite a lot on the web and heard about. So, we decided to check their app and found some great deals and offers. Without much ado, we settled for the best one.
It was quite a pleasant experience. Since the day we booked our package, we didn't have to worry about anything. We were provided all the details in a timely manner and everything was very well planned and organized. Agents were very professional and helpful. We didn't face any such situation where we asked for any help or detail and we were not provided the right assistant on time. It was overall a great experience.
Our Mauritius Honeymoon Package Details
Trip Type: Honeymoon Trip To Mauritius
Cost: INR 2,77,000 (Approx)
Duration: 5 Nights 6 Days
No. of people: 2 Adults
Inclusions: Breakfast, Dinner, Transfers, Hotel, Sightseeing, Airfare, Transfers, Honeymoon freebies
Exclusions: Lunch, Travel Insurance, Personal Expenses
Travel Agent From TravelTriangle: Exploite Journey
Here's our itinerary for our honeymoon trip to Mauritius
Day 1: Arrival in Mauritius
Day 2: Île aux Cerfs excursion
Day 3: North Island Tour
Day 4: South Island Tour
Day 5: Leisure day
Day 6: Bid Mauritius goodbye
 5 Best Places To Visit In Moka In March 2022 For An Amazing Trip To Mauritius
And now, the best experiences from our Mauritius escapade!
Lazing at the beaches





We were really excited to go to Mauritius because of the pristine sandy beaches there. It feels wonderful to just sit there and gaze at the sea. The turquoise water looks phenomenal. We got ample time to spend on the beaches with each other in Mauritius. I think these Mauritius beaches was one of the best parts of our trip because spending time, and getting to know one another is really important and what could be a better time, than your honeymoon. I think it is all about connecting with your better half, and to find that spark which is much needed in a relationship. We had ample time to ourselves on this trip, which turned out to be a blessing, as we got so much more time to know one another.
Île aux Cerfs excursion






After relaxing at the beach, the first day, we were ready to explore Mauritius. We had an entire day planned full of activities. We went to Île aux Cerfs island. The place was quite lively. Other than the beautiful beaches, there were thrilling watersports to enjoy here. The best part of our day was the speed boat ride. The ride was wonderful, and the views were quite scenic. Mauritius is really beautiful and each moment spent here was memorable.
5 Exciting Things To Do In Benares Savanne To Have An Awesome Time In Mauritius
North Island tour






After an exciting day at Île aux Cerfs, we were looking forward to the North Island tour. Visiting the capital city, Port Louis was really fun. We visited Place d'Armes and Champ de Mars Racecourse on our North Island Mauritius tour. It was an eventful day with so many activities and places to visit in Mauritius. The highlight of our day was Le Caudan Waterfront. It is a shopping center there with some good restaurants. Check out some local handicrafts here.
South Island Tour


After exploring the North Island, we headed to South Island the next day after a tasty breakfast at our hotel. The first stop was the Trou aux Cerfs. It is a scenic dormant volcano in Mauritius. We enjoyed panoramic views of the town from here. From here we proceeded to the Grand Bassin and later visited Chamarel waterfall. These were really picturesque and it was a great day touring South Island Mauritius. After this eventful day, we had a scrumptious dinner at the hotel and retired for the day. These were some of the most beautiful experiences that we had on our Mauritius honeymoon.
 3 Destinations For Snorkelling Near Le Morne Beach At Peninsula Mauritius Pronto
Tips For Future Travelers
Always carry dry food items and drinking water whenever you are heading out for a tour. Also, if you are buying the same in Mauritius then buy them for a departmental store otherwise you'd end up paying triple the price for items of basic needs.
If you want pictures of you while doing adventure activities, then try to make a prior or self arrangement, as you'd be charged quite a lot if you get your pictures clicked by them. At times it is almost as much as that activity itself.
Follow the instructions given by your guides.
Always carry an extra set of clothes with you.
Make sure that when you are going for dinner, you are wearing smart casuals.
Don't be late for pick-ups.
Common queries we came across while planning our trip
Q1. What is Mauritius best known for?
Mauritius is known for its sugarcane fields and extinct bird dodo.
Q2. What is the best month to travel to Mauritius?
May to October is the best time to visit Mauritius as the humidity is comparatively less during these months.
Q3. What is famous in Mauritius for shopping?
Local Rum, dodo souvenirs, and hand made ships are famous here for shopping. Do not buy stuff like clothes because firstly they are imported from India and China, and secondly, they are expensive due to they being imported.
Q4. What food do they eat in Mauritius?
Seafood is most easily available in Mauritius, and if you are not fond of it then keep dry food items with you at all times.
Blue Safari Submarines In Mauritius: A Guide For Exploring The Local Attraction
Our experience with TravelTriangle was amazing. Mauritius is heavenly and if you want to experience this paradise firsthand, then book a holiday to Mauritius and enjoy a laidback vacay at the sandy beaches under the palm-fringed trees by the turquoise blue waters. Also, do follow our tips to have an even better time here! Looking forward to booking our next trip through TravelTriangle.