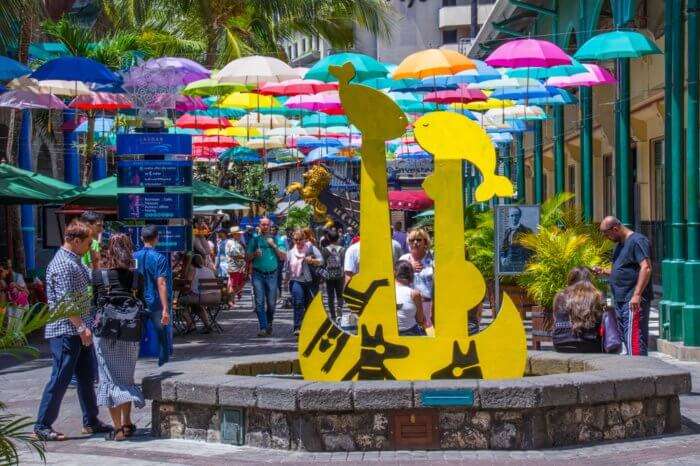 Going beyond the exotic beaches and the blue lagoons, Mauritius is also a complete shoppers paradise. If you're on a lookout for some of the best places to go and splurge money then, Port Louis helps you to figure out your problem. The famous Le Caudan Waterfront in Port louis offers you with shopping the best, perfect entertainment and most worth leisure time. Le Caudan Waterfront in Mauritius is a commercial shopping and entertainment complex which provide you with a wide arrangement of shops, cafes, restaurant, movie theaters, casinos, the art market and many more sources of entertainment which can easily cover your day with exotic memories and beautiful commodities.
Le Caudan waterfront has been the first major shopping development on the island of mauritius and still is able to keep up with the trends and retain its charm as modern waterfront mall. Are you excited but have some questions on your mind? Here are the answers in the form of a guide which will help you out to make the best day out in the Le Caudan Waterfront mall.
What To Buy?
The main question which comes across our mind while roaming around the complex which offers you shopping is What To Buy? Now you can make your pockets lighter by just visiting the mall as it offers you all in one compound. Needless to say, there are multiple shops which offer you all you want. Some of the most famous things which can be bought while visiting Le Caudan Waterfront are listed below:
1. Clothes

The mall offers you maximum brands and trendy clothes. You can buy casual wear or beach wear for your whole family in a single complex as it offers fashionable clothes to women, men as well as kids. This place is crowded with topmost of showrooms in which you can buy without worrying about the quality.
Where to buy: Anam, Citysport, exist, cotton etc.
Suggested Read: 12 Best Places For Photography In Mauritius That'll Gift You Breathtaking Memories
2. Accessories

There is a wide range of shops which offers you with accessories like jewelry, bags, shoes, leather and many others. You can enhance the beauty with buying the beautiful and unique accessories from the Le Caudan Waterfront in Port Louis.
Where to buy: Adamas, Aldo, Firstime, Frivola etc.
Suggested Read: 33 Things To Do On Mauritius Honeymoon For A Ultra-Romantic Affair In 2022
3. Art Souvenirs And Crafts

Le Caudan Waterfront in Mauritius is the right mix of passion handcrafts, beautiful materials, and artisanal products. Here you can find unique handmade crafts and jewelry all crafted by wood, glass or corals. The mall in Mauritius is famous for handmade artisanal products used for decorating interiors.
Where to buy: Cia Création, Le Craft Market, Out Of Asia, Kashmir Gallery
4. Beauty And Wellness

Don't forget to buy the natural beauty products from the mall. You can see a wide range of salons, beauty and wellness shops and additionally the tattoo shop too. You can change your makeover by spending some time here.
Where to buy: Blue Dolphin Tattoo, C-splash, Cocoon, Allure Coiffure
Suggested Read: Hike All The Way To Tamarind Falls In Mauritius For A Rejuvenating Experience!
Where To Eat?
The complex offers you with the delicious food and choices of restaurants, Cafes, and Pubs. If you are a foodie Caudan waterfront Restaurants must be your fairyland. Here is the list of restaurants and cafes along with their specialties:
1. Kebz

The Kebz food court offers you specialized Lebanese cuisine. The menu has a combo of both vegetarian food as well as non-vegetarian food. Meals at Kebz are served with chips, garlic bread, green vegetables or rice. You must try pancake stuffed with chicken, lamb or veggies while visiting the Kebz.
What to eat: Lebanese Cuisine.
Suggested Read: Photography Museum In Mauritius: A Pocket Guide To Know All About This Place
2. Ken's

Discover a whole exotic cuisine at ken's. It is known for the wide range of Mauritian as well as regional cuisine. Ah Kong's boulettes is well famous at this restaurant, one must try while visiting.
What to eat: Mauritian Cuisine, Ah Kong's Boulettes.
3. Arabia Gourmet Cafe

Arabia Gourmet Cafe in Le Caudan Waterfront mall offers Arabic Cuisine with unforgettable tastes with an exotic sea view. Using the finest possible ingredients they will serve you their best for an extraordinary dining experience.
What to eat: aromatic coffee of Arabia
Suggested Read: 8 Places To Visit In Curepipe That Will Make Your Mauritius Tour More Interesting In 2022!
4. Gourmandises D'Anne

The name itself says 'must for delicacy lovers'.Gourmandises D'Anne serves you with delicious snacks and pastries. It particularly offers French pastries and some local specialties such as pawpaw or pineapple based cakes, banana tarts, marlin pies, and coconut bites. You can find salty pastries, light snacks, and beverages.
What to eat: Pastries and snacks.
5. Ilot Cafe

A cafe for a cozy hangout to drink, eat and relax. It also offers business lunch, family lunch or friends hangout. The menu serves you with the regular meal along with the classy meal. It provides you with snacks, hot or cold beverages, alcoholic freak shakes, and perfect dining.
What to eat: Salads, Daily specials, Panini and Bread.
Suggested Read: Mont Choisy Beach: All You Need To Know For A Trip To The Longest Beach In Mauritius
Things To Do
You can explore and enjoy various entertainment sources in the complex apart from shopping and eating. For making your leisure worth there are various spots in Le Caudan Waterfront which you can look into for an amazing and unforgettable experience.
1. Blue Penny Museum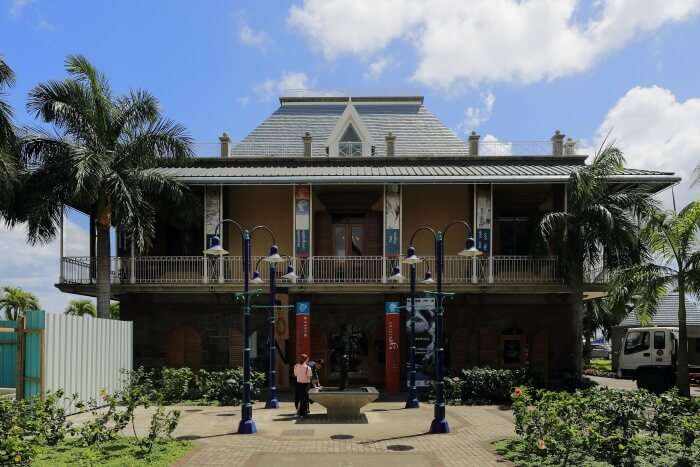 If you want to know about the Mauritius cultural scene or some of the history you must visit the Blue Penny Museum. It unveils the valuable heritage collections about Mauritius and the region. The museum will reveal all the history of civilizations from Europe, Africa, and Asia.
2. Le Casino

Le Casino is the entertainment spot in the complex only for the adults based on the specific theme and is presented in its historical setting. The use of cell phones, cameras as well as helmets is strictly forbidden within the casino. Within the casino, it offers you two bars.
Suggested Read: Goodlands In Mauritius: All About The Famous Shopping District!
3. Craft Market

Craft Market is usually known as the art market. Here you can discover their local handicrafts and artists in the craft market. This market is basically famous for its wooden articles each as a unique piece of craft.
4. Star Cinema Complex

Movie lovers can have popcorns and enjoy the latest releases in the three theaters which are offered by the star cinema complex featuring the latest design, projection, sound, and acoustics technology.
Further Read: Rodrigues Island: A Guide To A Hidden Paradise Off The Coast Of Mauritius
With this little Le Caudan Waterfront guide, you will surely have the best of experience in the capital city of Mauritius. Exploring the complex will surely be an amazing encounter. Pick your dates, pack all that you can, plan your next holiday to Mauritius with travel triangle and explore the island to its best.
---