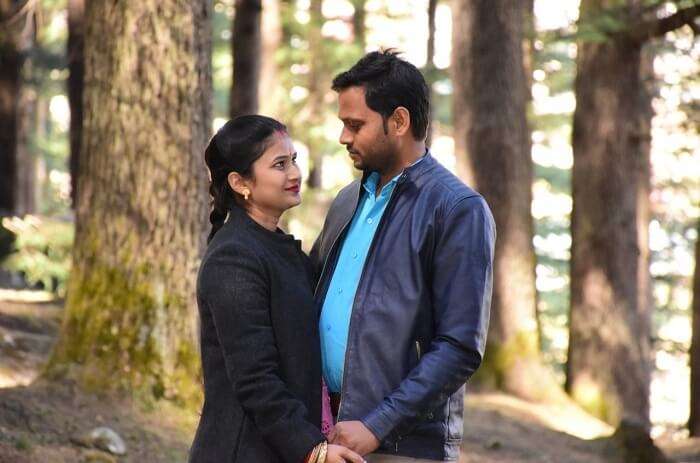 One of the most popular honeymoon destinations in India, Himachal allures myriad of newly-weds ever year. Famous for its enchanting weather, picturesque views, mountain slopes, enchanting streams, dreamy surroundings, and a lingering scent of pines and freshness, the aura of this place adds great value to travelers' romantic getaway. Anoop and his better half started off their blissful marriage while visiting this perfect romantic destination. For them to enjoy their honeymoon Trip to Himachal, TravelTriangle put its best efforts and offered them what they were looking for-A splendid honeymoon at affordable prices.
Like every other newly-wedded couple, we wanted to fly away on a romantic getaway as soon as possible. Keeping a budget in mind, it was a tad bit difficult for us to come up with an affordable destination. But, India is full of pocket-friednly honeymoon destination and we found Himachal to be the perfect one. Be it the lovely weather to the blissful vibe, this got something which intrigued us. Since I am a regular follower of TravelTriangle, I knew our trip would be perfect its perfect customized itinerary. Booking a trip with them was such an easy-peasy task as the efficient staff took care of everything. Here I am jotting down all the wonderful experiences we had on our honeymoon Trip to Himachal.
Details of our honeymoon trip to Himachal
Trip Type: Honeymoon Trip
Cost: INR 25250
Duration: 7 Days
Inclusions: Accommodation, Breakfast, Dinner, Welcome Drinks, Volvo Bus Tickets, Candle Night Dinner, Cab
Exclusions: Camp stay, Cab for Transport, Rohtang Permit, GST
7 Best Airbnbs In Himachal Pradesh For One Of The Coziest Staycations Ever
Must-read highlights of our honeymoon trip to Himachal
1. An exciting day at Kufri Fun World



Our unforgettable honeymoon trip to Himachal started off with Shimla. Kufri Fun World which is famous for immense fun and entertainment options was our first stop. Without wasting any time, we went for various adventurous activities like ice skating and horse riding. The horses there can be a bit moody but fortunately, ours turned out to be friendly ones. This wonderful place made us feel that we were in snowy heaven. Moreover, there was not even a single dull moment that we could think of
2. Splurging to our heart's content at the Mall Road



On the second day, we visited the famous Mall Road in Shimla. Since its such a renowned market place for vacationers, it sees a great influx of travelers. We found this place to be quite crowded but at the same time, we believed that it's really a great place for shopping souvenirs and gifts. Apart from a great shopping experience, we have a great dining experience as well. Mall road is surrounded by a variety of restaurants offering multiple cuisines. After enjoying a fantastic shopping spree, we headed towards a great vegetarian restaurant and needless to mention, the food was of next level! We also stumbled upon many cafes in Shimla which were famous for offering delectable cuisine in plush settings.
10 Restaurants In Mandi That Serve Traditional And Famous Dishes Of Himachal (2022)
3. Solang Valley: A heavenly Call



Bidding adieu to Shimla, we headed towards Manali and yes! The beautiful Solang Valley snowcapped mountain left both of us utterly spellbound. Resembling with paradise, the snow on the hills were a treat to our eyes. Being adventure seekers, we do not leave any change to try hands at new adventure sports. And, this was the toms for mountain climbing!
Well, truth to be told, it was one of the thrilling experiences we've ever had. Climbing the mountain with all the strength and zeal inside was one of a kind experience. We felt that going for adventure sports in Manali is something one should not miss.
4. Tranquility in abundance: A day at Van Vihar & Buddhist monastery







Now was the time to let ourselves leave in the lap of nature and culture. Van Vihar National Park which is a huge Cedar tree forest located right in the heart of Manali was an ideal place for us to spend some moments of tranquility. The wonderful surroundings along with a pristine vibe were all that made our day a complete one. Also, walking through the woods and enjoying a lovely time with my beloved wife was something I will never forget.
After visiting the beautiful Van Vihar, we went ahead for a soul-binding retreat at Tibetan Buddhist monastery. Right at the time when we entered this serene place, we could feel the sheer calmness and positivity getting into our veins. Luckily, the photography was allowed inside and we could click some really amazing pictures.
5 National Parks In Himachal Pradesh For An Awe-Inspiring Holiday In 2022
Our marvelous experience with TravelTriangle
Eventually, our 5 days honeymoon trip to Himachal reached its end. Little did we realized how days passed by and our romantic escapade was over. From the first day at Shimla Kufri World to the last day at Manali, we could enjoy each and every moment of our honeymoon. Just like we expected, we could witness snow-clad mountains, try many adventurous activities, and experience the best what Himachal. Moreover, the cleanliness, fresh vibe and sheer warmth of the locals are the things that make this place worth visiting. Even now when we are back into our daily routines, a series of blissful flashbacks are throwing back to the enchanting getaway. Not only the location but also the perfect itinerary added great value to our overall experience. The agents were connected with us from the time we booked until the last day of our trip. We are really looking forward to our next trip with TravelTriangle.
A glimpse into our customized Himachal itinerary
Day 1: Arrival at Delhi and overnight journey to Shimla
Day 2: Arrival at Shimla and enjoying at Kufri Fun World
Day 3: Visiting Mall Road, The Ridge, Giety Theatre
Day 4: Sightseeing in Manali
Day 5: Enjoying at Solang Valley
Day 6: Visiting Hadimba Temple, Tibetian Monestry, and Vashisht Temple
Day 7: Departure in the evening
7 Rivers In Himachal Pradesh That Will Make Your Sightseeing Experience More Epic
The land of scintillating views and delightful weather, Himachal covers everything that nature lovers look for. Anoop and his wife spent 7 blissful days of their honeymoon trip to Himachal and created countless memories. If you are motivated enough by their experiences, reach out to TravelTriangle and get the best package customized for your romantic escapade.
Queries you might have on your trip to Himachal
What is the special food of Manali?
Mittha is a famous street food of Manali. You can find this delicacy in all the restaurants in Manali.
What is the best time to visit Shimla and Manali?
Since Rohtang Pass is open from April to June, this is the best time to visit Shimla and Manali. You can enjoy many adventurous sports at this time.
Best places to enjoy local and street shopping in Manali?
Some of the best shopping places in Manali include Old Manali Market, Himachal Emporium, Tibetan Market, Manu Market, The Mall Road, and many more.
What should I carry for Shimla trip?
Some of the must-carry things to carry on a Shimla trip include rubber-soled shoes, heavy woolen clothing & socks, sunscreen, and moisturizing lotion, umbrella, a camera with sufficient batteries, ID proofs, etc.
Which are the best things to do in Shimla for couples?
For honeymooners and couples, there are countless entertainment opportunities. They can go for Ice-skating at the ice skating rink near Scandal Point, and take a romantic tour of the Green Valley. Also, watching the sunrise from Chadwick Waterfalls is something travelers should not miss.