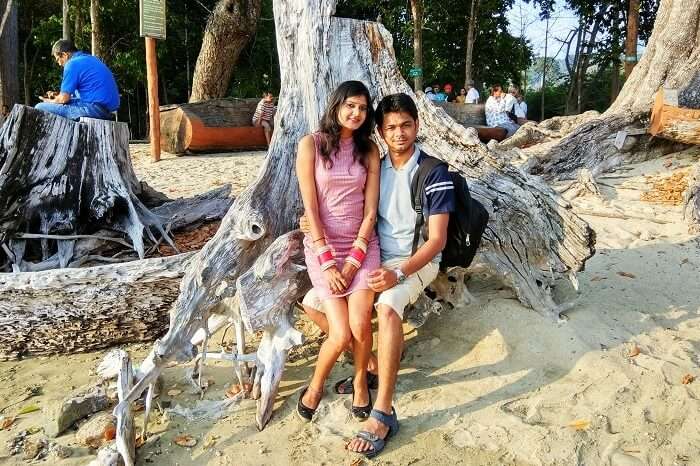 An enthusiastic traveler who calls himself a complete mountain person, decided to take a break from the mountains this time to explore the serene beaches on his honeymoon. For him every destination has a story which is showcased by its culture and delectable cuisine. After deciding about a perfect destination, they went ahead with Andaman on their romantic getaway.
And without wasting any more time, read to know what Anurag wrote about his romantic travel experience in Andaman with his wife.
At first I had made up my mind to visit Maldives and Bali for my honeymoon vacation. However while going through the travel-based portals on Facebook, I stumbled upon the page of TravelTriangle and I was astounded to see their amazing packages which seemed like a great deal under my budget.
Suggested Read: Best Places To Visit On A Honeymoon In Andaman For An Extraordinary Experience
As I had already fixed a budget due to some unexpected constraints, I concised the list of the destinations to Goa, Kerala, Manali and Andaman. Post that we talked to the team of TravelTriangle and conveyed our requirements. And after a small discussion with the team, they crafted a perfect itinerary for our honeymoon trip to Andaman that also met our preference of going on a beach vacation!
Details Of Our Romantic Honeymoon Trip To Andaman
Trip Duration: 4 Nights and 5 Days
Trip Type: A serene and a romantic getaway to the beach paradise
Trip Cost: INR 42,100
Agent: Andaman Great Holidays
Inclusions: Accommodation at Hotel SL International in Port Blair and Havelock Island Beach Resort, Breakfast, Airport Transfer, AC Cruise for island transfer, cab for sightseeing, watersports, Candle-light dinner, Welcome drinks, Honeymoon cake
Exclusions: Lunch, dinner, non-AC cab, airfare, and anything which is not included in the itinerary
Our Trip Itinerary
Day 1: Arrival at Port Blair | Day 2: Transfer to Havelock Island | Day 3: Visiting Elephanta Beach | Day 4: Transfer to Port Blair | Day 5: Return Journey
Day 1: Hello Port Blair!
With much excitement, we boarded the flight from Delhi to reach Port Blair via Kolkata. At around 2 PM we landed at our destination, all geared up to explore every corner of the place. Just on our arrival, we were contacted by our agent who shared the contact details of our trip coordinator & later greeted us at the airport.
From there we were transferred to Hotel SL International where we checked-in and the coordinator explained about the tour to us in detail. As we entered our room, we were surprised to see the beautiful decorations, and a honeymoon cake. We were surprised to see the dedication of the travel agent as they were considerate enough to get an eggless cake.
Post enjoying this beautiful surprise together, we headed towards the Cellular Jail to witness the Light and Sound Show for which tickets were pre-booked. After taking a walk around the Cellular Jail, we returned to the hotel where our coordinator handed us the ferry tickets and vouchers for the next day.
Day 2: Full Day Tour Of The Havelock Island
Suggested Read: Island Hopping On An Incredible Honeymoon Holiday In Andaman
As our second day started we spent the morning in relaxation while enjoying our breakfast. Later we checked-out from the hotel to start our journey towards the Havelock Island. We reached at the respective port to board the ferry. Upon reaching the island, we were greeted by the concerned person who accompanied us to the pre-booked Havelock Island Beach Resort.
After relaxing at the resort, we went to experience the beauty of the Radhanagar Beach. It was indeed a great experience. By the evening we headed back to our resort and after resting for a while we went ahead to explore the property. After a tiring day, we really enjoyed the romantic candle-light dinner which turned out to be one of the best experiences our honeymoon trip to Andaman.
Day 3: Relaxing Day At The Elephanta Beach
After having our breakfast and being stunned by the beauty of the island, we headed to start the sightseeing tour for the day. The driver dropped us at the port from where we went to the Elephanta Beach.
Suggested Read: 6 National Parks In Andaman That Lets Every Traveler Get Up & Close With Nature!
Apart from capturing the surreal beauty of the beach and the gushing waves, we also experienced an adrenaline rush while snorkeling. It gave us a chance to see the beauty underneath the pristine waters of the sea. At the end of the day, we returned to our resort for a relaxing stay.
Day 4: Boat Ride To Port Blair
On the fourth day, after having an early morning breakfast we boarded the ferry to reach Port Blair from Havelock Island. We left at around 9 AM and reached the capital city by 12 noon where the driver was waiting to transfer us to the hotel.
After the check-in, we took a rest for a while as we were very tired post the hectic journey. Later in the day, we went out together for a short trek to the famous Chidiya Tapu and enjoyed an aerial view of the entire landscape.
Suggested Read: Nightlife In Andaman: 5 Phenomenal Ideas To Enliven Your Vacay
As the day came to an end, we spent some relaxing time at the beach and enjoyed the magnificent views at the Sunset Point. While coming back to the hotel we halted at the market for some quick shopping, and spent the night in leisure at the hotel.
Day 5: Bidding Adieu To This Tropical Paradise
On the last day of our honeymoon trip to Andaman, we relaxed to the core in the morning while having our breakfast at the hotel. Post that, we completed the checking-out process, and were on our way back. As we had ample time for our return flight, we went to the Corbyn's Cove beach and for the last time embraced the beauty of these sandy beaches. After spending some quality time, we were soon on our way to the airport and were set on a safe journey back home.
Overall Experience With TravelTriangle
Suggested Read: Best Things To Do On A 5N 6D Honeymoon Trip To Andaman
It was a brilliant, and a totally value-for-money experience. I have already recommended the same itinerary to one of my colleagues.Even though I could not make it to Maldives, the agent was so helpful and humble in explaining everything in detail. Such an amazing experience gave me the confidence to plan my future holidays with TravelTriangle, and that is how Andaman came to pass for us. Overall, it was an ultimate experience and thanks to the team for letting us enjoy our trip the way we wanted it to be!
Highlights Of Our Honeymoon Tour in Andaman
Light & Sound Show at Port Blair
Exploring the Radhanagar Beach
Candle-light dinner and sunset on Havelock Island
Snorkeling at Elephanta Beach
Low Points: None at all.
Tips For The Future Travelers
We missed the sunset at the Radhanagar Beach since we were not informed about the timings. So make sure you don't miss that.
For the travelers who are vegetarians, there is no need to worry as there are many options in terms of food and restaurants.
If you can plan for extra one or two days, make sure you include Ross Island and Neil Island as well.
Make sure you select a better class of cabins while booking your ferry ride from Havelock to Port Blair and vice-versa.
Book an open-deck ferry so that you can make full use of the time you're traveling via the ferry boat.
Fascinated by their romantic vacation on the beaches of Andaman? You can also plan a similar vacation with your partner by booking one of the fascinating honeymoon packages with TravelTriangle.