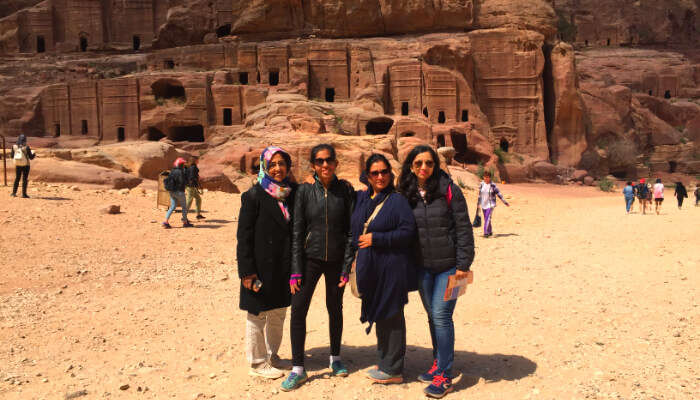 Many ancient travelers roamed the world, discovering new lands and making history. Driven by feeling of knowing the unknown, they passionately made journeys alone and in groups.And now we have travelers who are so intrigued by the history of certain places that takes them far, very far. On such history-buff cum traveler is Ashima, who went on a mind-blowing Jordan Petra travel journey with her girls-gang and called it is a casual "annual vacation" when asked. So moved by the history and culture of this place, she has shared her wonderful experience with us.
Petra, being one of the 7 Wonders of the World, was the main factor for short-listing Jordan as our next travel destination. We contacted TravelTriangle to plan our trip and their agent was very helpful in customising it exactly the way we wanted it, keeping our preferences in mind. The entire team was responsive and helpful throughout the engagement with them.
Jordan has a mix of people, from Jordan, Palestine, Iraq, Bedous and it was very interesting to observe how this relatively new country has been able to synthesize people from various erstwhile nationalities to assimilate and absorb a new national identity and form an amalgamated culture.
Our Jordan Trip Details
Cost: INR 206600
Duration: 8 days
No. of people: 2 Adults, 0 Children
Inclusions: Airfare, Arrival Assistance, Accommodation, Transportation, all entry fees, breakfast and dinner, 4×4 ride in Wadi Rum, Petra by Night, guides
Exclusions: Lunch, Personal Expenses
15 Best Places To Visit In Jordan In 2022: A Blend Of Old And New
Itinerary Of Our Jodan Tour
Day 1: Arrival in Amman | Hotel Check-in
Day 2: Explore Amman
Day 3: Departure from Amman | Visit Madaba | Arrive Aqaba
Day 4: Explore Aqaba
Day 5: Tour to Petra
Day 6: Petra By Night
Day 7: Visit Wadi Rum
Day 8: Visit Dead Sea
Accompany us on our journey, as we take you through the roads we travelled by…
Amman – The Stunning Capital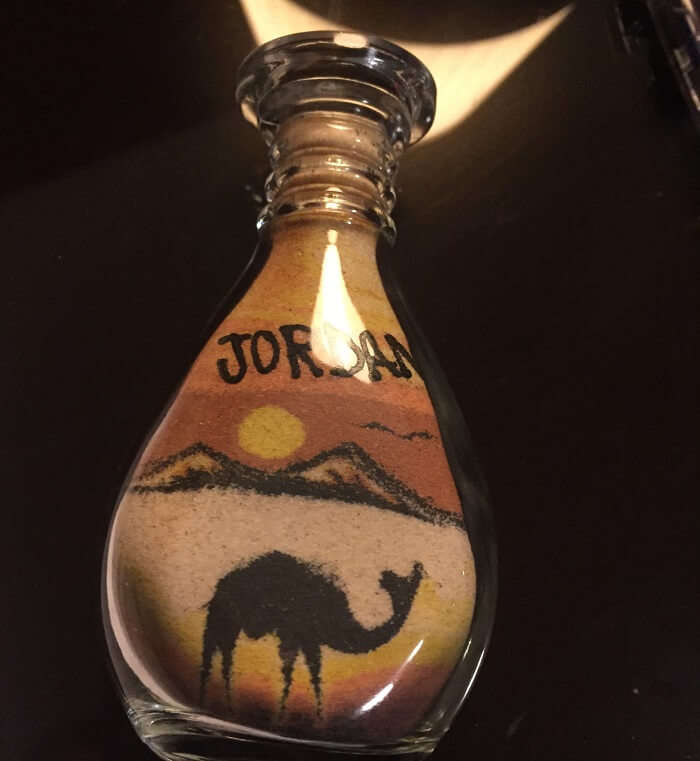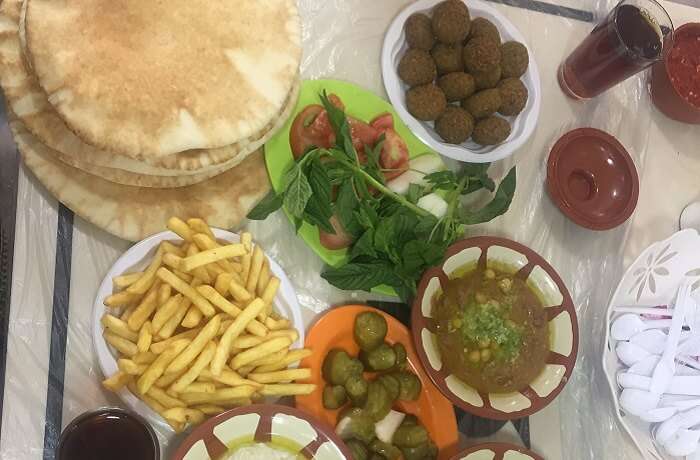 Amman is the magical capital of Jordan, where at one moment you would feel the throb of a modern lifestyle and the very next moment skip a heartbeat seeing its ancient ruins. Amman is a city that embraces its past and lives its present, everyday. This being the first destination of the trip, our excitement levels were at its zenith. We started with the King Abdullah Mosque, a beautiful and grand religious structure crowned by a blue mosaic domb. Then we headed to the Roman ruins where we saw the Amman Citadel and amphitheatre. You have to visit this place to know what it really feels like, when you find yourself standing amidst the ruins of a glorious past. This was quite overwhelming, so we moved on to something lighter – shopping!
Rainbow Street is a happening hub of restaurants and shops in Jordan and is popular among the locals and travelers alike. We spent our time exploring the shops and local eateries here.
Madaba – An Ancient Town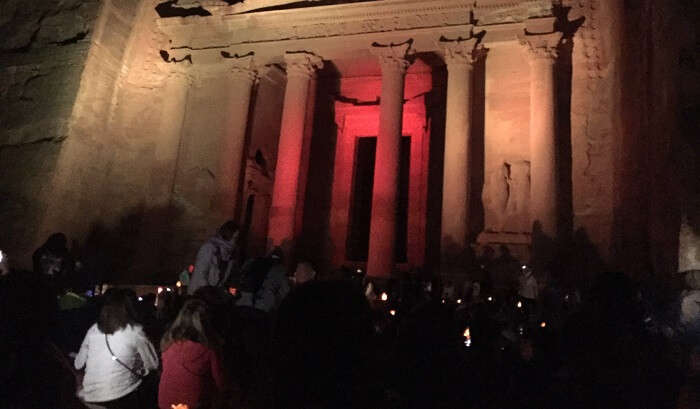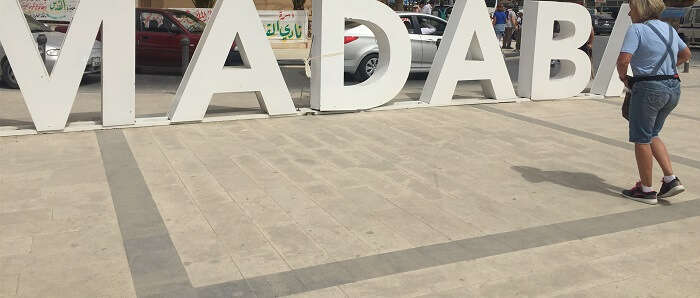 On our way to Aqaba, we stopped by this ancient and artistic town in Jordan, called
Madaba. A highlight of this town is the mosaic map of the Holy Land dating back to the 6th-century. The map forms a part of the floor mosaic of the Greek Orthodox Church of St. George. It is the world famous map of the region, pieced together as a mosaic. We got to know about amazing details the map had like river-fish swimming upstream at the confluence to the sea, to keep away from the salt water.
Our next stop was Mount Nebo, which was a religious pilgrimage spot for many Jews. This is an elevated ridge of a mountain range in Jordan, called Abarim. We got to know that Mount Nebo has reference in the Hebrew Bible as the place where "God has granted Moses a view of the Promised Land."
Shopping In Jordan In 2022: Buy All That Is Distinct And Quaint In The Country Of Jordan
Aqaba – The Gorgeous Port City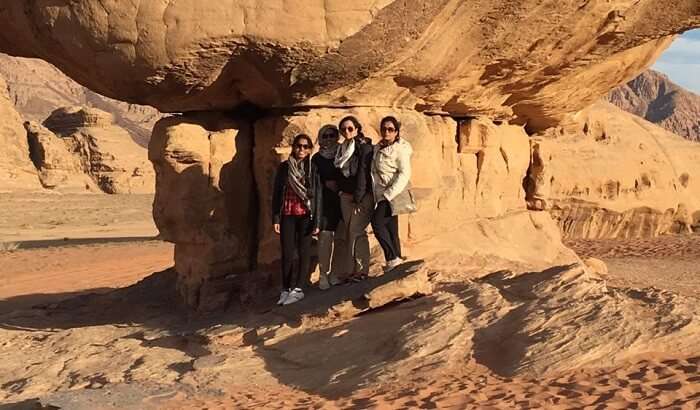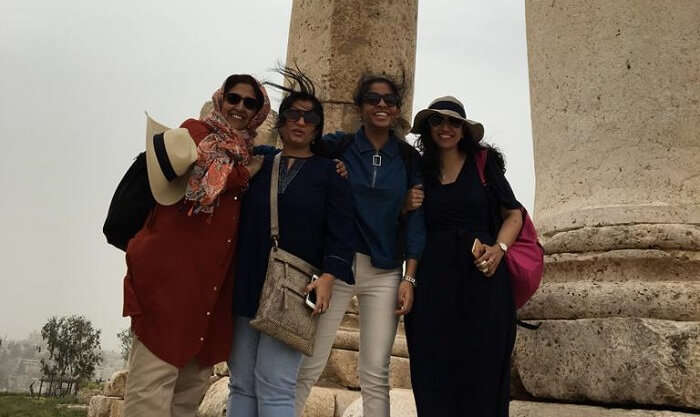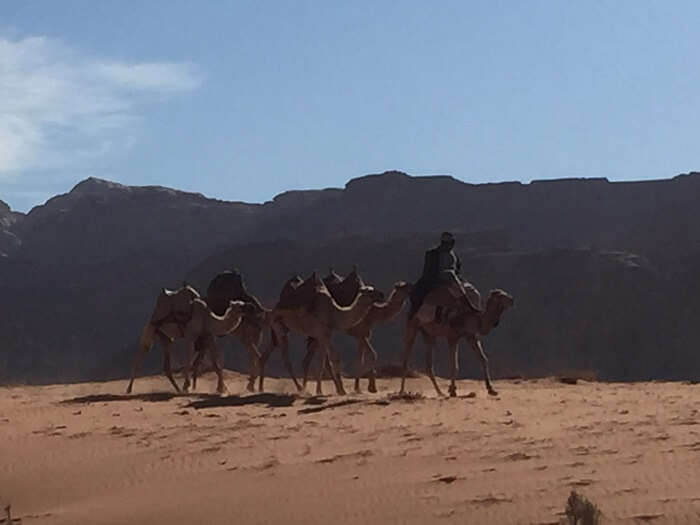 From green hills to myriad rock formations to the lovely aquamarine sea. It took a long drive past several different landscapes to reach this place. Aqaba is an old city located on the Gulf of Aqaba on the Red Sea. At Aqaba, we hired a basic boat which took us to the reef and we jumped in, to snorkel. We regret taking off our life jackets because swimming in the sea is different and a bit challenging as compared to swimming in a pool. We returned exhausted, and had to cancel our of deep sea diving.
Another highlight of this place was the beach and the pools at the hotel. Swimming with shoals of fish was a mesmerising experience. And equally divine was the feeling that we got by taking a dip in any of the myriad pools in the hotel, including a hot water jacuzzi.
Petra – The Queen Of All Destinations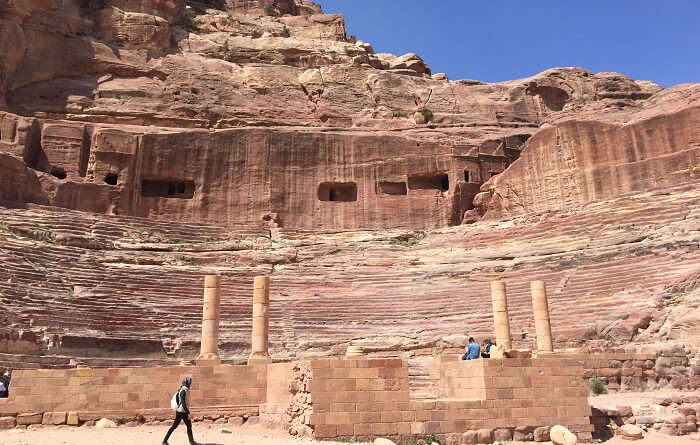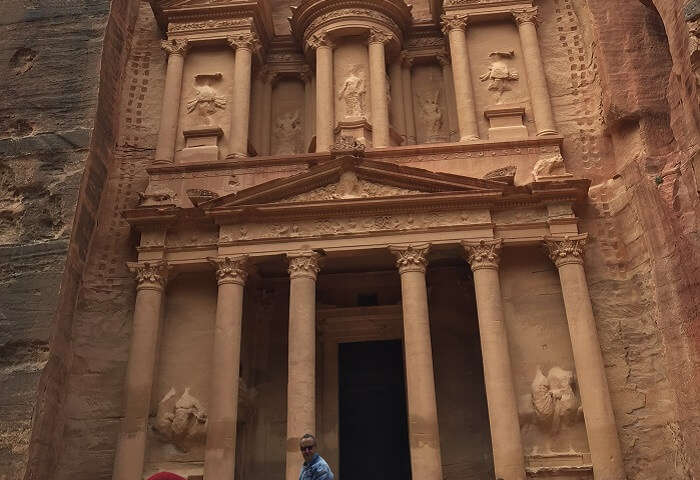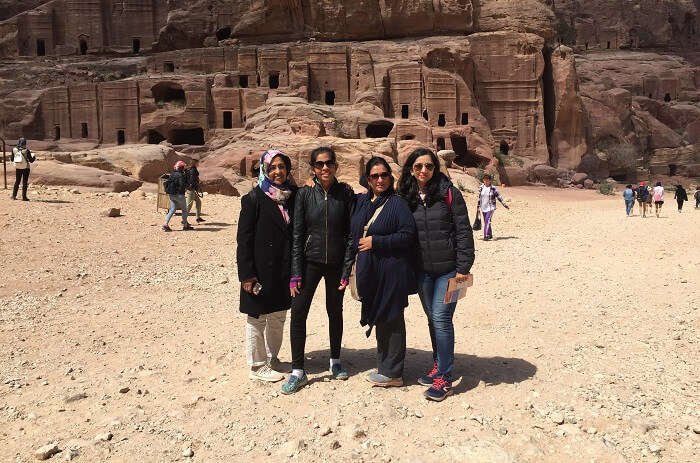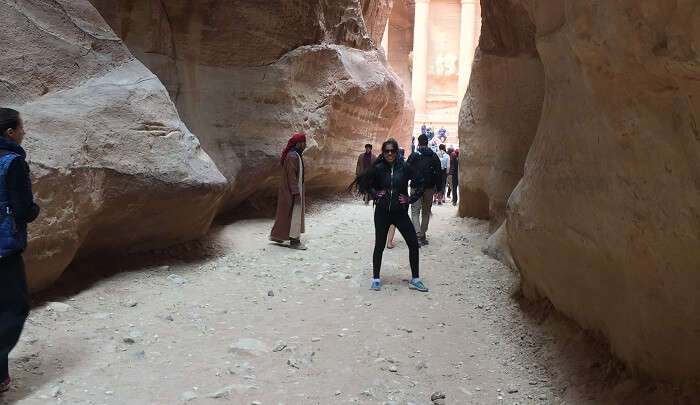 Our next trip was to the most awaited spot in Jordan, Petra. This popular archaeological site which dates back to 300 B.C is one of the 7 Wonders in the World. A highlight of Petra experience is walking through the tall multi-hued canyon, called the Siq. And just around the bend, through the gap, what a dramatic sight awaits you! We entered a complex of elaborately detailed tombs and temples, skilfully carved into pink sandstone cliffs. This is why the place is also known as "Rose City". A magnificent edifice among all the other structures was The Treasury, a 45-meter high temple featuring a detailed, Greek-style facade. We spent half-an-hour just admiring all the facets of this beautiful monument, ostensibly built in honour of the departed souls.
Another plan we were looking forward to was the walking tour at night, known as the "Petra by Night". This is one of the best ways to experience the unique nightlife in Jordan. We were so excited about it that we built our plan around it, because it's available only on selected days of the week. This walk took through the journey of Petra from Nabataean settlement and until the end of the Roman Empire.
12 Cafes In Jordan: The Vibrant, Quaint, And Traditional Cafes To Explore In Jordan
Wadi Rum – The Valley Of The Moon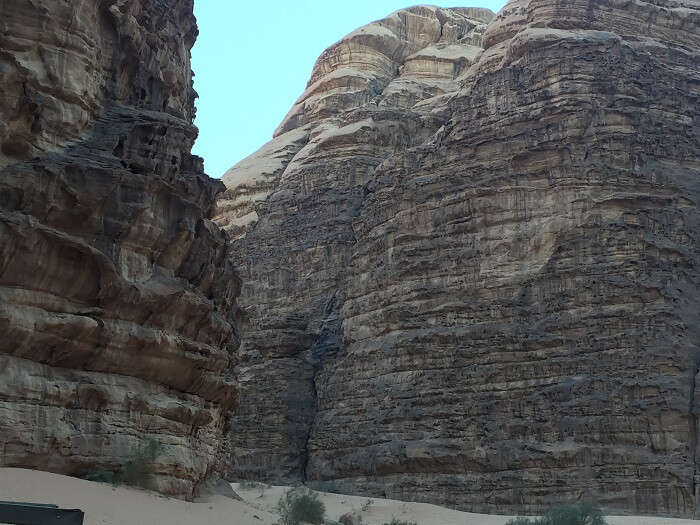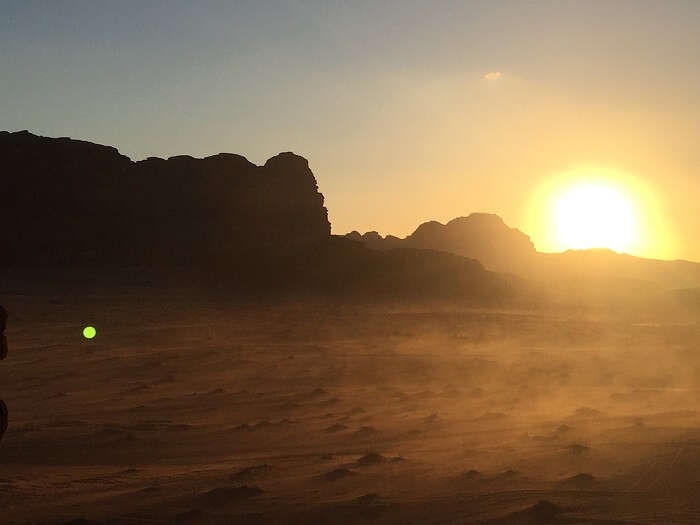 After Petra and all the other experiences in Jordan, we prepared to be astonished again. Our next destination, Wadi Rum is a rugged valley that feature many striking sandstone and granite rock formations. This desert-valley has moon-like landscapes because which it is also known as the 'Valley of the Moon'. The highlight at Wadi Rum was the bone jingling 4×4 ride to view the sunset. It took us about 2 hours to reach, but the views of the magnificent formations, twisted and cut by the wind, and water erosion was a sight to behold.
Dead Sea – Nature's Wonder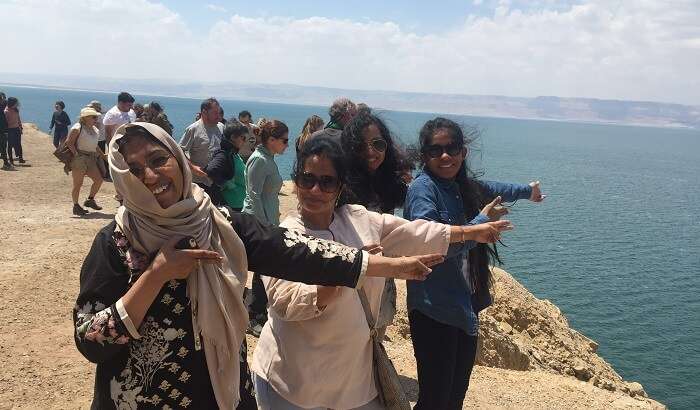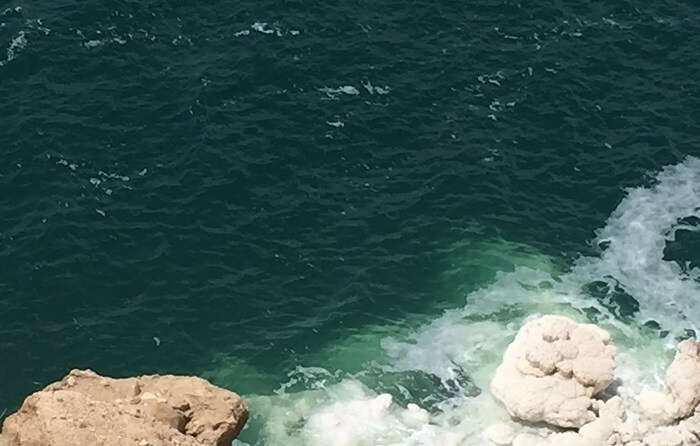 Among all the places to visit in Jordan listed in our itinerary, the final one was the Dead Sea. This unique salt lake makes you float on the water due to its very high salt ratio. This is one of those places that you can tag in facebook or post pictures of, in Twitter. But honestly, the water is so saline that after spending 10 minutes in the sea, my skin could not take the burning.
Dead Sea In Jordan Is A Traveler's Paradise In The Middle-East
These Tips From Our Experience May Help Your Jordan Visit
Aqaba has some of the lovely beaches of Jordan owned by some of the top end Hotels. Try to buying beach access (reasonable rates) through the hotel are staying at
Do not remove your life jackets while swimming in the sea
Make sure you do not miss the 'Petra by Night' walk
Due to the high conversion rates, Jordan is an expensive destination. Explore options before you shop here
12 Cafes In Jordan: The Vibrant, Quaint, And Traditional Cafes To Explore In Jordan
Ashima and her girls-gang have drawn a beautiful picture on their Jordan Petra travel by sharing their journey, experiences and amazements. Why not make some memories of your own by planning a trip to Jordan with you family or friends and discover this bewitching destination in your way?
Frequently Asked Questions About Jordan Petra Travel
What should I buy in Jordan?
Being an expensive destination, we cannot call Jordan a 'shopping paradise'. But there are some things to buy that are unique and specific to this place, for example, the Dead Sea products are world famous and worth a buy. The sand art is truly mesmerizing to watch and makes a lovely and affordable souvenirs. We bought it from a teenager who had perfected this art of creating beautiful desert and sunset representations using coloured sand and lock it up in a bottle for you to take home.
What is the famous food in Jordan?
Surprisingly, we found some really healthy vegetarian options – like salads , and of course Humus, and Babaganoush. The non-vegetarian options were good too, maybe a little lacking in spices (when it comes to Indian taste). Mansaf, Shishbarak, Bamya, Burghul Ahmar, Freekeh, Kenan, and Kofta are some of the popular Jordanian dishes.
Is it safe to visit Jordan?
Yes, Jordan is a safe country to travel around. Though traveling in groups is the most preferred option but you can even travel independently. It is a small country and the locals were quite hospitable.
Which is the best time to visit Jordan?
The best time to visit Jordan is from March to May, because the temperatures are cool during this time.
How many days do you need in Jordan?
Jordan being a small country, one can spend 7 to 9 days and explore it quite adequately as a tourist. And if it's just 4 to 6 days, one can comfortably cover Petra, Wadi Rum, and the Dead Sea.