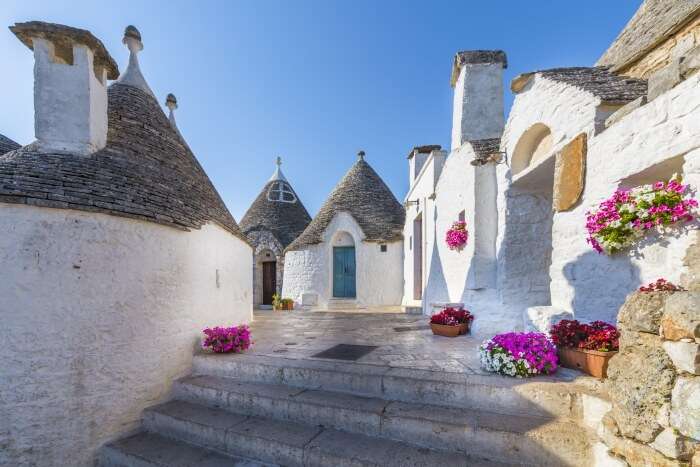 Located in the Apulia region of Southern Italy, Bari is known for its tremendous history and medieval architecture. This seaside port city in the east of Southern Italy is the metropolitan capital of the Puglia region that attracts many tourists because of its Roman history and ruins. Bari is a city that celebrates the culture, tradition, food and lifestyle of the Puglia region and is often compared to Tuscany. The city is filled with Cathedrals, museums and art galleries which makes it worth a visit in any season of the year. Bari in January is no different when it comes to exploring the old city and indulging in their rich culture. This concise guide can help one plan a vacation to the coast of Adriatic Sea.
Bari In January Weather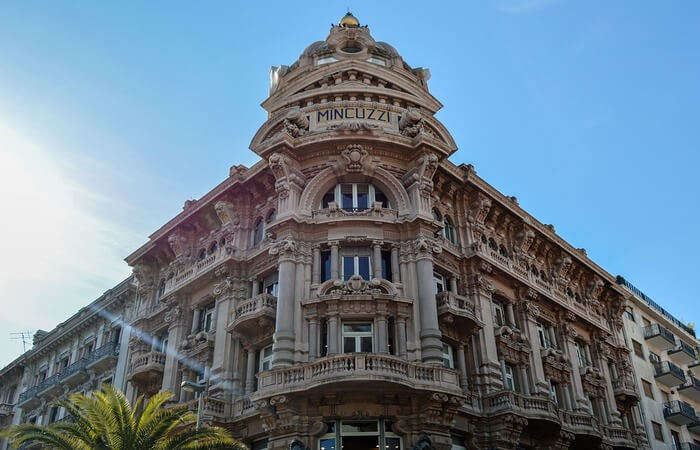 November to February, Bari is chilly but manageable with temperatures not dropping below 1℃. However, one should expect a lot of rain during these months. Humidity is high and constant pouring might put one off the mood but the afternoons are usually sunny allowing one to enjoy the sea. The average temperature during daytime is around 9℃ while the nights record around 5℃. Bari January weather 2023 forecast suggests that one can expect the day temperatures to be around 12℃ and nights about 6℃.
How To Reach Bari?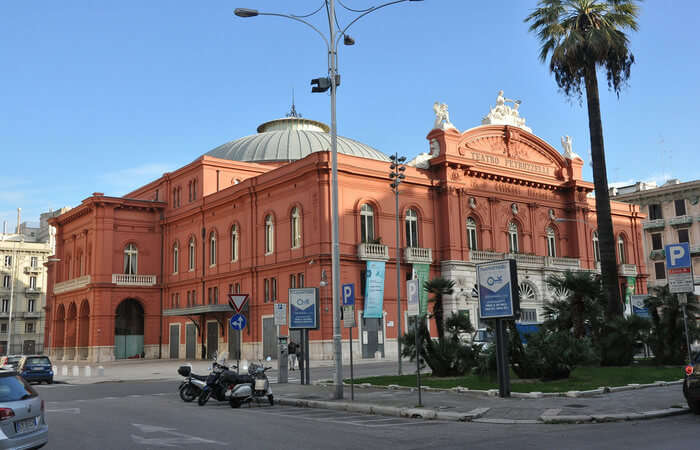 The easiest way to reach Bari from India is to fly to Rome and then take a train to the metropolitan city of the south. Most of the major airlines such as Air India and Qatar Airways have a direct flight to Rome from Delhi, Mumbai and Chennai. From Rome, one can opt for the ideal train travel to Bari which takes about 4 to 5 hours. Alternatively, domestic flights such as Ryanair and Alitalia fly between the two cities regularly. One can even reach Bari on a cruise from Greece.
---
Europe Holiday Packages On TravelTriangle
Explore the most beautiful places to visit in Europe, from Paris to the Venice canals and from the Greek islands to the Swiss alps. Book customized packages by expert agents on TravelTriangle. Inclusive of airport transfers, cab, resort, sightseeing and meals. Best holiday experience Guaranteed. Book Now
---
Things To Do In Bari
 Bari in Winters are not as harsh but wet with incessant rain. Here are a few things you must try when in Bari, especially in January.
Hit The Beach: A Serene Place
Witness The Pizzica Dance: An Elegant Art
Try Some Orecchiette: A Tasty Treat
Retail Therapy: Shop Unlimited
1. Hit The Beach: A Serene Place

With the sun peeking out giving one an opportunity to indulge in water activities in the port city. The two most visited beaches by tourists are the Lido San Francesco Beach and the Sun Beach. The golden shores of the beach run for a long stretch allowing visitors an opportunity to enjoy a water sport or a beach sport. There are many sun loungers along the shores of the clear waters. The seashore is also lined with numerous boutiques, cafes and restaurants that serve appetising Puglia meals.
Must Read: Top 6 Places That Take You Through The Best Of This Winter Paradise!
2. Witness The Pizzica Dance: An Elegant Art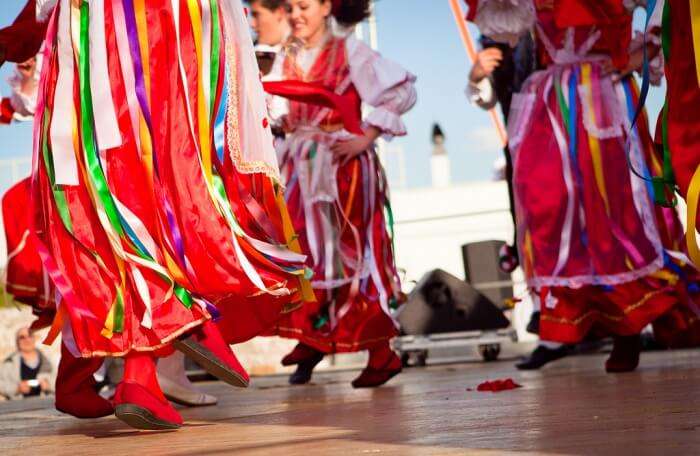 Pizzica is a traditional folk dance originated in the Salento Peninsula. The dance form involves a couple that showcases a story or a verse about passionate love. Though the dance form is slowly dying, one can still witness this in the old city or the Salento region. It is a mixture of flamenco of salsa but with more passion and grace. Teatro Petruzzelli is a well-known and a large opulent theatre in Bari that often organises both local and international shows and plays. One should make it a point to visit the theatre when in Bari to see the city's artistic flair.
Suggested Read: Italian Cuisine: Top 10 Dishes That Let You Taste The Authentic Flavors Of Italy!
3. Try Some Orecchiette: A Tasty Treat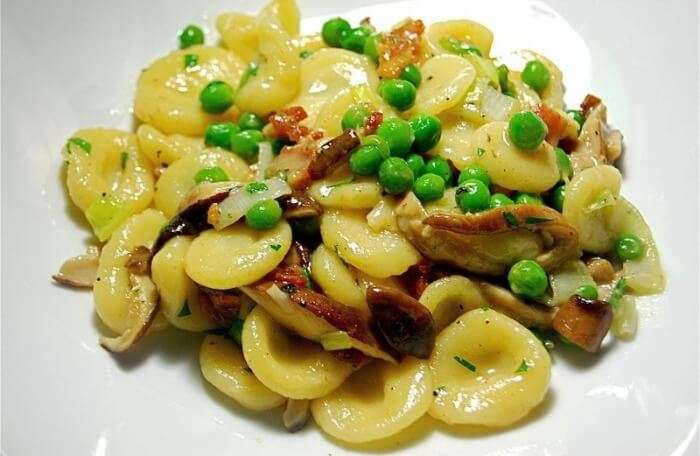 Stroll through the old city and one can see women of south Italy busy rolling up the pasta on the streets. Orecchiette is a type of pasta that resembles buttons and is popularly consumed with pork or seafood. The Puglian cuisine includes orecchiette in every meal pairing it with either meat or vegetables such as turnip tops, tomatoes and olives. It is a simple pasta dish with not too many flavors but tastes best when paired with white wine.
Suggested Read: 8 Best Beach Resorts In Italy That'll Let You Have A Serene Vacation In This Glorious Land
4. Retail Therapy: Shop Unlimited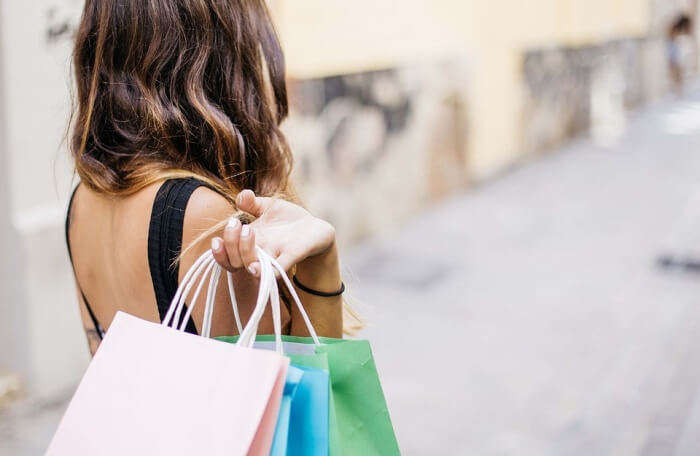 Via Sparano is a popular shopping street in that starts from the University of Aldo Moro and ends at Corso Vittorio Emanuele. Not far away from the Bari central station, Via Sparano has all the high-end retail stores in its kitty. Ranging from H&M to Armani and Pandora, one can find the latest fashion apparel and accessories in this street. There are few souvenir shops around as well along with numerous cafes and restaurants dotting the street. It is a trendy street to shop, stroll and people watch.
Suggested Read: Haunted Places In Italy: 9 Places You Must Visit To Get A Dose Of Spook
Places To Visit In Bari In January
 Bari in Winters might not be ideal for a beach vacation, however, the afternoons are pleasant and allow you to go sightseeing:
Basilica Di San Nicola: With A Wide Religious Significance
Castello Normanno-Svevo: A Dark Symbol Of Power
Cathedral Of San Sabino: Home Of Archbishops
Bari Old Town: An Interesting Place
1. Basilica Di San Nicola: With A Wide Religious Significance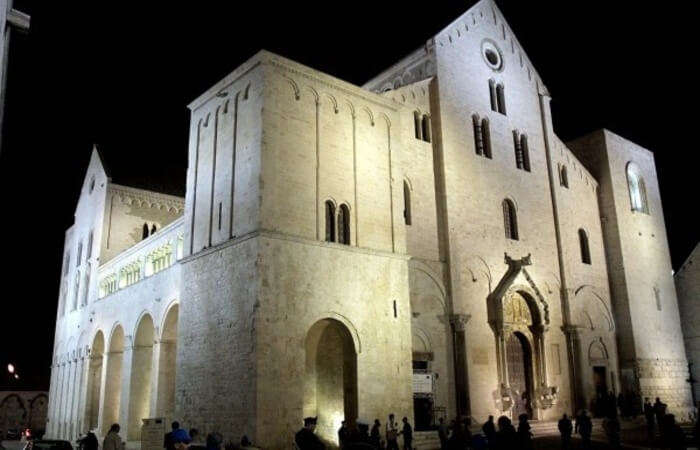 The most famous Basilica in Southern Italy, Basilica di San Nicola was built to dedicate the life of Saint Nicholas in the 11th century. The Basilica is known for its Roman architecture and luxurious interiors that include a number of stunning sculptures and artwork all around the Cathedral. The crypt in the Basilica holds the remnants of Saint Nicholas making it a pilgrimage site for many in Europe. May is the ideal time to visit the Basilica as the city witnesses an honorary procession filled with fireworks, dance and music.
2. Castello Normanno-Svevo: A Dark Symbol Of Power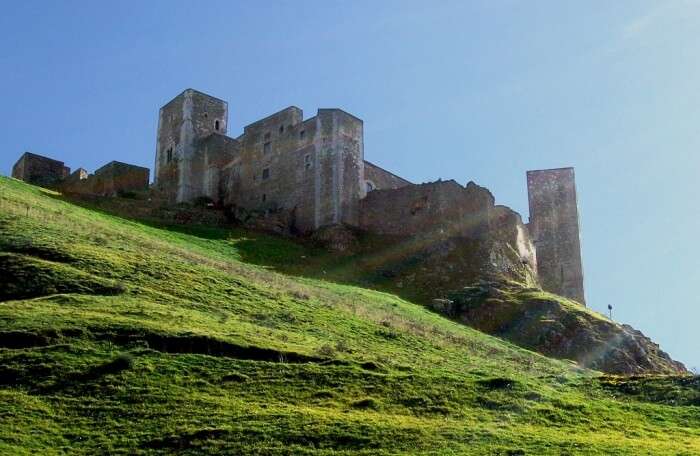 This castle was built in the port city in the 11th century for the Norman King Roger II. The castle has served as an effective defence structure time and again through the invasion of greeks, Ottomans and Arabs. It has also served as a residence for the most prominent dignitaries of history and thus it still stands tall to give the panoramic view of the city and the sea. The courtyards of the castle are generally open for public events and a museum resides in the premises which are worth visiting.
Suggested Read: 12 Indian Restaurants In Italy Where You Can Satisfy Your Spice Cravings
3. Cathedral Of San Sabino: Home Of Archbishops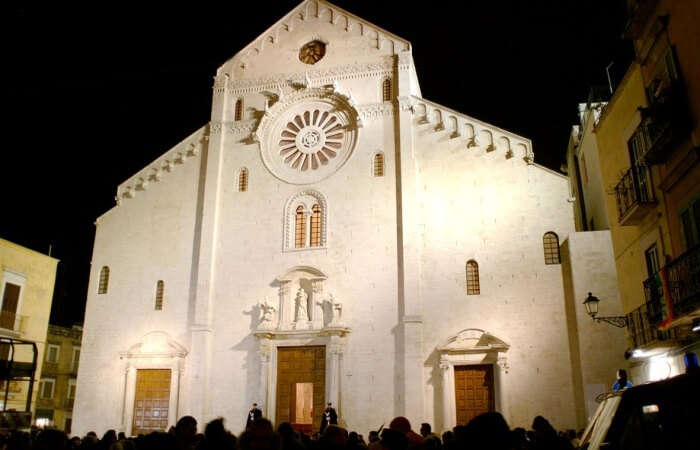 Located just a stone's throw away from the famous Basilica di San Nicola, Cathedral of San Sabino is a perfect example of the 13th-century Romanesque architecture. It is a beautiful church that has interiors made up of pure white marbles and colourful tapestries. Several sculptures and delicate filigree adorn the church along with the tomb of Saint Columba. However, the exteriors have gargoyles and other Gothic structures decked up along the roof and the walls. Considering the rainy weather in Bari in January, visiting the Cathedral might keep one dry and warm.
4. Bari Old Town: An Interesting Place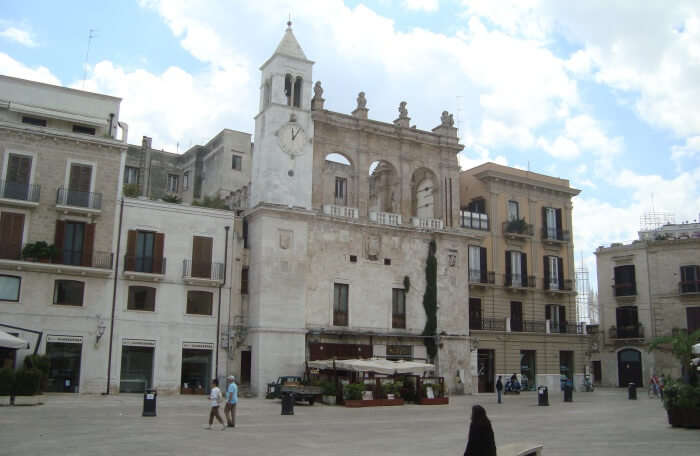 The old town is filled with narrow cobblestone streets that offer an insight into the real culture and essence of Southern Italy. Piazza Mercantile is a square situated in the east of the old city that actually resonates a Mediterranean charm in the middle of the Norman city. It is a beautiful place to stroll through, enjoy gelatos and watch the locals working hard at making pasta. Some might even be lucky to stumble upon street shows and pizzica dance here.
Further Read: 9 Fabulous Places Where You Can Meet Santa Claus In Italy During Christmas
This metropolitan city on the Adriatic Sea coast does not disappoint one. Bari is full of tradition, culture and history that is worth experiencing once at least in one's lifetime. This column pretty much covers what to do in Bari in January and serves as a guide through the exploration. Plan your trip to Italy with TravelTriangle and get an insight of the Puglia region.
Frequently Asked Questions About Bari In January
Q. What is Bari famous for?
A. Bari is the capital city of the province of Bari and of Apulia (or, in Italian, Puglia) region, on the Adriatic Sea, in Italy. It is the second most important economic centre of mainland Southern Italy after Naples, and is well known as a port and university city, as well as the city of Saint Nicholas.
Q. What is there to do in Bari?
A. There are plenty of amazing things to do in Bari, here's a list of top 7 things:
1. Basilica di San Nicola.
2. Museo Archeologico di Santa Scolastica.
3. Festa di San Nicola.
4. Museo del Succorpo della Cattedrale.
5. Seafood Market.
6. Mastro Ciccio.
7. Teatro Margherita
Q. How safe is Bari Italy?
A. Bari is, for the most part, a safe city. Nonetheless, crime prevails in San Paolo, San Pio-Enziteto and Fresca.
Q. What is the population of Bari Italy?
A. The population of Bari, Italy is 3.24 lakhs as recorded in the year 2017.
Q. Can you swim in Bari?
A. It is a small city beach. Nothing special but fine to use if you do not wish to drive to far and live in Bari. Water is clear and the beach is not too dirty taking into consideration that it is a beach in the city.
Q. What Puglia is famous for?
A. Puglia's Salento boasts gorgeous beaches, lush farmland, ornate churches, and ancient ruins. It's also home to many of the foods Italy is famous for!
Q. Where should I go near Bari?
A. You can go and indulge in delicious course of meals at these top restaurants in Bari:
1. Gargano.
2. Salento.
3. Valle d'Itria.
4. Ostuni.
5. Brindisi.
6. Old town of Bari.
7. Polignano A Mare.
8. Alberobello.
Q. Are there beaches in Bari?
A. Bari beaches and nearby seaside resorts Just outside Bari are a couple of best-known coastal towns: Polignano a Mare, the hometown of Domenico Modugno, author of the famous Italian song "Volare", and Monopoli, with sandy beaches and cliffs rising from the crystal turquoise water.
---
Looking To Book An International Holiday?
Book memorable holidays on TravelTriangle with 650+ verified travel agents for 65+ domestic and international destinations.
---