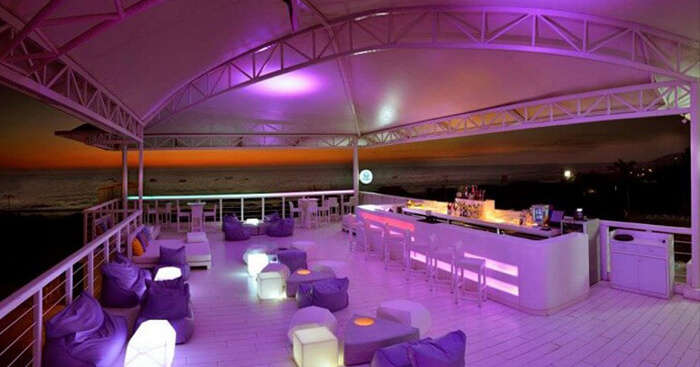 Goa, the entertainment city of India, needs no special introduction. Thinking about the tiny state, what immediately comes to the mind is the vast stretch of famous Goan beaches and the lavish parties hosted by exotic resorts. While there's absolutely more to this place, like exploring the various architectural artwork and visiting the renowned churches, and surely digging in the kalamari delights at the beach cafes, you'll be surprised to know about the wide range of accommodation here, especially the beach resorts in Goa. So, take a look to know what all awaits you in this serene land of India.
26 Best Beach Resorts In Goa
White sand beaches, gorgeous landscapes, happening nightlife, glamorous shopping outlets, and delectable seafood – Goa is the top most choice for every tourist looking for a short holiday. Sexy beach resorts are what make the stay and the entire vacation a grand experience. If luxury is on your mind this time, we have handpicked the best beach resorts in Goa from the confusing clutter of Goan hotels, shacks, and resorts.
1. Pousada Tauma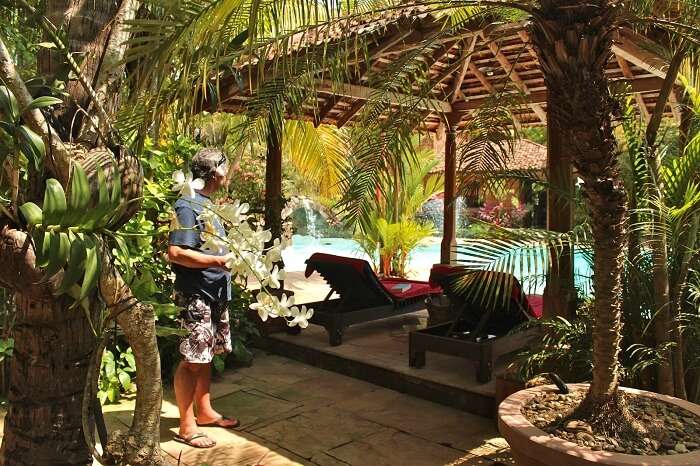 Image Source
A 5-star property, Pousada Tauma is among the finest luxury beach resorts of Goa. It is a theme-based resort that offers a lavish holiday experience with its fine ambiance, excellent decor, and finger-licking gastronomical fare. The unique Goan architecture of this boutique hotel is simply beautiful.
What's Special: The delectable fine dining at Copper Bowl restaurant, a casual inviting atmosphere at the Pousanda Beach seafront restaurant, the relaxing pool, and the beautiful beach view.
Suggested Suite: Sea Suite, for a fantastic view of the sea
Tariff: INR 21,000 per night onwards
8 Resorts In Calangute That'll Ensure An Alluring Beach Holiday Experience
2. The Park Calangute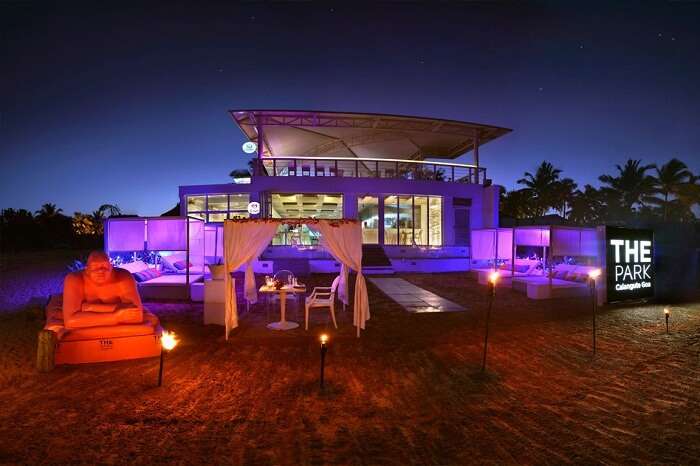 Image Source
Again a 5-star hotel, The Park Calangute is a breathtakingly beautiful luxury beach resort in Goa. It is known for its posh decor and superior settings, captivating sceneries created by the beachside. Be it their sky bar or the magnificent purple pool, The Park has everything built for a memorable vacation.
What's Special: A relaxing massage at the Aura Spa, range of cocktails at the Sky Bar and Peace Bar, and romantic cabanas next to the purple pool.
Suggested Suite: Studio suites, for a luxurious experience.
Tariff: INR 9,700 per night onwards
20 Perfect Honeymoon Resorts In Goa For Falling In Love Again!
3. Lemon Tree Amarante Beach Resort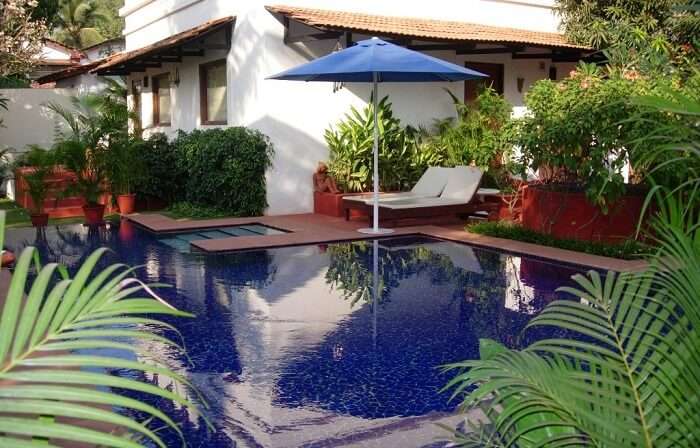 Image Source
One of the the best resorts in Goa, Lemon Tree Amarante Beach Resort is a unique 4-star resort with a plush design and spacious rooms. With multiple type of resorts built to cater to all types of tourists, the Lemon Tree has something for every one. It is located in close proximity to the most happening beaches in North Goa and offers adventurous activities like jet skiing banana boats, parasailing and more.
What's Special: Rejuvenating Balinese massage offered by the Fresco spa, a gorgeous swimming pool, and a breathtaking sunset cruise with candlelight dinner.
Suggested Suite: Heritage Suites, for the experience of the traditional ambiance.
Tariff: INR 8,800 per night onwards
27 Best Hotels In Goa Near Calangute Beach For A Laid-back Beach Vacation
4. Sonesta Inns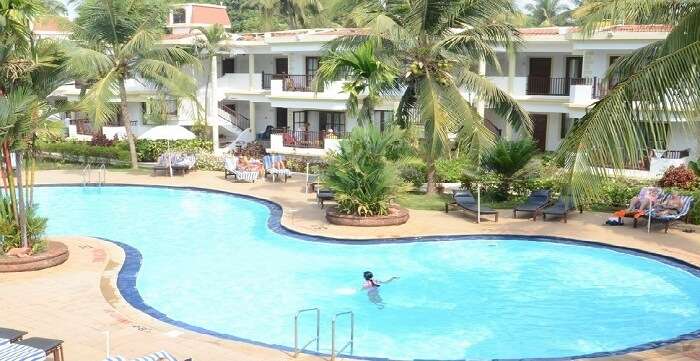 Image Source
Sonesta Inns is among the boutique beach resorts in Goa with unique types of villas offering a stay for budget-friendly tourists. It is the best place for people looking for a comfortable stay, without having to spend heavily.
What's Special: The Ocean Deck Disc & Bar, the Technogym Health Club, and the pool-side bar & restaurant
Suggested Room: Geetanjali Room, for its wide variety of amenities
Tariff: INR 5,800 per night onwards
10 Luxury Homestays In Goa That Will Give You The Real ZNMD Feel!
5. Rococco Ashvem
An easy drive from the airport, Rococco Ashvem is one of the most wonderful beach resorts in Goa overlooking the Arabian Sea. Rococco is a place for the budget friendly tourists complete with a beautiful ambiance, a big pool and other amenities,.
What's Special: Relaxing spa, huge pool overlooking the beach, lounge bar on sea peninsula, and facilities for romantic beach weddings.
Suggested Room: Deluxe sea view rooms, for amazing views
Tariff: INR 2,400 per night onwards; get a complete list of tariffs here.
A Tropical Escapade: Karthik's Romantic Trip To Goa
---
Planning your holiday in Goa but confused about what to do? These Goa travel stories help you find your best trip ever!
---
6. The Rivasa Resort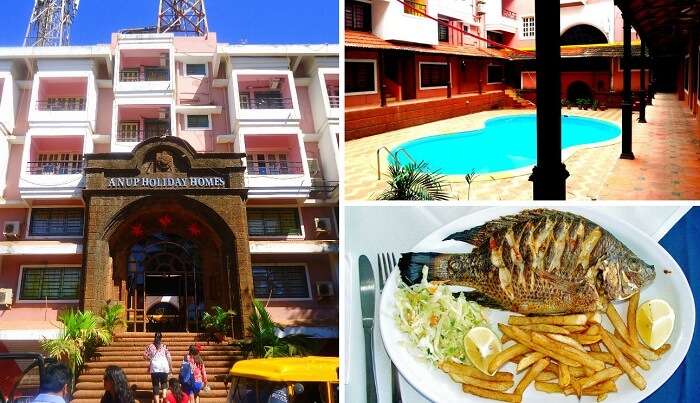 The Rivasa is among the budget beach resorts in Goa. The comfortable and pocket-friendly resort is located in the happening Calangute beach. Without compromising on the quality, Rivasa offers a pleasant stay in Goa – all at an affordable price.
What's Special: Long walks or the water activities in Calangute, delectable food at the Bay Leaf restaurant, and highly affordable prices.
Suggested Room: Family Rooms, for a better experience and privacy
Tariff: INR 1,500 per night onwards
 Trekking In Goa: 14 Trails That Are Ideal For An Adventurous Experience
7. The Leela Goa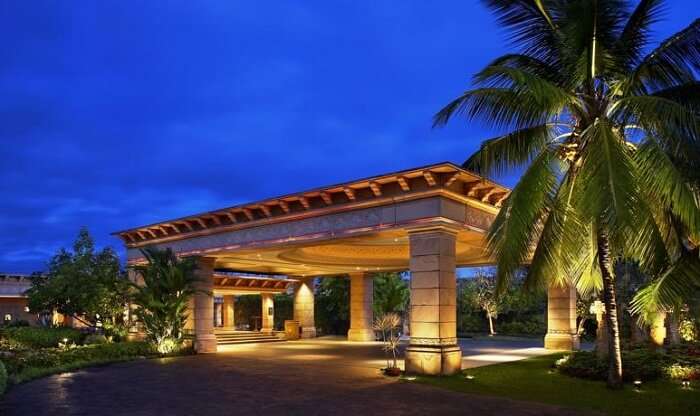 Image Source
The Leela in Goa is an epitome of luxury, where every element speaks of extreme extravagance. Redefining luxury with its beautiful location, state-of-the-art amenities, and outstanding customer service, the Leela Resort comfortably takes the trophy of being the best beach resort in Goa, north and south regions combined. Its well-matched decor, interiors, and ambiance set the place right for indulgence.
What's Special: Pampering spas, beautiful pool, lavish golf course, and the exclusive Goan cuisine
Suggested Suite: The Lagoon deluxe suite, for its private balcony overlooking the lagoon
Tariff: INR 22,300 per night onwards
28 Watersports In Goa That You Must Add to Your Bucket List For A Fun 2022 Vacay!
8. Holiday Inn Resort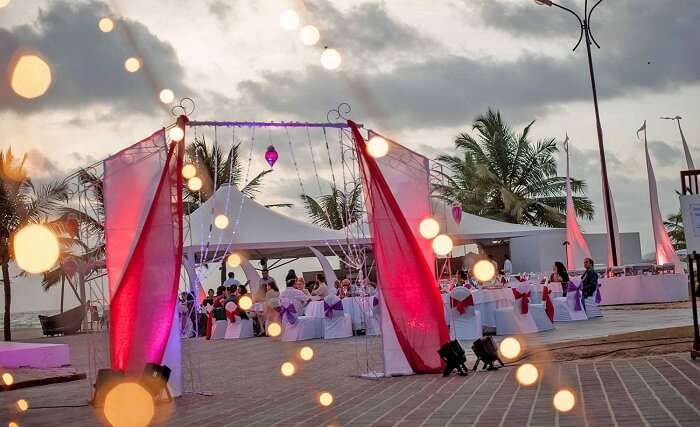 Image Source
In the league of all 5-star beach resorts in Goa, The Holiday Inn Resort offers stunning views of the sea and the beach. Among fine Goa beach resorts close to the Arabian sea, it is known for its huge resort area with equally luxurious rooms and a class of the art facilities.
What's Special: Exclusive Thai spa and relaxing aroma massage, beach-side candlelit private dining, and Beach Grill dining
Suggested Suite: Sunset Suite, for the beautiful view of the Goan sunset from the private balcony and the seclusion of your private Jacuzzi.
Tariff: INR 8,000 per night onwards
10 Holiday Homes In Goa For A Chilled-out Vacation With Family & Friends!
9. Taj Exotica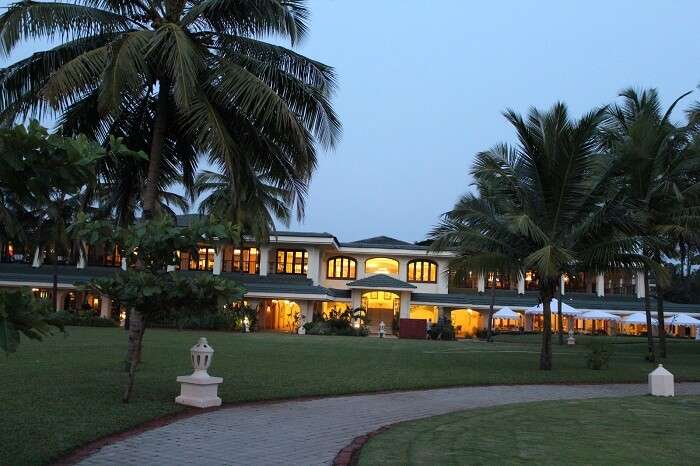 Image Source
Taj Exotica, one of the classic Goa beach resorts, is known for offering an excellent stay and extending warm hospitality for a long time. It boasts impeccable hospitality, exuberance, and wonderful ambiance, besides exotic rooms and suites nestled in lush and tranquil gardens inside the premises. Definitely one of the most charming beach resorts in Goa, India you'll be glad to know that the pristine Benaulim beach is just 700 meters away. Now, who needs another destination to party here?
What's Special: Jiva spa, amazing aromatherapy treatments, and the interiors with a blend of Goan & Portuguese style
Suggested Suite: Luxury Rooms, for the sea-views and Jacuzzi in the bathroom
Tariff: INR 12,500 per night onwards
55 Best Places To Visit In Goa For A Splendid 2022 Vacay!
10. La Grace Resort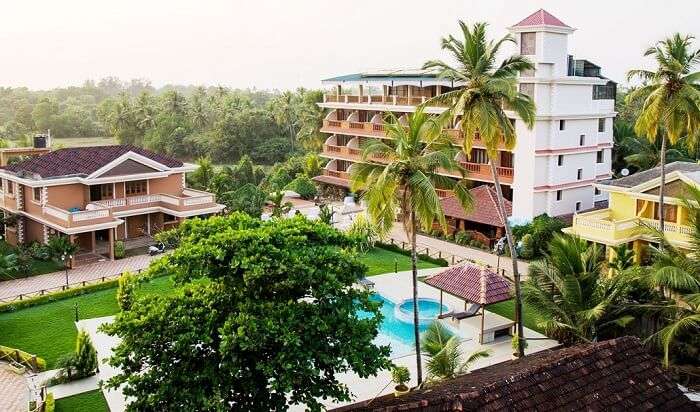 One of the top resorts in Goa, La Grace is an exquisite resort located near Benaulim, secluded from the hustle bustle of the party-centered Goa. It is a perfect place for people looking for a serene stay amidst nature and close to beach. If you're looking for good beach resorts in Goa, this is your pick for sure!
What's Special: The Angel wings spa for a relaxing experience, the Sun Dial Coffee Shop, and the sea-facing Imperial Venus fine dining
Suggested Room: Spacious villas, for a better experience.
Tariff: INR 4,500 per night onwards
5 Destinations For A Pre-Wedding Shoot In Goa For Those Perfect Save-The-Date Cards!
11. Bogmallo Beach Resort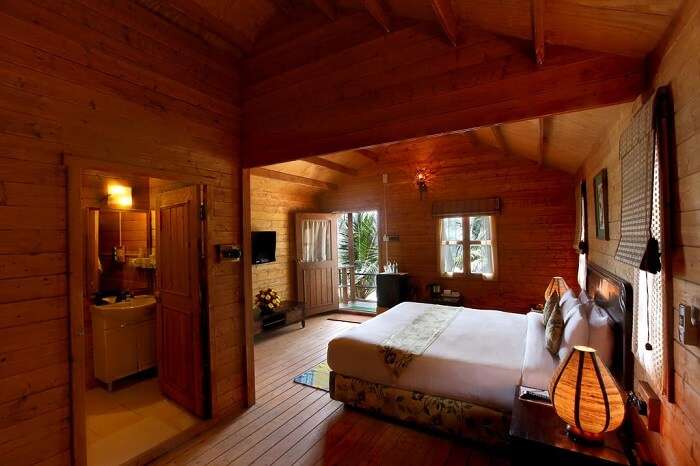 Located on the isolated white sandy beaches of the village of Bogmallo, this charming resort offers various basic amenities in all its rooms, suites, chalets, and even cottages. You can choose to take a soothing swim in the sea and enjoy the wide range of delicacies offered at their 4 in-house restaurants serving local and international cuisines. This is surely one of the best beach view resorts in Goa!
What's Special: A traditional Indian spa to woo your senses along with a fitness center and an outdoor pool
Suggested Room: Hilltop chalet
Tariff: INR 5900 per night onwards
Website | Reviews
Bachelor Party In Goa 2022: 11 Super Cool Ideas To Celebrate Your Singlehood!
12. Taj Fort Aguada Resort & Spa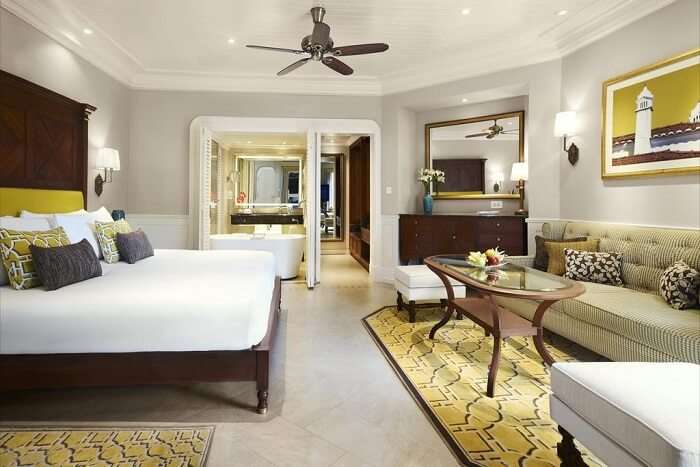 Known to have a charming vibe, this luxurious resort is rated amongst the topmost resorts of the country. With plenty of accommodation options such as presidential villas and superior rooms with sea views, you'll be spoilt for choice here. What's more, is that you can also enjoy some of the fun water activities at the Sinquerim beach with your loved ones.
What's Special: Innovative food served at Lattitude, SFX, and Martini bar with excellent wine options too
Suggested Room: Premium Room Sea View with Terrace
Tariff: INR 19,000 per night onwards
12 Delhi To Goa Trains: Best Rail Journeys Along The Konkan Coast
13. Santana Beach Resort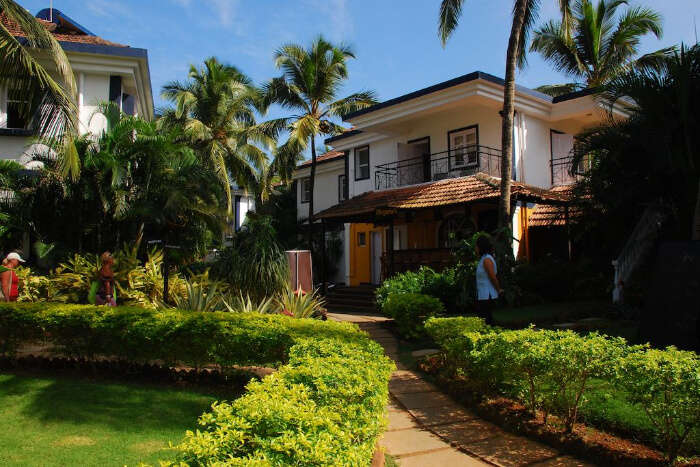 Located in Candolim, Santana Goa beach resort is a relaxing abode for wanderlusts. The property has spacious and well-ventilated rooms, with balconies. The clean rooms with good room service will make your stay comfortable. The resort has gardens within its vicinity, inducing a green and refreshing vibe to the whole resort.
What's Special: Swimming pool, outdoor pool, free parking, restaurant and bar
Suggested Room: Premium Room
Tariff: INR 4,000 per night onwards
8 Amazing Hotels Near Dudhsagar That Are Famous All Over Goa
14. Taj Vivanta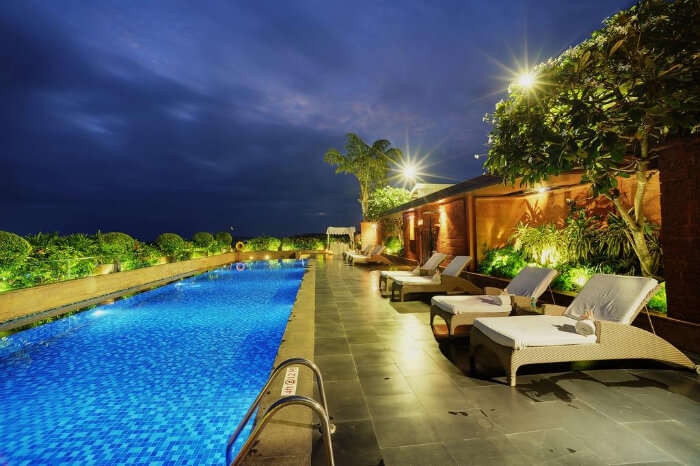 Vivanta by Taj is located off Sinquerim Beach in Panaji. This is one of the most luxurious accommodations in Goa. The 5-star hotel offers various options including superior charm rooms featuring private gardens and presidential nirvana villas. You can enjoy the indoor and outdoor games at Vivanta and also explore the water adventures hosted at the nearby beach. For all the amenities and luxuries it offers, this is one of the most popular Goa beach resorts.
What's Special: Restaurants – Lattitude, SFX, Martini Bar. Spa, Fitness Centre, Gym
Suggested Room: Premium Room with city view
Tariff: INR 8,000 per night onwards
Nightlife In Goa 2022: 12 Best After-Dark Experiences Offered Here!
15. The Lalit Golf & Spa Resort Goa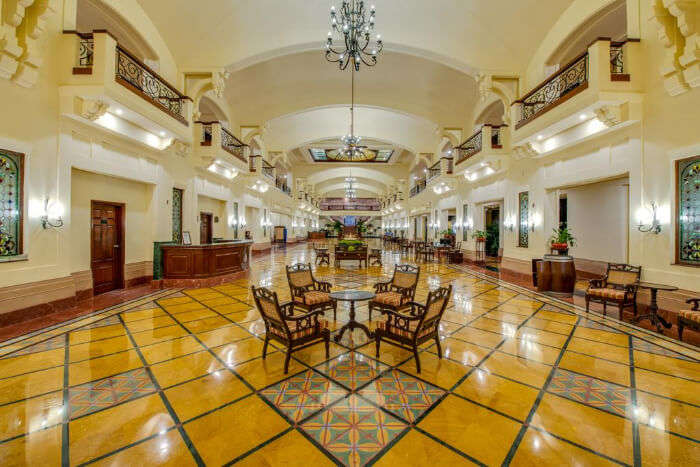 This is one of the best family beach resorts in Goa. The Lalit Golf & Spa Resort in Goa is spread across 85 acres along the pristine Goan coastline. Built-in the Baroque Portuguese architectural style, the resort features vast gardens and a long beachfront to give you a truly luxurious Goan experience.
What's Special: Double 'T' 9-hole golf course, 4 restaurants, and boutique
Suggested Suite: Seaview Suite
Tariff: INR 10,300 per night onwards
32 Hidden Places In Goa: Explore The Unexplored Side Of Goa In 2022
16. Novotel Goa Dona Sylvia Resort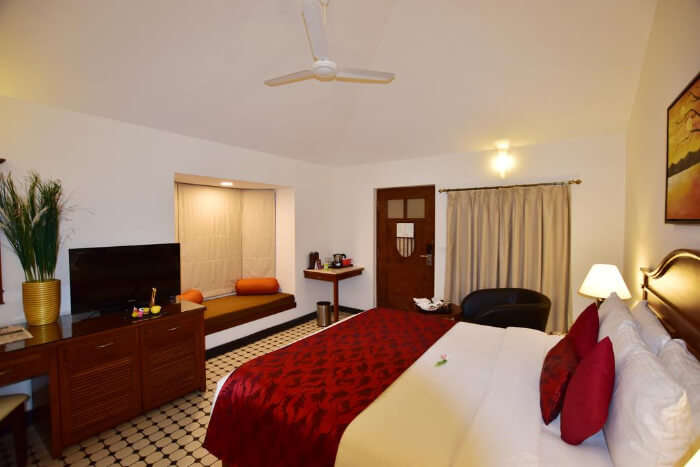 Located near Cavelossim Beach, Novotel Goa Dona Sylvia Resort is one of the best Goa beach resorts. The resort has more than 180 rooms with breathtaking ambiance complemented by scenic surroundings. You can indulge in various adventure activities that are hosted nearby the resort, including banana boating and paragliding. There are many other indoor and outdoor sports that you can enjoy here. You can also hire a cycle at the property to explore the surroundings. This is one of the best beach resorts in Goa for family.
What's Special: Ayurvedic massage centers along with Jacuzzi and sauna facilities.
Suggested Room: Executive Villa King Room
Tariff: INR 8,000 per night onwards
14 Amazing Things To Do In Goa In Monsoon Will Be Your Best Trip In 2022
17. The Caravela
The Caravela Beach Resort in Varca offers an ambiance right from your fancy imaginations. Located just next to the Varca Beach, you can enjoy various water adventure activities like speed boating and parasailing. The resort offers vivid types of interesting accommodations such as Family Villa and Presidential Villa. Goa is incomplete without parties and therefore Caravela features a discotheque. You can also enjoy a visit to the museum, historical places, and spice plantations.
What's Special: The resort features conference rooms, convention halls, a fitness center, and a swimming pool.
Suggested Room: Standard room
Tariff: INR 7,000 per night onwards
7 Wildlife Sanctuaries In Goa That Will Let You Explore The Other Side Of This Gem In 2022!
18. Ozran Heights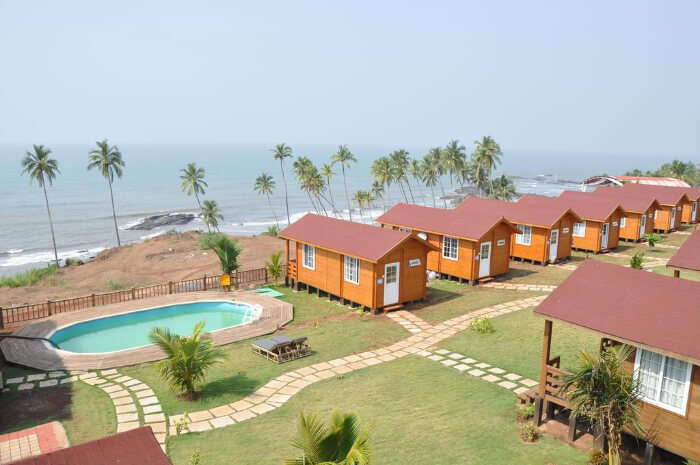 Ozran Heights is a charming resort located on Ozran Beach. The accommodation is divided into Premier Sea View Cottages and Grand Sea View Cottages. The rooms offer lovely beachside views and have a great ambiance. The resort features facilities like a swimming pool and a well-equipped bar. Ozran Heights is one of the best mid-budget 3-star beach resorts in Goa.
What's Special: Zaffran Restaurant at the property has a mesmerizing seaside view and serves delicious tandoori dishes.
Suggested Suite: Premier Suite
Tariff: INR 4,700 per night onwards
3 Days In Goa In 2022: A Guide To Help You Plan Your Getaway Better
19. Grand Hyatt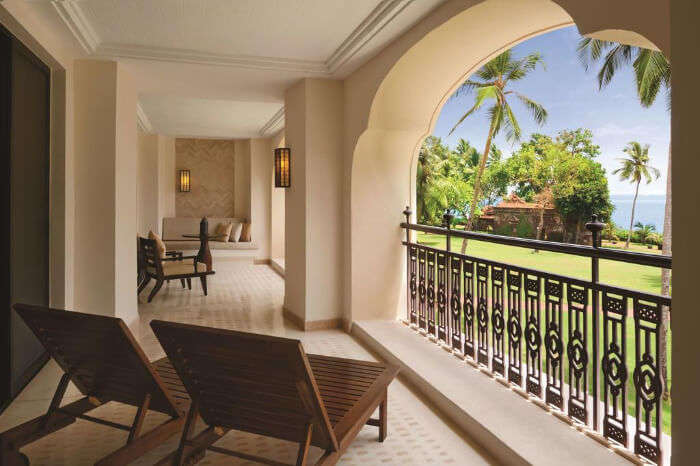 Located beside Bambolim Beach, Grand Hyatt is a luxurious beach resort in Goa. The resort offers accommodation in Standard, View, and Grand Club categories. Be sure to enjoy delicious food during your stay with amazing restaurants within its boundaries. For instance, Verandah serves unbeatable seafood. You can also go for the buffet at the Dining Room, whereas Chulha serves the best Indian food in the city. Opt for the Bay View Lounge for some stunning views of the bay. Grand Hyatt has some of the perfect secluded beach resorts in Goa.
What's Special: Relax at their Shamana Spa. The resort also features Camp Hyatt for children, a free-form pool outdoors, and a pillarless ballroom.
Suggested Suite: Superior Suite
Tariff: INR 13,700 per night onwards
20 Nightclubs In Goa For The Most Happening Nightlife Experience Ever
20. Cidade De Goa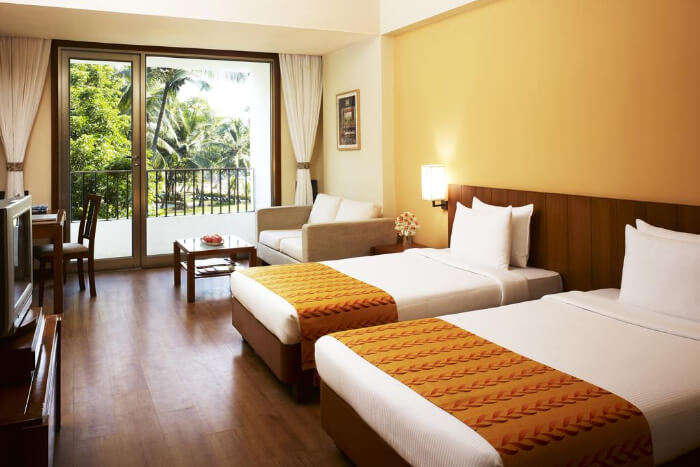 Cidade de Goa is located on the Vainguinim beach. The resort boasts of its Goldfinger Casino, a business center and shopping arcade. You would love your stay here if you are an adventure junkie. The Adventure Desk organizes dolphin tours and sunset cruises. You can also enjoy water sports such as jet-skiing, banana boating, and parasailing on the beach. The property is split into standard, superior, classic, and deluxe rooms. The rooms feature a minibar and a coffee maker along with other facilities.
What's Special: The best part is its multiple dining including Alfama, Barbeque, Café Azul Laranja, and Doçaria restaurants. Taverna and Bar Latino serve the best Goan drinks.
Suggested Suite: Vasco da Gama Suite Sea View
Tariff: INR 10,000 per night onwards
41 Best Places To Visit In North Goa In 2022 For A Kick-Ass Beach Holiday!
21. Zuri White Sands Resort And Casino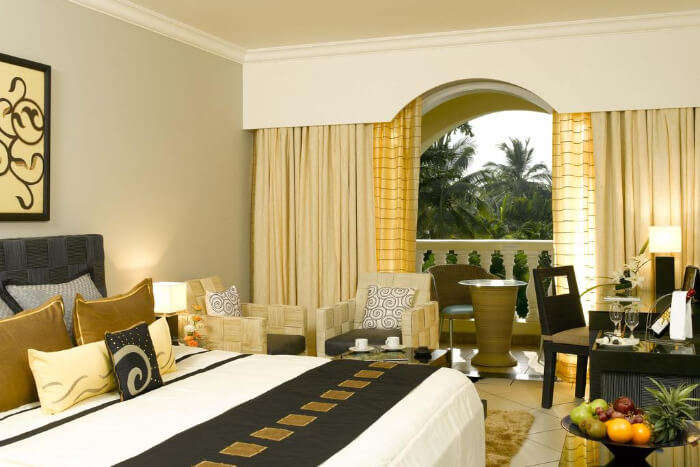 Zuri White Sands Resort and Casino is located on Varca Beach. The resort offers different themed suites including Superior, Zuri Premium, Zuri Deluxe, Zuri Executive, and Zuri Suite. It features spacious rooms and picturesque surroundings. Have a great time exploring the Goan and international cuisines one of the restaurants in the resort including Fins and Rambooze, SAKE, and Blue Lagoon. Try your luck at the Dunes casino, pamper yourself at the beauty salon or groove to the beats at the DJ. Zuri White Sands also hosts various recreational activities including jet-skiing, speed boating, water sailing, and parasailing.
What's Special: The resort features one of the largest swimming pools in India. It also has a swim-up bar.
Suggested Room: Premium room
Tariff: INR 8,000 per night onwards
26 Churches In Goa That Are A Prestige Of Its Glorious Past
22. Kenilworth Beach Resort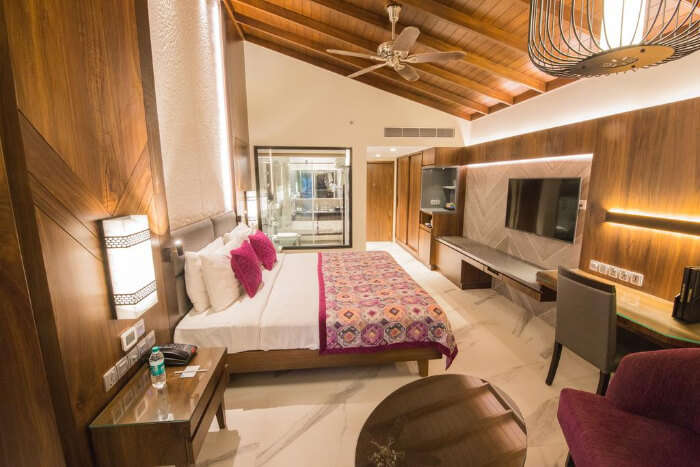 Kenilworth Beach Resort is located near the Utorda beach in Goa. This is one of the best beachside resorts in Goa. The resort is suitable for all kinds of travelers and offers different kinds of accommodations. The resort also organizes activities like sunset trips, dolphin cruises, boating, banana boat rides, and angling. The location has some of the finest restaurants including Mallika, Port of Ino, Seahawk, Lobby Bar, Sunken Bar, and Aquarius.
What's Special: The proximity to the Utorda beach, bringing you the golden chance for Dolphin spotting
Suggested Suite: Seaview Suite
Tariff: INR 10,000 per night onwards
23. Goa Cottages Agonda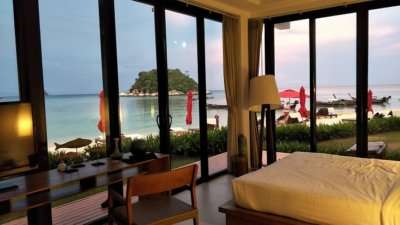 Image Credit: Dodejung for Pixabay
Situated across one of the best beaches in Goa, this resort is fully equipped to provide top class accommodation with a fully functional restaurant, bar, garden space. If you're arriving here in a car, then there is a free parking space for the guests as well. The 24-hour front desk service people are here to provide you with all the details starting from the WiFi password to the nearby attractions.
The suite that you will be provided with will allow you to witness the sunset during the evening and the comfortable beds will provide a much-needed rest time after a long day of activities that you perform on the beach located nearby.
What's special – The fully operational bar will provide visitors with welcome drinks and one can find fine aged whisky here.
Suggested Suite – The bungalow with the sea view suite
Tariff – INR 6500 onwards
24. Summer Sky Beach Resort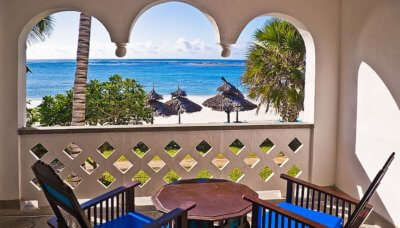 Image Credit: John Heckey-Fry for Wikimedia Commons
By the name, one can easily expect to get views of the beach while vacating in this resort. It is also another resort that is located close to Agonda beach. The rooms are equipped with a flat-screen TV, queen size, massive wardrobe, etc and many more. The complimentary breakfast can be customized as per the requirement of the guests. You will be getting a combination of brilliant customer service alongside a continental feast option at the dining space here.
What's special – The resort offers a nearby cycling platform that can be accessed without any cost for the guests.
Suggested suite – Superior twin room.
Tariff –INR 6000 onwards
25. Sonho Do Mar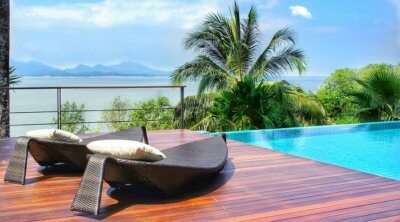 Image Credit: RichardMc for Pixabay
If you're looking for an affordable place with one of the best views of the sunrise in Goa, then Sonho Do Mar along the Agonda beach will be perfect. The deluxe room is equipped with a California King bed that comes with complimentary welcome drinks and breakfast on the basis of food preference. You can take long walks across the beach and perform a morning yoga session on the beach.
What's special – Enjoy a massage with a tropical drink as soon as you arrive here.
Suggested suite – Deluxe double room with seaside view
Tariff – INR 3000 onwards
26. Omkar Beach Bungalow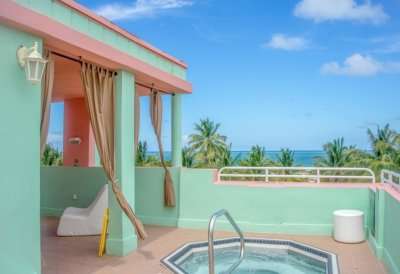 Image Credit: Michell_Raponi for Wikimedia Commons
The Omkar Beach bungalow offers a magnificent garden which can be viewed from the room. The resort staff welcomes the guests with treats and offer rooms fully equipped with a television, furnished bathroom, massive beds, etc. You will get a complimentary breakfast option that is prepared by chefs who are capable of making customized meals for you as per your requirement.
What's special – Take cycle rides across the resort and enjoy the soothing weather.
Suggested suite – Double room with garden view
Tariff – INR 3000 onwards
Further Read: 7 Unexplored Beaches Near Vasco Da Gama That You Must Check Out On Your Next Trip To Goa
The new year is around the corner and there is no better time to be in Goa. Plan your holiday to Goa by choosing your best pick from our list of beach resorts in Goa and have a happy holiday with your friends and family! A Goa vacay is surely worth looking forward to!
For our editorial codes of conduct and copyright disclaimer, please click here.
Frequently Asked Questions About Beach Resorts In Goa
How many beaches are in Goa?
There are approximately 50 beaches in Goa if you combine the regions of both North and South Goa together. But do read all about them before including them in your Goa itinerary.
Which beach is good in Goa?
Calangute, Baga, and Palolem beaches are the best and the most famous beaches in Goa. Visit these beaches and enjoy a mesmerizing holiday adorning the beautiful sceneries & savoring some luscious seafood varieties.
Which beach is best in Goa for family?
Sinquerim, Palolem, and Arossim are some of the best ones that you can visit in Goa with your family & relish a soothing holiday. There are many other beaches in Goa, but the three are the most popular for a family vacation.
Which part of Goa is the best?
If you're looking for some peace and quiet, you can head to South Goa and if you wish to explore the nightlife and party venues, you can visit North Goa.
Which is the best area to stay in Goa?
South Goa has the most pristine and secluded beaches in Goa and is perfect for those who are looking for some quiet and tranquility. Colva and Benaulim is another great place to stay and comes with more budget-friendly options but are a bit are crowded.
Which is the best month to visit Goa?
November and March are the most ideal time to visit Goa and enjoy the soothing cool breeze and the pleasurable weather. The rest of the months are quite humid, so plan your vacation accordingly.
Which are the best beach resort for honeymoon couples in Goa?
While there can be no better place for a honeymoon than Goa, here are a few of the most romantic honeymoon resorts in goa.
1. Estrela Do Mar Beach Resort
2. Park Hyatt Goa Resort And Spa
3. Royal Orchid Beach Resort And Spa
4. Goa Marriott Resort & Spa
---
Looking To Book A Holiday Package?
---
People also read:
Beach Resorts In India Beach Resorts In Colombo Beach Resorts In Florida
Comments
comments