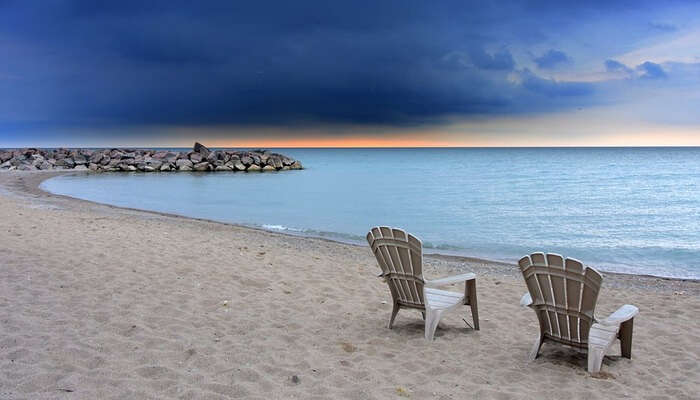 Cover Image Credit: Pixabay
An Ocean breeze puts a mind at ease! Yes, it is true. With nowhere to go and nowhere to be, a day at the beach is just what you need. You are engaged in the busy schedules and need to escape through this daily hustle and bustle. To blow away the cobwebs, you need some recreational and serene atmosphere.
Nothing can replace the happiness of being relaxed and reassured in the laps of the sea waves. The back and forth flow of tide-pulled waters can be soothing to your soul. If you are wondering to regain your health and happiness, then grab your towel and get your beach on in the wonderful locus of Canada – a place full of adventure, exuberance and plenty of beaches in Ontario.
10 Famous Beaches In Ontario
Beaches in Ontario are great places to go to embrace summer. Whether it is the southeastern or northwestern side, Ontario is filled with several enchanting lakes and rivers where you can soak yourself up in the sunshine and thus admire nature. Take advantage of these wonderful rejuvenating waves scouring the coastline with the blue sky above and the grey sand below.
We have brought some of the famous beaches in Ontario to this listicle. You can exuberate your vacation to the fullest by planning a visit:
1. Sauble Beach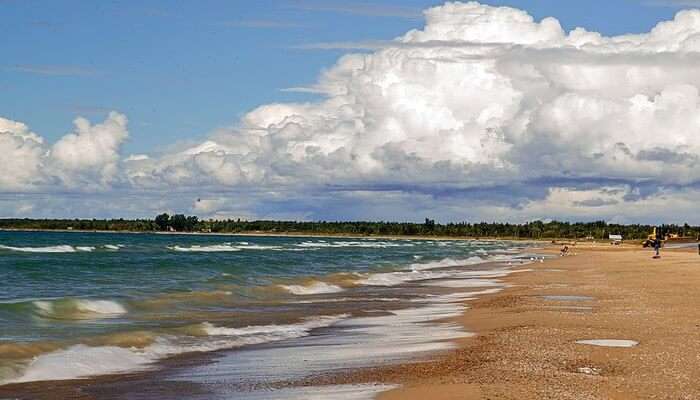 Set up in the town of South Bruce Peninsula, near the Owen Sound city, Sauble Beach here has a stretch of eleven kilometers yet offers an endless spot to rejuvenate you amongst its soft waves in the lap of warm water.Formation of crowd Inn Hotdog stand and driftwood restaurant since 1948 has seduced all the corners.
People from around the world come here to relax along with their families. Famous souvenirs and yummy eateries add spunk to your vacation. Some of the prominent events like classic car shows, downtown movie nights or sand festivals further attract the newcomers with its terrific vibes. Sauble Beach is said to be the second longest freshwater Beach in Canada.
Suggested Read:40 Best Places To Visit In Canada In 2022 That Will Leave You Spellbound!
2. Port Stanley Beach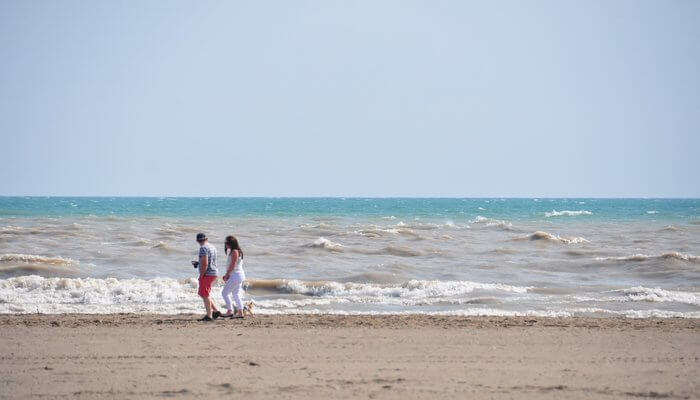 Port Stanley Beach, located in Port Stanley is one of the best beaches in Ontario. You will be mesmerized with astonishing stones of different varieties here. Port Stanley Beach has plenty of lifeguards and its perfect waves insist everybody to indulge in bodysurfing. You can also roam around the shores by renting a paddle board or kayak during the calm days. Jet Ski are also available on rent. An esplanade near Hofhuis Park attracts all the beachgoers due its serenity. Mackie's beachfront Restaurant is the world famous restaurant which leaves an imprint on every visitor.
3. Grand Bend Beach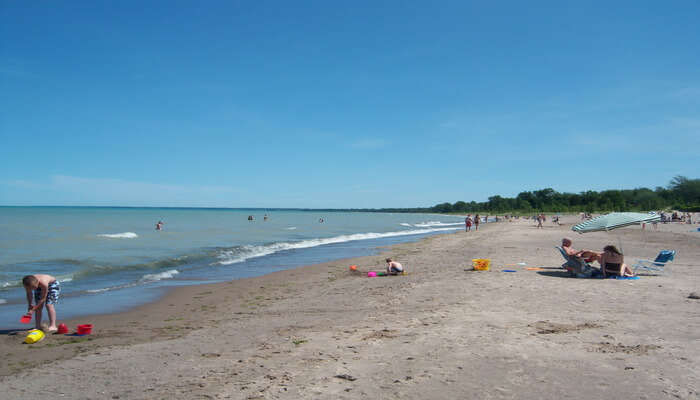 If you want to spend your weekend in one of the top beaches in Ontario, then Grand Bend Beach would be the best option for you. It is a blend of class and modern beach town that arrests the souls of all beachgoers. Sandy stretches of beach space offers a vast area for walking and admires the lakeside ambience. Grand Bend Beach has earned the reputation of having official blue flag status for its adherence to strict water quality and safety rules. It is a perfect mat for families as well as adventure enthusiasts. Motorcyclists and watersport geeks can grab perfect opportunity to enjoy the rides on St. Clair River and Huron Shore route. Sparkling blue waters bestows the grand look.
Many adventurous and recreational activities can be performed here at the Grand bend. It is a hub for parasailing, jet skiing, splash watersports. You also enjoy the exciting and thrilling car racing on the track of Grand Bend Motorplex. Luxuriant hotels and cottages make your visit more comfortable.
Suggested Read:6 Cool Water Parks In Toronto You Must Visit For Topsy-Turvy Rides!
4. Mille Roches Beach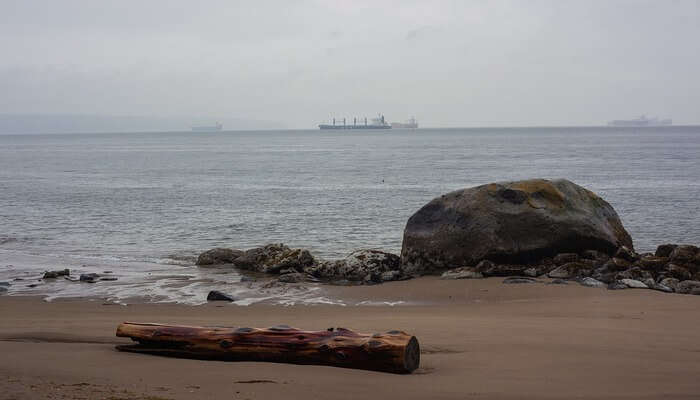 Mille Roches is one of the largest beaches in South Eastern Ontario, located on St. Lawrence corridor. Its serene vibe and beauty has made it one of the best beaches in Ontario. The beach and picnic area features water sports like kayaking, boards, canoes, and beach volleyball. Long Sault Parkway which is a series of 11 small islands interlinked with bridges is a major attraction of this beach. You will also be overwhelmed with the beach water quality and its magnificent surroundings. It enjoys the title of being one of the best beaches in Ontario for swimming.
5. Old Woman Bay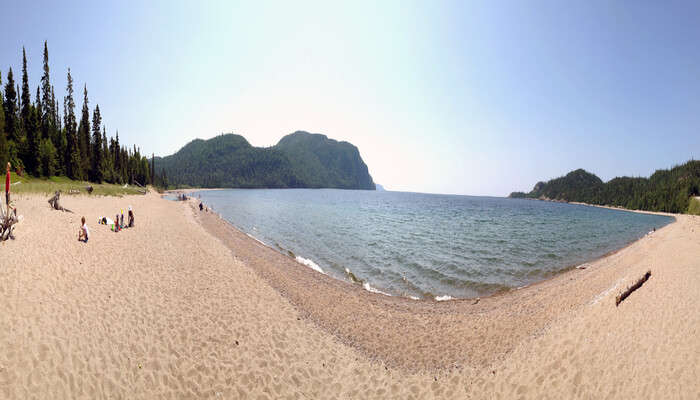 Old Woman Bay resides at the northern corner of Lake Superior. When you look towards the horizon, the face of an old woman is observed within the 200 meter standing cliffs. It is a great place which offers beautiful sightseeing, picnic spots as well as fishing opportunities. It is a perfect place for a complete family trip. If you are fond of swimming in the superabundant cold water, then this beach would be the best as it falls under the category of one of the best beaches in Ontario for swimming in cold water. The Nokomis Trail which is situated on the north eastern corner of the highway to the other side of the Old Woman Bay parking offers best option of hiking for the adventure geeks.
Suggested Read:8 Best Indian Restaurants In Vancouver Loved By Epicures In Canada
---
Planning your holiday but confused about where to go? These travel stories help you find your best trip ever!
---
6. Sandy Beach in Ontario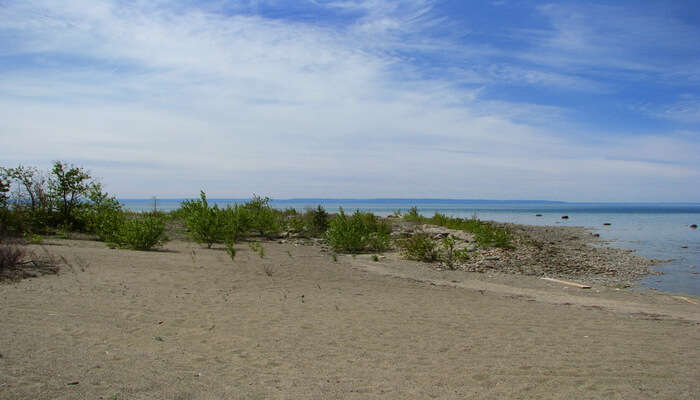 Located within the city of Thunder Bay, Sandy Beach is a gem to the world. The magnificent coastline, sandy shores and beautiful scenic beauty is like an icing on the cake. The to and fro motion of the waves not only calms your mind but also brings a charm and enchantment in the aura. Wearing the crown of one of the best beaches in North western Ontario, it opens up to a Chippewa park which propounds various amusement rides, sports fields, campground, cabins and playground for the visitors.
During summers, it appears to be cool but slowly and gradually gets warm to pleasant temperature by July. Mouth watering eateries and delicacies brings piquant flavor to your taste buds. People enjoy having ice creams during their stay in the summers.
7. Lake Marie Louise Beach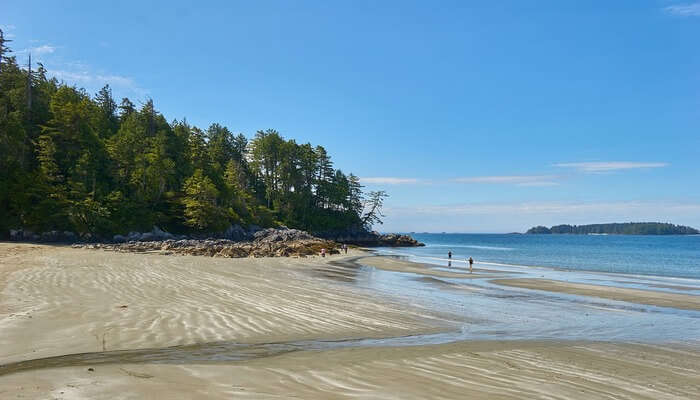 Falling under the category of the beaches in North western Ontario, Lake Marie Louise Beach has made its unique identity. This beautiful sandy beach is a marvelous spot where you can enjoy to the fullest. You may indulge in playing volleyball in a big playground that adds spunk to its beauty. This beach opens up into a sleeping giant provincial park which is a perfect getaway for families, and is surrounded by some great places to visit in Canada. The park, despite its beautiful campground with the lakefront sides, is also well known for its back country hiking and camping. If you want to enjoy beyond the buoys, you can take canoes on rent.
Suggested Read:4 Best Montreal Airports For Easy Commute To Canada's Largest City
8. Sandbanks Provincial Park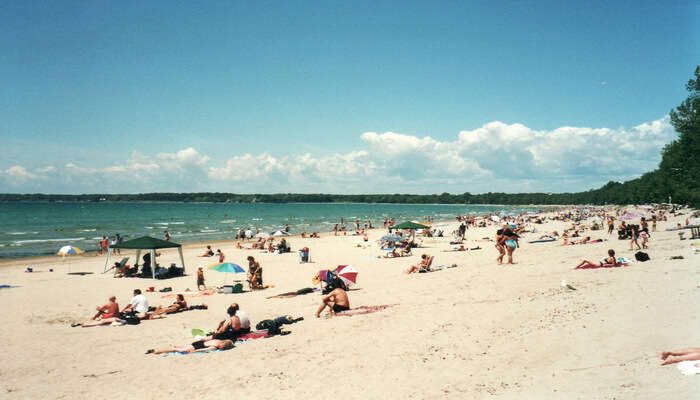 Sandbanks Provincial Park, one of the best beaches in South Eastern Ontario, is the world's largest baymouth barrier dune formation expanding into three sandy beaches. Its crystal blue waters and soft sand delves everyone into bewilderment. The beautiful walking trails allow visitors to experience dunes and wetland habitats. It gives you a unique experience of playing on the dunes, making it one of the best beaches in Ontario for families. Due to its finest water qualities, it is regarded amongst the best beaches in Ontario for swimming purpose as well.
9. Port Burwell Municipal Beach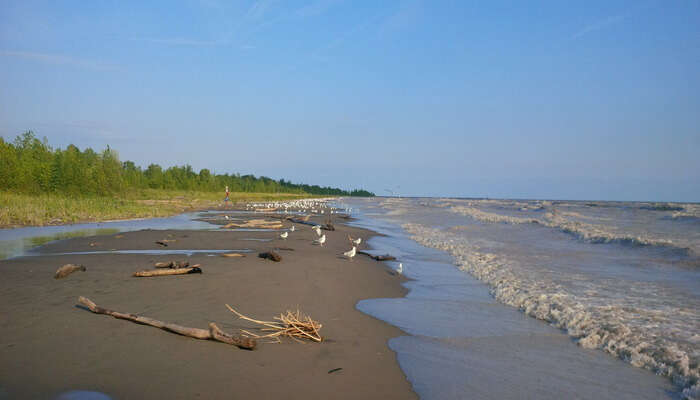 Wondering to catch the abundance of sun rays, Port Burwell Municipal Beach would be an outstanding option for you. All beaches in Ontario offer excessive amounts of fun and relaxation but nothing is more astounding than the soothing sounds of waves of Port Burwell. There's always room to stretch out in the sunshine on the sandy shores of Lake Erie. People often bring their yoga mats to meditate along the banks in this peaceful atmosphere. Volleyball nets are available where people can enjoy their game to the fullest.
This beach has received the official Blue flag status due to its commitment for the water quality and safety levels. This blue flag status has brought it amongst the top beaches in Ontario, Canada. This is the best destination to take real pictures as it is a perfect option for the photography enthusiasts.
Suggested Read:10 Best Restaurants In Toronto To Explore The Gourmet Scene Of Canada
10. Canatara Beach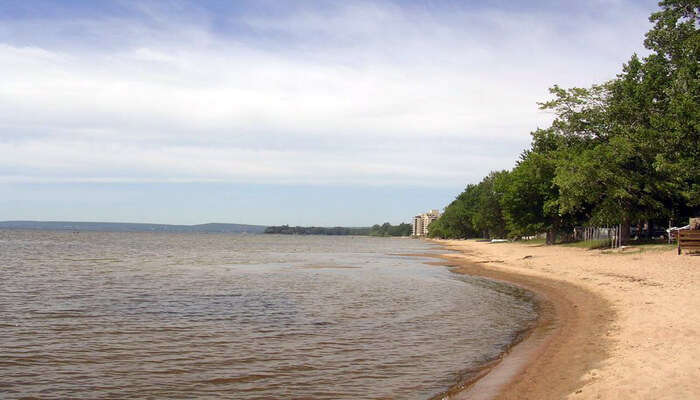 Situated near the mouth of St. Clair River, the Canatara Beach and Park boasts an unlimited array of activities. The crystal clear waters of this beach are best for swimming. The distinguished beauty of parkland hosts several options including BMX Trails and Choo-Choo train. The Children's Animal Farm is a fabulous characteristic that enables you to observe cute rabbits, geese and other livestock. Kids will surely be delighted after seeing this magnificent world of animals. Trekking enthusiasts can trek along the trails of Tarzanland, a 22 acre section of the hardwood forest which offers footpaths for walking and the enormous bike routes for cycling purpose or visit any of the nearby waterfalls in Ontario. 
It's time you raise a glass to the beach and toast to its beauty. Plan out for a vacation to Ontario to spend your day looking up at the cerulean blue sky and feel the warm sugar sand between your toes while finding inner peace at these drop-dead gorgeous beaches in Ontario. May you always have a shell in your pocket and sand in your shoes!
For our editorial codes of conduct and copyright disclaimer, please click here. 
Frequently Asked Questions About Beaches in Ontario
Which is the best beach in Ontario?

All beaches are magnificent but Grand Bend Beach and the Sandbanks are considered the best ones.

Which is the warmest lake in Ontario?

White Sandbank has the warmest waters in Ontario.

Which is the best beach for swimming purpose?

Mille Rouches and Sandbanks are best for swimming.

Are dogs allowed in Sauble Beach?

No! Dogs are not allowed on the beach for safety reasons.
---
People Also Read:
South Carolina Beaches Beaches Near New York Beaches In Las Vegas