Popular as the Great White North, Canada looks no less than a beautiful picture taken right out from a fairy tale book. And the country turns into a magical land when the snow starts settling down. If you love skiing, the winter slopes in Canada poses many excellent opportunities to dash through the snow and also watch rare and exotic wildlife in winters. It is definitely colder, cheaper, and prettier. Don't believe us? Scroll through these best places to visit in Canada in winter, which will convince your heart completely!
11 Places In Canada In December 2019
Here is the perfectly curated list of the places one must explore in Canada to have an amazing winter trip. Take a quick look!
11. The Dazzling Niagara Falls In Ontario
While the humongous falls are an absolute delight in summers, the frozen falls in Canada winter look equally bewitching. The sheer beauty of the frozen falls is difficult to express in the words. A spectacular dazzler is as close as you can come to describe the mystical falls in the winter. You can see the chilling mist rising above the falls looks so mystical.
Best for: An ice-wine festival is organized every year in Niagara town which you ought to attend if you like sweet dessert-style wine.
Best Places To Stay: The Inn At Cobble Beach
Things To Do:
Must Read: 10 Vancouver Hotels For Luxury And Budget Travelers
10. Charlottetown: The Winter Wonderland
Despite being the smallest province in the country, this city situated in the Prince Edward Island is one of the best places to visit in Canada in winter. From cozy places for staying to fun things to do in Canada in winter, this place lets you make the most of the colder months.
Best for: Enjoy tobogganing and snowshoeing in Brookvale Winter Activity Park, a fun destination for families.
Best Place To Stay: The Holman Grand Hotel
Things To Do:
Ice skating
Snowshoeing
Downhill skiing
Sledding
Building a snow fort
Attending the music week
Suggested Read: 12 Waterfalls In Canada That Will Surely Mesmerize You With Their Enchanting Landscape!
9. Halifax: For Maple Treats
Situated in Nova Scotia, this city is another top place to visit for enjoying the Canada winter. Be it indulging in a sleigh ride at Hatfield Farm or tobogganing on the Citadel Hill, there's a lot to do and see in the city irrespective of how low the temperature drops.
Best for: Halifax is famous for maple syrup and other treats. Enjoy a delicious brunch made of sweet Maple syrup and taa hikeike in the woods afterwards.
Best Place To Stay: The Prince George Hotel
Things To Do:
Eat at the Brooklyn Warehouse
Indulge in downhill skiing at Ski Martock
Explore the Point Pleasant Park
Suggested Read: Temples in Canada: 9 Places That Are A Testament To This Country's Diverse Culture
8. Newfoundland: Labrador For Unique Experiences
The Marble Mountain is what makes Newfoundland a perfect place to visit for your winter vacations in Canada. From offering the best of  Canada winter sports in the eastern region to spectacular views, every day here is packed with unique experiences.
Best for: Spend a week at Gros Morne National Park which has more than 50 km of skiing trails and is considered to be one of the best all year round park in Canada.
Best Place To Stay: Fogo Island Inn
Things To Do:
Indulge in snowmobiling
Skiing
Cross country skiing
Snowboarding
Suggested Read: 20 Best Places To Visit In Canada That Will Leave You Spellbound!
7. Toronto: For One-Of-Its-Kind Experiences
If you embrace the winter season as much as the country does, then Toronto is the best city to visit in Canada in winter. The long, cold days and nights can be best enjoyed here by indulging in one-of-its-kind experiences like fat biking, taking a tour of the trails in the Don Valley, or witnessing the icebreaker installations at the waterfront.
Best for: Toronto hosts a food festival called Winterlicious where you can treat yourself with winter gourmet delights, definitely one of the best things to do in Canada in winter.
Best Place To Stay: The Ritz Carlton
Things To Do:
Be a part of Winterlicious – the best food festival
Attend a game of hockey
Indulge in skiing and ice skating
Suggested Read: Festivals of Canada: 8 Unmissable Extravaganzas That Will Give Celebration A New Meaning
6. Grouse Mountain: For An Incredible Winter
Of all the places to visit in Canada in December, Grouse Mountain in British Columbia is absolutely worth visiting. Winter in Canada not only takes you away from the crowd but also lets you have an incredible time in the snow with your loved ones!
Best for: Watch movies at Peak's Chalet Theatre in the Sky after you have experienced the exhilarating winter activities.
Best Place To Stay: Grouse Mountain Lodge
Things To Do:
Snowshoeing
Mountain ziplining
Mountain-top skating
Sky riding
Suggested Read: 10 Vancouver Hotels For Luxury And Budget Travelers
5. Calgary: To Experience The Mystical Winters
To see what magic looks like, you need to visit Calgary in Alberta during the winter months. Being one of the best places to visit in Canada during winter, it makes your holiday a little less of a cliche by offering fun experiences like ice fishing and cross-country skiing. Irrespective of whom you visit here with, you're sure in for a great time.
Best for: Visit the Fish Creek National Park, a free winter destination in Calgary, and track and guess the foot prints in the snow.
Best Place To Stay: Hyatt Regency Calgary
Things To Do:
Dog sledding around the city
Visit the Banff National Park
Cross-country skiing
Hiking
Ice fishing
Suggested Read: Canada Travel Tips: For A Perfect Holiday In The Largest Country Of North America
4. Quebec City: Stay In An Igloo
Snow baths, ice canoe races, a luxurious stay in an igloo, and the famous Quebec Winter Festival make this city a prime choice for experiencing the Canada winter at its best. If not with family or friends, you must definitely consider visiting here with your partner!
Best for: Celebrate the 'Quebec Winter Carnival' and make massive snow sculptures. Also, check out the Ice Hotel carved entirely out of ice and decorated with neon lights.
Best Place To Stay: Hotel de Glace
Things To Do:
Attend the Quebec Winter Carnival
Indulge in snowsliding
Ice fishing
Stay in the ice hotel
Suggested Read: Explore Canada Travel-Land Of Maple Leaf On Your Next Trip
3. Winnipeg: Enjoy Skating At The Forks
Image Courtesy: Quebecormedia.com
From letting you party outside like a Voyageur, and skating on the longest naturally frozen trail to warming up indoors, Winnipeg is the best place for enjoying your Canada winter holidays . When here, make sure you also visit attractions like FortWhyte Alive and The Forks!
Best for: Enjoy Thermea, an open-air Scandinavian spa in the forests of Fort Garry, just 10-minutes drive away from the city.
Best Place To Stay: Delta Hotels by Marriott Winnipeg
Things To Do:
Attend the Festival du Voyageur
Go for skating at The Forks
Enjoy a bonfire at FortWhyte Alive
Visit the Assiniboine Park Zoo
Suggested Read: Hanging Hotel In Canada: Free Spirit Spheres Are Here To Satiate The Wanderlust Of Free Souls!
2. Ottawa: Indulge In Winter Camping
Boasting the largest outdoor skating rink in the world, Ottawa is amongst the top places to see in Canada in winter, and a paradise for people who love Canada winter. After skating for long hours on the Rideau Canal, you can explore the city and end the day on a warm note by dining at any of its gorgeous restaurants.
Best for: Enjoy gorging on 'beavertails', a local delectable treat which has become an addiction for Canadians, even President Obama couldn't resist.
Best Place To Stay: Fairmont Chateau Laurier
Things To Do:
Go for skating on the Rideau Canal
Visit the Gatineau Park for cross country skiing
Indulge in winter camping
1. Whistler: Go Ice Climbing And Skating
This winter wonderland is the ideal place to visit, especially with your family if you wish to experience the best winter vacations in Canada. Situated in British Columbia, this ski capital of the country offers more fun adventures than just skiing, and cuts down the confusion of 'where to go in Canada in December'.
Best for: Embark on the Peak 2 Peak Experience where you will get to witness numerous famous peaks from a prime spot.
Best Place To Stay: Four Seasons Resort and Residences Whistler
Things To Do:
Dog sledding
Ice climbing, and Ice-skating
Snowmobiling, and snowshoeing
Sleigh rides, and Ice fishing
Tips For Visiting Canada In December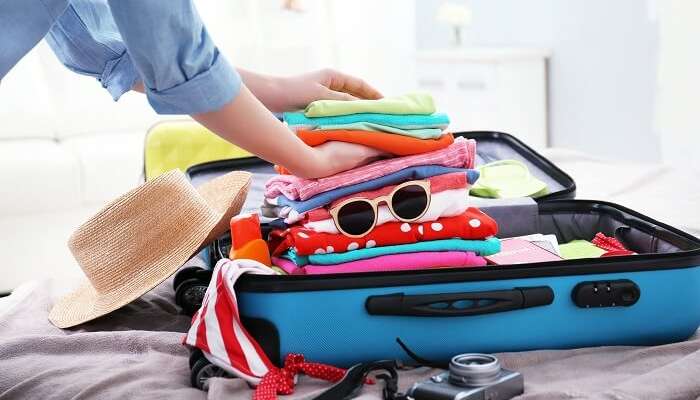 Pack a pair of gloves, jackets, a warm cap, a woolen scarf, and sturdy shoes
Make sure you pack clothes, keeping your trip itinerary or activities in mind
Pack a good moisturizer, lip balm, and sunscreen to keep your skin hydrated
Keep a regular check on the weather forecast while leaving for Canada, and even when you're traveling in the country from one place to another
Wear multiple layers of clothing so that it's easy to adjust to the change in temperature
Make sure you don't skip your meals, especially your breakfast
Further Read: India's 15 Best Honeymoon Places In December: Top Mountain, Beach, & Desert Getaways
Excited to have fun in the snow already? Unfortunately, you will have to wait for a few months more. Until then, have a look at the best things to do in Canada for an absolutely thrilling international holiday so that you can plan your winter vacation accordingly!
Frequently Asked Questions About Canada In Winter
People also read:
Places To Visit In Winter In India Places To Visit In Uttarakhand In Winter Places To Visit In France In Winter
Comments
comments