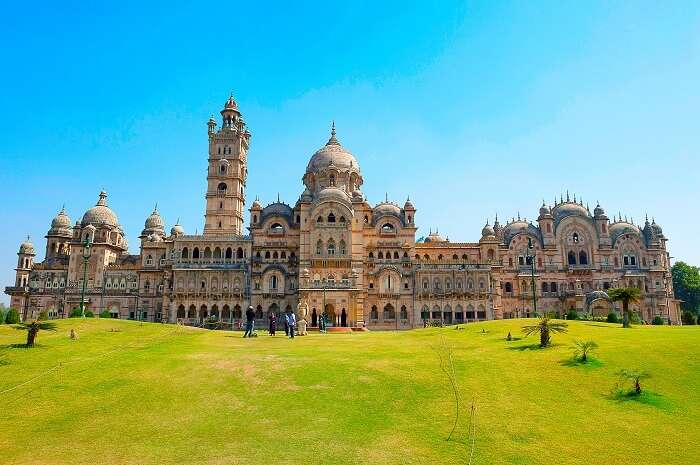 Much famed for its majestic kingdoms, rich traditions, and magnificent past, Vadodara is not just an ideal getaway for a memorable weekend but also a famous city that oozes architectural brilliance. Coming alive during the Navratri celebrations, embark one of the famous sightseeing tours and make sure that you do not miss out on these best places to visit in Vadodara to relish the Gujarati essence.
16 Best Places To Visit In Vadodara
While you're out and about in the scenic land of Vadodara, there are some places you surely cannot miss out on. Here's a list of the most amazing ones that we've picked out for you!
Makarpura Palace
Champaner-Pavagadh Archaeological Park
Sayaji Gardens
EME Temple
Vadodara Museum & Picture Gallery
Jambughoda Wildlife Sanctuary
Surya Narayan Temple
Sursagar Lake
Sri Aurobindo Ashram
Laxmi Vilas Palace
Nyaya Mandir
Kirti Mandir
Narmada Canal
S-Cube Water Park
Baps Shri Swaminarayan Mandir
Kabirvad
1. Makarpura Palace
Image Courtesy: Vadodara-Baroda.City
Makarpura Palace is one of the ideal places to visit in Vadodara during summer. This palace was initially built in 1870 with the motive that it will serve as a summer palace for the Gaekwads. With an Italian touch of architecture, it was renovated after years it was built. However, it now serves as a training school and is run by the Indian Air Force.
Location: Panigate Road, Chhipwad, Vadodara, Gujarat 390006
Timings: All Days – 9 AM to 6 PM
Suggested Read: 10 Famous Festivals In Gujarat Celebrated With Joyous Fervor
2. Champaner-Pavagadh Archaeological Park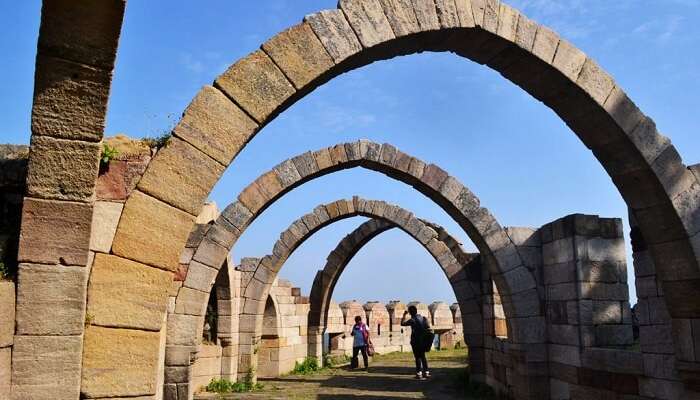 Set in the heart of Champaner city and amidst the Pavagadh hills, this wonderful archaeological park is considered to be one of the best places to visit in Vadodara. Being a UNESCO World Heritage Site, this park comprises of splendid architectural wonders of both Hindu & Islamic designs. The hill of Pavagadh is believed to be a chunk of the Himalayas that was originally carried by Hanuman to Lanka.
Location: Champaner, Gujarat 389360
Timings: All Days – 8:30 AM to 5:00 PM
3. Sayaji Gardens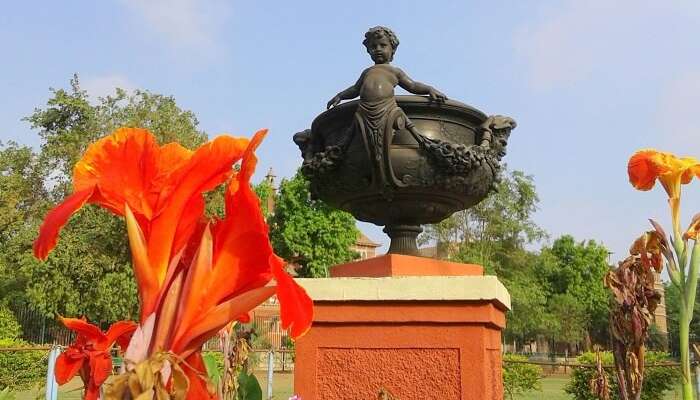 Spread across a land of 45 hectares, this garden is named after the great Maharaja Sayajirao Gaekwad III. Considered to be one of the famous sightseeing places in Vadodara, the park features 98 types of trees, two museums, a zoo, a planetarium, a flower clock, and a toy train for children.
Location: Vinoba Bhave Road, Near Kala Ghoda, Sayajigunj, Vadodara, Gujarat 390005
Timings:
Gardens: All Days – 9:30 AM to 6 PM
Museum and Picture Gallery: All Days – 10:30 AM to 5 PM
Planetarium: 4 PM to 4:30 PM (Gujarati), 5 PM to 5:30 PM (English), and 6 PM to 6:30 PM (Hindi)
Entry Fee:
Museum and Picture Gallery: INR 10 for Indians, and INR 200 for Foreigners
Planetarium: INR 7 per adult, and INR 5 per child
4. EME Temple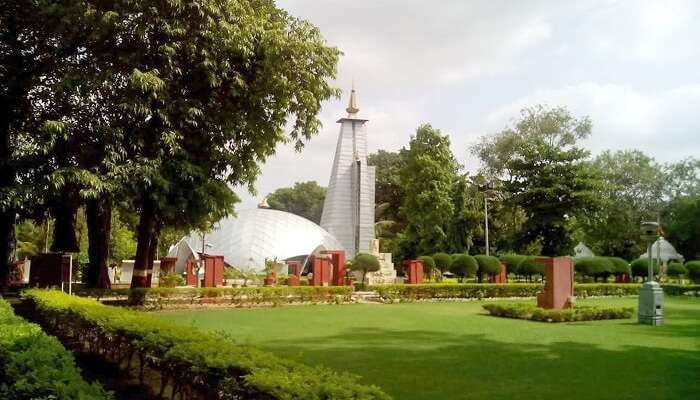 Image Courtesy: Vadodara-Baroda.City
Featuring a remarkably contemporary architecture, EME Temple is a pride of Vadodara tourist places. Dedicated to Lord Dakshinamurthy, a form of Shiva as supreme teacher, this temple depicts the army architecture. The aluminium building of this temple is ringed by a garden featuring a rich collection of 106 ancient statues that date back to the period from 6th to 16th century.
Location: Mandir Marg, Fatehgunj, Vadodara, Gujarat 390002
Timings: Monday to Saturday – 6.30 AM to 8.30 PM
Suggested Read: 10 Historical Places In Gujarat That Uncover A Legendary Past
5. Vadodara Museum & Picture Gallery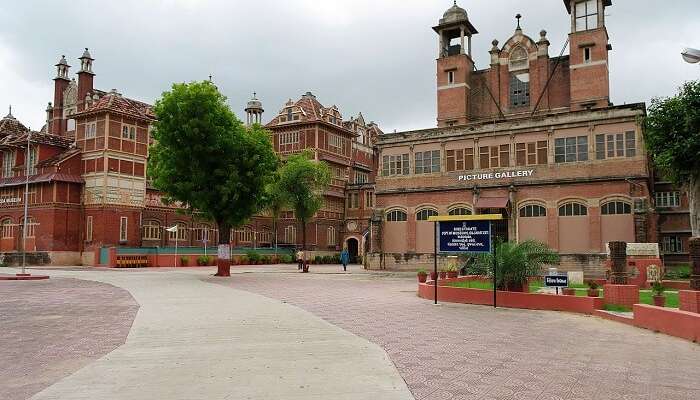 Among the many places to see in Vadodara, the Museum and Picture Gallery is a must-visit for all. Built in 1894 AD by the Gaekwads, the museum displays an extensive collection of artefacts related to archaeology, geology, natural history, and a variety of personal collection by Maharaja Sayajirao III. For all the architecture admirers, this is the place to be.
Location: Dak Bunglow, Sayajigunj, Vadodara, Gujarat 390018
Timings: All Days – 10.30 AM to 5.30 PM
6. Jambughoda Wildlife Sanctuary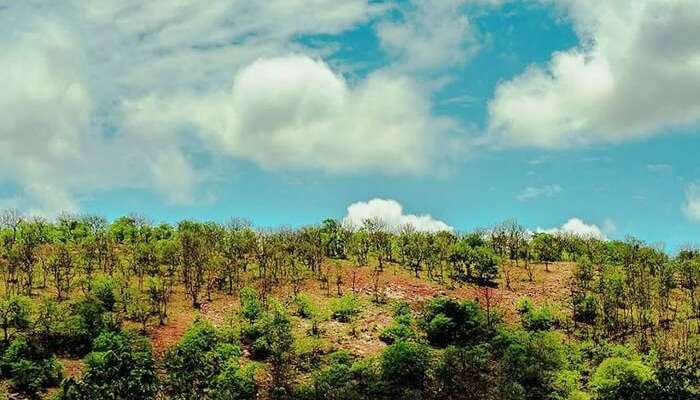 Image Courtesy: Vadodara-Baroda.City
Jambughoda Wildlife sanctuary is a famous spot for those who're looking forward to one-day picnic near Vadodara. The reserve is known for many wild species like wild bear, antelopes, sloth bear, and boars. The forest department usually organizes trekking, camping, and safari tours that makes Jambughoda Wildlife Sanctuary, one of the most adventurous places near Vadodara.
Location: Mota Raska, Zand Hanuman Road, Jambughoda, Panchmahal, Gujarat 391761
Timings: All Days – 6 AM to 7 PM
Best For: Picnic, Trekking, Camping, Wildlife
7. Surya Narayan Temple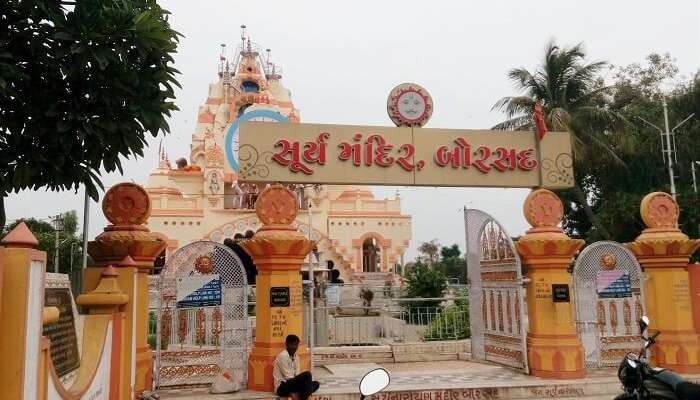 Dedicated to the Sun God, the famous Surya Narayan Temple is famous not only to have bestowed its divine grace upon the devotees but also to relieve them from their ailments. Considered to be one of the best places to visit in Vadodara, this temple also provides dinner and residence facilities to visitors as it attracts large crowd throughout the year.
Location: Opp G P O, Kharivav Road, Raopura, Jambubet, Vadodara, Gujarat 390001
Timings: All Days – 7 AM to 7 PM
Suggested Read: 10 Incomparable Places To Visit In Gujarat
8. Sursagar Lake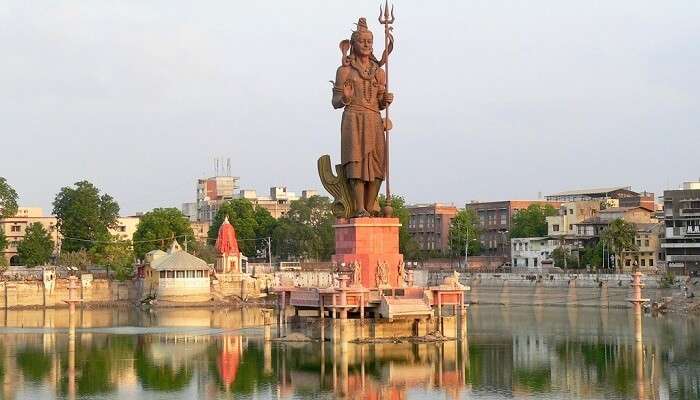 Set at the heart of Vadodara city, the Sursagar Lake is one of the popular places to visit near Vadodara in summer as it offers the perfect respite in the hot weather. One can enjoy boating during the moonlit nights, and enjoy during the relaxed evenings with their loved ones. Built on the stone banks, and established in the 18th century, this lake remains full of water throughout the year.
Location: Centre Of The City, Vadodara, India
Suggested Read: 10 Best Hotels In Vadodara For A Comfortable & Memorable Stay
9. Sri Aurobindo Ashram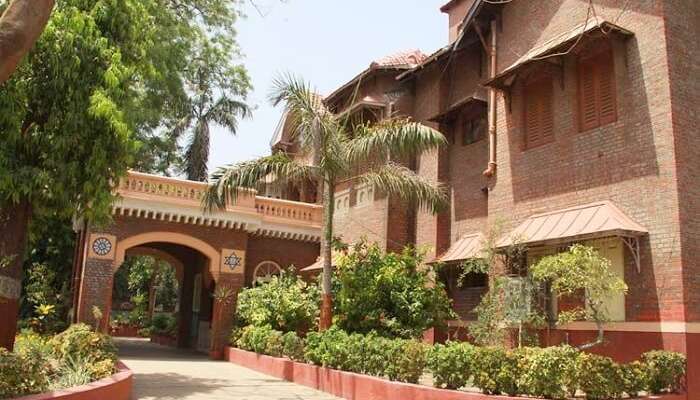 Located at Dandia Bazar, Aurobindo Ashram is one of the best places to visit in Vadodara. Being an ideal spot for meditation, and spiritual healing, the Ashram features 23 rooms, a library, a study room, and a sales emporium. Relics of Sri Aurobindo, and all the rare books that have been written by or about him can also be found here.
Location: Dandia Bazar, Jambubet, Vadodara, Gujarat 390001
Timings: All Days – 9 AM to 7 PM
10. Laxmi Vilas Palace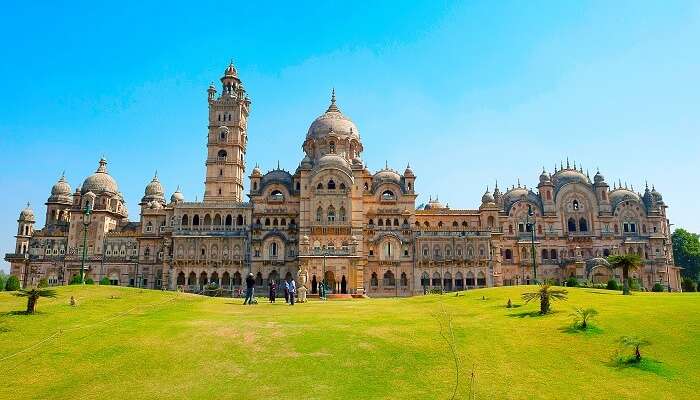 Spread across an area of about 700 acres, Laxmi Vilas Palace is home to the royal family of Vadodara, the Gaekwads. One of the majestic structures in India, this palace is one of the favorite tourist attractions in Vadodara. The museum houses an amazing collection of paintings by Raja Ravi Verma, and various other artefacts gathered from across the globe.
Location: Gate No.2, Laxmi Vilas Palace Estate, J.N.Marg, Vadodara, Gujarat 390001
Timings: Wednesday to Monday – 9.30 AM to 5 PM; Closed on Tuesdays
Entry Fee: INR 200 per person
Suggested Read: 20 Gujarati Dishes That Will Always Have A Sweet Spot In Your Heart!
11. Nyaya Mandir
Constructed in 1896, the Nyaya Mandir, or the Temple of Justice houses the District Court of Vadodara city in the state of Gujarat. This building features an Indo-Saracenic architecture designed by the Madras architect Robert Fellowes Chisholm. Elements of Gothic, Renaissance, and Mughal architecture styles can be witnessed in the building which is definitely one of the must-visit tourist attractions in
Vadodara.
Location: Center Of The City, Near Sursagar Lake, Vadodara, India
Timings: All Days – 9 AM to 6 PM
12. Kirti Mandir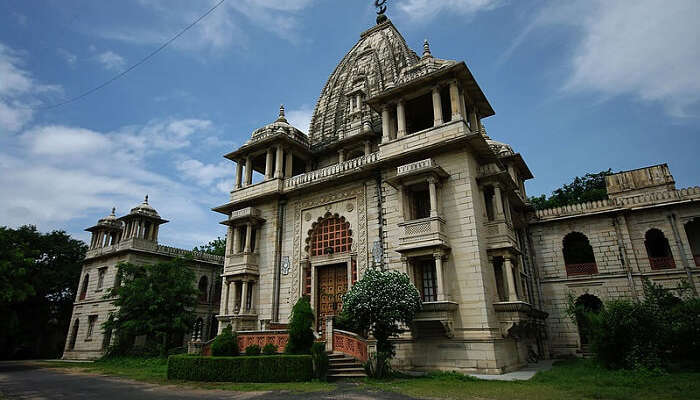 Image Source
Located close to the Vishwamitri bridge in Vadodara, Kirti mandir was made in remembrance of Maharaja Sayajirao Gaekwad III's family members and to celebrate his administration's diamond jubilee. Featuring balconies, domes and terraces, this renowned site in Gujarat is visited by many travelers who wish to witness the spectacular work of architecture that is displayed here.
Suggested Read: 8 Fascinating Things To Do In Vadodara That Let You Taste The Good Life In Gujarat!
13. Narmada Canal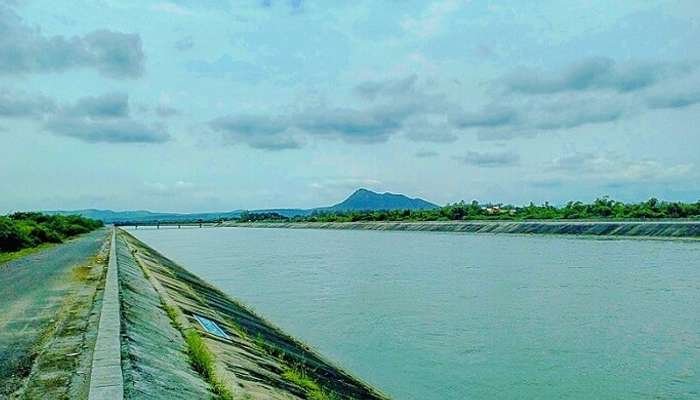 Image Source
To watch a splendid sunrise in Gujarat, this is one of the perfect places to visit in Vadodara for couples! Boasting the state's technological advancements, this canal has many facilities like food stalls, washroom, storage and lockers etc. You can surely visit this place for a memorable selfie with your loved ones or just enjoy a soothing walk at the site! There aren't many places to visit in Vadodara at night, if you're looking for any.
14. S-Cube Water Park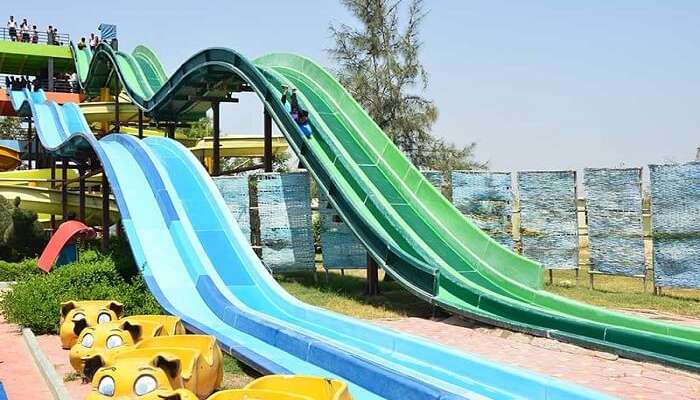 Image Source
Offering plenty of fun rides on board, this famous water park in Gujarat is where you can plan an adventurous outing with your family. Along with 16 attractions in the park, tourists can enjoy the lip-smacking delicacies at the Food Island on the site. This place also has conference hall, workshops and more to blend your work with fun! This place is amongst the popular Vadodara weekend getaways loved by the visitors of all ages.
15. Baps Shri Swaminarayan Mandir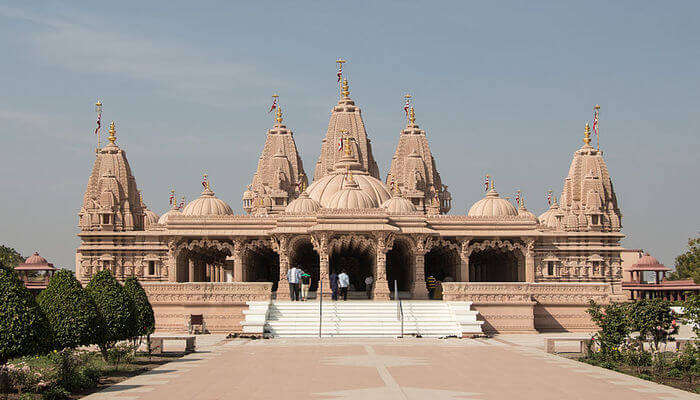 Bochasanwasi Akshar Purushottam Sanstha is an organization that was established in 1907 by Shastri Maharaj. The temple is quite popular amongst the Hindu devotees and exhibits a spiritual and religious environment. With followers from all across the country, the mandir is very known for its festivals and evening prayers.
Location: Shastri Yagnapurushdas Marg, Narayanwadi, Atladara, Vadodara, Gujarat 390012
Timings: 8:00 AM-1:00 PM & 4:00 PM-8:00 PM
16. Kabirvad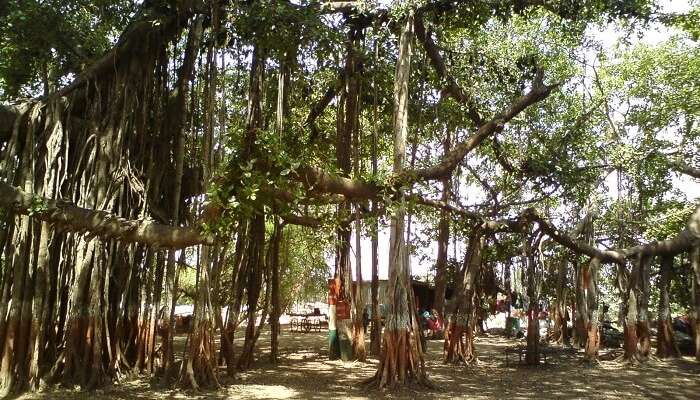 Kabirvad is a popular place which is located on an island amidst the river Narmada. One can reach here by boats available from Shuklatirth Shiva temple. Kabirvad is believed to be named after the famous saint Kabir Das and this incredible grove of a Banyan tree that has grown for ages is spread over an area of nearly 3 km. One can also visit the nearby Kabir temple that welcomes worshippers during prayer hours. This destination will not only provide you a chance to plunge in the history but also purveys serene and soulful ambiance for nature lovers. Kabirvad is one of the best places to visit in Vadodara for 2 days excursion.
Location: Baroda
Timings: Throughout the day
Further Read: 10 Best Resorts In Vadodara For A Comfy Stay Under 5K
Holding a great significance in the history, Vadodara sightseeing plays a crucial role in making every traveler's journey memorable. So on your next trip to Gujarat with TravelTriangle, make sure you explore all these places to relish the real taste of Vadodara city.
Frequently Asked Questions About Best Places To Visit In Vadodara
Q. What is Vadodara famous for?
A. Vadodara is a popular industrial city and is known for its variety of furniture, textiles, and handicraft items. This city of painters and artists has been enticing travelers with its stunning popular attractions.
Q. Why Vadodara is called Baroda?
A. The city was originally named as Vadodara but as the British found difficulty in pronouncing the right name, the city was renamed as Baroda during the British era in India.
Q. What is there to do in Vadodara at night?
A. Vadodara offers numerous surprises for insomniacs staying in the city. You can either go for Ratri Bazar and enjoy the local delicacies or treat yourself at the Barbeque Nation. Little Italy is also a delightful retreat for Epicures. You can also plan a visit to Stroll or go for a Garba night in the nearest club.
People Also Read:
Places To Visit In Gujarat Places To Visit In Devikulam Places To Visit In Bhavnagar
Comments
comments