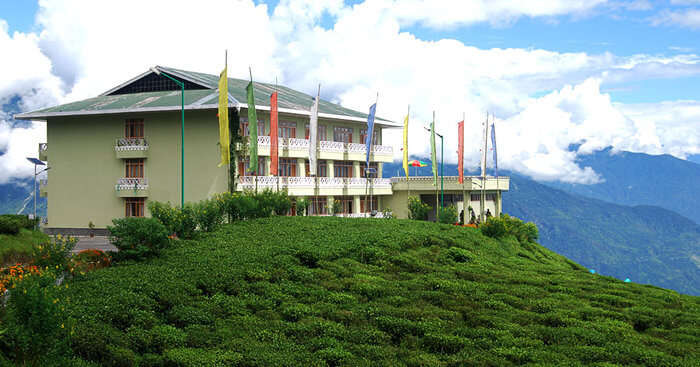 Sandwiched between Bhutan, Tibet and Nepal borders, Sikkim has some incredibly splendid and dramatic landscapes that have made many falls in love with this little state. It isn't just home to some gorgeous alpine meadows, glaciers, and wildflowers, but also has some of the best resorts in Sikkim that make many tourists and honeymooners spend their vacation in the serenity of the Himalayas. Here's a list of some impressive resorts Sikkim resorts in peaceful and wonderful towns like Lachung, Lachen, Namchi and more.
Read on, to know of some of the best luxury resorts in Sikkim.
Resorts In Gangtok
Are you planning an escape to Gangtok and looking for the best places to plan your stay amid untouched landscapes? Here is a list of some amazing resorts in Gangtok which one can consider for their next trip there!
1. Mayfair Spa Resort and Casino

Undeniably one of the best resorts in Sikkim, Mayfair Spa Resort and Casino is famous for its colonial architecture, world-class amenities, and an in-house casino. Rightly awarded as Best New Spa Resort by Asia Spa India and Best Hotel for Ambience and Service by State Government, Mayfair offers a wide range of accommodations that include villas, family rooms, and suites. Guests can indulge in Jungle Caf- or Rumtek Lounge, rejuvenate in yoga rooms, or swim in the modern swimming pool. Mainly preferred by honeymooners, Mayfair is among the most beautiful and luxurious resorts in Gangtok. If you are planning a trip here, then you should seriously consider Mayfair, one of the 5 star resorts in Sikkim.
Location: Lower Samdur Block, Ranipool, Gangtok, Sikkim 737135
Whats special: Pavonia Spa with zero gravity beds, recreating the gesture of waves on the beach.
Starting tariff: INR 14,000/night
Website | Reviews
15 Best Hotels In Lachung To Answer The Call Of Mountains In The Best Possible Way!
2. WelcomHeritage Resort Denzong Regency

Image Source
Among the best resorts in Gangtok, Sikkim, WelcomHeritage Resort Denzong Regency is one of the finest stay options for those planning their holiday in Sikkim. Featuring 25 lavish rooms and suites with private sit-outs, this family run heritage resort is spread over expansive 10 acres of land. The property is clean and beautiful and the staff is hospitable here.
Location: Forest Colony Road, Cherry Banks, N.H.31 A, Gangtok, Sikkim 737101
Whats special: Dzomsa and Kursong and Mayal that are multi-cuisine restaurants
Starting tariff: INR 12,000/night
Website | Reviews
3. Orange Village Resort

To enjoy holidays amidst verdant forests, hymns of birds, beautiful sunset views and orchid garden, book your stay at Orange Village Resort. Guests love the authentic local food at Suntaley Chalo and refreshing drinks at Astha Mahal lounge. Orange Village Resort is also popular for seminars as it houses Manjushree- the largest conference hall in Sikkim. Its in-house disco also makes it one of the best resorts in Sikkim to stay with friends and family.
Location: 7th Mile, Sambur, Near Sikkim University, Gangtok, Sikkim 737102
Whats special: Code Orange disco
Starting tariff: INR 11,500/night
Website | Reviews
Our 4 Days Sikkim Local Sightseeing Trip Gave Us Innumerable Memories To Cherish
4. Summit Norling Resort And Spa

Image Source
Summit Norling Resort is one of the finest Sikkim resorts, which has an incredibly awesome decor of bamboo groves and wood. The resort has a garden spread across 3 acres with fish pond and soothing music of cascading waterfalls in every corner of the garden. Nestled at the edge of a breathtaking valley, its chalet rooms offer jaw dropping panoramic view of the surrounding.
Location: Rongay, Near Central Jail, Gangtok, Sikkim 737101
Whats special: Mettu Spa that let you wash away your tiredness
Starting tariff: INR 4,500/night
Website | Reviews
Best Hotels In Gangtok For Honeymoon: Top 13 Picks For A Classy Stay In 2022
Resorts In Pelling
If you are headed to Pelling, then these are a few resorts in Pelling Sikkim, that are comfortable and worth one's stay. Have a look.
5. Chumbi Mountain Retreat and Spa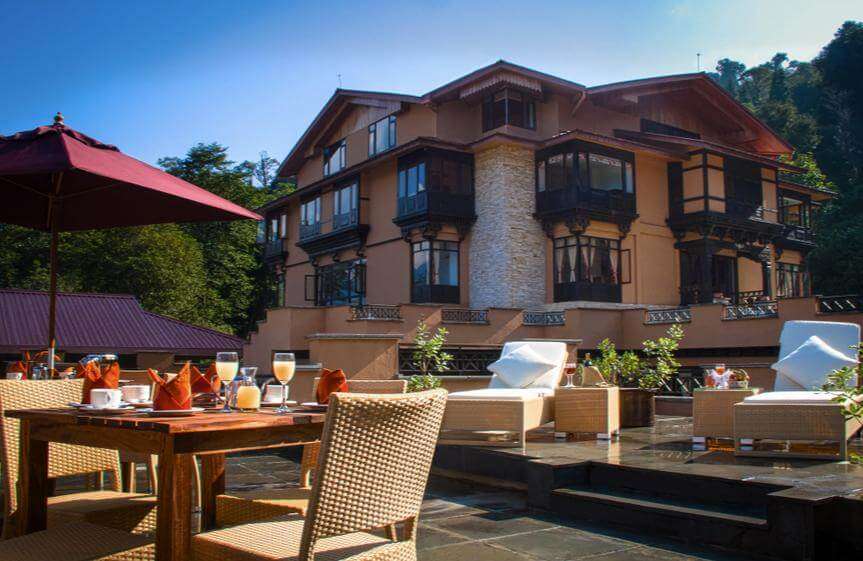 What makes Chumbi Mountain Retreat and Spa one of the best resorts in Sikkim is its unrivaled hospitality and luxury. They welcome you with refreshing organic tea and sumptuous food and with drinks over a bonfire during winter. The traditional palace-like building, amazing Sikkimese decor, authentic local food, and the most beautiful views will make you want to stay here forgiver.
Location: Naku Chumbong, Pelling, Sikkim 737113
Whats special: Lido (in-house movie theater)
Starting tariff: INR 9,500/night
Website | Reviews
6. Norbu Ghang Resort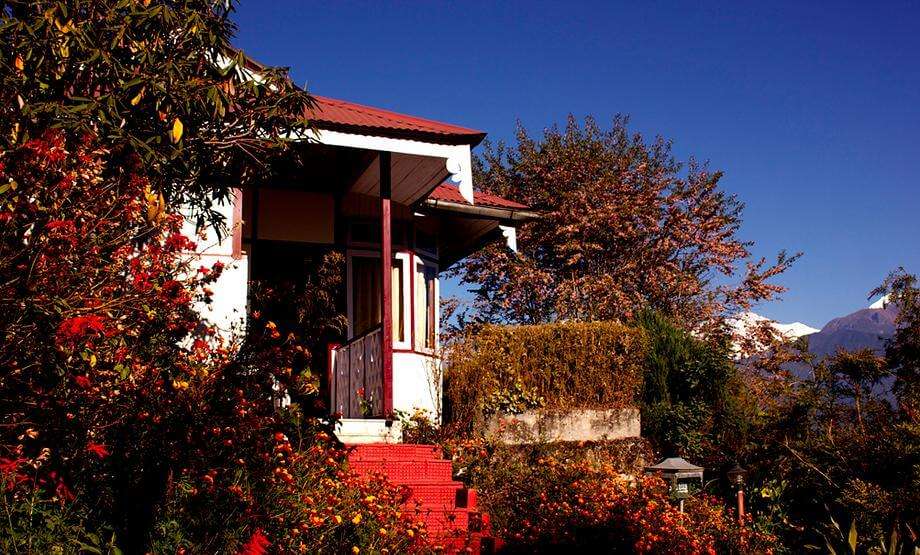 Image Source
Norbu Ghang Resort is a set of private luxury cottages situated amid the verdant hills overlooking the snow-capped peaks. Sikkimese themes and flavors in food and decor, the aesthetically done up rooms, Dzongri Bar, and Silver Fir restaurant together make your holiday delightful and enchanting.
Location: Pelling West, Sikkim 737113
Whats special: Hot stone bath at Menchu- the resort spa
Starting tariff: INR 5,500/night
Website | Reviews
13 Gorgeous Homestays In North East India That'll Transport You To Another World
7. Pachhu Village Resort

Image Source
Surrounded by aromatic spices and magnolia trees, Pachhu Village Resort is one of the most popular resorts in Sikkim for those looking for a homely stay experience. Be it immensely helpful hotel staff, homely comforts, or organic meals at family-run restaurant, this resort offers everything for an authentic stay in the wonderful hills of northeast.
Location: Chumbong Village, Pelling, Sikkim 737113
Whats special: Chaang is served herea local alcoholic beverage prepared from millet.
Starting tariff: INR 3,800/night
Website | Reviews
Other Beautiful Resorts In Sikkim
The list hasn't ended just yet. Here are some more best places to stay in Sikkim that you can consider booking for your trip to the North-East!
8. Yarlam Resort, Lachung

Staying in Yarlam Resort gives an opportunity to rejuvenate and unwind amid the peace and beauty of the untouched nature. Overlooking the picturesque Yumthang Valley, this resort has 30 well-appointed rooms and suites, lavish multi-cuisine kitchen serving local food, and a coffee shop to relax. Its serene and breathtaking location makes it one of the best resorts in Sikkim for honeymooners.
Location: Near Army Camp, Lachung, Sikkim 737135
Whats special: The secluded and gorgeous location of the resort.
Starting tariff: INR 9,500/night
Website | Reviews
A-Z Guide To Make Your Honeymoon In Sikkim An Affair To Remember In 2022!
9. Apple Orchard Resort, Lachen

With the backdrop of landscaped apple groves, Apple Orchard resort has all the elements of quietude and comfort for its guests. The superb food, eco-friendly wooden decor, chivalrous staff, and warm hospitality will surely win your hearts. If you are looking for a resort in north Sikkim, then this should be your pick. It is one of the best choices for resorts in north Sikkim.
Location: Lachen, Sikkim 737120
Whats special: Absolute privacy and comfort of a home
Starting tariff: INR 7,500/night
Website | Reviews
10. Cherry Resort, Namchi

Tucked amidst aromatic tea estates, Cherry Resort in Sikkim is a paradise for peace-seeking travellers. The panoramic view of Mt. Khangchendzonga and Tista Valley from private balconies and rooftop restaurant will surely leave you stunned. This is no doubt one of the best luxury resorts in Sikkim.
Location: Temi Tea Garden South Sikkm, Namchi, Sikkim 737126
Whats special: Guided tours to local tea gardens and tea processing centers
Starting tariff: INR 2,500/night
Website | Reviews
31 Incredible Places To Visit In Gangtok With Your Family And Friends In 2022!
Anyone interested in a breathtaking journey to NorthEast must go for a Sikkim Gangtok Darjeeling trip to cover the most beautiful parts of the region. And now that you know of some of the best resorts to stay at, the trip would be all the more comfortable and exciting!
For our editorial codes of conduct and copyright disclaimer, please click here.
Frequently Asked Questions About Best Resorts In Sikkim
What is the best time to visit Sikkim?
The best time to visit Sikkim is between the months of March and May or October and mid-December. Whereas if someone wants to witness the exotic beauty of the place, then March to May is the best time which is actually the spring season. And if you're traveling on a budget then the resorts in Sikkim are cheaper during the off season.
How many days are enough for Gangtok?
To cover the major sightseeing, 2 days are enough to explore Gangtok. One can also stay at some of the best resorts in Sikkim that are close to the attractions so that sightseeing becomes pretty easy.
Is Gangtok better than Darjeeling?
Gangtok is the capital of Sikkim while Darjeeling is part of West Bengal. Both of the places have a wide variety of attractions to explore which makes both the destinations a must-visit place in the North-eastern part of India.
People Also Read:
Resorts In Gangtok Resorts In Coimbatore Resorts In Lansdowne