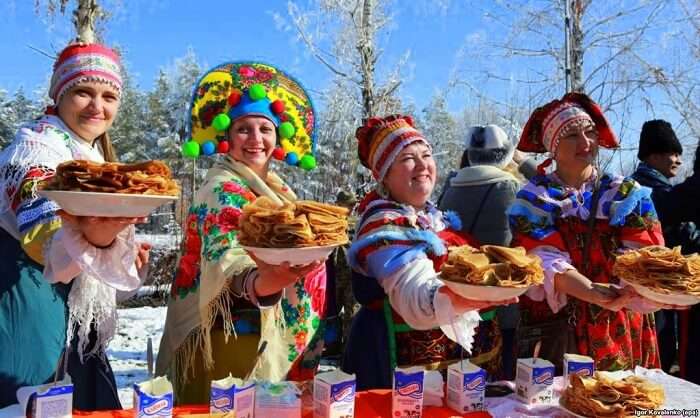 One of the major things to explore in every destination is its food! The type of cuisine changes every few hundred miles, offering something diverse and all the more finger licking on your platter every time. With these stupendous food festivals around the world, you can run amok to fill your bellies with your favorite culinary delights and enjoy a range of entertaining activities and events. With each of these carnivals topping the other and offering something unique, they are nothing less than a heaven for foodies across the world. It's time to let your unconditional love for food do the talking and ditch those useless Diet Goals.
Top 20 Food Festivals Around The World
Scroll down to find out how much fun all you foodies have been missing out on in the world. Shortlist the ones you'll be visiting, from the below-given list of food festivals around the world 2023 that you'll be visiting and the cuisines you'll be sampling. And while you're at it, don't just stop at one!
Pizzafest | June, 2023
Oktoberfest | 17 Sep, 2023 – 3 Oct, 2023
Bacon Festival | TBA
Salon Du Chocolat | Yet to be announced
Dumpling Festival | 3 June, 2023
National Cherry Festival | 20 Mar, 2023 – 17 Apr, 2023
Herring Festival | TBA
Vegetarian Festival | 24 Sep, 2023 – 03 Oct, 2023
National Street Food Festival | TBA
Maslenitsa Pancake Festival | 28 Feb, 2023 – 6 Mar, 2023
St. Moritz Gourmet Festival | 28 Jan, 2023 – 5 Feb, 2023
Melbourne Food and Wine Festival | 12 Mar, 2023 – 31 Mar, 2023
New Orleans Wine & Food Experience | 8 Jun, 2023 – 12 Jun, 2023
Maine Lobster Festival | 3 Aug, 2023 – 7 Aug, 2023
Gilroy Garlic Festival | 22 Jul, 2023 – 25 Jul, 2023
Giant Omelet Celebration | 5 Nov, 2023 – 6 Nov, 2023
Bugfest | TBA
Olney Pancake Race | 1 Mar, 2023
Monkey Buffet Festival | 27 Nov, 2023
Cooper's Hill Cheese Rolling | 30 May, 2023
1. Pizzafest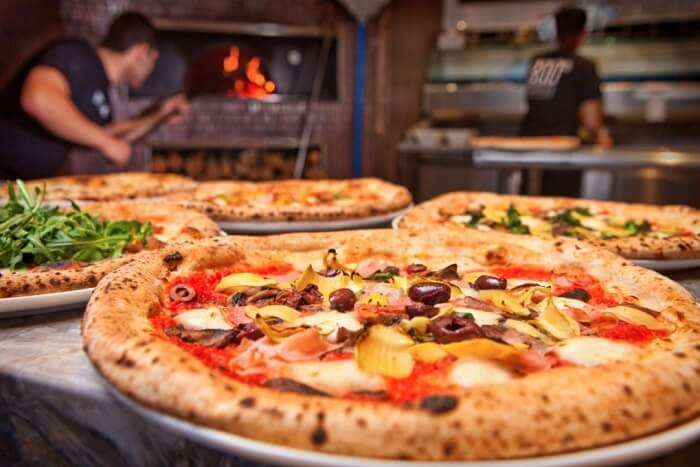 Join zillions of people on this fine night of September when the village of Naples gear up to make and consume more than 100,000 pizzas of every kind, ranging from 50-odd historic versions including classics Napoletana, Margherita, and Marinara! No wonder it's among the best food festivals in the world for pizza lovers!
Where: Naples, Italy
When: June, 2023
Must Read: 24 Most Beautiful Streets In The World That Would Make You Want To Live There Forever
---
Looking To Book An International Holiday?
Book memorable holidays on TravelTriangle with 650+ verified travel agents for 65+ domestic and international destinations.
---
2. Oktoberfest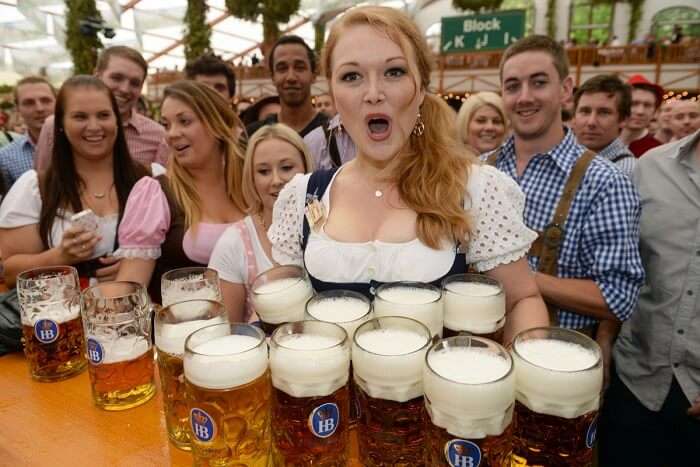 Come, be part of the world's greatest celebration of beer with million other beer lovers who flock to Germany every year for Oktoberfest. From the finest of brews for you to chug, spill, and bathe in, to culinary delights like bratwurst, pretzels, and roasted meats, you'll be spoilt for choice. Along with the amazing variety and quantity of beer you get here, the festival also lets you enjoy some tasty dishes. Hands down, it is one of the most famous food festivals in the world.
Where: Germany
When: 17 Sep, 2023 – 3 Oct, 2023
Suggested Read: 20 Best Countries To Visit In New Year In The World In 2023
3. Bacon Festival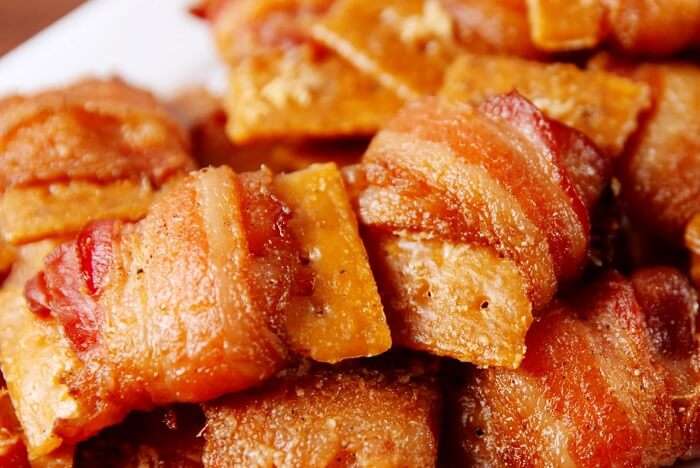 Yes, you heard it right! There is a festival in the world that is solely dedicated to bacon. The world goes gaga over bacon, so you have no excuse to not visit one of the best food festivals around the world. The meat-loving population of the world can go crazy hogging on dishes like bacon gelato, bacon salad, bacon ramen and bacon tater tots.
Where: Sacramento, California
When: TBA
Suggested Read: 25 Countries With 25 Of The World's Yummiest Breakfast
4. Salon Du Chocolat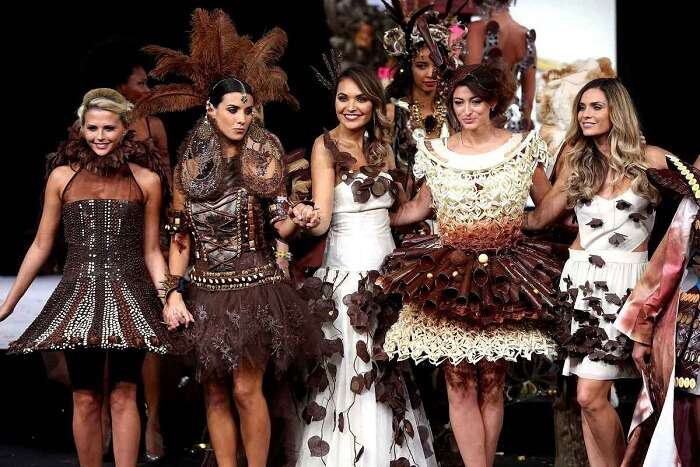 Are you a fan of chocolates and fashions alike? Then you must head to taste some high-quality chocolates produced in Ecuador and attend the Salon du Chocolat festival in Quito. The festival lets you relish the taste of the finest of chocolates, and watch a fashion show with models wearing dresses made of…any guesses what?
Where: Quito, Ecuador
When: Yet to be announced
Suggested Read: 10 Festivals In Scotland To Witness In 2023 For An Exotic Dip In The Scottish Culture!
5. Dumpling Festival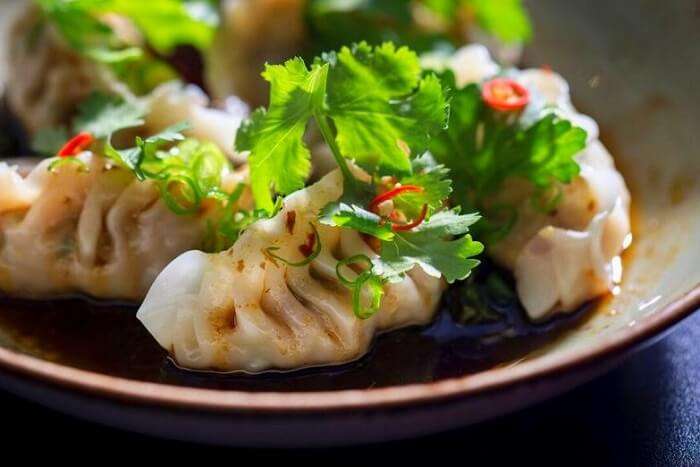 Does your mouth starts to water when you think of steamy and juicy dumplings? If yes, then this festival is just for you. Savour the taste of zongzi dumplings – glutinous rice with different fillings wrapped in bamboo, lotus or banana leaves – on the fifth day of the fifth Chinese lunar month. Engulf yourself in a sea of dumplings and the amiable hospitality of the Chinese people.
Where: Hong Kong
When: 3 June, 2023
Don't Miss: The spectacular Dragon Boat Race!
Suggested Read: 11 Fascinating Chinese Festivals That Are Worth Being A Part Of In 2023!
6. National Cherry Festival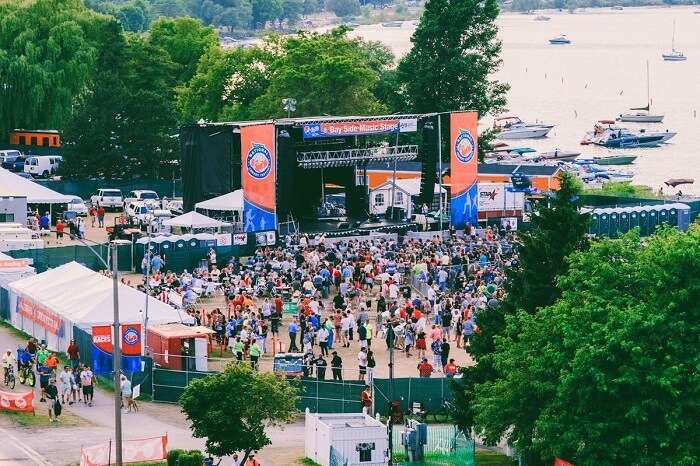 Take a flight to the town's Cherry Capital Airport, stay at the Cherry Tree Inn, be part of the Cherry Bomb Lacrosse Tournament, cheer for the girls' rollerblade team called the Toxic Cherries, witness the Cherry Parade, and crown a Cherry Queen. With so much 'cherry-ness' to enjoy, there's no reason why not to visit this international food festival.
Where: Traverse City, Michigan
When: 20 Mar, 2023 – 17 Apr, 2023
Suggested Read: 10 Unexpected International Destinations That Are A Delight For Vegetarians
7. Herring Festival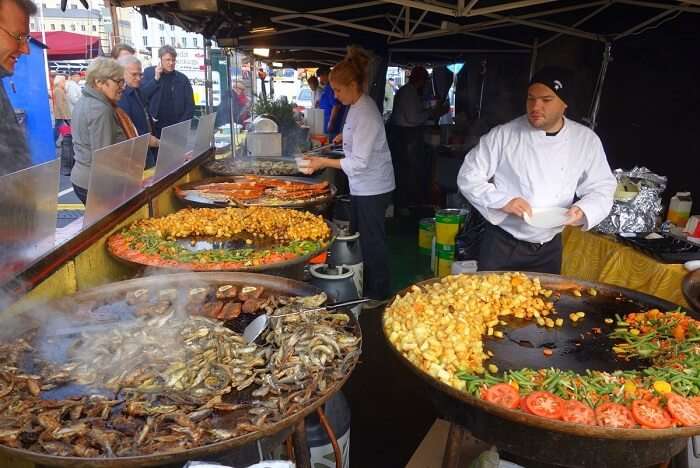 Herring Festival is one of the unique cultural food festivals around the world. Each April, schools of herring swim into the Ringkobing Fjord in Denmark to spawn in its sheltered waters. And when they do, it's party time for fishermen, and for scores of people coming into the town to now enjoy platters of pickled, filleted, fried, caked, and baked herring! There aren't many food festivals around the world serving this delicious fish. So, make sure you don't miss this one!
Where: Hvide Sande, Denmark
When: TBA
Suggested Read: 37 Best Places To Visit In March In The World To Satisfy Your Wanderlust In 2023
8. Vegetarian Festival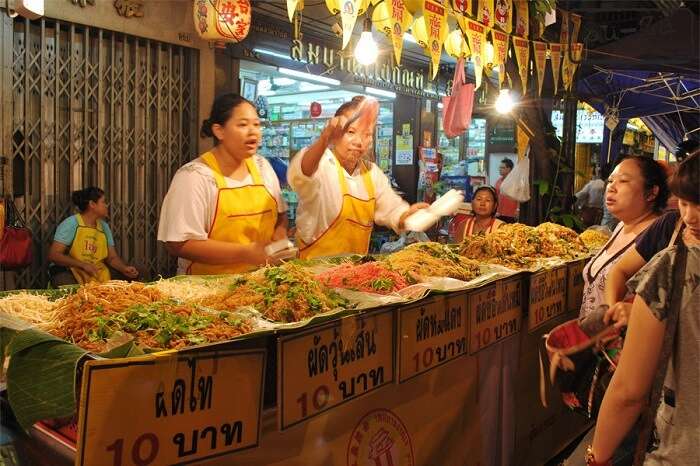 They say food festivals favour only the meat-lovers. We say different! Join the frenzy at this nine-day Thai celebration with colourful parades, music, and the best of vegan dishes! You'll be surprised to see how the whole town goes vegan for these nine days amid a range of dishes made out of vegetables, fruits, soybean, and protein products, which is why it is called one of the best fruit festivals around the world. Even non-vegetarians will fall in love with this international food fest. Undoubtedly, it is one of the most famous food festivals in the world and also the most prominent festival in Thailand.
Where: Phuket, Thailand
When: 24 Sep, 2023 – 03 Oct, 2023
Suggested Read: 11 Largest Castles In The World That You Must Visit At Least Once In A Lifetime
9. National Street Food Festival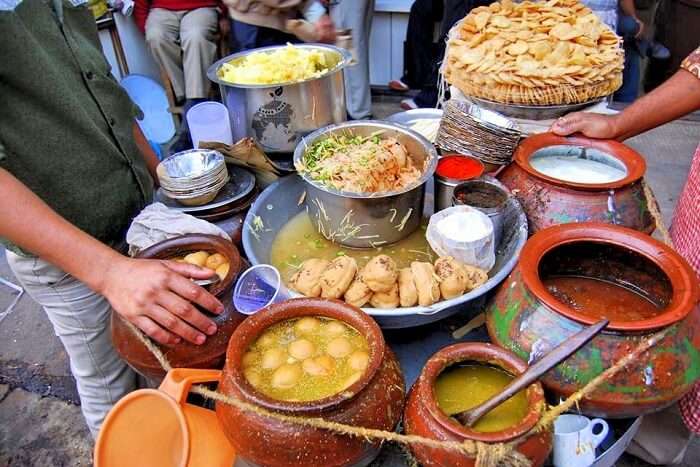 This will surely bring a smile to the faces of all those street food lovers. From savoury chaat, oily chhole kulcha, sweet and tangy bhalle papdi, to spicy gol gappe, there's no end to the kind of food one can have on the streets of Delhi. And once every year, all these amazing street delicacies are brought to Jawaharlal Nehru Stadium to the delight of all foodies in the capital!
Where: Jawaharlal Nehru Stadium, New Delhi, India
When: TBA
Suggested Read: 19 Festivals Of Delhi To Attend In 2023 For A Food, Shopping & Cultural Extravaganza
10. Maslenitsa Pancake Festival, Russia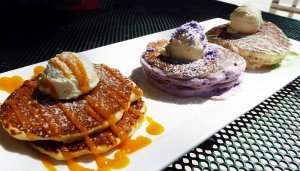 This is among the most famous food festivals around the world and probably the most cheerful holiday in Russia. The Pancake Week (Shrovetide) used to be a rather sombre remembrance of the deceased where the figure of Maslenitsa was burned. But with time, it turned into something positive and fun! There are activities like sledding, horse sleigh riding, fistfights, folk dance, puppet shows, and lots of food dominated by pancakes (of course)! People dress up in colorful costumes and wear bright masks. On Wednesday, feasts are prepared and enjoyed amongst the locals and visitors. The food items include baked pancakes, brewed beer, hot sbiten (drinks from water, honey and spices), nuts, honey gingerbread, and tea.
Where: St. Petersburg and Moscow
When: 28 Feb, 2023 – 6 Mar, 2023
Suggested Read: 16 Food Festivals In USA Every Food Lover Should Attend In 2023
11. St. Moritz Gourmet Festival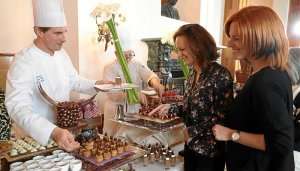 St. Moritz Gourmet Festival is the kind that brings together legends from famous kitchens around the world so that they can whip up delicious delights in unison for the people of Switzerland! This 9-day long food fiesta is actually among the most awaited food celebrations around the world where electrifying top guest chefs cook and offer culinary highlights from the best cuisines around the world. The theme of last year's fest was Japanese cuisine and visitors absolutely loved the exotic flavors they tasted! A prominent part of every St. Moritz Gourmet Festival is the Chocolate Cult, where you'll get to taste a diverse range of delicacies made from the finest chocolate and you may even get "chocolate wasted"!
Where: St. Moritz, Switzerland
When: 28 Jan, 2023 – 5 Feb, 2023
Suggested Read: Food Festivals In New Zealand 2023: To Indulge In The Country's Most Exclusive Delicacies
12. Melbourne Food and Wine Festival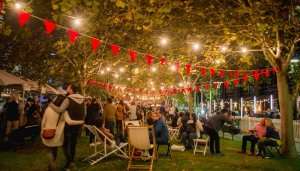 The MFWF has never disappointed fans, and it is least likely to do that next year as well. So gear up for one of the best food festivals around the world in 2023 where you can indulge your senses and your tastebuds for 10 uninterrupted days. This festival aims to spoil you with award-winning wines, sumptuous lunches and dinners, as well as some of Australia's most avant-garde culinary creations. A delight for food and wine lovers, this festival observes a massive crowd every year where people flood the restaurants, laneways, basement cafes, and rooftop settings of Victoria, making it one of the most successful festivals in the country.
Where: Victoria, Australia
When: 12 Mar, 2023 – 31 Mar, 2023
Suggested Read: 15 Food Festivals In Mexico In 2023 For Savouring Mouth-Watering Dishes
13. New Orleans Wine & Food Experience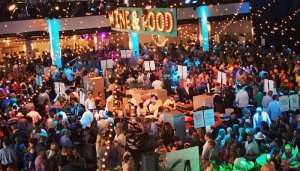 Slowly turning into one of the most incredible culinary events in the world, the New Orleans Wine & Food Experience attracts over 7,000 gourmands as well as connoisseurs from around the world to share the stage and surprise foodies with their skills! Other than food experts and chefs, you'll also find art and music lovers here owing to the various small-scale yet fabulous music events that take place at this time to keep the guests entertained while they gorge on delicious delicacies and the finest wine. You'll see over hundreds of wineries and restaurants participate in this mega food fiesta, which is set to break all records of being the finest food festivals around the world in 2023. Try everything from local flavors to fusion food prepared by the top chefs of USA, and don't forget to taste the variety of wine!
Where: New Orleans, Louisiana, USA
When: 8 Jun, 2023 – 12 Jun, 2023
Suggested Read: 6 Best Food Festivals In New York That Are A True Gastronome Must Attend!
14. Maine Lobster Festival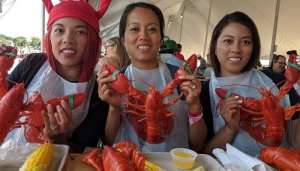 Go crazy amidst five days of fun and feasting at this annual fiesta held every year on the fabulous coast of Maine! The amazing Maine Lobster Festival takes place during the first weekend of August and has slowly evolved into an internationally-recognized celebration of local seafood unlike anywhere else in the world! Luring in seafood lovers from around the world, especially Europe and Asia, the Maine Lobster Festival pampers its guests with delicious culinary delights made from fresh catch like crabs, lobsters, squids, calamari, fish, shrimps, and more. You'll also be entertained with music, cooking contests, carnival shows, art bazaars, and more. All the proceedings are donated to Midcoast Maine's communities.
Where: S Main St, Rockland, ME, USA
When: 3 Aug, 2023 – 7 Aug, 2023
Suggested Read: 32 Best Street Food In Delhi You Must Try In 2023 That Is Worth Every Calorie!
15. Gilroy Garlic Festival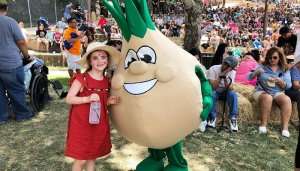 The Gilroy Garlic Festival is a renowned food festival in the US, held each year in the city of Gilroy, California. This annual three-day event is among the country's most awaited food festivals that attracts people from across the nation, and even the world. Since Gilroy has often been called the Garlic Capital of the World owing to its massive garlic production, it is befitting that the main ingredient in all the finger-licking dishes distributed at this festival is – you guessed it right – garlic! But that's not all that makes this one of the best food festivals around the world. You get indulge in delicious garlicky food under a bright summer sky, enjoy fun rides and games with your loved ones, meet celebrity chefs, attend live music gigs, and take part in cooking contests when you're here.
Where: Christmas Hill Park, Gilroy, California
When: 22 Jul, 2023 – 25 Jul, 2023
Suggested Read: Food Festival In Dubai: An Ultimate Event Where You Can Just Eat, Crave & Repeat
The Most Weird Food Festivals Around The World
There are some food festivals around the world that are rather unique and strange, though equally worthy of being visited and enjoyed! Here are a few such festivals:
16. Giant Omelet Celebration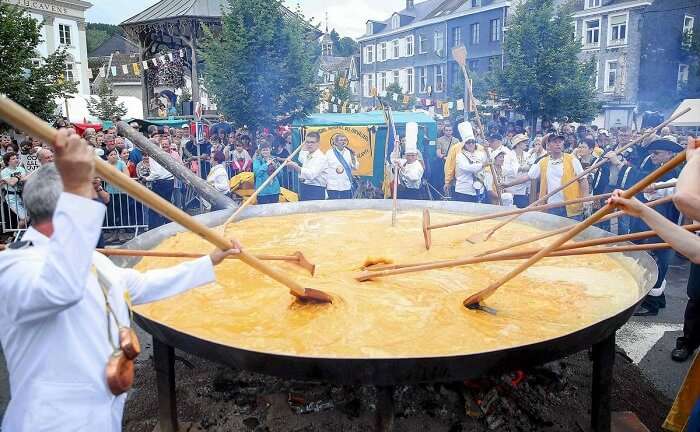 Prefer omelets in breakfast? How about one that's bigger than your house? According to legend, Napoleon had once ordered every egg in town be broken to prepare a giant omelet after he had enjoyed his own! To this day, Bessieres carries on the tradition where chefs come together to prepare a 15,000-egg omelet for the people of Bessieres, usually on Easter.
Where: Bessieres, France
When: 5 Nov, 2023 – 6 Nov, 2023
Suggested Read: Thailand Street Food: A Gastronomical Guide To The Best Local Dishes And Where To Find Them!
17. Bugfest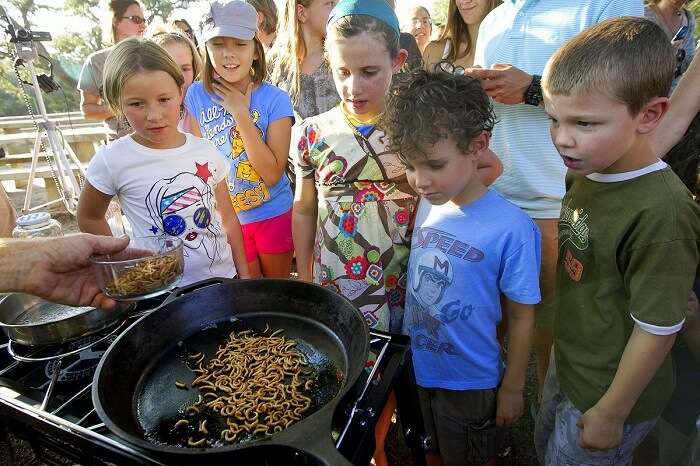 Image Source
Ever had bugs served in your plate for lunch? Here's a festival that is totally dedicated to bug-dishes and they exhibit a variety of both – bugs and the dishes prepared with them. Oh yes! It's exactly what you think it is! Would you like to attend the Bugfest if you ever visit US around the time when this festival is on?
Where: North Carolina Museum of Natural Sciences
When: TBA
Suggested Read: Pics Of 25 Most Stunning Landscapes Around The World That Fit Every Bucket List
18. Olney Pancake Race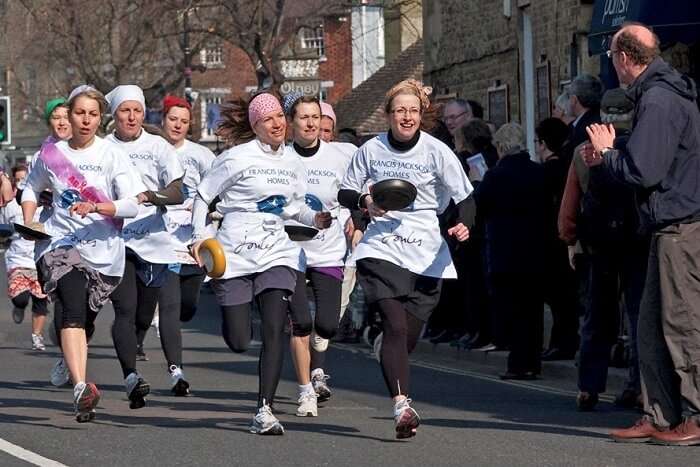 Image Source
Women in Onley have been running a 400-yard annual pancake race since 1445 while holding pancakes in cast iron pans, a tradition that has now become one of the most amusing world food festivals! And, of course, you get to eat those delicious pancakes once the race is over and the winner is announced!
Where: Olney, England
When: 1 Mar, 2023
Suggested Read: 7 Food Festivals In Europe To Add To Your 2023 Bucket List
19. Monkey Buffet Festival

No, this festival DOES NOT provide you an unlimited supply of monkeys for eating. This is one of the most amazing (as well as amusing!) food festivals around the world where the animals eat and the humans watch! With our sneaky little friends going crazy amidst the sea of 400 kg of food laid out before the temples of Thailand, the scenario can get wilder than the Hatter's tea party!
Where: Lopburi, Thailand
When: 27 Nov, 2023
Suggested Read: These 12 Cave Houses In The World Are A Symbol Of Human Intelligence & Luxury
20. Cooper's Hill Cheese Rolling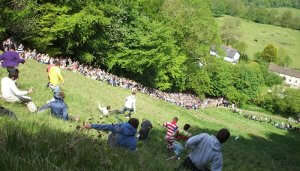 People in this festival do exactly what the name says they do! They roll down a hill. And no, we're not kidding! Held each spring over the hill outside of Gloucester, England, this crazy game is among the most bizarre cultural food festivals in the world. All the participants have to do is follow some simple rules – watch a 9-pound round Double Gloucester cheese run down the hill, give it a second's head start, and then tumble after it. The one who catches it, takes it home! How cool is that! And though this crazy fest has often been deemed the "world's most dangerous footrace" over the years, it still doesn't stop the locals from assembling at this hill on this particular day and rolling down the hill over a large piece of cheese to celebrate this fun festival! In fact, this mad event has grown to the point where people from all over the world come here to participate in it.
Where: Cooper's Hill, Brockworth, Gloucester, England
When: 30 May, 2023
Further Read: Top 19 Winter Festivals In India You Must Attend In 2023!
With so many interesting and weird food festivals around the world, which of these had you drooling? Don't just pick one! Escape to as many of these incredible food events around the world as you can! And if we missed out on any, tell us in the comments below! But before that, plan a trip to any of your favorite international destinations to attend one of these food fests.
Disclaimer: TravelTriangle claims no credit for images featured on our blog site unless otherwise noted. All visual content is copyrighted to its respectful owners. We try to link back to original sources whenever possible. If you own the rights to any of the images and do not wish them to appear on TravelTriangle, please contact us and they will be promptly removed. We believe in providing proper attribution to the original author, artist, or photographer.
Please Note: Any information published by TravelTriangle in any form of content is not intended to be a substitute for any kind of medical advice, and one must not take any action before consulting a professional medical expert of their own choice.
Frequently Asked Questions About Food Festivals Around The World
Which food festival is celebrated in the whole world?
While there isn't a particular food festival that is celebrated around the world, but you will find many beer fests and wine festivals almost everywhere in the world.
What is the biggest food festival in the world?
All of these food festivals mentioned above are popular around the world and each of these offers something unique to visitors. No particular food festival out of these can be classified as the biggest.
What are the different types of food festivals?
From wine festivals, beer festivals, gourmet fests, food tasting events, to mega cooking competitions, there are various types of food festivals around the world. They can be as simple as a normal pancake festival or garlic festival, or they can be as crazy as the Cheese Rolling festival where people can be seen chasing a ball of cheese down the hill.
Which country has maximum food festivals?
Owing to its diverse cultures and cuisines, India is one of the countries with the maximum number of food festivals around the world.
How many Indian food festivals are there?
There are well over 20 major food festivals in India that you must attend at least once in your life. Some of the best ones include:
National Street Food Festival, Delhi
Mei Ram-ew, Meghalaya
Asian Hawkers Market, Delhi
Great Indian Food Festival, Delhi
The Grub Fest, Pune and Mumbai
Goa Food and Cultural Festival, Goa
Ahare Bangla, Kolkata
Foodistan, Gurgaon
Bengaluru Food Fete, Bangalore
Which is the biggest festival of India?
Diwali is considered to be the biggest festival of India that is celebrated all over the country in different styles and traditions.
Looking To Book A Holiday Package?
Book memorable holidays on TravelTriangle with 650+ verified travel agents for 65+ domestic and international destinations.
People Also Read:
Food Festivals in Mexico Food Festivals in USA Food Festivals in Europe