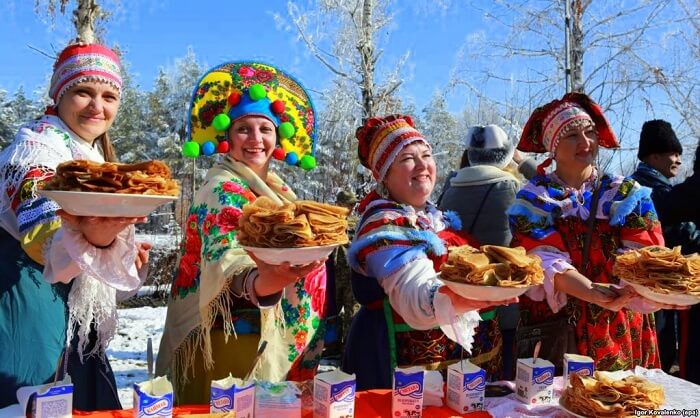 One of the major things to explore in every destination is its food! The type of cuisine changes every few hundred miles, offering something diverse and all the more finger licking on your platter every time. With these stupendous food festivals around the world, you can run amok to fill your bellies with your most favourite culinary delights and enjoy a range of entertaining activities and events. With each of these carnivals topping the other and offering something unique, they are nothing less than a heaven for foodies across the world.
It's time to let your unconditional love for food do the talking and ditch those useless Diet Goals! Scroll down to find out how much fun all you foodies have been missing out on in the world. Make a list of all the festivals you'll be visiting and the cuisines you'll be sampling. And while you're at it, don't just stop at one!
The Most Popular Food Festivals Around The World
1. Pizzafest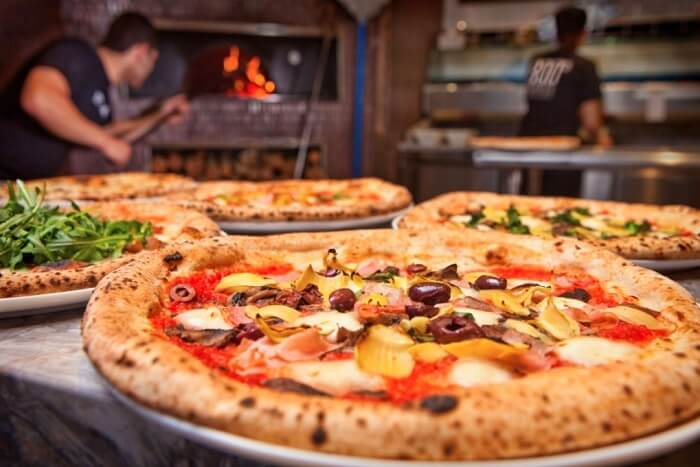 Join zillions of people on this fine night of September when the village of Naples gear up to make and consume more than 100,000 pizzas of every kind, ranging from 50-odd historic versions including classics Napoletana, Margherita, and Marinara! No wonder it's among the best food festivals in the world for pizza lovers!
Where: Naples, Italy
---
Looking To Book An International Holiday?
Book memorable holidays on TravelTriangle with 650+ verified travel agents for 65+ domestic and international destinations.
---
2. Oktoberfest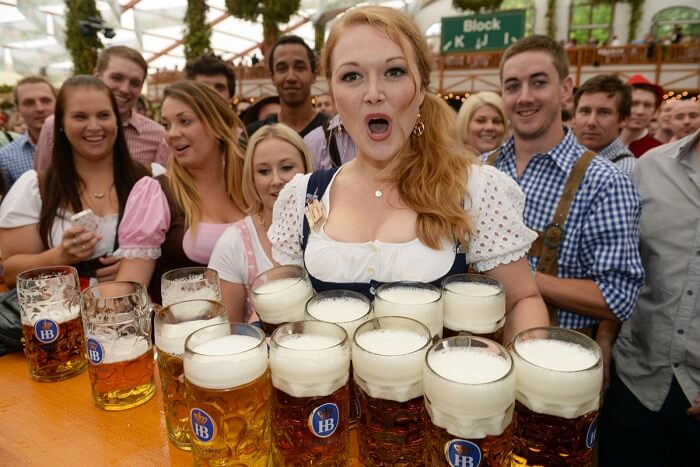 Image Source
Come, be part of the world's greatest celebration of beer with million other beer lovers who flock to Germany every year for Oktoberfest. From the finest of brews for you to chug, spill, and bathe in, to culinary delights like bratwurst, pretzels, and roasted meats, you'll be spoilt for choice.
Where: Germany
3. Bacon Festival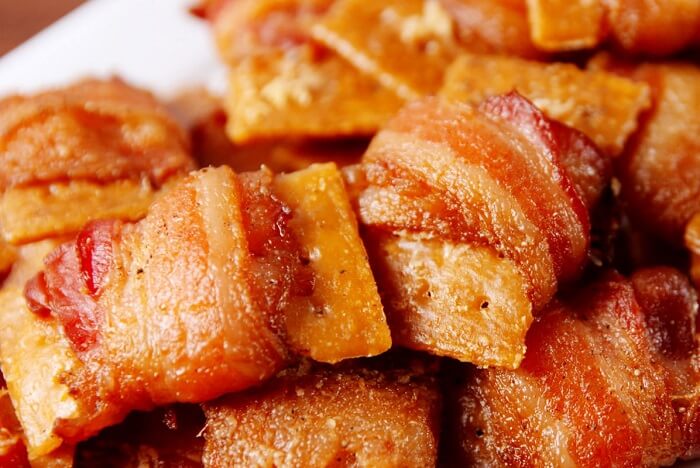 Must Read: 25 Countries With 25 Of The World's Yummiest Breakfast
The world goes gaga over bacon, so you have no excuse to not visit one of the best food festivals around the world. The meat loving population of the world can go crazy hogging on dishes like bacon gelato, bacon salad, bacon ramen and bacon tater tots.
Where: Sacramento, California
4. Salon du Chocolat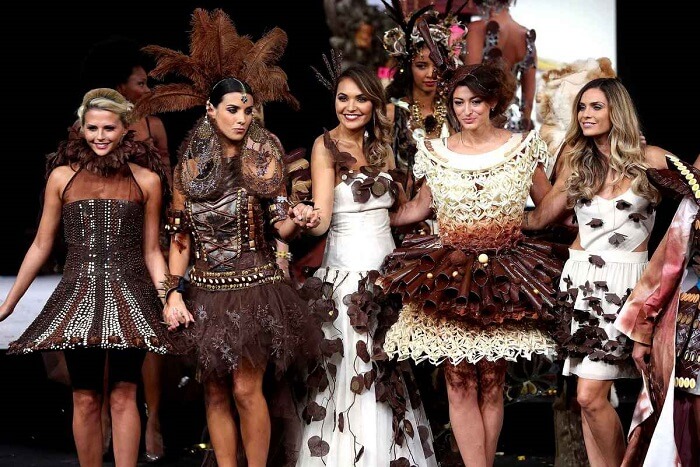 Wish to taste the high quality chocolate produced in Ecuador? Then you've got to get to the Salon du Chocolat festival in Quito to relish the taste of the finest of chocolates, and watch a fashion show with models wearing dresses made of…any guesses what?
Where: Quito, Ecuador
Suggested Read: 10 Festivals In Scotland To Witness In 2018 For An Exotic Dip In The Scottish Culture!
5. Dumpling Festival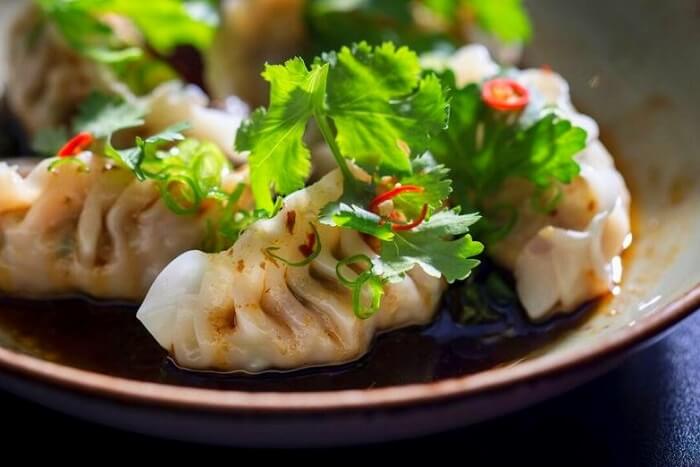 Image Source
Savour the taste of zongzi dumplings – glutinous rice with different fillings wrapped in bamboo, lotus or banana leaves – on the fifth day of the fifth Chinese lunar month. Engulf yourself in a sea of dumplings and the amiable hospitality of the Chinese people.
Where: Hong Kong
Don't Miss: The spectacular Dragon Boat Race!
Suggested Read: 9 Fascinating Chinese Festivals That Are Worth Being A Part Of In 2018-2019!
6. National Cherry Festival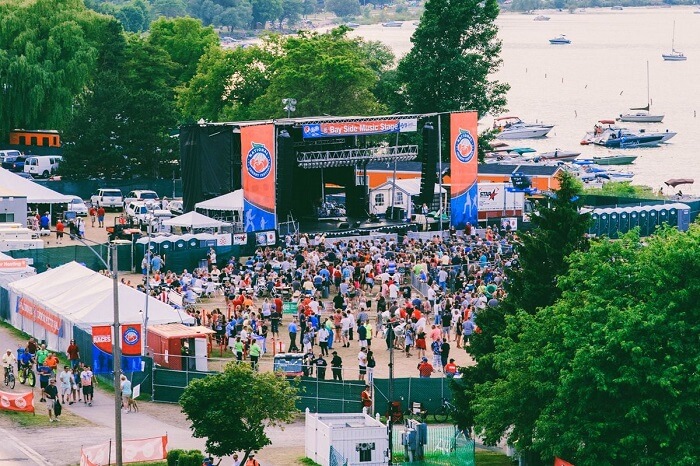 Suggested Read: 10 Unexpected International Destinations That Are A Delight For Vegetarians
Take a flight to the town's Cherry Capital Airport, stay at the Cherry Tree Inn, be part of the Cherry Bomb Lacrosse Tournament, cheer for the girls' rollerblade team called the Toxic Cherries, witness the Cherry Parade, and crown a Cherry Queen. With so much 'cherry-ness' to enjoy, there's no reason why not to visit this international food festival.
Where: Traverse City, Michigan
7. Herring Festival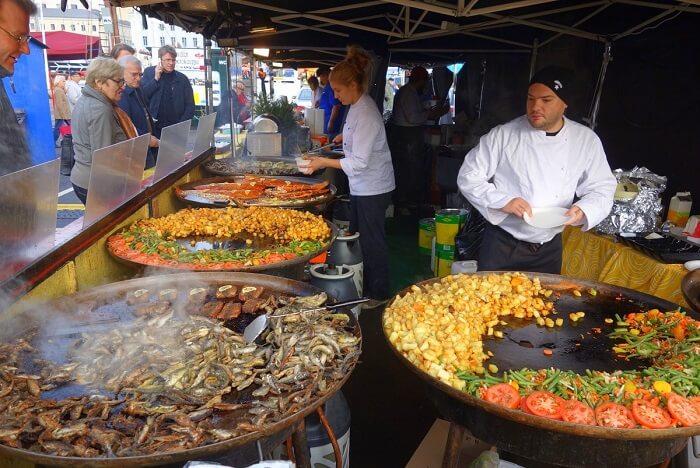 Image Source
Each April, schools of herring swim into the Ringkobing Fjord in Denmark to spawn in its sheltered waters. And when they do, it's party time for fishermen, and for scores of people coming into the town to now enjoy platters of pickled, filleted, fried, fish-caked, and baked herring! There aren't many food festivals around the world serving this delicious fish. So, make sure you don't miss this one!
Where: Hvide Sande, Denmark
8. Vegetarian Festival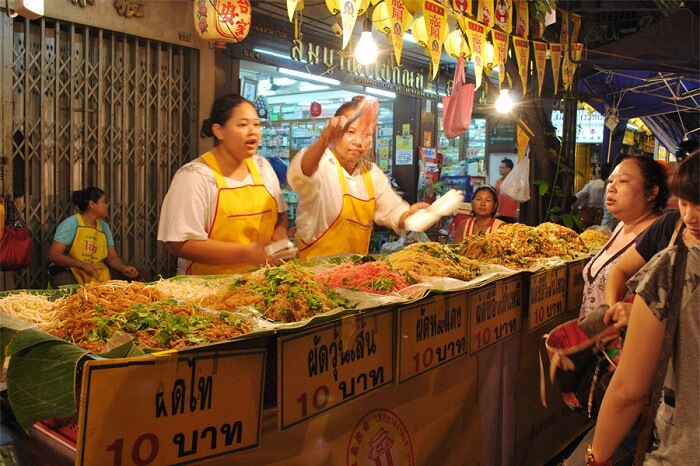 They say food festivals favour only the meat-lovers. We say different! Join the frenzy at this nine-day Thai celebration with colourful parades, music, and the best of vegan dishes! You'll be surprised to see how the whole town goes vegan for these nine days amid a range of dishes made out of vegetables, fruits, soybean, and protein products. Even non-vegetarians will fall in love with this international food fest!
Where: Phuket, Thailand
The Most Weird Food Festivals Around The World
9. Giant Omelet Celebration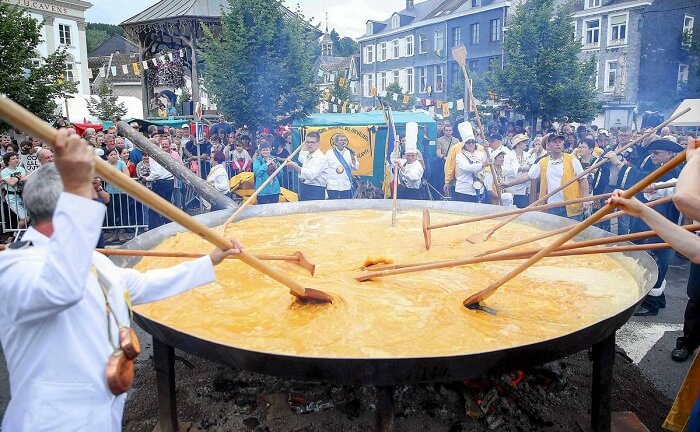 Suggested Read: Thailand Street Food: A Gastronomical Guide To The Best Local Dishes And Where To Find Them!
Prefer omelets in breakfast? How about one that's bigger than your house? According to legend, Napoleon had once ordered every egg in town be broken to prepare a giant omelet after he had enjoyed his own! To this day, Bessieres carries on the tradition where chefs come together to prepare a 15,000-egg omelet for the people of Bessieres, usually on Easter.
Where: Bessieres, France
10. Bugfest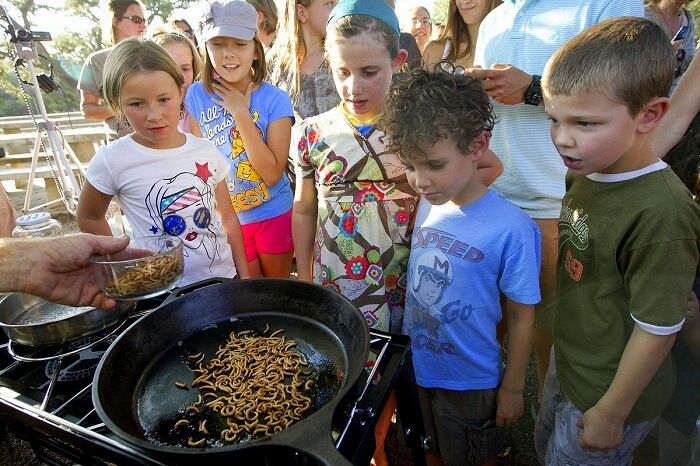 Image Source
Oh yes! It's exactly what you think it is! And that's all that we're gonna say about it.
Where: North Carolina Museum of Natural Sciences
11. Olney Pancake Race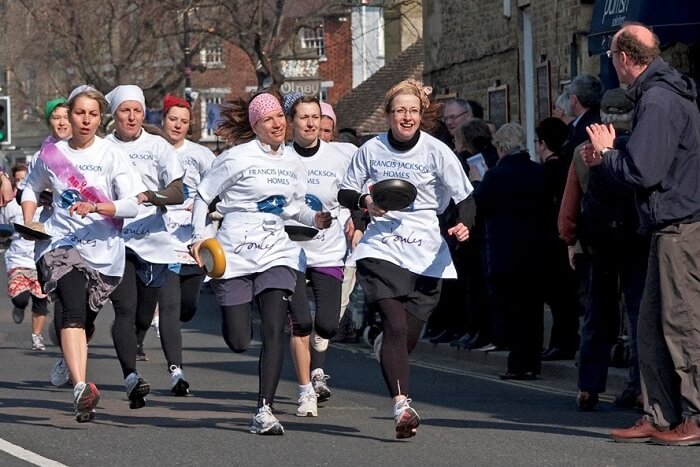 Image Source
Women in Onley have been running a 400-yard annual pancake race since 1445 while holding pancakes in cast iron pans, a tradition that has now become one of the most amusing world food festivals! And, of course, you get to eat those delicious pancakes once the race is over and the winner is announced!
Where: Olney, England
Why Should Humans Have All The Fun?
12. Monkey Buffet Festival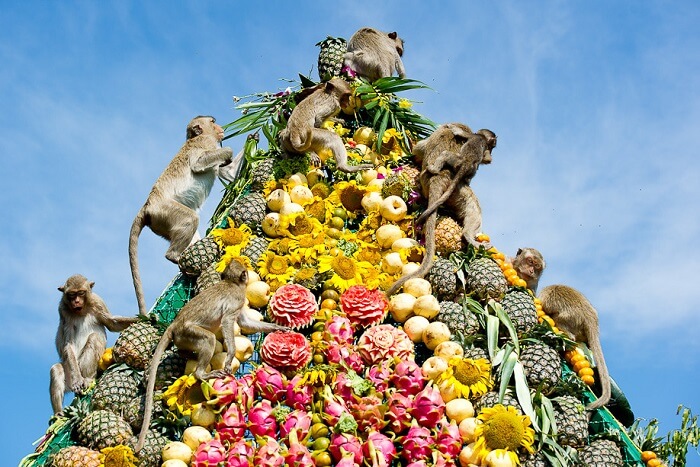 Image Source
No, this festival DOES NOT provide you an unlimited supply of monkeys for eating. This is one of the most amazing (as well as amusing!) food festivals around the world where the animals eat and the humans watch! With our sneaky little friends going crazy amidst the sea of 400 kg of food laid out before the temples of Thailand, the scenario can get wilder than the Hatter's tea party!
Where: Lopburi, Thailand
When Talking About Food, How Can We Miss Out On The Desi Delights!
13. National Street Food Festival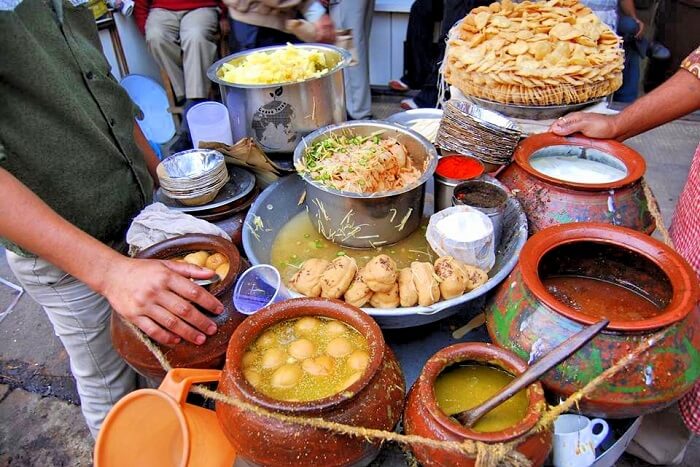 Further Read: Festivals Of Delhi: Must-Attend For A Food, Shopping, And Cultural Extravaganza!
From savoury chaat, oily chhole kulcha, sweet and tangy bhalle papdi, to spicy gol gappe, there's no end to the kind of food one can have on the streets of Delhi. And once every year, all these amazing street delicacies are brought to Jawaharlal Nehru Stadium to the delight of all foodies in the capital!
Where: Jawaharlal Nehru Stadium, New Delhi, India
So, which one of these had you drooling? Don't just pick one! Escape to as many of these incredible food festivals around the world as you can! And if we missed out on any, tell us in the comments below!
---
Looking To Book A Holiday Package?
Book memorable holidays on TravelTriangle with 650+ verified travel agents for 65+ domestic and international destinations.
---
Comments
comments