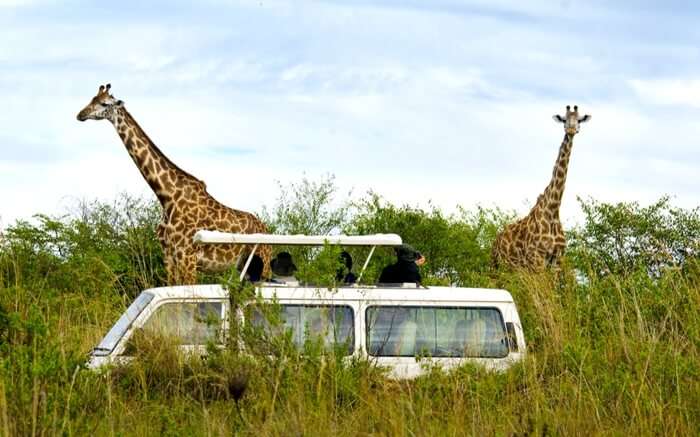 Kenya, known as the the world's wildlife capital, is not much popular among Indian tourists but those who love wildlife are no alien to it's wilderness and charm! As you venture around in the forests of Kenya, you inhale the freshness permeating through the vast woods and grasslands. And adrenaline kicks in as you play a thrilling game of hide & seek with the diverse wildlife of Kenya. For best safari in Kenya, it  is important to explore and understand what do various safari destinations in Kenya have to offer.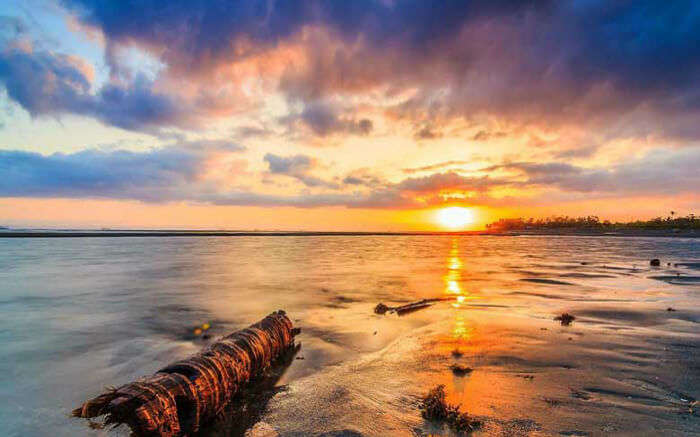 The East African country houses the best of Savannah, mountain highlands, Great Rift Valley, and landforms hugging the Indian Ocean. Also, it is known as the popular inhabiting place of big cats, including cheetah, buffalo, elephant, lion, and rhinoceros. The annual Wildebeest migration, game viewing, camping in the national park region, and a stay in the exotic safari lodges are the highlights of the safari in Kenya. You can also savor the best of offbeat activities while on a safari vacation in Kenya.
Best time to go on a safari in Kenya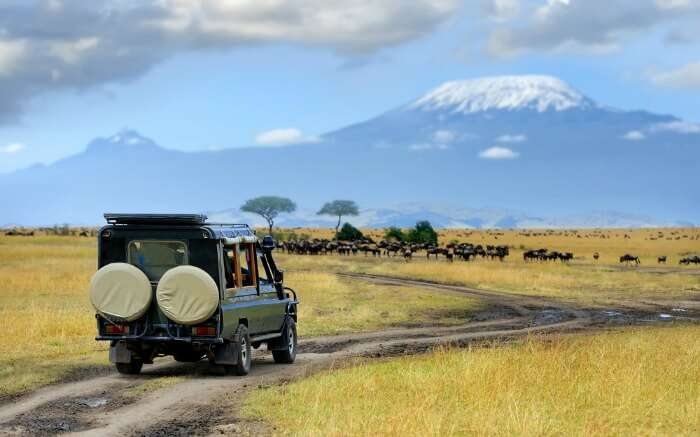 June – October is the best time to go on a Kenyan Safari. The weather is dry and you can cover spend extensive time enjoying the best of safari ride. It's also the time when Savannah flourishes and it's the best time to go explore places like Masai Mara.
Top experiences of safari in Kenya
i) Game viewing & bush safari

Kenya safari tours are known for their thrilling game drives. Exciting and intriguing, these game drives spread across the parts of the country. The never ending sea of Savannah Grassland and a whole world of wildlife make the safari in Kenya an intriguing prospect for travelers.

The morning safari starts with a cuppa of steaming coffee in the game reserve area, even before the sunrise. The smell of fresh moist grass captivates you while wildlife around can be spotted encircling and prowling the vast bushes.

Take a walk in the dense bush in the national park area, for they are quiet and exude peace. There are 5-star luxury wildlife safaris offered by leading camps and lodges in national park regions like Masai Mara, Nairobi Reserve, and Mount Kenya National Park. These safari experiences make the heart and soul of a safari in Kenya.

In most of the cases, the safari timings are divided into two sections, morning (6 am – 8:30 am) & afternoon (3 pm – 6:30 pm)
ii) Beach safari

The experience of getting soaked in the salty ocean winds coming from the Indian Ocean while beholding the incredible views is mesmerizing. It is one of the amazing things that put Kenya on the list of favorite safari destinations in the world. While bushes are full of excitement, the coastal Kenya is a cluster of mellow romance.
Kenya brings the best of two worlds towards the east coast of Africa continent. Coral reef and water activities at popular beaches are the prime attraction for a beach safari. You can go diving, snorkeling, sailing, water skiing, kitesurfing, kayaking in the coastal region – there's certainly a lot for thrill seekers!
Best of beach safari: Mombasa has the perfect beaches with blue-green waters and soft sand. While Mombasa north coast has popular beaches, the south coast has secluded beaches with a gorgeous waterfront. Watamu is known for its picture-postcard seafront villages. Don't miss a fishing stint at Watamu & Malindi. Lamu Island, Chale Island, and Kilifi make a beach safari in Kenya a dream.
Suggested Read: Best Safari In South Africa: Adrenaline Pumping Experiences In The Wildest Corner Of The World
iii) Mobile Camping

One of the highlights of Kenyan safari is mobile camping. It lets you experience the best of Kenya with private game safari, private chef, private moments, and breathtaking views that never fade away. Elegant safari camps, equipped with modern day amenities, and romantic ambiance showcase Kenya like never before.

That's not enough, the camps have their own private lounge, bar, dining area; an ideal setting for a safari honeymoon in Africa. To serve you better the camp organizers maintain a 1:1 staff to guest ratio.
Best places for mobile camping in Kenya: Mamba Falls, Thompson Falls Camp Lodge, Hell's Gate Gorge and National Park, and Wildebeest Eco Camp
iv) Bird watching

Kenya is popularly known as the home of world's most ferocious predators. Even the resident birds in Kenya are one among those gorgeous beasts. Most of the birds feed upon the leftover of the animal corpse. So spotting them in the vast Savannah of Kenya and Tanzania is quite easy. The fact that most of these birds are not-so-common makes bird safari an interesting proposition for bird watchers.
Also clubbed with big game safaris, the birding tour acts as an add-on for nature lovers. It is believed that there are as many as 817 species of birds recorded across the national parks of Kenya. The famous bird safari takes you across vast lowland, forests, Acacia savanna, papyrus swamps, wetlands, rocky gorges, semi-desert, and coastal estuaries as you need to walk from moderate to brisk pace depending upon the terrains you traverse.
The most popular bird watching tour available in Kenya is Arabuko-Sokoke Forest – Tsavo West & East – Taita Hills – Lake Baringo – Kakamega – Masai Mara. Cover these places to experience the best of flappy friends residing in Kenya.
Map of national parks in Kenya

Top safari destinations in Kenya
1. The Masai Mara National Reserve

Known as the most popular game reserve in the African continent, the Masai Mara National Reserve is the best place to take Kenya safari tours. Located towards the southwest of Kenya, the Masai Mara National Park presents the best of Savannah.

Apart from the Big 5, the national park region is also known for dense bushes dotting the entire national park region. The national park happens to traverse the popular route of the popular Wildebeest annual migration which covers Serengeti in Tanzania to Kenya.

Known for its rich diversity, the park thrives by Mara river. Some of the prominent animals spotted in Masai Mara National Park are Zebra, giraffe, Coke's hartebeest, topi, impala, Thomson's and Grant's gazelle, Defassa waterbuck, buffalo, and cheetah.
Where: Southwest in Kenya near Tanzanian border
Special attractions: Mara ecosystem, Mara Triangle, night safari, bush camping, and balloon safari
Park entry fees: Adult – INR 5117, child – INR 2879, student adult – INR 2558, student child – INR 1279
2. The Tsavo East and Tsavo West National Parks

Live the best of Kenyan safari at one of the oldest national parks in Kenya. Enchanting views and quiet bushes await you in the Tsavo National Park region. Camping, bird watching, and trekking are some of the activities that you can take in the park region.
Where: Tsavo
Special attractions: Forbidden Zone, bird watching (October – January is the time for migratory birds' visit in the park), rock climbing, Mzima Springs,
Park entry fees: Adult – INR 3326, child – INR 2238
Must Read: 24 Best International Trips Under 50k For Your Bucket List 2022!
3. Mount Kenya National Park

The imposing landscapes would enchant the adventurer in you as you embark on one of the popular safari trips in Kenya. Mount Kenya, which happens to be the second highest peak in Africa, stands tall at 5199 m and is a prominent attraction of the park. Glacier clad peaks, forested slopes enveloped in afro – alpine flora and the vivid ecology of the national park allows tourists to explore the riches of the place.
Special attractions: Migration of elephants, Lewa Wildlife Conservancy, and Ngare Ndare Forest Reserve
Park entry fees: Adult – INR 3324, child – INR 1663
4. Amboseli National Park

Swampy springs and weary ground are the prominent features of the wonderful national park that keeps you hooked to its exciting diversity. Free ranging elephants are the specialty of the park that has other prominent African wild beasts thriving on its land.
An ample number of Kenya safari tours are organized in this region that allows you a chance to meet the wonderful Masai Mara people, savor the majestic views of Mount Kilimanjaro – the highest freestanding mountain in the world, and live the thrill of game viewing.
Where: Loitoktok District, Rift Valley Province
Special attractions: Swamps and elephants, Big 5, Observation Hill for panoramic views of the park, local Maasai culture
Park entry fees: Adult – INR 3839, child – INR 2239
---
Planning your holiday but confused about where to go? These travel stories help you find your best trip ever!
Real travel stories. Real stays. Handy tips to help you make the right choice.
---
5. Lake Nakuru National Park

Welcome to the bird paradise in Kenya. Lake Nakuru is also famed as one of the top places to go on a Kenyan Safari where beautiful birds adorn the park area and create the magnificent spectacle for the onlookers. Endemic wildlife breeds and flamingos make highlights of this spectacular national park that thrives by the Lake Nakuru.
With 550 different plant species in the park, which also contains the biggest Euphorbia forest, this place is a heaven for shutterbugs. Landscapes and yellow acacia woodlands are as alluring as it can get. Watch out for them!
Where: Nakuru
Special attractions: Enasoit, Hill Lion Ridge, Hyrax Hill Prehistoric Site, Rhino Event every September
Park entry fees: Adult – INR 3839, child – INR 2239

Besides, there are other popular places that bring you the best of a Kenyan safari. The Lewa Conservancy, Hell's Gate National Park, Mount Longonot National Park, Buffalo Springs National Reserve, Samburu National Reserve, The Meru National Park, and Nairobi National Park are known for game reserves, wildlife reserves, and bushes that continue to enthrall wildlife enthusiasts.

Note: For game viewing always keep in mind that you must wear white, bright or neutral color clothes. Avoid bright or flashy clothes as they attract flies and insects. The sun in the equatorial region in too harsh to handle, therefore carry wide hats, sunscreen, and sunglasses.
Must Read: 10 Best Holiday Destinations In South Africa
Best safari lodges in Kenya
1. Segera Retreat, Laikipia Plateau

What's special: Classic safari adventures, exclusive views of waterfalls, rivers, and woodlands
Tariff: INR 73500 per night onwards
2. Richard's River Camp, Mara North Conservancy

What's special: Birding, bush walks, sundowners, bush meals and cultural visits to a local Masai Village, and hot air ballooning at additional cost
Tariff: INR 48000 per night onwards
3. Giraffe Manor, Nairobi

What's special: Heartening breakfast with giraffes, visit Matbronze Art Gallery and Foundry, adopt a baby elephant at David Sheldrick Wildlife Trust, guided walk

Tariff: INR 35000 per night onwards (approximately)
4. Fairmont Mara Safari Club, Aitong

What's special: Lounge/ bar located over a river, al fresco buffet lunches, activities at night, talks on Mara's ecosystem & Masai culture
Tariff: INR 35000 per night onwards
5. Masai Mara Sopa Lodge, Oloolaimutia Valley

What's special: Lounge, swimming pool bar, elegant dining with well – carved out timber deck
Tariff: INR 9500 per night onwards
Price of the hotels and lodges are subject to change seasonally
A safari is an ultimate way to life the real thrill of the Savannah and super diverse wildlife of Africa. There's a reason they call Kenya as the World Wildlife Capital of the world. Book an Africa tour package and stand a testimony to some of the most ultimate thrills ever!
Further Read: Top Safari Honeymoon Destinations, Experiences, & Resorts In The World
---
Looking To Book A Holiday Package?
Book memorable holidays on TravelTriangle with 650+ verified travel agents for 65+ domestic and international destinations.
---