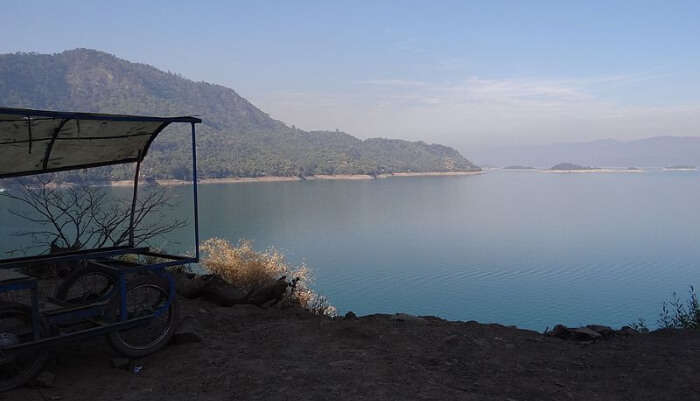 Cover Image Credit: Wikipedia
The Bhakra Nangal dam is one of the most striking features of Punjab located on the river Satluj, it is the most poignant architectural marvels of India that took 15 years to complete after its construction which began in 1948. It is known to be the world's highest straight gravity dam situated on the border between Punjab and Himachal Pradesh that stands tall and attracts thousands of tourists every year who come marvel at this magnificent structure.
The dam is located about 116 km away from Chandigarh making an ideal weekend getaway spot for people living in the city who want some respite and spend their time in recreational activities and water sports. This dam holds a lot of importance in terms of tourism and agricultural activities, it serves as a prospective destination for tourism for spending the day out with your loved ones and cherishing the good times at the dam. This dam is also a powerhouse that provides water for irrigation purposes throughout Himachal Pradesh and Haryana.
The Bhakra Nangal Dam was also described as the 'Temple of Resurgent India' by Jawaharlal Nehru who resumed its construction in the year 1955 after it was halted in between.
Quick Links To Explore Bhakra Nangal Dam
Bhakra Nangal Dam Facts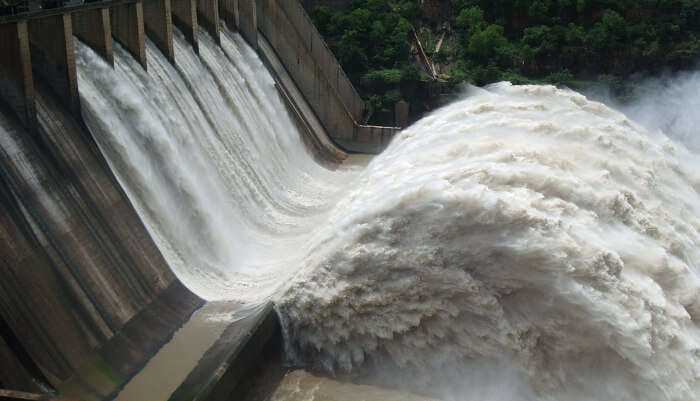 One of the best places to visit in Himachal Pradesh, The Bhakra Nangal dam serves as a multi-purpose project in terms of tourism and agricultural spectrum. It aims to provide ample water for irrigation to the adjoining states of Punjab, Haryana, Himachal Pradesh and Rajasthan. It also serves as a plant that provides hydroelectricity which is generated by Punjab, Himachal Pradesh, Chandigarh, Haryana and Delhi.
The administration and management of the Bhakra Nangal project are undertaken by Bhakra Management Board (BMB). Bhakra Management Board has been renamed as Bhakra Beas Management Board (BBMB) to manage dams on river Beas as well.
In case you are wondering the Bhakra Nangal Dam height, it is 226 m. As far as the Bhakra Nangal dam water level is concerned, the maximum capacity of the dam is 1680 feet.
Visit Rangla Punjab In Jalandhar To Relish The Culture Of Punjab
Tourism At Bhakra Nangal Dam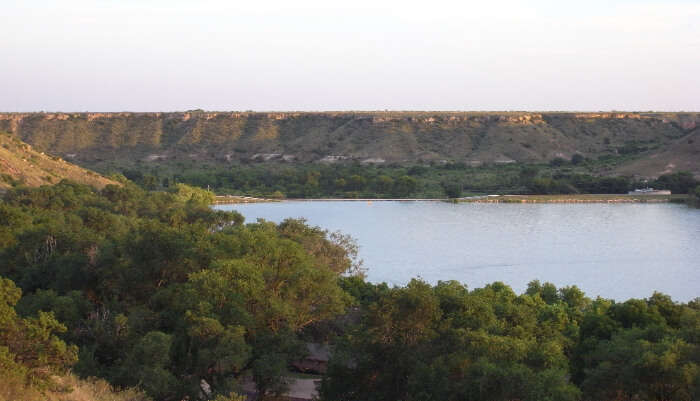 Being the fourth largest dam in India after Tehri dam, the Bhakra Nangal dam attracts a large number of tourists who come to visit the large reservoir and enjoy the stunning views of the dam and the surrounding location. This man-made magnificent gigantic structure is every bit alluring that has several spots ideal to spend a day with your loved ones having a good time. Gobind Sagar Lake which is touted as one of the best lakes in Himachal Pradesh features many serene spots for indulging in picnics and several recreational activities including boating in the reservoir, water skiing, kayaking, and sailing.
History Of Bhakra Nangal Dam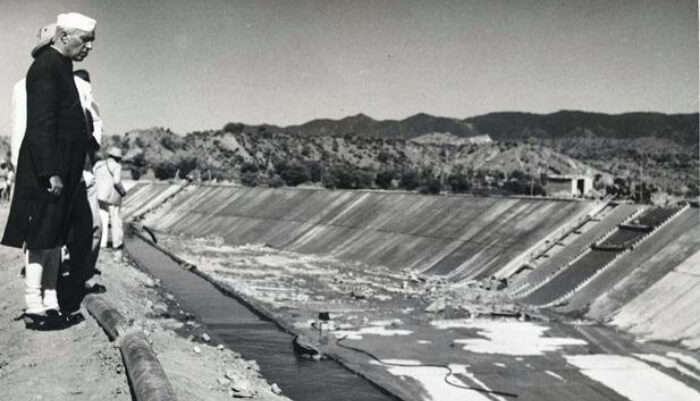 The history of this dam goes way back in time, it was one of the earliest river valley development schemes that were undertaken after the independence of India. After the project was signed by the Punjab Revenue Minister Sir Chhotu Ram in November 1944, the king of Bilaspur finalised it on January 4, 1945.
However, the construction of the dam started in the year 1948 by the then Lieutenant Governor of Punjab, Sir Louis Dane and Jawaharlal Nehru laid the first bricks of concrete into the riverbed of river Sutlej on November 17, 1955, to mark the symbolic commencement of work while addressing a gathering there. He described the dam to be considered as a gift for the people of India and to future generations. He went on to say, "This dam has been built with the unrelenting toil of man for the benefit of mankind and therefore is worthy of worship. May you call it a temple or a gurdwara or a mosque, it inspired our admiration and reverence."
The project was however delayed and restarted soon after independence under the chief architect Rai Bahadur Kunwar Sen Gupta and was financed by the union government. The dam was completed by the end of 1963.
8 Most Spine-Tingling Things To Do In Punjab For A Fun-Jabi Trip!
Features Of Bhakra Nangal Dam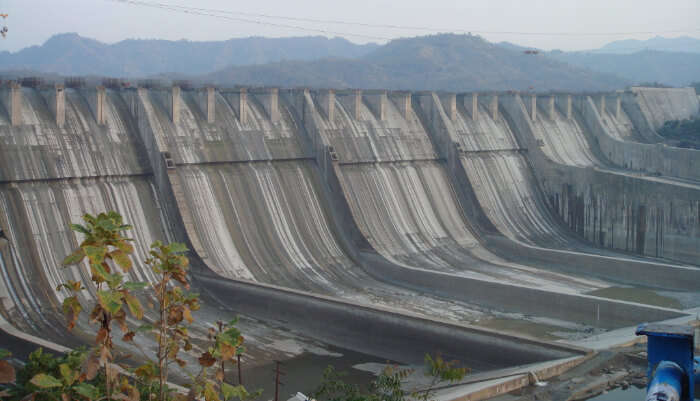 Situated on the river Satluj, the Bhakra Nangal dam's height is 741 ft (226m), which makes it one of the highest gravity dams in the world. The Gobindsagar Reservoir, named after Guru Gobind Singh, is created by this dam which is the third-largest reservoir in India after Indira Sagar Dam and Nagarjunasagar Dam.
Importance Of Bhakra Nangal Dam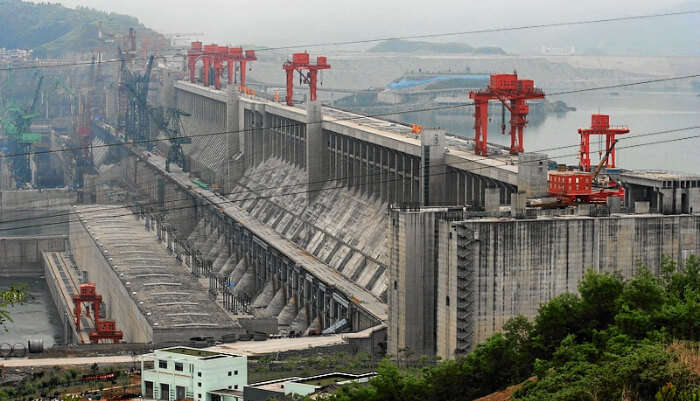 The reservoir of the dam, Gobind Sagar, has fishes of different species including endangered Mahseer which means fishing in this reservoir is a common activity, hence, you'll spot local fishermen practising fishing in Gobind Sagar. This dam holds excess water during the monsoon and provides a regulated release during the year. It also prevents damage due to monsoon floods. Another important feature that makes this dam relevant is that it provides irrigation to 10 million acres of fields in Haryana, Rajasthan and Punjab. Apart from supplying water for irrigation, it plays a pivotal role in generating electricity that is supplied to different states of North India like Himachal Pradesh, Haryana, Punjab, Rajasthan, Chandigarh and Delhi. Bhakra dam has ten power generators with five on each side that have a capacity of 1325 MW.
10 Festivals Of Punjab You Must Experience In 2022 To Get The Real Essence Of The Rich Culture
Best Time To Visit Bhakra Nangal Dam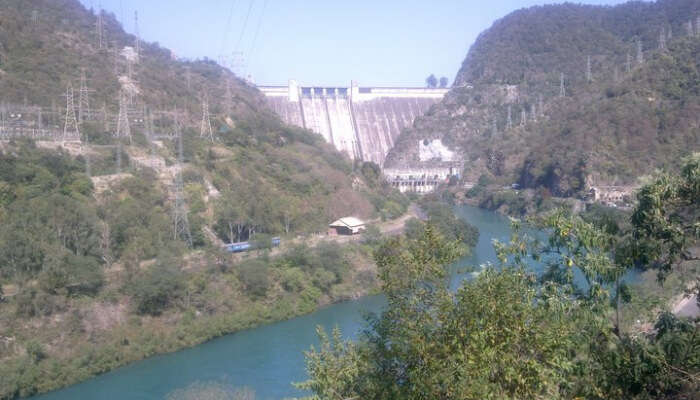 The best time to visit Bhakra Nangal Dam is between October and November.
A visit to Bhakra Nangal dam will never fail to disappoint you and will give you the perfect getaway you needed to spend time with your loved ones. Apart from being an important landmark in the history of India and being the second largest dam in Asia, this dam has several spots where you can indulge in recreational activities and spend a day out. Plan a picnic at the Gobind Sagar Lake and make your weekend a blissful retreat while you're out having fun. Make sure you pay a visit to this magnificent dam on your trip to Punjab and tell us about your experience once you're back!
For our editorial codes of conduct and copyright disclaimer please click here. 
Frequently Asked Questions About Bhakra Nangal Dam
How do I get to Nangal Dam?
The nearest airport to the Bhakra Nangal Dam is Chandigarh Airport from where you can easily find taxis plying between the dam and the airport. For a more convenient trip, you can take a train ride to reach Nangal via Chandigarh.
What are the things to do near the Bhakra Nangal dam?
This magnificent gigantic structure has several spots ideal to spend a day with your loved ones. The Gobind Sagar Lake has one of the most serene spots for indulging in picnics, several recreational activities including boating in the reservoir, water skiing, kayaking, and sailing.
Which is the best area to stay near Bhakra Nangal Dam?
The best place to stay near the dam would be in the heart of Punjab, Chandigarh, where you can find a number of resorts and luxury hotels in Chandigarh.
Is Bhakra Nangal Dam the largest?
Bhakra Nangal dam is one of the largest dams of India which forms the Gobind Sagar reservoir which stretches over a huge area of 40 km sq. It is one of the largest man-made wonders and the world's highest straight gravity dam
Why was the Bhakra Nangal dam built?
Bhakra dam was a part of the Bhakra Nangal Project whose aims were to prevent floods in the Satluj-Beas river valley and to provide irrigation to adjoining states while also provide hydro-electricity.
Who built Bhakra Nangal Dam?
The construction of the Bhakra Nangal Dam started in 1948 when Pandit Jawahar Lal Nehru laid the first foundation brick for the dam. The construction of the dam completed in 1963.
Is Bhakra Nangal Dam open to visitors?
You can visit Bhakra Nangal Dam any time of the year but first, you will need to get the visitors to pass from BBMB Public relations office.
People Also Read
Places To Visit In Chandigarh Places To Visit In Himachal Pradesh Places To Visit in Amritsar
Comments
comments