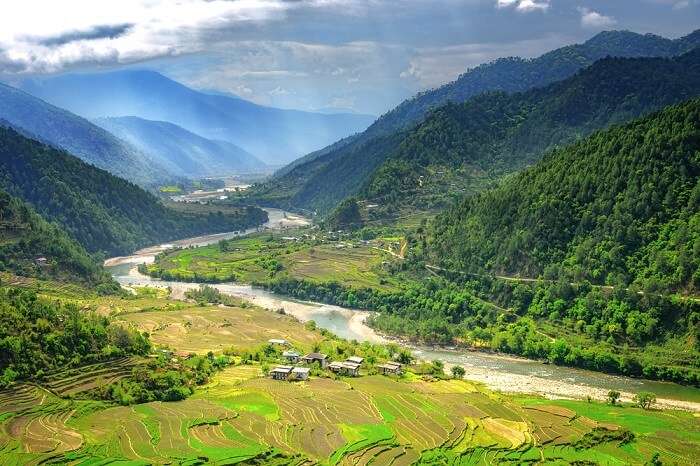 Bhutan is a country of high passes, deep valleys, a delightful history, and rich culture, all of which play a significant role in the notoriety of this kingdom. Experienced world voyagers are consistently excited about traveling to Bhutan. Everything here is extraordinary, beautiful, quiet, and serene. One of the reasons to visit this place is its mesmerizing valleys. From the minute you begin your exciting trip into the land of valleys in Bhutan, you will discover an approval for the King's claim that his conventional Buddhist country esteems above material riches.
Top 7 Valleys In Bhutan
Revealing the demeanor of grandeur and mystery from this inquisitive royal kingdom, here's a quick manual for the valleys in Bhutan that would make your trip utterly exceptional. Below are the beautiful valleys of Bhutan that will leave you awestruck!
1. Phobjikha Valley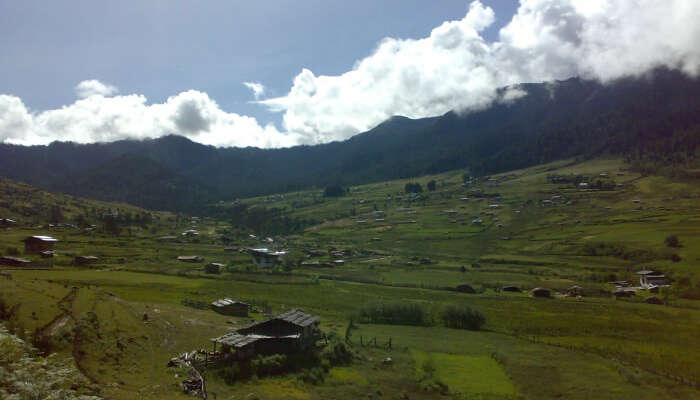 Also known as Gangtey Valley, Phobjikha Valley is named after the wonderful Gangtey Monastery. Set in the heart of Bhutan, Gangtey is a strikingly appealing glacial valley. Carved naturally in the shape of a bowl, the valley is stacked with hiking trails, villages, potato fields, and sanctuaries. If you are planning to visit in November, you can also enjoy the prominent Crane Festival here and spot black-necked cranes migrating from the Tibet Plateau every year.
There is a Crane Information Center too which generates awareness amidst tourists about the natural haven that Bhutan is. Phobjikha flaunts its very own imperative religious zone, i.e, the Gangtey Goempa Monastery, located at the top of the valley, from where you can have the unique perspectives of the valley. While there, you can also spot wild creatures like the barking deer, sambar deer, red foxes, Himalayan mountain bear, and leopards.
Best time to visit Phobjikha Valley (Gangtey): October to March
Must Read: Burning Lake: A Pocket Guide To Soak In Absolute Tranquility In Bhutan's Religious Site!
---
Looking To Book An International Holiday?
Book memorable holidays on TravelTriangle with 650+ verified travel agents for 65+ domestic and international destinations.
---
2. Lheunste Valley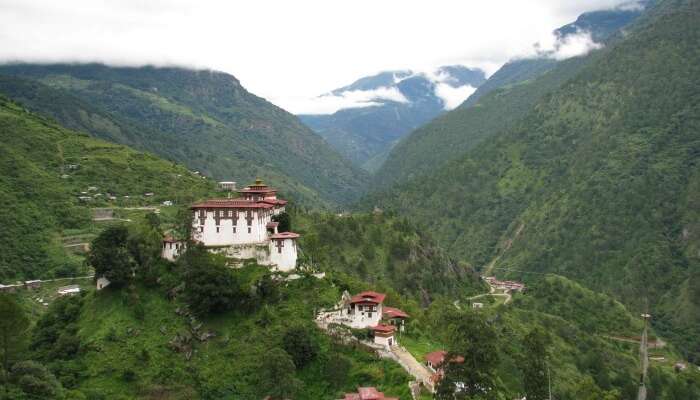 It is one of the hidden valleys of Bhutan which is otherwise called the Kurtoe Valley. The most isolated area of the nation, in the north-east corner of Bhutan, the Lhuenste region claims rugged mountain ranges, towering peaks, awesome visuals, and thick verdant woods. This valley is the homeland for the brilliant rulers of Bhutan. The scene at the canyon is unprecedented with exposed cliffs floating over the valley and thick conifer woods.
When visiting this valley, you should also head to the Kilung Monastery, Lheunste Dzong, Dungkar Nagtshang, and Khoma village. Lheunste is renowned worldwide for its specialty of weaving unique materials named the Kithara. The lovely view, the conventional textile work, and the holy pilgrimage destinations are the few things that would make your journey at this valley beneficial.
Best time to visit Lhuenste Valley (Kurtoe): November to April
3. Punakha Valley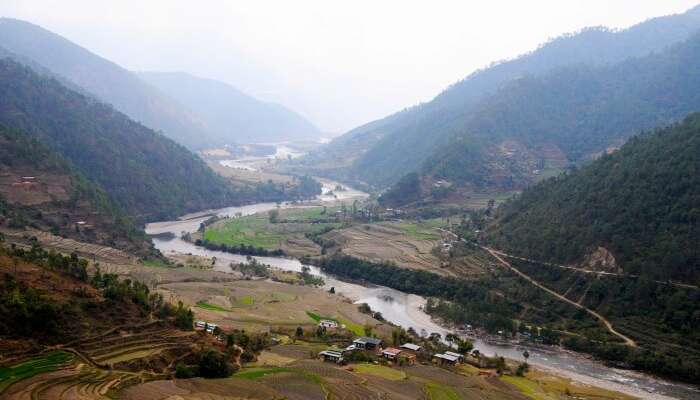 Raised at an altitude of 4265 feet, the view of the 108 chortens marks the entrance into the peaceful Punakha Valley. Punakha Dzong situated at the intersection of Po Chhu and Mo Chhu is a wonder in the natural architecture of the world. Punakha Valley has numerous places for sightseeing which makes it one of the most magnificent valleys to visit while in Bhutan. Po Chhu and Mo Chhu rivers that flow through the valley add a more appealing touch to the valley. River rafting in Po Chhu river is a stunning adventure to attempt for all the adrenaline junkies.
Tuning in to the waves of water and cooing of birds here will calm your senses. One feels a hundred times relaxed and the world doesn't appear to be such a noisy place for once. Nature fanatics will appreciate the spring flowerets which bloom all around the town.
Best time to visit Punakha Valley: March to May
Suggested Read: Backpacking In Bhutan: A Thrilling Experience For All The Travelers
4. Paro Valley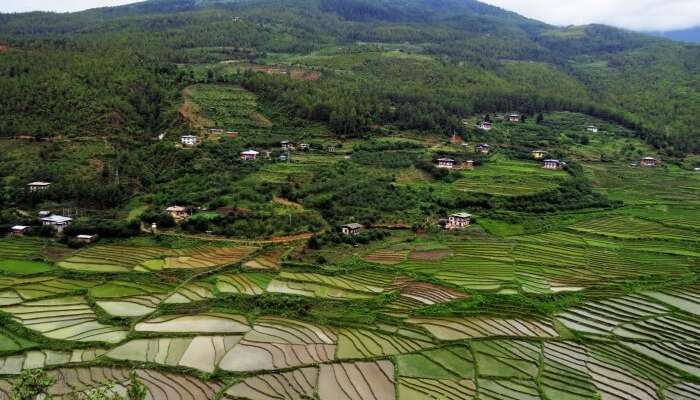 Paro valley in Bhutan is a juncture of Wang Chu and Paro Chhu rivers at Chuzom. Paro is a grid designed spot, arranged in a flat valley base. Together with Jakar and Punakha, Paro shapes the golden triangle on Bhutan's map. Being one of the broadest valleys in Bhutan, this picturesque area is flawlessly wrapped in fertile rice fields. It is also one of the greenest valleys of Bhutan. The cultural and historical extravagance of this place makes it the most loved town for vacationers. In fact, this is where the international airport terminal of the nation is situated, which is also a sight in itself.
There are many tourist attractions in Paro to make your trip a worthy one. The territory has more than 155 monasteries and temples going back to the fourteenth century. The most notable among them is Taktsang Monastery also called Tiger's Nest which is Bhutan's famous fascination. Among other famous attractions at the Paro valley is the National Museum, which shows the nation's unusual marvels and Bhutan's rich culture. Drukgyel Dzong and Kichu Lhakhang are few of the other attractions which ought to be on the list while you visit Paro. It's the best Bhutanese town for hiking.
Best time to visit Paro Valley: September to May
Suggested Read: Hiking In Bhutan: 5 Alluring Trails Every Hiking Enthusiast Should Walk On!
5. Haa Valley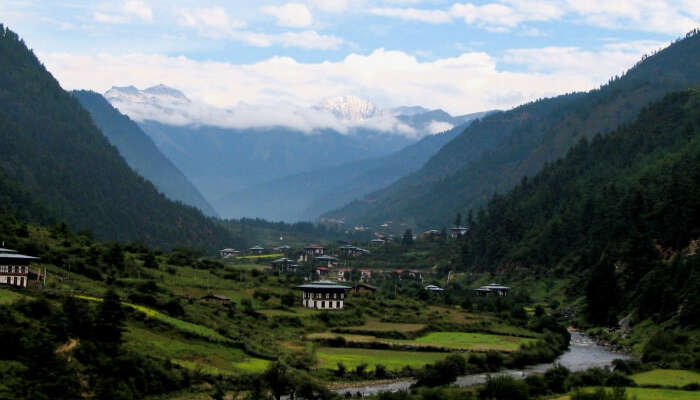 Only 30 km far from Paro, this valley is loaded with paddy ranges all around the province. Encompassed by mountains and huge fields, this valley is one of the greatest valleys of Bhutan. A considerable number of travelers come here every year to unwind and relax. When you drive towards Haa valley, you will also cross the Chele–la pass. Standing at an elevation of 3988 m above sea level, it gives the ideal perspective of Mount Jichu Drakey and Chomolhari. This peaceful place is also packed with culture.
Plan your outing at this valley amid the yearly Haa Summer festival to view the weaving and creation of yak hair tents! Also, get the chance to see a wide collection of yak items on display at the festival, find out about the procedure of wool making and yak shearing, understand the culinary customs of Haa as you witness how they change yak dairy into tasty customary meals, and much more exciting activities.
Also visit the Haa Wangchuklo Dzong, which was established in the year 1915. It's a fascinating spot being set amidst lavish greenery. One needs a couple of hours to admire the beauty of this perfectly painted building.
Best time to visit Haa Valley: March to May & October to November
Suggested Read: Sakteng Wildlife Sanctuary: Wander Into The Wild In Bhutan
6. Thimphu Valley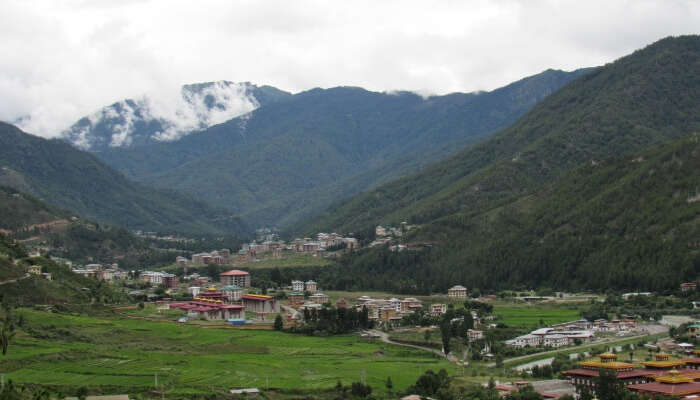 Thimphu valley is a combination of a new commercial vitality and a naturally beautiful small-town. Along with its customary Buddhist sights and attractions, the valley also presents bistros, restaurants, and dance clubs to chill out at night. Finding harmony between the exclusive and chic, the old and the new, is the way to taking advantage of this beautiful city.
Enjoy the stunning vistas in this valley because there are numerous amazing spots to visit in Thimphu. The impressive Trashi Chhoe Dzong will offer a religious view of the place, and it is likewise a place that hosts several vivid Tsechu festivals. You can also go for a stroll to its weekend market which enables you to taste the absolute best-dried fish alongside other dishes.
Also, visit the Dochula Pass, a beautiful spot here. It is a standout and the most prestigious location for sightseers in Bhutan. The place offers panoramic views of the all-encompassing snow-topped mountains and amazing perspectives of the colorful banners rippling in the breeze.
Best time to visit Thimpu Valley: March to May & September to November
Suggested Read: The Only Guide To Zhemgang In Bhutan You Need Before Your Nepal Trip
7. Bumthang Valley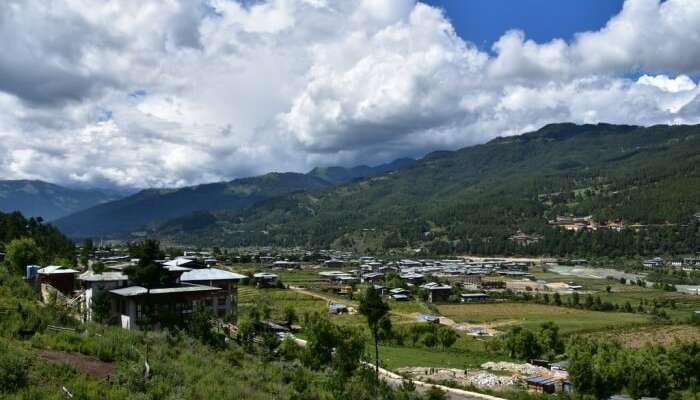 Home to four lovely mountain valleys and a variety of old monasteries and sanctuaries, Bumthang has marked its spot as the most noteworthy of all regions in Bhutan. Also, called the "Switzerland of the East," Bumthang is without a doubt amongst the most sacred and the best locations in Bhutan. Its four remarkable valleys are Chumey, Ura, Tang, and Choekhor. Choekhor Valley is another name for Bumthang Valley, which is the biggest of the four valleys mentioned. It is the most common spots among travelers due to the quiet and lovely surroundings that it possesses.
A vital provincial town, Jakar is likewise located here. It gladly houses Jakar Dzong, whose white shaded walls display the special Bhutanese architecture. The dzong is grand, and glorious in its stature and appeal. Buckwheat, rice, and tomatoes are cultivated in this region. Their fields can be seen clearly in the valley.
One can enjoy views of the Ura La Pass or that of the rich Rhododendron forests at marginally higher elevations, and the huge sheep pastures and intermittent timberlands that go with the drive-in transit, which are also must stop places during the tour. One of the most ancient monasteries in Bhutan, Jamey Lhakhang is likewise established here. Also, taste the cheddar and buckwheat treat the area brings to the table.
Best time to visit Bumthang Valley: March to May & September to November
Further Read: Top 10 Honeymoon Places In Bhutan To Fall In Love All Over Again!
A tour to Bhutan is for sure incomplete without exploring its mesmerizing valleys. Create a stunning travel diary by discovering the fantastic landscape, ancient locales, pilgrimage sites, charming villages, and traditions of its natives. The atmosphere in and around the valleys of Bhutan has something to lure every kind of traveler. So, plan your trip to Bhutan with TravelTriangle and have a great time unwinding in its pristine valleys!
---
Looking To Book A Holiday Package?
Book memorable holidays on TravelTriangle with 650+ verified travel agents for 65+ domestic and international destinations.
---
Comments
comments