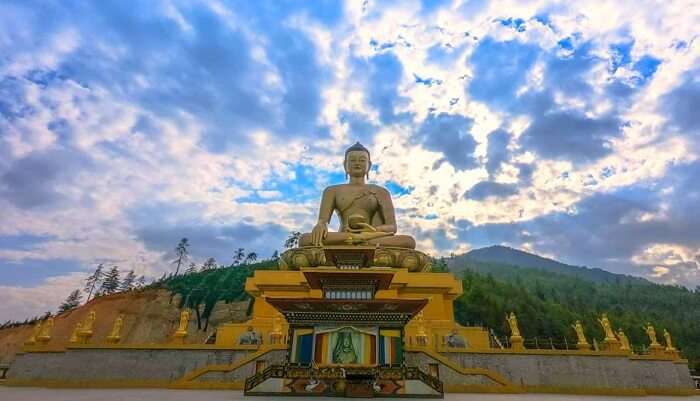 Happiness is a place! Know where it is? You guessed it right! From the mighty Himalayan peaks, soul-soothing cuisine, colorful Buddhist temples, to smiling faces all around, Bhutan is truly a paradise unlike any other. Bewitched by this very charm, Sushant and his wife booked a 6 nights 7 days Bhutan tour and came back with a truckload of experiences that they wish to share with the world.
I was never a fan of overly crowded places and hyped destinations. My wife suggested that we go to Bhutan as she's spiritually inclined towards the Buddha and Bhutan is among the premier nations in the world where Buddhism is preached and practiced. Bhutan was also recommended by a few of my Royal Enfield-riding-friends. And the fact that it suited our budget was a cherry on the cake.
Bhutanese people are one of the warmest I've ever come across. It's amazing how content they are with whatever they have. Most Bhutanese came and spoke to me out of curiosity and not to sell anything. Their hospitality is just too good, and that's among the most known Bhutan facts. When you pay them for their services, they accept the money with two hands and a bowed head, which was truly heart-warming to witness. Everyone from the locals to the staff of our hotel in Paro (Sonam Tsokhang) and Thimphu (Tashi Delek) were extremely polite and hospitable.
I wish to share some amazing facts about Bhutan that people do not know. In fact, I can bet the following information about Bhutan will compel you to book your trip right away!
Table Of Content
Details Of Our Romantic Trip To Bhutan
Trip Type: Romantic Trip
Trip Cost: INR 71,373/-
No. Of People: 2
Trip Duration: 6 Nights 7 Days
Inclusions: Breakfast, accommodation, flight (one-way), airport transfers, sightseeing, internal transfers, driver cum guide, Bhutanese SIM card, all permits
Exclusions: Lunch, dinner, travel insurance
A Perfect Blend Of Adventure & Bliss, Our Romantic Trip To Bhutan Was A Dream Come True
Our Customised Bhutan Itinerary And The Highlights Of The Tour
Day 1: Arrival at Paro | Drive to Thimphu | The Buddha Point
Day 2: Sightseeing in Thimphu and relishing a traditional Bhutanese meal
Day 3: Drive to Punakha – Dochula Pass, Suspension Bridge, and Thukpa!
Day 4: Drive to Paro | Chimi Lhakhang and Rinpung Dzong
Day 5: Chelela Pass
Day 6: Tiger's Nest trek | Drive to Phuentsholing
Day 7: Departure
The Best Attractions We Visited On Our Trip To Bhutan
Out of all the places we visited in Bhutan, we totally fell for the ones listed below. Make sure they figure in your itinerary when you're planning your own Bhutan holiday.
1. The Tiger's Nest, Paro



The official name of this place – Paro Taktsang – literally translates to Tiger's Nest, where "Takt" means "tiger" and "Sang" is "nest". It is also one of the most photographed attractions in Bhutan and a trip to Bhutan is incomplete without a visit to this holy place. The Taktsang monastery was built on a cliff by Guru Padmasambhava who is believed to have flown to this cliff on a tigress. The Taktsang is one of the most sacred places in Bhutan and the Bhutanese people believe that one must visit this at least once in their lifetime. One has to hike around 12 km to reach the Taktsang Monastery at the top, and the Tiger's Nest trek is an exhilarating experience! The Taktsang also finds it was on the 5 NU currency note.
Entry fee: INR 500 per person for Indian nationals
2. The Buddha Point, Thimphu

Also known as Buddha Dordenma, this massive statue is one of the tallest statues of Lord Buddha in the world standing at a height of over 206-feet! This gigantic statue of Buddha Shakyamuni is made of bronze and gilded in gold. Seated in Padmasana, the Buddha has a peaceful meditative expression that will instill a sense of calm in your soul. His right hand is in Bhumisparsha Mudra and his left hand is holding an alms bowl.
Entry fee: Nil
Backpacking In Bhutan: A Thrilling Experience For All The Travelers
3. The Kichu Lhakhang Dzong, Paro



The Kichu Lhakhang Dzong is the oldest and the most sacred of temples in Bhutan. It is one of the 108 temples that King Songsten Gompa built in a day over a demon's body to subdue her. Only 2 out of these 108 temples are in Bhutan.
Entry fee: INR 300 per person for Indian nationals
4. Rinpung Dzong, Paro


I was told that the Rinpung Dzong looks beautiful at night. Unfortunately, we could not witness that due to a shortage of time. We did, however, get to visit it during the day and it was one of the most beautiful sights I have ever laid eyes on. Rinpung Dzong is also known as the Paro Dzong since it is located on the Paro river. It is also featured on the 10 NU currency note.
Entry fee: INR 300 per person for Indian nationals
Hiking In Bhutan: 9 Alluring Trails Every Hiking Enthusiast Should Walk On!
5. Suspension Bridge, Punakha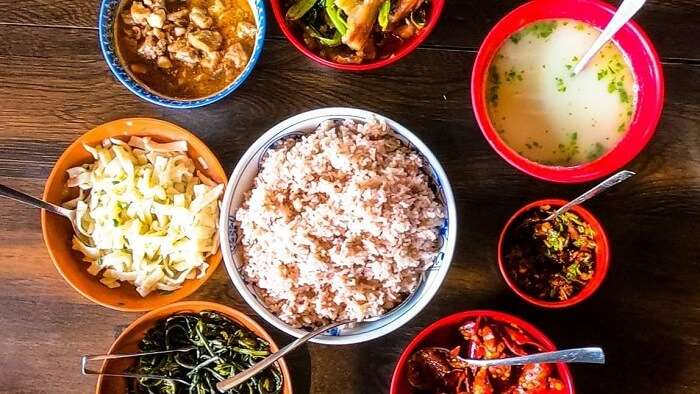 Built over the Pho Chhu river in Punakha, this suspension bridge is the longest bridge in Bhutan. One of the oldest suspension bridges in the world, it was believed to be built by the Buddhist Monk Thangtong Gyalpo. Over the years it has undergone its share of refurbishment but it was once one of the eight bridges that served as a precursor to many of our modern suspension bridges. It's over 160 meters in length which makes walking across the bridge quite a thrilling experience.
6. Punakha Dzong, Punakha



Easily the prettiest of all Dzong's attractions, Punakha Dzong is also known as the Palace of Happiness. It lies at the confluence of the Pho Chuu (male) and Mo Chhu (female) river. It now houses the Central Monastic Body and is the second oldest and largest Dzong in the country. Don't miss out this place on your Bhutan trip or you'll regret it later!
Entry fee: INR 300 per person for Indian nationals
Shopping In Thimphu: 10 Best Places For Buying The Best Of Everything In Bhutan
Some Bhutan Facts I Discovered That Blew My Mind!
I had the chance to visit this awesome country and I thank my stars that I choose Bhutan over other hyped destinations. When you hear the name Bhutan, either the image of the Tiger's Nest pops in your head or you simply relate it being the land of the Thunder Dragons. Here are a few Bhutan facts and figures through which I wish to prove that Bhutan is so much more than what the internet tells you.
1. The Land Of Free Education
Education is free for everyone up to 10th standard. A cutoff percentage decides your further free education.
2. The Land Of Free Healthcare
Healthcare in terms of treatment is free for every Bhutanese citizen. You'd have to pay for medication at the pharmacy, but this is a rarity since most often you'd get those medicines at the hospital itself.
3. The Land Of The Disciplined
Bhutanese people respect and adhere to traffic rules. They actually use the zebra crossing to cross and the vehicles actually stop during a light. Traffic violation will cost you a massive INR 1750/- and increases on the basis of other proved violations. Nobody honks. In my stay of 7 days, I did not hear a car honk on more than three occasions. Bhutan is the only country in the world with its capital city Thimphu devoid of any traffic lights or even the traffic policemen at important junctions. In fact, they do not even need one!
Dilip's Honeymoon Trip To Manali And Shimla Was A Snowcation To The Wintry Paradise
4. The Land Of Spices And Cheese
Bhutanese eating habits are very simple. However, it is not without their extra dose of spices, cheese, and butter tea, of course. Indian food is easily available throughout the country.
5. The Land Of Democracy
Even though Bhutan has always had a king, it's the people who rule. The king can be impeached or removed by a 2/3rd vote in the parliament. According to the constitution of Bhutan, the king is required to retire at the age of 65 so that the next king can take a learn all roles and responsibilities from the present king. And the best part – it is possible for a common man to meet the king.
6. The Land Of Cultural Heritage
Bhutan fiercely preserves its culture. The men wear a 'Gho', a knee-length robe that is tied at the waist by a traditional belt, while the women wear a 'Kira', a long, ankle-length dress accompanied by a light outer jacket. The men and women are supposed to wear this to their workplace as well. They even make sure that the new buildings made exhibit their culture and traditional architecture. They are required to submit a blueprint to the government and if approved, they can proceed with the construction. An inspection is also conducted pre and post-construction to validate it.
7. The Second Most Expensive Country For International Tourists
International tourists (outside of SAARC nations) are required to pay an amount of USD 250 per day for their stay in Bhutan where the amount includes their food, stay, and travel. Bhutanese people believe that this high cost only lets the cream crowd come into their country which indirectly protects their sovereignty. It's their principle – high value, low impact. The money collected is used for Bhutan's free education and healthcare.
8. The Land Of The Soft-Spoken
Most Bhutanese locals will speak to you politely out of curiosity and not because they want to sell you something. Hindi is spoken widely and largely understood by 95% of the population. Star Plus is a popular channel amongst the female population there!
9. A Land Where Marriages Are Cheap And Death Is Costly
Both love and arranged marriages are accepted in Bhutan and is usually a simple affair. In western Bhutan, the husband goes to live at the wife's house and in eastern modernized Bhutan, either the wife goes to live at the husband's place or the couple chooses to live separately. Death, however, is a costly affair. The 7th, 14th, 21st & 49th day after a person's death are considered to be important and are recognized by erecting white prayer flags and feeding relatives and people who come in to share the burden of sorrow.
10. The Land Of The Eastern Himalayas
If it weren't for the Himalayas, the Chinese would have conquered Bhutan by now. If it weren't for the Himalayas, the country would not have been carbon negative. If it weren't for the Himalayas, Bhutan would not have been the country that it is today.
11. The Land Devoid Of Carbon
Bhutan's constitution demands 60% of its area to be covered by forests. At present, 72% of the country is covered by forests. Bhutan isn't carbon neutral, it's actually carbon negative. For every tree that is cut for construction purposes, the government provides three free samplings to replace it and the people willingly plant those.
12. The Land Of Gross National Happiness (GNH)
GNH was introduced in Bhutan instead of GDP and it is measured via 9 domains – physiological well-being, health, time use, education, good governance, community vitality, ecological diversity and resilience, cultural diversity and resilience, as well as living standards. Hence proved, happiness is a place, and it's Bhutan!
Some Handy Bhutan Travel Tips For A Hassle-Free Vacation
Here are some tips for visiting Bhutan that you must know and follow during your trip:
DO'S
Get yourself in shape for the Tiger's Nest trek if you're not a regular trekker. This trek can be classified into easy and medium difficulty levels.
Opt for a guided tour of Dzong so that you are able to explore all of it properly.
Wake up early in the morning and start your day by 8 AM. This way, you'll be able to see all the attractions at the proper pace, leaving you enough time for relaxation in the evening.
Carry a jacket or shawl everywhere you go as the weather in Bhutan is generally cold.
Go shopping in Phuentsholing for some cheap handmade goods of Bhutan.
Carry medications like avomine (or ask your doctor to recommend you an alternate) while visiting Chele La Pass and Dochula Pass since the irregular and winding route can cause dizziness.
Opt for seats on the left-hand side and in the back while flying to Paro from Calcutta or Delhi to so that you are able to get good views of Mt. Everest from above. On your return journey, opt for the right-hand side seats likewise.
DON'TS
Do not litter.
If you are driving in Bhutan, please adhere to the country's road safety rules and ethics. Do not honk. Do not violate traffic signals.
Do not stare at Bhutanese people. Be respectful.
Do not carry notes of INR 2000 & 500 as they aren't accepted in Bhutan. Rest of the Indian currency will be widely accepted.
Our Experience With TravelTriangle
I choose Flying Fox and its representative Mr. Yogi constantly stayed in touch with me throughout the trip. He helped me gather all the crucial information even before I landed in the country and also gave me a good discount on my trip.
Mr. Tshering Norgay was my driver and guide via Flying Fox. He could not accompany us on major attractions due to his knee ailment, but he made up for his unfortunate situation with his lively nature and witty jokes. He is quite young and energetic and he was exactly the kind of person I was looking for. He drove us around in his comfortable Creta and his driving skills were next level.
How To Reach Bhutan
Paro International Airport is the international airport of Bhutan that welcomes flights from Kolkata, Dhaka, Delhi, Gaya, Bangkok, and Kathmandu. You can reach here by boarding any flight to Paro International Airport from where you can take a taxi or cab to your desired destination. 
Bumdeling Wildlife Sanctuary: Your Personal Guide To This Beautiful Attraction In Bhutan
We bet you didn't know about all these amazing Bhutan facts! But now that you do, why are you still waiting to book your getaway to Bhutan and relishing all these awesome experiences? Get in touch with our experienced agents and let them cook you up a customized Bhutan itinerary to suit your budget and provide you with all the comforts that this happy place has to offer!
Disclaimer: TravelTriangle claims no credit for images featured on our blog site unless otherwise noted. All visual content is copyrighted to its respectful owners. We try to link back to original sources whenever possible. If you own the rights to any of the images, and do not wish them to appear on TravelTriangle, please contact us and they will be promptly removed. We believe in providing proper attribution to the original author, artist or photographer.
Please Note: Any information published by TravelTriangle in any form of content is not intended to be a substitute for any kind of medical advice, and one must not take any action before consulting a professional medical expert of their own choice.
Frequently Asked Questions
Is Bhutan a peaceful country?
Ranked 13 among the 163 countries on the Global Peace Index in 2017, Bhutan happens to be the most peaceful country out of all the South Asian nations. The GPI is the world's leading measure of global peacefulness.
Is vegetarian food available in Bhutan?
Loaded with cheese, chili, and lots of love, Bhutanese eating habits are actually pretty simple. We tried a lot of traditional Bhutanese food and ate at local places as well as fancy cafes. The non-veg part of Bhutan food is set to pork by default. So, kindly specify if you're not into pork the moment you take a seat at a restaurant. My only regret is that I did not find a single chicken momo; all their momos are either cheese or pork. And yes, Bhutanese people love to eat paan (betel-leaf) and are heavily invested into it.
Indian food is easily available everywhere. In fact, a large number of popular Bhutanese dishes are actually vegetarian. For instance, the Zow Shungo is a delicious rice dish mixed with leftover vegetables, while the national dish of Bhutan – Ema Datshi – is a spicy dish made with green chili peppers in a cheesy sauce. One should opt for a breakfast and dinner inclusive package while planning a trip to Bhutan.
What should I buy in Bhutan?
There are a lot of traditional items and handicrafts that you can buy in Bhutan at nominal rates. We ended up buying tonnes of souvenirs from Bhutan from the store that our guide suggested to us, and totally loved the experience! We bought prayer wheels, mugs, a Gross National Happiness (GNH) t-shirt, fridge magnets, prayer flags, and a small Buddha statue. While shopping in Bhutan, you can buy stuff like hand-woven textiles (carpets, wall hangings, and more), jewelry in gold and silver, Himalayan beads (Dzi beads), handmade wooden bowls (Dappa), cane and bamboo items, wooden products, postal stamps.
I'd suggest you buy all traditional handmade goods and Bhutan souvenirs from the markets in Phuentsholing as shopping in this place will go pretty easy on your pocket. For instance, a fridge magnet priced at INR 100 in Paro can be bought for INR 50 in Phuentsholing, and the quality and make is the same in both these places.
How much does it cost to go to Bhutan?
Traveling to Bhutan usually turns out to be inexpensive for citizens of SAARC countries. The amount that we spent on our trip to Bhutan was more than sufficient. It usually costs around INR 20,000 – 40,000 for a duration of 7 days and 6 nights in Bhutan, flight prices excluded. The ideal duration of a Bhutan trip is usually 5 days, which would cost even less. 5 days are enough to see all the major parts and attractions of this beautiful country.
People Also Read: