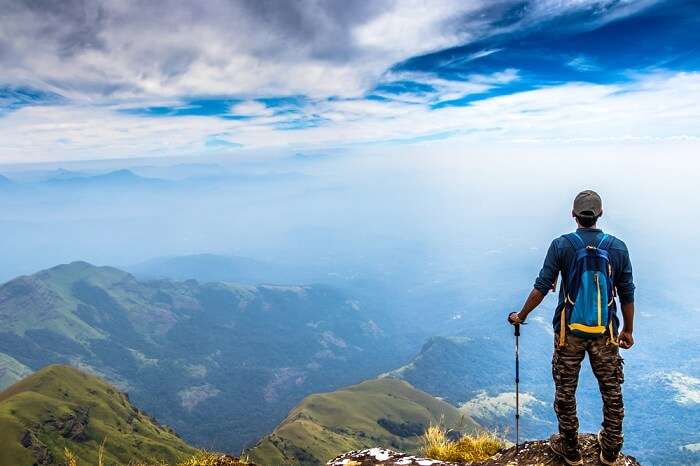 At the confluence of the Western and Eastern Ghats in Karnataka is a hill range and a wildlife sanctuary that beckons nature lovers to explore. It was once the home of dreaded bandit, Veerappan, but is today a growing tourist attraction. Biligirirangan Hills is a favorite getaway among outdoor enthusiasts looking to escape the chaos of Bangalore or Mysore. Our quick guide will show you the best Biligirirangan Hills hotels to stay at and the exciting things you can do during your holiday.
Top Reasons for Visiting Biligirirangan Hills
It's home to the Biligirirangan Wildlife Sanctuary, a protected reserve with a wealth of diverse flora and fauna
It's one of the most important ecological bridges between the Western Ghats and the Eastern Ghats
It's the perfect getaway for nature lovers and adventure enthusiasts
The Cauvery river flows through it
---
South Weekend Holiday Packages On TravelTriangle
---
Best Time to Visit Biligirirangan Hills
Biligirirangan Hills has a temperature range that varies hugely. Summer temperatures can soar to the high 30s while winter can go below 10o Celsius. If you intend to river raft, try to go in the monsoon. Keep in mind, however, that rains can be unpredictable and can put a damper on plans. The best time to visit Biligirirangan Hills is from October to May as you can trek, camp and go on safaris.
Must Read: 20 Romantic Places To Visit In Singapore For Honeymoon
All You Need To Know About The Soliga Tribe
One of the ancient residents in the Biligirirangan Hills is The Soliga Tribe where they have been living for more than centuries. In the recent times, government has been trying to turn the resident places of the Soliga Tribes into parks for safeguarding of the animals like tigers, leopards and sloth bears. The Soliga Tribe people are more into silk weaving, mid-wives are being trained so that they can find employment in the hospitals, the people of the tribe also make honey and gather turmeric powder. They have taken an initiative of setting up schools for their kids and even the ambulance amenity for the patients living far away.
Suggested Read: Visit Turkey In July To Explore The Ancient Ruins And Turquoise Beaches
Itinerary about BR hills: Dodda Sampige Mara
It is a grand Champak Tree which is as old as 2000 years old which is 34 meters in height and 20 meters in width. This is a must visit as you can be close to the history of Biligirirangan Hills as the tree is worshipped by many devotes in the Biligirirangan Hills. Dodda Sampige Mara is situated within the Temple of BR hills.    
The Biligirirangan Hills is a 4 and half hour ride from Bangalore. Experience the wilderness by visiting the Biligirirangan Hills as you get amazing views of animals while arriving at Biligirirangan Hills. Evening is the time when you can enjoy and entertain yourself by the beautiful dance of the Soliga tribal people showcasing their traditions and culture. Biligirirangan Hills can be explored in the morning so visitors must plan accordingly.
Places to See in Biligirirangan Betta
BRT Wildlife Sanctuary
This is the highlight of Biligirirangan Hills and the first stop for most travelers. It's home to a rich variety of wildlife some of which include elephants, tigers and sambars. It's also home to Kattari Betta, the highest point in the sanctuary.
Biligiri Rangaswamy Temple
An ancient temple called Biligiri Rangaswamy Temple stands atop Biligirirangan Hills and is a popular stop for devotees. The jungle can be seen from here and the view is amazing. Do take a camera for panoramic shots as there are several viewpoints you can halt at.
Suggested Read: Karnataka Cuisine: 22 Popular Karnataka Dishes For A Flavorful Culinary Journey
Things to Do in Biligirirangan Hills
Biligirirangana Betta Karnataka is a very adventure-oriented destination so prepare yourself for some adrenaline-pumping action!
Trekking
Trekking is one of the best activities to enjoy at Biligirirangana Betta Karnataka. The sanctuary provides terrific opportunities to explore the jungle and see wildlife.
Camping
If simply passing through the jungle is not enough, you can stay right next to it by camping at K. Gudi Wilderness Camp. You'll fall asleep to the sounds of wildlife and get to see hundreds of species of birds and larger animals. Come evening and you can relax around a campfire before settling down for the night.
River rafting
Biligirirangan Hills weather paves the way for river rafting. However, you want to visit during the monsoon when the water levels of the Cauvery rise.
Jungle safari
There's probably no better way to take in the best sights Biligirirangan Hills has to offer than by going on a jungle safari. You can make enquiries at the resort or camp you're staying at for details.
Biligirirangana Betta Resorts, Hotels, and Camps
1. Rajathadri Hill Villas
Simple décor, comfort, wholesome meals, safaris and treks are what you can enjoy at Rajathadri Hill Villas, one of the most popular Biligirirangan Hills resorts. It doesn't end here, however; guests are treated to camp fires and tribal dances too. You can also rent a telescope for star-gazing.
Price: INR 1,350 on twin-sharing
TripAdvisor Rating: 4/5
Location: 144/1, Yelandur Main Road, Chamarajanagar, B R Hills
2. K. Gudi Wilderness Camp
If you love roughing it out and your idea of a perfect vacation is living in the lap of nature, K. Gudi Wilderness Camp is for you. Despite its distinct rustic vibe, it makes sure guests are treated to the best the jungle has to offer. Nature walks, safaris and bird-watching are some of the activities.
Price: INR 5,900
TripAdvisor Rating: 
Location: BR Hills Road, State Highway 80, Chamarajanagar
3. Gorukana
Gorukana offers guests 10 cottages, a tree house and a tent to choose from. The tent and treehouse are ideal for travelers looking to get back to basics while the cottages will appeal to those craving luxury this close to the wild. Like many Biligirirangan Hills accommodations, Gorukana makes sure guests have plenty to keep them occupied. Some of the activities include treks, nature walks, safaris, tribal performances and zipline activities. It also offers ayurvedic therapies.
Price: INR 3,000
TripAdvisor Rating: 4.5/5
Location: Opp. Yerakanagadde Colony, Near Vivekananda Health Centre, Biligirirangan Hills
Suggested Read: 40 Things To Do In Mysore Perfect For Experiencing The City!
How to Reach Biligirirangan Hills
You can reach Biligirirangan Hills from Mysore which is where the nearest domestic airport is located. It's less than 90 kilometers away and you can book a taxi to get here. However, if you're traveling from abroad, the nearest international airport is Kempegowda International Airport in Bengaluru, situated 235 kilometers away. If you prefer taking the train, you can book tickets to the nearest railway station located at Chamarajanagar, which is about 40 kilometers away. A taxi or bus will then bring you to Biligirirangan Hills. KSRTC buses are also available from Mysore and Bangalore if you're up for a road trip.
Further Read: Reminiscence Of A Past Life : 10 Mysteriously Abandoned Places In India
Biligirirangan Hills is where you can explore the wild and get a chance to see inhabitants of the jungle up close. Experience the best of this side of South India on a trip to Karnataka and return home with memories you'll cherish for a lifetime.
For our editorial codes of conduct and copyright disclaimer please click here. 
Frequently Asked Questions About Biligirirangan Hills
Where is BR Hills?
BR Hills is a range of hills that are located in Southeastern Karnataka, where the state shares its borders with the Erode District of Tamil Nadu. This one of the prominent South Indian hill ranges is officially known as Biligirirangan Hills. It is a part of the Biligiriranganatha Swamy Temple Wildlife Sanctuary, commonly known as BRT Wildlife Sanctuary.
How do I get to BR Hills?
To reach the Biligirirangan Hills or BR Hills, take the following ways: By Air: Kempegowda International Airport Bengaluru or Bangalore Airport is the nearest airport, located at a distance of 220 kilometers. By Rail: The railway station at Chamarajanagar is the nearest railway station, located at a distance of 40 kilometres. By Road: The place is well connected by road and can be reached through regular buses, taxi or self driven car via Bangalore – Mysore highway.
What is the best time to visit BR Hills?
The best time to visit BR Hills is in the months of November to March. This time is ideal to enjoy the natural beauty of this forested region and also to indulge in adventure activities. The pleasant romantic weather also makes it a great time couples.
How do I get to BR Hills from Bangalore?
The best way to reach BR Hills from Bangalore is by road through a car or a cab. The distance from Bangalore to BR Hills is about 173Km, via Mysore Road. This distance can be covered within approx. 4 hours.
How do I get to BR Hills from Mysore?
The distance between Mysore and BR Hills is 80Km, which can be covered in about 2 hours. The best routes are via Mysore – Kollegal Road; Mysore – Trichy Road; T Narsipura Road and SH 57.
What is there in BR Hills?
Some of the best things to do in BR Hills include: 1. Exploring the BRT Wildlife Sanctuary 2. Visiting Biligiri Rangaswamy Temple 3. Witnessing the ancient and big Champak Tree 4. Shopping for forest and tribal products 5. Indulging in adventure activities
Can I do BR Hills trekking?
Yes, located at an altitude of 3500 feet above sea level, BR Hills offer thrilling opportunities for trekking. Several trekking tours are conducted that include night camping and falls trek.
---