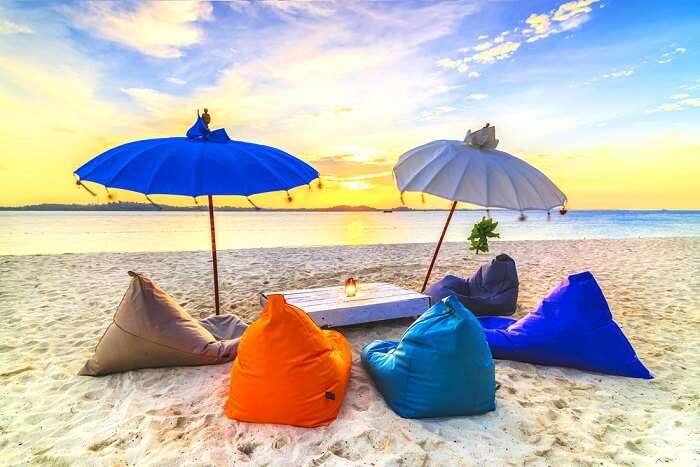 Bintan Island is a beautiful Indonesian island attracting visitors from far and near to its surreal white sand beaches. Being the largest amongst the Riau islands of Indonesia, it is a perfect exotic getaway with pleasant coastal temperatures and luxury resorts. The island offers a peaceful retreat amidst the lush green forested beaches. Soak in the beautiful sights of the sea as you sit under the swaying coconut trees on the beautiful white sand beaches.
Best Time To Visit Bintan Island Singapore
The Bintan Island, Singapore is a year-round destination. It sports the spring season from March through May which is also the time when Bintan Island tourism thrives. The summers and fall from June to November see a decreased number of tourists, which provides one with accommodations at bargained prices. December to February again sees a lot of tourists as the Bintan Island weather is quite pleasant and the temperatures lie in between 29°C to 31°C.
Places To Visit At Bintan Island
Here are all the fascinating avenues you can explore on your Bintan Island tour.
1. Panglong Village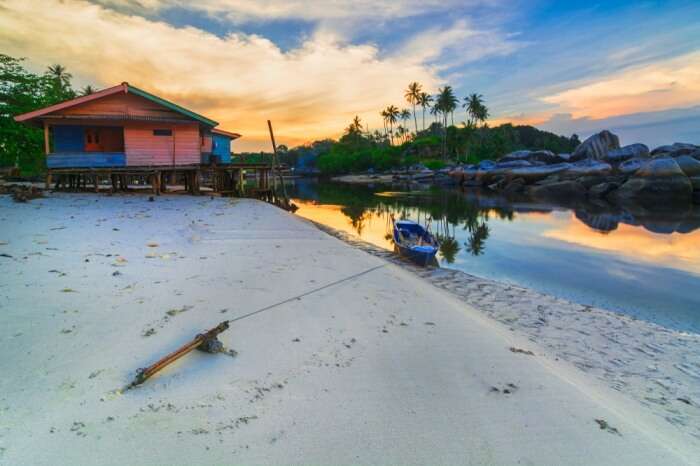 Panglong is a beautiful rustic village located at the northern tip of Bintan Island. The ambiance here is easy going and calm. The locals are very welcoming and one can step back into time, enjoying the little things at the village like learning about the lives of sea gypsies.
Must Read: 11 Best Things To Do In Jakarta: The Indonesia Capital Buzzing With Life!
2. Trikora Beach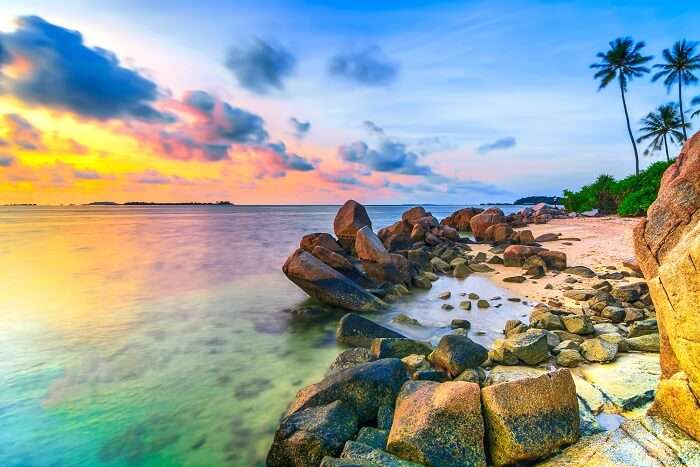 An ideal spot for beach lovers, Trikora is a stretch of multiple beaches in Bintan along its northeastern edge. One can reach here through a two-hour ferry ride from Tanjung Pinang or the Bintan resorts. To explore the beaches, one can get a bicycle along on the ferry. Enjoy kite surfing, fishing and picnicking here.
Suggested Read: A Tour Guide To The Java Island in Indonesia
3. Grotto Santa Maria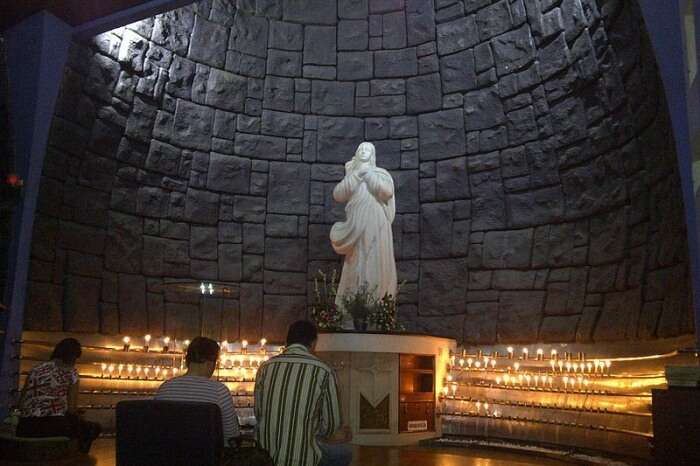 Grotto Santa Maria is an 18th-century creation of a Dutch pastor. This beautiful place of worship is twenty minutes away from Trikora beach. The site has life sized sculptures which look of marble but are actually of limestone. The entrance to the place leads to the Stations of the Cross, at the end of which lies the beautiful Grotto Santa Maria cave.
Suggested Read: 27 Best Places To Visit In Jakarta That Showcase The Other Side Of Indonesia
4. Treasure Bay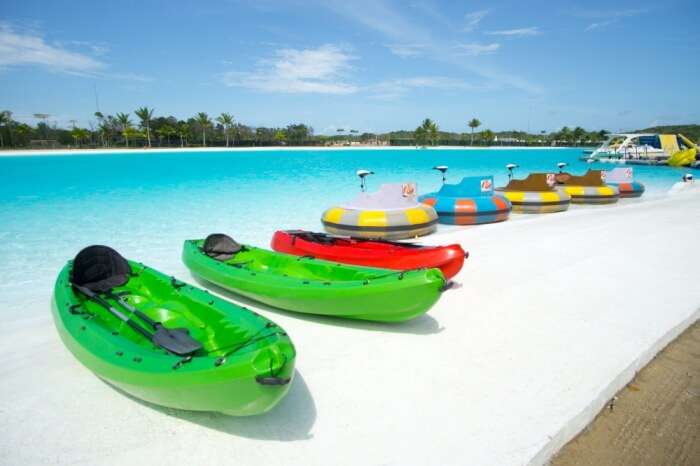 This is a waterfront resort city located on Bintan. It is a complete package of adventure and leisure. It has different packages for its visitors including activities like the Chill Cove Experience, Mangrove Tour, Aquaglide Sailboat, and more.
Entry fee:
Kids: INR 350/-
Adults: INR 500/-
Things To Do At Bintan Island
Here are the top things that you can indulge in if you are wondering what to do at Bintan Island:
1. Air Adventures Flying Club: Air Adventures!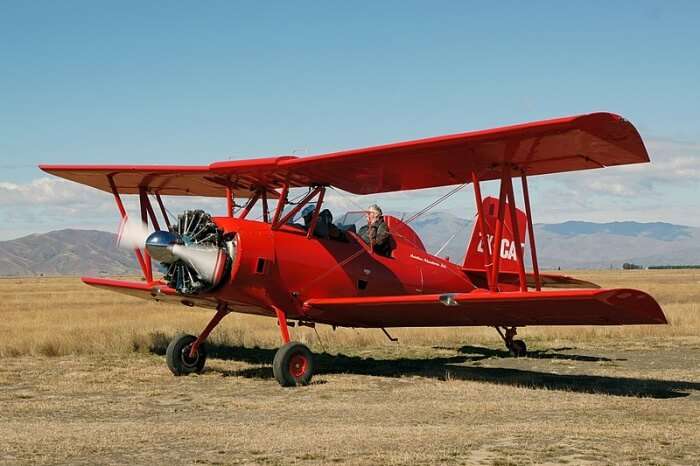 This is a must do thing at Bintan Island. The Air Adventures Flying Club has been operating since 2014 at the Lagoi Bay Lake. It makes you enjoy the unobstructed 360- scenic views of sparkling clear waters and pristine white beaches from high up in the sky. The experience of this open cockpit seaplane flights can be enjoyed at no place else in Asia.
Suggested Read: Top 10 Things To Do In Indonesia For An Unforgettable Holiday Experience!
2. Lagoi Bay Beach: Go Fishing!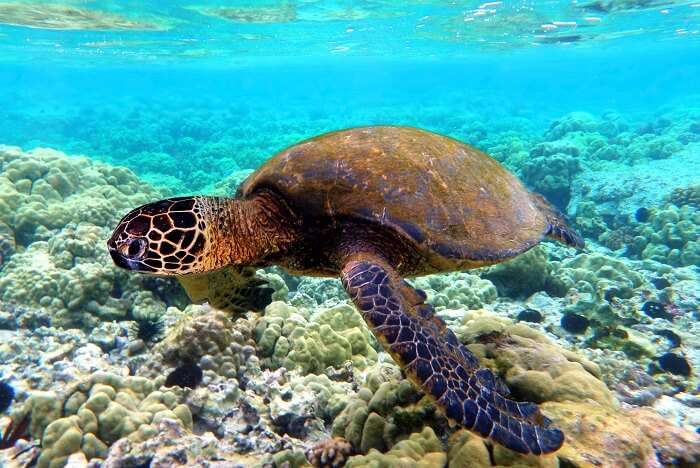 The Lagao Beach is a paradisiacal beach of Bintan. Located at a mere distance of 45 kms from Singapore, it sees a lot of tourists from the country. This is an amazing place to go fishing and one can find colorful platforms especially set up for those who want to try their hand at reeling and fishing.
3. Jetovator: Ride It!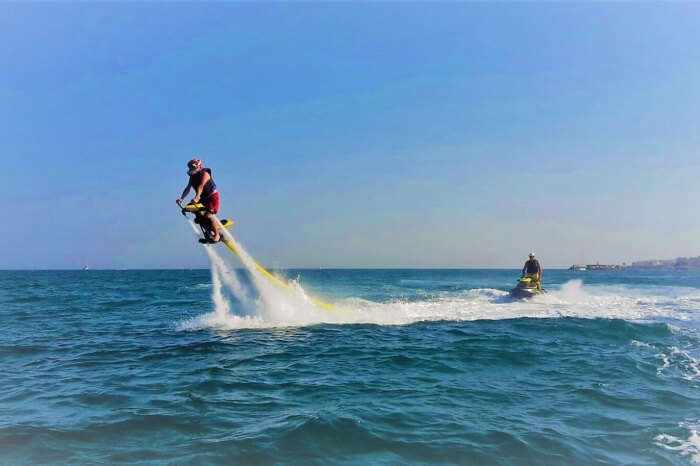 This is an adrenaline pumping water activity where you fly above the waters. Riding the Jetovator is a once in a lifetime experience and thus a must do activity at Bintan. A few instructions and pointers from the helpful and trained staff beforehand makes one ready to enjoy this thrilling adventurous water ride!
Suggested Read: 10 Holiday Homes In Indonesia For A Laid Back Island Vacation
4. Local Cuisine: Gorge On Delicious Cuisine!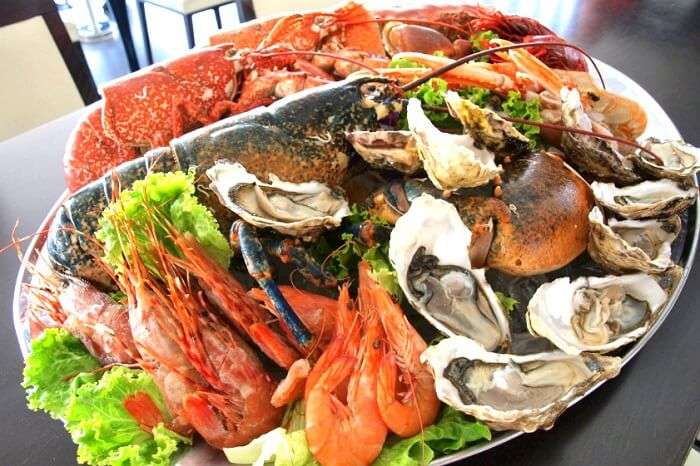 Bintan is a treasure trove of culinary delights. You will find some amazing street stalls to treetop restaurants at Bintan providing one with both amazing food and gorgeous views. Another must visit place here is the Calypso Floating Bar which offers amazing sunset views alongside refreshing cocktails.
Here are the best resorts in Bintan Island:
Where To Stay At Bintan Island
Here are the best resorts in Bintan Island:
1. The Canopi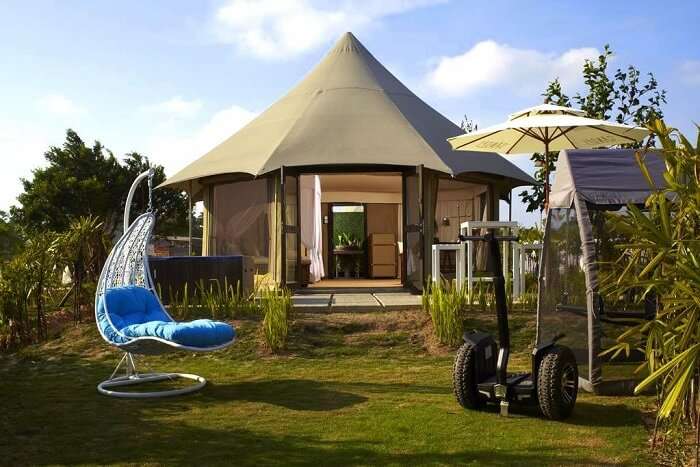 Located amidst the lush green forests of Bintan, the Canopi is an amazing glamping place. It is located within the Chill Cove at Treasure Bay. Apart from enjoying nature and the blue waters, the guests can enjoy the adventure activities which the Treasure Bay has to offer.
Location: Jl. Raya Haji Km 1, Lagoi, Bintan Regency, Riau Islands Province 29152, Indonesia
Starting price: INR 7503/-
Google rating: 4.4/5 | TripAdvisor rating: 4/5
Website | TripAdvisor reviews
Suggested Read: Indonesia Honeymoon Resorts: Luxury Indulgence For All Budgets!
2. Bintan Lagoon Resort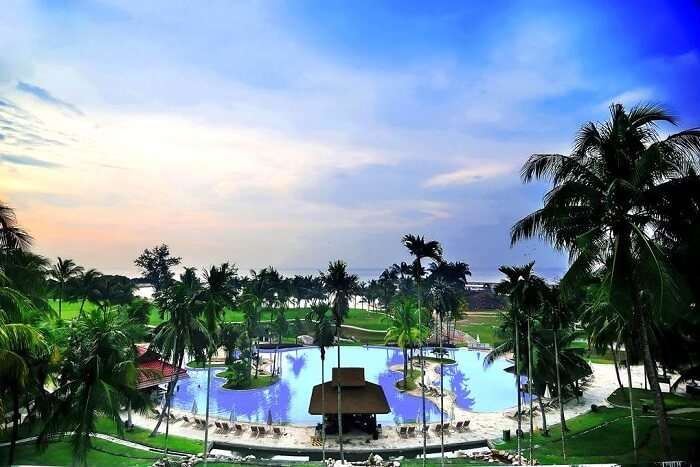 Situated on the beautiful Pasir Panjang Beach, Bintan Lagoon Resort is a tropical paradise. Overlooking the south China Sea, it gives its guests amazing sea views. It is a huge property with 450 rooms comprising of both suites and villas. The resort also boasts of two picturesque golf courses.
Location: Jl. Indera Segara site A12, Lagoi, Bintan Regency, Riau Islands Province 29155, Indonesia
Starting price: INR 7089/-
Google rating: 4.2/5 | TripAdvisor rating: 3.5/5
Website | TripAdvisor reviews
3. Club Med Bintan Island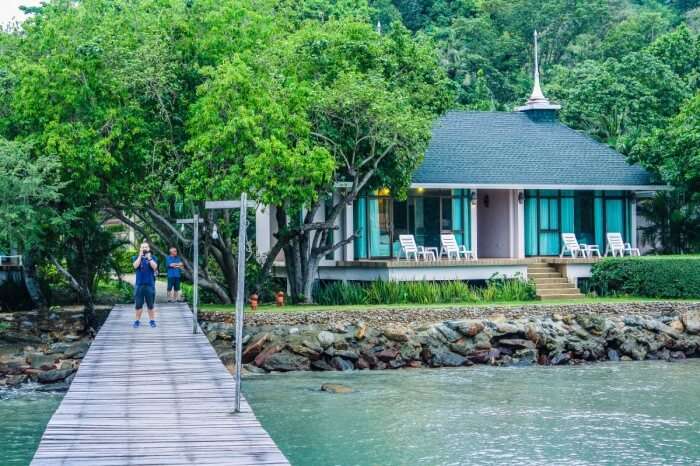 The Bintan Island Club Med is less than an hour ferry ride from Singapore. It provides an escape to ones total rejuvenation. The club overlooks the South China Sea, offering its guests amazing views. Swim in the calm waters of the beachside swimming pool and immerse yourself in the holistic wellness experience here.
Location: Jl. Site A11, Lagoi, Bintan Regency, Riau Islands Province 12920, Indonesia
022 4005 2180
Starting price: INR 25120/-
Google rating: 4.5/5 | TripAdvisor rating: 4.5/5
Website | TripAdvisor reviews
Suggested Read: The New Cruise To World Heritage Sites Gets You Around The World in 117 Days!
4. Bintan Agro Beach Resort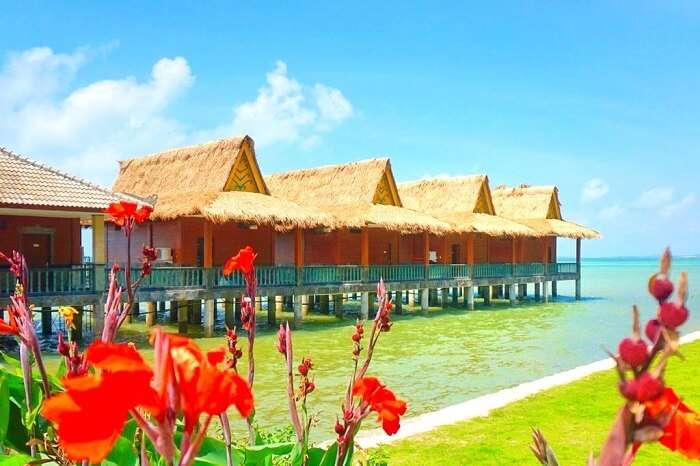 Nestled in the southeastern coast of Bintan Island, Bintan Agro Beach Resort is a perfect getaway. The beachfront resort offers one with beautiful turquoise water views amidst lush green nature. The warm hospitality makes it a spot of ideal retreat for all its vacationers.
Location: Jl. Pantai Trikora km. 36 | Teluk Bakau, Bintan Regency, Riau Islands Province 29153, Indonesia
Starting price: INR 3923/-
Google rating: 4.1/5 | TripAdvisor rating: 3.5/5
Website | TripAdvisor reviews
Bintan Island Map
How To Reach Bintan Island
By air: Raja Haji Fisabilillah Airport in Tanjung Pinang is the airport in Bintan Island. One can fly here from Jakarta and Pekanbaru.
By ferry: Traveling from Singapore to Bintan Island is easy and one can take a ferry from the Tanah Merah Ferry Terminal. It takes in between an hour or two to reach Bintan via ferry.
Further Read: Beyond Bali: 21 Places To Visit In Indonesia For Your Honeymoon
Enticed to visit? Bintan Island is a meserizing island which you must add to your itinerary. So, think no more, pack all that you can, book your trip to Indonesia now and enjoy a fun filled adventurous retreat to the Bintan Island! Do let us know in the comment section below about your blissful vacation!
People Also Read
Islands Around Bali Nusa Penida Island Menjangan Island
---
Looking To Book An International Holiday?
Book memorable holidays on TravelTriangle with 650+ verified travel agents for 65+ domestic and international destinations.
---
div.nav-links {
display: block;
float: left;
width: 100%;
padding: 0 20px 10px;
}
div.nav-links a {
display: inline -block;
float: left;
margin-right: 4px;
font-size: 13px;
webkit-box-sizing: content-box;
-moz-box-sizing: content-box;
box-sizing: content-box;
-o-text-overflow: clip;
text-overflow: clip;
text-decoration: none !important;
margin-top: 5px;
border: 1px solid #c8c8c8;
font-style: normal;
border-radius: .25em;
padding: .2em .6em .3em;
line-height: 23px;
}
div.nav-links a:hover {
background-color: #009688;
color: white;
}