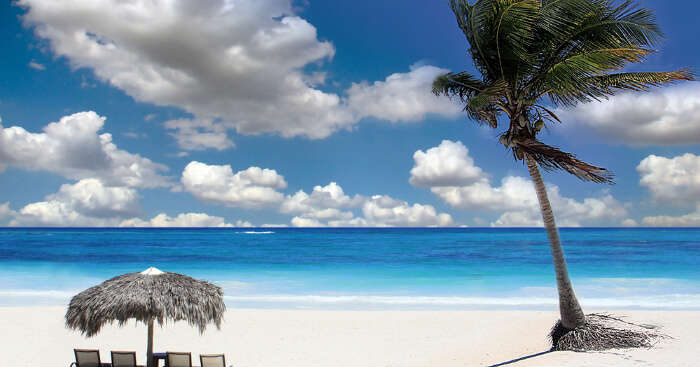 Rich with tropical beaches, the Southeast Asian Country, Thailand has become one of the choicest holiday destinations. And the best of Thailand is experienced on its beaches. Coral Island Thailand have some of the most gorgeous beaches with huge coral reefs. These seashores are picture perfect with shimmering white sand or sparkling golden sand with clear azure waters, creating a beautiful contrast of refreshing and soothing tropical colors.
2 Thai Coral Islands & Their Best Time To Visit
The two extremely popular Coral Islands in Thailand are Koh Larn in Pattaya & Koh Hae in Phuket. Clearly, the term Koh in Thai stands for Island. Climate varies throughout Thailand but the best time to visit the coasts is during the Winter and dry season between November to February with December to May being the ideal beach season.
1. Koh Larn In Pattaya
Must Read: 10 Places To Visit In Pattaya In 2022 For A Roller Coaster Ride
Koh Larn is a gorgeous mountainous island mostly covered in lush green vegetation, 7Km away from the coast of Pattaya Beach. This 4 Km long – 2 Km wide island has very steep and narrow roadways with brick pavers suitable enough for the regular traffic. Koh Larn is blessed with six main beaches and a few smaller beaches. All the beaches are facilitated for the visitors and have bathrooms and shower areas. The restaurants on the beach serve a variety of delicious seafood and other dishes. And the best part is that you can order the food even sitting on the your beach lounger. Spend some time in Koh Larn to relax and take break from the noise of the city. The breeze and hush of the sea waves will calm your mind.
How To Reach Koh Larn In Pattaya: Koh Larn loves to have guests so it is open to many ways through which you can reach the island. Koh Larn being a small island does not have an international airport of its own. From India, you can take a flight to U-Tapao International Airport, the nearest airport to Pattaya. Take a minibus, cab or train to the city. From Pattaya, Koh Larn can be reached through a speed boat or ferry.
U-Tapao International Airport to Pattaya
Minibus: INR 400 – 500/ Travel time: 45 minutes
Cab: INR 1500
Pattaya to Koh Larn
Speed boat: INR 600/ Travel time: 45 minutes
Ferry: 60/ Travel time: 15 minutes
You can also take a flight from India to Suvarnabhumi Airport in Bangkok then hire a taxi or board a bus to Pattaya (150 Km) and reach Koh Larn as mentioned above.
Suggested Read: 10 Bizarre National Parks In Thailand For A Rare Encounter With The Wild
6 Best Beaches In Koh Larn In Pattaya
1. Samae Beach
Samae Beach is one of the favourite beaches of Koh Larn. Around 800 to 3000 people visit this beach every day during its peak season. The beach measures around 537 Km, long enough for you to enjoy a stroll in the breeze. There are shops on the beach from where you can easily rent a beach chair at INR 100 – 200, for a day. Samae Beach has about 10 – 20 Thai and Western restaurants. Food and drinks are readily available on the shops that line up the beach. You can also carry your own food to the beach. If you are planning to stay here, you can choose from around 15 bunglows and a 100 room resort.
2. Tien Beach
This 400 meter long Tien Beach has many restaurants and souvenir shops that are comparatively upscale and pricey than other beaches. The beach is accessible by speed boats and charter. Tien Beach is over the other side of the mountains from Na Ban from where you can also take a local taxi. The taxi will drop you 5 minutes away from the beach as there are no roads to the beach. The viewing point on the way is breathtaking and you can ask the taxi to stop on the way, if you desire to take some time out and enjoy the beauty. The beach loungers are also of better quality and comfort. When hunger strikes, you can try Thai cuisine or order something familiar from the western menu. It'll be a great idea if you decide to take a room on the beach, available for around INR 2000. The beach has 4 to 8 bunglows where you can stay. A lot of day trippers leave by the evening making it a perfect peaceful place to watch the sunset.
3. Tawaen Beach
Tawaen Beach is the most developed beach on Koh Larn which is why it is highly popular among the visitors. The beach gets around 3000 visitors a day and even more on weekends. Since this place attracts a lot of international travelers, many different foreign languages are understood here. It's a great place for foodies too as many restaurants specialise in different international cuisines like Russian and Chinese. There are more than 25 restaurant you can from. If you get impressed by the place and decide to spend some days here, there are 5 small to medium sized resorts at your service.
Suggested Read: 30 Things To Do In Pattaya In 2022 For A Dream-Come-True Vacation
4. Tayaiy Beach
The 140-meter long, Tayaiy Beach is the baby among all the main beaches. There is one restaurant that serves Thai and western food. Being the smallest, it is also the least crowded beach on Koh Larn. You can spend a peaceful day here and if you wish to stay for long, there are 4 bunglows where you board.
5. Tong Lang Beach
200-meter long Tong Lang is one of the smaller beaches of Koh Larn. It has a narrow stretch of land, yet has a lot of space for the activities. There are no roads to Tong Land, so you can only reach here through a boat. You can also choose to hike down a narrow path or walk on the cement walkway to reach here.
6. Nual Beach
Nual beach on the Southern tip of Koh Larn is a medium sized beach. If you seek isolation, this is one of the best beaches to visit in Pattaya vacation. The Pattaya coastline is also visible from the beach, which adds more beauty to the view. There is just one restaurant on the beach, making it easy to order food and drinks for yourself. There are no permanent structures on the beach but restrooms and bath areas are available. The hut structures give it a very different look. A small group of monkeys have made the island there home. They are friendly enough to be fed bananas by you.
Suggested Read: Pattaya Nightlife: 15 Popular Nightclubs, Go-Go Bars & More For A Truly Lit Experience!
Accommodation At Koh Larn In Pattaya
Even if you come for a day, there are chances that you change your mind and decide to stay for some time in Koh Larn. The island is absolutely relaxing and life is easy here. There are many resorts and restaurants with decent services, to make your stay comfortable. Opt for a sea facing room to make the most of this place. Some of the good resorts are:
Suntosa Resort, Naban
Sea Beach Guest House, Naban
Rim Talay Resort Koh Larn
Lareena Resort
Booncheun Resort
Choosri Resort
Sin U Rai Resort Koh Larn
Xanadu Resort, Samae Beach
The Lighthouse
Baan Rae
Lomtalay, Tawaen Beach
Barberry, Tawaen Beach
Koh Larn Riviera Resort
Beach Activities & Things To Do In Koh Larn Pattaya
Parasailing behind speed boat: Approx. INR 1200
Banana boat: INR 600/per person
Jet ski rentals: INR 2500 for 30 minutes
Swimming in tropical water
Underwater sea walking: Approx. INR 2500
Rent a motorbike: INR 400/ per day
The hilly terrain of the island makes it an adventurous spot for bicycle riding.
Fishing is easy with the many piers on the island.
Other activities include: snorkeling, scuba diving, sunbathing, shooting range & hiking.
Suggested Read: Top 20 Things to do in Bangkok-Thailand
2. Koh Hae In Phuket
6 Kms to the Southeast of Phuket is Koh Hae, another beautiful getaway destination In Thailand. This is also a Coral Island. Koh Hae has vast coral reefs and is famous for its exotic golden beaches. The island features three main beaches. Koh Hae is well known its shallow coral reefs and outstanding snorkeling. The 2.5 Kms long, jungle covered, granite island attracts a large number of day-trippers during its peak time.
How To Reach Koh Hae In Phuket: To reach the Koh Hae Island from India, you will have to fly to Phuket first. There are few yet efficient airlines operating from the major cities of India including Delhi, Chennai and Bangalore to Phuket International Airport (HKT).
Ones you land in the airport, take a taxi or cab to the Rawai Beach or Chalong Pier. From here you can rent a longtail boat to beaches in Koh Hae.
Phuket International Airport (HKT) to Rawai Beach
Cab: INR 2000/ Travel time: 1.20 Hours
Rawai Beach to Koh Hae
Long Tail boat: INR 2000 (includes snorkeling trip & snorkeling accessories)
Suggested Read: Pattaya Nightlife: 15 Popular Nightclubs, Go-Go Bars & More For A Truly Lit Experience!
3 Best Beaches At Koh Hae In Phuket
1. Long Beach
Just as its name suggests, Long Beach is the longest beach in the Koh Hae island. It measures 800-meter and is also the most popular among all the beaches here. There are countless deckchairs available for rent on the beach. You can enjoy a game of beach-volleyball here. Long Beach is not the best place for snorkeling because the corals near the beach have been damaged by the frequent water activities. But if you are really enthusiastic about it, swim a 100-meters further and you will manage to see plenty of corals and colorful fishes.
2. Banana Beach
If you want some lone time on the beach and you have rented a boat then you must head to the Banana Beach. Towards the east of Long Beach, the Banana Beach is just half of its length. There is a single restaurant on the beach and the toilet facilities are well maintained. This is a good beach for snorkeling activities.
3. Freedom Beach
Freedom Beach located on the Southern side of Koh Hae island is a small beach. It is consisted in a bay with steep-rising hills all around. The vegetation of the island, the giant monitor lizards that you can spot at times, the rich marine life makes this place a perfect destination to relax and enjoy.
Suggested Read: Nightlife In Phuket: 12 Bustling Hotspots You Must Check Out!
Beach Activities & Things To Do In Koh Hae Phuket
Speed boat – parasail outing: INR 1200
Banana Boats, Canoes & snorkeling
Batik classes in Coral Island Resort: INR 500/ per hour
Scuba diving classes in Coral Island Resort swimming pool: INR 4000/ 1 day course
Body massage
Accommodation At Koh Hae In Phuket
Koh Hae is a prominent tourist attraction in Thailand and the most preferred hotel in Koh Hae is The Coral Island Resort. But other than that, the majority of top stay options is in Rawai, 6.7 Kms from Koh Hae. Here are some of the best hotels in Rawai:
Thai Palace Resort
Aqua A1
Rawai Ka Villa New 2 Bedrooms
Ibiscus Villa by Jetta
Villa Chloe by Phuket ABC
Tea Tree Boutique Resort
Sandy House
There are also apartments offered by the Title Resort Rawai on the Title Beach in Rawai.
Further Read: 53 Tourist Places In Thailand In 2022 That You May Have Ignored Before
Experience flying over the sea as you parasail, ride on the waves as you enjoy the banana boat ride, explore the ocean while you snorkel and just relax in the sea breeze as you sunbathe. The Coral Islands of Thailand will bring your senses alive. Plan a holiday to Thailand now, to get the most rejuvenating experience of your life.
---
Looking To Book An International Holiday?
Book memorable holidays on TravelTriangle with 650+ verified travel agents for 65+ domestic and international destinations.
---
Comments
comments