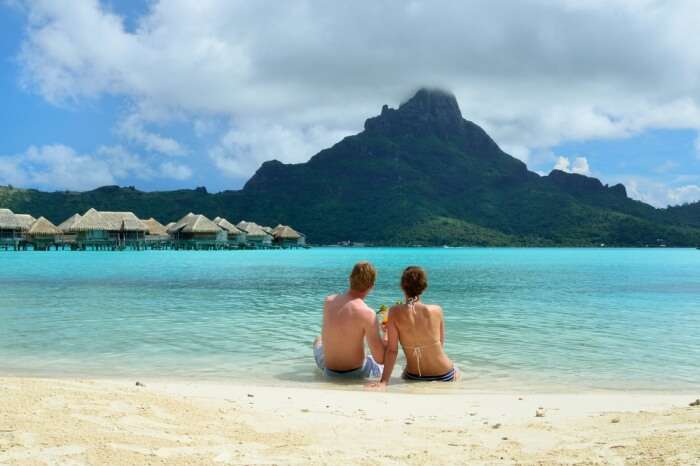 Bora Bora, popularly known as the playground for the rich and famous, offers white sandy beaches, lush greenery, soaring volcanic peaks, and water activities through the coral reefs. Its quaint and chic beaches and lavish resorts are everything a couple would look forward to on their ideal honeymoon. Planning your honeymoon can make all the difference in how it turns out to be. From choosing whether to stay in a bungalow over-water or a conventional hotel room to deciding on activities to do, we bring to you a step-by-step guide for the perfect Bora Bora honeymoon. Experience a slice of heaven and live the island life that you always dremat of with your better half at this exotic destination! 
Best Things To Do In Bora Bora On Your Honeymoon
If you are going on a Bora-Bora honeymoon, here are a few of the best things to make your romantic vacation full of adventure and fun. Have a look at the best honeymoon places in Bora Bora to have a great time there.
Tourist Attractions
Adventure Activities
Bora Bora Tours
1. Tourist Attractions

For those who wish to explore the island, there are many places to visit in Bora Bora. Bora Bora best honeymoon spots include the town of Vaitape and the Bloody Mary's Restaurant and Bar here, Pofai Bay, TV tower for the view of southern end of the island and the lagoon, Matira Beach and Beach Park, World War II Guns, the local Anau village, Musee De La Marine museum of boats, Taihi Point, and Terei Point. After all, Bora Bora is one of the most picturesque islands for honeymoon to begin a journey of togetherness in 2022.
Vaitape: The main town and wharf of the island, Vaitape is a popular tourist attraction of Bora Bora. The Alain Gerbault Memorial is dedicated to the first Frenchman to sail his yacht around the world and finally lived in Polynesia between 1933 and 1940. Additionally, you will find a bank, a post office, a protestant church, a few shops, and cafes. Bloody Mary's Restaurant and Bar is the most popular diner in this town. Exploring this destination is one of the best things to do in Bora Bora for couples. 
Mount Otemanu: It is one of the two extinct volcanoes at the center of the island. Be it for a dramatic photo or an adventure, Mount Otemanu has a lot to offer. You can hike to the top or go for 4×4 tours, boat tours, or even helicopter tours around the volcano.
Matira Beach: Matira Beach is the only public access beach in Bora Bora. The white sand stretches and the crystal clear water add to the beauty of this Bora Bora tourist attraction. However, it is most famously known for the excellent experiences of snorkeling in Bora Bora.
Maldives Or Bora Bora For Honeymoon: Which One Should You Go To In 2022?
2. Adventure Activities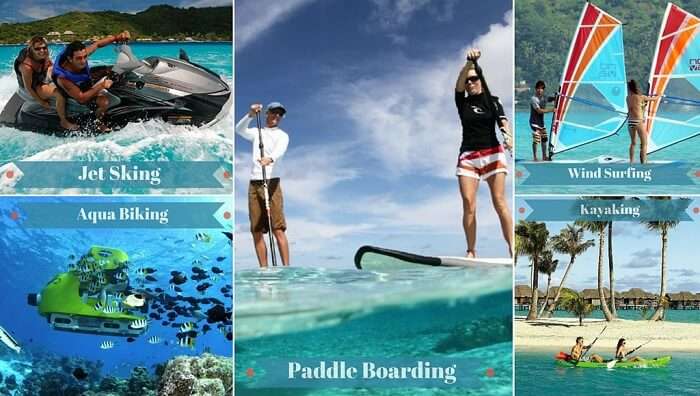 If one is looking for adventurous things to do in Bora Bora honeymoon then there is a wide range of adventure activities in Bora Bora that can be enjoyed. The most popular among them are snorkeling, kayaking, paddle boarding, jet skiing, aqua-bike riding, and windsurfing.
3. Bora Bora Tours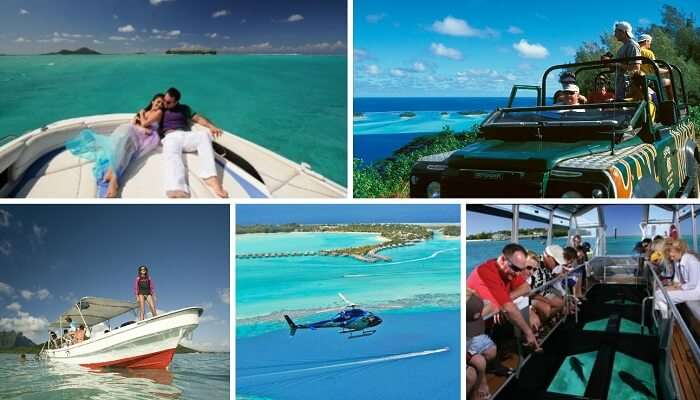 There are some wonderful New Zealand, Bora Bora honeymoon tours that will help you explore this quaint and serene paradise island and ignite the kindling romance. These include the 4×4 tours (jeep safaris), bicycle tours, boat tours (ferries, speed boats, sailboats, glass-bottom boats, and kayaks), shark and stingray feeding tours, photo lagoon tours, helicopter tours, and aqua-bike tours, perfect activities for a Bora Bora honeymoon itinerary. 
40 Exotic Honeymoon Destinations In The World All Romantics Must Go To In 2022
Places To Stay In For A Bora Bora Honeymoon
Bora Bora is one of the best honeymoon places in world in January to visit. The amazing islands of Bora Bora offer a myriad of options to stay while traveling from India to Bora Bora for a honeymoon trip – over-water bungalows, beach resorts, and even private islands. The best honeymoon resorts in Bora Bora provide all these options to choose from. To help you decide where to stay in Bora Bora, we give you the best resorts, sorted by their star-rating.
The St Regis Bora Bora Resort – Largest Overwater Bungalows
The Hilton Bora Bora Nui Resort And Spa – For The Spa Treatments
Four Seasons Bora Bora – Plunge Into The Pool
Pearl Beach Resort Bora Bora – For Traditional Tahiti Architecture
Maitai Polynesia Bora Bora Resort – For Budget Accommodation
1. The St Regis Bora Bora Resort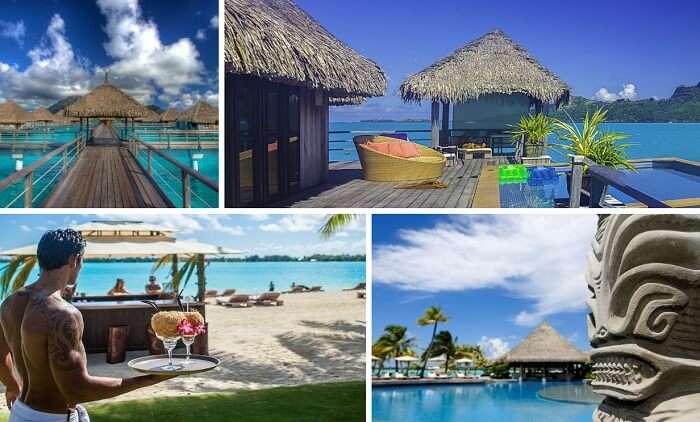 St Regis Bora Bora Resort opened in 2006 with the largest overwater bungalows in Bora Bora and Tahiti. Located on a thin island (Motu), it offers views of the ocean and the Bora Bora Island. It is one of the best resorts for a Bora Bora Island honeymoon. Several areas in the over-water villas have glass-flooring for lagoon viewing.
Amenities & Offerings: Spa, beach villas, over-water villas, royal estate, restaurants, private pools, and bar
Suggested Stay: Premier Overwater Villa
Suggested Dining: Must-try contemporary and pure Japanese flavors at the first Sushi restaurant of the region – Sushi Take
Website | Reviews
World's Most Expensive Celebrity Honeymoon Destinations
2. The Hilton Bora Bora Nui Resort And Spa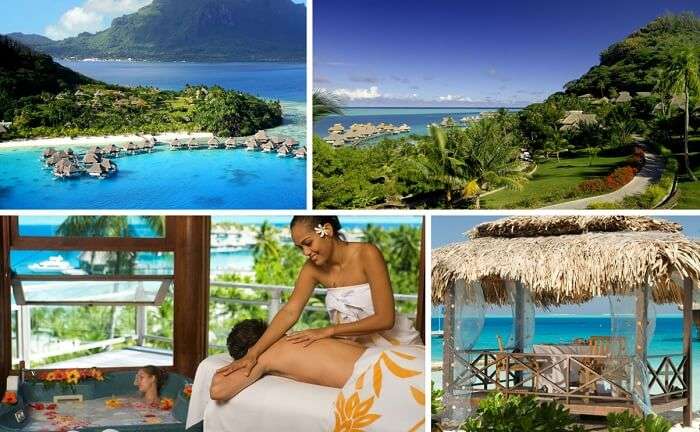 If you are looking to book Bora Bora honeymoon packages from India, The Hilton Bora Bora Nui Resort offers a unique and private location on the back of the volcano island – Motu Toopua. The white sand beach, surrounded by black basalt rocks and lush vegetation, offers a great experience to the honeymooners. The amazing lagoon and ocean views from the hill-top Hina Spa and the glass-floor viewing panels in the over-water villas make this resort an amazing place to stay. The resort also offers the best snorkeling in Bora Bora.
Amenities & Offerings: Spa, infinity pool, jet-skiing, scuba-diving, snorkeling, over-water villas, lagoon view suites, garden & hillside villas, restaurants, and bars
Suggested Stay: King Royal Overwater Villa
Suggested Dining: Romantic beach dinner facing the lagoon at the Queen Pomare IV private beach on a tiny islet
Website | Reviews
3. Four Seasons Bora Bora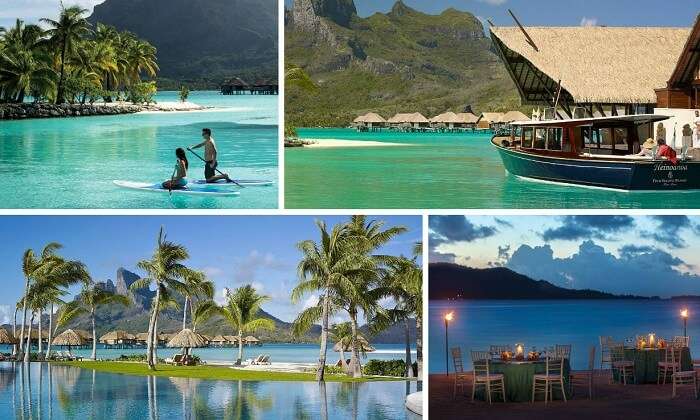 The newest resort in Bora Bora, Four Seasons Bora Bora Resort opened in 2008. The villas offer views of the beach, lagoon, and the mountains. Plunge into the pool and relax with your better half in this luxury abode. Hit to the nearby beach for those random romantic walks. Four Seasons Bora Bora offers some of the best stay experiences to its guests for the best honeymoon in Bora Bora. 
Amenities & Offerings: Holistic Spa, Infinity Pool, Fitness Center, Tennis, paddle-boarding, kayaking, windsurfing, over-water villas, beach villas, restaurants, and bar
Suggested Stay: Deluxe Lagoon View Overwater Villa
Suggested Dining: American breakfast buffet at Tere Nui Restaurant
Website | Reviews
10 Best Hotels In Bora Bora That Redefine A Luxurious Island Holiday
4. Pearl Beach Resort Bora Bora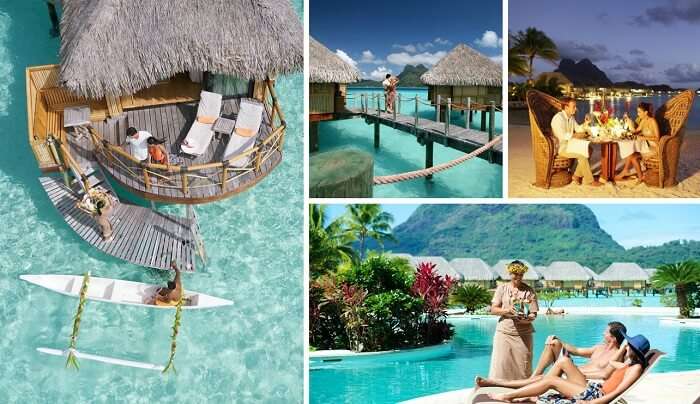 It is a true display of the traditional Tahiti architecture and Polynesian decoration. With a beach that looks like a turquoise salt-water pool and offers romantic suites with enclosed terraces, the resort is suggested by most agents.
Amenities & Offerings: Manea Spa surrounded by lily ponds, resident tattoo artist, garden suites with private pools, beach suites with private Jacuzzis, restaurants, and bars
Suggested Stay: Otemanu View Premium Overwater Bungalow
Suggested Dining: Italian dishes, local seafood, and the Polynesian flavors at Fare Ambrosia
5. Maitai Polynesia Bora Bora Resort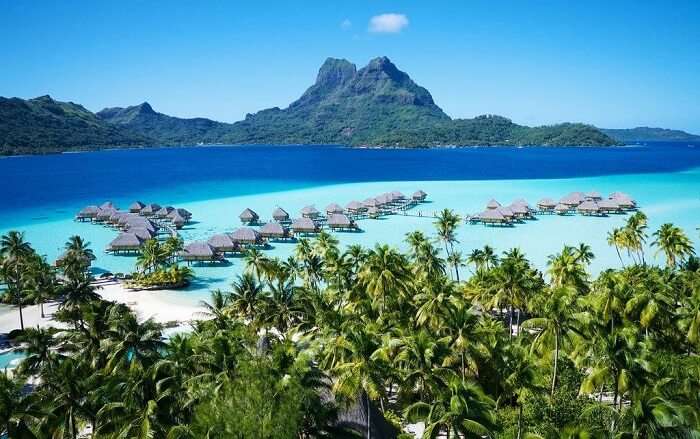 Maitai Polynesia offers modest and cheap accommodation. Despite the awesome views offered, it is among the cheap hotels in Bora Bora.
Amenities & Offerings: Kayaking, Canoeing, Snorkeling, restaurants, bar, overwater bungalows, beach bungalows, garden-view rooms, and ocean-view rooms for the honeymoon in Bora Bora.
Suggested Stay: Ocean View Room
Suggested Dining: Blend of French and Polynesian flavors at Haere Mai Restaurant
Website | Reviews
10 Islands Near Kuala Lumpur That Are A Must-Visit On Your Malaysia Trip
How To Reach Bora Bora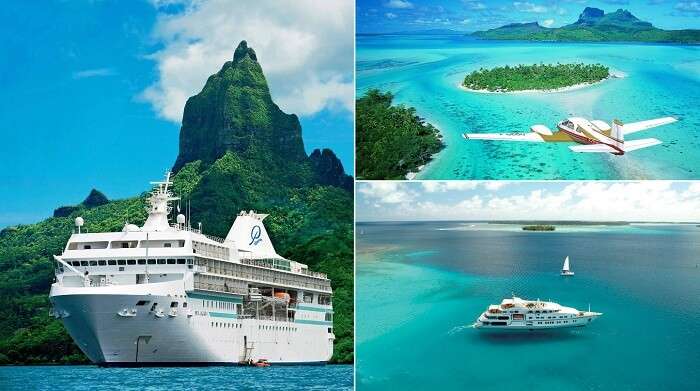 If you're wondering how to travel to Bora Bora from India then getting to Bora Bora from India is not very difficult. It is, however, a costly affair. Bora Bora and Tahiti are well connected to the world with an extensive network of flights and cruise liners.
By Air
For how to reach Bora Bora from India, flying to Bora Bora is a wonderful experience. You get to see the beautiful islands and their sparkling blue lagoons from the skies above. If you are wondering how to reach Bora Bora from India, here is the solution.
Your flight to Bora Bora is divided into two steps.
First you must fly into the French Polynesian Faa'a International Airport at Papeete on the main island of Tahiti. Direct flights are available from Tokyo (Japan), Auckland (New Zealand), Los Angeles (USA), Honolulu (Hawaii), Santiago (Chile), and Paris (France).
From Papeete, Air Tahiti flies to the small islet – Motu Mute, located to the north of the main island of Bora Bora. This inter-island flight is of 50 minutes and there are a minimum of 5 flights daily.
Note: The Air Tahiti flight to Bora Bora is inclusive of the 25-minutes' catamaran rides to the hotels. There are direct flights available from India to Bora Bora, but it is going to cost you a fortune.
By Water
Limited cruise liners are available from a few locations, including Southampton, Auckland, Peru, Honolulu, and California. Another around-the-world cruise has pick up locations from numerous places around the globe.
Take This Quiz That Will Tell You Where You'll Go For Your Honeymoon
Getting Around On Your Bora Bora Honeymoon
Exploring the island of Bora Bora along with your partner, on your honeymoon will not be difficult at all as there are many ways of geeting around the island. Following are some of the ways you can travel within the destination, pick the one that suits you the best:
Bike Ride
Car Rentals
Le Truck
Taxi
Water Taxi
1. Bike Ride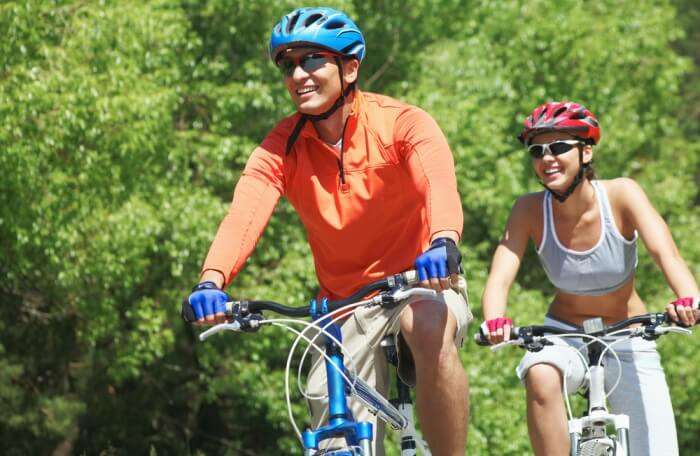 The best way to go around in Bora Bora is by the humble two-wheeler, especially because the entire island can be traversed in one afternoon on the bicycle. While many resorts offer complimentary bikes, others may charge up to XPF 1,632 (INR 1,003) per day. Biking is the most exciting and fun way to discover the hidden gems of a destination and explore the path less traveled.
4 Enchanting Islands Near Phi Phi That Will Leave You Awe-Struck!
2. Car Rentals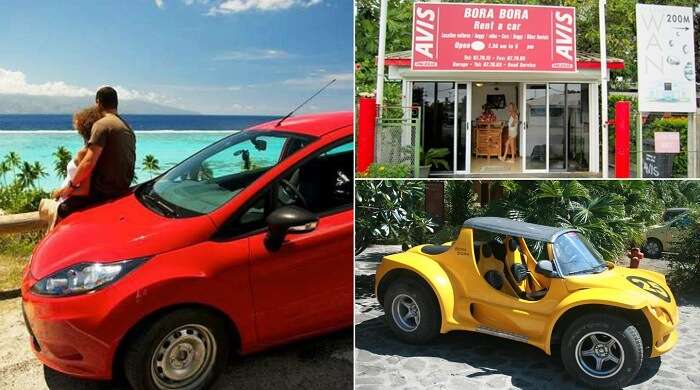 Europcar, Avis, Bora Bora Tours, and Fare Piti Rent-a-Car are only a few among the many car and scooty renting companies on the island. These vehicles may be rented at the airport itself or at resorts, such as Club Med and Intercontinental Le Moana. Renting a car or a four-wheeler is always recommended as it is time saving and efficient. It makes it easier to cover a large distance and the scenic drive is always worth it!
3. Le Truck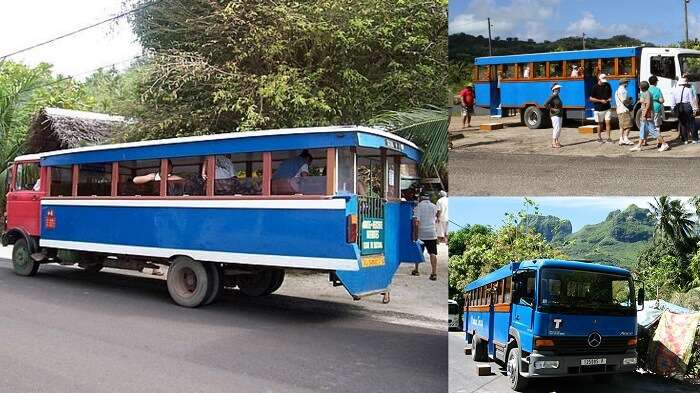 Though unreliable, the Le Truck local bus system is one of the most economical ways to travel around Bora Bora. This is the most cost effective mode of transport and means to travel. You can explore many places and interact with the locals to get to know more about the destination and its hidden gems.
13 Impeccable Things To Do In Gili Islands For That Perfect Vacation In Indonesia!
4. Taxi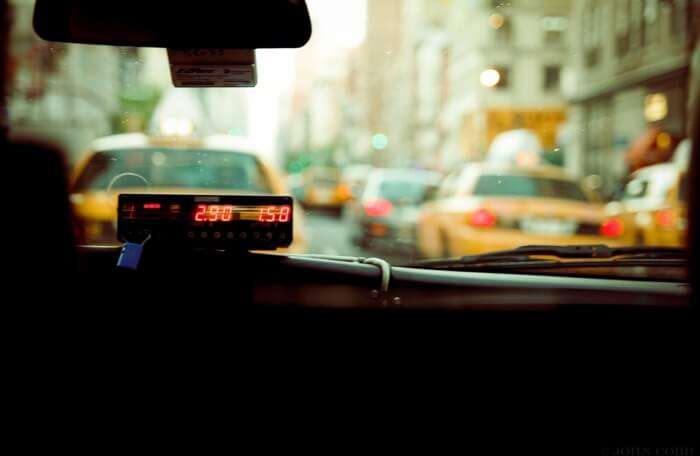 Taxis can be hailed or pre-booked on the mainland of Bora Bora. But they are expensive. A mere 10-minutes' ride can cost you up to 1,800 XPF (INR 1,100). It is the easiest and most conveniesnt mode of transport to explore a new destination. Make sure that the cab drivers dom't charge an exorbitant price and you're able to bargain through for a fair price.
5. Water Taxi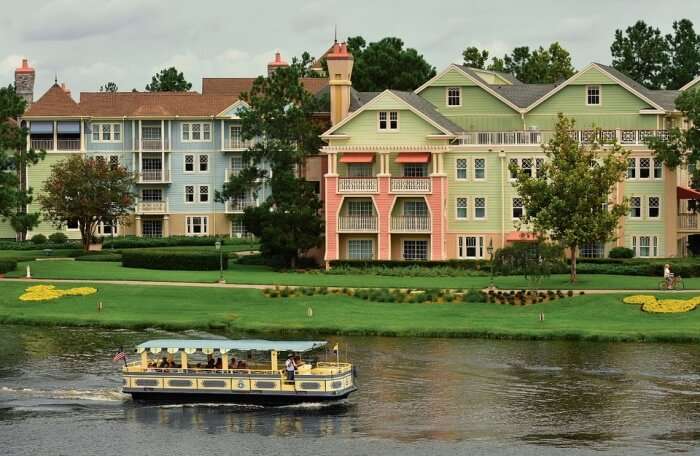 Water taxis are one of the most expensive modes of getting around Bora Bora. A 2-person ride can cost in the excess of 8,500 XPF (INR 5,200). But similar to the water taxis, there are some complimentary boat shuttles provided by the airport and resorts. Some resorts, however, charge for the scheduled/private boat trips around Bora Bora.
12 Best Islands In Europe For 2022 Honeymoon Packed With Romance & Passion
Why Bora Bora Honeymoon?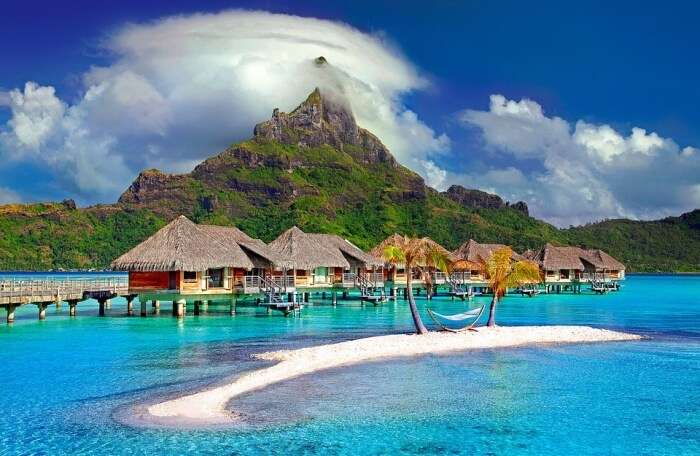 Colorful nightlife, majestic skyline, and gorgeous beaches with people of different ethnicities and hues – if this is your idea of honeymoon, Bora Bora, New Zealand honeymoon is just not the thing for you. But those who seek to get away from it all, the beauty and tranquility of the island will surely add spice and romance to your honeymoon, Bora Bora is certainly one of the best offbeat honeymoon destinations in the world for 2022!
---
Looking To Book An International Honeymoon?
---
Where Is Bora Bora Located?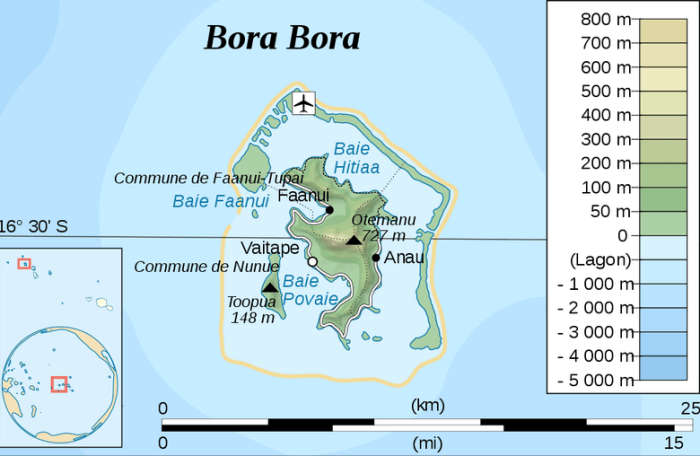 An island in the French Polynesian group in the Pacific Ocean, Bora Bora is an overseas collectivity of France. It is located about 160 miles northwest of Tahiti and 2,600 miles south of Hawaii. The name is derived from the local dialect name – Pora Pora, meaning the firstborn. The island, though discovered only in 1722, is about 7 million years old.
Best Time To Visit Bora Bora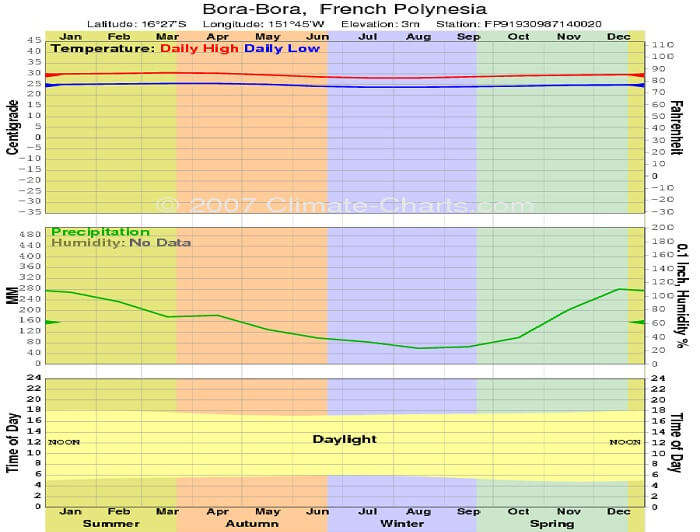 If you're looking for best honeymoon destinations in February to explore then there is no bad time to visit Bora Bora for honeymoon. Throughout the year, the temperature varies between 25 to 30 degrees Celsius. But strong and unpredictable storms can hinder your sightseeing tours or adventure activities which are some of the best Bora Bora honeymoon activities during the hot and humid months of November to April. But then, it is less crowded during these months and you can easily find good accommodation at cheap prices.
The best time to visit Bora Bora is from June to October as the temperature variations are minimal and it is the best period for diving.
Bora Bora Honeymoon Tips

Here are some Bora Bora tips that might come in handy on your trip here.
The language spoken here is French and a few basic French phrases can come in handy.
Buy wine at duty-free stores as there is no liquid quantity restrictions on flights between the islands in Tahiti.
Rent a scooter to easily explore Bora Bora.
Due to the Bastille day and the Heiva celebrations, Bora Bora is most crowded in July. So it is advised to avoid the trip in this month.
It is advisable to carry a windproof jacket as the weather is very windy.
95 Best Honeymoon Destinations In The World In 2022 For A Romantic Escape!
Enough said! We are sure that by now you know how romantic a Bora Bora honeymoon is. Come here and enjoy being spoilt by the luxury of the boutique island. You can also plan a honeymoon trip to any of your favorite romantic destination in and outside India. Explore the world with your partner.
For our editorial codes of conduct and copyright disclaimer, please click here. 
Frequently Asked Questions About Bora Bora Honeymoon
Is Bora Bora good for honeymoon?
Bora Bora is one of the best destinations for honeymoon due to its strategic and idyllic destination. Also known as the Pearl of the Pacific, many couples choose this destination for their honeymoon. So, it is not only good but an ideal place for honeymoon.
How much does honeymoon in Bora Bora cost?
Several resorts offer a lavish stay with all the world-class amenities. Some of the best resort there like St. Regis and Four Seasons ask for over $10,000 per couple for a 5-night honeymoon stay in Bora Bora.
What is the cheapest time to go to Bora Bora?
May to October is marked as the peak season when tourists come from all over the world to Bora Bora. So, the cheapest time to go to Bora Bora is during the shoulder season which is from November to April.
What language is spoken in Bora Bora?
French and Tahitian are the main languages that are spoken by the locals on Bora Bora island.
Which currency is accepted in Bora Bora?
French Pacific franc is the official currency that is accepted in Bora Bora.
Which is better: Bora Bora vs Hawaii honeymoon?
Both these destinations are great and offer an abundance of adventures and scenic beauty to enjoy. While Hawaii is commercialized, Bora Bora offers more exoticness and foreign appeal. Bora Bora can be a little expensive in comparison to Hawaii. Also, while Hawaii is US-influenced, Bora Bora gives you a taste of French Polynesia. Also, Bora Bora is much quieter and Hawaii is more frequented by travelers.
Can you plan a Bora Bora vacation in December?
The peak season to visit Bora Bora falls in the month of May to October since the weather is nice and there are less downpours. December is a low season to travel to Bora Bora as the weather is wet and should be avoided if you do not want to become a bait to mosquitoes.
---
People Also Read