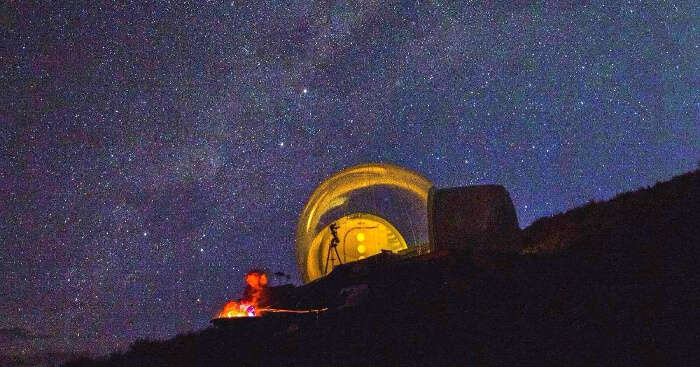 Come out of your bubble! Sounds familiar? We all have been told to come out of our bubble at some point in life, but Mayu Iwasaki and Sonny Vrebac, the owners of Australia's unique bubble tents want you to get into one.
With unmatched seclusion, panoramic views of Capertee Valley, pleasant weather, and vast skies twinkling with a million stars, these bubble tents offer you a truly incredible glamping experience.

You'll be staying in one of the 50 Important Bird Area sanctuaries that are brilliant for birdwatching, so you'll keep receiving beautiful winged visitors during your stay. The tent is designed to protect you from the elements that can interrupt your experience.
There are three bubble tents: Leo is set on a rolling hill, which is amongst the highest points in the entire valley; Virgo has a warm wood-fired hot tub, a personal herb garden, and offers pristine sunsets views; and Cancer is tucked on top of towering cliffs offering secret lookouts.
Each tent comes with a queen-size bed, blanket cache, pillows, headlamps, 26 litre eski/cooler, USB charger, towels, slippers, hot water bottles, eye masks, crockery, hot chocolate, insect repellent, and an iPad equipped with stargazing app Luminos and curated Spotify playlists. And don't you worry about using a transparent bathroom, there's a "shielded sanitary sphere", which has an eco-friendly sink with pump water and a compost toilet.

You have to bring your own food and booze, and you can cook that on the deck with the camp stove. There's a hammock too. Yay! perfect for those instagram shots.
A bubble tent costs $250 per night. On Friday and Saturday, it can jump up to $310.

If you ever find yourself in Australia, do spend a day in one of these bubbles tents and experience nature in an uninterrupted and unique way.
Further Read: 12 Destinations To Go Glamping In India