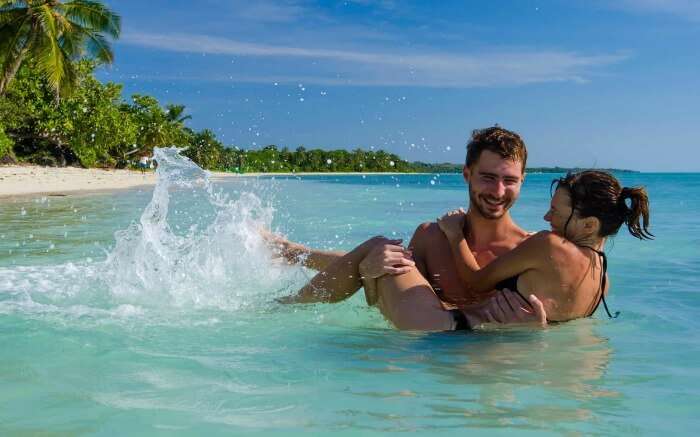 Madagascar – located off the east coast of the African continent is one of those destinations that you, for years, have fancied going to. A Madagascar honeymoon opens up the gateway to unprecedented experiences making your romantic vacation even more special.

Madagascar happens to be the 4th largest island in the world and is home to the world's 3rd largest coral reef system – The Toliara Coral Reef. The island paradise is known all over the world for its vivid nature parks and quaint cottages with a mountainous backdrop. A romantic honeymoon here is all you need to create picture-perfect memories. Besides, the island paradise has its prime attraction in lemurs and vanillas are the prime attraction of this island paradise. So, are you ready for a Madagascar travel?
Best Time For A Madagascar Honeymoon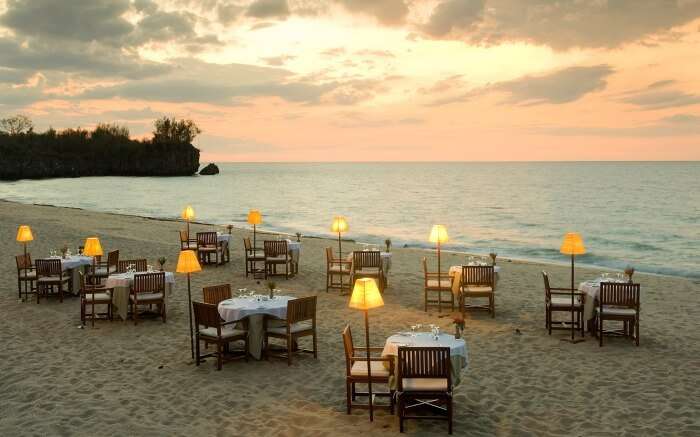 Image Source
The weather from April to December is mind blowing. Catch the untarnished beauty of Madagascar at its best during the period when the weather is cool and dry. Also, there are no more cyclones to worry you. So you can roam around free. Though Madagascar is a year-round destination, the beach beauty can be best romanced during the second half of a year. July to September is the best time to spot humpback whale and most recommended for beach accommodation, whereas September to December is the time to catch playful baby lemur and chameleon. Go out and enjoy the great dry weather.
Must Read: Madagascar Island: The Land Of Alien Landscapes, Virgin Islands, & Unique Wildlife
Reasons To Have A Madagascar Honeymoon
Here are 14 reasons and some Madagascar honeymoon destinations that urge couples to plan a memorable rendezvous with this stunning island nation.
1. Nosy Be – A Dream Spot For Beach Bums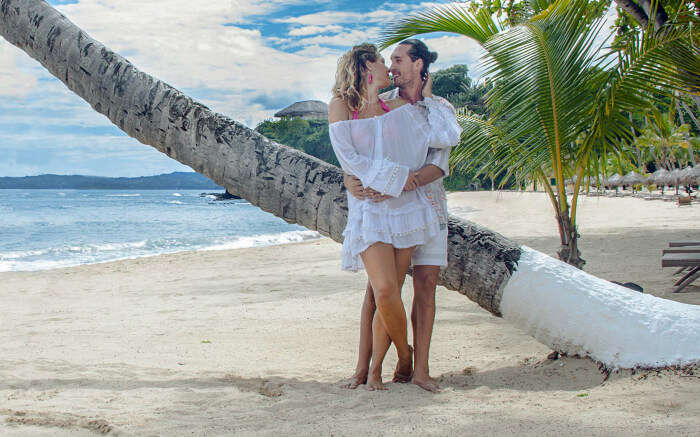 Off the northwest coast of Madagascar lies the number one beach destination in the country. Though slightly harsh on the pocket (as much as twice the rates of the mainland), this island has a reputation as a pulsating hub of entertainment. Pick from an array of water activities or head to a nature reserve, slip into a quaint retreat or click a picture of the rolling landscapes, Nosy Be is the perfect place to rewind and rejoice; your perfect dose of awesomeness for a honeymoon.
Some of the prime attractions of Nosy Be: Offbeat Hinterland, Nosy Tanikely National Marine Park for water activities, cocoa, ylang-ylang, and vanilla plantation, crater lakes, waterfalls, quad biking on the gusty tracks, Nosy Iranja – a dreamy island 75-minute ride from Nosy Be
2. Ranomafana National Park – Spend A Day With Lemurs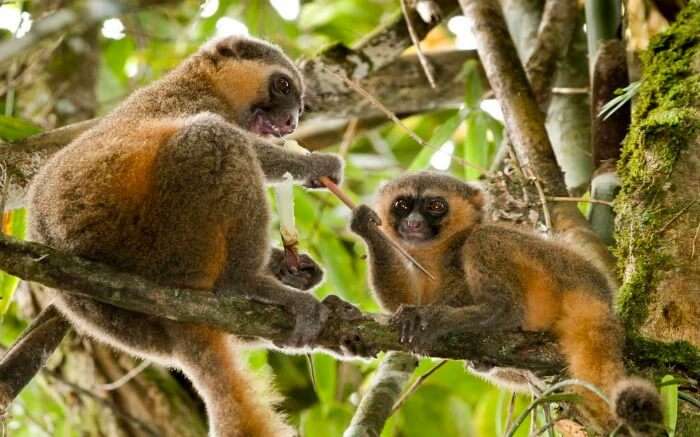 Covering 415 sq km of the mountainous region, Ranomafana National Park is the apt place to marvel at the best of romantic offerings. The national park is home to over 11 species of lemurs – the most adorable endangered animal that has been associated with the name of Madagascar for centuries.
The easy accessibility of the place makes it a favorite on the island. The rich biodiversity of the park comprises of numerous bird and animal species and has a thick forest cover on hills, streams flowing across the park to finally congregate into Namorona River.
If you are planning to go on an exploration spree you can take up one of the well-defined 5 circuits that span from as low as 4 hours to a maximum of 3 days. The tracks take you through the national park region presenting you the best. More information can be found on their website here.
Suggested Read: 10 Places To Visit In Madagascar That Are A Perfect Blend Of Nature And Wildlife!
3. Tsarabanjina – Enjoy The Private Beach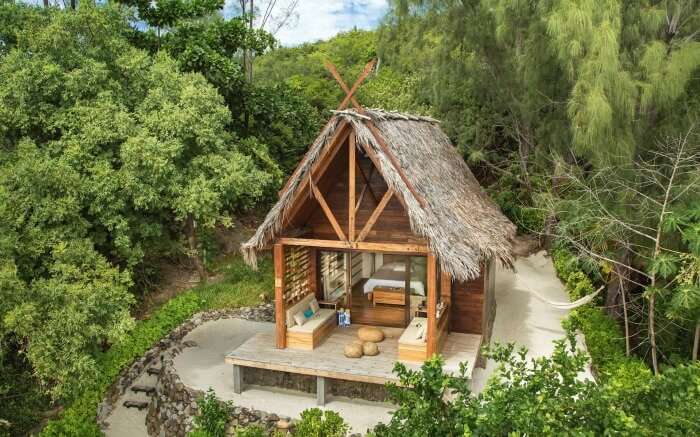 Image Source
Tsarabanjina is a small island in Madagascarn which is an amazing place to spend one's honeymoon. The beaches here are pristine, and one can spend some quality time with their partner here. Enjoy some time at the private beache of this private island and have a laidback honeymoon.
4. Isalo National Park – Enjoy The Beauty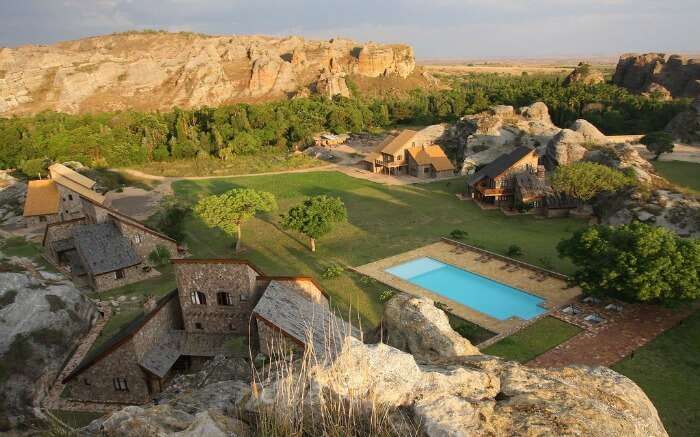 Majestic rock-cut structures lie camouflaged in the vast environs of the national park area. A closer look reveals the hidden tomb in the cliff face. The black pool at the end of the canyon and blue pool are the major highlights of the scenic national park where Malagasi Bari tribe bury their dead. Following the centuries-old ritual, the residents keep the departed buried under the piles of hundreds of stones.
Walk around and find Parc National De Isalo – one of the treasured paradise in Madagascar. The water pool has some exciting views and great trails around. Even better, the couples can take a 40-minute hike to Namaza Canyon where ferns, flowers, and pool await them.
Suggested Read: 15 Marvelous Natural Pools Of The World You'd Want To Plunge Into Right Away
5. Île Sainte-Marie – The Quaint Village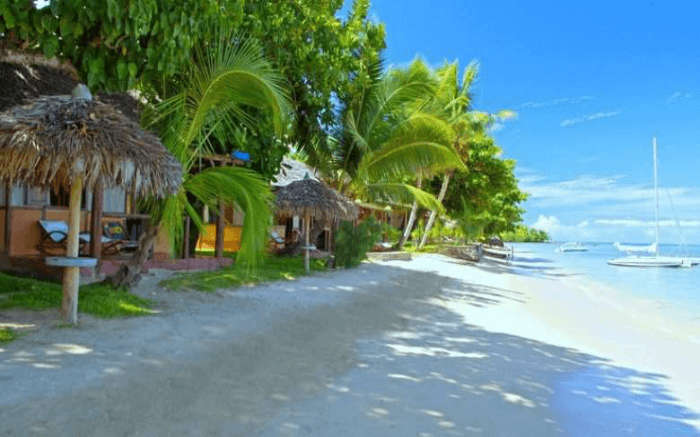 One of the most unique and tempting places to visit in Madagascar for honeymoon is Ile Sainte Marie. The Ile Sainte Marie island is all about romance and unique nature settings. The white sand beaches, quaint retreats, and the sight of whales (July-September) make the Madagascar honeymoon a memorable stint. Princesse Bora Lodge is the most recommended stay in Ile Sainte-Marie.
6. Nosy Komba – A Perfect Soujourn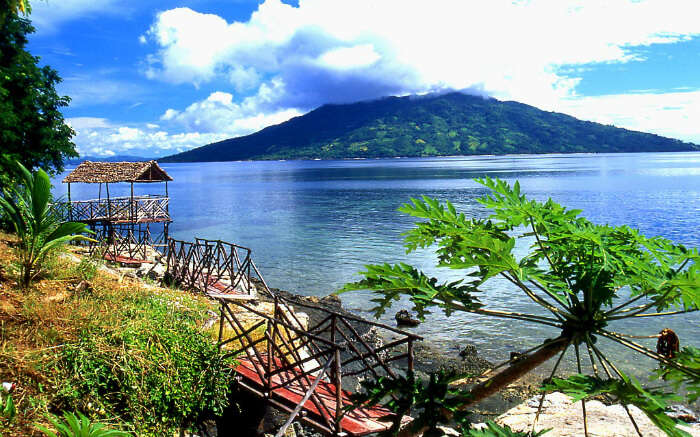 Nosy Komba Island (20-minute ride from Nosy Be) is a perfect sojourn for couples in the volcanic mountains of Madagascar. This part of the island is also reputed for scuba diving, snorkeling, and frequent spotting of wildlife such as turtles, lemurs, chameleons and a variety of birds.
Suggested Read: 7 Mystical National Parks In Madagascar To Explore The Best Of African Wildlife In 2022
7. Lokobe Nature Reserve – Spot The Marine Life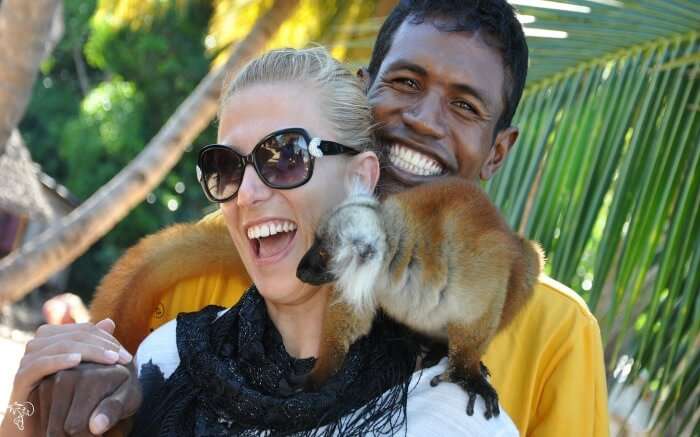 To the south-eastern part of Nosy Be lies Lokobe Nature Reserve, the reserve that is indeed a traveler's delight. Treat yourself to the exceptional nature views and spot the rear black lemur along with some of the rarest wildlife found in this part of the island.
Jungle Lokobe and Ecovillage Fihavanana the recommended stays at Lokobe Nature Reserve.
8. Antananarivo – Head To The Glittering City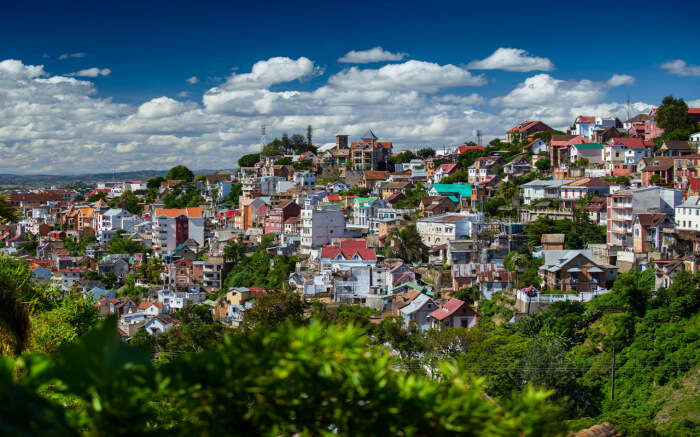 Antananarivo is the most popular city of Madagascar and rightly so because of the fact that it is home to stunning sea beaches, lovely museums, ancient structures, and authentic restaurants. Lemurs Park, Mantasoa, and other such city attractions make an ideal itinerary for a Madagascar honeymoon. Park Gasikara is the place where you find an extensive replica of Madagascar. With all the attractions and exciting things to do, a Madagascar honeymoon is incomplete with a tour of Antananarivo.
Mountains in Antananarivo also make for an exciting thing to do for an adventurous couple planning a honeymoon in Madagascar.
Suggested Read: 17 Things To Do In Madagascar In 2022 That You Won't Get To Do Anywhere Else
9. Pirogue Ride – Take A River Tour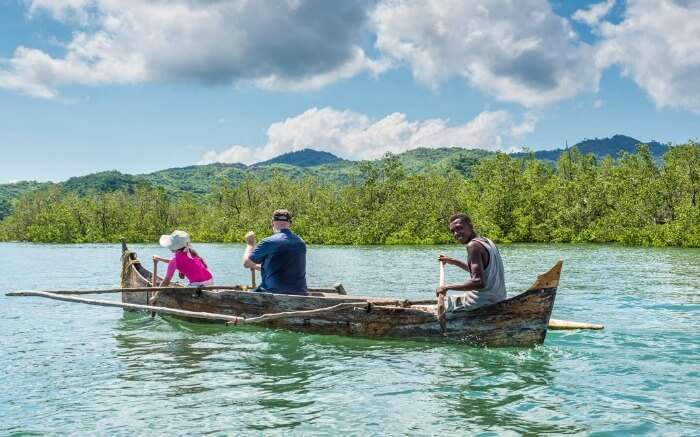 Pirogue (wooden canoe) ride is a popular activity in the river and mangroves of Madagascar. Tsiribihina river surroundings are full of great landscapes, and vivid wildlife. As you take a pirogue ride the never-ending vistas, the spectacular sunsets, and the glorious spectacles of Tsingy de Bemaraha National Park create magical moments making it a profound experience altogether.
Ideal tour duration: 1 – day or 2 – day
Charges:
1425 euros for 2 persons – 1 day
1510 euros for 2 persons – 2 days
For more information visit the website
10. Madagascar – Spot Humpback Whales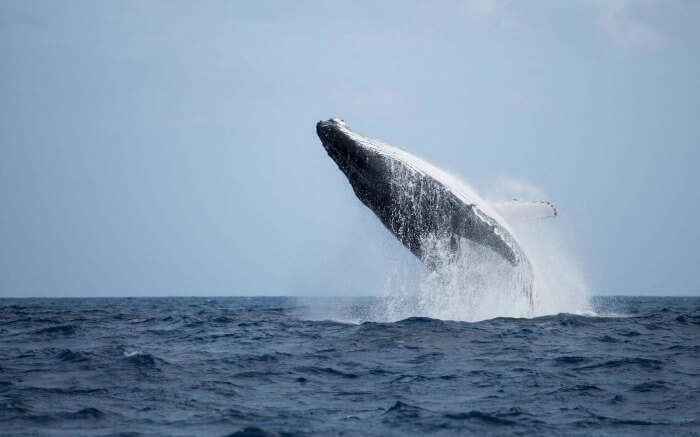 June – November is the perfect time when thousands of humpback whales can be spotted in the waters of Madagascar. This is the time when humpback whales migrate from Antarctica to breed. They can be found around Ile Ste Marie. Plan a Madagascar honeymoon during these months to be able to spot the whales.
Suggested Read: Nightlife In Madagascar: 7 Hotspots To Party In The Heart Of Africa!
11. Madagascar Seaplane Ride – Enjoy The Aerial Views
Take to the skies as you explore Madagascar from the top. The aerial views are breathtaking and the ride is worth a try for everyone planning a Madagascar honeymoon. Ride a plane and look right into the sunset, the stunning coastline dotted with palms and coral reefs. You won't like to miss this one at any cost!
For inquiries and booking visit their website.
12. Belo Sur Mer – Go Fishing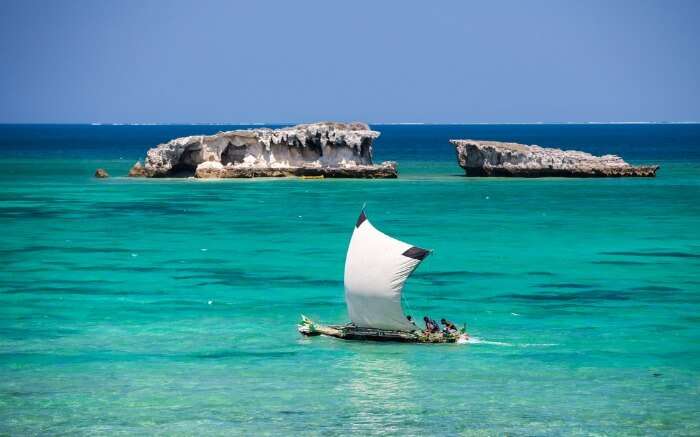 With a handful of hotels, restaurants, and other attractions around, Belo Sur Mer is nature's wonderful offering in the island paradise of Madagascar. The places are primarily known for fishing activities and are a huge draw for honeymooners seeking a different experience. Marine Conservations and community-based aquaculture activities are also run by independent organizations and you can always volunteer for such projects.
To the further north, you can sail all the way to Menak Bay by speed boats to spend a day out in mangroves.
13. Islands Of Madagascar – Enjoy A Cruise Tour
Madagascar is an assimilation of scenic beaches and great diversity. And touring the islands of Madagascar is an experience that is one of its kind. Be it taking a short boat tour or cruise ride, the island showcases the best of marine diversity and riding a cruise could be the most exciting thing to do on a Madagascar honeymoon. The tours could span from a few day to a couple of weeks.
For more details visit the website.
Suggested Read: 9 Islands Near India For Honeymoon That Ensure A Super Romantic Getaway In 2022
14. Constance Tsarabanjina – Stay Here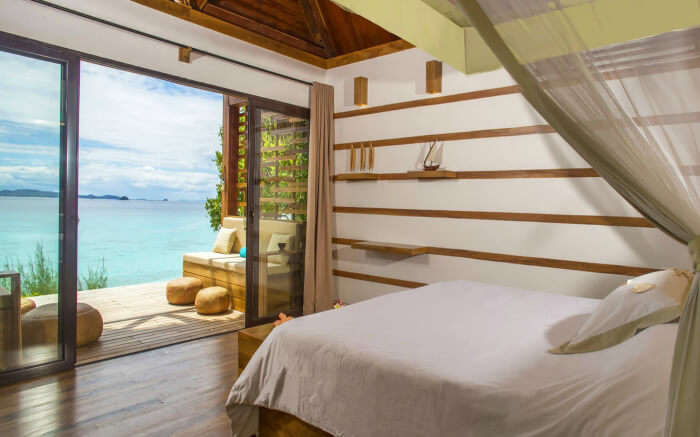 A stay in Constance Tsarabanjina could make for the dreamiest stay of your life. Surrounded by silky white sand beaches, azure waters, and laid-back atmosphere this is the ultimate accommodation on your dream honeymoon.
Go for a nature walk, take private cruises or treat yourself to authentic seafood delicacies! Constance Tsarabanjina is your dream hotel on a marooned island. Pick from the beautiful accommodations available on North Beach Villa and South Beach Villa.
Website | Reviews
Tips For A Madagascar Honeymoon
It is cheap to commute in Madagascar if one is in a group, as the charges for a single person and full taxi are the same. Also, public taxis leave only when full, and that often is a waste of time.
Guides are mandatory to enter the national parks, and one can find them in the city.
Further Read: Honeymoon In Africa 2022: Top 11 Romantic Getaways For The Best And Unique Experiences!
Madagascar is the dream destination for a quiet honeymoon into the quiet and unspoiled surroundings. A place perfect for the new beginnings! Book an Africa honeymoon trip now.
Frequently Asked Questions About Madagascar Honeymoon
Q. Is Madagascar safe?

A. Compared to other African countries, the crime rate in Madagascar is quite low and it is safe to travel to Madagascar. The people here are polite and helpful.
Q. Can you vacation in Madagascar?
A. Yes, Madagascar is an amazing island country where one can have an amazing time at its pristine beaches or explore the various nature parks. It has a variety of experiences to offer to all types of travelers.
Q. What is so special about Madagascar?
A. Madagascar is home to some of the most exotic species of flora and fauna, and this is one of the special factors of this island country. Explore the national parks of Madagascar on a trip here.
People Also Read:
Wayanad Honeymoon Arizona Honeymoon Gangtok Honeymoon
Comments
comments