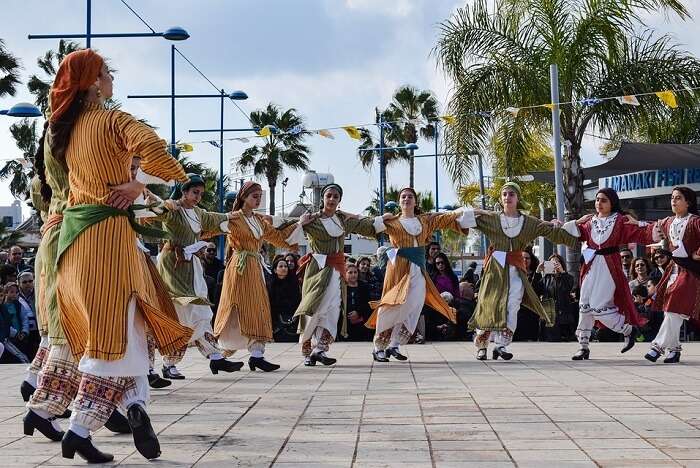 Bucharest is the largest city in Romania. It is the cultural, financial and industrial center of Romania. The beautiful city of Bucharest has a culturally rich heritage and the historicity of the city can be witnessed in the walls of the majestic buildings. The city is a mix of traditions and modernity, which is emblematic in the way the below mentioned Bucharest festivals are celebrated.
Top 12 Bucharest Festivals
These Bucharest festivals celebrate the culture and rich heritage of Europe. Make sure to attend these on your trip to Bucharest:
1. Harvest Fair
Harvest Fair is one of the most prominent festivals in Romania. At Harvest Fair, several Romanian products like traditional cheese, fruits, vegetables, and flowers are sold at a reasonable price. The visitors can buy traditional costumes, sweets, and pickles in the fair. It is widely celebrated in Romania as a harvest festival.
Location: All over Romania
Dates: September end
Must Read: Tour Du Mont Blanc: A Complete Guide To Trek Through The Magical Beauty Of Europe
2. Bucharest of Old
This festival is celebrated to honor the traditions of Bucharest. Local people roam the streets of Old Bucharest in traditional Romanian costumes. Parades are held to showcase the vivid and vibrant culture of Bucharest. Markets selling traditional products and goods are set up on the streets. Several outdoor concerts are held. Locals and foreigners can take rides in horse carriages throughout the old town.
Location: Old town of Bucharest
Dates: May 1st onwards
3. Maiden's Fair
Maiden's fair is one of the oldest Bucharest festivals. Various folklore performances are held and handmade crafts are sold at the Maiden's Fair. In the night time, there are fireworks. All the participants climb up the Găina mountain where concerts are held at midnight. This festival serves to preserve the culture of Romania.
Location: Avram Iancu
Dates: July 21st - July 22nd
Suggested Read: 10 Mountains In Europe That Will Put To Test The Adrenaline Junkie In You
4. The National Easter Egg Festival
The Romanians celebrate this festival with great enthusiasm. Everyone looks forward to painting Easter eggs. The painted Easter egg is emblematic of the culture and traditions of Europe. The painted eggs are famous in other countries are as well and are displayed in museums too. The colors used are mainly black, red and yellow. If one wants to experience ancient Romania, this festival gives a glimpse of it.
Location: Ciocanesti and rest of Romania
Dates: 8th April
5. National Trout Festival
This festival is celebrated in Ciocănești village, where locals participate in various activities like traditional downstream rafting, horsemen parade, and folk music. It is basically a fishing contest. This festival brings in many tourists from various parts of the world. Make sure to attend this festival.
Location: Ciocanesti village
Dates: 12th - 13th August
Suggested Read: Denmark Nightlife: Get Ready To Party Hard At These 10 Places In The Dairy Of Northern Europe
6. Servus Transilvania Fest
Servus Transilvania Fest promotes artists from various backgrounds such as music, theatre and dance. It is one of the lesser known Bucharest festivals. It is an open air festival aimed at promoting budding talents. The young artists get to showcase their talent and the viewers get a chance to experience new forms of art.
Location: Biertan Village
Dates: Mid-August
7. Wine Making Festival
The winemaking festival of Romania brings all wine lovers together. They indulge themselves in the collection of premium assorted local and international wines. This festival attracts many tourists from around the world who wish to taste various types of wine. This is one of the biggest festivals in Romania.
Location: Bucharest
Suggested Read: 10 Cafes In Malta Where You Can Satiate Your Caffeine Cravings In A European Way
8. Halloween
Halloween is widely celebrated in Transylvania. Romania is known as the "Land of Dracula" and thus, it is the perfect place to celebrate Halloween. Bran Castle in Transylvania is known as the Dracula's Castle and it isn't shocking at all that Transylvania attracts many tourists who take Halloween celebrations to another level. There are a number of Halloween parties organized in the city and some of them even have interesting themes.
Location: Transylvania
Dates: 31st October
9. Christmas
Christmas and mid-winter celebrations start from the 20th of December and go on until the 7th of January. The tradition demands killing a pig, if the family owns one, and then it is served as a Christmas meal. Carol singing is one of the most famous ways to celebrate Christmas in Romania. The Christmas tree is decorated, meals are made and shared with family and friends. New Year's is also one of the most widely celebrated events in Romania and is known as "The Little Christmas".
Location: Romania
Dates: 25th December
Suggested Read: Belgium In June: Explore The Best Of This Charming European Land With This Pocket Guide!
10. Rock the City
Rock the City festival takes place every year. Here, various artists come and perform in Bucharest. Many people from all over the world come for this festival and it is undoubtedly heaven for all music lovers. There are many famous artists and bands who have performed at this festival.
Location: Bucharest
Dates: August end
11. George Enescu Music Festival
This festival is celebrated in honor of Romanian composer George Enescu. It is the biggest classical music festival in Romania. Several artists from across the globe come here to compete against each other and there are also performances by famous orchestra players.
Location: Bucharest
Dates: August - September
12. Festival of the Heart
The Heart Festival was initially organized as a tribute for those who were sacrificed in December '89, but it is now one of the most prominent festivals celebrated in Romania. All the folk lovers and various prominent artists come together to celebrate this festival. People from many countries represent their traditional folk dance or music.
Location: Timisoara
Dates: July
Further Read: 14 Places To Visit In Czechia On Your Europe Backpacking Trip
Bucharest is one of the most culturally rich cities of Romania. The numerous festivals hosted the by the city and the surrounding cities gives a glimpse of its vibrant culture. Visitors from all over the world come here to experience the Bucharest festivals. Make sure to add Bucharest in your itinerary on your trip to Europe.
---
Looking To Book An International Holiday?
Book memorable holidays on TravelTriangle with 650+ verified travel agents for 65+ domestic and international destinations.
---