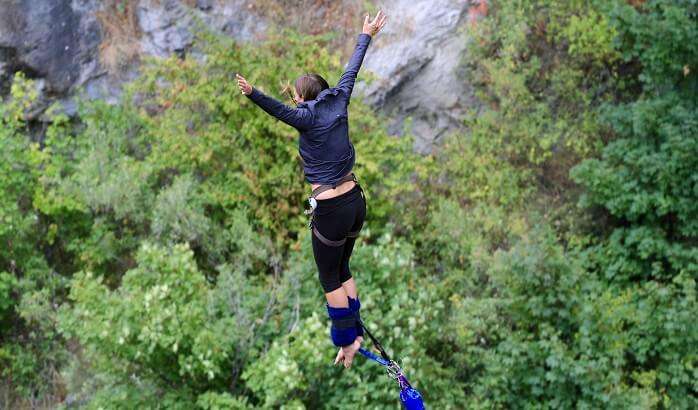 New Zealand is one of the cleanest, calmest and most serene places in the world. It has everything one needs to spend an ideal vacation. Vast lands, mighty mountains, blue rivers, and an ideal spot to indulge in adventurous sport. Even if you have not done bungee jumping in your life, you must know about it. We can bet that, no matter how scary it may sound or look, this is something every person discusses. The reason behind it is that it is not just scary, but interesting too. So, if we talk about some of the good bungee points, we have to mention News Zealand. It is the home of some of the best bungee points of the world. Here, we will be talking about some of the best places for bungee jumping in New Zealand and a lot of other things related to it.
Best Time For Bungee Jumping In New Zealand

We could not talk about the best time of bungee jumping according to a certain place. When we are talking about it, it has to be in general. No matter where you are doing the bungee jumping, there are certain climatic conditions that you should keep a note of. The most important thing that you should keep in mind is that when you are going for bungee jumping, the sky should not be windy. It does not matter whether it is summer or winter season. Also, when you will select a company for you, they will tell you about the best time for it.
Bungee Jumping In New Zealand: 10 Best Places
Here are some of the best places for bungee jumping in New Zealand which one must visit to experience the most enthralling activity.
1. The Nevis Bungee

If you want to go head-on head with the big monster then this is probably the point that you are looking for. The Nevis Bungee is the tallest Bungee jump in New Zealand and the third-highest bungee in the world. Well, that can give you a fair idea about the sheer monstrosity of this giant. The platform of Nevis Bungee is at a height of one hundred and thirty-four meters above the floor of the Nevis Canyon. If you cannot imagine how high this is, just know that this is three times the height of the Statue of Liberty. If you think that jumping from this height is craziness then you certainly are right. The thing that increases the insanity quotient of this point is that the platform from where you have to jump is suspended in the gorge with the help of wires. It is one of the best bungee jumping in New Zealand.
Location – The Nevis Bungee is situated in the Southern Alps, near Queenstown in New Zealand's South Island.
Price – 275 NZD
Must Read: 7 Must-Try Cruises In New Zealand To Make Your Vacation Memorable
2. Rotorua Bungee

Rotorua Bungee is one of the most beautiful bungees, situated amidst natural landscapes. It won't test your bravery by making you jump into a river or off a cliff. If you want to tick one of the checkboxes in your bucket list without taking any huge risks, then surely this is the place for you to go and try. So basically Rotorua offers people who want to try bungee jumping for the first time, a comparatively easier and budget-friendly bungee jumping experience. The best thing about Rotorua is the cost-effective package that it offers. So, if you too are travelling on a strict budget then head straight off to Rotorua bungee. You can search for the best deals around this point by typing the cost of bungee jumping in New Zealand.
Location – Near Rotorua Bungy & Rotorua Swoop 1335 Paradise Valley Rd, Ngongotaha, Rotorua, New Zealand.
Price – 134.10 NZD
Suggested Read: 24 Famous New Zealand Tourist Attractions That One Should Visit In 2022
3. Kawaru Bridge Bungee Jumping

New Zealand is the first place that comes in the mind of adventure enthusiasts when they think of Bungee jumping. Moreover, getting a bungee jumping experience in the home of commercial Bungee jumping will too good to be true. All that you need to do for the same is heading over to Queenstown and then get yourself harnessed on the Kawarau bridge and embrace the kiss of water. Well, that is one of the most special experiences that this place has to offer, you can plunge into the water after making the bungee jump. Even if you are not comfortable with the water you can do the jump and stay dry. The choice is yours to make.
Location – State Highway 6, Gibbston Valley, Queenstown 9384, New Zealand
Price – 205 NZD
Suggested Read: 14 Scrumptious New Zealand Cuisine One Must Devour On Their Trip in 2022!
4. The Ledge Bungee Jumping

Spread across the skyline of Queenstown this bungee jumping offers a beautiful view of Lake Wakatipu. That is not all, it also offers a breathtaking view of the snow-clad Southern Alps at a distance. There is something very unique about this particular bungee jumping experience that sets it apart from the others. It is the only place in New Zealand where you can do Bungee jumping in the night and along with that, you can look over the scenic beauty of the city. One more thing which separates this experience from the others is that you can make a jump in whatever way you want to, you can do a flip or a twist or even a matrix. It is one of the most famous bungee jumping in New Zealand.
Location – Brecon Street, Queenstown 9300, New Zealand
Price – 205 NZD
Suggested Read: Snorkeling In New Zealand 2022: 6 Best Places To Swim Through Ultimate Joy!
---
Planning your holiday but confused about where to go? These travel stories help you find your best trip ever!
---
5. Auckland Skytower Bungee Jumping

People who have been to New Zealand or even have a fair knowledge about it must know about the Skytower. It is one landmark in Auckland from which everyone is familiar. Well, the idea of hanging oneself with a harness from this iconic building can surely give anyone chills. This is one of the most popular bungee jumping experiences as falling towards a pavement from 1,076 feet is surely an experience worth having.
Location – Victoria Street West, Auckland CBD, Auckland 1010, New Zealand
Price – 225 NZD
Suggested Read: 8 Places Near Christchurch For An Extravagant Holiday In New Zealand
6. Hanmer Springs Bungee Jumping

This is the best place to bungee jump in New Zealand if you are looking for a low jump. Infact, this is the lowest bungee jump in the whole country with a jump of 35m. The place has its own charm and offers surreal views that will enhance your experience of bungee jumping. It is a beautiful valley and the bridge you will be jumping from is a historic one!
Location – 839 Hanmer Springs Road, Hanmer Springs, New Zealand
7. Auckland Harbour Bridge Jump

Auckland harbour bridge is an old bridge, in fact very old that serves as the connection between the city centre and the north shore. It is a long bridge and has eight lanes. It has helped in reaching to the north shore quite easily but what makes it even more significant and famous now is bungee jumping sport. So, keep this in your list while vacationing there next time.
Location – 105 Curran Street, Auckland, New Zealand
Timings – 9am to 4pm
8. Shotover Canyon Jump

Shotover canyon swing is a famous adventure sport in New Zealand. However, it is not exactly a bungee jump rather a different kind of sport where you will be free falling and swinging. Since it is a free fall, it needs more courage and it will definitely leave your heart pumping at a great rate. You will be harnessed to the platform then pushed 60m below into the gorge and then swing sideways which is a unique feeling.
Location – 34 Shotover Street, Queenstown, New Zealand
9. Taupo Bungy

They say, there is no age for anything and so there is no age limit for bungee jumping in New Zealand. However, you need to be at least 10 years old to try it. Taupo lake is one of the most picturesque places to see in New Zealand. The lake is not only famous as a scenic spot but also offers the adventure sport of bungee jumping. The jump is organised by a bunch of boys and girls who are experts at it. So, when you visit the lake for a refreshing therapy, do give a try to the activity to turn your day into a thrilling one!
Location – 202 Spa Road, Taupo, New Zealand
Timings – 9:30am to 5pm
10. Mokai Gravity Canyon

This place is soon going to close, so make sure you plan a trip and try the fun that it has in store for you. The canyon is not only famous for bungee jumping but also for other thrilling activities like flying fox and swing. The bungee jump is done at a height of 80m and it will leave your heartbeat racing at a great speed, are you game?
Location – 332 Mokai Road, Taihape, New Zealand
Tips For Bungee Jumping

There are a lot of companies that can help you in bungee jumping, but you need to find the best one. Bungee jumping is not the usual activity that you do in your daily life and a lot of people are scared of the phase that they pass from while doing this activity. If you don't want to face any problem while this activity, you need to find the best company that offers this service. You can research and read the reviews, according to the place you are visiting.
As we already mentioned that this is something that you don't do in your daily life, so you should be prepared for the worst possible situation. We have to admit that this activity is hell scary, but a lot of people do it and succeed also. To have moral support with you, you should bring your partner. It could be anyone depending on the level of comfort you share with him or her. They will allow you to do the activity together with your partner.
Develop a sense of adventure
You need to prepare your mind a lot before you go for this activity. The reason behind it is that this can be scarier than you think. If you are performing it with a good company, you won't face any problem from their side, but if you don't have this adventurous mindset, the chances are you won't be able to enjoy it. First of all, read things about bungee jumping. Figure out all the possible things that can happen while the activity and then develop a sense of adventure. This will help you a lot and even if you are going alone, you will be able to enjoy your moment without any fear.
All this while we are saying that this is not a usual activity or sport that you perform. The level of difficulty is high and so is the level of discomfort. We live on land and we don't know how the sky will behave with us. In these situations, it is important to wear comfortable clothes. If you don't know exactly what kind of clothes you should wear, you can always research it or can directly ask the company you have joined.
Believe in yourself and not in myths
This is one of the scariest things one can do in his or her life and therefore not many people have done this. However, every person out there has a preconceived notion about bungee jumping. We are sure that everyone reads about all these myths before going for their first bungee jumping. You should not do that. Even if you know about them, just don't believe. Believe in yourself and just try to have your own experiences. We assure you that it is a fun thing and if you are going for it, you will enjoy it to the fullest.
Further Read: Food Festivals In New Zealand 2022: To Indulge In The Country's Most Exclusive Delicacies
So, this is all the information that you need to know before going for bungee jumping in New Zealand. If you are someone who didn't know about it, these points will excite you to do it. If you were already planning for it, a lot of your doubts will be cleared after reading it. Apart from that, it will act as a complete guide for you related to bungee jumping. Now when you plan your trip to New Zealand, make sure to not miss out on this exciting activity and have the best time of your life.
Frequently Asked Questions About Bungee Jumping In New Zealand
What is the minimum limit for bungee jumping in News Zealand?
Nevis Bungee is the highest bungee point in News Zealand. If you want to do the bungee jumping here, your age should be at least 13 years. Apart from that, you are allowed to start the bungee jumping if you are 10 years of age.
Which is the highest Bungee jumping point in New Zealand?
Nevis Bungee is the highest bunch point in News Zealand. This stands above the Nevis River in Queenstown and the height is 134 meters above the water. The jump is very challenging and if you are doing it for the first time, you should choose a different location.
How much does it cost to bungee jump in New Zealand?
The cost of bungee jumping in News Zealand depends on the place you are choosing for it. However, if you want a generic answer for it, then it starts at a mere cost of 150 dollars.
Can bungee jumping result in death?
A clear cut answer to this question would be no. Everyone who goes for it for the first time has this doubt and this is probably the reason that there has been a lot of research done on this particular topic. According to research, it is one of the safest sports you can go for. The chances of a person dying in bungee jumping are 1 in 500,000.
What are some famous bungee jumping points in New Zealand?
The Nevis Bungee, Auckland Bungee, Taupo Bungee, Rotorua Bungy are some of the very popular bungee points in News Zealand. The best thing about these points is that they are not just popular for the jump, but has a lot of other activities too for the visitors.
Which is safer, bungee jumping or skydiving?
Bungee jumping is safer than skydiving. In skydiving, you need to drop from a plane. There is a parachute to help you, but it can fail at times. In the case of bungee jumping, you are all tied and there is a harness to hold you.
Is there a weight limit for bungee jumping?
The master who will help you in jumping won't tell you that if you have gained a certain amount of weight, then you are not allowed for it. However, there is a restriction, if you are underweight. People who weigh below 35 kgs are not allowed to do it.
Is there any bungee jumping in New Zealand, where I can touch water?
Yes, Auckland bungee is the point where you can touch the water while completing this adventure. This is such a beautiful point and if you want to enjoy your bungee jumping session, you should visit this place.
---
Looking To Book A Holiday Package?
---
People Also Read:
Bungee Jumping In Macau Bungee Jumping In Dubai Bungee Jumping In South Africa