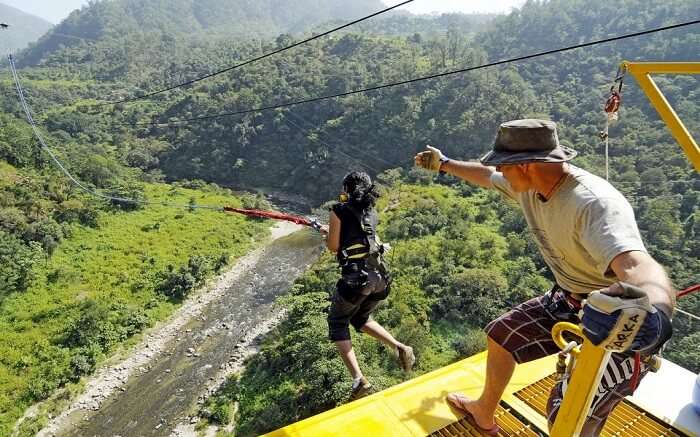 Bungee jumping in Rishikesh these words can give goosebumps to quite many travelers across India. The city boasts of having country's highest bungee, operated by experts with significant experience. Beside being a pilgrimage, Rishikesh is the Adventure Capital of India, so adventure-seekers don't need further push to pack their bags and come to this city. If you have been thinking about trying out this activity, here is the guide you need. Cost, safety concern, location – everything is covered up, so you don't have to get into vigorous research.
Quick Links For Navigation
About Bungee Jumping In Rishikesh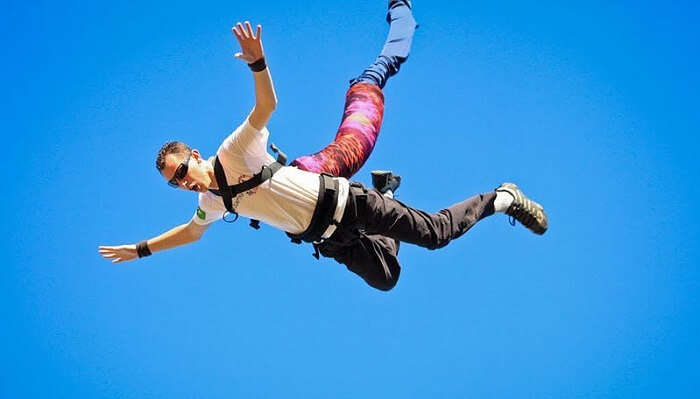 Ever thought about flying like a bird? Bungee Jumping will surely help you do so. Bungee Jumping is an adventurous activity that is all about jumping from a place that is at a great height. While jumping you are connected with a cord that is properly attached to a surface or any object that can bear heavyweight. You can either jump for a cliff or from a plane and you will be completely safe. Wondering when was it started? In August 2005, AJ Hackett jumped from Macau Tower and created the record of the world highest jump. You can try Bungee Jumping all around the world as it is a popular activity performed in all the countries.
Bungee Jumping Spot In Rishikesh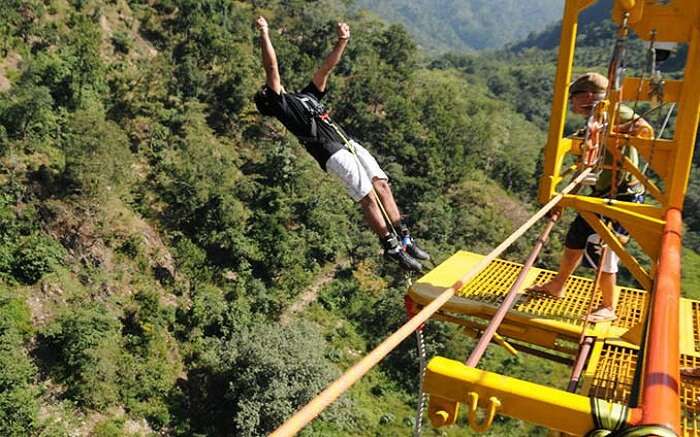 The venue for best bungee Jumping in Rishikesh is located in Mohanchatti with the name, Jumpin Heights. It is run by ex-army officers and the jump masters are from New Zealand, the Adventure Capital of the world. Jumpin Heights feature India's highest bungee jumping in Rishikesh with height of 83 meters. Jumpin Heights is open all days, except Tuesdays. These are also considered to be some of the best spots for bungee jumping in India.
Must Read: Rishikesh In December: 10 Experiences You Need To Have For Embracing The Chill
Bungee Jumping In Rishikesh Price
| | |
| --- | --- |
| Activities In Rishikesh | Price |
| Entry Ticket | 100 |
| Bungy Jump | 3550 |
| Giant Swing | 3550 |
| Flying Fox (In Tandem) | 1800 |
| Flying Fox (Solo) | 3000 |
| Combo-1 (Bungy + Flying Fox) | 4750 |
| Combo-2 (Flying Fox + Swing) | 4750 |
| Combo-3 (Bungy + Swing) | 6500 |
| Thrilogy Combo (All 3 Activities) | 8250 |
Safety, Health Concern And Other Requirements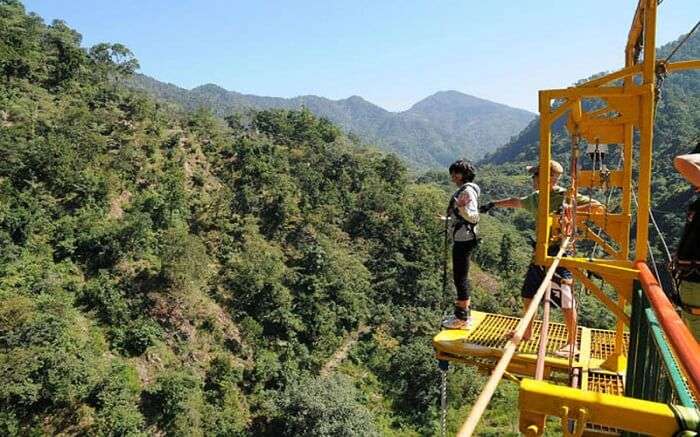 Safety: "Is Bungee Jumping safe in Rishikesh?", this is a common question which arises in the mind of every person. When it comes to bungee jumping in Rishikesh, or anywhere for that matter, safety is a major concern for sure. But, when you're in Jumpin Heights you don't have to worry about such issues. The authorities have ensured safety by appointing experts who have spent years operating extreme sports as bungee jumping in a place like New Zealand, which is the Adventure Capital of the World.
Australian & New Zealand Standards Authority Guidelines are followed in Jumping Heights. Right from designing of platforms, to exercising regular drills on site, the authority is highly attentive in dedicated towards safety.
Health: However, since the activity is extreme in nature, it is not recommended for people with the following medical conditions – Neurological Disorders, Epilepsy, Heart Condition, High Blood Pressure, Back or Neck injuries, Recent Fractures, Asthma, Osteoporosis, and Pregnancy.
Other requirements: To try this activity, the minimum age requirement is 12 years. The person has to be 35-120 kgs in weight.
Suggested Read: 12 Hotels In Rishikesh That Every Wanderlust Traveler Must Know About
Season For Bungee Jumping In Rishikesh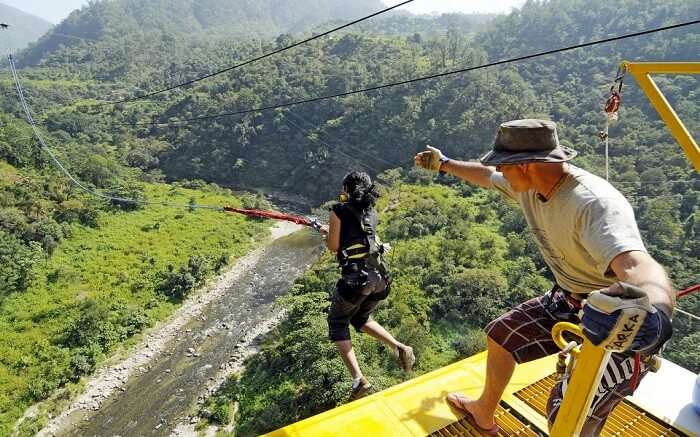 The best time for bungee jumping in Rishikesh actually is anytime around the year. However, it is suggested you avoid monsoon season, as some of the adventure sports in Rishikesh might get put on hold due to heavy rains or strong winds. Also, in the monsoon season you will not be able to enjoy other adventure activities in Rishikesh like river rafting and cliff jumping.
Other Activities To Try
Rishikesh isn't called the Adventure Capital of India for nothing. This place is not just known for its spirituality but myriad of thrilling activities one gets to indulge in while here. River rafting in Rishikesh, kayaking, cliff jumping, flying fox, rock climbing, parasailing, and mountain biking are some of the many things to do in Rishikesh which you can indulge in.
Nearby Attractions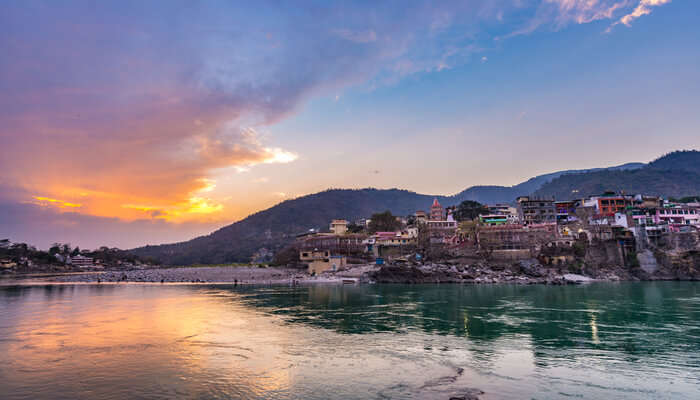 Other than activities, Rishikesh has sites you must step foot on. Triveni Ghat, Beatles Ashram, Neelkanth Mahadev Temple, and Lakshman Jhula are some of the best places to visit in Rishikesh and around if you wish to catch the essence of this ancient city merged with spirituality and scenic beauty.
Tips For Bungee Jumping In Rishikesh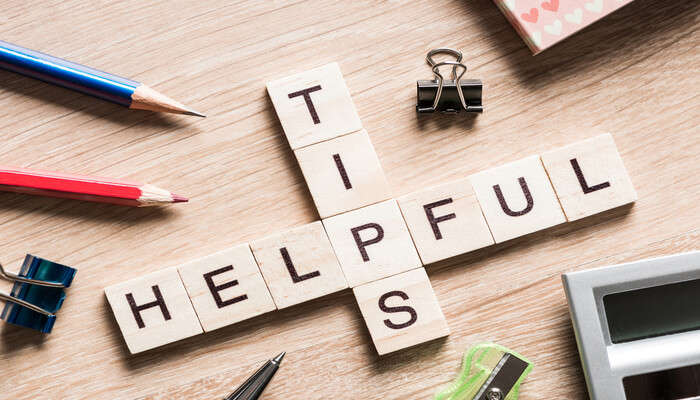 Here are a few tips for all those who are planning to try bungee jumping in Rishikesh. Read on!
Follow all the instructions given by the instructor.
Inform the instructors about any health condition you have beforehand.
Comfortable clothes are a must for Bungee Jumping.
Carry an extra pair of clothing with yourself.
Get yourself medically checked before heading for the activity.
Believe in yourself and say positive as you wil be under trained instructors and they will guide properly.
Further Read: 38 Super Fun Things To Do In Rishikesh
Now, that you know it all, you're all set for bungee jumping in Rishikesh on your trip to Uttarakhand. Don't forget to indulge in other adventure activities too. Have an experience to remember by visiting most of the famous places and create memories with your closed ones.
Frequently Asked Questions About Bungee Jumping In Rishikesh
What is the average cost of bungee jumping in Rishikesh?
If you wish to try just bungee jumping in Rishikesh, then the cost per person is INR 3550. However, this cost gets cut down if you opt for combo adventure package in Jumpin Heights.
Is bungee jumping safe in Rishikesh?
Jumpin Heights, where bungee jumping in Rishikesh takes place, follows Australian & New Zealand Standards Authority Guidelines. Most of the staff have a significant experience in exercising this and other adventure activities in New Zealand. Safety is a major concern for the authorities here, thus drills take place on regular basis.
What is the age limit for bungee jumping?
The minimum age limit for bungee jumping is 18 years and if you're below than that then a parental presence is required.
Is there a weight limit for bungee jumping?
For bungee jumping maximum weight limit is 265 lb.
How fast do you go when bungee jumping?
An average speed of the person falling from a height of 83 meters is around 140-160 kmph.
Can we do bungee jumping in Rishikesh in December?
Yes, we can go for bungee jumping in Rishikesh in the month of December. Do avoid the months of monsoon when going for this activity.
Is Rishikesh safe for women?
The town of Rishikesh is completely safe for women even when they are traveling solo. However, it is suggested to stay cautious when exploring the town during the nighttime.
---
People Also Read:
Bungee Jumping In New Zealand Bungee Jumping In Pattaya Bungee Jumping In Pokhara