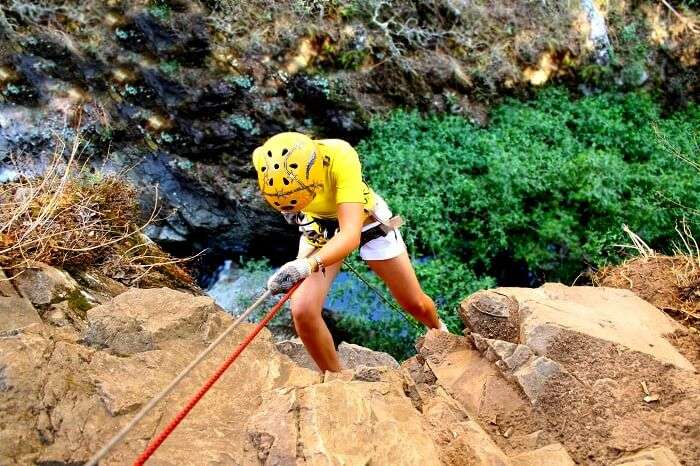 Adventure sports in Rishikesh is a treat for all. You may be young or old, fit or not fit – the small riverside city doesn't care and loves everyone equally. It is one of the most popular destinations for adventure in India and has a list of activities so long that you will be amazed by it. From college students to couples to elderly, everyone flocks this town for a taste of nature, spirituality, and adventure and the city never disappoints. So if you too are planning a thrilling escapade to Devbhoomi, we have a list of best Rishikesh adventure sports that you should definitely try before coming back. Here we go!
26 Best Adventure Sports In Rishikesh
Here is a list of the best Rishikesh adventure sports that you can enjoy on your holiday if your adrenaline levels are going down. Give'em a boost!
1. River Rafting – Best Recreational Outdoor Activities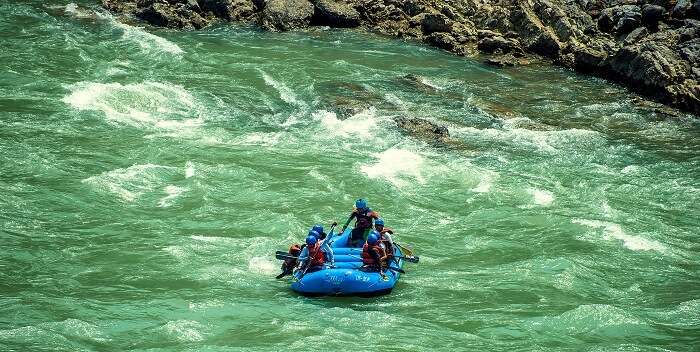 Planning for some adventure in Rishikesh? Out of all the adventure sports in Rishikesh, river rafting is probably the one that got it all the fame as an adventure destination. Also known as white water rafting, this sport comes in various levels of extremity and involves battling the treacherous waves of the river. To top it all, it is done on river Ganga in Rishikesh, which is also known as the mother of all rivers in India. It is one of the best Rishikesh water sports one can enjoy on their vacation.
Average Price: From INR 1100
River Rafting In Rishikesh: The Ultimate Guide For Riding The Rapids!
2. Rappelling – One Of The Fun Adventure Sports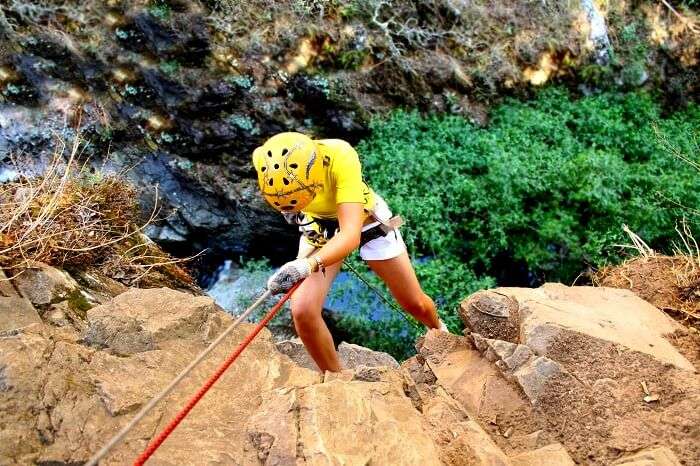 Looking out for exciting adventure activities in Rishikesh? Another one of the famous Rishikesh adventure sports for enthusiasts is rappelling. This fun adventure involves a person to climb down the hills and rocks and is one of the perfect locations to do so, courtesy steep valleys and large rocks.
Average Price: From INR 1500
12 Adventure Sports In Nainital That Are A Perfect Remedy For Your Adventurous Soul
3. Bungee Jumping – For A Thrilling Experience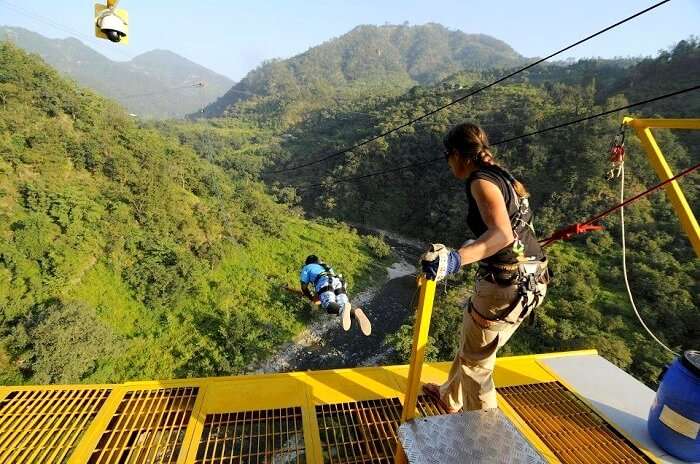 Rishikesh adventure activities are great for adventure enthusiast. Mohan Chatti in Rishikesh is one of the best spots for bungee jumping. It has a height of 83 meters and enthusiasts all over India believe it to be one of the best Rishikesh adventure sports spots. For people between 18-60, this is one of the best adventure sports in India to try. What more, you will also get a certificate once you do the jump. Sweet!
Average Price: From INR 3600
Rishikesh In December: 10 Experiences You Need To Have For Embracing The Chill
4. Flying Fox – Exhilarating Adventure Sport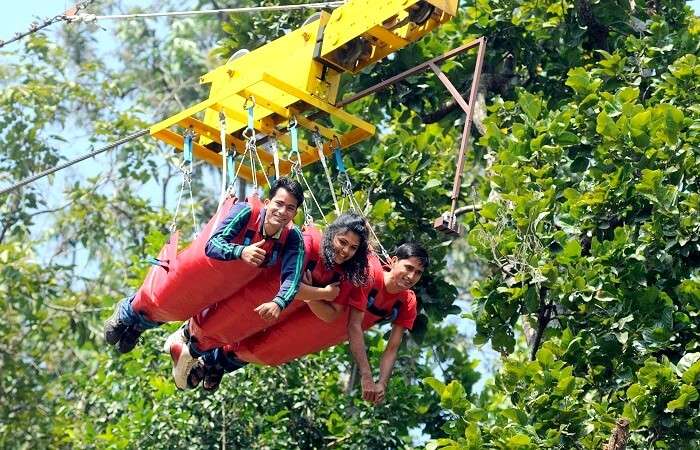 Explore some of the exquisite resorts in Rishikesh. Flying Fox is one of the most happening adventure sports in Rishikesh one can indulge in. Home to Asia's largest trail, this one-kilometer line allows you to descend from top to bottom in the most exhilarating way possible. We recommend everyone to try this adventure trip in Rishikesh.
Top 14 Adventure Sports In Himachal Pradesh That Will Give You That Adrenaline Rush
5. Mountain biking – For Bike Lovers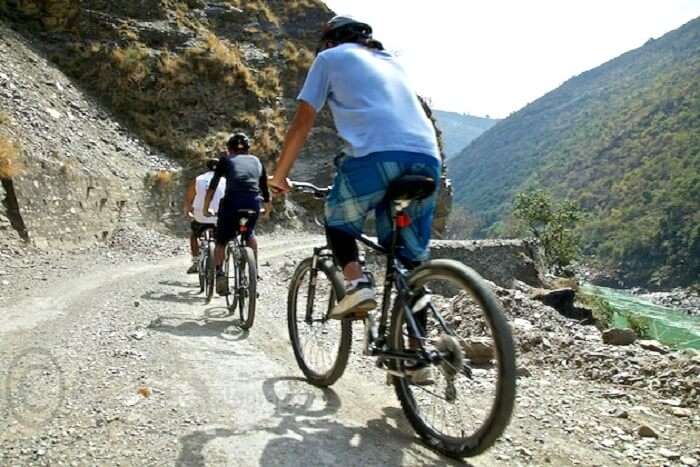 Plan for some of the exciting things to do in Rishikesh in May which will indeed be fun for you. Mountain biking in Rishikesh is one of the best ways to explore this hilly town. Since this riverside destination is blessed with varied topography that ranges from steep mountains to rocks to forest and river trails, one can enjoy the beauty of this place in a sporty and intimate manner.
6 Best Resorts Near Rishikesh And Haridwar
6. Giant Swing – Rope Based Adventure Sports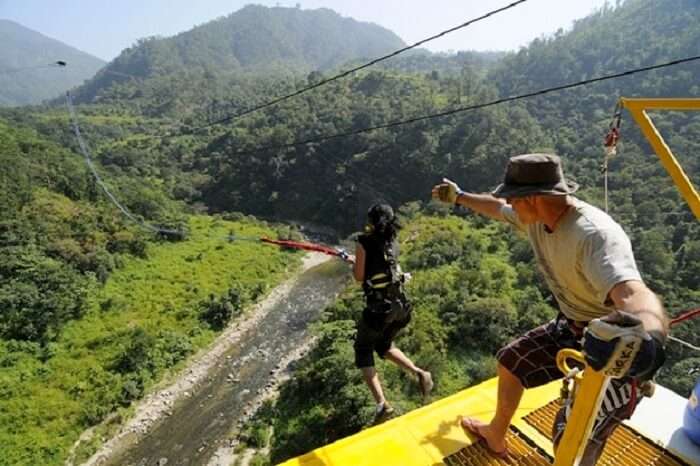 Another one of the best rope based adventure sports in Rishikesh, the Giant Swing can be done at the Mohan Chatti itself while you're there for bungee jumping. Imagine this to be a rope swing but on a much larger scale (83 meters) of fun and adventure. This is one of the best things to do in Rishikesh and we highly recommend it to adrenaline junkies.
Average Price: From INR 3550
These 10 Adventure Sports In Mysore Will Definitely Perk Up The Level Of Your Vacation!
7. Cliff jumping – Super Sensational Adventure Sports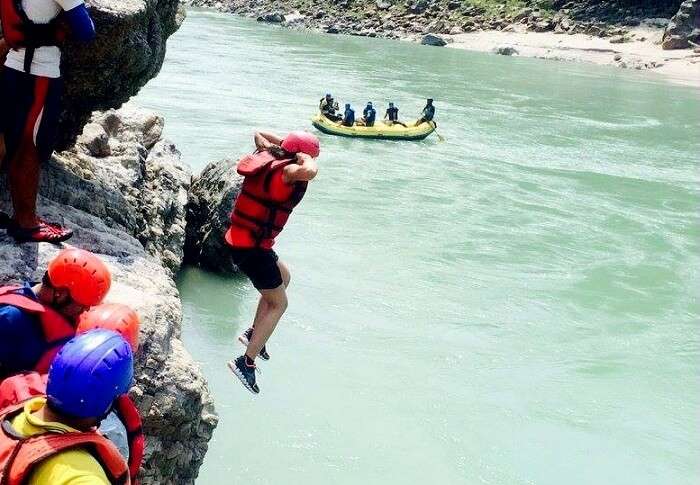 There are a lot of places in Rishikesh where one can do cliff jumping. It is one of the easiest adventure sports in Rishikesh and is must recommend for all. Additionally, one can also choose the height from which they want to cliff jump and then take that leap of faith you always wanted. And believe us, you won't be disappointed.
Average Price: Mostly included in the river rafting package
Camping In Kasol: 7 Best Places To Plan Your Stay!
8. Waterfall Trekking – For A Fun Experience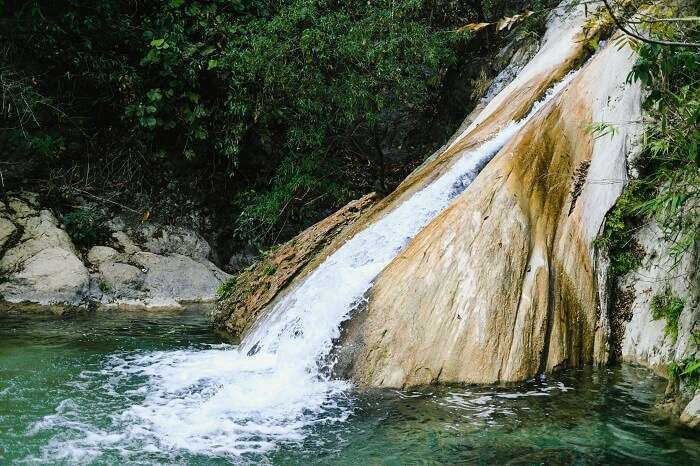 Not exactly an adventure sport in Rishikesh, but waterfall trekking can be categorized as a mix of adventure and fun. Travelers can trek up to the waterfall and experience the magic of nature. This is also one of the best activities to enjoy a picnic or soak in the serene nature of the place.
Camping In Rishikesh Is The Perfect Dose Of Thrill For Your Weekend
9. Valley Crossing – Finest Adventure Sports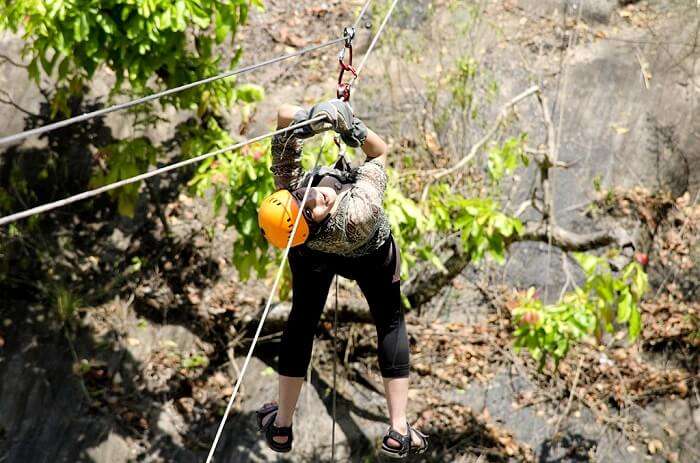 Valley crossing is one of the finest adventures sports in Rishikesh that can be tried by people of all age groups. Similar to Flying Fox in its basic element, this is one activity that has the power to make your trip worthwhile.
Average Price: From INR 1500
All About Relaxing On A 2-Day Weekend Getaway In Rishikesh
10. Kayaking – Popular Adventure Activity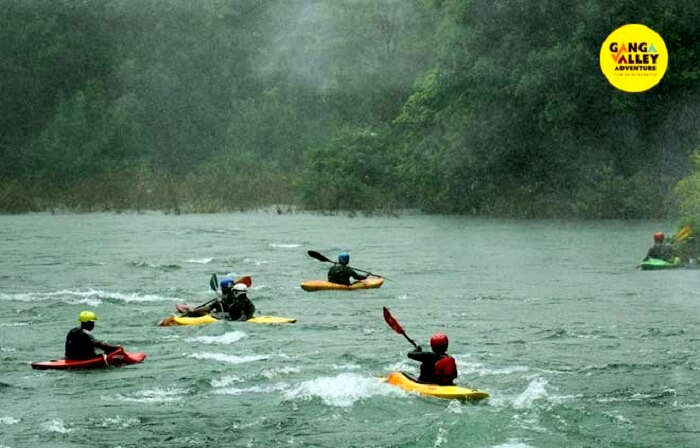 One of the most rejuvenating adventure sports in Rishikesh, kayaking or canoeing allows a person to navigate the waters in a small kayak or boat as he wants. Yes, there is a certain level of preparation required for this but for those who are familiar with it or are first timers, they can practice and do it as per the level of rapid suitable for them. Also, a fun fact – Rishikesh is one of the best destinations in India for kayaking. It is indeed one of the most exhilarating Rishikesh water sports.
Average Price: From INR 3200
12 Adventure Sports In Turkey That You Must Try On Your Next Visit
11. Rock climbing – For The Daredevils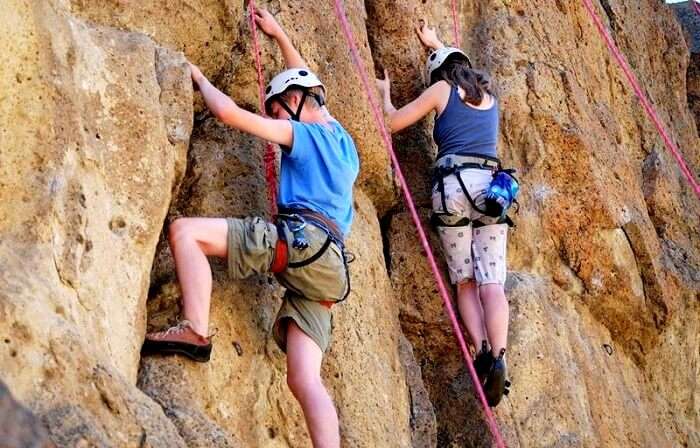 Rishikesh is one of the best places for rock climbing in India. For people who love adventure and who aren't afraid of heights, this is the place to be. Shivalik Hills in Rishikesh is considered to be the best spot for rock climbing because of its steepness and varied topography. Mountain junkies, now you know where to go!
Average Price: From INR 1000
 Adventurous 1N/2D Friends Trip: River Rafting In Rishikesh
12. Zorbing – A Cool Adventure Sport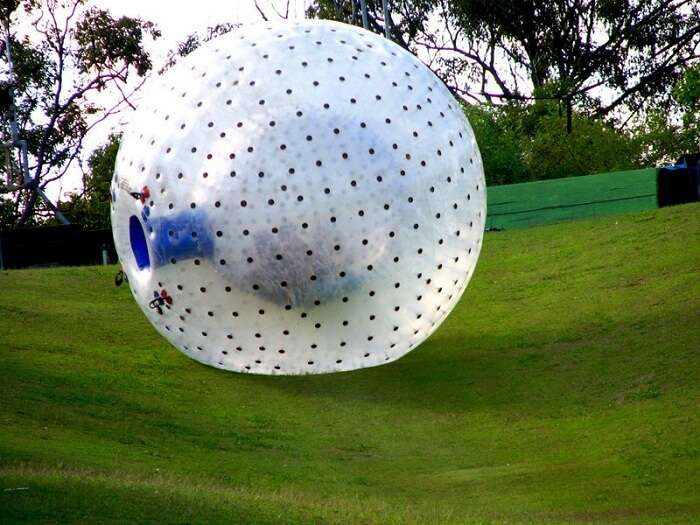 Another cool adventure sport in Rishikesh is zorbing. Although this one is milder in comparison to other activities in Rishikesh, nonetheless, one can have great fun inside an air-filled ball rolling down the hills. In general, the Garhwal Hills are considered to be the best place for this activity.
42 Places To Visit In Rishikesh On Your Religious Getaway
13. Parasailing In Rishikesh – Soak In The View Of Himalayas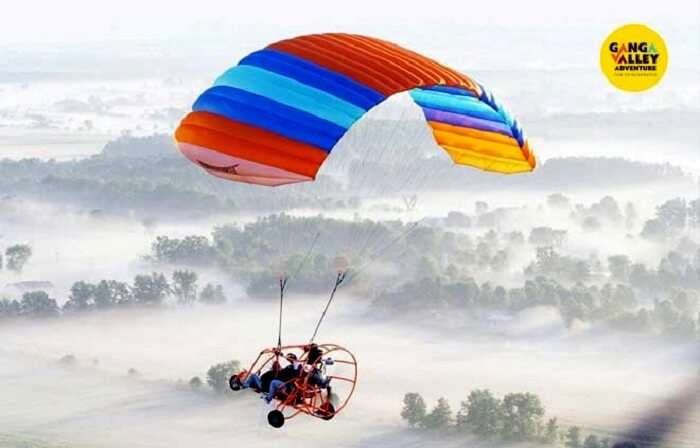 Yet another great option when it comes to adventure sports in Rishikesh, parasailing or parascending or parakiting is for those who want to soak in the views of the Himalayas in their minds and hearts. It is adrenaline pumping, adventurous and too much fun. Miss this one at our own risk!
Average Price: From INR 4400
Bungee Jumping In Bangalore: Taste The Adventure In Its Raw And Best Form!
14. Body Surfing – Rejuvenating Water Sport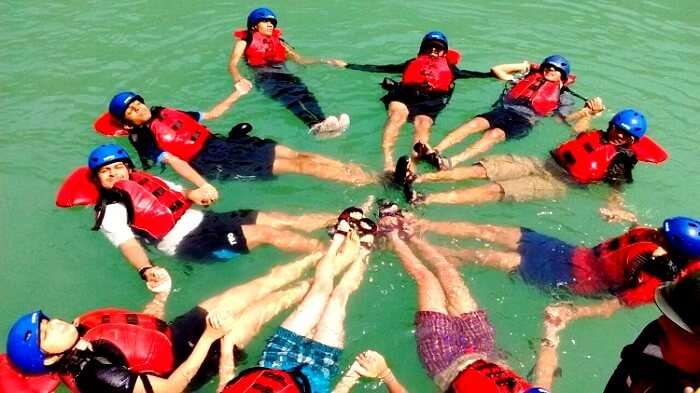 Body surfing allows you to cool off in icy cool waters of Ganga and soak in all its goodness whip floating on it. This Rishikesh adventure sports is guided by professionals and is an extremely fun way to get yourself acquainted with the mighty personality of holy river Ganga.
Average Price: Mostly included in the rafting package
15. Trekking – Connect With Natural Beauty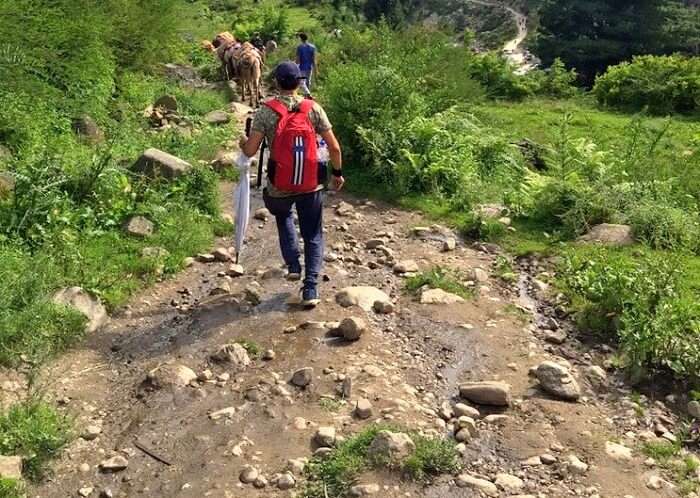 Looking for some more fun Rishikesh activities? While there are options for a waterfall trek or a riverside one, travelers can simply go the no-nonsense way and enjoy a trek to the hills or even opt for an ice one to Gaumukh Nandanvan. Other popular routes are Chandrashila and Panch Kedar.
Average Price: Free unless you join a group
38 Ultra Exciting Things To Do In Rishikesh With Your Travel Pals
16. Air Safari – For A Fun Sailing Experience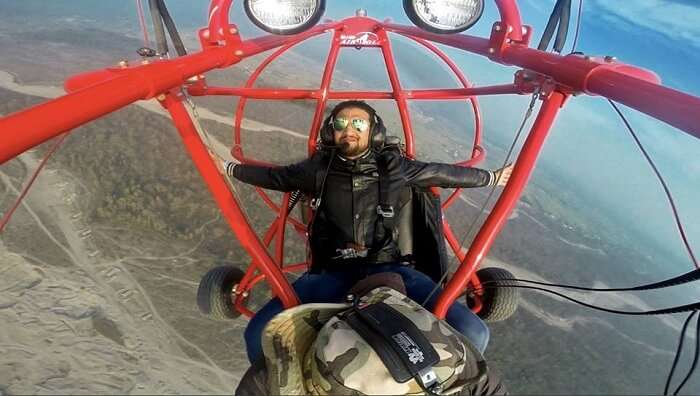 On the list of Rishikesh adventure activities, we have Air Safari that you should enjoy the next time you are there. If you have already managed to strike off paragliding in Rishikesh and hot air ballooning of your list, then that gives you plenty of reasons to sign up for Air Safari. Sailing in the air on a motor ride is not the kind of experience you have every day.
Average Price: INR 4,400 for a 10 minute ride
17. Nature Walk – For The Nature Lovers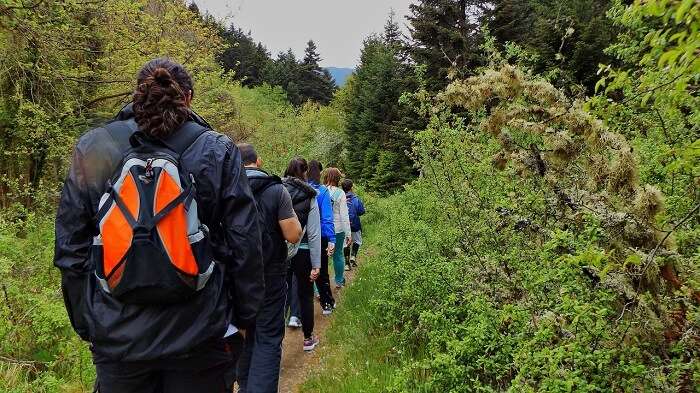 Are you up for some Rishikesh adventure? Then, strap on your boots and head out in the wilderness for the best nature walk of your life. Rishikesh is surrounded by verdant forests and hills. Why not take advantage of landscape and scenery? Just begin walking from Laxman Jhula and make your own way into the jungle. Remember the path to trace back your steps or you will be lost.
Average Price: Free unless you join a group
16 Best Adventure Sports In Croatia For Both Adventure Junkies & Rookies
18. Jumaring – For Adventure Freaks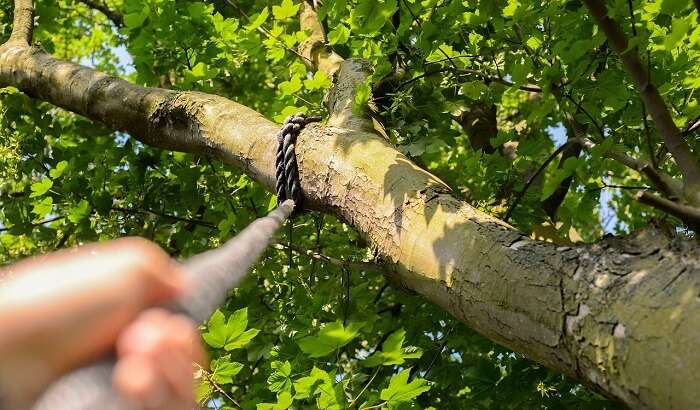 Jumaring may not be everyone' cup of tea but it sure is adventurous. It may seem simple when you see someone else doing it but climbing up a tree using ropes is not an easy job. The key here is the application of downward pressure. Many campsites and resorts arrange this activity for the groups. Maybe you could join one too.
19. Paragliding – Most Exciting Adventure Sports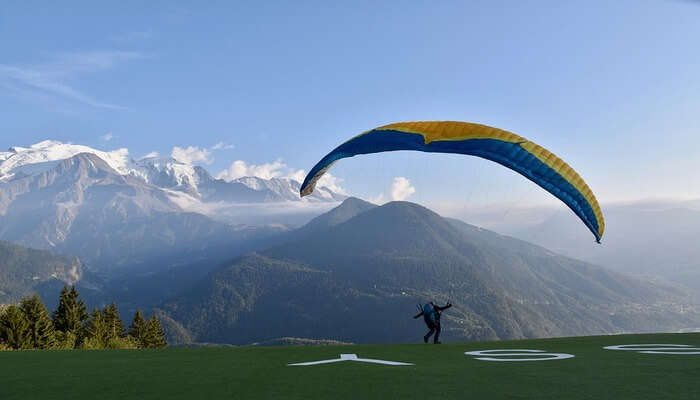 Paragliding has become a famous adventure activity in the air lately. Flying like a bird and sweeping panoramas sure pay the reward of getting out of your comfort zone. If you want to enjoy the scenery of Rishikesh from up above like a bird, then you should definitely give paragliding a thought. The best part is that you don't have to be a pro to sign up for the activity. You will have another person as a tandem and you can just enjoy your ride in the air.
Average Price: INR 4,500 onwards
10 Invigorating Adventure Sports In Bhutan You Must Try
20. Wildlife Safari – For Wildlife Enthusiasts

Who wants to see wild animals in their natural habitat? If you have raised your hand, then the next thing you should do is sign up for a jungle safari in Rajaji National Park. It is an amazing place to visit for nature lovers and wildlife enthusiasts. Whatever you do, don't disturb or bother animals in their natural habitat. Remember, they are not there for your amusement.
Average Price: INR 3,500 plus taxes for the complete package
These 10 Adventure Sports In Mysore Will Definitely Perk Up The Level Of Your  Vacation!
21. Hot Air Balloon Ride – Admire The Landscape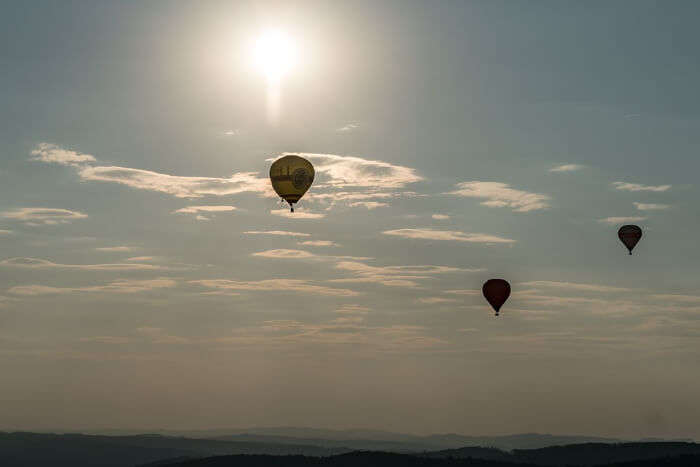 Yes, you can enjoy a romantic (or not) hot air balloon ride right here in Rishikesh. The 10-minute ride in the air will take you to a height of 500ft above the ground from where you can admire the beauty of Shivalik Hills and landscape of Rishikesh. The best time to enjoy a hot air balloon ride in Rishikesh is early morning. Whether you are with family or spouse, this is one adventure activities in Rishikesh that you can enjoy together in a group.
Average Price: INR 2,500 per person
19 Best Places Near Rishikesh: Popular And Offbeat Weekend Escapes From Delhi
22. Paintball – Popular Adventure Sport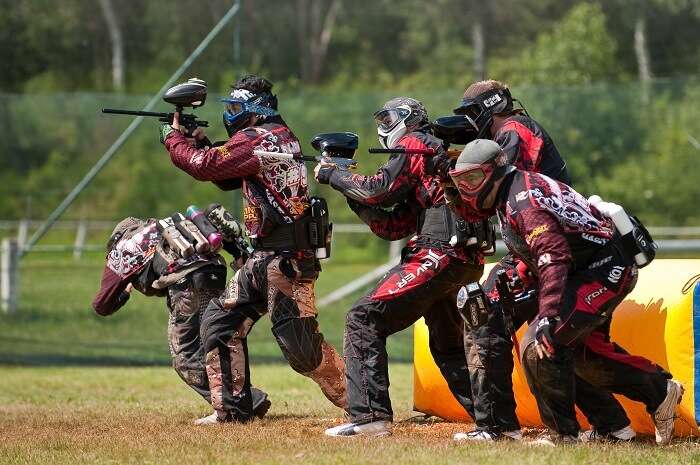 Paintball is one of the superb adventure sports in Rishikesh. This recently introduced game involves elimination of opponents by hitting them with paintballs. It is a game of speed, teamwork and strategy and requires participants to wear helmets and safety suits.
12 Adventure Sports In Nainital That Are A Perfect Remedy For Your Adventurous Soul
23. Beach Volleyball – An Entertaining Adventure Sport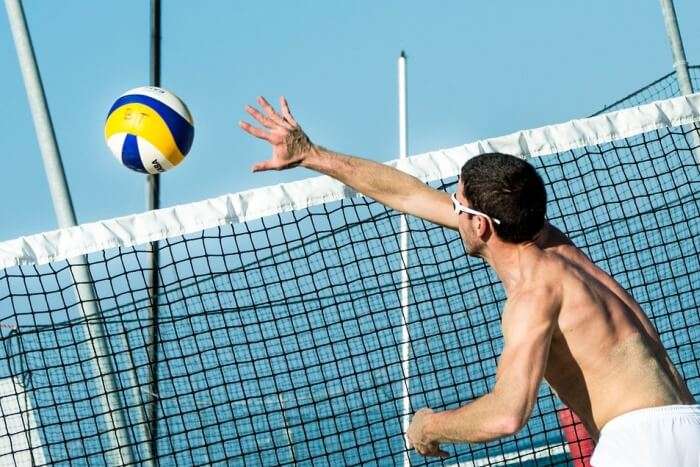 Beach Volleyball is one of the best activities in Rishikesh to enjoy on the banks of River Ganga. The sandy river of Ganges, makes the sport even more exciting. The best part about the sport is that there is an expert volleyball player available at the beach from whom either can one learn the sport or challenge.
24. Ziplining – For All Thrill Seekers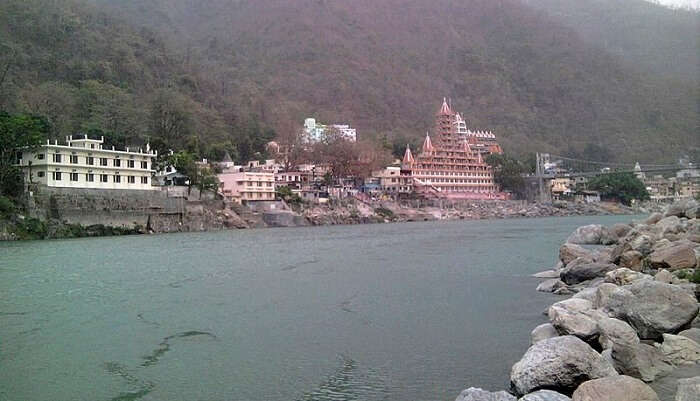 Image Credit: Amit.pratap1988 for Wikimedia Commons
Ziplining is one of the best adventure sports in Rishikesh that you must try on your thrilling vacation. Ziplining is a thrilling activity of reaching from one end of the river to the other side. Ziplining is done with the help of a pulley and cables. All you have to do is to cross the river while you are tied to a pulley and cables. You must try ziplining in Rishikesh to make the most of your entrancing vacation.
Average Price: INR 1,000 – INR 1500
13 Restaurants In Rishikesh That Are As Good As The Cafes
25. Canoeing – Channelize The Inner Adrenaline Junkie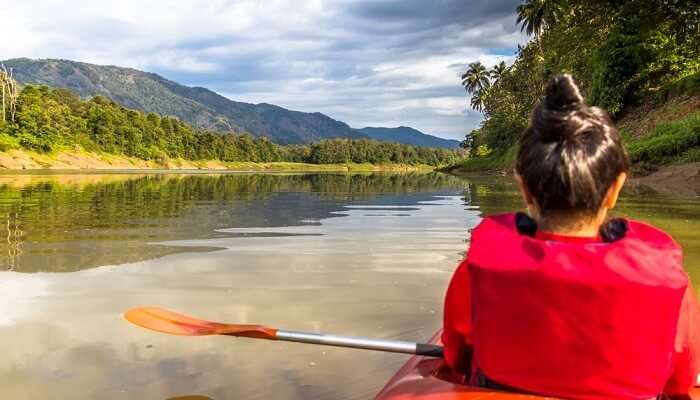 The appealing activity of canoeing is one of the most trending adventure sports all round the world. People mix canoeing with kayaking but there is a difference between both. The main difference between both adventure sport is the paddle used. In canoeing, a single-blade paddle is used and in Kayaking a double-bladed paddle is used. One of the most exciting adventure sports in Rishikesh that all adrenaline lovers should try is canoeing and you must add it to your list.
6 Best Cottages In Rishikesh For Homely Vibes & Blissful Stay
26. Hiking –  For A Soul-Stirring Experience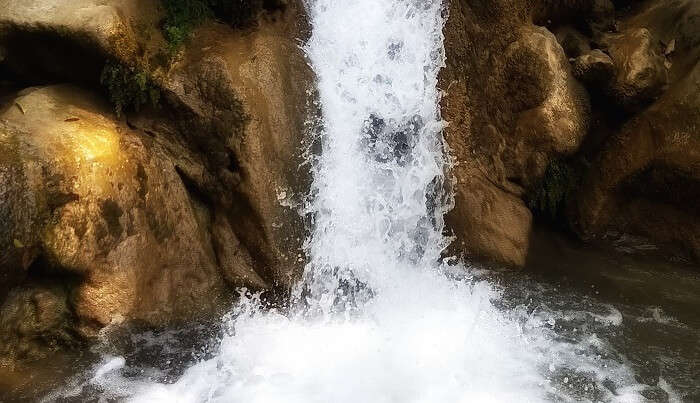 Image Credit: Wittystef for Wikimedia Commons
Not as difficult trekking, hiking is an exciting adventure sport in which you explore trails that are easy to walk through but are at elevation. Rishikesh will offer you picturesque hiking trails that can be covered easily. If you are a beginner then hiking is the perfect adventurous activity for you. You can start your hike from Lakshaman Jhula and then reach Neer Garh.
  Bungee Jumping In Rishikesh: Here's A Handy Guide To Know Everything About This Thrilling Activity
Tips
There are a few pointers that you should keep in mind while trying these adventure sports in Rishikesh on your vacation. Take a look!
Get yourself medically checked before heading out to channelize the inner adventure junkie in you.
Carry all your medicines and other necessary items like sunscreen and mosquito repellent.
If you are trying river rafting for the first time do listen to the instructions carefully.
Keep calm while trying all the adventurous activities and don't panic.
First read about all the spots for trekking in Rishikesh and then decide on which level are you. Pick the trek which suits you best as your physical health plays a major role.
If you are on a wildlife safari, try and stay with your group to stay safe.
Don't head out to the forest alone as it is not safe.
Carry your hiking or trekking boots and other equipment related to the activity you are trying.
Carry a water bottler and stay hydrated.
12 Majestic Temples In Rishikesh That Are All About Architectural Grandeur
So audience, now that you know thrill never ends in Rishikesh, when are you planning your next big adventure with your buddies. If the answer is soon, then let us help you out further by planning a perfect . Rishikesh vacation for you. Don't forget to sign yourself up for these thrilling adventure sports in Rishikesh. 
For our editorial codes of conduct and copyright disclaimer, please click here.
Frequently Asked Questions About Adventure Sports In Rishikesh
What is the best time to adventurous sports in Rishikesh?
The best time for indulging in adventure sports in Rishikesh is from October to March. is also the peak time .
Is one day enough for river rafting in Rishikesh?
One day is more than enough to do river rafting in Rishikesh however it is advisable that you book it in advance and pick the slot of your choice.
Which are the best treks in Rishikesh?
Check out the list of best places for trekking in Rishikesh
1. Chandrashila Trek With Chopta Tungnath
2. Valley Of Flowers Trek
3. Kuari Pass Trek
4. Pangarchulla Peak Trek
5. Roopkund Trek
What are the best camping places in Rishikesh?
Here is the list of best campsites for your pick.
1. Beach Camping & Rafting In Rishikesh
2. Rafting And Camping Adventure At Rishikesh
3. Rafting In Rishikesh With Adventure Camping
4. Camping In Rishikesh With River Rafting
5. Camping on the Banks of Ganga, Rishikesh with Rock Climbing and Rappelling
Which are the best places to visit near Rishikesh?
Explore these places near Rishikesh to satiate the hunger of the traveler in you with splendid weather and beauty.
1. Haridwar: 20 km from Rishikesh
2. Dehradun: 46 km from Rishikesh
3. Kanatal: 81 km from Rishikesh
4. Dhanaulti: 103 km from Rishikesh
5. Mussoorie: 77 km from Rishikesh
Which are the Luxurious resorts in Rishikesh to spend your vacation?
Get spoilt for choices with these options:
1. Aalia on the Ganges
2. Glasshouse on the Ganges
3. Atali Ganga
4. Mahayana Resort & Spa
5. Aranyam River Retreat
Is paragliding available in Rishikesh?
Paragliding is available in Rishikesh in Kunjapuri. It is a good adventure sport to try here in Rishikesh as it caters to all levels of adventure enthusiasts.
Is bungee jumping allowed in Rishikesh?
Yes, bungee jumping is one of the best sports in Rishikesh. With a height of 83 meters, Mohan Chatti is the best spot to go bungee jumping.
What are the best adventurous things to do in Rishikesh?
River rafting, cliff jumping, bungee jumping, rock climbing, and paragliding are some of the best adventure activities to engage in Rishikesh.
What is the best time to visit Rishikesh for camping?
An ideal time to visit Rishikesh for camping is early summer and post-monsoon that is from February to mid-May and September to November.
---
People Also Read:
Adventure Sports In India Adventure Sports In Mangalore Adventure Sports In Jaisalmer