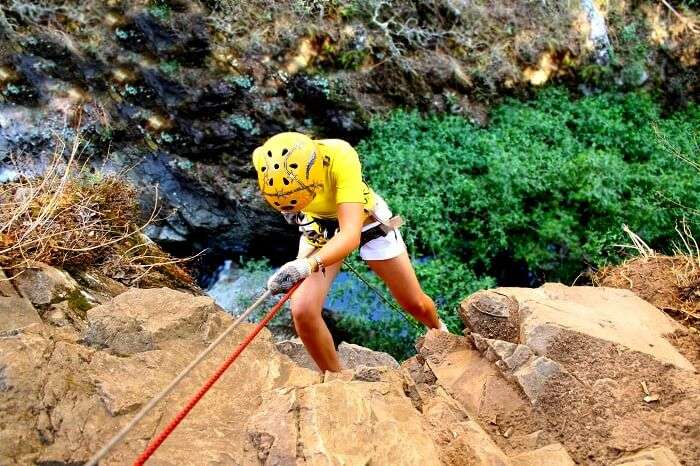 Adventure sports in Rishikesh is a treat for all. You may be young or old, fit or not fit – the small riverside city doesn't care and loves everyone equally. It is one of the most popular destinations for adventure in India and has a list of activities so long that you will be amazed by it. From college students to couples to elderly, everyone flocks this town for a taste of nature, spirituality, and adventure and the city never disappoints.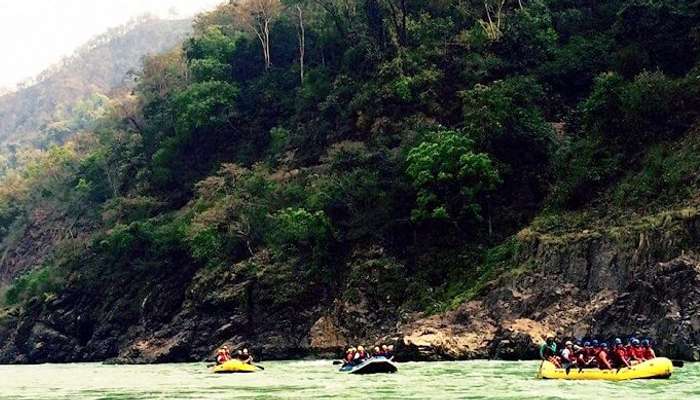 Suggested Read: Camping In Rishikesh Is The Perfect Dose Of Thrill For Your Weekend
So if you too are planning a thrilling escapade to Devbhoomi, we have a list of best Rishikesh adventure sports that you should definitely try before coming back. Here we go!
Best Rishikesh Adventure Sports
1. River Rafting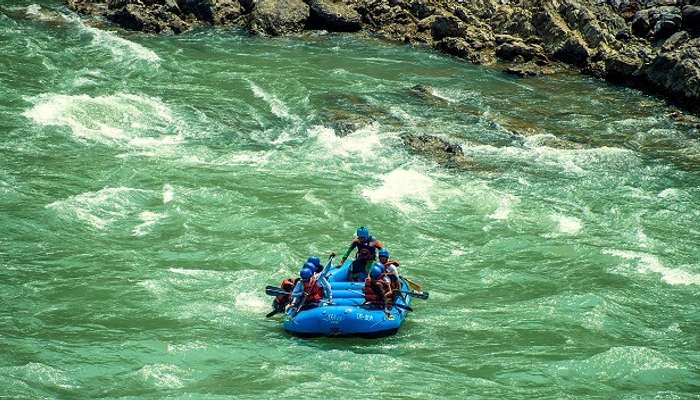 Suggested Read: River Rafting In Rishikesh: The Ultimate Guide For Riding The Rapids
Out of all the adventure sports in Rishikesh, river rafting is probably the one that got it all the fame as an adventure destination. Also known as white water rafting, this sport comes in various levels of extremity and involves battling the treacherous waves of the river. To top it all, it is done on river Ganga in Rishikesh, which is also known as the mother of all rivers in India.
Average Price: From INR 1100
2. Rappelling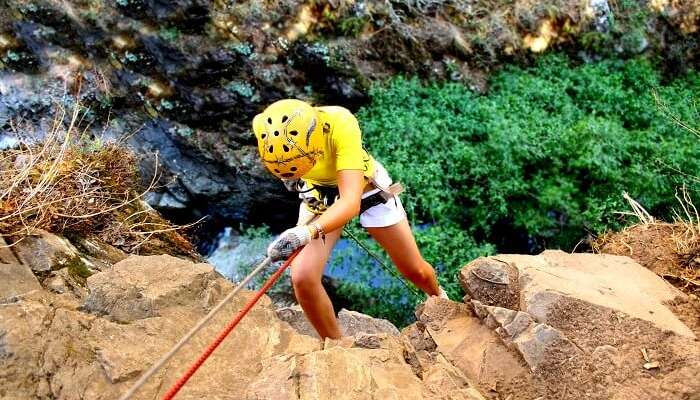 Another one of the famous Rishikesh adventure sports for enthusiasts is rappelling. This fun adventure involves a person to climb down the hills and rocks and is one of the perfect locations to do so, courtesy steep valleys and large rocks.
Average Price: From INR 1500
3. Bungee Jumping in Rishikesh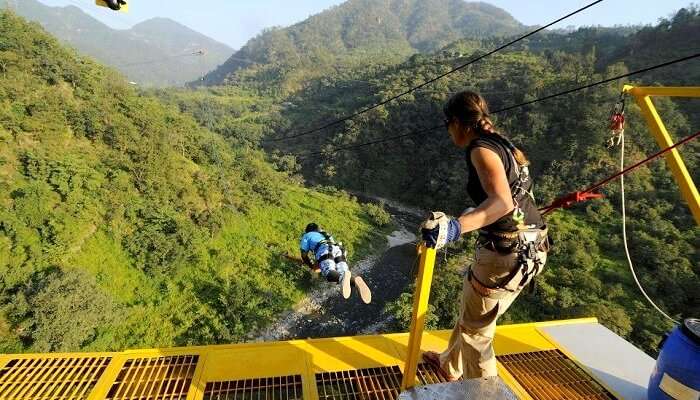 Suggested Read: Rishikesh In December: 10 Experiences You Need To Have For Embracing The Chill
Mohan Chatti in Rishikesh is one of the best spots for bungee jumping. It has a height of 83 meters and enthusiasts all over India believe it to be one of the best Rishikesh adventure sports spots. For people between 18-60, this is one of the best adventure sports in India to try. What more, you will also get a certificate once you do the jump. Sweet!
Average Price: From INR 3600
4. Flying Fox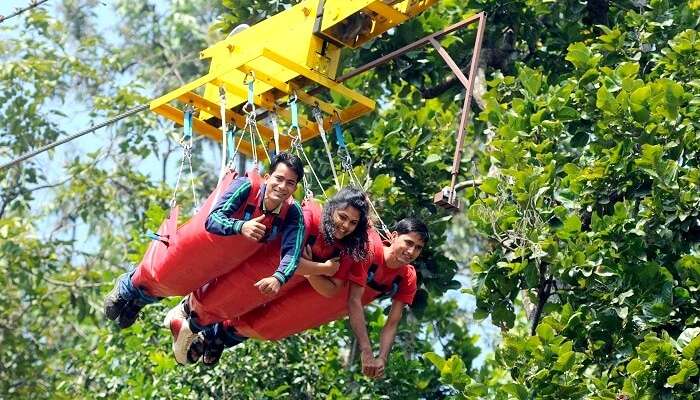 Flying Fox is one of the most happening Rishikesh adventure sports one can indulge in. Home to Asia's largest trail, this one-kilometer line allows you to descend from top to bottom in the most exhilarating way possible. We recommend everyone to try this adventure trip in Rishikesh.
5. Mountain biking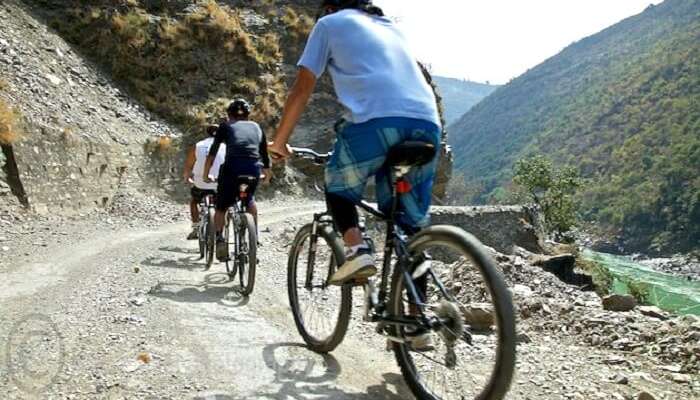 Suggested Read: 6 Best Resorts Near Rishikesh And Haridwar
Mountain biking in Rishikesh is one of the best ways to explore this hilly town. Since this riverside destination is blessed with varied topography that ranges from steep mountains to rocks to forest and river trails, one can enjoy the beauty of this place in a sporty and intimate manner.
6. Giant swing
Another one of the best rope based adventure sports in Rishikesh, the Giant Swing can be done at the Mohan Chatti itself while you're there for bungee jumping. Imagine this to be a rope swing but on a much larger scale (83 meters) of fun and adventure. This is one of the best things to do in Rishikesh and we highly recommend it to adrenaline junkies.
Average Price: From INR 3550
7. Cliff jumping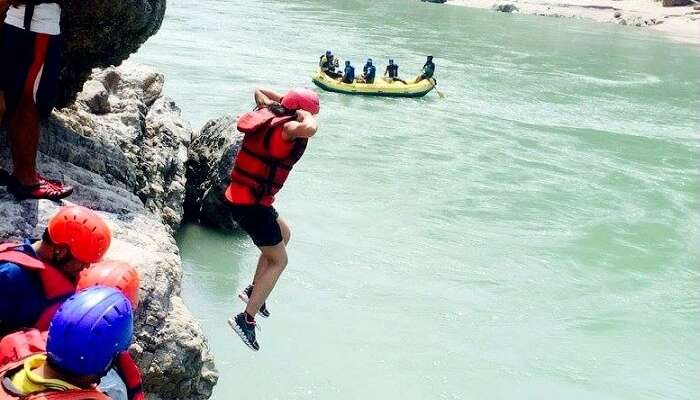 There are a lot of places in Rishikesh where one can do cliff jumping. It is one of the easiest adventure sports in Rishikesh and is must recommend for all. Additionally, one can also choose the height from which they want to cliff jump and then take that leap of faith you always wanted. And believe us, you won't be disappointed.
Average Price: Mostly included in the river rafting package
8. Waterfall trekking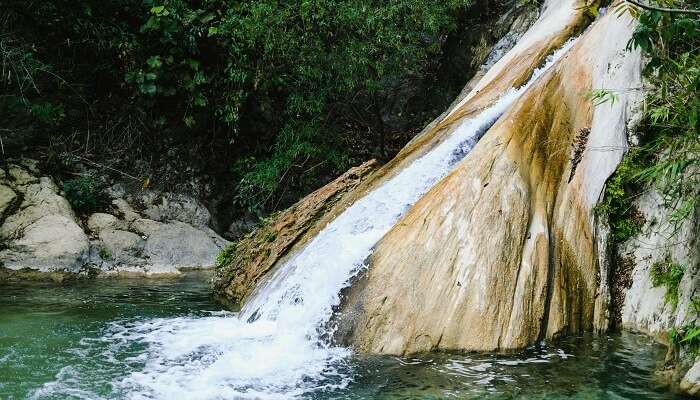 Not exactly an adventure sport in Rishikesh, but waterfall trekking can be categorized as a mix of adventure and fun. Travelers can trek up to the waterfall and experience the magic of nature. This is also one of the best activities to enjoy a picnic or soak in the serene nature of the place.
9. Valley crossing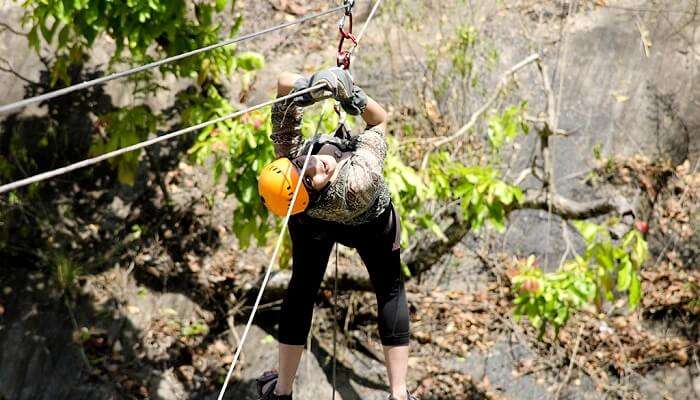 Suggested Read: Relaxing On A 2-Day Weekend Getaway In Rishikesh
Valley crossing is one of the finest adventures sports in Rishikesh that can be tried by people of all age groups. Similar to Flying Fox in its basic element, this is one activity that has the power to make your trip worthwhile.
Average Price: From INR 1500
10. Kayaking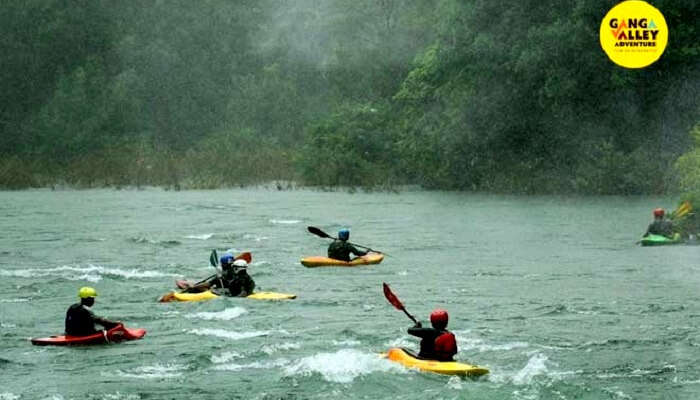 One of the most rejuvenating adventure sports in Rishikesh, kayaking or canoeing allows a person to navigate the waters in a small kayak or boat as he wants. Yes, there is a certain level of preparation required for this but for those who are familiar with it or are first timers, they can practice and do it as per the level of rapid suitable for them. Also, a fun fact – Rishikesh is one of the best destinations in India for kayaking.
Average Price: From INR 3200
11. Rock climbing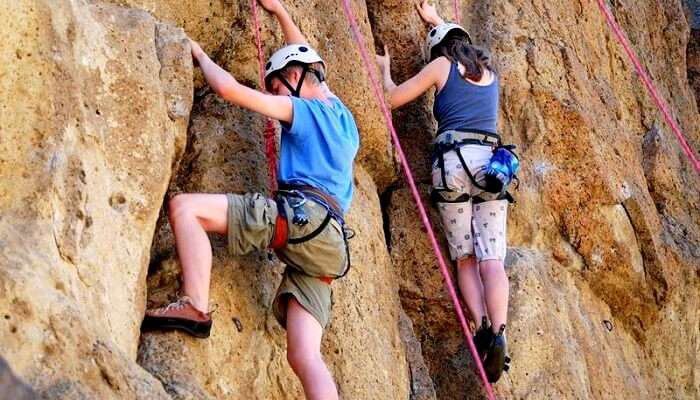 Suggested Read: Adventurous 1N/2D Friends Trip: River Rafting In Rishikesh
Rishikesh is one of the best places for rock climbing in India. For people who love adventure and who aren't afraid of heights, this is the place to be. Shivalik Hills in Rishikesh is considered to be the best spot for rock climbing because of its steepness and varied topography. Mountain junkies, now you know where to go!
Average Price: From INR 1000
12. Zorbing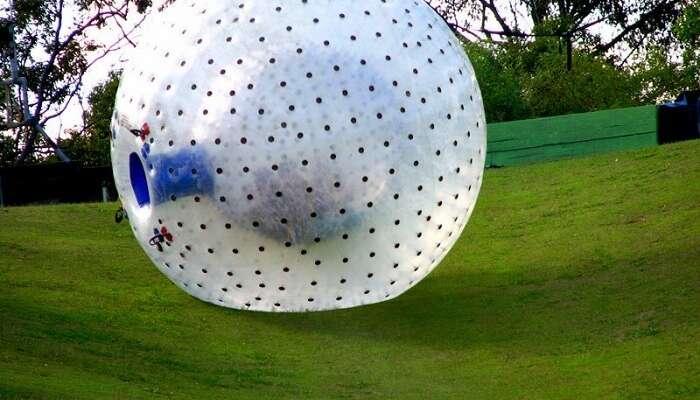 Another cool adventure sport in Rishikesh is zorbing. Although this one is milder in comparison to other activities in Rishikesh, nonetheless, one can have great fun inside an air-filled ball rolling down the hills. In general, the Garhwal Hills are considered to be the best place for this activity.
13. Parasailing in Rishikesh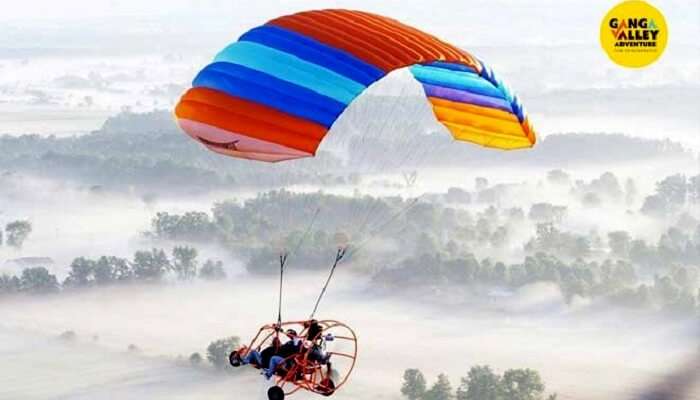 Yet another great option when it comes to adventure sports in Rishikesh, parasailing or parascending or parakiting is for those who want to soak in the views of the Himalayas in their minds and hearts. It is adrenaline pumping, adventurous and too much fun. Miss this one at our own risk!
Average Price: From INR 4400
14. Body surfing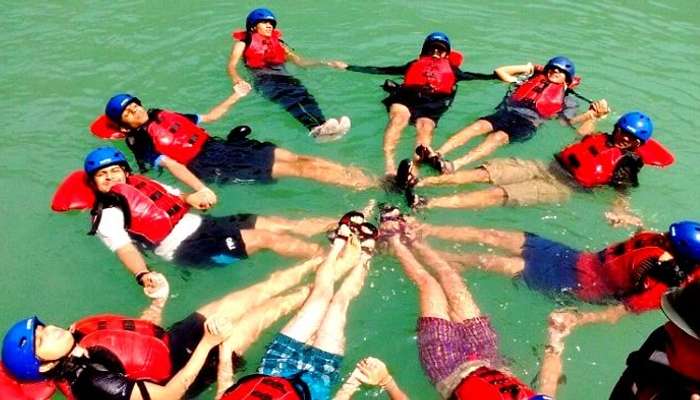 Image Source
Body surfing allows you to cool off in icy cool waters of Ganga and soak in all its goodness whip floating on it. This Rishikesh adventure sports is guided by professionals and is an extremely fun way to get yourself acquainted with the mighty personality of holy river Ganga.
Average Price: Mostly included in the rafting package
15. Trekking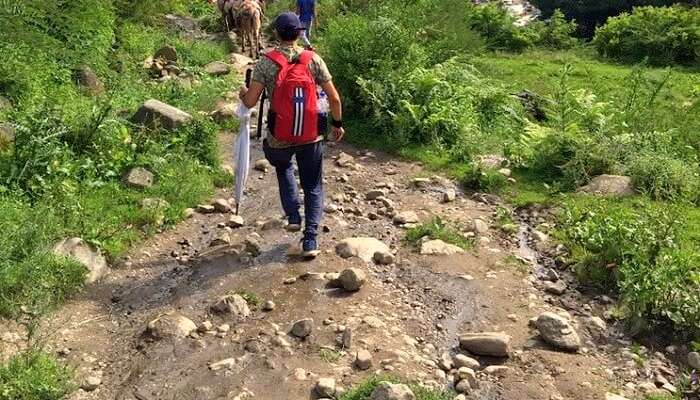 Suggested Read: 17 Super Fun Things To Do In Rishikesh
While there are options for a waterfall trek or a riverside one, travelers can simply go the no-nonsense way and enjoy a trek to the hills or even opt for an ice one to Gaumukh Nandanvan. Other popular routes are Chandrashila and Panch Kedar.
So audience, now that you know thrill never ends in Rishikesh, when are you planning your next big adventure with your buddies. If the answer is soon, then let us help you out further by planning a perfect Uttarakhand vacation for you.
Excited much? Have a look at these commonly asked questions before you go!
Q. What is the best time to adventurous sports in Rishikesh?
A. The best time for indulging in adventure sports in Rishikesh is from October to March. is also the peak time .
Q. Is one day enough for river rafting in Rishikesh?
A. One day is more than enough to do river rafting in Rishikesh however it is advisable that you book it in advance and pick the slot of your choice.
Q. Which are the best treks in Rishikesh?
A. Check out the list of best places for trekking in Rishikesh
1. Chandrashila Trek With Chopta Tungnath
2. Valley Of Flowers Trek
3. Kuari Pass Trek
4. Pangarchulla Peak Trek
5. Roopkund Trek
Q. What are the best camping places in Rishikesh?
A. Here is the list of best campsites for your pick.
1. Beach Camping & Rafting In Rishikesh
2. Rafting And Camping Adventure At Rishikesh
3. Rafting In Rishikesh With Adventure Camping
4. Camping In Rishikesh With River Rafting
5. Camping on the Banks of Ganga, Rishikesh with Rock Climbing and Rappelling
Q. Which are the best places to Visit near Rishikesh?
A. Explore these places near Rishikesh to satiate the hunger of the traveler in you with splendid weather and beauty.
1. Haridwar: 20 km from Rishikesh
2. Dehradun: 46 km from Rishikesh
3. Kanatal: 81 km from Rishikesh
4. Dhanaulti: 103 km from Rishikesh
5. Mussoorie: 77 km from Rishikesh
Q. Which are the Luxurious resorts in Rishikesh to spend your vacation?
A. Get spoilt for choices with these options:
1. Aalia on the Ganges
2. Glasshouse on the Ganges
3. Atali Ganga
4. Mahayana Resort & Spa
5. Aranyam River Retreat
---
Long Weekend Trips Starting @ Rs 3299/-
Take a trip to spend the upcoming long weekend with your buddies.
✓ Stay at 4 star rating hotels with local sightseeing, meals and transfers.
✓ Travel in AC coach round trip (from Delhi).
✓ All Inclusive Deal– Camping, Jeep Safari & Trekking as per itinerary
✓ Sign up NOW to celebrate the long weekend out of town!
---
Comments
comments