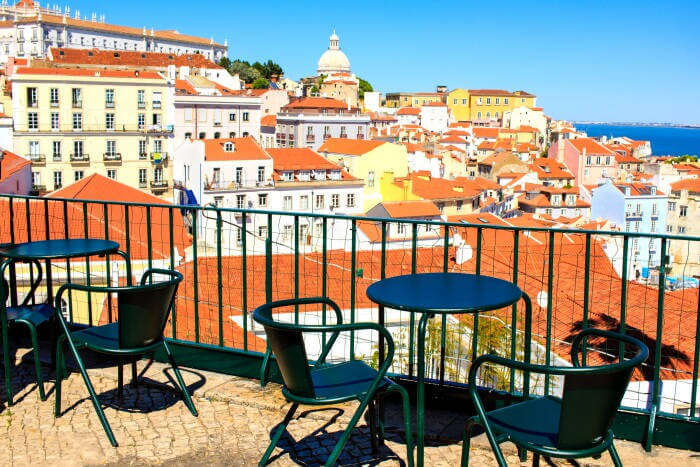 While Portugal is famous for a lot of things including its sunny weather and the beaches, it is also equally famous for its coffee. Finding a good coffee in this country is easy as there are tiny shops in the nooks and corners of the capital especially, brewing one of the best coffee you would have ever tasted. But, if you want to get a great ambiance along with that cup of coffee, there are plenty of cafes in Portugal, where you can relax and enjoy a cup of hot coffee, as well as take, enjoy the service that these cafes have to offer.
10 Best Cafes In Portugal
You will find most of these cafes in the capital Lisbon and in the town of Porto. There are plenty of historic cafes in Lisbon, that you will eventually find out when you visit the capital city.
1. Café A Brasileira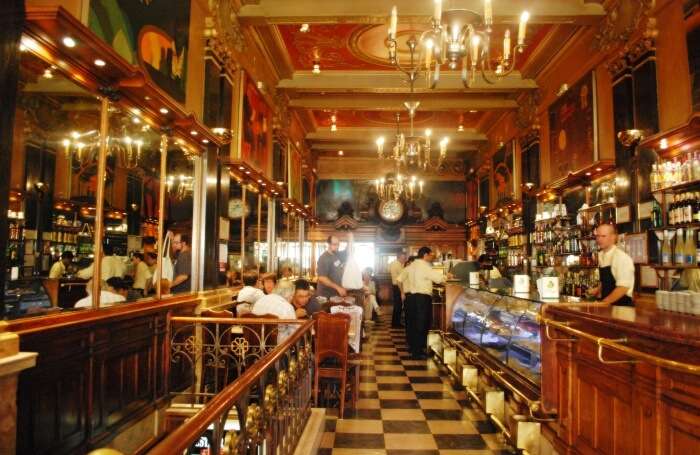 This is one of Lisbon's oldest café, where this was started in 1905 by one Adriano Telles. He was from Brazil and wanted to promote Brazilian coffee. It was the first café ever to serve Bica, a black coffee, popular in Portugal. It became very popular during the establishment of the First Portuguese Republic in 1910 and artists and writers started frequenting this café. If you visit the café anytime, you will find a bronze statue of Fernando Pessoa, the famous Portuguese poet, and writer, on a chair outside.
One of Lisbon's historical cafes, Café A Brasileira is a charming little café on a cobbled sidewalk. With pretty little chairs and tables set outside, under the shade of an umbrella, you could sit outside to take in the view around you too. Equally interesting is the interiors of the café, which oozes old world charm with high ceilings and quite interesting paintings. This is a café, steeped in history and serves some amazing coffee too.
Must Read: Top 5 Adventurous Safaris In Portugal To Dive Into Its Rich Portuguese Biodiversity
2. Pois Café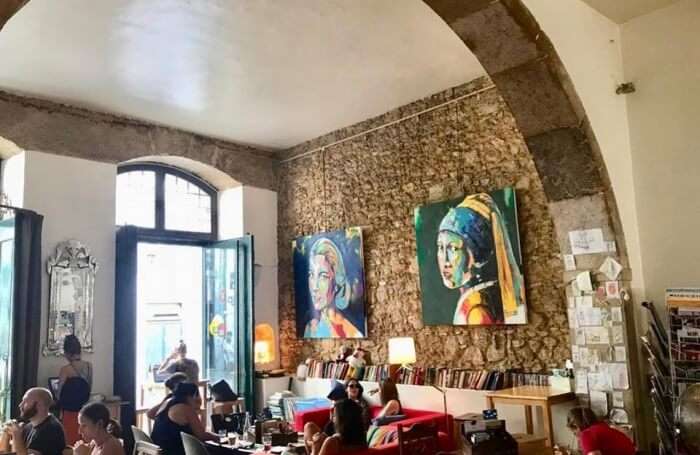 Pois café in Lisbon, is tucked away in one of the lanes in Alfama, one of the oldest areas in the capital. The ambiance here is lively with chairs and tables of different sizes, and people sitting and chatting with each other; although they might be total strangers. Also, to keep you company, while you are sipping on some coffee and enjoying some delicious and healthy food, are interesting art pieces and also books. It serves up some healthy food including freshly squeezed juice. It is almost crowded all the time, especially at the weekends, and that is when you need to share your table with other people. This is fun as you can strike up a conversation with the locals there and find out things you would have never heard of!
Must Read: 14 Terrific Things To Do In Portugal To Soak In The Rich Portuguese Flavor
3. Majestic Café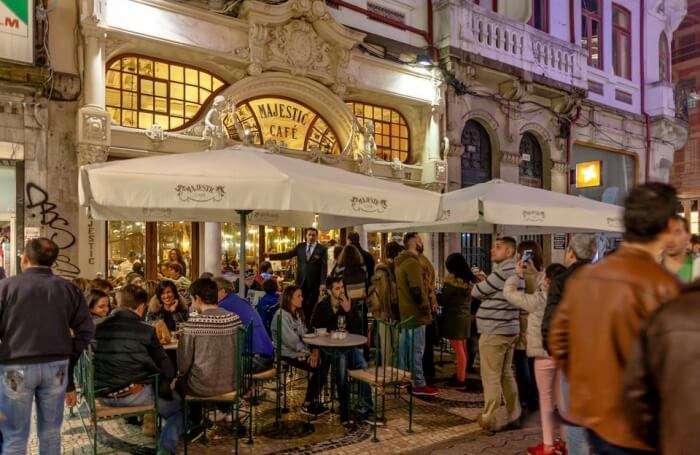 As the name suggests, this is one of the most majestic and one of the oldest cafes in Portugal. In fact, it has also been named one of the ten most beautiful cafes in the world and rightly so. It started in 1921 on Santa Catarina Street, the main pedestrian walkway in the city.
Here again, there are chairs and tables placed on the walkway with umbrellas to protect you from the sun. Once you step inside, you feel like you have been transported back to the 1920s with magnificent décor and high ceilings with a chandelier hanging from it. This is yet another café which was frequented by the writers, politicians, and artists. With the music from a live piano performance resonating across the café, it is an extremely romantic setting and makes you feel like one of those elites who lived in the 1920s. Since the place is all majestic, so are the prices. They have an amazing menu and coffee, but they are a bit expensive. The ambiance though makes up for the high costs.
There is also a terrace at the back of the café, if you want to sip on your coffee peacefully, whilst taking in all the views, or who knows, you might end up writing a book too, inspired by the beauty of this café.
Suggested Read: Haunted Places In Portugal: 10 Places That Will Send Shivers Down Your Spine
4. Pastéis de Belém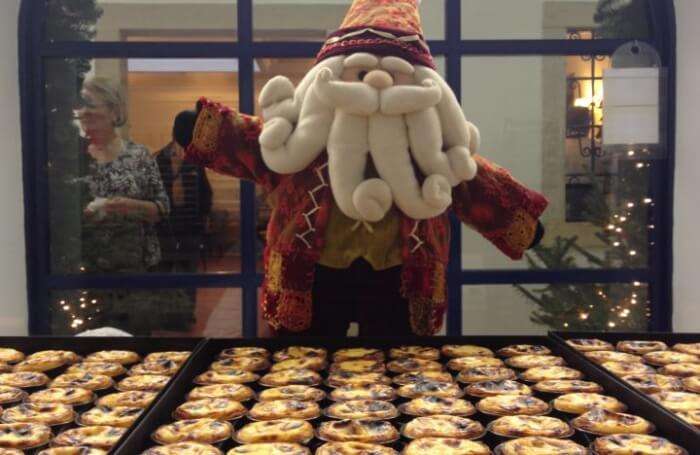 Cafes are not just about coffee, but also the snacks and savories they have to offer. Well, this café is known for its pastries. This small little pastry shop, next to one of Portugal's oldest monasteries, is famous for its pastéis de nata, Portugal's famous custard tarts. Till this day, they still make the tarts in a traditional method, that they have been following for ages. This quaint little pastry shop is located on a former sugarcane refinery. There is a story behind the history of how this place came to be and it is quite interesting.
In the early 19th century, there was a sugar cane refinery right next to Mosteiro dos Jerónimos (the Heironymite Monastery). Due to a liberal revolution, all the convents and monasteries were shut down in Portugal and all the laborers lost their job. It was as a means of survival, that a person from the monastery started selling these sweet pastries in the shop attached to the refinery. This pastry became famous and was christened as 'Pastéis de Belém'.
So, this is a trade secret and an ancient recipe, at that, and has been handed over through generations. So, if you want to savor some Portuguese sweets and snacks, head to this bakery cum café, which also serves some great coffee.
Suggested Read: These 11 Indian Restaurants In Portugal Are Ideal For Those Who Love Spicy Food
5. Fábrica Coffee Roasters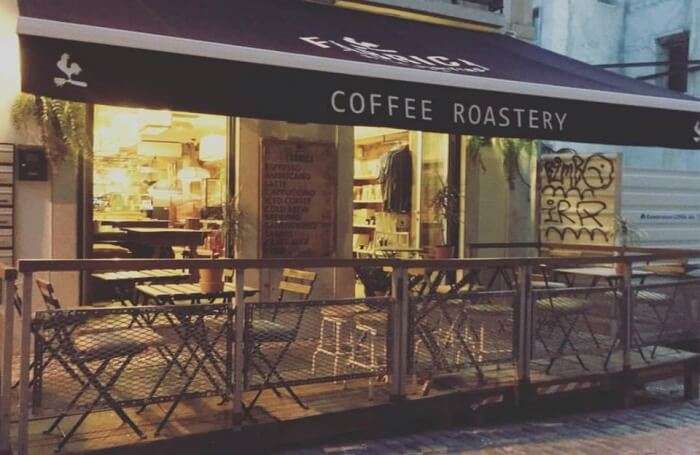 This is one of the most recent additions to the city of Lisbon. It has been just three years that this café started in the Bairro Alto district of the city. Coffee, cannot get more genuine than at this place. It is a family-owned enterprise and they get the coffee beans directly from the farmers. It has gone through a lot of processes here before they perfected the final outcome. They use different roasting and extraction methods and the cup of coffee that finally comes to your table is the purest form of caffeine that you can ever have.
The décor is also as modern as the place is. On the outside, on a wooden plank, they have placed a few chairs and tables, in case you want to enjoy your cup of coffee outside. The interior is elegant, and at the same time, casual in its setting. There are murals of superheroes like Captain America and Spiderman and also some murals depicting the ancient times – the perfect mix of the old and modern world.
Suggested Read: 9 Ideal Hostels In Portugal For Your Next Sojourn In The Amazing Country!
6. Copenhagen Coffee Lab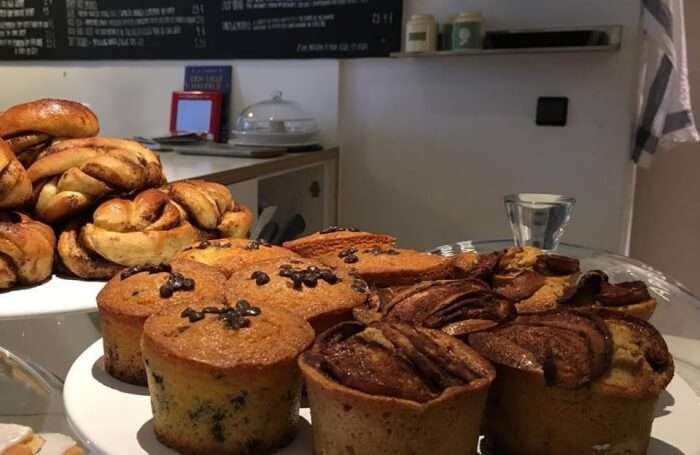 Yet another modern café, with its base in Denmark, specifically, Copenhagen and hence the name. It was started in 2013 in Denmark and it slowly spread its wings to the city of Lisbon, where it has about three to four branches. They call themselves a roastery, which literally means a place where they roast, in this case, fresh and high-quality coffee. Each and every coffee on their menu has been tried and tested by them and every coffee on the menu has a unique flavor to it. Not just the coffee; people also come here to have a sumptuous breakfast; they have on the menu delicious food like avocado toast with a poached egg on top and freshly baked sourdough bread.
As far as the décor of the café goes, they have kept it minimal with plain white walls and white stools and tables. You enter the café, and you actually feel that there is a full-fledged lab at work there.
7. Nicolau Cafe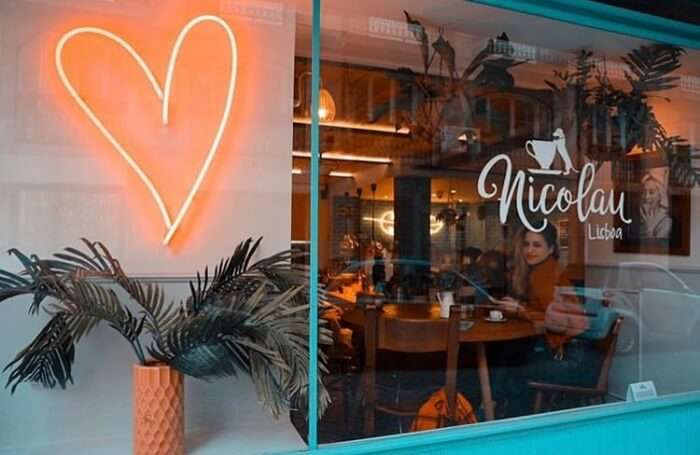 The cafe, which opened its doors in 2016, is a bright-lit place in Lisbon. With little chic chandeliers hanging from the low ceilings and aqua green tiles pillar, the colors and the ambiance of this cafe is so soothing and you can sip your coffee in a relaxed surrounding.
To give you company, are the two main characters of this super-cool cafe. The first is Nicolau, and the second is his girlfriend Amelia. While Nicolau is all dressed in a tux with a tie, Amelia is decked up in a blue dress. You will find their portraits hanging from the walls in the cafe; oh, just one more thing – they are dogs! Created by Catarina Rosa, an artist of the Tail to Tail project, which is dedicated to the painting of animals, these portraits is what catches your attention at first when you enter the cafe.
The cafe serves up some healthy, yet yummy breakfast; popular among those are the pancakes and the acai bowls. Apart from those, they also have smoothies, salads and many more healthy options to choose from.
Suggested Read: 10 Glamorously Intriguing Portugal Festivals To Attend In 2022!
8. The Mill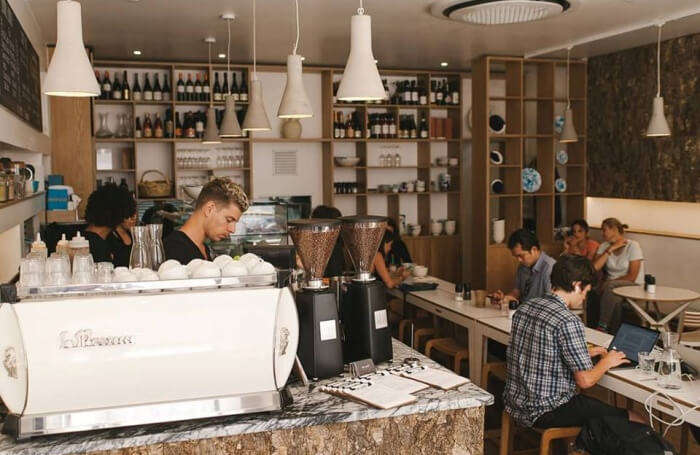 This Australian-Portuguese café in Lisbon is a hit among the locals as well as tourists. They serve one of the best coffees in Lisbon and offer you a menu with an Australian touch to it. The ambiance is not that great, but they make up for it in the food and beverages department.
The food and the drinks are fresh. They have a variety to choose from; their pastry section is definitely worth a look. Their breakfast us what people come to the cafe for though. The veggie breakfast that they have includes scrambled eggs, crushed avocado toast on wilted spinach and sautéed mushrooms and much more. To top it off, you have an amazing coffee or an orange juice. They have a few Australian favorites like the steak sandwich and the likes.
When it comes to coffee too, they have a mix of Portuguese and Australian blends. From Pingado to even the Australian favorites like flat white and long black.
9. Pop Cereal Cafe

A cafe always need not be about coffee and pastries and no other cafe proves it more than the Pop Cereal Cafe in Lisbon. As the name suggests this place is filled with cereals from around the world and you will be one happy little 'kid' as this place takes back to your childhood. The owner, who traveled to places like America and other places, was so inspired and taken up by the cereal culture in those countries that he decided to start one in Lisbon.
Racks and racks of cereals to choose from, this place is a wonderland for those who love the typical American breakfast. You can either choose from a fixed menu or if you are daring enough, try your own mix and match, with not only a variety of cereals that are available but also a variety of milk to choose from. Rice milk, Soy milk, Almond milk – there is no dearth of choices for milk or for the toppings! The walls are adorned with pop art, which gives the place its colorful decor.
10. Cultura Portuguesa Cafe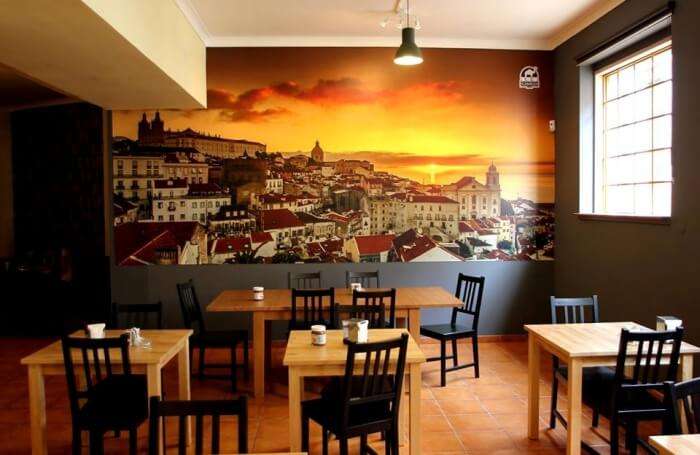 This might not be that well-known a cafe, but ask the locals and they will vouch for this cozy little cafe. With a warm fireplace and a large photo of Lisbon in the background on the wall, this cafe's decor is quite simple. But, looks can be very deceptive, especially for this place in Lisbon.
The cafe, apart from serving up fresh coffee and food, is mostly known for their hot chocolate. People from across the city, descend on to this cafe to treat themselves to this wonderful drink, made even more special in this place. The chocolate for the hot chocolate is 'crafted' by the cafe itself and is the purest form of it. And, it is not just the normal hot chocolate that they whip up at this place, but different flavors too, including one including coconut! Alongside, they also give you a chocolate mustache, isn't it fun!
Further Read: 10 Excellent Water Parks In Portugal For Beating The Summer Heat In Style!
Cafes in Lisbon, Portugal, are an eclectic mix of the past and the present. While there are some historic cafes in Lisbon and Porto, there are also modern cafes which are experimenting with the drink and the concept of it. Whether you crave for the interiors of old world charm or a more modern ambiance, there are cafes in Portugal for every individual. Thus, make a list of all the coffee shops you want to visit on your trip to Portugal
---
Looking To Book An International Honeymoon?
Book memorable honeymoon on TravelTriangle with 650+ verified travel agents for 65+ domestic and international destinations.
---