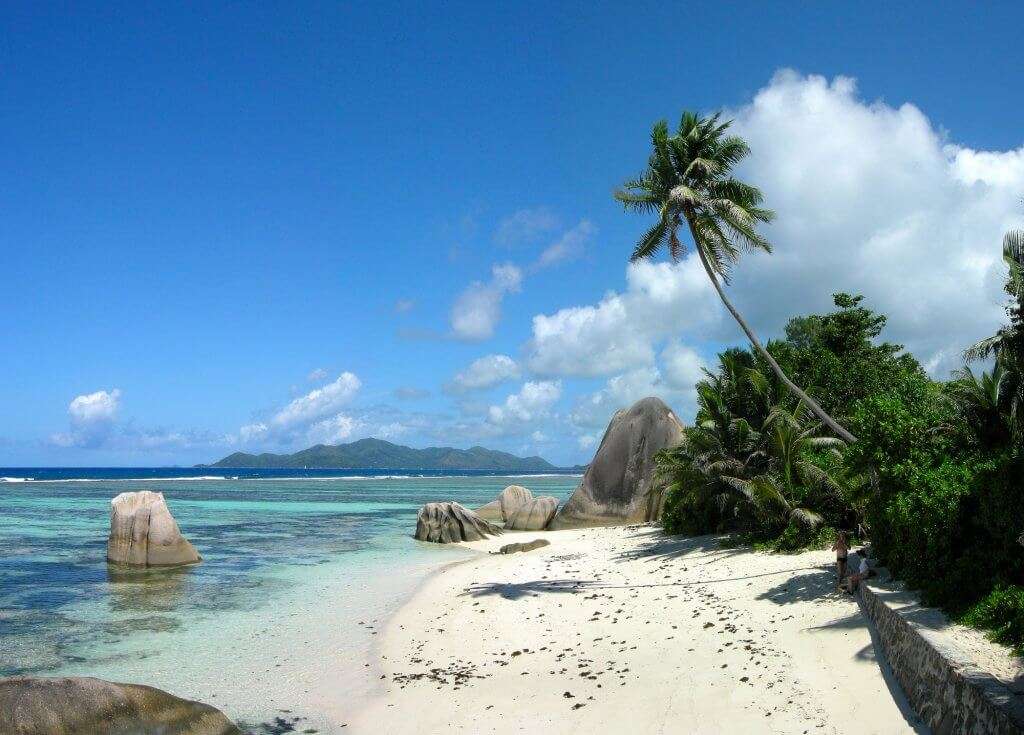 Not too huge, not too little, this mid-sized beach, Baie Ternay, is on the west coast of Mahé. The popularity of this truly beautiful marine park might soon exceed the exotic Bora Bora, owing to its snorkeling trends and scuba dives.Once you stretch your sight you can actually see across 20 KMs in the beautiful blue ocean, your sight might even catch the glimpse of the Silhouette Island. Famous for its sunset views, the place is explored as a picnic spot. Then there is the colorful biodiversity that you cannot possibly miss, makes for a real highlight. Heads up: Watch out for the whales and white sharks between the waves. The glitch of whites upon the blue waves will definitely catch your attention.
Things you need to know about Baie Ternay Marine National Park
History of Baie Ternay Marine National Park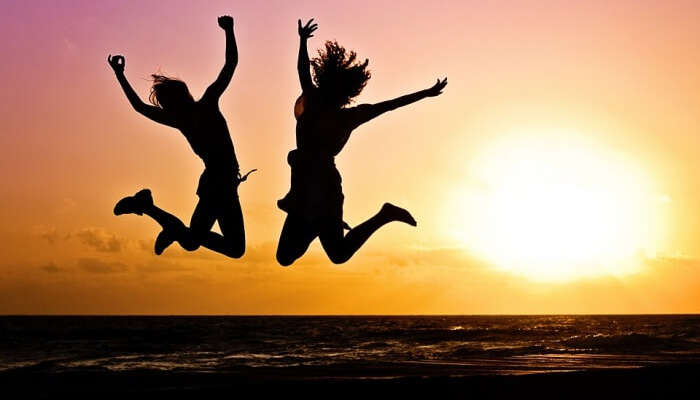 Declared a National Park in 1979, the Baie Ternay Marine National Park had its claim to fame due to "the unique biodiversity of its underwater life" quoting a scientific paper presented by G Domingue, R Payet and N Shah back in 1979. Years have passed and since then a number of scientific research and monitoring programmes have concluded that Baie Ternay reef has grown to be one of the most resilient carbonate reefs of the inner granitic islands of Seychelles.
Must Read: Witness The Best Of Nature At These 10 Seychelles National Parks
---
Looking To Book An International Holiday?
Book memorable holidays on TravelTriangle with 650+ verified travel agents for 65+ domestic and international destinations.
---
Flora and fauna of Baie Ternay National Park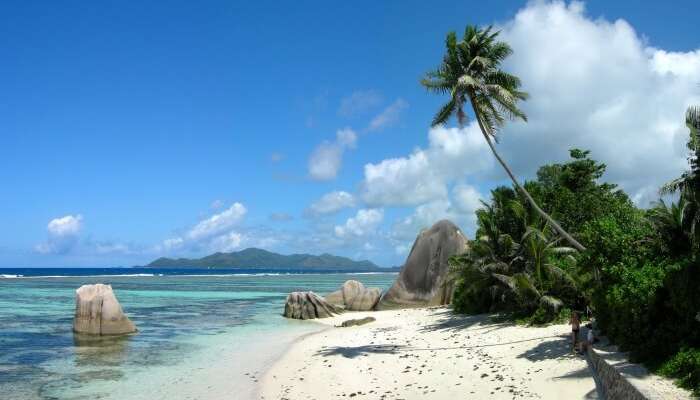 The explicit beauty of the Island is heightened by its exotic wildlife and vegetation. Curieuse, frequented by the Hawksbill Turtles, happens to be a primary nesting site for them. The Island also homes a variety of bright tropical reef fish, flaunting an array of colors. Then there is the surprising population of large parrot fish. The Park has gained all the fame for the casual sightings of whale sharks. When in Season, the leisurely genteel and huge sea-giants swim and laze around feeding on the rich plankton of the park.
Flora: Intricate Coral Reefs: A 1996 study by the Tropical Marine Research Unit of the University of York (UK) revealed a recorded number of 69 different species of coral in the Baie Ternay Marine Park. Baie Ternay is one of three beaches with the highest coral diversity.
Fauna: Home to the Shark families: Matching the diversity of coral reefs of the area the marine life has also flourished over the years and the bay area has become an extremely important habitat for whales and white sharks. A number of species of the shark and ray family can be easily sighted in the waters. It seems that the beach is a nursery of Lemon sharks and what else, it also happens to be an important resting zone for numerous species of a sting ray. The beach is home to the endangered hawksbill turtle, a habitat for foraging juvenile turtles. There were sightings of 40 hawksbills and 15 green turtles in 2013.
Watch out for: Hawksbill Turtles, reef fish, parrot fish, whale sharks
suggested Read: Seychelles Food: From Shark Chutney To Bat Curry, Try The Bizarre Cuisine On The Island
How to reach, best time to visit Baie Ternay Marine National Park, and everything else
How to reach Baie Ternay Marine National Park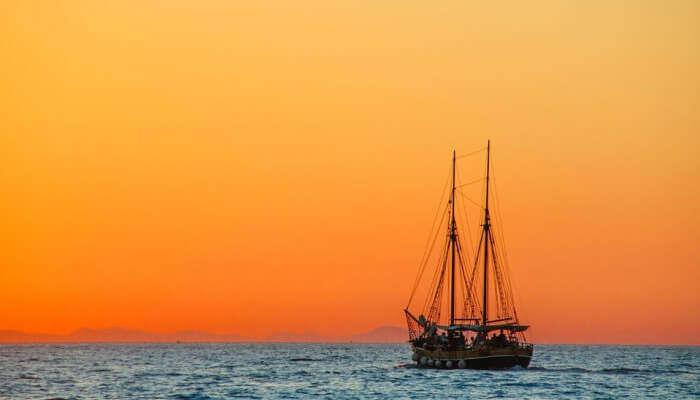 By Air: Fly to Seychelles International Airport (IATA: SEZ, ICAO: FSIA), or Aéroport de la Pointe Larue in French. It is the international airport of Seychelles located on the island of Mahé near the capital city of Victoria. The distance to the Island from the airport is 25.4 KM, about an hour drive but the roads are mostly inaccessible, so it is better to use local boat charters or tours.
By Train: Located in the middle of the Indian Ocean, Seychelles does not have any option to travel via road on a train.
By Road: The Island of Seychelles is connected by 400 kilometers of paved road network. Though it's not really maintained and is outside major urban areas.
It's not too difficult to get to the beach but there is no parking next to the beach so the bus will stop by a little farther from the beach and the travelers will have to commute on foot. It's just a 5 minutes walk anyway. The closest parking of the car is just a little walk.
For route details, see the zone-wise map of Baie Ternay Marine National Park.
Suggested Read: Seychelles Islands: An Archipelago Of Exotic Beaches, Luxury Resorts, And Surreal Beauty!
Best time to visit Baie Ternay Marine National Park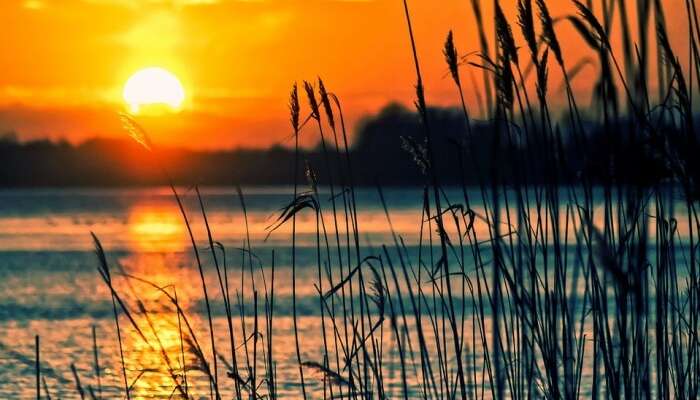 Depending on how you plan your holiday, choose the best time. The Sychelles weather is hot and humid from November through March owing to the Northwest trade winds and the weather transitions to a cooler degree April onwards, through October owing to the Southwest trade winds. The best weather is the transition seasons. Plan your trips around April, May, or October, November.
Suggested Read: Casinos In Seychelles: 8 Best Places To Try Your Luck In This Picturesque Land In 2019!
Entrance Fee for Baie Ternay Marine National Park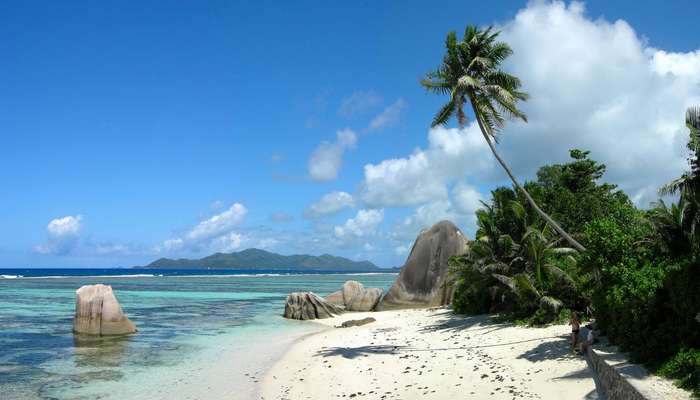 Each and every non-resident adult who will be entering the Marine National Parks must carry a valid ticket. The tickets are to be purchased from the listed ticket-outlets. Everyone entering is supposed to show the tickets when asked by the park rangers and daily routine patrols. Tickets are to be surrendered or retained of asked.
Adults: SCR200
Children under the age of 12: Free
Opening Hours: Baie Ternay Marine National Park: All Marine National Parks in Seychelles are open daily, (including public holidays). Ticket Outlets: Port Launay Ranger Base: 0900 hrs-1700 hrs daily | SCMRT-MPA HQ, Victoria: Mon-Fri 0800 hrs-1600 hrs
Mooring Fee: Overnight mooring charges applicable are Euro 10 per yacht.
Filming Fee: Euro 200 for film crews and professional photographers.
For filming it is essential to get a written permission from the Management of the Marine Park Authority (MPA) before going forward with any commercial filming.
Suggested Read: Silhouette Island: A Pristine & Stunning Isle Of Seychelles
Highlight of Baie Ternay National Park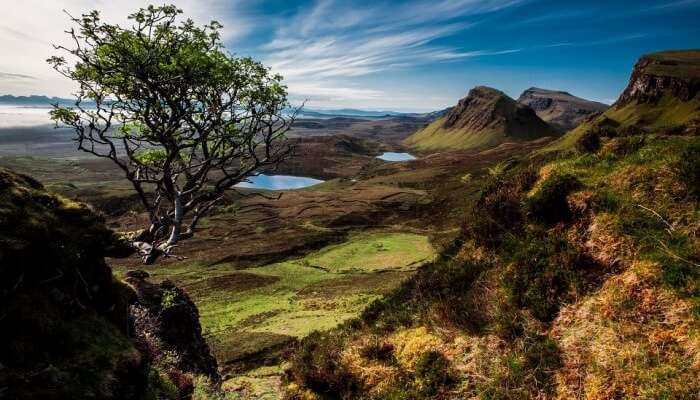 Amazing view: The beach is a part of the Baie Ternay national park which offers view of underwater bliss, amazing coral reefs, and beautiful marine life.
Lovers and Adventurers: It's the ideal lover's spot and a budding adventure dome.
Snorkeling and Scuba Diving: The beaches are pristine, but more interestingly they are the hub of snorkeling and scuba diving, all thanks to the magnificent underwater scenery.
Clear waters, Coral Reefs: The waters here are crystal clear and shallow, best for water-sports and the incredible coral reefs stand right next to the shore.
Perfect Sunset: Sunbathers' Mecca the beach is famous for its sunset views and incredibly picturesque captures.
The best place to relax: Go for the day and indulge. Relax a bit and sunbathe. Capture the picturesque seascapes, catch a glimpse of Morne Seychellois peak, the highest in the Island.
Further Read: Top 10 Villas In Seychelles: Plan Your Dream Vacay At Your Private Slice Of Paradise!
Already excited to take a trip to Baie Ternay Marine National Park? You can go on a serene vacation in Seychelles to and explore the best of its nature.
People Also Read
Galápagos National Park Goreme National Park Grand Canyon National Park
---
Looking To Book A Holiday Package?
Book memorable holidays on TravelTriangle with 650+ verified travel agents for 65+ domestic and international destinations.
---
Comments
comments