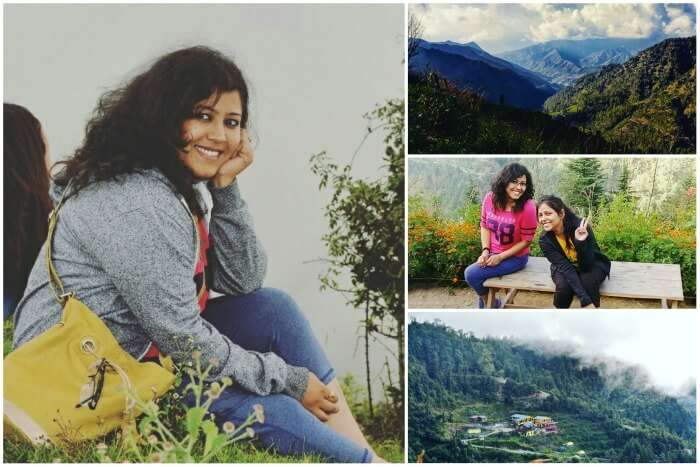 Radhika's yearning for a relaxing trip to the hills appeased when she booked herself a 1 night 2 days trip to Dhanaulti that included her transfers, accommodation and sightseeing. She roped in her BFF and set off to greet those misty mountains of Uttarakhand with her infectious smile & chirpy personality.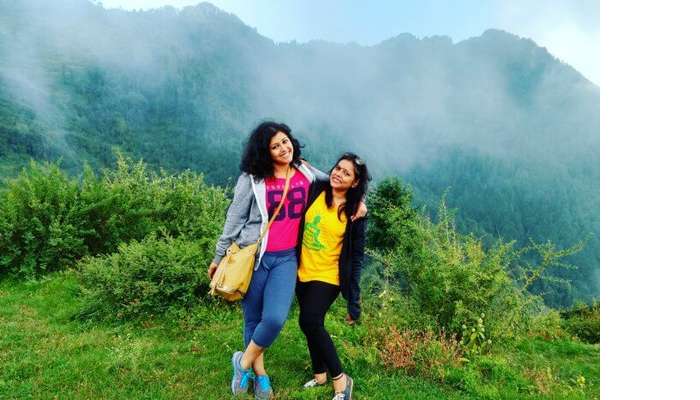 Trip type: Two friends on a group adventure!
Duration: 1 night 2 days (A quick, refreshing break)
Budget: INR 4,099/- per person on double sharing basis
Destination: Dhanaulti, Uttarakhand
Distance from Delhi to Dhanaulti: 350 km
Travel time: 7-8 hours (with intervals for refreshments)
Inclusions: Accommodation, meals (breakfast, lunch, & dinner at camp), transfers (A/C tempo traveler), jungle treks, adventure activities, & bonfire (All at INR 4,099! Unbelievable, right?)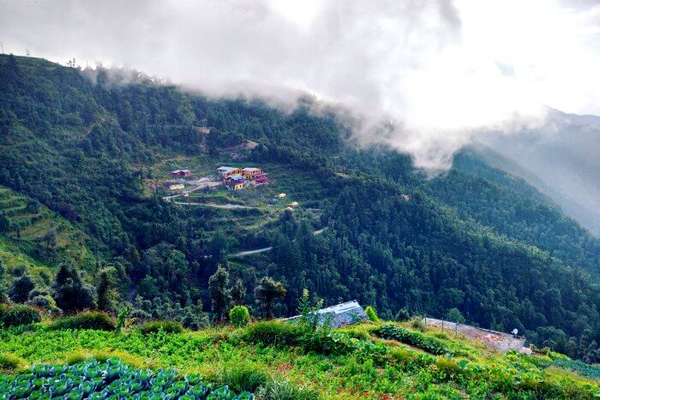 Filled with alluring travel blogs, my Facebook newsfeed screamed out to me each to day to take a break. But it wasn't until I came across an ad of TravelTriangle, did I finally decide to take one at last. While their well-planned itinerary for Dhanaulti was enough to convince me, the unbelievably low price they quoted was like a cherry on the cake.
Suggested Read: Weekend Trip To Dhanaulti: An Incredible New Year In Nature's Retreat
Day 1: From urban pollution to the scented mountain breeze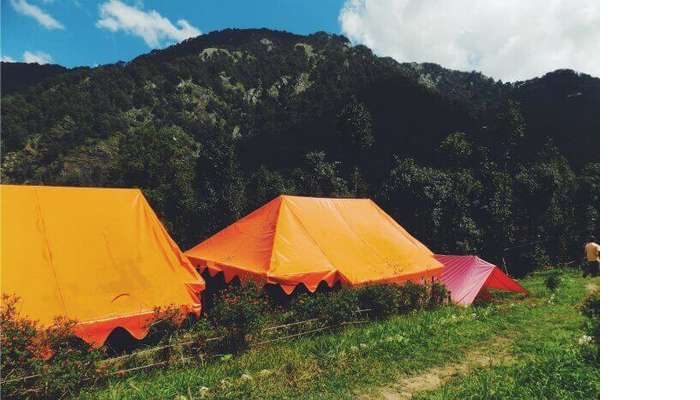 Upon our arrival at Camp-o-Royale in Dhanaulti, the first thing we noticed was the location. The breathtaking 360 degree views of the surrounding hills and the amazing weather made us forget all about the unpleasant bus journey and the tiring trek to the camp thereafter.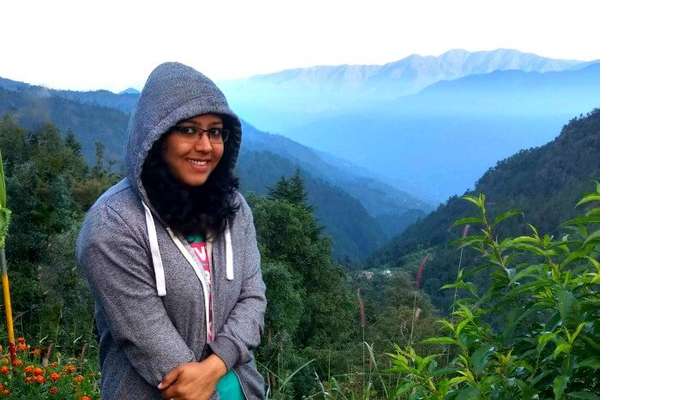 Post some rest and a delicious, desi breakfast, it was time for a spot of adventure!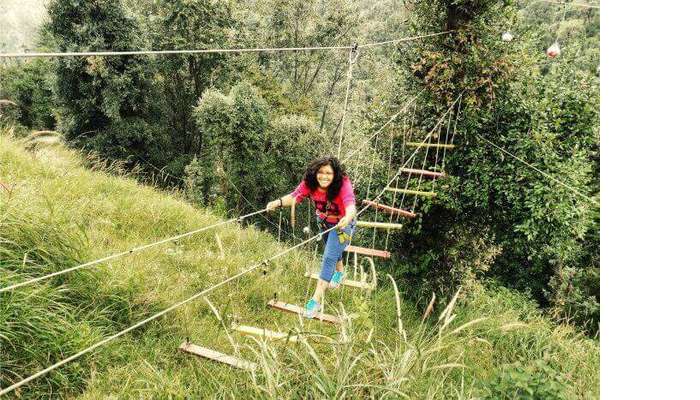 We kickstarted our trip by indulging in Valley Crossing, Burma Bridge, Mowgli Walk and Suspension Bridge. Though I have indulged in such adventure activities numerous times, it was an altogether different, more intense experience here.
Must Read: Following Her Grandmother & Mother, Kanika Embarks On A Budget Solo Trip To Chakrata To Continue Her Family Legacy #FamilyGoals
A walk in the clouds: The thrilling trek uphill to bid farewell to the sun…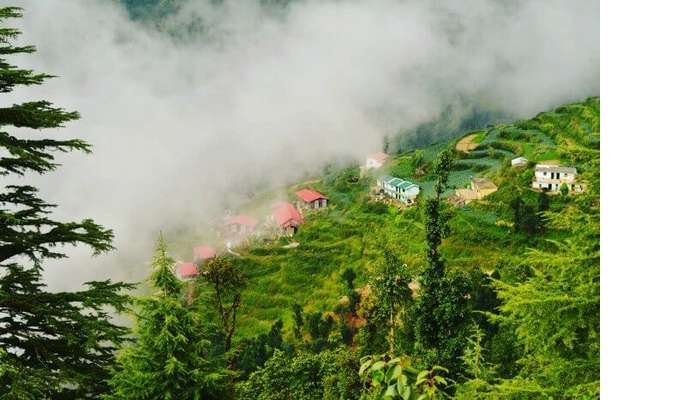 Post a sumptuous lunch, we trekked uphill to witness the sunset. The 6 km walk over narrow mountain trails, past lush green meadows, and through the pale mist was nothing short of heavenly.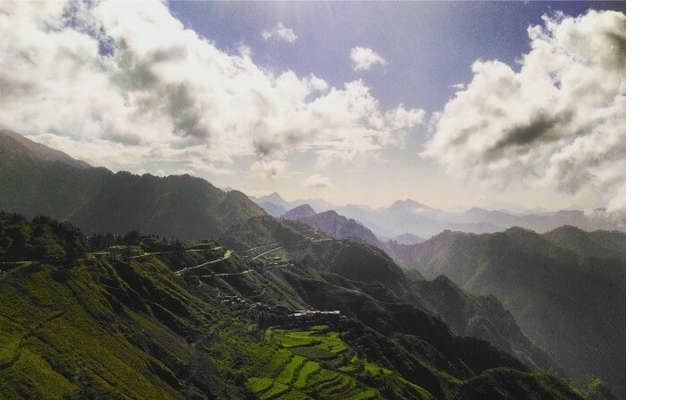 And when the sun painted soothing colours in the sky and illuminated the haze hanging low over the panorama of mountains, it only added to our totally dreamy experience!
Suggested Read: Incredible Way To Spend A 2D 1N Weekend Trip To Dhanaulti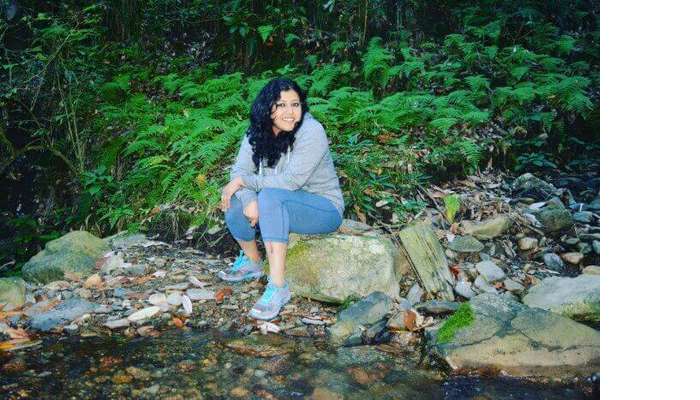 A joyous photo session later, our famished battalion trekked back to the camp.
Spicing up our evening in the hills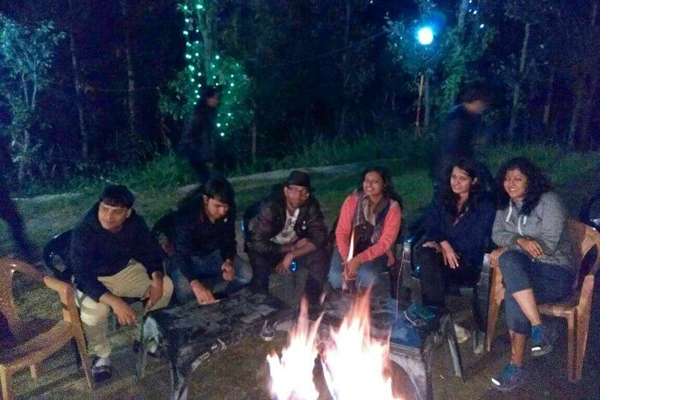 What use is a trip to the hills if you spend it snoring away in your rooms once the sun goes down? Never mind, we spent ours singing and dancing around a crackling bonfire, giggling over a round of games or two, & gorging on a wholesome buffet dinner later.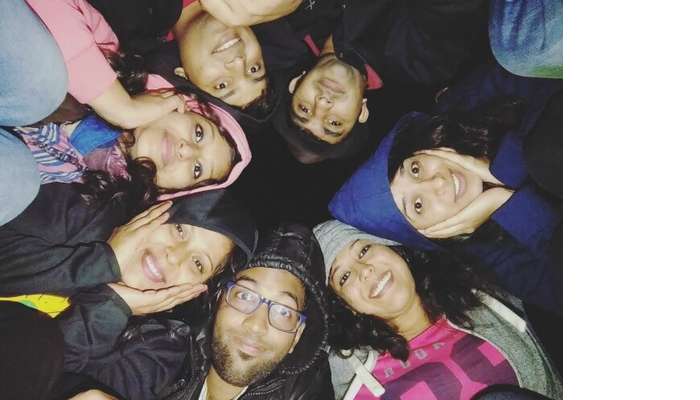 Day 2: The adventure continues- Flying Fox & the trek to Eco Park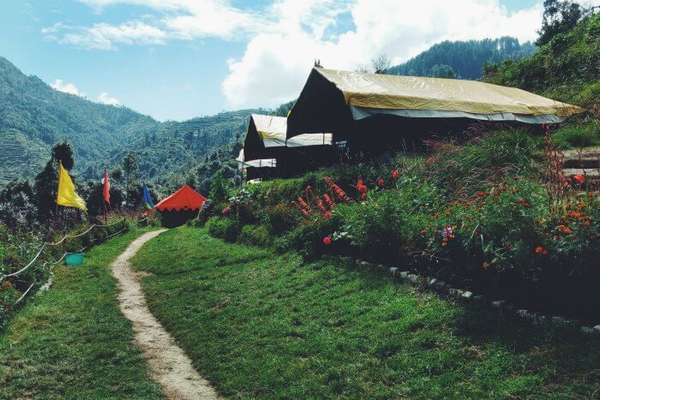 Waking up to the enchanting views of hills, sweet chirping of birds, slowly dissipating mist, and lush greenery till where the eyes could see makes one realise how blessed are those who live in the hills. Only urban dwellers like us could truly appreciate such a refreshing experience.
Must Read: Abhishek's Mukteshwar Trip Is An Inspiration For Those Wanting An Escape From Their Hectic Lives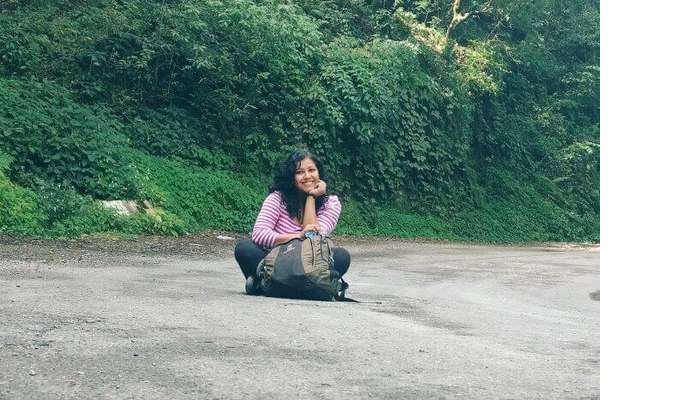 After a fun session of Flying Fox, we rode off towards Eco Park.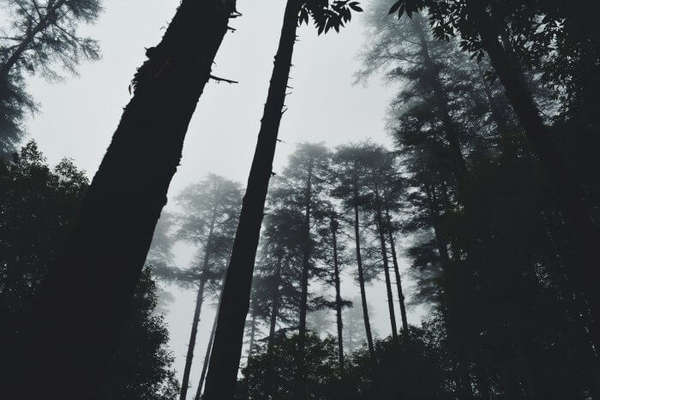 We got down at a point & trekked all the way to the park, revelling in nature's bounty along the way.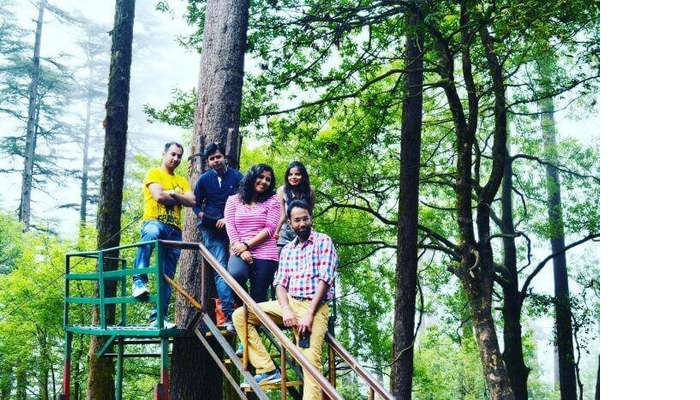 This beautiful botanical park turned out to be a fun package for all nature lovers and adventure enthusiasts in our group. And soon everyone was running off to check out its marvels like rock climbing, flying fox, sky walking, and what not.
Suggested Read: Weekend Trip To Dhanaulti: This Solo Traveler Gave 2017 A Kickass Start!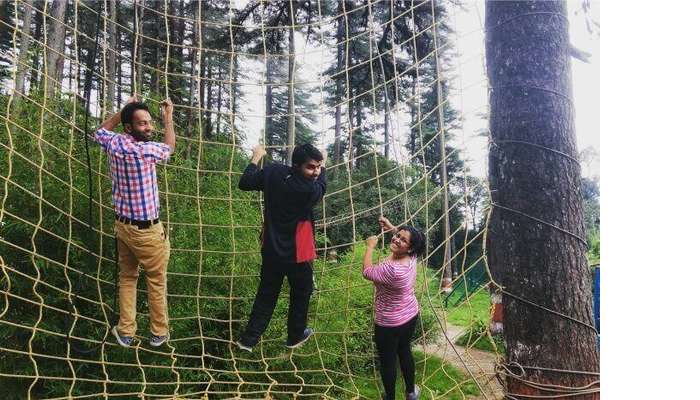 Though the trip turned out to be better than I expected, it was much more than just a rejuvenating vacation to the charming hills up north. I went back home with a bucket full of memories, a huge smile on my face….and a lot of new names in my Facebook friend list!
What I loved: Camp-o-Royale's location, services, & hospitality; the trek to the sunset point; the sunset point itself; spending some lone time amidst natural surroundings; making friends!
What I didn't love as much: The bus journey from Delhi to Dhanaulti
Tips for travelers: One can skip Eco Park as there isn't much to indulge in there.
Further Read: Venturing Into The Mountains Hand In Hand: A Couple Adventure In The Magical Spiti Valley
Weave your own story of adventure and fun and indulge in a roller coaster of scenic rides. Plan a weekend trip and gift yourself that much needed break!
Comments
comments