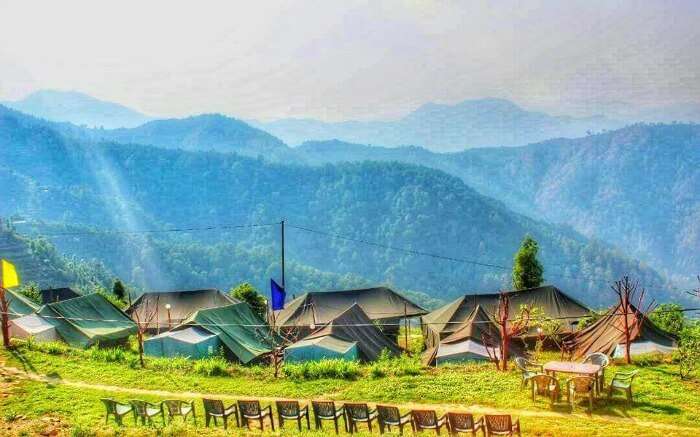 You wander, letting the stationary roads lead you to the unseen, and then somewhere in the middle, find a spot you like and anchor your camp. Inviting and engrossing as they are, camps invigorate fantasies of a true wanderer. Near Delhi, camps in Kanatal are a great place to spend your weekend.
Kanatal is a village in Tehri in Uttarakhand 320 km from Delhi. It's a place where campers go and spend days in the deep embrace of nature and experience the untarnished nature. These camps neither have luxe interiors nor do they boast of ultra modern facilities. They are for those who love holidaying under the open sky and shining sun. Here's the best 10 camps in Kanatal!
10 Best Camps In Kanatal – Tariff Range From 3k To 5k
Are you looking for camping in Kanatal? The following are the most popular camps in Kanatal along with the tariff range and other important details making your adventurous excursion the most awesome one!
1. Wildex Camp Kanatal – Tucked In The Embrace Of The Mountains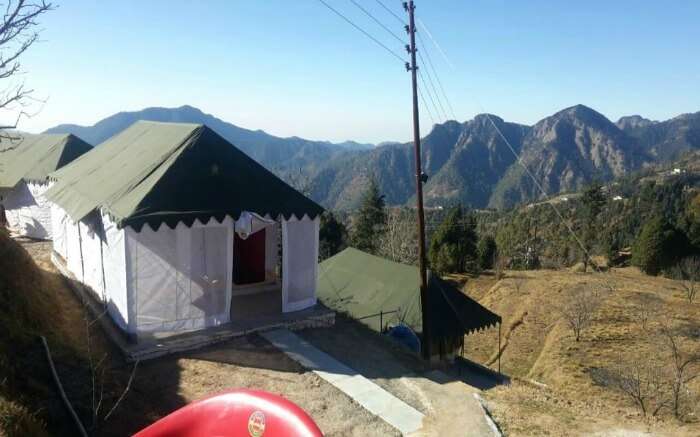 At 8400 feet into the sky, the Wildex Camp is nature's perfect hideout in the breathing environs of Kanatal. The dreamy locale of Wildex Camp enjoys a favorable climate and temperature barely cross 25 degrees celsius. Having camps stays overlooking a river and waking up to magnificent nature views are the luxuries of staying at Wildex Camps.
Try hands at obstacle and adventure activities like valley crossing, rappelling, and rock climbing if you want the next level thrill.
Tariff: INR 4900 per night onwards
Contact Number: +91 98104 41244
Website | Reviews
Must Read: Camping In Kanatal – A Secret Himalayan Hideout – Is The Best Way To Spend Your Weekend
2. Kanatal Camp – A Mystic Stay Hidden In The Clouds

Image Source
Experience nature's splendor at its best from the thin opening of quaint tents. Kanatal Camp, located 78 km from Dehradun, makes a perfect hideout in the Tehri Garhwal district in Uttarakhand where uninterrupted views are the perfect recipe to feast upon.
Altogether there are 11 Super Deluxe Tents, 2 Deluxe Tents, and 2 Standard Tents in the offering and are well equipped to ensure a comfortable stay. Good food for vegetarians and non-vegetarians alike along with an array of planned activities make the stay an experience of a lifetime. This one stay will also connect you to the best places to visit in Garhwal. 
Tariff: INR 4100 (triple sharing), 3200 (couple package), 5400 (four sharing) for 1 night & 2 days
Contact Number: +91 8506055650
Website | Reviews
3. Whispering Pines – Listen To The Whistle Of The Woods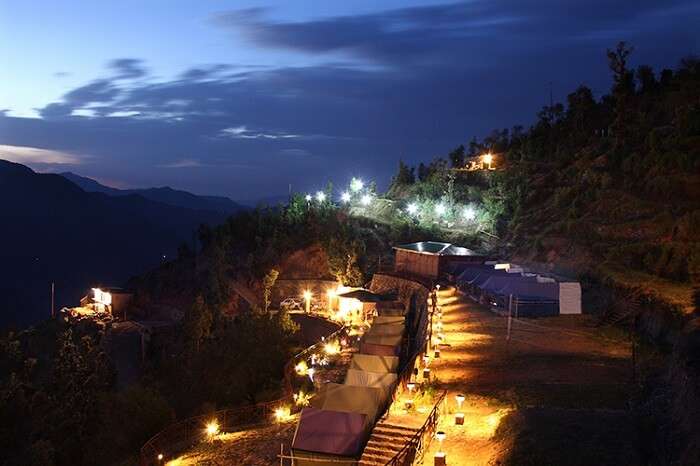 Camping in Whispering Pines lets you experience the best of alpine in Uttarakhand. The campsites around full of cedar, pines, oak, wild iris, and other hidden charms of nature takes you into the magical sphere where life is way too beautiful and enchanting.
The fact that there are adventure activities, jungle trails, spa, and bonfire for travelers make things even more exciting. A stay here means your weekend trip to Kanatal from Delhi couldn't have been put to a better use.
Tariff: INR 3500 per night onwards
Contact Number: 011 4353 9195
Website | Reviews
4. Pahadi House And Camp – Scenic Ambiance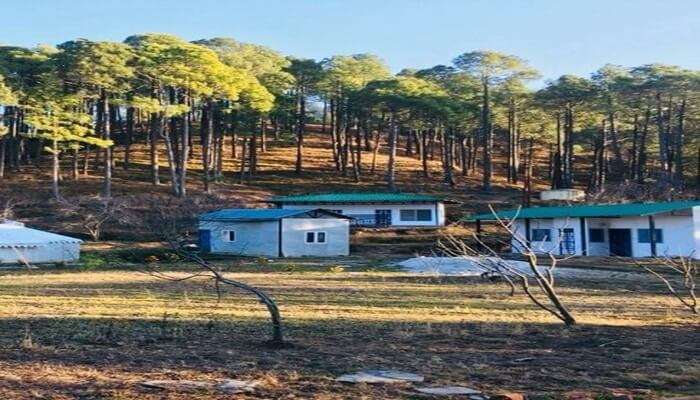 If you are looking for a stunning place for getaway in Kanatal then Pahadi House and Camps can surely be an awesome experience for you. The place is not only known for its luxurious ambiance but is loved by the visitors of its hospitality and unique decor. The cottages here are made up of wood, mud, and stone, and are equipped with modern amenities making your stay a comfortable experience. 
Tariff: INR 3200 for 2 days/1 night
Contact Number: +91 999 730 6041, +919548234542, +918622989898, +917722005656
5. Camp Awara

Don't go with the name as this camp offers a perfect camping experience if you are planning an adventurous expedition with your friends. You will be having the best time here as if you are a hippie soul and looking to capture some interesting memories with your mates. Located at an altitude of 7500 ft above sea level, Camp Awara offers panoramic views of the surrounding valleys. 
Tariff: INR 3531 for 2 days/1 night
Contact Number: +91 8285017060
Best Camps In Kanatal Under 3k
The following are the most popular camps in Kanatal you can avail for less than 3k and more!
6. Kanatal Adventure Camp – A Campsite At 8300 Feet

For a discerning adventurer, Kanatal Adventure Camp by the Mussoorie – Chamba Road makes an exciting prospect. The thick cover of deodar and oak forest around makes a perfect setting to leave you enthralled. Altogether there are 44 Swiss Cottage Tents and 15 Luxury Tents with a range of vegetarian as well as the non-vegetarian food menu.
Forest trail, bonfire, music, Dj, and barbecue other added provided to make the stay happening. Give a shot to adventure activities too, they are utterly exciting!
Tariff: INR 2700 (double sharing), INR 2100 (triple sharing) per night onwards
Contact Number: +91 98711 81879
Website | Reviews
Suggested Read: 10 Best Sites For Camping In Dhanaulti And Kanatal
7. Camp Little Jaguar – A Camping On The Precipice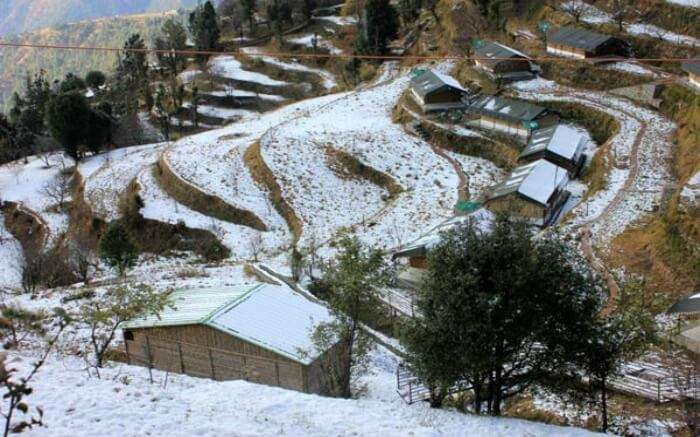 Be it taking up adventure sports, planning an exciting camping on the hills, or negotiating the steep curves of the mountains, the Little Jaguar Camps is the most exciting camps in Kanatal to go camping friends. The 15 Luxury Camps along with power backup facility and well-attended tents make the stay worthwhile.
An around the year camping destination, Kanatal looks the prettiest in December – January. It is not at all advisable to plan a camping in Kanatal in monsoon. The sloppy weather conditions and frequent landslides in mountains make Kanatal a difficult place to visit. So stay away from Kanatal during rains.
Tariff: INR 2800 for 2 days/1 night
Contact Number: +91 98378 89969
Website | Reviews
Suggested Read: 9 Awesome Things To Do In Kanatal For A Refreshing Getaway
8. The Kanatal Orchids Camp – Feast On The Marvelous Views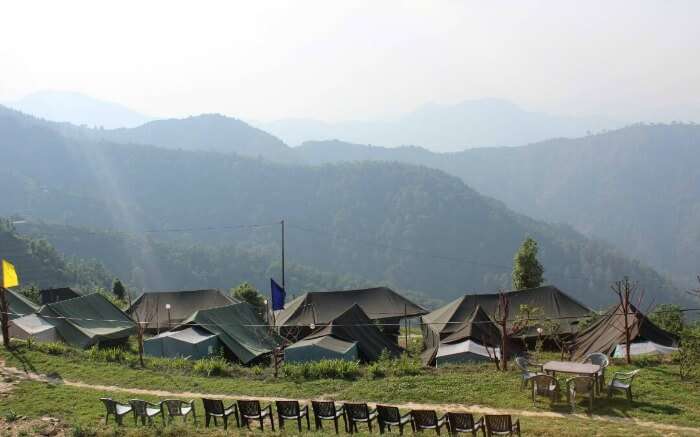 The Kanatal Orchids is one of the most fascinating camps in Kanatal. A stay there is rightly complemented by wonderful surroundings, and a myriad of activities specially curated for you. Moonlight trails followed by music, Dj and bonfire are the highlights of the momentous stay at the camp that is known for its classy Swiss tents.
Stationed at a distance of 60 km from Rishikesh, the Kanatal Orchids is the apt place to break the monotonous life schedule.
Tariff: INR 2000 (4 sharing) for 1 night and 2 days onwards for a Swiss Camp
Contact Number: +91-9997697962, +91-9871364441
Website | Reviews
9. Living Kanatal Camp – Walk The Trails, Feel The Nature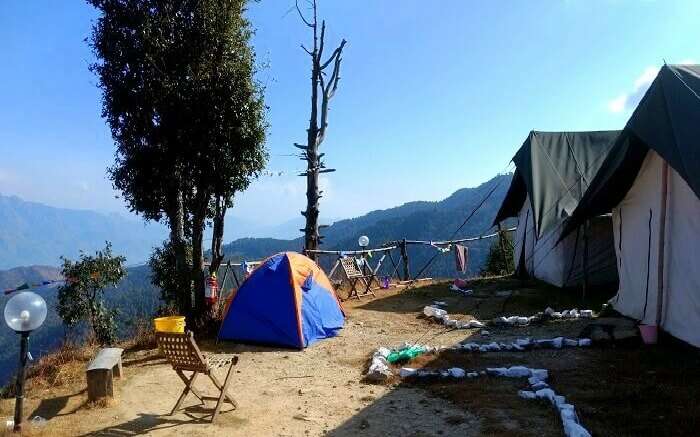 Located Kodia Wildlife Reserve, Living Kanatal Camp is the camp run by two pro mountaineers and they exactly know how to make a camp stay worthwhile. With all efficient arrangements and tents, you'd certainly experience the best of camping in Kanatal. Feel the first rays of sun falling flat on your face as you behold the spectacular sight of Bandar Poonch, Kala Naag, and Meru-Sumeru peaks right in front of you. This place has a lot!
A stay in one of the tents (Swiss tents/normal tents) along with a range of adventure activities and nearby excursions make Living Kanatal Camp a perfect option for travelers and backpackers.
Tariff: INR 1500 per night onwards
Contact Number: +91 97613 60849
Website | Reviews
10. Camp Carnival – A Stay Atop Mountains

Life is amazing from the top of 8400 feet in a camp stay here. Carnival Camp is truly one of the most enchanting places to be at. A rejuvenating camp stay here means you can expect to experience the best of nature, colossal skies, and panoramic views that keep transforming every season.
Winters are so amazing here when everything is covered in fudgy white and life around blooms making it one of the best camps in Kanatal. Be sure to get more action with all the planned adventure activities, Dj, bonfire session, and some bonding over tea and music. The organizers make sure that you have a time of your life here.
Tariff: On request
Contact number: +91-9911674000,+91-9911820000
Website | Reviews
Further Read: 10 Best Sites For Camping In Dhanaulti And Kanatal For An Adventure-Filled Vacation In 2022
While a city life is choked, polluted, and monotonous. A camp life is enriched with greenery and nature's wonder. Try spending a day or two in these places, for these places always make you feel good about the life.
Frequently Asked Questions About Camping In Kanatal
Which is the most popular camp in Kanatal?
There are numerous popular campis in Kanatal, each known for their exclusive experiences. The following are the most popular among them: 1. Camp Carnival 2. Living Kanatal Camp 3. The Kanatal Orchids Camp
Is camping in Kanatal safe?
Yes, it is safe to camp in Kanatal, however, you must follow the directions of your camping master.
What are the best things to do in Kanatal?
The following are the most popular things to do in Kanatal: 1. Camping 2. Exploring the jungle 3. Visiting Tehri Dam 4. Spending hours at Surkanda Devi Temple
How many days are enough for Kanatal?
A minimum 3-4 days stay is required to capture all the exclusive experiences of Kanatal.
What is the best time for camping in Kanatal?
March to June is the best time to for camping in Kanatal.
---
Long Weekend Trips Starting @ Rs 3499/-
---
People Also Read