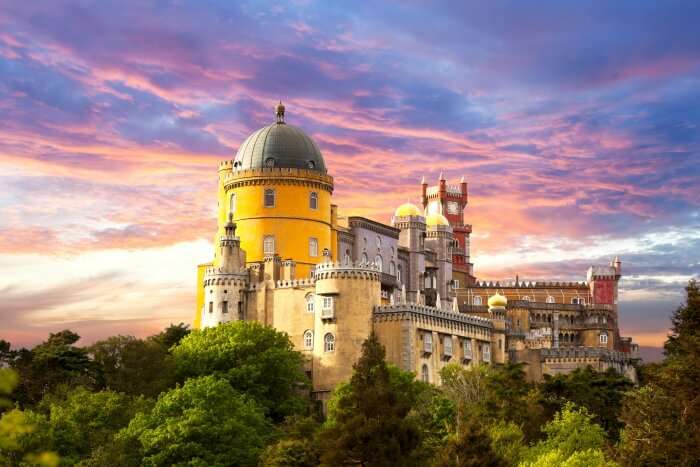 Castles in Portugal will remind you of the fairy tales you used to listen in your childhood. These magnificent castles show the rich culture of Portugal. Their alluring infrastructure makes these among the best castles in the world. You might be thinking that how many castles in Portugal are worth paying a visit? In truth, there are many. But you can't visit them all if your trip is for a duration less than a week. So, it is better to sort them all out on the basis of their vicinity to major Portuguese cities.
10 Amazing Castles In Portugal
Here we have curated a list of top 10 famous castles in Portugal. Have a look!
1. The Great Castle of Moors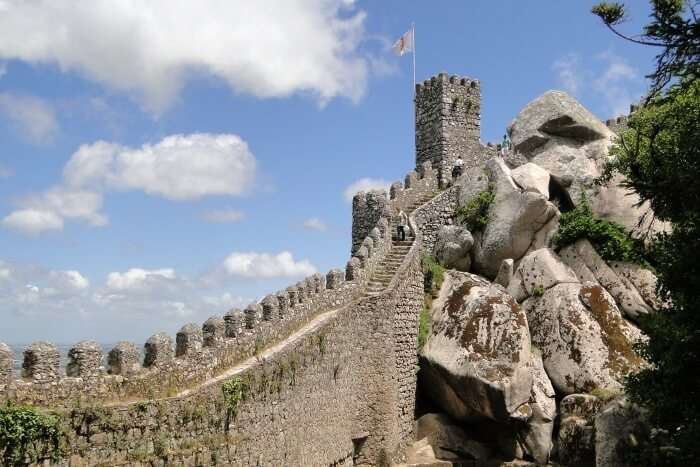 It is a beautiful Moorish castle in Portugal which was built in the great 8th and 9th century. You have to climb a steep hill to reach this Moorish castle. Surrounded by thick forest and a high wall, this castle will take you to your dreamland. This castle was made with the motive of surviving during great wars. Huge water reservoir system was installed in this castle. It is regarded as one of the most ancient castles in Portugal. Despite having such historic value and a great geographical location, it has lost its value. The Castle walls have started to decay. High walls of this castle will remind you of the Great Wall of China. You can visit here with your family and friends and have a great time. You can also click photos and walk around the thick forest.
Timings: 10:00 am – 6:00 pm
Must Read: Top 5 Adventurous Safaris In Portugal To Dive Into Its Rich Portuguese Biodiversity
2. The National Palace of Pena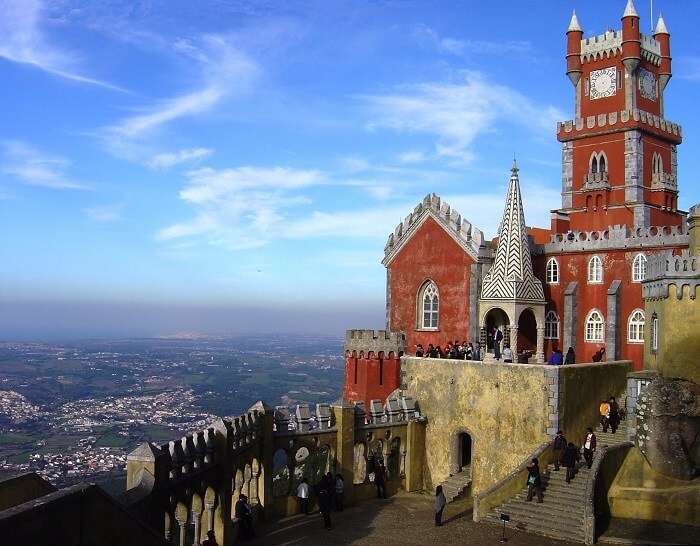 It is one of the best castles in Portugal. It is recognized by UNESCO and has great importance nationally and internationally. Its colorful appearance and great infrastructure make it the best out of all. It is situated at the highest peak above the town of Sintra. This palace is made great in Moorish and Manueline styles of architecture. It is surrounded by gardens and forests all around. But due to its great designs, it is visible from all the parts of garden and forest. You will love to visit here with your family and friends. This colorful world will take you to the next level of imagination.
Timings: 10:00 am to 6:00 pm
3. The Guimaraes Castle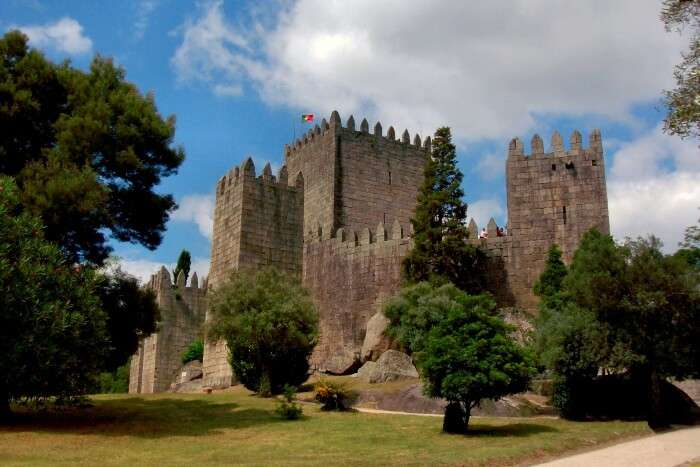 This extraordinary castle of Portugal has a great historical value. It was built in the 10th century. It was officially made the residence of Count D Henrique. Count D Henrique was the father of Afonso Henrique's who was the first king of Portugal kingdom. It has a great infrastructure. Its long walls are built in the shape of the pentagram that has eight rectangular crenelated towers. It has seen the victory of great king Afonso and many battles including the battle of Sao made that was fought in 1128. You must have a visit to this great historic castle with your family and friends.
Timings: 10:00 am to 6:00 pm
Suggested Read: Haunted Places In Portugal: 10 Places That Will Send Shivers Down Your Spine
4. The Belem Tower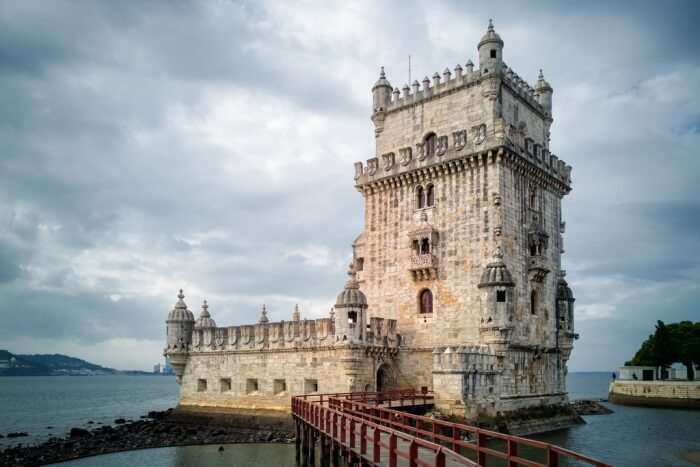 This castle in Lisbon Portugal symbolizes its great history. This castle was built in the 16th century. It is a symbol of the great power of Portugal on land and sea. This castle was built with the motive of protection against the pirates and neighboring state attacks. This tower was once converted to a prison by late 16th century. Spanish invaders used to keep rich and upper-class criminals in this jail. Its beauty lies in its infrastructure. You will surely love to visit this astonishing castle of Portugal.
Timings: 10:00 am – 6:00 pm
5. The Almourol Castle

Its name has been derived from the Arabic word almorolan which means high rock. The name fully describes its architecture and infrastructure. This great castle of Portugal is situated at the top of a small rocky island. This island goes from the middle of Tagus River. This 2000 years old castle is still young. It is kept well by the Portugal government. It has great pictorial views. This sandstone castle will take you to the world of heaven. It was used to control the waterway attacks from the Tagus.
Timings: 10:00 am -1:00 pm 2:30 pm – 7:00 pm
Suggested Read: 9 Ideal Hostels In Portugal For Your Next Sojourn In The Amazing Country!
6. The Castle Of Viana Do Alentejo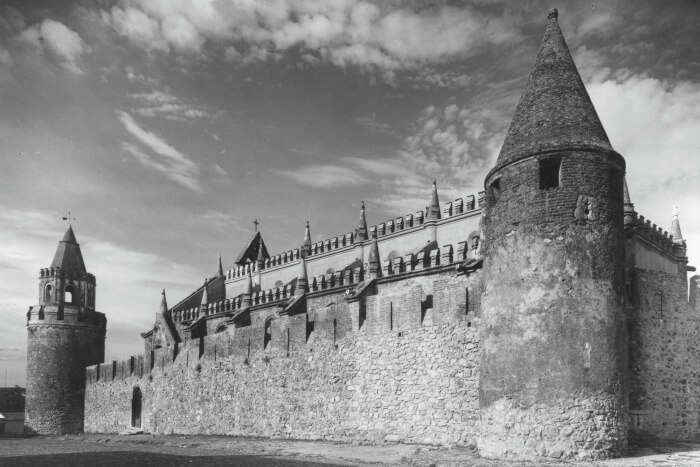 This historic castle of Portugal was built in the early 14th century. Its infrastructure shows the great and rich culture of the 13th century of Portugal. It is visited by a lot of tourists from all around the world. This fort has two color tone white and grey. Its octagonal structure makes it look really different and beautiful from all other castles of Portugal. It is a great historic landmark for the local people of Portugal. A small number of entry fees will be worth to visit this astonishing cultural monument.
Timings: 10:00 am to 6:00 pm
7. The Bellver Castle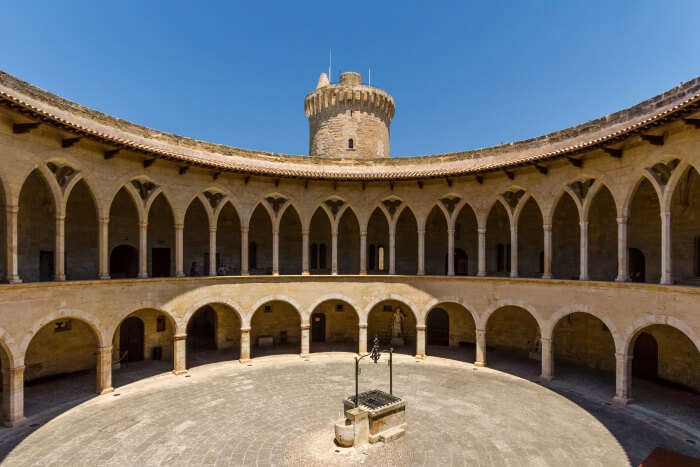 This great castle saw many voyages and sea battles. It was built to protect the Portuguese from the sea attacks from the river Tagus. In the 12th century with the defeat of King Sancho, the castle was further transferred to hospitals. This monument still looks glorifying and will take you to the period of old sea voyages. Archaic military infrastructure of Bellver castle makes it look really magnificent. The scenic atmosphere of this outstanding castle will make your trip more interesting. You can have great photographs of the historic walls of this castle in the background.
Timings: 10:30 am – 1:00 pm, 2:00 pm – 6:00 pm
Suggested Read: 10 Glamorously Intriguing Portugal Festivals To Attend In 2022!
8. The Obidos Castle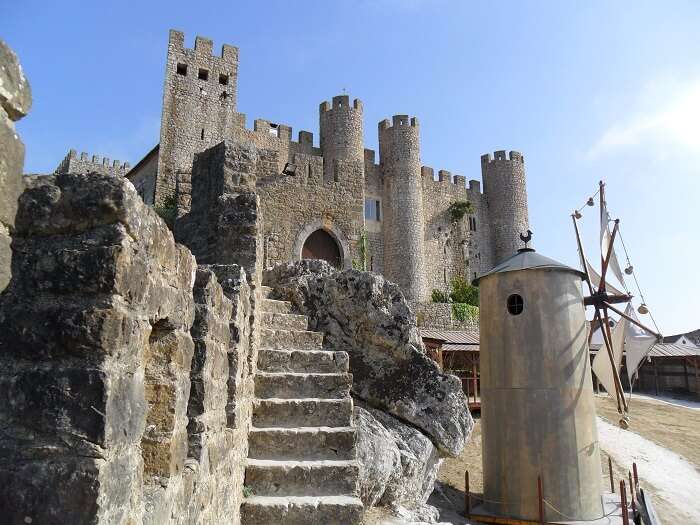 This castle signifies the Roman culture in Portugal. Towers of this castle are built in cylindrical shape and square shape. It is made up of marble and limestone. This castle is well maintained and still looks magical with the same historic infrastructure. While visiting this castle you can also go to the small village surrounding it. The village surrounding Obidos castle looks really beautiful with greenery and natural sceneries. Obidos castle hotel is one of the castles to stay in Portugal. You will have a great time here with your family and friends.
Timings: Open 24 Hours
9. The Castle of Evoramonte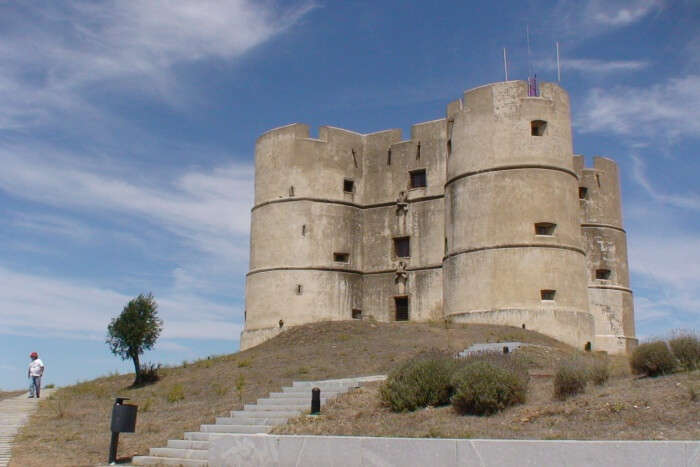 This castle is the mark of the 6 years of the civil war going in Portugal. Its seamless structure shows its historic value. It has four cylindrical shaped towers that are joint together to make this huge building. King Afonso Henrique used to visit this tower with his wife queen Mafalda of Savoy. He was greatly devoted to Evoramonte for his residence in summers. You can buy great gifts from here as there is a small gift shop inside. Open from Tuesday to Sunday, it is always closed on the last weekend of the month, so plan your visit accordingly.
Timings: 10:00 pm to 1:00 pm and 2:00 pm to 5:00 pm
Suggested Read: These 11 Indian Restaurants In Portugal Are Ideal For Those Who Love Spicy Food
10. The Tomar Castle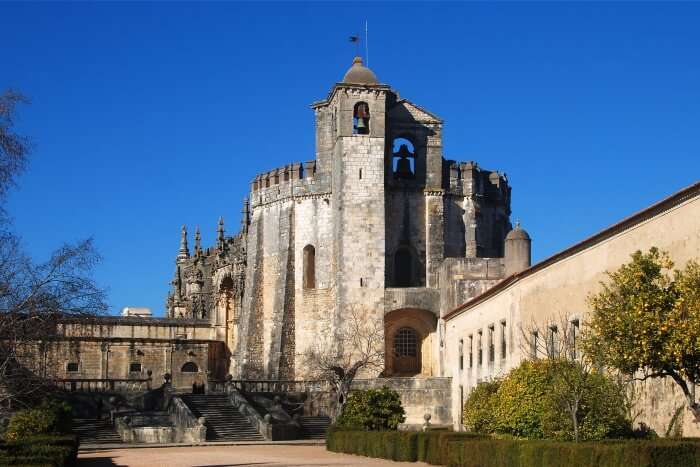 Tomar castle was the property of Knights Templar. Its unique infrastructure makes it different from all other castles. Round shape tower of the castle looks magnificent. It was built with the mission of protection against the Arabs. Later on, this castle was the home of King Manuel of Portugal. He changed the infrastructure of castle according to him.
Timings: 9:00 am – 6:30 pm
Further Read: 10 Excellent Water Parks In Portugal For Beating The Summer Heat In Style!
Castles in Portugal portray the ancient history, culture, religion, and lifestyle of the people of Portugal in the past. These palaces not only provide us with knowledge about their legacy but also enlighten us with the tales and stories mentioned in Portuguese folklore. They will be an excellent addition to a tour to Portugal if history and grandeur enchant you.
---
Looking To Book An International Honeymoon?
Book memorable honeymoon on TravelTriangle with 650+ verified travel agents for 65+ domestic and international destinations.
---