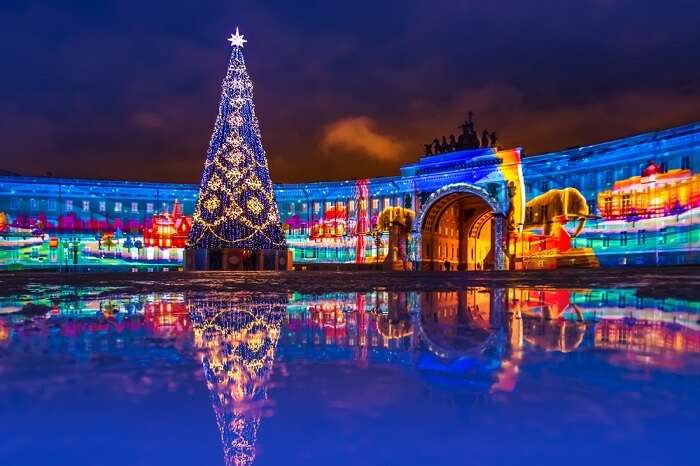 In the Russia Christmas is one of the major holidays and also one of the greatest church holidays next to Easter. Russian Orthodox Christian follows the Julian calendar and Christmas is celebrated on 7th January and not on 25th December. The new Soviet Government tried to change the Julian calendar to Gregorian just like in European countries and the rest of the world celebrates but the Russian Orthodox Church did not agree to it and made all important church celebrations according to the old calendar.Christmas in Saint Petersburg, Russia sounds more like Happy New Year and Christmas rather than Merry Christmas and Happy New Year. The first week of January in Russia is an official holiday that begins from the New Year's day of Christmas.
Quick Links For Christmas In Saint Petersburg
Russian Christmas Tradition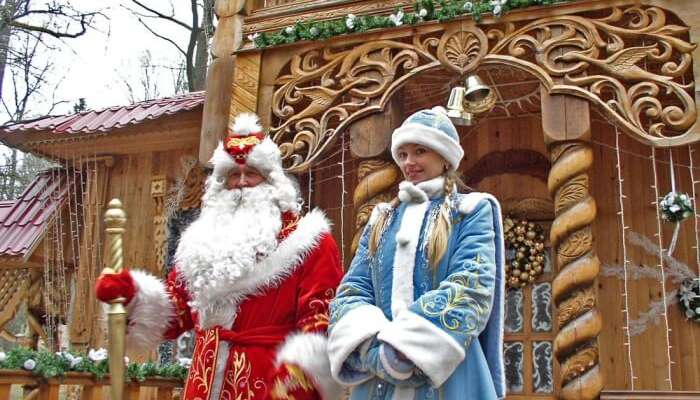 Are you planning to spend the Christmas holidays in Russia? Then you should know one thing that Christmas in St Petersburg, Russia will not celebrate it on 25th December, but is celebrated on 7th January. It is one of the profound religious festivals in Russia. People prepare delicious dishes like stuffed pig's head, roasted goose with apples, pirogi, pie with desserts like cake, candy, fruits, and biscuits. You will never go hungry on the Christmas day. The table is full with an array of delicious dishes.
Russia is mostly known as a haven for nature and art lovers decorated with snow-capped domes, rich quality glintwein, troika rides, world-class museums, and many others.
---
Europe Holiday Packages On TravelTriangle
Explore the most beautiful places to visit in Europe, from Paris to the Venice canals and from the Greek islands to the Swiss alps. Book customized packages by expert agents on TravelTriangle. Inclusive of airport transfers, cab, resort, sightseeing and meals. Best holiday experience Guaranteed. Book Now
---
Christmas Weather In St Petersburg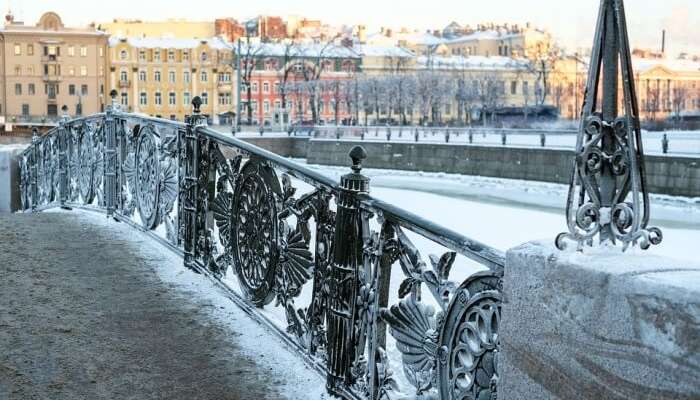 Christmas weather in Saint Petersburg ranges from min temperature of 4⁰C to maximum temperature of 13⁰ C. Decembers is the winter season in Russia and the month is noticed as a mixture of snow and rain throughout December.
Christmas In Saint Petersburg Food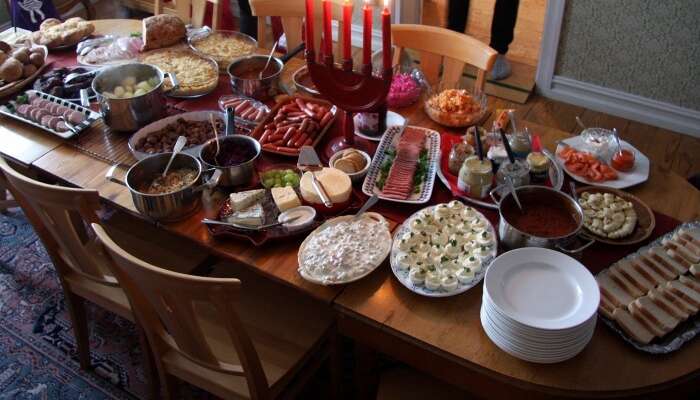 As per the tradition of Russian Orthodox, people fast 40 days before Christmas, specifying that they avoid eating meat or dairy products during fasting days. St Petersburg's restaurants will serve plenty of dishes to its customers like Lake Herring under a fur coat and a lot of glintwein. Some of the food that is eaten on Christmas includes traditional foods like:
· Kutia- is made with little rice pudding cooked and served with poppy seeds, honey, nuts, and dried fruits.
· Sauerkraut- the dish is often served with cranberries and carrot.
People can enjoy the food and also their unique taste just during Christmas.
Christmas Celebrations In Saint Petersburg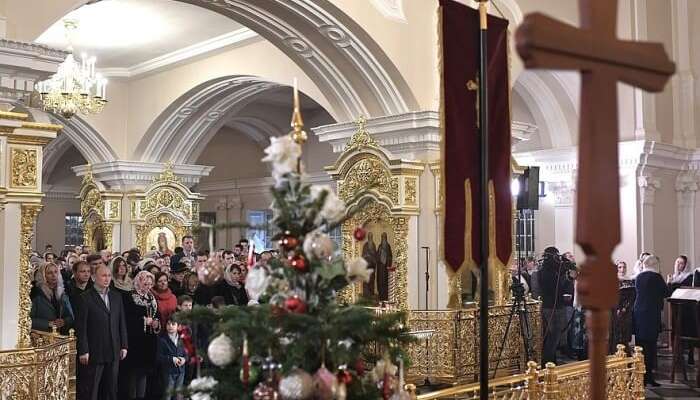 If you want to notice and experience the unique Christmas celebration in Petersburg, then you should visit St Petersburg during Christmas to have the authentic look of Russian Christmas Traditions. The Orthodox Church plays a very important role in the lives of the people and is considered as the heart of the Christmas Season. The Traditional Christmas Celebration begins on 7th January with a Holy Christmas Mass and the breaking of the Russian fast. The Kazan Cathedral is the grand Cathedral of St Petersburg in Russia. Most of the Russian Orthodox Christian takes part in the Orthodox service on Christmas Eve. People must visit the Cathedral to see the enormous Christmas decorations and catch a glimpse of the Christmas tree outside the Cathedral. You can find more about the Russian tradition, the traditional dishes, drinks by visiting St Petersburg during Christmas.
Reasons To Celebrate Christmas In Saint Petersburg
Here are some of the reasons why you should consider celebrating Christmas in St Petersburg this year.
1. Once-In-A-Lifetime Experience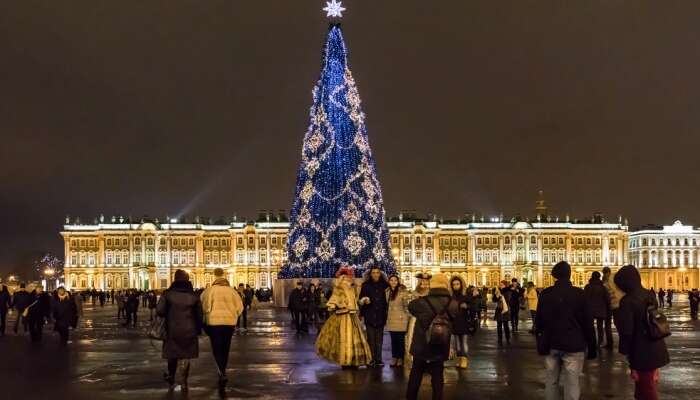 Christmas in St. Petersburg begins by unveiling images of steaming banyas, frozen canals. You can catch the sight of snow-dusted domes followed by church bells. Once in a lifetime experience can only be seen in St Petersburg during Christmas. The festive decoration around the city will put you in a joyous mood. You can see happy smiles everywhere that really lifts up your spirits. Everything is frozen. So, if you want a white romantic Christmas, Saint Petersburg is where you should be.
Must Read: 11 Cool And Unusual Things To Do In Russia That You've Never Heard Before!
2. Market During Christmas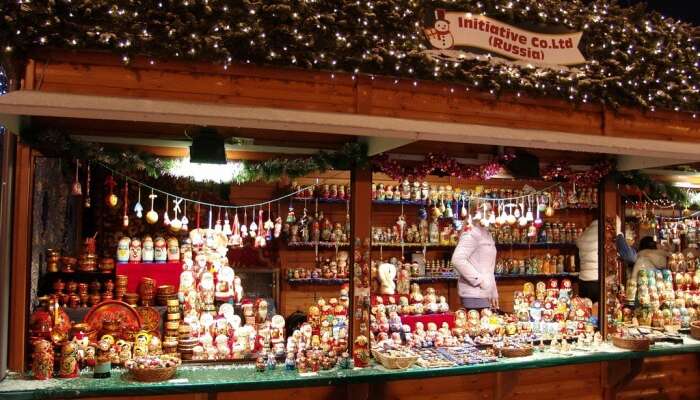 You cannot afford to miss the City Market during Christmas. Makovsky Square, Gatchina Palace, Pionerskaya is some of the cool St Petersburg christmas market 2019 places to visit. At these places, the Romanova family lived for almost 4 generations. The travelers can also visit the impromptu concerts, gingerbread, toys, grottoes, and fairground rides. These festive markets are great places to do some Christmas shopping. Buy gifts for your family and friends, purchase souvenirs, and bring back some food items that you will only find here.
3. The Largest Orthodox Cathedral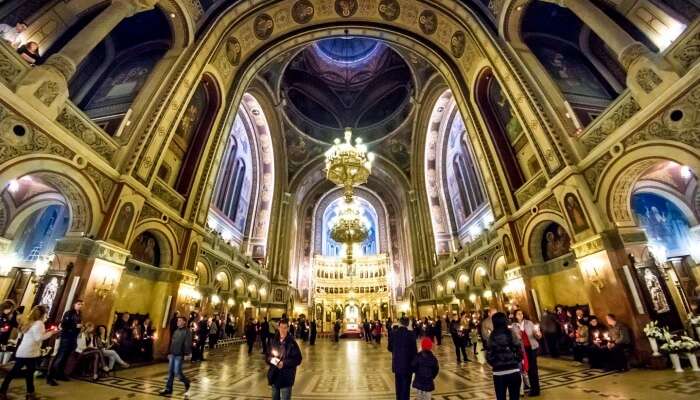 St Isaac's Cathedral is the largest cathedral in Russian and in the world. The cathedral is built with high-quality rich marbles, with awesome architecture elements along with colorful mosaics. It is one of the most beautiful and cool places to visit. You can visit it at any time of the year, but visiting during Christmas where it is fully covered with snow give the magical view that cannot be missed by our sights.
Suggested Read: 8 Cities With Best Russia Nightlife; Say It Aloud, "Lights, Vodka, & Russians!"
4. St Petersburg's Regent Street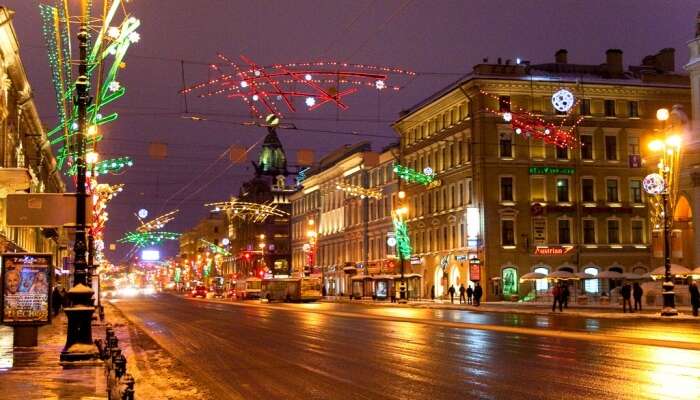 Regent Street is also known as Nevsky Prospect. It was considered as the main route to Novgorod. Now you will find the best city shops, architecture, restaurants and one of the best place to buy Christmas gifts for your loved ones. You should visit the Arts and Square place and the Museum. If you are looking for happening places brimming with Christmas fervor, you should come to check out this street.
Suggested Read: 9 Best Museums In Saint Petersburg To Witness The Russian Art And Culture!
5. A Glimpse Of International Festivals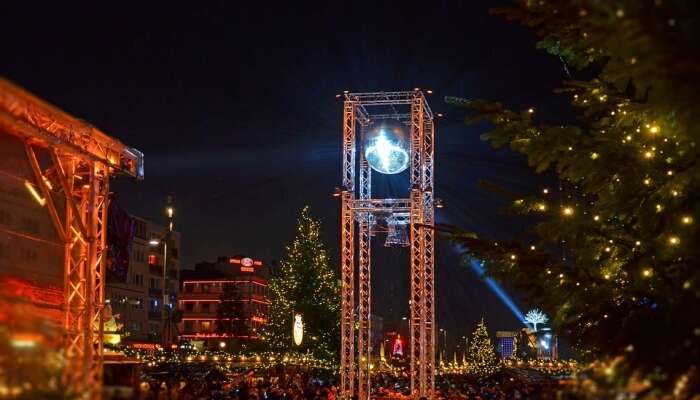 The annual International Festival is held in winter where you will find various cultures that are showcased at Saint Petersburg. The cultures that are displayed are from across the globe and also Russian cultures from some regions. The previous International winter festivals were celebrated with event names like Tchaikovsky, Sibelius and Shakespeare. The organizers select a particular event for every year.
Suggested Read: 10 Places To Visit In Russia To Witness The Beauty Of This Incredible Nation
6. Catherine Palace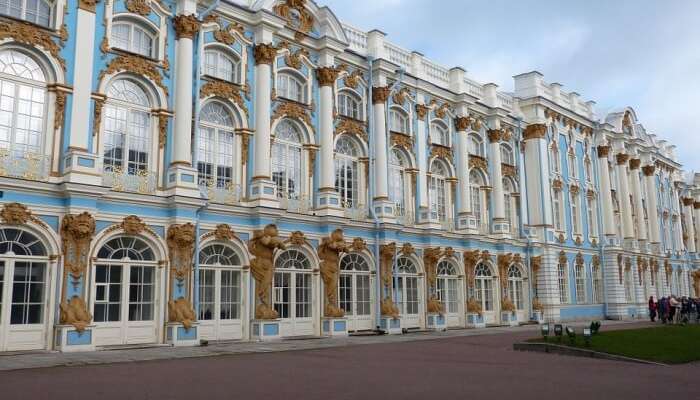 It is one of the best places to Visit- The palace is named after Catherine I the wife of Peter the Great. Catherine I ruled Russia for almost two years after her husband's death. The building was reconstructed in 1743 by 4 architects. The Imperial Court Chief Architect was allowed to redesign to building completion. The present palace was completed in the year 1756 and has a 1km circumference. To decorate the external palace during Elizabeth's reign, it took more than 100kg of gold. It is one of the spectacular palaces to see and to admire the architectural beauty.
Suggested Read: 9 Hotels In Russia That Are A Perfect Blend Of Modern Culture And Old-World Charm!
7. Make A Way To Troika Rides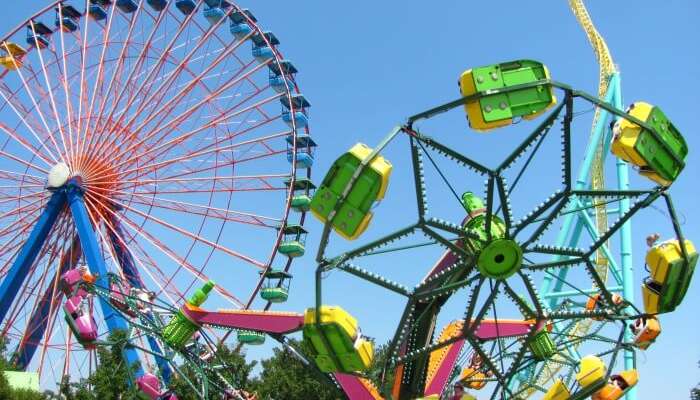 The visitors can do many things in the snow during the Christmas season. The visitors need to carry some finest ear muffs, Cossacks hats and visit Pavlovsk. Pavlovsk is situated just outside the city and is a home for summer time and royal retreats. The palace has sufficient ground that is used to organize rides mostly commonly one are the snowy troika ride and Traditional Russian carriage that is carried out by three horse members of the team.
Suggested Read: 9 Fabulous Beaches In Russia That Let You Relish The Taste Of The Good Life!
8. Other Things To Do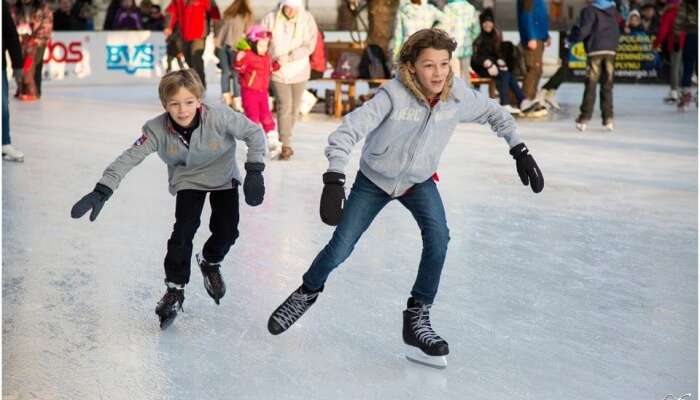 The visitors can go for ice skating and experience the joy of skating at the New Holland Island. It is near to St Isaac's Cathedral
Buy a pot of red caviar it is much cheaper over here from Eliseevy and takes it to your home.
Do eat the delicious cake that is prepared by the locals with honey and cream as the key ingredients.
Visit the Vodka Museum in order to discover the Russian history.
Taste the warming dishes of Russia like pelmeni, meat-filled dumplings, which are served with sour cream looks similar to tortellini.
Christmas in Russia is a family celebration with full of religious traditions.
Further Read: Russian Museums: For A Tour Down The Country's Expansive And Profound Culture!
Russians follow strict religious tradition during Christmas. Christmas is mostly celebrated with family, friends, and relatives in Russian and across the world. If the weather is covered with snow then people begin their party with ice-skating or snowball fighting at the parks. The party is full of delicious dishes, hot drinks, cakes, singing and games which seem to be incomplete without them. People greet one another with S Rozhdestvom which means Merry Christmas. Plan a trip to Russia and enjoy joyous Christmas celebrations in St. Petersburg.
People Also Read:
Christmas In Vancouver Christmas in Alaska Christmas In Poland
---
Looking To Book An International Holiday?
Book memorable holidays on TravelTriangle with 650+ verified travel agents for 65+ domestic and international destinations.
---
Comments
comments