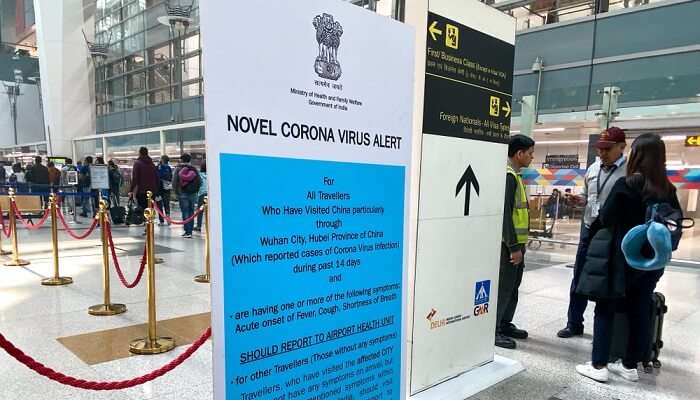 Stay Updated. Stay Aware: Know All About The Current Scenario in Delhi-NCR On COVID-19 In Less Than A Minute!
Read latest information on the coronavirus pandemic from reliable sources. Find information on helpline numbers and tips to reduce the spread of Covid-19. Practice social distancing.
---
Citizens Applauding Delhi Police Efforts
Alerts
#WATCH Delhi Police Greater Kailash SHO Som Nath Paruthi helps senior citizen parents of NRIs with food, medicines and other essential items during lockdown in the national capital due to Coronavirus. pic.twitter.com/1kFL9AoCrq

— ANI (@ANI) March 30, 2020
---
Govt Schools Converted Into Temporary Shelters
Alerts
A number of Delhi govt schools are being converted into temporary shelter homes to accommodate the homeless & migrant workers amid nationwide #CoronavirusLockdown. Visuals from Patparjanj & Ghazipur state govt schools. pic.twitter.com/1D7tpEQzpD

— ANI (@ANI) March 29, 2020
---
Food Being Prepared In Gurudwara Bangla Sahib For Feeding The Needy
Alerts
Delhi: Food being prepared at Gurudwara Bangla Sahib to distribute among the needy in different parts of the city. #CoronavirusLockdown pic.twitter.com/kMiYoYrMD2

— ANI (@ANI) March 29, 2020
---
Following Lockdown Key To Stop Covid-19: Kejriwal
Alerts
Delhi CM Arvind Kejriwal said that following the lockdown imposed by PM Narendra Modi is to be strictly followed. Only then, there could be a plausible solution to Corona infection.
---
Delhi Police Distributes Food Packets In Shaheen Bagh
Alerts
Delhi Police distributed 600 food packets among needy in Shaheen Bagh area today, amid complete lockdown in the national capital. #Coronavirus pic.twitter.com/36dPme06Ok

— ANI (@ANI) March 28, 2020
---
Huge Gathering Of People At Delhi-Ghazipur Border
Alerts
Huge gathering in Delhi's Ghazipur area near Delhi-Uttar Pradesh border as police stopped people from heading to their native places in different districts of UP. #CoronavirusLockdown pic.twitter.com/fNcQ4hcMbH

— ANI UP (@ANINewsUP) March 28, 2020
Huge gathering in Delhi's Ghazipur area near Delhi-Uttar Pradesh border as police stopped people from heading to their native places in different districts of UP. Most of these people are migrant laborers looking for a way back to their homes.
---
Coronavirus Impact: Pollution Level Decreases In Delhi
Alerts
Coronavirus has led to a lockdown across the nation. It means vehicles, factories are not allowed to move along with movement of people. This Has impacted the pollution levels in Delhi as they have gone down drastically. The Air Quality Index in many parts of Delhi was below 100, which is considered satisfactory and good.
---
Arrangements Have Been Made: Arvind Kejriwal
Alerts
Delhi CM, Arvind Kejriwal has said that even if there is an increase of 100, 500, or 1000 cases in a day, we are ready for it. It includes testing kits, ambulances and ICU beds. "We are not saying the cases will increase, we are just preparing ourselves for any eventuality." he added.
---
Delhi Night Shelters To Provide Food
Alerts
Night shelters run by the Delhi government have been providing food and accommodation to hundreds of daily wage workers who are stranded in the city amidst the lockdown.
---
Delhi Police Feed The Hungry In Sadar Bazar Area
Alerts
Delhi: Police, along with locals, distribute freshly-cooked food among the needy in Sadar Bazaar area, amid nationwide #CoronavirusLockdown. pic.twitter.com/UbxV7VkPwy

— ANI (@ANI) March 27, 2020
---
Delhi Police Will Clarify Doubts From 4 PM To 5 PM Today
Alerts
Hi! Delhi
We will be there again from 4 PM to 5 PM today to clarify your doubts regarding #Lockdown21

Tweet your queries with the hashtag #LockdownQuery and we will try to answer them.

— #DilKiPolice Delhi Police (@DelhiPolice) March 27, 2020
---
Adequate Facilities, Free Food And More: Kejriwal
Alerts
Here is a list of provisions that the Delhi government will provide:
– Free food to four lakh needy people
– 325 government schools of Delhi to be used
– 2 lakh people will be provided food from today onwards
– Adequate facilities will be made in case cases rise to more than 100 a day
---
Kejriwal To Address Media
Alerts
Delhi CM, Arvind Kejriwal to address media at noon. Stay tuned for updates!
---
Noida Admin Issues Orders For Delivery Services
Alerts
The administration of Gautam Buddh Nagar allowed home-delivery services, including food, medicine and grocery delivery. Hawkers selling fruits and vegetables will also operate without any passes. Online sellers that were allowed are Zomato, Flipkart, Amazon, 24Seven, BlueDart, DTDC, Wow Express, Swiggy, Grofers, BigBasket, Milkbasket, Dunzo, Big Bazaar, Snapdeal, Licious, Medlife, PharmEasy, Urban Clap, Ninja Kart, Honasa Consumer, Healthians Diagnostic, Delhivery, Nutrimoo Milk Dairy, More Retail Ltd, Easy Day, Jabong, Myntra, Spencer's, Reliance Fresh, Jubilant Food works (Dominos Pizza), Food Panda, Faasos, Pizza Hut, Uber Eats, Needs Supermarket, 1mg, Dr Lal Path Labs, Max Path and Satva Cart.
---
Delhi Police Distributes Food Packets To Slum-Dwellers
Alerts   Delhi
The Delhi Police distributes food packets to slum-dwellers in West Delhi's Raghubir Nagar and Ghondewala Mandir. Police, along with NGO "Ek Noor" is also educating the slum-dwellers about the precautions to be taken during the outbreak. Approximately 1,000 food packets were distributed.
---
Home Delivery Services Allowed 24×7: Kejriwal
Alerts
All food home delivery services have been allowed in Delhi 24×7. The delivery agent must carry their ID cards at all times and that will be sufficient, said CM Arvind Kejriwal. All Mohalla clinics will also continue to function but with all safety precautions.
---
Gurugram Police Provides List Of Technical Services For Free Movement
Alerts
All officers of Gurugram Police have been directed that exemption of services of technical hands required for essential services/maintenance of households/buildings shall be allowed free movement: Gurugram Police #Haryana pic.twitter.com/ToWOuO4LSV

— ANI (@ANI) March 26, 2020
---
Delivery Service In Gurugram Available During Lockdown
Alerts
All officers of Gurugram Police have been directed that following online delivery services @zomato @flipkart @amazon @bluedart @wow_express @swiggy @groffers @bigbasket @milkbasket @dunzo @bigbazzar @Iffco Tokyo goods shall be allowed to operate.

— Gurugram Police (@gurgaonpolice) March 25, 2020
---
Kejriwal Government To Issue E-Passes To Grocers
Alerts
In an effort to avoid panic buying, Delhi Chief Minister Arvind Kejriwal's government will provide e-passes to vegetable-sellers and grocers others to ensure that essential supplies stay afloat during the 21-day lockdown.
---
Delhi Govt Offers Free Ration, INR 5000 To Construction Workers
Alerts
Arrangements made by Delhi Govt.

🔹Free Ration with 50% extra quantity to 72 lakh people.

🔹₹ 5,000 to all construction workers.

🔹Free food for homeless and needy people at the night shelters.

🔹Doubled the pension of widows, elderly and specially-abled citizens. pic.twitter.com/OTf2DvCgLI

— AAP (@AamAadmiParty) March 25, 2020
The Delhi Government has made adequate arrangements to ease the lives of people during #21DayLockdown. Free ration will be given to 72 lakh Delhi residents and INR 5000 to each construction labor. Free food will also be distributed at homeless shelters.
---
Delhi Temples Closed For Navaratri Following Lockdown
Alerts
All major temples in Delhi have been shut down after a nationwide lockdown was announced on Tueday evening despite the occassion of Navaratri. Very few devotees were see offering prayers from outside the temple.
---
PM Modi Declared 21-Day Nationwide Lockdown
India
Prime Minister Modi announced a complete lockdown across the country for 21 days on Tuesday. All road, rail and air services will remain suspended during the lockdown. However, freight movement will continue to carry essential commodities across the country. He also urged people to stop panick-buying. There will be no shortage of food and essential items during lockdown, he assured.
---
Noida: Entry In All Parks Closed Till April 15
Japan
Entry to all parks in Gautam Buddh nagar region have been prohibited for all residents except workers till April 15.
---
Delhi Govt Gives INR 5000 Each To Construction Labours
Alerts
We have decided to give Rs 5000 each to all construction workers as their livelihood has been affected. We are also increasing the number of night shelters in the city: Delhi Chief Minister Arvind Kejriwal #COVID19 pic.twitter.com/I0dcFJze0n

— ANI (@ANI) March 24, 2020
---
Delhi Police Field #Lockdown Questions On Twitter
Alerts
Hi! Delhi
If you have any question on the #Lockdown, tweet your query with the hashtag #LockdownQuery between 5-6 PM today and we will answer it for you.#StayAtHomeSaveLives@HMOIndia@LGDelhi@CPDelhi

— #DilKiPolice Delhi Police (@DelhiPolice) March 24, 2020
---
No New Cases In Past 24 Hours: Delhi CM
Delhi
Delhi CM Arvind Kejriwal briefed the press on Tuesday that no new cases were detected in past 24 hours. Five patients who tested posotive for coronavirus were also discharged this morning. "The biggest challenge now is to not let the situation go out of control. Need your (people"s) cooperation for this," Kejriwal added in his tweet in Hindi.
---
Separate Lanes For Emergency Vehicles At Delhi-Noida Border
The Delhi Police have assigned a separate lane to facilitate the quick movement of emergency vehicles. These includes ambulances, doctors, police, press and other exempted vehicles.
---
ABCD Learn The COVID-19 Journey
Understand how the untamed virus spreads and why social distancing is so important.
#StayHomeStaySafe #covid_19 #coronaawareness #TravelTriangle
ABCD Learn The COVID-19 Journey

Understand how the untamed virus spreads and why social distancing is so important. #StayHomeStaySafe #covid_19 #coronaawareness #TravelTriangle

Posted by TravelTriangle on Monday, March 23, 2020
---
Uber, Ola Suspend Services In Delhi, Mumbai
Alerts   India
With business taking a blow due to Janta Curfew and subsequent lockdown, taxi aggregator services like Uber and Ola have decided to suspend their operations in Delhi and Mumbai until further notice. The sharing facility was already removed on 21st March from the apps to maintain social distancing.
---
2/3 Of CNG Stations In Delhi Ordered Shut To Encourage Offroading
Alerts
After passengers were seen on the road ignoring lockdown orders in Delhi, IGL has decided to shut about two-thirds of CNG stations in the capital to encourage people to stay at home. A massive traffic jam on Delhi-Noida was observed on Monday morning.
---
DSGMC Offers Majnu Ka Tila Gurudwara For Quarantine Facility
Alerts   India
Delhi Sikh Gurudwara Management Committee has offered Gurudwara in Majnu ka Tila as a quarantine faciltiy in a lettter to CM Arvind Kejriwal. All the 20 rooms in the inn are equipped with modern facilties and ample space for parking is also available as mentioned by DSGMC president Manjinder Sirsa in the letter. The committee has even offered free food (langar) to patients and health staff.
---
Delhi HC Suspends Breath Analyzer Test Till 27 March
Alerts
After a plea from Delhi Police, Delhi high Court has decided to suspend the breath analyzer test through tube process till 27th March to avoid the transmission of virus.
---
Delhiites Come Out To Balconies To Express Gratitude
Trending
#WATCH Delhi: BJP National President JP Nadda rings a bell at his residence to express gratitude to those providing essential services amid #CoronavirusPandemic. pic.twitter.com/0tTC5091oF

— ANI (@ANI) March 22, 2020
---
Delhi Imposes Section 144 From Tonight
Alerts
Section 144 will be imposed in the capital from tonight till 31st March. The decision was taken by CM Arvind Kejriwal after seventh death due to coronavirus in the country.
---
IIT Delhi Develop Affordable Test For COVID-19
Alerts
The researchers at IIT-Delhi have developed an affordable method to detect Covid-19 for larger sections of people. The validation of test is already under progress ar National Institute of Virology (NIV), Pune.
---
Streets In Delhi Empty In The Wake Of #JantaCurfew
Trending
Deserted roads in Delhi as people observe Janta Curfew https://t.co/Jt4t7RnBNn

— TOI Delhi (@TOIDelhi) March 22, 2020
As the whole country comes in suport of Janta Curfew to ward off the coronavirus pandemic, Delhi woke up to the empty streets on Sunday morning. Delhi Police also gave flowers to the commuters on the road to encourage them to stay indoors.
---
Delhi Police Encourage Commuters To Stay Indoors By Giving Flowers
Trending
Delhi: Policemen offer flowers to the locals out on roads, requesting them to stay at home and observe the countrywide #JanataCurfew today. #COVID19 pic.twitter.com/QnSNnrHBeA

— ANI (@ANI) March 22, 2020
---
Autos, Taxis To Remain Offroad In Delhi
Alerts
Autorickshaws and taxis in Delhi won't be operational on Sunday i.e. 22nd March in support of #JantaCurfew. Delhi Metro service will also be suspended on Sunday.
---
Buses From Haryana Not To Enter In Delhi
Alerts
No bus from Haryana will be allowed to enter Delhi during "Janta Curfew" on Sunday after the orders from the Central Government. The action has been taken to combat the spread of coronavirus pandemic in the region.
---
AIIMS Suspends Walk-In OPD from 23rd March
Alerts
As India bolsters measures to combat Covid-19 by preparing hospitals across the country to fight the pandemic, AIIMS-Delhi has decided to postpone all non-essential elective surgeries and procedures for the time being. The medical institution will maximize its resources and manpower to handle coronavirus cases.
---
Markets In Delhi Shut For 3 Days
Alerts
After more confirmed cases rose in the capital, trade leaders took a decision to shut down all markets in Delhi from 21st March to 23rd March in the light of the coronavirus outbreak. "The situation will be reviewd on 23rd March to decided actions on future.", said Confederation of All India Traders (CAIT) Secretary General Praveen Khandelwal said.
---
Delhi Metro To Remain Closed On 22nd March
Alerts
In the wake of 'Janta Curfew' to be observed this Sunday i.e, on 22nd March 2020, DMRC has decided to keep its services closed. The move is aimed at encouraging public to stay indoors and maintain social distancing, which is essential in the fight against Covid-19. #JantaCurfew

— Delhi Metro Rail Corporation I कृपया मास्क पहनें😷 (@OfficialDMRC) March 20, 2020
In the wake of 'Janta Curfew' Delhi Metro will suspend its services on 22nd March from 7 AM to 9 PM to encourage people to remain indoors and stay safe.
---
CP Will Remain Closed On Sunday Due To 'Janta Curfew'
Alerts

New Delhi Trader's Association president Atul Bhargava has announced that the famous Connaught Place in Delhi will remain shut on 22nd March to support 'Janta Curfew' in the wake of the coronavirus situation.
---
All Delhi Malls To Be Closed In View Of COVID-19 Threat: CM Kejriwal
Alerts
As the fresh coronavirus cases surge in the country, CM Kejriwal orders all malls in Delhi to be closed. However, grocery, pharmacy and vegetable stores in these malls will remain open for public. There are total 16 cases of coronavirus in the national capital as of now.
---
JNU Asks Its Students To Vacate Hostels
Alerts
After direct orders from the lieutenant governor Anil Baijal, JNU has asked all its students to vacate hostels amidst coronavirus fear. The mess facilities will only be available to the foreign students. Visitors are also barred from entry. Many events like seminars and workshops have also been cancelled.
---
Premier Hotels Near IGI Airport Offer 'Pay & Use Quarantine' Service
Alerts
Delhi Government has arranged quarantine facilties at luxury hotels near IGI Airport. These include premier hotel chains like RedFox, IBIS and Lemon Tree. Travelers reaching Delhi from abroad can pay for these hotel rooms and use their quarantine facilities for a luxurious isolation.
---
No Standing Passengers Allowed In Delhi Metro: DMRC Advisory
Alerts
Standing passengers in Delhi Metro will not be allowed after DMRC issued an order on Thursday as a precautionary measure. Alternate seats will also be left vacant to maintain 1-meter distance. DMRC also urges passengers to use metro only when it's "essential and unavoidable".
---
All Restaurants In Delhi To Remain Shut: Kejriwal
Alerts
Kejriwal announced on Thursday to shut down all restaurants in Delhi in order to curb the spreading of the virus. However, take-away and home delivery services shall be available. 10 cases have been confirmed in Delhi so far.
---
No International Commercial Aircrafts To Land In India From 22 March For A Week
Alerts
The government has ordered a new advisory following which no international aircraft carrying passengers will be allowed to land in India for a week from 22nd March. The step has been taken to limit the number of cases in India.
---
Gurugram Goes Into A Lockdown Till 31st March
Alerts
All gyms, shopping malls, spas, theatres, weekly bazaars, and social centers in Gurugram will remain shut till 31st March amidst coronavirus outbreak. As per the orders from District Administration, the restaurants with in-dining facilities and family gatherings will also be restricted to maximum 50 people.
---