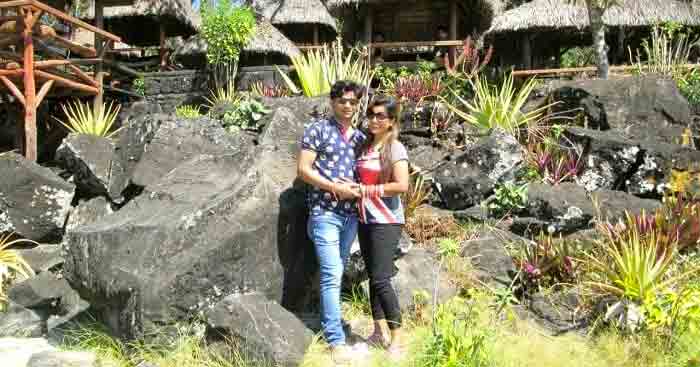 A new start for Cynthia in life, welcomed with a grand celebration in the lap of luxury. Mauritius holds out yet again as one of the top honeymoon destinations in the world with its white sandy beaches, and beautiful flora. Their six nights/seven days trip cost them a total of INR 1,31,500 which included transfers, flights, sightseeing, accommodation, and breakfast.
My husband and I wanted to visit a serene international beach destination that would be ideal for couples. After zeroing on Mauritius as our honeymoon destination, I landed on the TravelTriangle website looking for honeymoon packages. A customized holiday package at a competitive price, was the reason why I wanted to book with TravelTriangle.
I submitted a query on their website and got a call from Amit (TravelTriangle representative). He explained the booking process to me and linked me to various travel agents providing multiple offers. I picked the best package given to me by 'Memorable Vacations & Holidays' agency.
We were pretty excited about how we had planned our vacation. I heard a lot about Mauritius from friends, family, and people who've been there and I could not wait to explore the beautiful island country with my husband.
Day 1: Arriving in magical Mauritius
 Feeling The Tropical Love On A 4N 5D Honeymoon In Mauritius
The first morning, we took our flight from New Delhi and landed in Port Louis at 2 pm. The driver was present to receive and take us to the Villas Mon Plaisir Hotel. We arrived at 4 pm and were given a warm welcome by the hotel staff. By the time we settled in, it was almost sunset.
So we just walked down to the beach, explored a bit of the resort, and spent some time with each other. Later on, we had dinner and rested for the night.
Day 2: Hidden paradise at Ile Aux Cerf
The next day, we started the day with breakfast and got ready to visit Ile Aux Cerfs and Belle Mare. Mauritius is also a prime area for a lot of interesting water activities. So our first stop for the day was Belle Mare, where we did a host of water activities like parasailing, undersea walk, and banana tube ride.
Later on, we were transferred in a speedboat to the Ile Aux Cerf Island. It was a thrilling and adventurous ride that took us piercing through the waves and onto this beautiful paradise out in the sea. The island had the most crystal clear water I had ever seen. Couple that with pristine white sandy beaches. We had lunch at Ile Aux Cerfs and then spent a few hours at the island, admiring its beauty.
 Incredible Things To Do On A Family Trip To Mauritius
We returned back to the main island at 5 pm via speedboat and then from there, our taxi transferred us to the hotel. We spent the evening relaxing, as it was a very tiring day full of activities.
Day 3: Exploring the colonial North Island
The next day, we had breakfast and got ready for our sightseeing tour in Mauritius to the North Island. We started with visiting the beautiful Citadel and its surrounding areas in the capital of Mauritius- Port Louis. This place provided a stunning panoramic view of the valley and the mountains in the background. A great place where we got pictures clicked.
Afterwards, we visited the 200-year-old Champs de Mars racecourse. The day ended with a bit of shopping at the popular Le Caudan Waterfront. This place was an incredible to shop and spend time in Mauritius.
As our tour wound up, the driver picked us up from Le Caudan and dropped us back at the hotel at night. We had dinner at the resort and then called it a night.
Day 4: South Island Tour & Scenic Curepipe
 A Sweet Honeymoon Trip About Must Do Things In Mauritius
This day, we were scheduled to explore the South Island of Mauritius. My husband and I were really excited for this day, as for the past few days we heard a lot of positive reviews of the South Island from fellow travelers and honeymooners.
We started the sightseeing tour at 10 am with a drive to the scenic town of Curepipe. Over there, we visited the ship making factory. The town in itself is so beautiful that it doesn't need many places to visit. One can just drive or walk around in the streets of Curepipe and take in the lovely scenery visible all around.
Post lunch, we stopped by the Ganga Talao and the Mangal Mahadev Statue. The final stops for our day was a visit to the 7 coloured earths and Chamarel waterfalls. We finished our sightseeing tour at 6pm and were dropped back at the hotel by the driver. This day as well, we decided to spend some time at the resort at night and relaxing in the lap of luxury.
Day 5&6 : Leisure time in Mauritius
Suggested Read: Honeymoon Trip To Mauritius: Feeling The Tropical Love
The final two days in our itinerary were left empty, which gave us time to explore, improvise, and spend time with one another. We were lucky in the regard that our resort was big, and it had a lot of activities we could do inside it.
The final few days for us in Mauritius were all about each other, taking our own sweet time in doing everything, and unwinding in this tropical paradise. Also, the food and the service at the resort were excellent.
Day 7: Bidding adieu to Mauritius
The next day, we had a late breakfast and checked out of the hotel around noon. We were transferred to the airport, from where we took our flight back to New Delhi.
Looking back at this wonderful week I spent with my husband, I felt much more connected, and understood by my husband. This was a truly memorable way to start a new chapter of our lives. Mauritius, for me, would be always remembered as a symbol everlasting beauty and a beacon, for a fresh start.
High Points:
Visit to the stunning Ile Aux Cerf Island was something I would never forget.
The facilities and arrangements at the resort made life very easy for us.
Low Points:
I felt there were some sightseeing places that aren't worth visiting like the volcanic crater which resembles more of a pond.
Tips to travelers:
It is better to get things like taxi, and sightseeing fees booked in advance. It will save on a lot of extra expenses.
Revel in the luxury of Mauritius. Book your Mauritius honeymoon package and witness a world class beach destination!
---
Looking To Book An International Honeymoon?
Book memorable honeymoon on TravelTriangle with 650+ verified travel agents for 65+ domestic and international destinations.
---