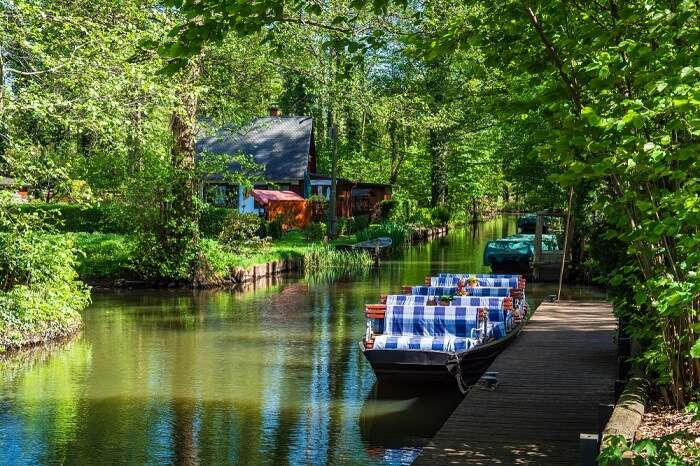 The capital city of Germany, Berlin is one of the most sought after travel destinations in Europe. One of the oldest cities in human civilization, the city has witnessed the way the entire continent has developed over the period of time. A city of immense historical and political significance, Berlin attracts people from all over the world for its historical sites and incredible architecture from various ages and points in time. Berlin is also very well connected to some of the other cities in Europe that can be cover in a day trip.
Before starting your day trip to another country from Berlin, it is important to plan your itineraries ahead. Make sure to explore the various places and be specific about the places that you want to visit. Consider your area of interest before selecting the places to visit in your day trips from Berlin. Also, consider the connectivity to ensure that all your selected tourist spots can be easily covered in a day trip.
7 Day Trips From Berlin You Should Take
Let us explore some of the incredible places in Europe that can be covered in day trips from Berlin.
1. Poland
Poland attracts tourists from all over the world owing to an incredible natural beauty, historical sites, and the vibrant cultural events. The major attractions in Poland include the Gothic Wawel Castle that dates back to the 14th century, Auschwitz-Birkenau – the erstwhile Nazi concentration camp that has been developed into a memorial and museum, Wieliczka Salt Mine – a salt mine and an underground city carved out of rock salt, Warsaw Old Market Place – yet another significant landmark dating back to the 13th century and Gdansk Old Town among others.
How to Reach: Day trips from Berlin to Poland can be arranged either by car or by train. By train it takes around five to five and a half hours.
Must Read: 10 Romantic Wedding Venues In Berlin That Are Perfect For Your Big Day
2. Potsdam
Planning day trips from Berlin to Potsdam is the most convenient, affordable and easy to reach getaway from Berlin. Connected in a mere 45 minutes train ride from Berlin, Potsdam, the capital of Brandenburg, offers picturesque landscapes, historic sites, and some excellent dining options. The city can be easily toured on rented bikes that are available at 11 Euros. Some of the major tourist attractions include Neues Palace, Park Sanssouci, Chinese Teahouse and Schloss Sanssouci, some of the eminent architectural marvels in Potsdam – all these places are well connected. Visit the Potsdam Filmmuseum and filmPark Babelsberg to get a glimpse of the German film industry.s Further, you can explore the Dutch Quarter and Brandenburg Tor and then enjoy some scrumptious meal at Mansion Charlotte and Café Guam.
How to Reach: S-Bahn S7 train plies from Berlin to Potsdam Hauptbahnhof. Regional trains are also available that stops at Potsdam Sanssouci.
Suggested Read: Berlin In December: A Guide That'll Help You Discover The Eclectic City In A New Light
3. Prague
Prague is one of the oldest and most beautiful cities in Europe. For people with an eye for art, music, and architecture, the city will prove to be a treasure trove. Honestly, a one day trip is not sufficient to experience the old world charm that the city has to offer. Nevertheless, the true essence of a century old European city can be experienced by a walking through this small and beautiful city with most of its top attractions connected in a walkable distance. Some of the absolutely must visit spots include the Municipal House – the erstwhile abode to the Bohemian Kings is now a place where plays and operas are held; Power Tower – Adjacent to the Municipal House stands another historical landmarks that served as a gate and a storehouse for gun power for the Bohemian Kings, St.Vitus Cathedral – a magnanimous church which is an architectural marvel in itself, Dancing House – taking the awe-inspiring architectural tour ahead with the 20th century construct resembling a female dancer is quite a breather from the otherwise classical structures in the city and Petrin Hill – for a kaleidoscopic top view of the entire city.
How to reach: Day trips from Berlin to Prague can be arranged through train, buses and taxis.
Suggested Read: 10 Best Indian Restaurants In Berlin To Please Every Budget And Taste
4. Szczecin
Located along the shores of the Baltic Sea, the port city of Szczecin is one of the largest cities of Poland and the capital if West Pomeranian Voivodeship. Some of the major tourist spots that you must include in your itinerary in your day trip from Berlin to Szczecin include National Museum, Central Cemetery, and Ducal Castle. Yet another veteran city of Europe complete with historical landmarks, clean and bright cityscape and classical architecture, Szczecin has a charm of its own.
How to reach: Berlin and Szczecin are connected by bus, train, car, and rideshare.
5. Wannsee
If you are looking for a break from the architecture and cityscape of the easy to reach cities, the best day trips from Berlin awaits in the island beach of Wannsee. The powdery beach is one of most sought after tourist destination for people who are in love with the sun and the sand. It is one of the largest inland beaches in Europe which totally make sit worthy of a visit. If you are visiting Berlin in summer, this place makes one of the best day trips from Berlin to take. Just a stone-throw away from Wannsee is Kladow which is another great place to hang out. Glienicke Palace, Glienicke Bridge, Haus der Wannsee-Konferenz are some of the places to visit in Wannsee
How to reach: If you are coming via rail, take S-Bahn S7 or S1 to Wannsee. which only takes 45 minutes from Wannsee. You can also take a bike trip if you are in a mood to break a sweat.
Suggested Read: Honeymoon In Berlin: 10 Things To Do For Experiencing The Best Of Romance & Bliss
6. Spreewald
Yet another escapade from the city yet not too far – the beautiful forest of Spreewald welcomes you to spent a while in the lap of nature. With well-defined trails for walking, cycling, and kayaking, this UNESCO certified natural reserve also leads to some rural villages and fishing villages that adds countryside feel to the day trip from Berlin. In case you want to get close to nature, you cannot get a better deal than Spreewald if you are visiting Berlin. Take an enchanting boat ride in the Spreewald forest with your partner for a romantic day out.
How to reach: Take the RE2 train from Berlin Central Station that will take you straight to Spreewald. It only takes an hour via rail.
Suggested Read: 9 Restaurants In Berlin To Visit That Offer Delicious Food & Gorgeous Views, All On One Platter!
7. Saxon Switzerland National Park
Now that you have experienced the tranquility of nature as well as the beautiful rustic life, a trip to a national park is all you need. If that is so, head towards the Saxon Switzerland National park. It is still one of Germany's best-kept secrets which are hidden from the tourists' masses. The biggest landmark of the otherwise dense forest is the Bastei Bridge which is crafted with the limestone peaks. And, oh the views you get to see from the bridge! Simply breathtaking.
How to reach: You can take a long distance S-Bahn trains to reach Saxon National Park. It takes 3 hours from Berlin to reach here.
Further Read: 10 Amazing Things To Do In Berlin To Experience It Like A Local
Berlin and the other neighboring cities help you to delve deep into the ever unforgettable European history. It is quite an enthralling experience to touch and feel the sites that have been the witness to many a rise and fall of empires, the bustling cities that bear the painful memorials of many innocent lives and incredible architectural structures of the yesteryears that have been preserved to this day. Make sure you take each one of these day trips from Berlin on your next vacation in Europe .
---
Looking To Book A Holiday Package?
Book memorable holidays on TravelTriangle with 650+ verified travel agents for 65+ domestic and international destinations.
---