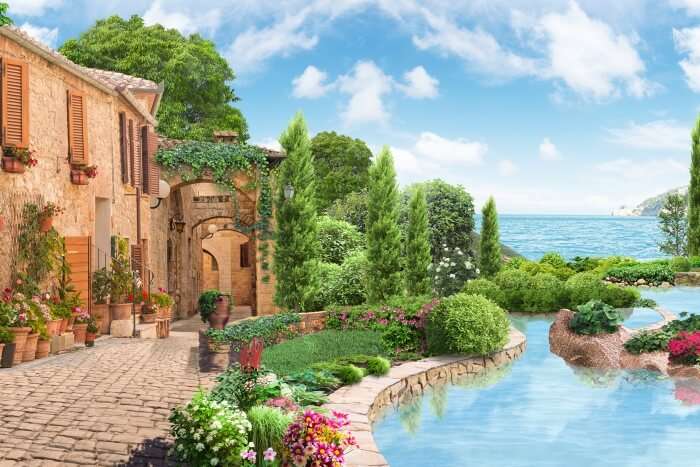 In Southern Italy is located the city of Naples, a stunning place of history, culture, and fun! It was founded by Greeks more than some 2500 years ago. Naples is one of the biggest, as well as the most populated cities in Italy and you should definitely visit this place once in your lifetime. Most of all, one can take many day trips from Naples to explore the magnificent parts of Southern Italy. We have curated a list of the 10 best day trips from Naples for you to plan your trip better.
10 Great Day Trips From Naples
For those who love to find the adventure in everything, there is an opportunity of hiking the volcano via a steep and challenging trail and even the chance of finding peace on a beach near Naples:
1. Amalfi Coast

If you are wondering where to go for a day trip from Naples, Italy, you should definitely give some thought to the Amalfi Coast which is nothing short of paradise on Earth. It comes with its Mediterranean fishing villages, stunning beaches and proximity to beautiful mountain beaks making it one of the best choices for one-day trips from Naples. Apart from the beach, there are other attractions in Amalfi town as well such as a well-known cathedral, a pebble beach. You can easily catch a train from Naples to Amalfi and head for a memorable time.
Location: Amalfi, the southern edge of Italy's Sorrentine Peninsula, in the Campania region
Average Cost: Approximately 3000 INR by Train
2. Pompeii

Most of us have heard of Pompeii because of the popular track by Bastille that added some melody and spark to the '90s. The best part about visiting Pompeii is that you can get there in less than half an hour, and the trip is beautiful. The ruins at Pompeii are some of the most well-known ruins of the world owing to unparalleled preservation efforts that were led as a consequence of the eruption of Mt. Vesuvius. There are many things that you can do here such as taking a stroll alongside the cobblestone paths and looking at the landmarks here such as the amphitheater. Make sure you visit the Temple of Apollo which houses the oldest ruins at Pompeii and has retained most of the 48 columns that were originally a part of the structure. Moreover, this is also considered as a very auspicious site by the religious people in Pompeii.
Location: Campania, Southern Italy
Average Cost: 300 INR
Must Read: These Best Things To Do In Italy That Are Truly Exclusive
3. Capri

It is located only a short distance from the city of Naples and Capri is one of the most stunning islands in the Bay of Naples. And, that is a lot considering the number of islands that are located in the vicinity of Naples. Many travel experts will say that Capri is the ideal getaway that one can take from Naples. The Blue Grotto or Grotta Azzurra is one destination that you must visit during your time in Capri. It is a stunning cave and lets you look at beautiful turquoise-hued water. There are many things to do here such as hiking on natural paths or going sightseeing at some of the landmark attractions here such as Arco Naturale and other forts that were abandoned a long time ago.
Location: Campania, Southern Italy
Average Cost: 242 INR by Train
4. Herculaneum

This city, similar to Pompeii but less popular, was left in ruins after the much talked about the eruption of Mount Vesuvius. This Roman city is a gem and continues to be one of the most popular day trips from Naples by train. It is all because of the several preservation attempts to save this stunning city from the damages of time that we can visit Herculaneum today and be awed by the natural beauty. Apart from being a beautiful location in itself, Herculaneum is located at a great spot, along the Italian coastline making it ideal for the nobles of Rome to build fancy villas and relax.
Location: Ercolana, Campania, Italy
Average Cost: Prices range from 2400 INR to 8000 INR for a roundtrip, depending on the train.
Suggested Read: New Year In Italy: For A Refreshing Start To The Most Happening Event In This Scenic Land!
5. Mount Vesuvius

It is not possible for any human being to not be intrigued by the very element that caused the destruction of many cities, especially after you have visited the ruins of Pompeii. Once you look at the ruins of the cities that were damaged with the notorious eruption, it is time to look at the volcano itself. The most notable thing about it is how it absolutely commands the skyline of the area, even from Naples with its boastful height of some 1200 meters. The most eccentric thing about this place is that you can feel the geothermal energy under your feet, and if you're lucky enough, you could even look at various gases emanating from the ground.
Location: Gulf of Naples, Campania, Italy
Average Cost: 480 INR by Train
6. Sorrento

If you are looking for best day trips from Naples, Italy, Sorrento is an excellent option since it is hardly an hour away. In fact, one of the most recommended itineraries is to visit Sorrento as a base and then explore other islands such as the Amalfi Coast and others. However, one thing that you should keep in mind is the fact that it might be heavier on your pocket than Naples with fewer attractions. Hence, it is perfect for a day trip and if you are considering spending more than a day here, we suggest that you give it another thought.
Location: southwestern Italy
Average Cost: Take the MM3 ferry, the quickest route for which the ticket costs from 500 INR.
Suggested Read: Scuba Diving In Italy: 10 Top Spots To Enjoy The Thrilling Sport
7. Ischia

While Capri takes away a lot of spotlights that could otherwise have been shining brightly on its neighbor Ischia, it is undoubtedly every bit as beautiful as Capri. If you fancy a beautiful place with less footfall, then Ischia might just be the ideal option for you! Iy is a volcanic island and it is known around the world for its thermal baths and hot springs, making it the perfect getaway location to kill the monotony of your life. It takes 40 minutes to reach here via ferry from Naples' Molo Beverello harbor. Another popular tourist attraction in Ischia is La Mortella Gardens, which was founded by an Englishman and is full of stunning plants that can only exist in the weather and soil conditions of Ischia.
Location: northern end of the Gulf of Naples
Average Cost: 950 INR
8. Procida

Although it is very similar to the sister islands of Capri and Ischia, Procida is a vibrant and tourist destination. Procida resembles the postcards with colorful Italian houses that are set around a neat harbor with a line of boats that are attached to the moors in proximity. Even though it is not always full of crowds like Capri, it is an absolutely beautiful place to just stroll about in and look at the quintessentially Italian things around.
Location: between Cape Miseno and the island of Ischia, Southern Italy
Average Cost: 1000 INR
Suggested Read: Italy In January: A Handy Guide To Witness The Country Covered With Snow
9. Paestum

One of the best day trips from Naples by train is Paestum and it is an architectural gem in the crown of Naples. It was initially a Greek city and was later conquered by Romans. It was built somewhere around the 5th Century BC. Paestum houses some of the most stunning Greek temples that exist in the Mediterranean region and apart from them, there are other pillared temples in the area as well.
Location: coast of the Tyrrhenian Sea in Magna Graecia, Campania, Southern Italy
Average Cost: 550 INR
10. Pontine Islands

One of the most recommended Viator day trips from Naples is to the Pontine Islands, another spectacular yet undiscovered group of islands in the Gulf of Naples. Although they don't receive an influx of tourists as much as the other islands in the region, they are every bit as beautiful as the other destinations that we have mentioned above. Also, these are a little bit more tricky to reach as compared to the other islands but the natural scenery is stunning, with many coves, beaches, and an excellent vibe.
Location: the Tyrrhenian Sea off the west coast of Italy.
Average Cost: 900 INR
Further Read: What Makes Italy In November To Have A Great Time Along The Mediterranean Coast
It can get confusing for you to choose from the above mentioned day trips from Naples since each of them is more interesting than the other. Book your packages from TravelTriangle for an unparalleled vacation in Italy. So, when are you packing your stuff and catching a flight? Do let us know how your experience of Naples turned out to be in the comment section.
---
Looking To Book An International Holiday?
Book memorable holidays on TravelTriangle with 650+ verified travel agents for 65+ domestic and international destinations.
---