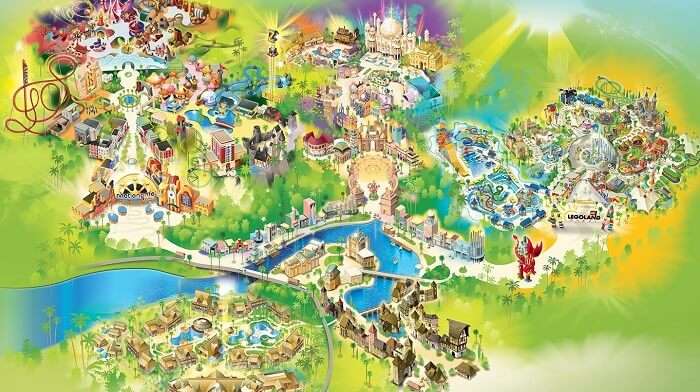 Fasten your seat belts for the exciting adventures, tummy-twisting rides, glitzing shows, hair-raising activities, and endless theme-based fun at your very own Dubai Parks and Resorts! Blanketing something for every mood, this destination is totally capable of making spaces in the hearts of travelers, irrespective of the ages. Be it a chance to befriend the blue Smurfs at the Smurf Village or dance to the beats of Madhuri Dixit's songs, driving around the lego city or sliding down in the self-built rafts, Dubai Parks and Resorts leave no stone unturned to make the whole experience out of the world!
Dubai Parks And Resorts Tickets
Avoid those long queues by pre-purchasing the Dubai Parks And Resorts tickets online and head straight into the magical world of Dubai Parks and Resorts, the most joyful and fun-filled destination in the entire Emirates!
Find below the categories of Dubai Parks and Resorts tickets that one can go for:
| | |
| --- | --- |
| Category | Starting Prices |
| Park Tickets | AED 175 or INR 3,380 |
| Annual Passes | AED 395 or INR 7,600 |
Itineraries For Dubai Parks & Resorts
Ultimate 2-Day Itinerary For Dubai Parks & Resorts With Family
Dubai Parks and Resorts, an action-packed and gigantic theme park, is all set to add that little touch of extra to your already exciting holiday with your little ones. The super-amusing rides, magnificent activities, and the food that tingles the taste buds are waiting with mysteries to unfold. Take a look at this itinerary about how one can actually spend their 2 days at the extravagant Dubai Parks and Resorts. Get ready to hear a lot 'oh, so magical!', 'Mommy, can I stay here forever?', and 'I don't wanna go back', from your offsprings!
DAY 1 – All About Legos!
Spend your first day at Dubai Parks and Resorts nestled amidst the theme that makes the younger ones go gaga. Yes, we are talking about LEGOLAND® Dubai and LEGOLAND® Water Park!
Highlights Of The Day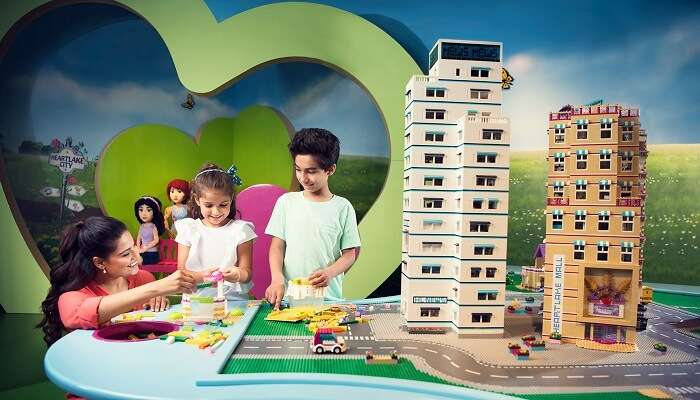 Commence your morning by surrounding yourself and your younger ones with the world of blocks at the LEGOLAND® Dubai.
Tour around the factory and teach your kids about building up of LEGO bricks.
Head for some thrilling experience with the young globetrotters on the underwater submarine adventures, water skiing on Wave Racers, and more of such activities.
Climb some tummy-tingling and twisting rides including the roller coaster for kids, the spinning tea-cup, the bouncing bench, and the other extensive number of rides available.
Give your little ones a chance to be a part of 'real-life' driving with a Legoland license or to captain their own boats in the boating school at Dubai Parks & Resorts.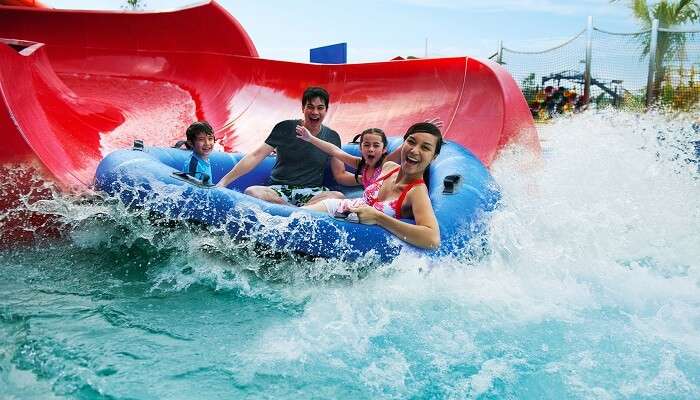 Next, head to LEGOLAND® Water Park to splash around in the only waterpark specially built for kids and their families!
The kids get to enjoy their second half of the day dipped in the pleasant-temperature water while building their very own boats or rafts to slide down on!
The colorful and fun slides – be it the ones with characters LEGO® DUPLO ®, downpour from a 300 gallon or racing on the twin chasers, there is something or the other for everyone.
Continue your day in the waterpark by racing against each other at the Slide Racers followed by a fun-filled family ride on the 11-foot diameter raft on the Red Rush.
After making sure that no more rides and slides are left out, head to Rove At The Park Hotel, the location that should definitely be your stay for the night.
Accommodation To Stay At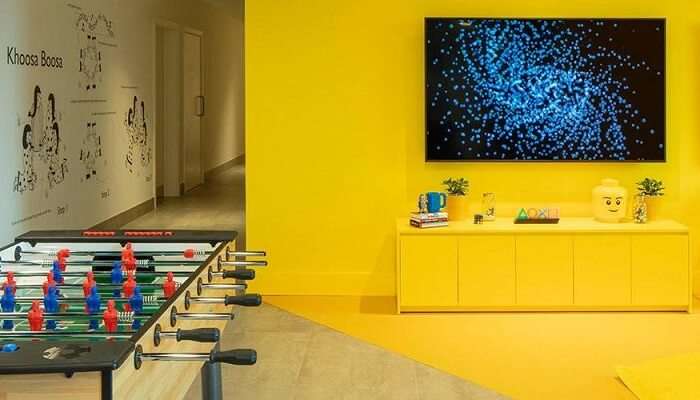 A completely family-friendly respite, Rove At The Park is that one accommodation that kids always tend to love. Sitting in Dubai's most thrilling and exciting destination, Dubai Parks and Resorts, this hotel makes the whole experience even more thrilling. Just imagine having the LEGOLAND right outside your doorstep!
With a whole floor dedicated to fun and playful activities including an extensive number of arcade games, foosball table, table tennis, and many more of such exciting experiences, Rove At The Park is exactly what makes the whole vacation complete. Home to a total of 579 spacious and colorful rooms with each offering special amenities, a smart television set, super comfortable mattresses, luxurious bathrooms with power rain showers, outdoor pool, and all the other facilities and services, this Dubai Parks and Resorts hotel is well-equipped to simply continue the family fun.
Restaurants To Hog At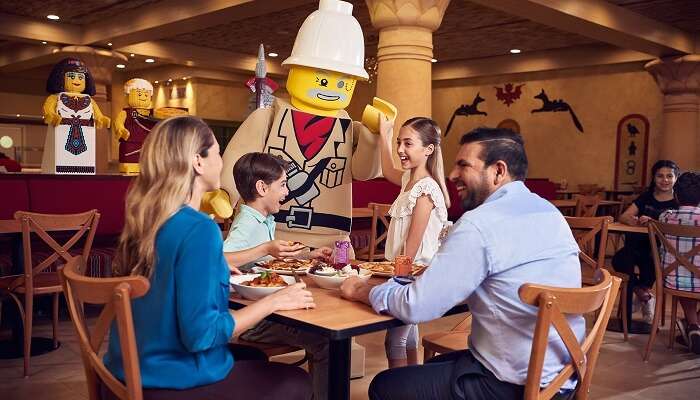 While enjoying your time at the LEGOLAND® Dubai, do not forget to feed your little ones at these impeccable kid's special restaurants that serve some of the most delicious and lip-smacking delicacies.
Grab a quick snack such as Granny's apple cinnamon fries, popcorn, hot dogs, ice creams, slushies at City Snacks, Granny's Apple Fries, and Aqua Treats.
For a proper scrumptious meal including burgers, fried chicken, all you can eat pizza and pasta buffet, head to any of the following restaurant- Caesar's Pizza and Pasta Buffet, Knights Table, The Fried Chicken Co., and more.
The LEGOLAND® Water Park will definitely rise the hunger in the little stomachs of the younger ones.
This water park offers one of the yummiest pizzas at Bricks Bites, which is definitely keeping up with the theme.
For those who are not that big on pizzas, you can take your little ones to Waves Bistro to relish some mouth-watering pitas, burgers, chicken, and more.
DAY 2 – East Meets West!
Let the second day at Dubai Parks and Resorts be all about your baby's most favorites blockbusters- both Hollywood and Bollywood. Jot down MOTIONGATE™ Dubai and BOLLYWOOD PARKS™ Dubai on your calendars and get ready for a day full of filmi maza!
Highlights Of The Day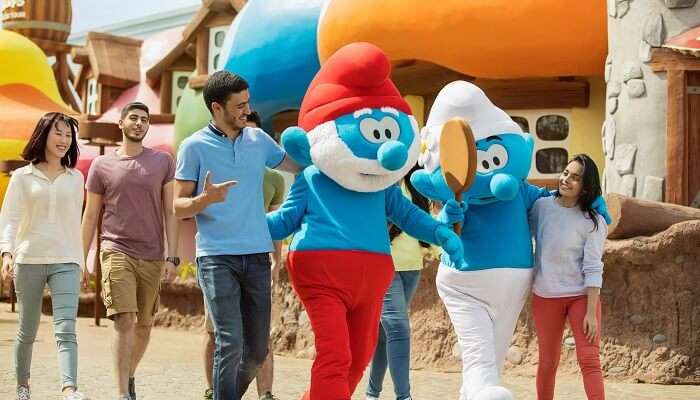 Start your second day with making the movie characters from the topmost and largest motion picture studios in Hollywood – Lionsgate, DreamWorks Animation, and Columbia Pictures rise to real life for your kids.
The world of creativity and innovation awaits at the MOTIONGATE™ Dubai for you and your little ones.
Dubai Parks and Resorts Motiongate give the kiddies a chance to be a part of the team of Ghostbusters to save New York City in the paranormal battle or fight against Lycans in the supernatural Underworld universe with vampire warriors.
Head to the only hotel for monsters and join Drac with other creatures from Hotel Transylvania, and much more at the land Columbia Pictures.
A crowd-pleaser amidst all the younger generations, The Smurfs Village should certainly be your next stop on Day 2. This is exactly the land where your kid's imagination enhances at its best by virtue of houses with mushroom-top, a colony of blue Smurfs playing around with the little ones, enchanting theatre shows, and many more exciting experiences.
Head to Lionsgate to be a part of something extremely energetic and exciting. Hiding something for everyone, adults can take some time off and step up! Groove to the beats of live music or dance shows that showcases influences of the famous Step Up series!
With lands of Kung Fu Panda, Shrek, Madagascar, Hunger Games, and more blanketing numerous family roller coasters, thrilling rides, multimedia shows, and play zones, this land makes everyone 'Move it, move it'.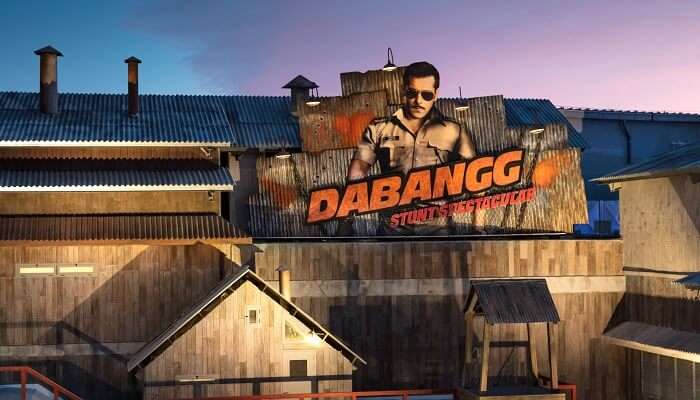 After embracing the Western Style of cinema, spend the second half of Day 2 getting equipped with the East. Yes, that's right! End your escapade to Dubai Parks and Resorts at nothing else but BOLLYWOOD PARKS™ Dubai!
With a chance to chase after the most dangerous mafia boss, Don, 'jise pakadna mushkil hi nahi, na mumkin hai', or witnessing numerous song and dance glitzy shows, this destination is perfect to scratch that Bollywood itch.
Head to The Rustic Ravine where your offsprings can join the team of Bhuvan against the British Raj, witness the stupendous stunt show of Chulbul Pandey to save his damsel in distress, and much more.
End your day and the trip to Dubai Parks and Resorts at the Bollywood Film Studios, or mimicking the dance steps of the diva of Bollywood – Madhuri Dixit, and more of such fun-ematic entertainment.
Restaurants To Hog At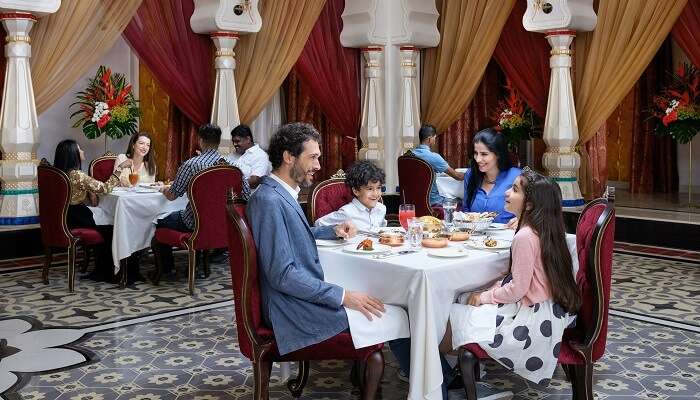 Take a break from Hollywood at MOTIONGATE™ Dubai to relish a meal that would simply make the kids and you crave a little more after every bite. Be it Very Smurfy Cafe, or Mr. Ping's Noodle Shop, each and every restaurant spoil the guests with choices with such impeccable variety of dishes including pizzas, steamed dumplings, sandwiches, and so much more.
Taste the exotic and authentic flavors of India at BOLLYWOOD PARKS™ Dubai on the Bollywood Boulevard or Mumbai Chowk to grab a quick bite after touring around.
Ranging from street food to spicy Punjabi cuisine, the restaurants Spicy Dhaba, Studio Canteen, and Victoria Station Cafe hide plenty to offer in their laps.
Perfect 2-Days At Dubai Parks & Resorts For Couples
Looking for a romantic escape in Emirates? Dubai Parks and Resorts is definitely your answer. With the stay reeking of opulence and a chance to embrace your inner child at all the adrenaline-pumping rides, theme-based surroundings, and experiences that one tends to remember for a lifetime, Dubai Parks and Resorts is your ideal location to follow that road less taken for a romantic yet thrilling getaway! Go through this itinerary and read on to know about how you both can spend some quality time with each other while dancing to the beats of Step Up series!
DAY 1 – Mash Up!
The first day at Dubai Parks and Resorts should certainly be an alchemy of Hollywood and Bollywood, a little mixing up of cultures and satisfying that 'filmi keeda' in yourselves! And one can only get an opportunity to get the best of both worlds at MOTIONGATE™ Dubai and BOLLYWOOD PARKS™ Dubai.
Highlights Of The Day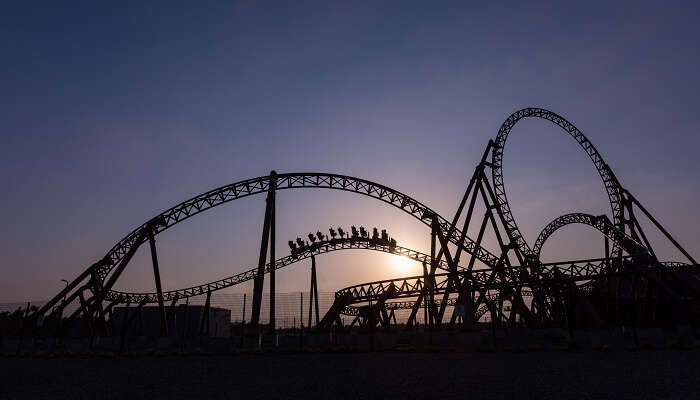 Start your first day at the most vibrant destination at the MOTIONGATE™ Dubai, a destination that is home to the experiences that would only make you both feel like the lead actors of some popular spellbinding blockbusters.
Visit the abandoned amusement park and find your safe zone on the only 58-meter drop tower! The rusty and creepy hair-raising ride might be your only chance to survive the zombies in Zombieland Blast Off.
Climb the rapid response cars on this roller coaster and zip through twisting, turning, and leaping along the junkyard as your stomach tickles.
Next, in line are the Swallow Falls! Splash along the thrilling river expedition where the food combines with animals to form their own species, head right into the heart of lush jungle. Yep, we are certainly talking about the most entertaining animation, Cloudy With A Chance Of Meatballs. 'Come on guys, we've got diem to Carpe!'.
For all the dancers out there, make sure you head to Lionsgate to breathe, live, and enjoy the hip-hop performances taken right out of the Step Up series. Also get a chance to groove on the beats of some live music.
Do not forget to add all the other exciting lands from the most popular production houses of Hollywood to your bucket list. You definitely don't want to miss out on anything.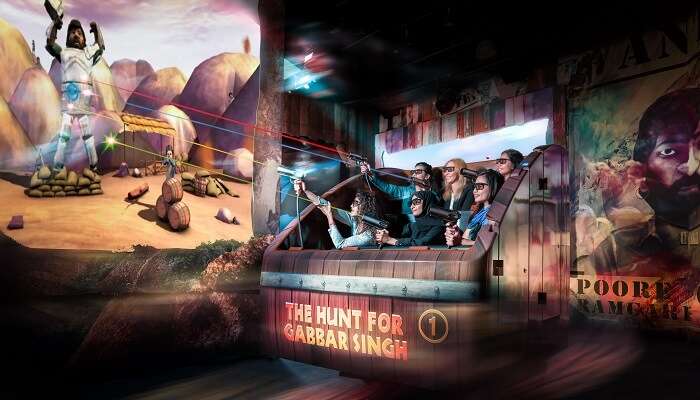 Divide your day in half and cover the BOLLYWOOD PARKS™ Dubai in second half to witness the cinematic harmony between East and West.
Embrace the vibes of the famous Bollywood song 'Chal chhaiya chhaiya chhaiya' as you witness the performers atop the chugging train, shaking their legs to the beats of popular range of songs.
The show also showcases the true Tapori feels in their language and characters, that would make anyone roll on the floor laughing.
Take a trip down memory lane as the artists showcase the golden era of Indian cinema at the Crossroads stage, and give you little glimpses of the dramatic world of India's superstars.
Be the Veeru to your Basanti and fight against the dacoits on the 3D Rustic Ravine Zone. Shoot all the dacoits that follow the steps of Gabbar Singh with infrared guns, and get your real-life Sholay experience.
Do not forget to visit every little nook and cranny of both the parks before heading to the most comfortable and lavish accommodation, the Lapita Hotel.
Accommodation To Stay At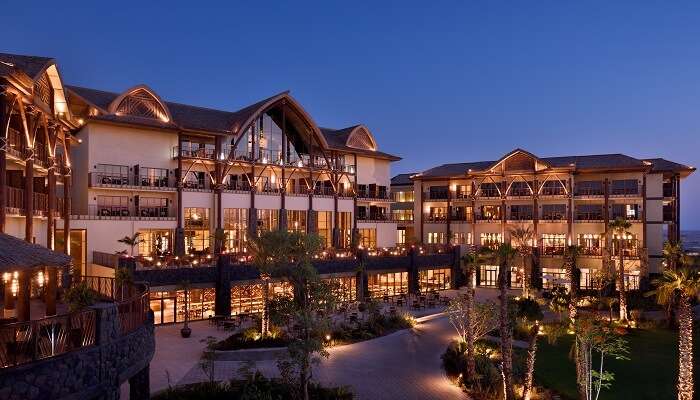 Providing a fine concoction of comfort and luxury, Lapita Hotel is exactly the hotel that would make the whole experience of Dubai Parks and Resorts complete. Reeking of lavishness from every corner, Lapita Hotel is that unique gateway to the Dubai Parks and Resorts that store the endless fun and a different kind of romance in its own way. Exhibiting of the Polynesian theme, the Lapita Hotel is all about rejuvenating and relaxing after a tiresome yet a wonderful day at the Parks.
The romantic lighting, soothing textures, Polynesian architecture, feel-good colors, and the flowers-adorned pathways make this hotel ooze out the vibes of serenity and splendour. To unwind and simply distress further, this hotel offers one of the most impeccable Spa services. The Lagoon style pools adds to an already relaxing and soothing experience.
Restaurants To Hog At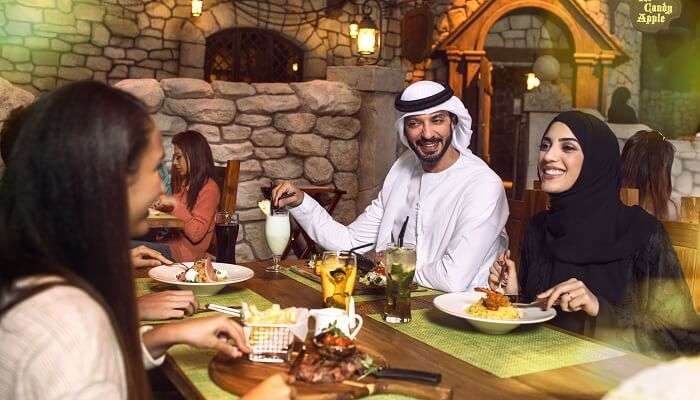 Pause and take a delicious break from all the madness at the Motiongate. Be it the extensive menu of Dragon Flame Grill serving curries and shawarmas or the Supporting Rolls Bakery with coffee that keeps one going with freshly baked pastries that melt in the mouth, the restaurants here have something for every kind of hunger.
Spoiling the guests with choices between pizzas, pastas, ice creams, sandwiches, soups, noodles and more, the restaurants Baby Brent's Luncheonette, Hotel Beastro, Mr Ping's Noodle Shop, King Julien's SideShow Cafe awaits eagerly with their menus so delicious, it gets difficult to resist.
Be it the hot Punjabi dishes of Spicy Dhaba, quick bites at the Studio Canteen, or the street food that you get a chance to hog in a Mumbai local at the Victoria Station Cafe, there is something about restaurants at BOLLYWOOD PARKS™ Dubai that make one craves for more.
DAY 2 – 'Lego' Of Your Adulthood!
The second day at Dubai Parks and Resorts is going to be all about embracing that inner child and simply letting go of all the adultness. It's time for LEGOLAND! Pay a visit to LEGOLAND® Dubai and LEGOLAND® Water Park, and feel young as ever!
Highlights Of The Day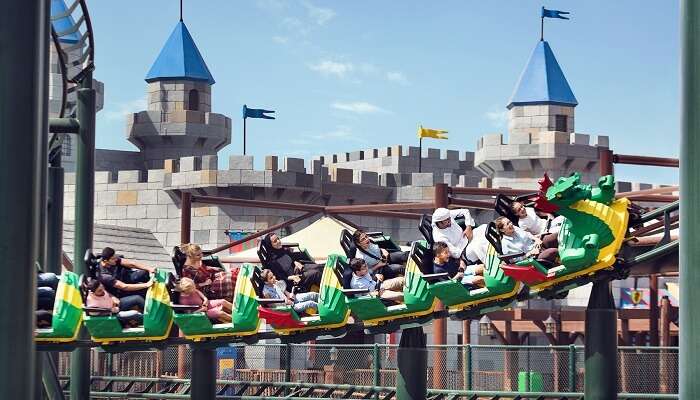 Commence your second day at LEGOLAND® Dubai, building cities with Legos, just like your childhood days.
Climb on the Wave Racers, dodge the water blasts and power ski through the waves, enjoying this thrilling experience.
Board the Dragon, head to the medieval times twisting and turning on the coaster, surrounded by the castle made entirely out of LEGO bricks!
Fan of laser tag? Dubai Parks and Resorts give you a chance to use the laser gun and recover the stolen treasure in the Lost Kingdom Adventure. Strategise and team up with you partners, having each other's backs, and head to success!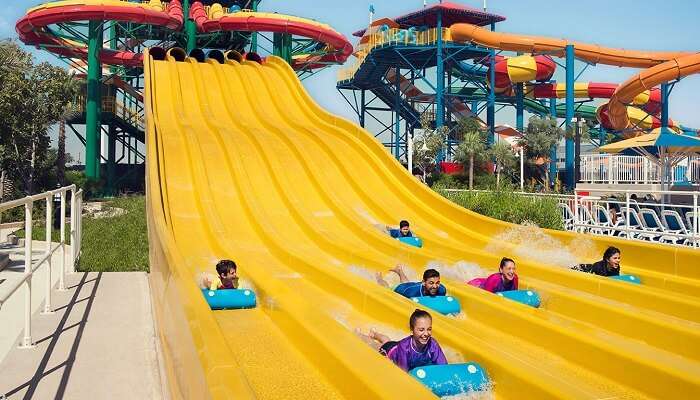 After touring around the Legoland Dubai, it is time to beat the heat at the most exciting and fun-filled LEGOLAND® Water Park with your loved ones.
To add to the experience, this water park gives its guests a chance to build rafts before stepping into the chilly water. Use the large soft Lego bricks to build your ride, compete with each other to see who builds better, and float around the lazy river.
To add a little touch of thrill, drop down from 60 feet above and splash into the pool of water below in the Splash Out.
Race against your partner on the LEGO Slide Racers and see who's the fastest one amidst you both.
The most adventurous ride of all has to be the Wave Rider. End your trip to the super-fun Dubai Parks and Resorts by zooming down from 240 feet above the ground, straight into the clear blue pool.
Restaurants To Hog At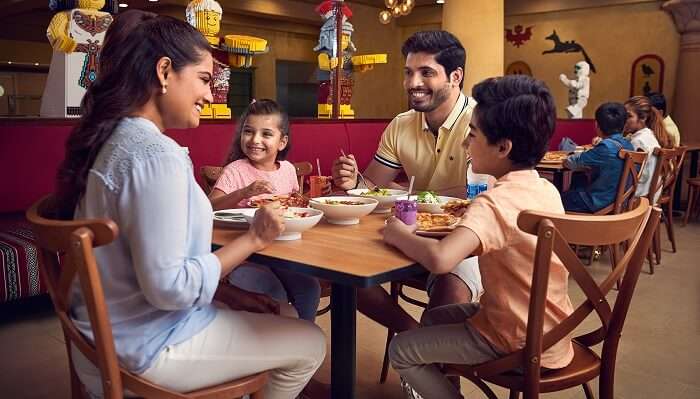 Take a small break to devour some of the most delectable and flavoursome dishes that are nothing less than comfort food. Ranging from fried chicken, burgers, pizzas, frozen yogurts, to coffee, salad, and more, the restaurants at LEGOLAND® Dubai including The Fried Chicken Co., Sir
Scoop-A-Lot, Knight's Table, and many more have plenty to offer.
Indulge in some delicious and freshly cooked variety of global and local cuisines including Asian and Arabic at the Market Restaurant and satisfy that hunger.
The hunger after all that fun at the waterpark surely gets difficult to control. Head to the Bricks Bites to relish some quick-serve pizzas or the Waves Bistro to devour pitas, burgers, chicken, and more when enjoying at LEGOLAND® Water Park.
Dubai Parks and Resorts hides some of the most exhilarating experiences, thrilling rides, and memorable adventures for anyone and everyone. Surely deserving a place on the bucket list of every traveler, this destination is certainly unmatchable. With three theme parks, one waterpark, and two of the most luxurious hotels, Dubai Parks and Resorts is a one-stop destination. Plan your escape to Dubai and get ready to embrace a once in a lifetime experience!
Comments
comments