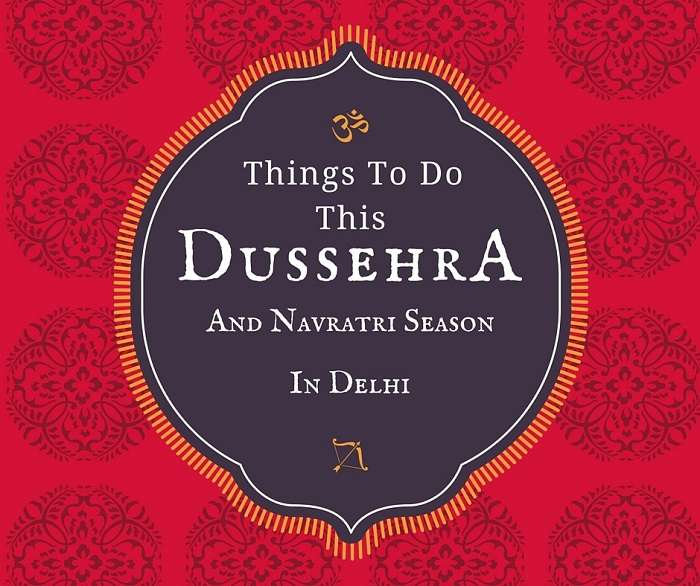 Watching the towering effigies of Ravana, Meghnad, and Kumbhakaran burned to the ground in the society grounds or local ramlila maidans have always been a mesmerizing affair. Add to this the numerous food stalls and joy rides, and you are in for grand celebrations of Dussehra – a festival that marks the victory of good over evil. The main feature of Dussehra and the preceding Navratri (9 nights) has been the enactment of scenes from Ramayan in the form of Ramlila performances.
For this season, we suggest you catch these amazing celebrations of Dussehra in Delhi.
Here's The Most Awaited Festival: Dussehra 2019 Dates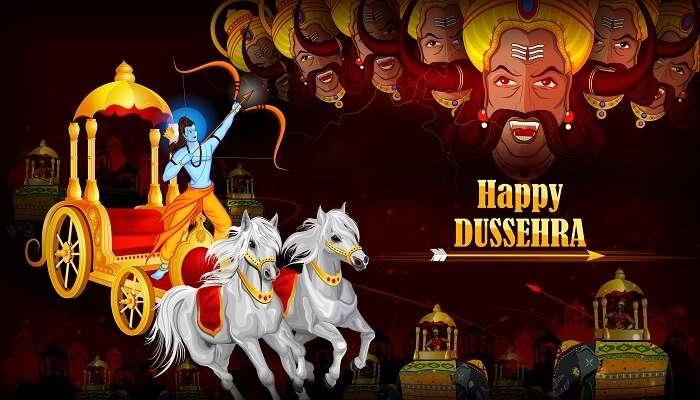 Dates for Navratri 2019: 10th October to 18th October
Dates for Dussehra 2019: 19th October
Must Read: The Best Celebrations of Dussehra In India: From Kullu Dussehra To Dussara In Mysore
Best Organizers Of Ramlila In Delhi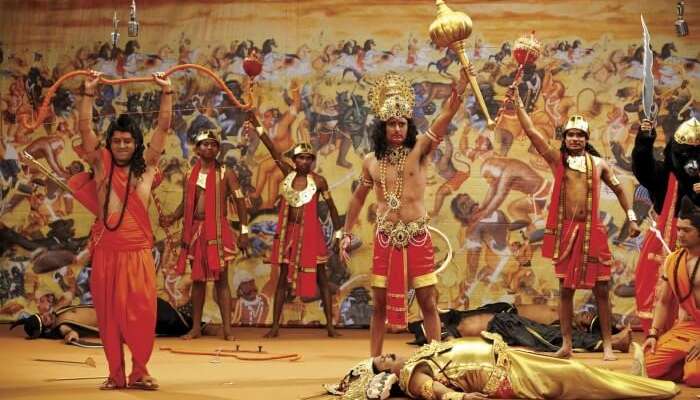 From the oldest Ramlila to the tallest effigy of Ravana, the following list takes you through the finest organizers of Ramlila in Delhi. And for better or worse, most of these are organized in the precincts of Red Fort. We just want to give you a heads up. Good news? You'll anyway manage to experience one of the best celebrations of Dussehra in Delhi. Bad news? You might miss out on something special of one or the other.
1. Shri Ram Lila Committee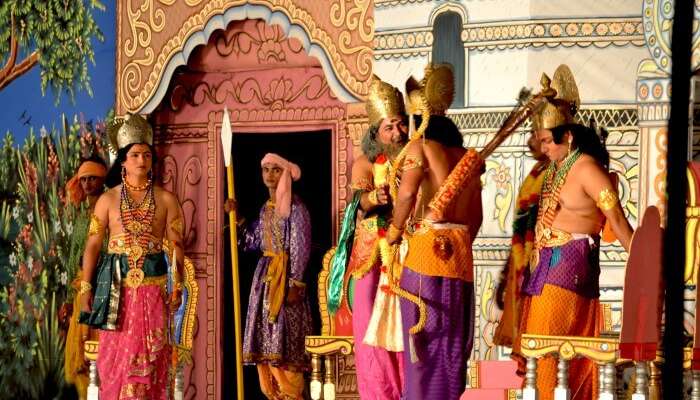 Probably the oldest committee for Ramlila in Delhi, Shri Ram Lila Committee was started by the Mughal emperor Bahadur Shah Zafar for his subjects and army approximately 180 years old. Every day, before the Ramlila, there's a costume parade of performers through Nai Sarak, Chandni Chowk, and Sitaram Bazaar.
Where: Ram Lila Maidan, Asaf Ali Road
When: Details to be announced
Suggested Read: Diwali Celebration In India: A Pocket Guide To The Festival Of Lights
2. Shree Dharmik Leela Committee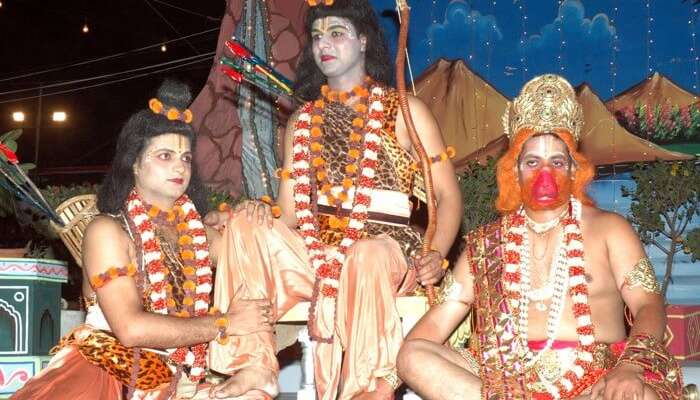 Branched off from Shri Ram Lila Committee, the Shree Dharmik Leela Committee organizes one of the best Ramlilas in Delhi. Apart from the Ramlila shows and huge effigies of Ravan, Kumbhakaran, and Meghnad, they also host a Dussehra Mela where the food stalls are popular amongst the attendees.
Where: Bagichi Madho Das Maidan, Chandni Chowk; until last year it was held at Subhash Nagar Parade Ground
When: Details to be announced
Suggested Read: 10 Famous Festivals In October In India In 2018: Mark Your Calendar Now!
3. Nav Shri Dharmik Leela Committee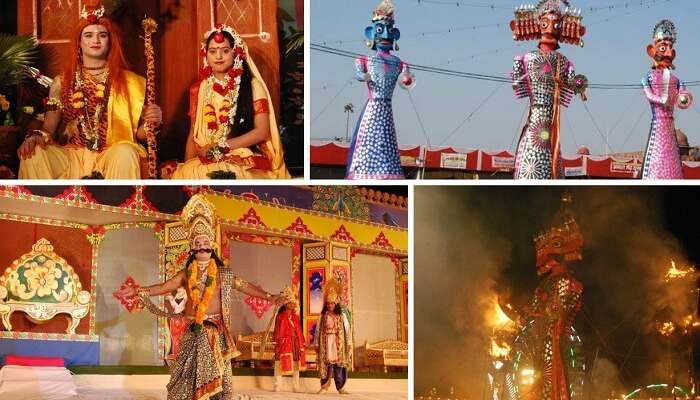 In the Ramlila circuit since 1958, the Nav Shri Dharmik Leela Committee has of late been using technology to create unarguably the most captivating and dramatic display. The committee also boasts of the tallest effigies used every year on the top of Dussehra in Delhi.
Where: Red Fort Lawns
When: Details to be announced
4. Luv Kush Ram Lila Committee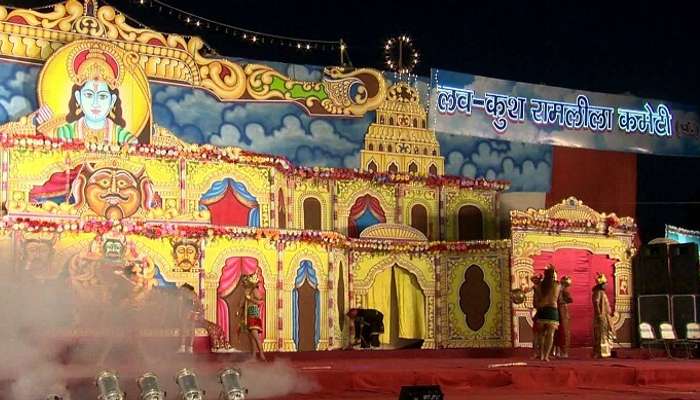 In Delhi, Dusshera is a popular event for people which is why you will find many communities organizing Ram Leela and Dushhera Mela. A relatively new committee in the Ramlila circuit, Luv Kush Ram Lila Committee has been inviting famous Bollywood celebrities and organizing lavish shows since 1979. The high-tech stunts and special effects add to the festival bling.
Where: Lal Qila Maidan, Red Fort (do not confuse it with the Red Fort Lawns)
When: Details to be announced
5. Shri Ram Bharatiya Kala Kendra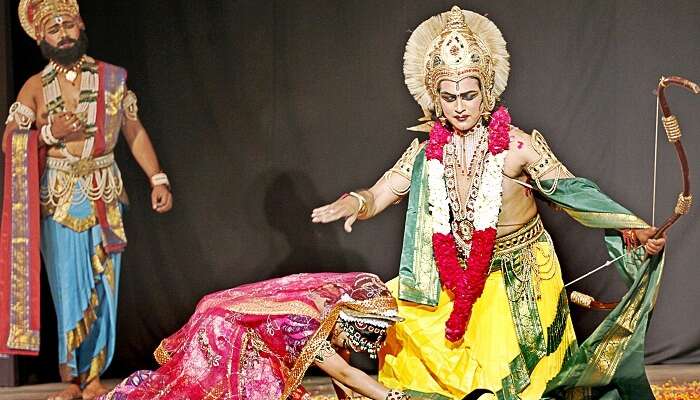 The Shri Ram Bharatiya Kala Kendra is a center of dance, music, and performing arts. One of its key performances is the dance-drama on the story of Lord Rama that it has been showcasing since 1957. This Ramlila dance-drama is a blend of folk and classical dance, acting, and special effects. In the recent years, the society has also started showing the English translation on the projector screens.
Where: 1, Copernicus Marg
When: Details to be announced
Suggested Read: Christmas Celebration In Delhi: 15 Best Places To Embrace The Festive Vibes In The Capital!
Dandiya Dance Nights For Dussehra Celebrations In Delhi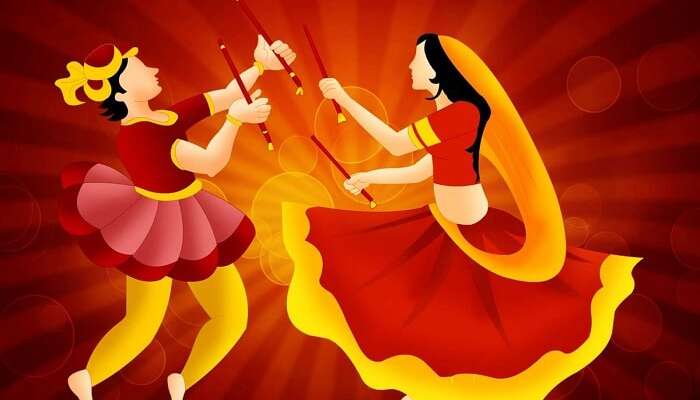 Dandiya has been synonymous with the Navratri. Gujaratis have been celebrating the Navratris with delicious food and sweets, and fun-filled Garba and Dandiya. Luckily for the Delhiites, most of the best places for Dandiya celebrations in Delhi are well connected by Metro. Here's a quick list of 2016's most amazing Dandiya Dance Nights in Delhi.
6. The Grand Dandiya Nights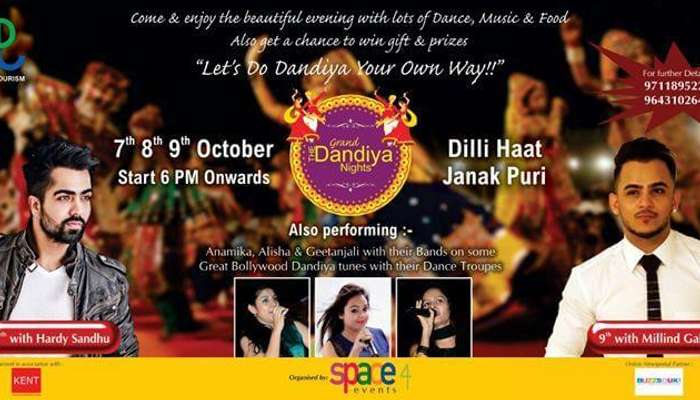 Navratri was celebrated with star performers, including Hardy Sindhu, Milind Gabba, Anamika, and others. Dilli Haat, the place that hosts this annual music & dance bonanza, is one of the best places to celebrate Navratri in Delhi.
Where: Dilli Haat, Janak Puri
When: To be announced
Attractions: Dance & music performances, food stalls, and gifts
Also watch out for the Grand Navratri Mahotsav at Dilli Haat, Pitampura.
7. Bollywood Dandiya Raas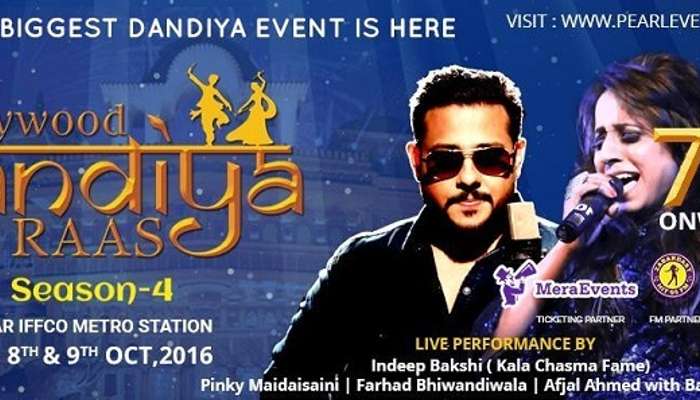 Unarguably the biggest dandiya event in Delhi, Bollywood Dandiya Raas at the Kingdom of Dreams brings 3 days of fun, food, and dandiya making it the best Dussehra celebration places in Delhi. With surprise visits from Shah Rukh Khan and other Bollywood celebs over the years, you can definitely hope for some Bollywood glamor in addition to the existing long line-up of performances. The main attraction in 2016 was Indeep Bakshi of Kala Chashma fame.
Where: Kingdom of Dreams, Gurgaon Sector 29
When: To be announced
Attractions: Live Performances by Pinky Maidasani, Indeep Bakshi, Farhad Bhiwandiwala, and Ajmal Ahmed
Suggested Read: 10 Mumbai Festivals You Must Attend On Your Next Trip To The City Of Dreams
8. Garba Dandiya Raas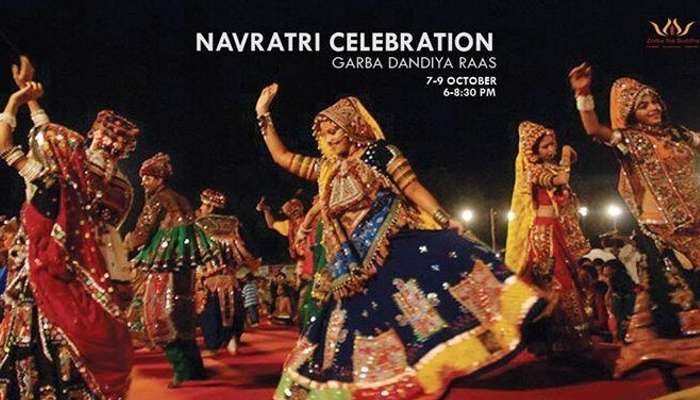 Away from the hustle-bustle of city life, here's your chance to enjoy the Dussehra celebration in Delhi at Zorba the Buddha at Ghittorni hosts Garba Dandiya Raas – a fun-filled dance evening with a delicious dinner buffet. What is more? A dance teacher will, at the begin of each dance evening, acquaint the guests with the basics of dandiya. It was amazing in 2017 and one can hope the same in 2019.
Where: Zorba the Buddha, Ghittorni
When: To be announced
Entry: Through Pre-registrations; cost may vary
Contact Details: Bobby (+91)7859906101
9. Aarambh 2019: Dandiya Raas and Garba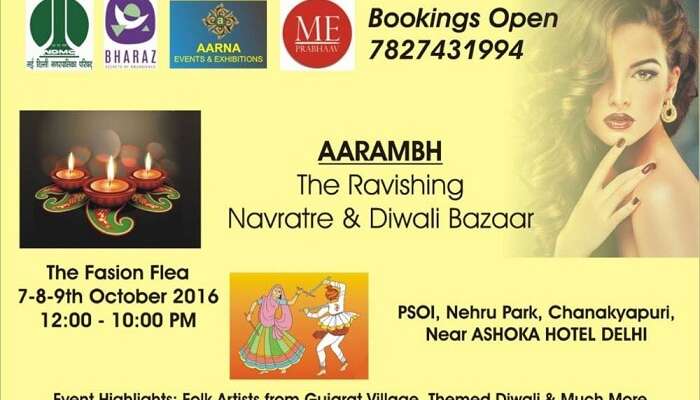 Aarambh was a unique Navratri Festival of three nights, with fantastically costumed devotees swaying in a fusion of dance and devotion. And the mouth-watering food was a bonus, get ready to enjoy the best Dussehra in Delhi.
Where: Nehru Park, Chanakyapuri
When: To be announced
Entry INR 499 per person
Attractions: Non-stop free-style Dandiya, exhibition, and traditional folk performances by artists from Gujarat
*Please Note: The dates, entry fees, and the images of the events will be updated as and when they will be announced.
Further Read: 20 Historical Places In Delhi For A Walk Through Time
So step out of your abodes and explore the city for the best experience of Navratri and Dussehra in Delhi. We hope to bump into you at one of these locations and enjoy Dussehra Mela in Delhi. Happy Navratri and Happy Dussehra.
Comments
comments