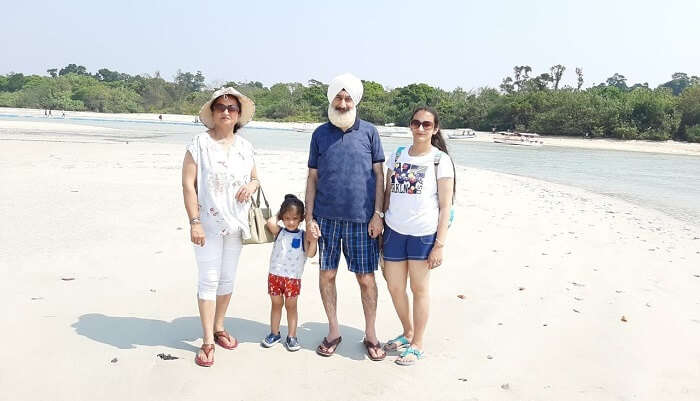 Andaman is the most exquisite island jewel of India. With its cerulean water spread as far as the eye can see and the long stretches of white shimmering sand forming a significant part of the landscape, Andaman is one of its kind stops in India. An escape for both nature and adventure lovers, this island nation is nothing less than paradise. Hiding something for every kind of traveler, a family tour in Andaman is full of surprises. Don't believe us? Let this travel tale of Verinder and his fam inspire you then!
My family and I really enjoy going outdoors and explore various places in the country that are a little offbeat. For this year around I wanted to go for a beach destination to enjoy a leisurely holiday. So, we decided to plan a trip to Andaman from Delhi and the long stretches of glittering white sands simply pushed us further to finalize Andaman. We took no extra minute to book our package from TravelTriangle and then just eagerly waited for the dates to arrive.
Weather In Andaman In February
So, I took mine 6 days trip to Andaman with family in the month of February. The weather there was exactly how we expected the tropic climates to be. Even though it was a bit humid, there was still a breeze and the climate seemed pleasant. During the day, the temperatures must have stayed around 22 degrees Celsius to 30 degrees Celsius. The sun was shining right above our heads but it was never a hindrance for us and the sightseeing tours that we had planned beforehand.
Package Details About Verinder's Family Tour In Andaman
Trip Type: Tour Package
Cost: INR 65,850
No. Of People: 3 Adults, 1 Child
Duration: 6 Days
Inclusions: Breakfast, Airport Transfers, Private Ferry Transfers, AC Cruise, GST, Transport And Other Taxes, Accommodation, Boat Charges
Exclusions: Lunch And Dinner, Water Activity Charges, Air Fare, Other Than Mentioned In Inclusions
Itinerary Summary For Verinder's Family Tour In Andaman
Day 1 – Arrival in Port Blair, Sightseeing, overnight stay in Port Blair
Day 2 – Head to Ross Island, overnight stay in Port Blair
Day 3 – Take a ferry to Havelock, visit Kala Pathar Beach, overnight stay in Havelock
Day 4 – Visit Radhanagar Beach, overnight stay in Havelock
Day 5 – Head to Neil Island, Sightseeing, overnight stay in Neil Island
Day 6 – Shopping, Departure
Must Read: 53 Best Places To Visit In Andaman In 2022 For A Mesmerizing Holiday Experience
Top Places We Visited On Our Family Tour In Andaman
Our family tour in Andaman was truly full of beautiful experiences where we got to witness amazing attractions. Here are some of the top ones that we would like to share with you. You should definitely add these to your itineraries when going on a family vacation to Andaman!
1. Corbyn Cove's Beach



One of the first famous attractions in Andaman that we got to witness was this beach. Sitting in Port Blair, the Corbyn Cove's Beach was exactly what I was hoping for when I planned beach vacation. The nodding palm trees, shimmering white sands, and the azure waters was a treat not only for our souls but also our eyes. This was one of those idyllic experiences where we just relaxed, rejuvenated, and got de-stressed. Strolling around the beaches and enjoying the pleasant weather was an experience to never forget.
2. Radhanagar Beach




We covered Radhanagar Beach on our third day. By this time, we were so used to the beaches and the serenity that they exuded. The turquoise waters spread as far as the eyes could see, lesser crowds, and the swaying palm trees were simple enough to make our vacation truly remarkable. However, the sunset that we got to witness, the hues of red, yellow, orange, and pink resembling a painting was an extraordinary experience. Another beach that we got to witness the sunset from was the Laxmanpur beach. Beaches of Andaman are surely some of the best places to see in Andaman with family.
Suggested Read: Snorkeling In Andaman Is All About Witnessing The Magical World Underwater In 2022!
3. Neil Island



If you are wondering what to do in Andaman with family and are adventure seekers just like us, make sure you try out the water sports that this island nation has to offer. We decided on three sports – scuba diving, jet-skiing, and a ride on the glass-bottom boat. Scuba diving was an experience that left us in a awe of nature. Swimming along with the underwater creatures, witnessing the beautifully colored corals, and the simultaneous adrenaline rush was definitely the most remarkable moment of our vacation. We also tried submarine rides but it didn't really seem worth it.
4. Local Market



After we were done with all the beaches and islands, the only thing that was left was to explore the bustling local markets of Andaman. The liveliness and vibrancy of these markets were enough to help us enjoy strolling around, looking at some amazing souvenirs and other products that were there to offer. When in Andaman, one can definitely pay a visit to any of the Emporiums and local markets.
Suggested Read: 47 Most Amazing Things To Do In Andaman In 2022 That Travelers Cannot Miss!
Hotels In Andaman
On our family tour in Andaman, we had three different hotels on three different islands.
1. Marina Manor, Port Blair
Marina Manor was one of the most comfortable hotels that we stayed at. The services were excellent, the rooms were cozy, and all the necessary amenities that we needed. The hospitality of this hotel was outstanding. We had a warm-hearted welcome and the staff responded promptly to our queries.
2. Haywizz Resort, Havelock
This resort was definitely a value for money accommodation. The hotel offered us the best of comfort and opulence that only added to our already amazing experience. The rooms were spacious and comfortable, and the hotel offered a 24 hours ice cream parlor and a cafe which was surely a cherry on top.
3. N K Eco Resort, Neil Island
Our Eco Resort at Neil Island was hands down, our most favorite accommodation on our entire family tour in Andaman. This resort offered us rooms that had windows facing the sea. Witnessing the seaside view the moment we woke up was extremely heartwarming. The hospitality and services offered to us were just another pluses for us.
Restaurants In Andaman
We went to different restaurants on different islands. The food scenes of Andaman are actually pretty impressive. There are innumerable restaurants and eateries that spoil tourists with choices. We could also try out different cuisines on our vacation. In Port Blair, we had our meals in Deliciaa and Icy Spicy, in Havelock we went to Something Different and Anju Coco, and at Neil Island, we went to the Royal Kitchen. The food was extremely scrumptious and the services were also pretty commendable in Andaman.
Suggested Read: Andaman Travel Tips: Know About The Do's And Don'ts Before Planning Your Vacation In 2022!
What To Pack For Family Tour In Andaman
Since the weather of Andaman is like every other tropical nation, it is better to carry the outfits that will help you handle the humid climate. We recommend that you carry loose and light cotton clothes to avoid any sort of discomfort.
As for the footwear, since it is mostly the beach destination, it is best to carry slippers, sandals, and flip flops. Do not forget to pack along a good sunblock and a handy first aid kit with all the necessary doses like paracetamol and others.
Personal Expenses Incurred
Since we did not have the water sports and we preferred trying out various eateries in Andaman, we did end up spending more from our pockets. Apart from the itinerary, we had expenses of more or less INR 25,000 for the six days we spent there.
Suggested Read: 8 Best Cruises To Andaman In 2022: Guide To Fares And Ferries From Kolkata, Chennai And Vizag!
Travel Tips

Here are a few travel tips that one should keep in mind when taking a trip to Andaman.
Carry light, summer clothes as the humid weather can make it difficult for you to enjoy otherwise.
Make sure you carry enough cash. There are chances that you won't find an ATM or card machines everywhere you go.
Make sure you have a BSNL sim if you wish to contact the friends and families back home.
A handy first aid-kit is of utmost importance on the trip.
Our Experience With TravelTriangle
When we were booking our trip with TravelTriangle, we did not know what to expect. But the agent that was provided to us was excellent and helped us throughout in our planning and execution. The overall experience with TravelTriangle was pretty good. The payments were all done in a butter-smooth manner, without any hassles. We would surely avail the services again and recommend this to other fellow travelers out there.
Further Read: Hemant's Family Trip For 7 Days In Andaman And Nicobar Was Something To Treasure!
Verinder had a memorable and action-packed family tour in Andaman. Visiting all the pristine beaches with towering palm trees, azure waters, and the tranquil environment was an excellent experience for him. Take some tips and plan your family vacation to Andaman with TravelTriangle to embrace the best of what this island territory has to offer!
People Also Read:
Family Trip To Meghalaya Family Trip To Sikkim Family Trip To Rajasthan