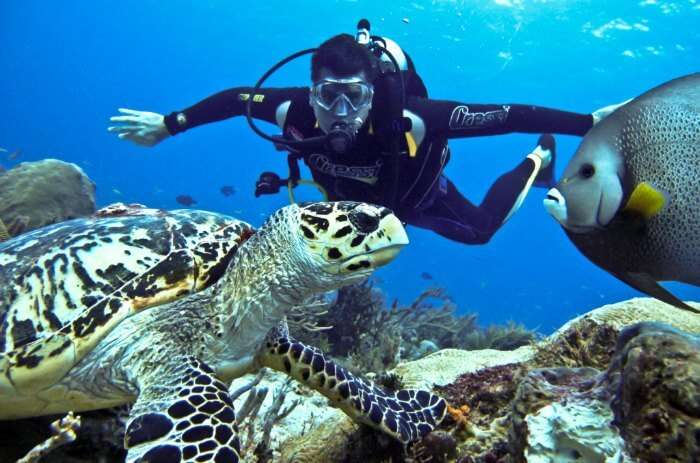 Sunny skies, golden beaches, turquoise waters, and untouched environs make Andaman islands your perfect go-to destination. But it is not just the beauty of the archipelago of 572 islands that makes Andaman and Nicobar Islands an ideal getaway. There are adventure sports, water activities, activities for the nature lovers, and sightseeing tours of Andaman that one can opt for.
17 Best Things To Do In Andaman
Now that you are ready to explore the islands, here's a handpicked list of the things to do in Andaman island that you must try while you're there. For travelers who wish to experience sheer thrill, here's what you can do:
Snorkeling At North Bay & Elephant Beach
Witness Bioluminescence, Havelock Island
Scuba Diving
Ride a Banana Boat, Port Blair
Take The Glass Bottom Boat Ride
Parasailing, Havelock Island
Swim With Elephants, Havelock Island
Travel In A Sea Plane
Take Sightseeing Tours
Attend The Light & Sound Show, Cellular Jail
Trek From Mt Harriet To Madhuban
Go On Nature Walks Through Mongluton Rubber Plantations, Wandoor
Explore The Limestone Caves In Baratang
Bird Watching, Chidiya Tapu
Island Hopping To See The Sunrises And Sunsets
Take A Semi Submarine Ride In Port Blair
Go Dolphin Watching In Havelock Islands
1. North Bay & Elephant Beach – Try Snorkeling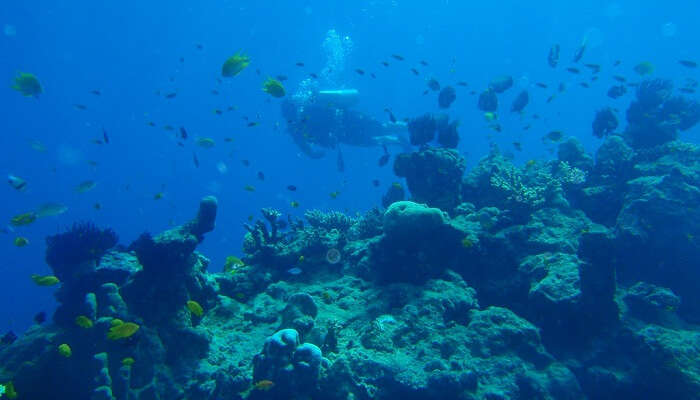 For those who haven't tried snorkeling yet, this is your big chance. The water sport rightly stands on top of our list of the best things to do in Andaman in April. See the exquisite marine life and view the rarest corals as you go snorkeling at North Bay Island or Elephant Beach at Havelock Island. We suggest Havelock as the water here is much clearer as compared to North Bay.
Cost: INR 500 to INR 1000
---
Andaman Holiday Packages On TravelTriangle
Indulge in snorkeling or scuba diving to see magnificent coral reefs or stay in beach resorts at Havelock island. Visit Port Blair, Ross Islands, Neil Islands, Gandhi marine park, and Cellular Jail. Book memorable holiday packages on TravelTriangle.
---
2. Havelock Island – Witness Bioluminescence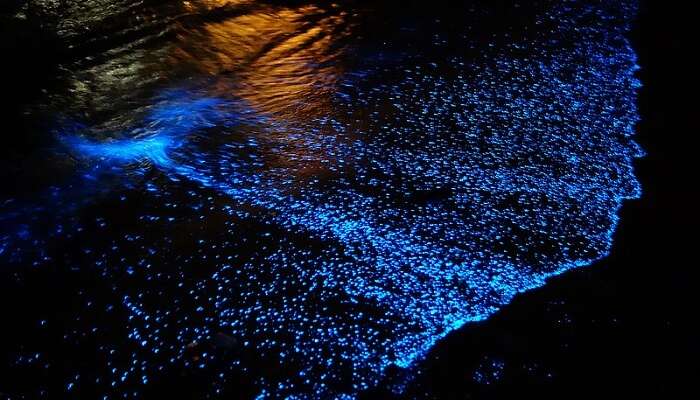 Picture this – tiny lighted stars and galaxies floating under your feet instead of the blue sky above. Total bliss! Watch this happen on the beach at Havelock Island as it amongst the top things to do in Andaman, where water glows as you row your boat through them. This happens due to the presence of phytoplankton in the sea waters.
Note: Bioluminescence can be witnessed only on no moon nights. Kayak tours are arranged by experts, which are anyway few in Havelock. Ask any Scuba guide and they will connect you to the right person.
Cost: There are no charges for visiting the bioluminescent beach in Andaman.
Suggested Read: 7 Top Sea-Facing & Beach Resorts In Port Blair, Andaman
3. Scuba Diving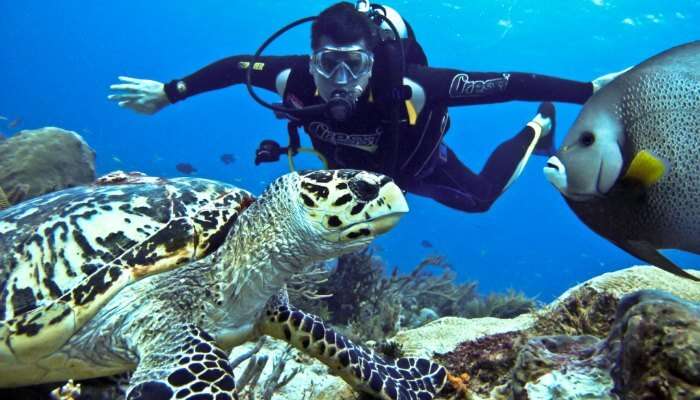 Scuba doesn't require you to know swimming! Yes, many people do not attempt it thinking that knowing swimming is important, but that's far from reality. If you want to try the tougher levels of scuba and go out into the open waters, then and only then do you require swimming skills. But the same is not true for PADI Scuba Diving or Sea Walking. There are many places to try scuba diving in Andaman. So do not worry, just try the sport and discover colorful corals and enchanting water life.
Cost: INR 1,800 onwards*
*Find detailed list of Scuba packages here.
4. Port Blair – Ride A Banana Boat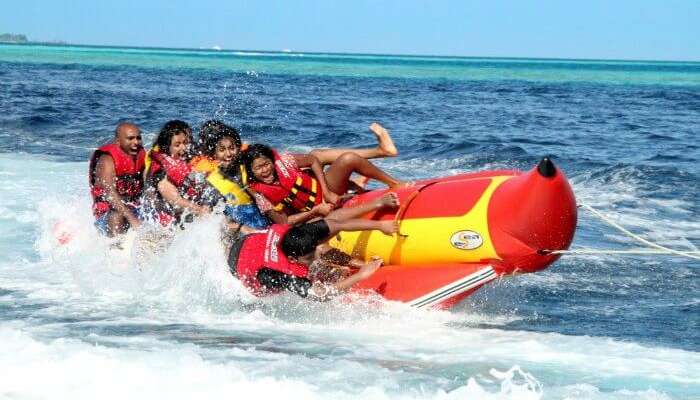 Riding a Banana Boat is another fun-filled and thrilling thing to do in Andaman. At a time 6 people can ride the banana-shaped boats that are tied behind a speedboat to gain rush. It is a perfectly safe activity as long as you have your life jackets on and follow the instructions given.
Cost: INR 620 per person; inclusive of banana boat, life jacket, and instructor
Also Try: Kayaking, jet skiing, and speedboat riding
Suggested Read: 20 Best Beaches In Andaman & Nicobar Islands Water Babies Must Visit
5. North Bay Coral Island – Take The Glass Bottom Boat Ride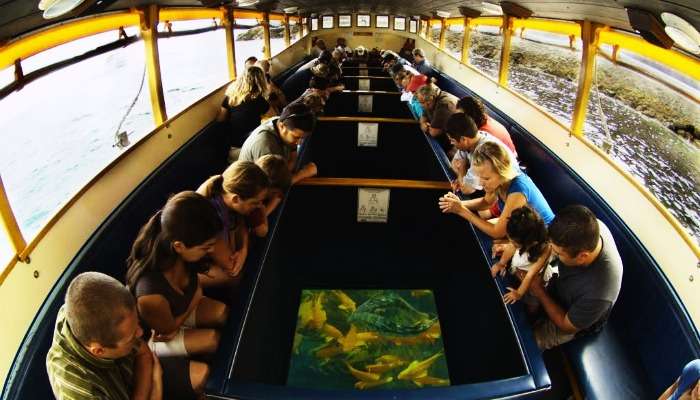 This one is for those who are really afraid of water. This one is an easy ride and gives you a good view of the corals beneath With proper safety gear, this one is good for kids as well. In fact, if we may say so, glass-bottom boating is among the unique things to do in Andaman and Nicobar Islands. You get to see the marine life through a glass bottom in the boat as you sail through the sea.
Where to try: These glass-bottom boats ply between Water Sports Complex & North Bay Coral Island and between Port Blair and Jolly Buoy Island.
Cost: INR 500 per person onwards
Suggested Read: 50 Places To Visit In India Before You Turn 30
6. Havelock Island – Go Parasailing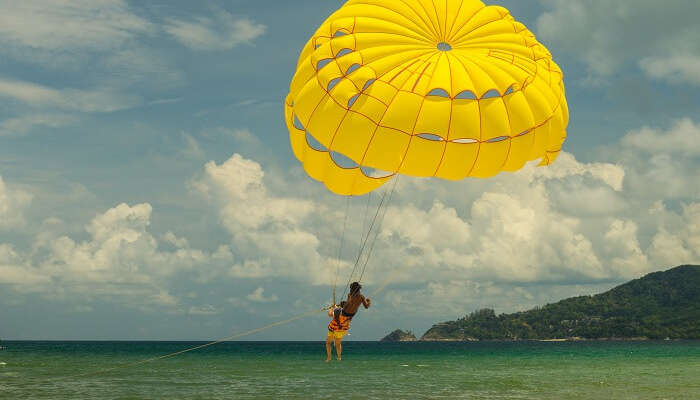 To satiate your adrenaline rush, try parasailing. Of all the things to do in Havelock Island, this activity is a blend of water & airborne adventure. Tied behind a motorboat while harnessed in a parachute, you get to fly like a kite behind the boat as it speeds off into the sea, and you'll surely find it to be one of the most thrilling things to do in Andaman island.
Cost: The charges for parasailing depend on the season in which you have visited the island, and the location you are parasailing.
Suggested Read: 11 Thrilling Water Sports In Andaman Which Require No Swimming
7. Havelock Island – Swim With Elephants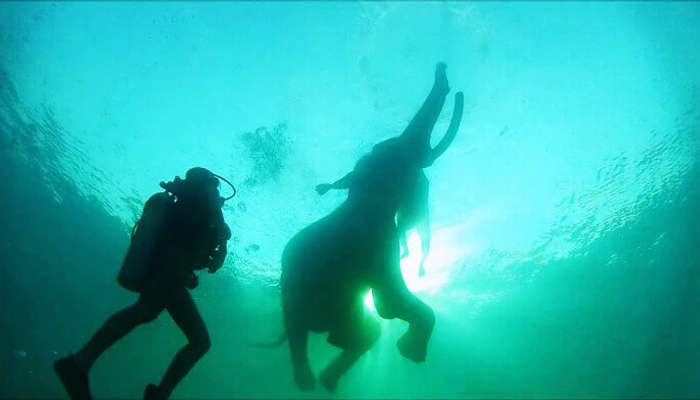 Andaman offers you a chance to swim with Rajan – the star elephant. The 60+ elephant loves the company of people and is very friendly. However, you need to book your swim with Rajan in advance. Make sure you indulge in this exciting yet unique experience before leaving Andaman!
Cost: NA
8. Port Blair – Travel In A Sea Plane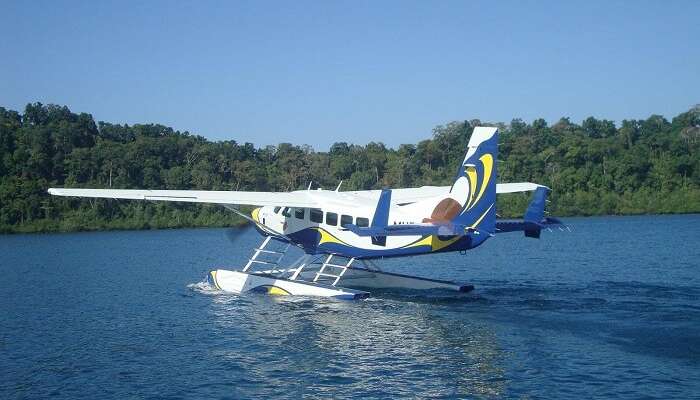 Taking off in a seaplane run by Pawan Hans is one of the exclusive things to do in Andaman. You can experience this unique ride while going from Port Blair to Havelock or while returning. The seaplanes can carry only 9 passengers at a time and the time of flight is 15 minutes. The same distance, if covered by ferry, takes about 2 hours. Enjoy the stunning aerial views of Andaman and its many gorgeous islands while flying in this seaplane, which is definitely one of the most romantic things to do in Andaman!
Cost: INR 2,000 per person for a 1-way flight
Suggested Read: Best Experiences On A 6 Day Family Trip To Andaman
---
Planning your holiday in Andaman but confused about what to do? These Andaman travel stories help you find your best trip ever!
Real travel stories. Real stays. Handy tips to help you make the right choice.
---
9. Take Sightseeing Tours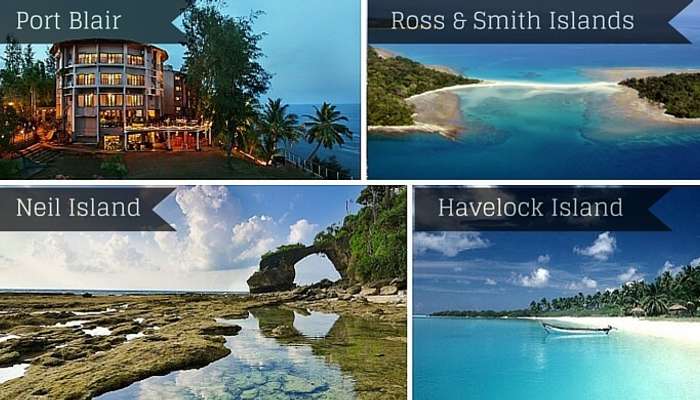 A paradise for travelers, Andaman is an idyllic island for a peaceful getaway. With a myriad of beaches and tourist attractions spread across the various islands, there is a lot to see here. Individual island tours can be taken on the major islands, viz. Havelock Island, Neil Island, Port Blair, and Ross & Smith Island. Cellular Jail National Memorial, Samudrika Marine Museum, and Rajiv Gandhi Water Sports Complex in Port Blair; Radhanagar Beach on Havelock Island; Mahatma Gandhi Marine National Park; mud volcanoes of Baratang, active volcano at Barren Island; and Chidiya Tapu are just some of the many places to visit in Andaman.
Cost: INR 1,200 onwards
10. Cellular Jail – Attend The Light & Sound Show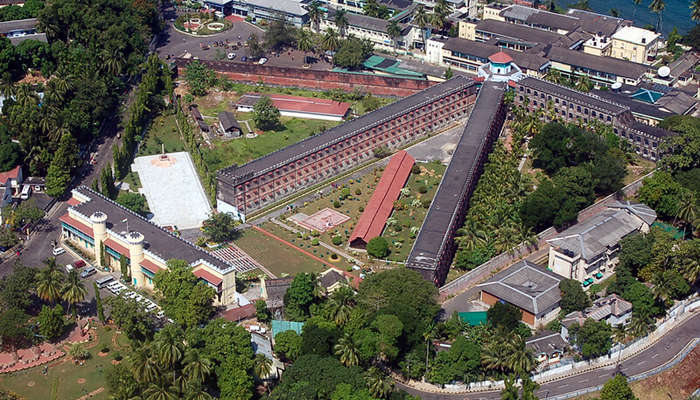 Visiting the Cellular Jail in Port Blair is amongst the best things to do in Andaman in March. The jail, erstwhile Kaala Paani Jail, was used by the British as a colonial prisoner. The memorial is reminiscent of India's struggle for freedom. But it is the Light & Sound Show that is its highlight. The show includes a Peepal tree's narration, voiced by the veteran actor Om Puri, telling the poignant stories of the prisoners tortured to death in the jail.
Opening Hours:: Tuesday – Sunday; 8:45 am – 12:30 pm & 1:45 pm – 5 pm
Entry Fee: INR 10 for entry; additional costs of INR 25 & INR 100 respectively for cameras & video-cameras
Suggested Read: In Pictures: 20 Places To See Stunning Sunsets In India
11. Mt Harriet – Trek To Madhuban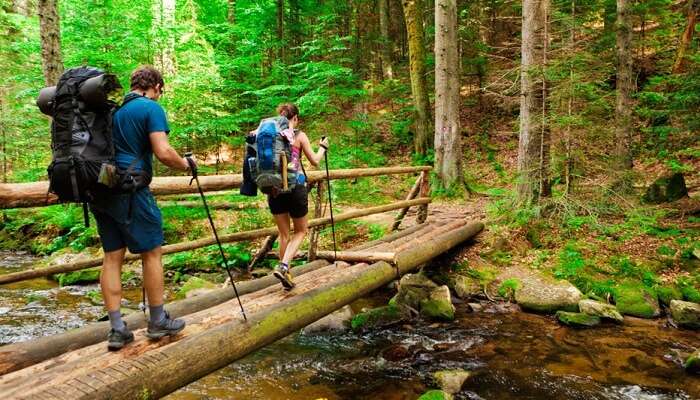 Of course, you must have all thought that the islands with such gorgeous beaches must be ideal for relaxing. Some of you must have been aware of water sports here. Well, all of you are right. But only partially, for there is more to do here. In fact, trekking from Mt Harriet – the third highest peak in the archipelago – to Madhuban via Kala Patthar is one of the best things to do in Andaman. The trekking trail is a rugged stretch of forests that are home to a vast variety of flora & fauna.
How far is the starting points of the trek: Ferry ride from Chatham and there on up to the Mt Harriet National Park by jeep.
Cost: There are no charges for this activity unless you book for a trek tour experience.
12. Wandoor – Go On Nature Walks Via Mongluton Rubber Plantations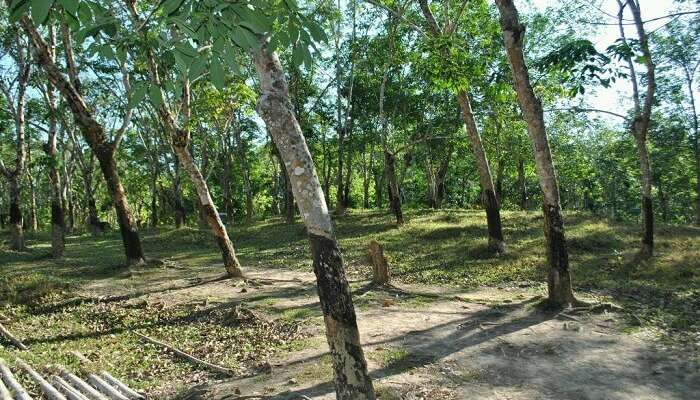 The Mongluton rubber plantations in Wandoor are perfect for the curious wanderers. The guided tour takes you through rows and rows of rubber trees. On request, the guides also explain the processing of raw rubber into hard rubber sheets. But that is not all! A variety of spices also grow here, including cinnamon, clove, pepper, and betel.
Cost: There are no charges for nature walking.
Suggested Read: 15 Things To Do In Port Blair That Will Urge You To Plan An Andaman Holiday Now
13. Baratang Island – Explore The Limestone Caves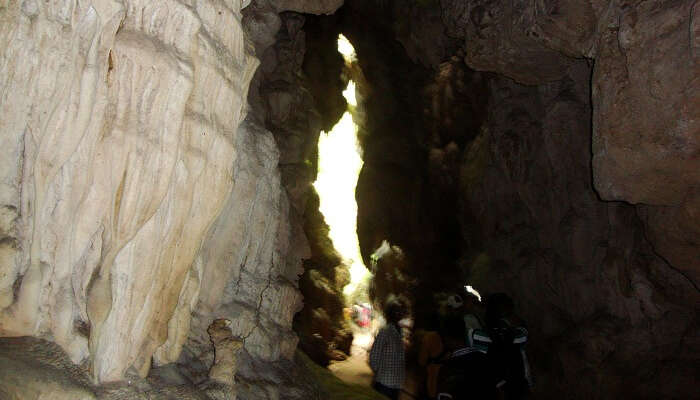 Get ready to be fascinated by the natural structures of stalactites & stalagmites inside the Limestone Caves of Baratang. Exploring the intriguing caves is one of the fascinating things to do in Andaman and Nicobar Islands. In addition to the cave exploration, the ride in a speed boat to the cave is thrilling with mangrove trees on both sides and the splashing water.
How to reach Baratang: The bus ride from Port Blair to Baratang takes about 2 hours 30 minutes and covers 90 km. Ferries from Nilambur Jetty to Baratang take about 15 minutes.
Entry Fee: NA
14. Chidiya Tapu – Go Bird Watching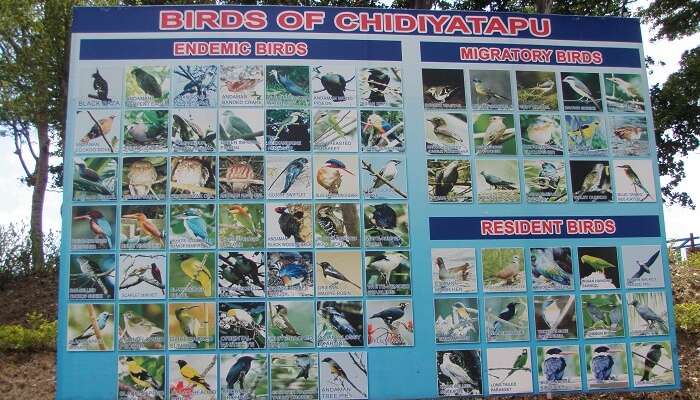 Another popular activity among the things to do in Andaman for nature lovers is bird watching. Chidiya Tapu, the tiny island village, is located 25 km from Port Blair. On the island, you will come across several species of birds – parakeets, emerald doves, sea eagles, and many more. Click pictures or simply listen to the sweet sounds of bird calls while you relax on this tiny island.
Best way to reach Chidiya Tapu: Rent a bike or a car, whichever you enjoy more.
Cost: There are no charges for this activity.
Suggested Read: Cruise To Andaman: 2019 Guide To Fares And Ferries From Kolkata, Chennai, Vizag
15. Island Hopping To See The Sunrises And Sunsets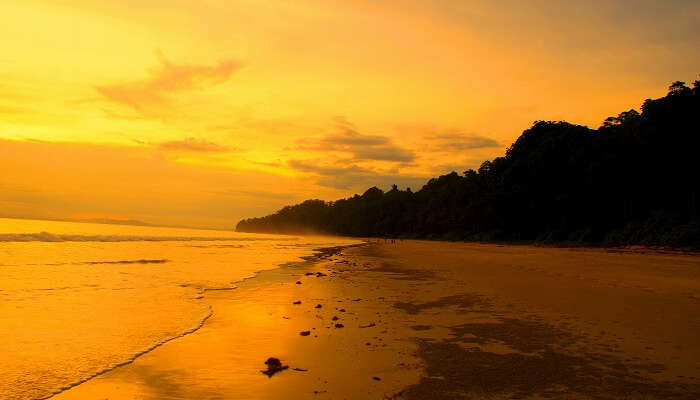 Any trip to the Andaman Islands is incomplete without island hopping, one of those undeniably romantic things to do in Andaman with your better half. Take ferries from one island to another and enjoy the sunrises & sunsets. Visit the popular islands like Neil Island, Havelock Island, Viper Island, and North Bay Island; or explore the inhabited islands such as Guitar Island, Long Island, Jolly Buoy Island, Ross & Smith Islands, and Stewart Island. There are a lot of things to do in Neil island from this list of islands as it has some of the best white sand beaches. Enjoy beautiful scenic views as you hop from one island to another. The options are almost endless.
Cost: The charges for this activity depend on the island tour you take.
16. Port Blair – Semi Submarine Ride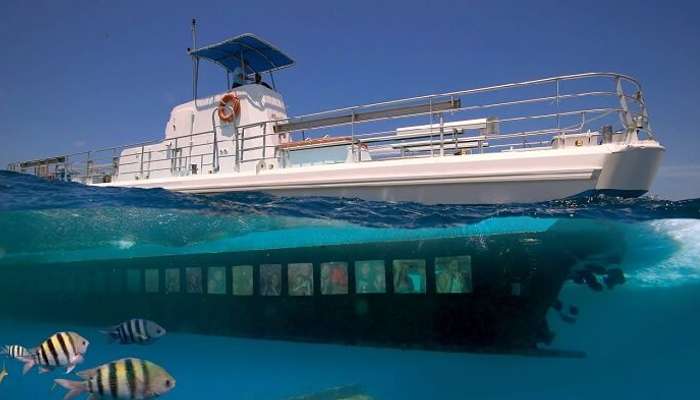 Image Source
Dreaming of going on a submarine ride in the depths of Andaman. Well, if not for the actual one, the Coral Safari Semi Submarine ride in Port Blair offers a very similar experience to travelers that totally thrills them out! Make sure you indulge in this fascinating experience during your visit and witness the underwater marine life up close while sitting in the comforts of a semi-submarine that will take you on a joy-ride above the multicolored corals and amid a plethora of unique fish.
Duration: 2 hours
Timings: 9:30 AM to 3 PM
Suggested Read: 6 National Parks In Andaman That Lets Every Traveler Get Up & Close With Nature!
17. Havelock Islands – Dolphin Watching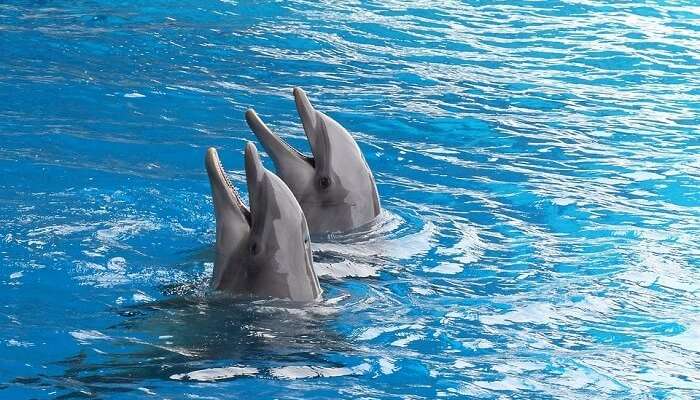 Image Source
It's the favorite activity of all wildlife enthusiasts and water babies in Andaman, and these islands tend to be the best place to try this delightful feat. Just hop into your boat that will sail slowly over the brightest blue ocean and meet the friendliest creatures on earth while they prance, play, and chatter around you in the water. Nothing beats the joy of witnessing these happy mammals in their natural habitat.
Cost: Starting at INR 600/-
Note: One can also go dolphin watching in North Passage or Lalji Bay.
How To Reach Andaman Islands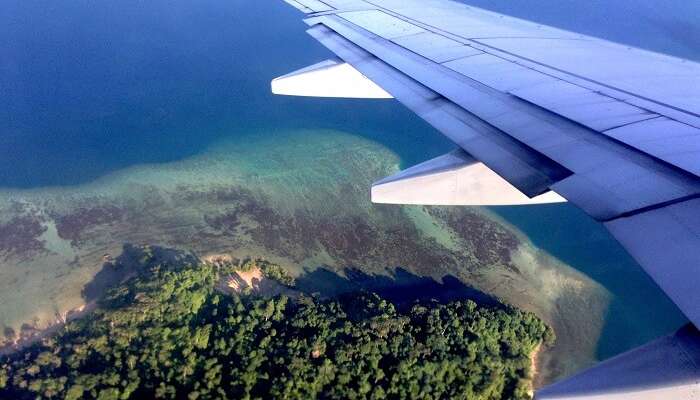 While you have an idea of the must things to do in Andaman and Nicobar, make sure to plan your trip accordingly. Andaman can be reached via air and water both and here is a route guide to know how to reach Andaman.
By Air:Deboard at Vir Savarkar Airport in Port Blair
By Ship:Alight at Haddo Wharf Port in Port Blair; ship services are available from Chennai, Kolkata, and Vizag
Best Time To Visit Andaman And Nicobar Islands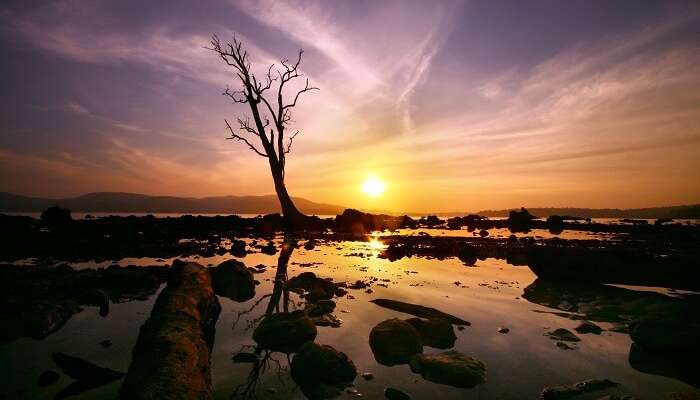 Andaman hosts an annual tourism festival in December & January. But the islands can be visited anytime between October and May. The waters are clear and calm, perfect for snorkeling and swimming. The temperatures are also not very extreme and range between 23°C and 30°C.
Further Read: Pranav's Solo Trip to Andaman
So what are you waiting for? Book a trip to Andaman and try these amazing things to do in Andaman and Nicobar Islands. Also don't miss out the chance to explore the isolated islands of Andaman and relax on the exotic beaches.
Frequently Asked Questions About Things To Do In Andaman
Got queries? See of these
Q. What are the best things to buy in Andaman?
A. Wooden artifacts, coconut carved decoration pieces, ornaments made of shells, sarongs, and hats, and pearl jewelry are some of the best things to buy in Andaman.
Q. What are the top things to do in Andaman in December?
A. Some of the top things to do in Andaman during December are beach hopping, coastal ride to Kalapathar Beach, scuba diving, shopping, and visiting the Cellular Jail for the famous light and sound show.
Q. What is the best time to visit Andaman?
A. While Andaman is a year-round tourist destination and can be visited during any month, the best time to plan a vacation is between October to May. The weather during this time is mostly pleasant, making it easier for you to explore and experience the beauty of the island.
People also read:
Romantic things to do in Andaman Andaman family tour Family trip to Andaman
---
Looking To Book A Holiday Package?
Book memorable holidays on TravelTriangle with 650+ verified travel agents for 65+ domestic and international destinations.
---
Comments
comments