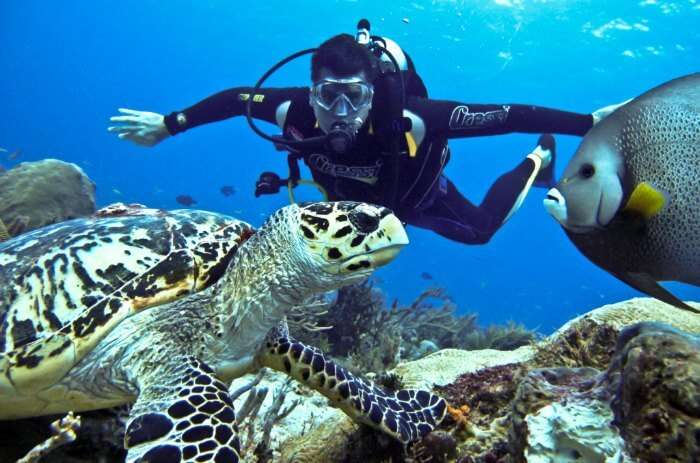 Sunny skies, golden beaches, turquoise waters, and untouched environs make Andaman islands your perfect go-to destination. But it is not just the beauty of the archipelago of 572 islands that makes Andaman and Nicobar Islands an ideal getaway. There are adventure sports, water activities, activities for the nature lovers, and sightseeing tours of Andaman that one can opt for. Have a look at some of the best things to do in Andaman.
Andaman has tons of thins to offer and during the spread of Coronavirus, the local health departments have taken special measures to make sure that the spread of virus can be limited. All the tourist spots are well sanitized and temperature check is a must during this time for all visitors of Andaman.
Best Time To Visit Andaman And Nicobar Islands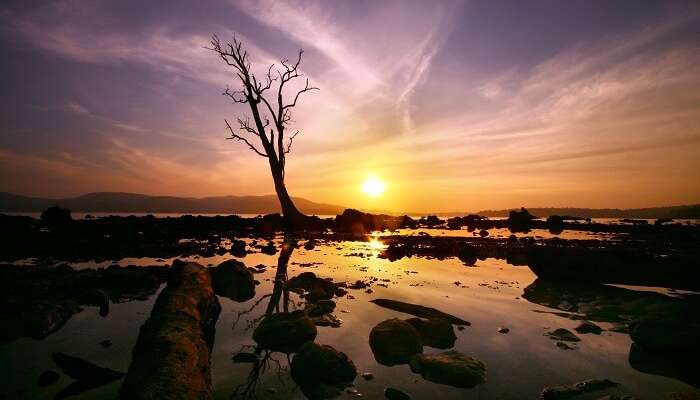 Andaman hosts an annual tourism festival in December & January. But the islands can be visited anytime between October and May. The waters are clear and calm, perfect for snorkeling, swimming and other water activities to do in Andaman. The temperatures are also not very extreme and range between 23°C and 30°C.
42 Best Things To Do In Andaman
Now that you are ready to explore the islands, here's a handpicked list of the things to do in Andaman islands that you must try while you're there. For travelers who wish to experience sheer thrill, here's what you can do:
1. Seakart (Self-Drive)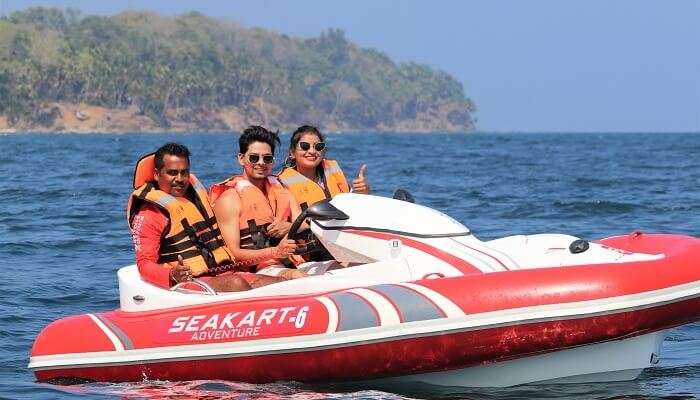 Image Credit: seakartadventure.in
Seakart is the latest and the most popular adventure sport in Andaman currently where you get to self-drive it at sea along the coast of Port Blair. It is an exclusive hybrid watercraft that resembles a go-kart giving you a combination of speed & excitement with safety & comfort. So, if you are looking to indulge in some thrilling activities with your loved ones, then do not miss this at Corbyn's Cove Beach, Port Blair, and self-drive in unexplored waters.
Seakart Adventure at Corbyn's Cove Beach hosts the first and only Seakarting experience in India. Seakart is present in only 3 places in the whole world! Their unsinkable and unflippable Seakarts can seat 3 people at a time, i.e. 2 guests and an instructor that guides you while you self-drive at sea. It is absolutely safe and requires no swimming/driving skills. The thrilling excursion starts from Corbyn's Cove Beach up till near Ross Island and back. They offer complimentary DSLR photography of you enjoying the Seakart on the waves.
Cost:
INR 3499 per person (sharing basis/2 people on one Seakart driving in turns)
INR 4999 per person (non-sharing basis/drive solo)
Duration: 1.5 hours approximately (30 minutes of activity)
Book Your Seakart Drive Here
2. Snorkeling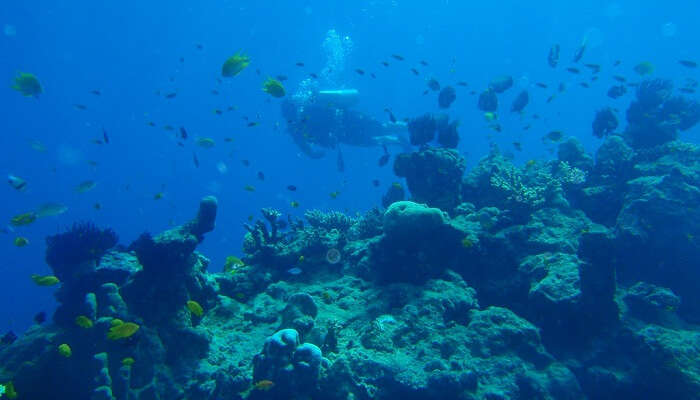 For those who haven't tried snorkeling yet, this is your big chance. The water sport rightly stands on top of our list of the best things to do in Andaman in April. See the exquisite marine life and view the rarest corals as you go snorkeling at North Bay Island or Elephant Beach at Havelock Island. We suggest Havelock as the water here is much clearer as compared to North Bay.
Cost: INR 500 to INR 1000
Duration: 1 hour
Must Read: Rutland Island Guide: Andaman's Untouched Island That's Got Everybody Talking
3. Bioluminescence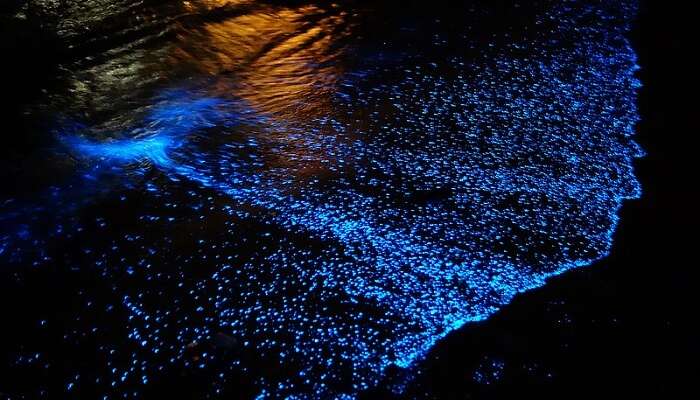 Picture this – tiny lighted stars and galaxies floating under your feet instead of the blue sky above. Total bliss! Watch this happen on the beach at Havelock Island as it amongst the top things to see in Andaman and Nicobar Islands, where water glows as you row your boat through them. This happens due to the presence of phytoplankton in the sea waters.
Bioluminescence can be witnessed only on no moon nights. Kayak tours are arranged by experts, which are anyway few in Havelock. Ask any Scuba guide and they will connect you to the right person. Visiting this place is one of the best things you must do in Andaman.
Cost: There are no charges for visiting the bioluminescent beach in Andaman.
Duration: 1-2 hours
4. Scuba Diving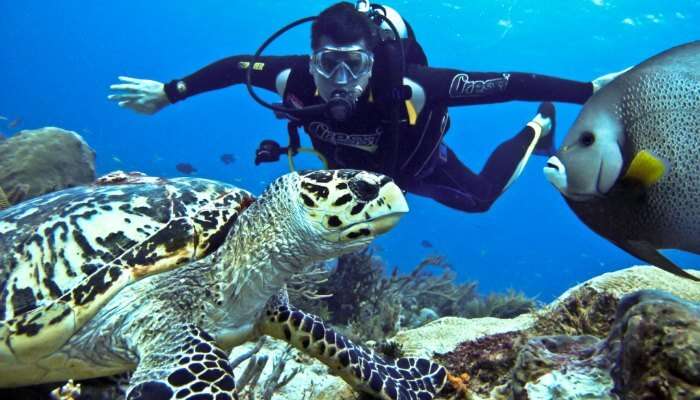 Scuba doesn't require you to know swimming! Yes, many people do not attempt it thinking that knowing swimming is important, but that's far from reality. If you want to try the tougher levels of scuba and go out into the open waters, then and only then do you require swimming skills. But the same is not true for PADI Scuba Diving or Sea Walking. There are many places to try scuba diving in Andaman. So do not worry, just try the sport and discover colorful corals and enchanting water life. This is one of the best things to do in Andaman.
Cost: INR 1,800 onwards
Duration: 1 hour
5. Banana Boat Ride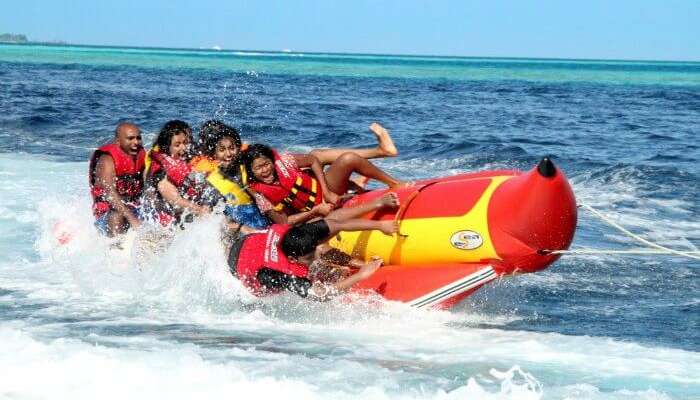 Riding a Banana Boat is another fun-filled and thrilling thing to do in Andaman. At a time 6 people can ride the banana-shaped boats that are tied behind a speedboat to gain rush. It is a perfectly safe activity as long as you have your life jackets on and follow the instructions given. This is an extremely fun activity you must do in Andaman.
Cost: INR 620 per person; inclusive of banana boat, life jacket, and instructor
Also Try: Kayaking, jet skiing, and speedboat riding
Duration: 1-2 hours
Suggested Read: 20 Best Beaches In Andaman & Nicobar Islands Water Babies Must Visit
6. Glass Bottom Boat Ride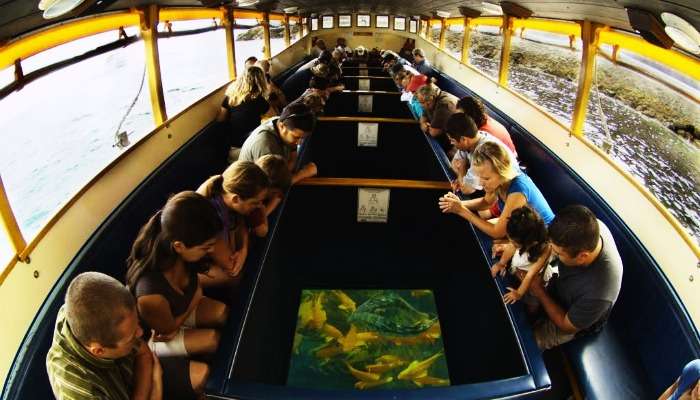 This one is for those who are really afraid of water. This one is an easy ride and gives you a good view of the corals beneath With proper safety gear, this one is good for kids as well. In fact, if we may say so, glass-bottom boating is among the unique things to do in Andaman and Nicobar Islands. You get to see the marine life through a glass bottom in the boat as you sail through the sea. It is considered to be one of the most interesting activities in Andaman and Nicobar Islands.
Where To Try: These glass-bottom boats ply between Water Sports Complex & North Bay Coral Island and between Port Blair and Jolly Buoy Island.
Cost: INR 500 per person onwards
Duration: 1-2 hours
7. Parasailing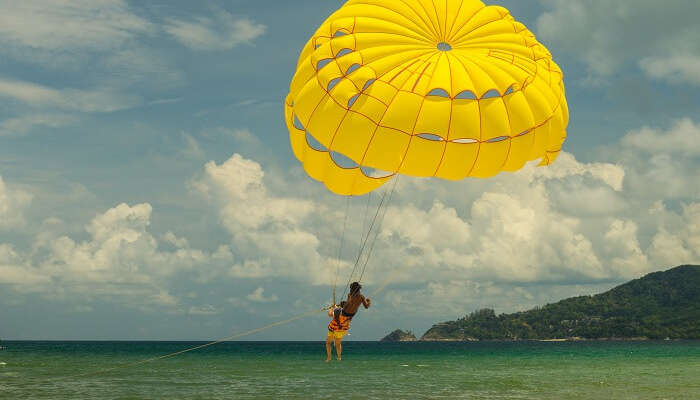 To satiate your adrenaline rush, try parasailing. Of all the things to do in Havelock Island, this activity is a blend of water & airborne adventure. Tied behind a motorboat while harnessed in a parachute, you get to fly like a kite behind the boat as it speeds off into the sea, and you'll surely find it to be one of the most thrilling things to do in Andaman island.
Cost: The charges for parasailing depend on the season in which you have visited the island, and the location you are parasailing.
Duration: 1 hour
Suggested Read: 11 Thrilling Water Sports In Andaman Which Require No Swimming
8. Swim With Elephants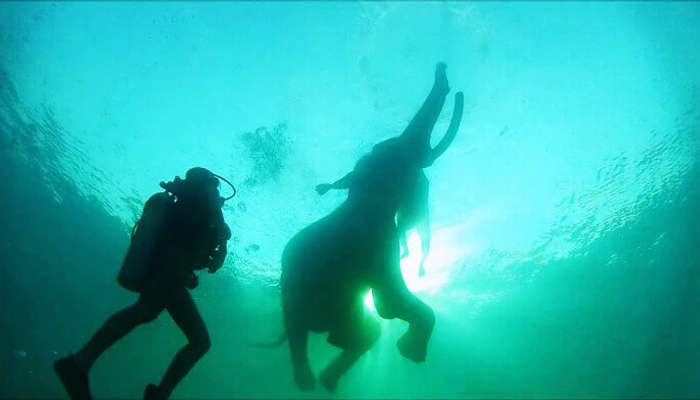 Andaman offers you a chance to swim with Rajan – the star elephant. The 60+ elephant loves the company of people and is very friendly. However, you need to book your swim with Rajan in advance. Make sure you indulge in this exciting yet unique experience before leaving Andaman! Swimming with elephants will excite you to no limits and is known to be amongst the best activities in Andaman and Nicobar Islands.
Cost: NA
Duration: 15-30 minutes
9. Travel In A Sea Plane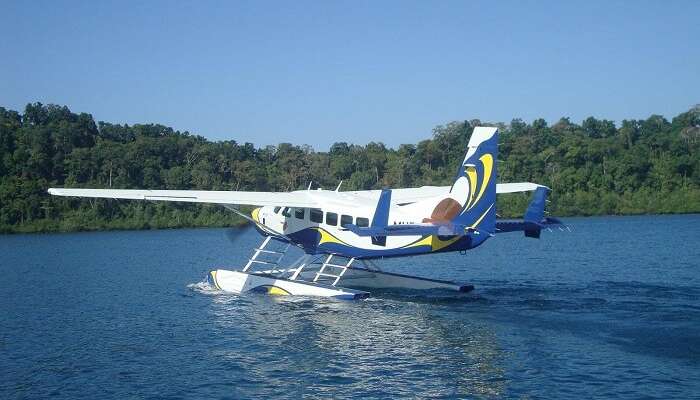 Taking off in a seaplane run by Pawan Hans is one of the exclusive things to do in Port Blair in Andaman. You can experience this unique ride while going from Port Blair to Havelock or while returning. The seaplanes can carry only 9 passengers at a time and the time of flight is 15 minutes. The same distance, if covered by ferry, takes about 2 hours. Enjoy the stunning aerial views of Andaman and its many gorgeous islands while flying in this seaplane, which is definitely one of the most romantic things to do in Andaman!
Cost: INR 2,000 per person for a 1-way flight
Duration: 1-2 hours
Suggested Read: Best Experiences On A 6 Day Family Trip To Andaman
---
Planning your holiday in Andaman but confused about what to do? These Andaman travel stories help you find your best trip ever!
---
10. Sightseeing Tour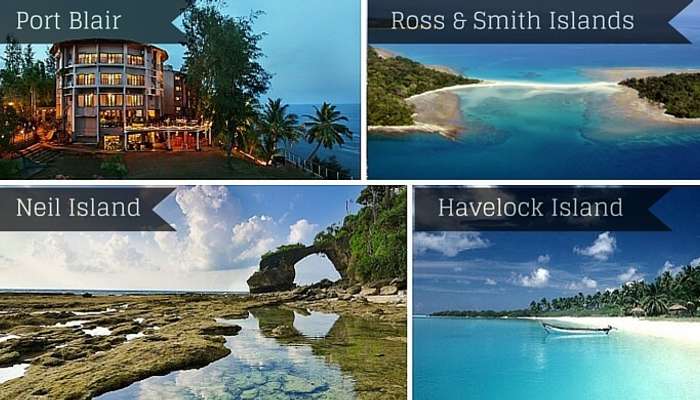 A paradise for travelers, Andaman is an idyllic island for a peaceful getaway. With a myriad of beaches and tourist attractions spread across the various islands, there is a lot to see here. Andaman attractions include individual island tours which can be taken on the major islands, viz. Havelock Island, Neil Island, Port Blair, and Ross & Smith Island. Cellular Jail National Memorial, Samudrika Marine Museum, and Rajiv Gandhi Water Sports Complex in Port Blair; Radhanagar Beach on Havelock Island; Mahatma Gandhi Marine National Park; mud volcanoes of Baratang, active volcano at Barren Island; and Chidiya Tapu are just some of the many places to visit in Andaman.
Cost: INR 1,200 onwards
Duration: 3-4 hours
11. The Light And Sound Show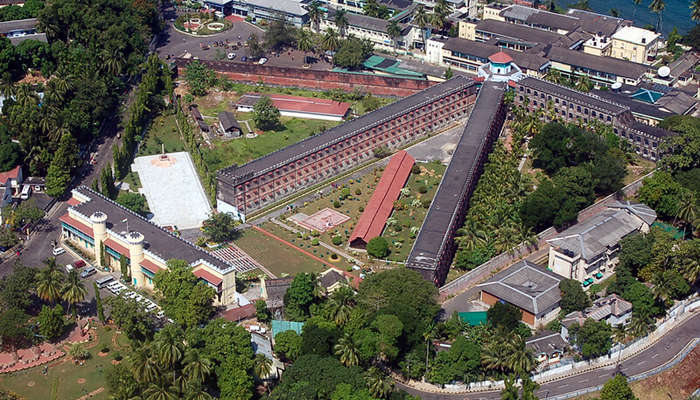 Visiting the Cellular Jail is amongst the best things to do in Port Blair in Andaman in March. The jail, erstwhile Kaala Paani Jail, was used by the British as a colonial prisoner. The memorial is reminiscent of India's struggle for freedom. But it is the Light & Sound Show that is its highlight. The show includes a Peepal tree's narration, voiced by the veteran actor Om Puri, telling the poignant stories of the prisoners tortured to death in the jail.
Opening Hours:: Tuesday – Sunday; 8:45 am – 12:30 pm & 1:45 pm – 5 pm
Entry Fee: INR 10 for entry; additional costs of INR 25 & INR 100 respectively for cameras & video-cameras
Duration: 1-2 hours
Suggested Read: In Pictures: 20 Places To See Stunning Sunsets In India
12. Madhuban Trek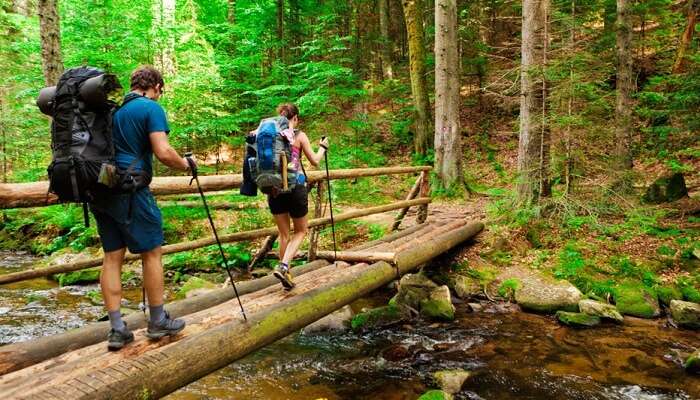 Of course, you must have all thought that the islands with such gorgeous beaches must be ideal for relaxing. Some of you must have been aware of water activities in Andaman. Well, all of you are right. But only partially, for there is more to do here. In fact, trekking from Mt Harriet – the third highest peak in the archipelago – to Madhuban via Kala Patthar is one of the best things to do in Andaman. The trekking trail is a rugged stretch of forests that are home to a vast variety of flora & fauna. Island trekking is one of the best things to do in Andaman in October as the weather is pleasant here.
How Far Is The Starting Points Of The Trek: Ferry ride from Chatham and there on up to the Mt Harriet National Park by jeep.
Cost: There are no charges for this activity unless you book for a trek tour experience.
Duration: 6-7 hours
13. Rubber Plantations Tour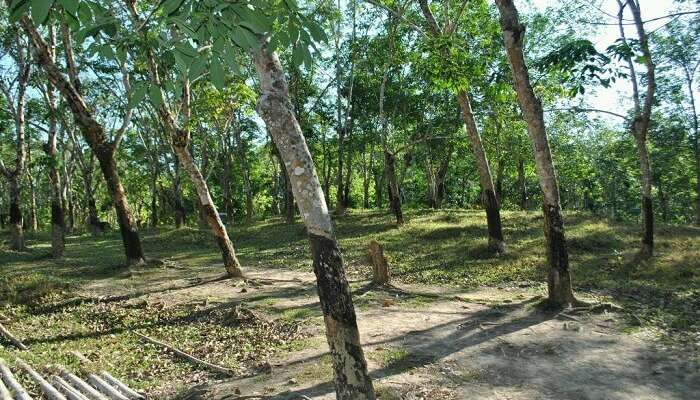 The Mongluton rubber plantations in Wandoor are perfect for the curious wanderers. The guided tour takes you through rows and rows of rubber trees. On request, the guides also explain the processing of raw rubber into hard rubber sheets. But that is not all! A variety of spices also grow here, including cinnamon, clove, pepper, and betel. Touring around here is known to be one of the best activities to do in Andaman and Nicobar Islands.
Cost: There are no charges for nature walking.
Duration: 2-3 hours
Suggested Read: 15 Things To Do In Port Blair That Will Urge You To Plan An Andaman Holiday Now
14. Limestone Caves Excursion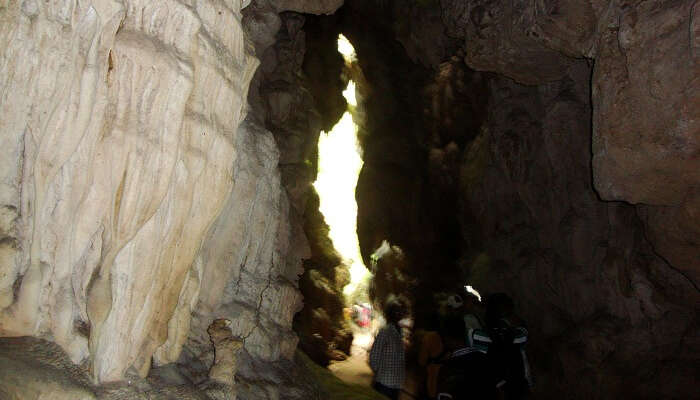 Get ready to be fascinated by the natural structures of stalactites & stalagmites inside the Limestone Caves of Baratang. Exploring the intriguing caves is one of the fascinating things to do in the Andaman and Nicobar Islands. In addition to the cave exploration, the ride in a speed boat to the cave is thrilling with mangrove trees on both sides and the splashing water.
How To Reach Baratang: The bus ride from Port Blair to Baratang takes about 2 hours 30 minutes and covers 90 km. Ferries from Nilambur Jetty to Baratang take about 15 minutes.
Entry Fee: NA
Duration: 1-2 hours
Bird Watching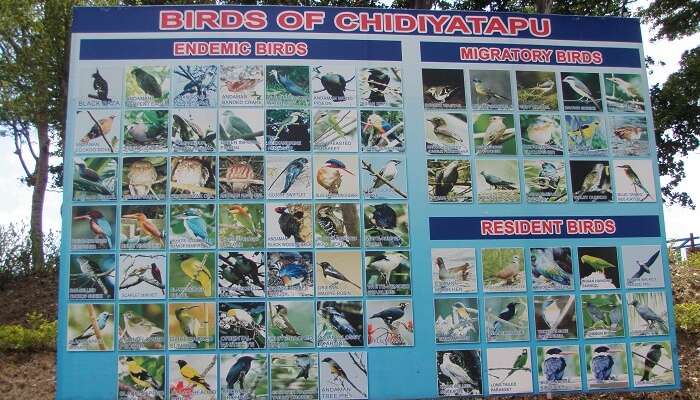 Another popular activity among the things to do in Andaman for nature lovers is bird watching. Chidiya Tapu, the tiny island village, is located 25 km from Port Blair. On the island, you will come across several species of birds – parakeets, emerald doves, sea eagles, and many more. Click pictures or simply listen to the sweet sounds of bird calls while you relax on this tiny island.
Best Way To Reach Chidiya Tapu: Rent a bike or a car, whichever you enjoy more.
Cost: There are no charges for this activity.
Duration: 1-2 hours
Suggested Read: Cruise To Andaman: 2021 Guide To Fares And Ferries From Kolkata, Chennai, Vizag
16. Island Hopping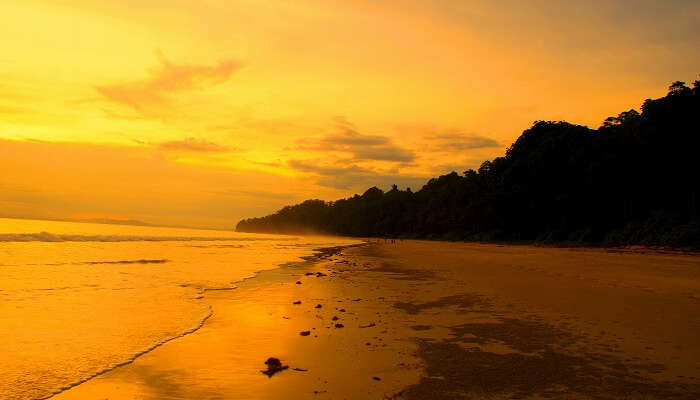 Any trip to the Andaman Islands is incomplete without island hopping, one of those undeniably romantic things to do in Andaman with your better half. Take ferries from one island to another and enjoy the sunrises & sunsets. Visit the popular islands like Neil Island, Havelock Island, Viper Island, and North Bay Island; or explore the inhabited islands such as Guitar Island, Long Island, Jolly Buoy Island, Ross & Smith Islands, and Stewart Island. There are a lot of things to do in Neil island from this list of islands as it has some of the best white sand beaches. Enjoy beautiful scenic views as you hop from one island to another. The options are almost endless.
Cost: The charges for this activity depend on the island tour you take.
Duration: 3-4 hours
17. Semi Submarine Ride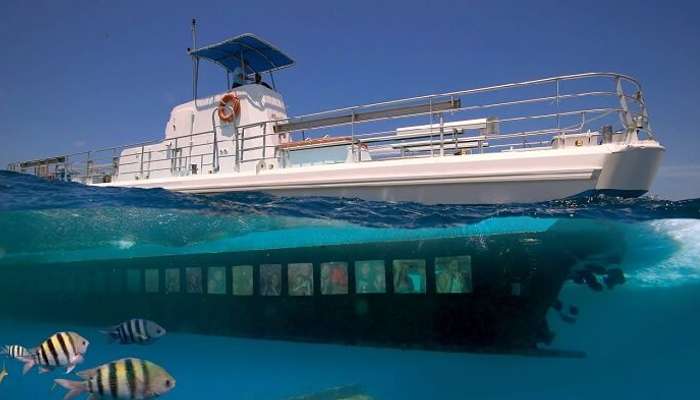 Image Source
Dreaming of going on a submarine ride in the depths of Andaman. Well, if not for the actual one, the Coral Safari Semi Submarine ride in Port Blair offers a very similar experience to travelers that totally thrills them out! Make sure you indulge in this fascinating experience during your visit and witness the underwater marine life up close while sitting in the comforts of a semi-submarine that will take you on a joy-ride above the multicolored corals and amid a plethora of unique fish. A ride in this submarine is considered to be amongst the most interesting activities to do in Andaman and Nicobar Islands.
Duration: 2 hours
Timings: 9:30 AM to 3 PM
Suggested Read: 6 National Parks In Andaman That Lets Every Traveler Get Up & Close With Nature!
18. Dolphin Watching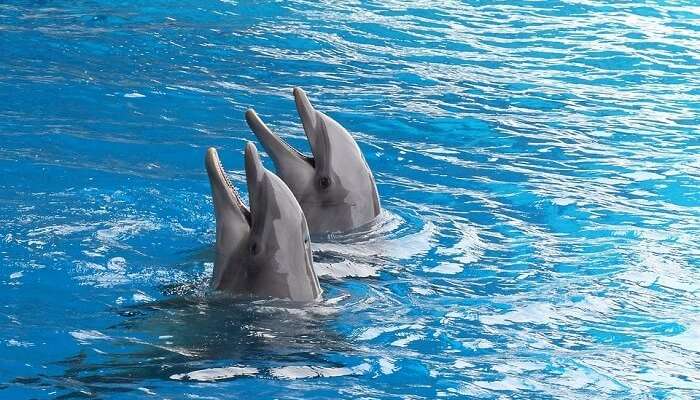 Image Source
It's the favorite activity of all wildlife enthusiasts and water babies in Andaman, and these islands tend to be the best place to try this delightful feat. Just hop into your boat that will sail slowly over the brightest blue ocean and meet the friendliest creatures on earth while they prance, play, and chatter around you in the water. Nothing beats the joy of witnessing these happy mammals in their natural habitat.
Cost: Starting at INR 600/-
Note: One can also go dolphin watching in North Passage or Lalji Bay.
Duration: 1-2 hours
19. Sea Walking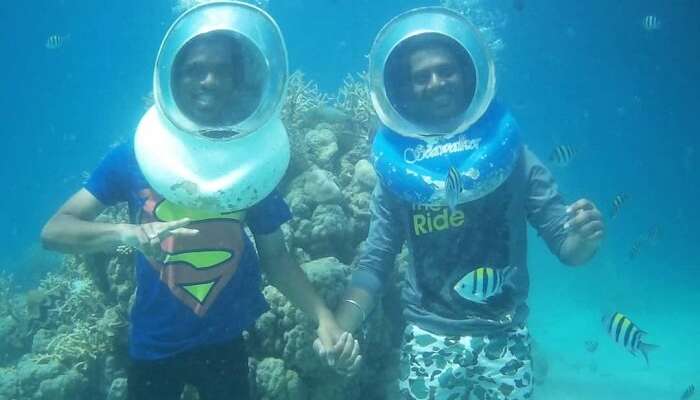 Sea Walking in Andaman is gaining popularity day-by-day. This Underwater Sea Walk is an enthralling experience, completely different from other water activities in Andaman. It is a perfect way to check out the vibrant marine life by the non-jumpers, holidaying in Andaman. This well-protected and exciting submerged stroll on the ocean bed gives you a chance to explore the brilliant fauna, corals, and an enormous range of fishes.
Cost: INR 3,999 per person
Duration: 1-2 hours
Suggested Read: Your Handy Guide To Mahatma Gandhi Marine National Park In Andaman
20. Mangrove Kayaking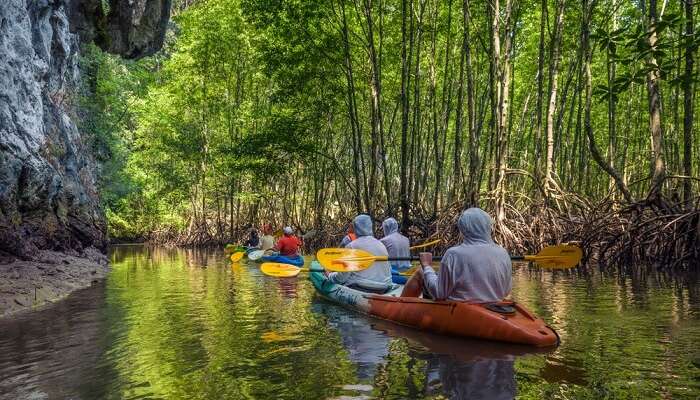 Considered to be an interesting thing to do in Andaman, trying this activity can be a great experience. Your holiday in Andaman would be incomplete if you miss out on kayaking at Mayabunder as this thrilling excursion makes you glance the lush green mangrove creek of the Andaman. As this spot comprises of 1/5th of India's total mangrove, kayaking in Andaman is the best way to witness it stunning beauty. The complete kayaking tour will be for 2.5 hours, making a best escapade amidst lushes.
Cost: INR 2500
Duration: 2.5 hours
21. Volcano Tour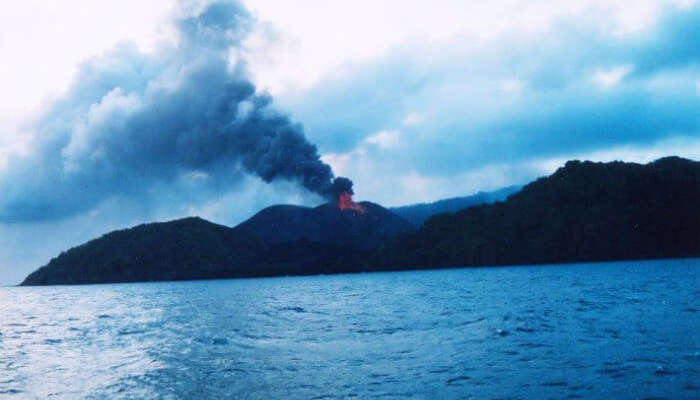 The famous Mud volcano can be visited by waterways as well as roadways. While going to the Baratang Island, you will reach Jarawa Creek. The volcano is around 250 to 300 meters which can be either covered by walking down or by boarding a jetty. This peaceful place make you gather the unique experience of exploring a real volcano. So, if you are wondering what to do in Andaman, go for something offbeat like a volcano tour.
Cost: No entry fee
Duration: 2-3 hours
Suggested Read: Top 6 Iconic Museums In Andaman That You Must Check Out When You're Here
22. M.V Makruzz Cruise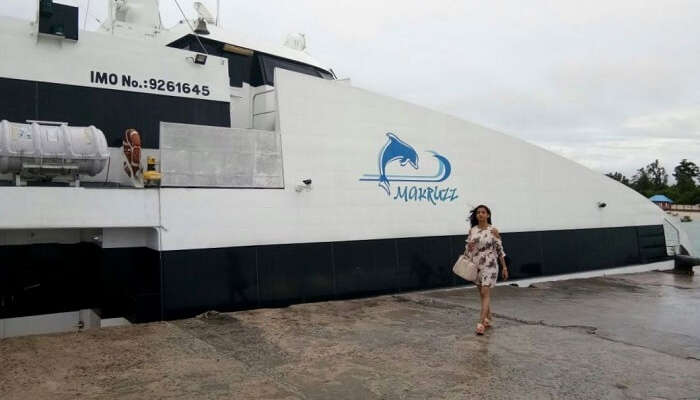 Give the most luxurious twirl to your vacation in Andaman by hopping on this amazing cruise. M.V Makruzz Cruise is undoubtedly the best cruise in Andaman and provided connectivity between Port Blair and Havelock Island. It is a 90-minute journey, making you admire the panoramic beauty of this majestic place.
Cost: INR 1500
23. Helicopter Tour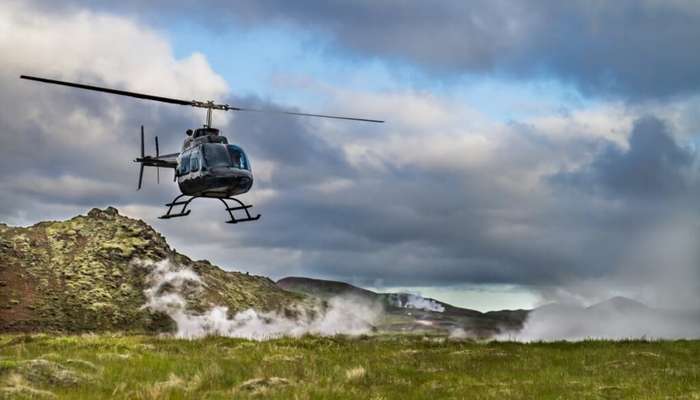 Another adventurous expedition on this beautiful island is the helicopter ride. The helicopter tour makes you witness the panoramic vistas from the South Andaman to North Andaman, admiring the coastline covered with dense tropical forest. You will also be exploring some exotic destinations on this helicopter ride. This is one of the best activities to be indulged in, especially when you're looking for a fun and adventurous thing to do in Andaman.
Cost: Ranging between INR 2600-6500
Duration: 1-2 hours
Suggested Read: Andaman In October: 10 Awesome Things To Do In This Perfect Indian Paradise
24. Coral Reef Expedition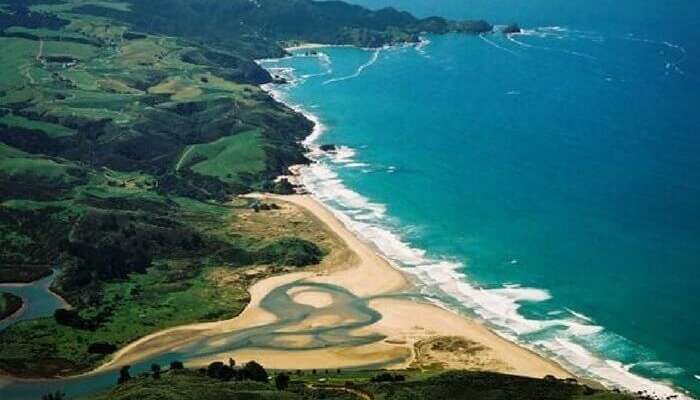 The gorgeous North Bay Island is merely an hour away from Port Blair and houses an enormous quantity of coral reefs along with electrifying water sports activities in Andaman. The island is gaining popularity these days and lure visitors throughout the year. You can also taste a few delicacies especially, a fish or lobster, cooked by locals in their unique way.
Cost: Free entry
Duration: 2-3 hours
25. Jolly Buoy Island Exploration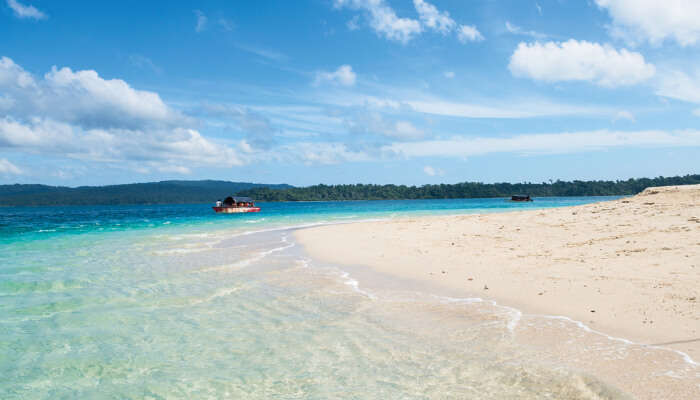 A trip to Andaman & Nicobar makes to explore the most amazing island and beaches in India, each purveying a unique experience. Jolly Buoy Island is one spot that attracts nature lovers from across the world. Located at the Mahatma Gandhi Marine National Park, this island is known for its crystal-clear emerald water and vibrant underwater corals. Another place situated in the same premises is Red Skin Island which is another offbeat place to visit on an Andaman trip.
Cost: No entry fee
Duration: 1-2 hours
Suggested Read: Winter In Andaman: A Guide To An Awesome Vacation In 2020
26. Cinque Island Excursion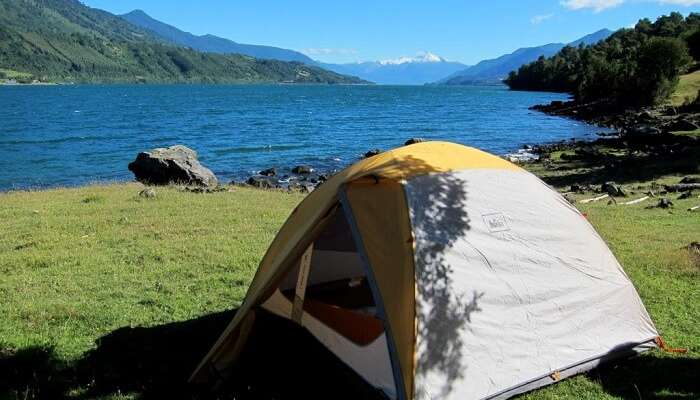 Cinque Island in Andaman houses two stunning island pieces connected via sandbars known as 'Manners Strait'. These island pieces in the Andaman Archipelago on the north side of Duncan Passage are quite popular among the Globetrotters. Do visit the famous Mahatma Gandhi National Park while wandering in the majestic beauty of this island.
Duration: 1-2 hours
27. Barren Island Exploration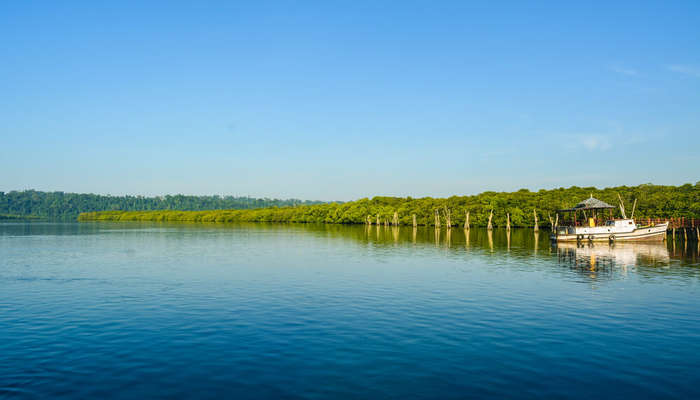 Barren Island is the home to the only active volcano in entire South Asia. The first eruption of this volcano was recorded in 1787 and since then the island is luring international researchers and travelers. The island is nearly 140 km from Port Blair and sea route is the best way to reach here.
Duration: 2-3 hours
Suggested Read: Limestone Caves In Andaman: Riveting Facts About The Million-Years Old Caves
28. Lakshmanpur Beach Tour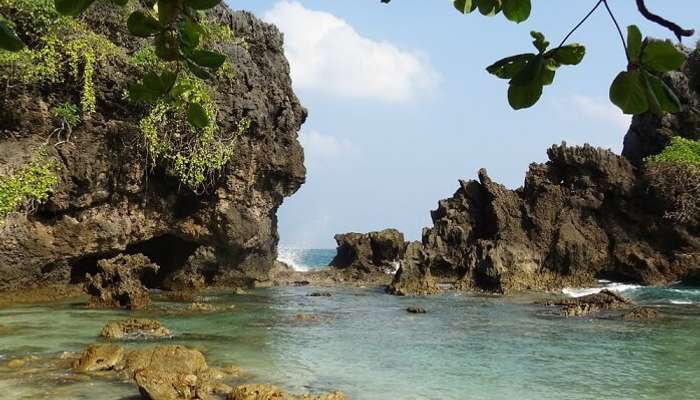 If you are still eager to explore more beaches in Andaman then plan an excursion to this mesmerizing beach, covering Laxmanpur Village of Neil Island. You will see the sand covered with white shells and corals. The ocean is quite shallow and silent here making it an ideal spot for swimming and snorkeling. Exploring the beaches is one of the best things to do in Neil Island.
Duration: 2-3 hours
29. Kalapathar Beach Excursion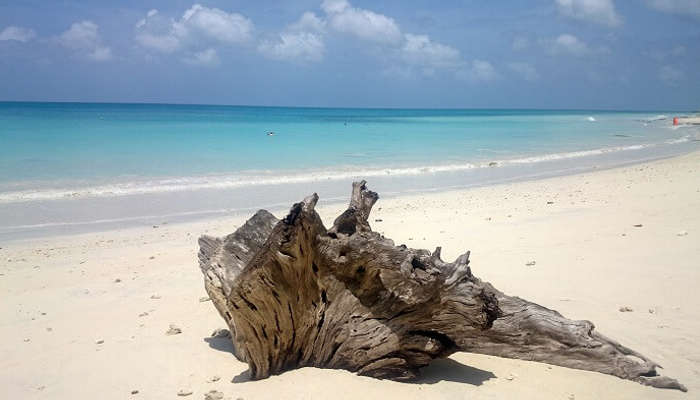 If you want to spend some leisure time then head to the famous Kalapathar beach on Havelock island. Believe us, you won't regret it! The waters of the beach are very beautiful and clear as a crystal. You can walk up to the beach and refresh your mind.
Duration: 2-3 hours
Suggested Read: Markets In Andaman: 7 Markets That Are A Shopaholic's Paradise And You Can' Miss
30. First British Settlement Tour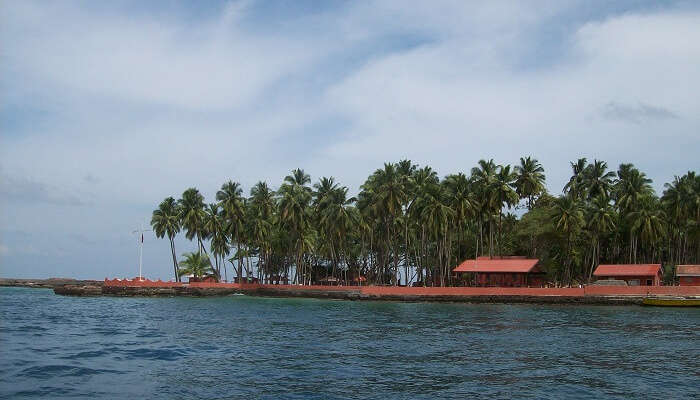 Known to be a fun thing to do in Andaman, visiting the first British settlement can be an overwhelming experience. This is a very beautiful island near Port Blair. You can go and hop on this island via a boat cruise which is a refreshing experience in itself. Ross Island was the first place where Britishers settled ,actually it their capital. There are various ruins on the Island which are very unique and interesting like a church, bakery and more.
Duration: 2-3 hours
Suggested Read: 10 Quirky Things To Buy In Andaman You Shouldn't Return Without
31. Forest Museum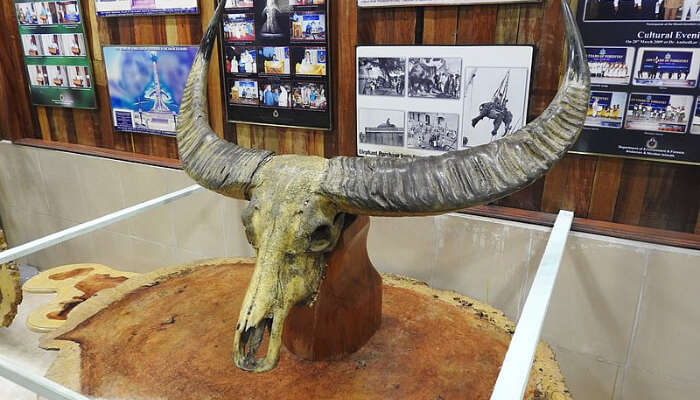 If you are looking for things to do with family, especially when traveling with kids to the Andamans then Forest Museum which is situated on the outskirts of Port Blair is a great place to add to one's itinerary. The museum has a great collection of flora and collection of trees. The major Andaman attractions that one can see in the museum are the artefacts which are made out of timber, oak, and other kinds of wood. Managed by the forest department of Andaman and Nicobar Islands, it also carries out various researches and the results can be seen in the museum. There is a mini zoo and a small zoological garden too here..
Cost: INR 2/-
Duration: 1 hour
32. Beach Resort Stay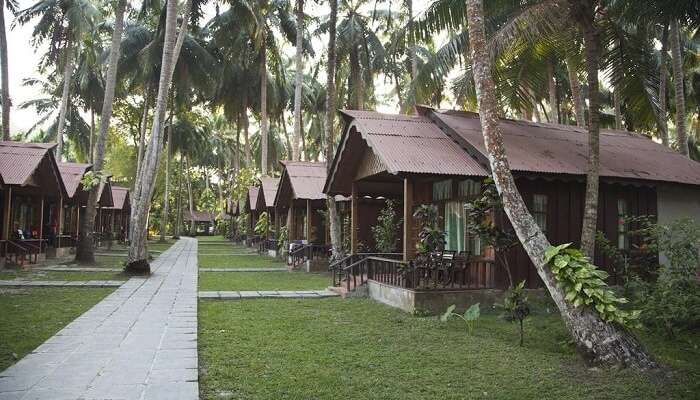 If you are visiting Havelock Island, you will have to stay on the island and what can be better than staying at one of the beach resorts! Not only are these resorts ultra luxurious but also offer picturesque views of the unending horizons of the ocean and let you enjoy on the beaches all day!
Best Beach Resorts: Havelock Island beach resort, Symphony Palms beach resort, Haywizz resort
33. Seafood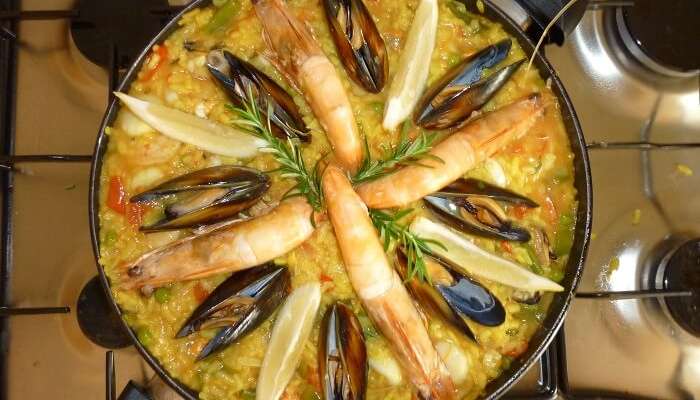 Any holiday is incomplete without savoring the food of the destination and Seafood is the specialty of Andaman. You just cannot miss out on it if you like seafood! You just need to find the right place and satiate your hunger by relishing mouth-watering dishes like prawns, crabs, and more.
Best Restaurants: Sea Dragon Restaurant, Fat Martin
34. Fishing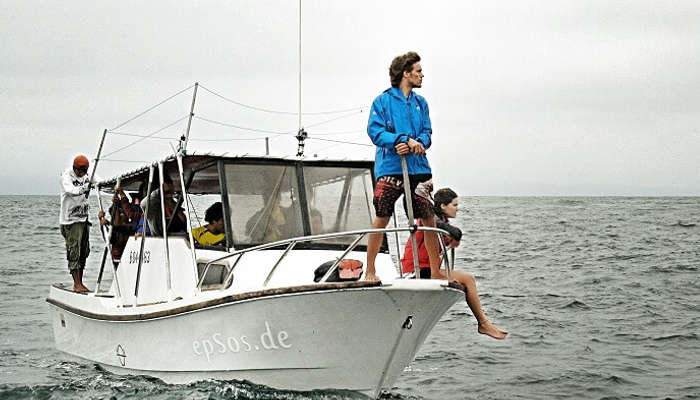 If you like fishes and want to try some fishing, then Andaman has that too for you. Its waters are home to n number of fishes. Go for a fishing activity wherein you will be taken to some distance in the water via a cruise. Once it is stable, you will look for the fish and catch them with the help of guides.
Duration: 2-3 hours
Suggested Read: Snorkeling In Andaman Is All About Witnessing The Magical World Underwater In 2021!
35. Watersports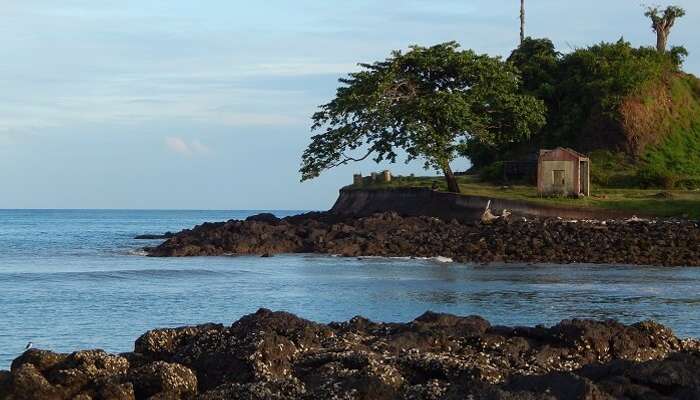 The best thing to do at a beach is to walk barefoot on the soft sand. Corbyn Cove Beach is that beautiful public beach in Port Blair where one can enjoy this among other things to do. It is a beautiful place at the southern tip of the Indian Peninsula. And if you are still wondering about what to do in Andaman, then here at this beach one can enjoy a lot of adventure sports like jet skiing, snorkeling, and more. The shore has a couple of food shacks for one to enjoy local food in Andaman.
Cost: No Entry Fee
Duration: 2-3 hours
Suggested Read: Best Things To Do On A 6 Day Honeymoon Trip To Andaman
36. Bharatpur Beach Tour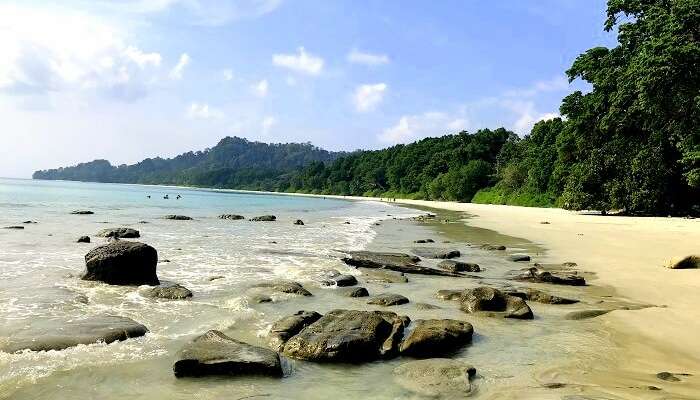 Bharatpur Beach on Neil Island is another beautiful beach that one should visit on a trip to the Andaman. There are a lot of things to do in Andaman with family, and spending time at this beautiful beach is one of them. The beauty of Bharatpur beach is surreal, the environs are serene, and it makes for a great spot for one to spend time at. The beach is also popular for water activities in Andaman like swimming, snorkeling, and scuba diving.
Cost: No Entry Fee
Duration: 2-3 hours
Suggested Read: 50 Places To Visit In India Before You Turn 30
37. Vijaynagar Beach Exploration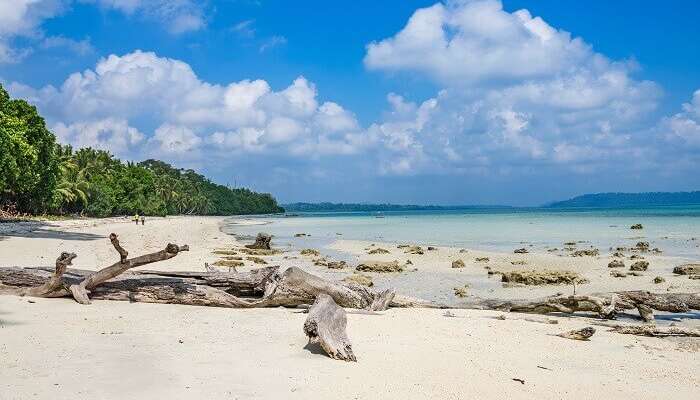 A long stretch of white sand to laze and relax is what Vijaynagar Beach is all about. The green vegetation, the clear blue waters and the stretch of white sand in between, make for a beautiful landscape. Present on the eastern coast of Andaman, the beach is also referred to as beach no. 5. The beach is an amazing spot in Andaman to enjoy the sunrise with your partner. Have a great time exploring this jewel of Havelock.
Cost: No Entry Fee
Duration: 2-3 hours
Suggested Read: Snorkeling In Andaman Is All About Witnessing The Magical World Underwater In 2021!
38. Aamkunj Beach Excursion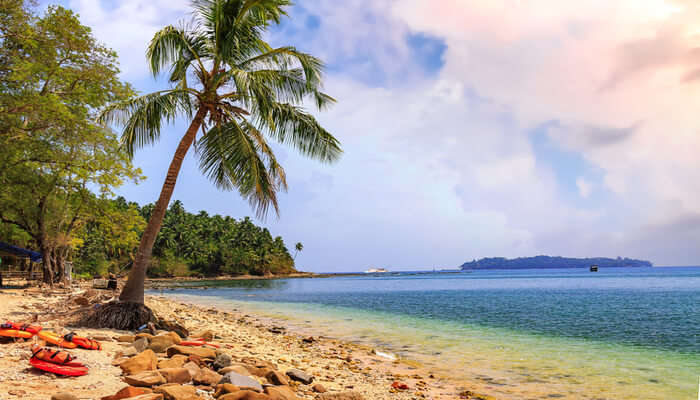 If you are still wondering about what to do in Andaman, then Aamkunj Beach is another one of those beaches that you can explore. The shoreline is closest to the Rangat shoreline. One can enjoy a long evening stroll at this beach. One can find beautiful spots to sit and enjoy watching the waves here. The beach is usually frequented by locals on weekends from the adjacent towns.
Cost: No Entry Fee
Duration: 2-3 hours
Suggested Read: 7 Top Sea-Facing & Beach Resorts In Port Blair, Andaman
39. Turtle Nesting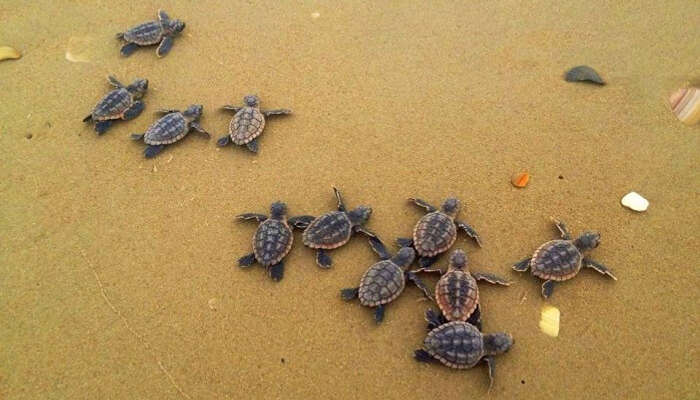 If you are wondering what to do in Andaman then here is a perfect option. If you happen to travel in the right season then you can witness turtle nesting on the beach. During the month of December as well January, it is the gestation period for turtles which why thousands of turtles arrive on Ram Nagar Beach in Diglipur Town. As it does not happen all round the year, it is recommended to definitely go to this beach.
Cost: Free
Duration: 2 hours
Suggested Read: 7 Churches In Andaman That Will Add More Excitement To Your Trip
40. Shopping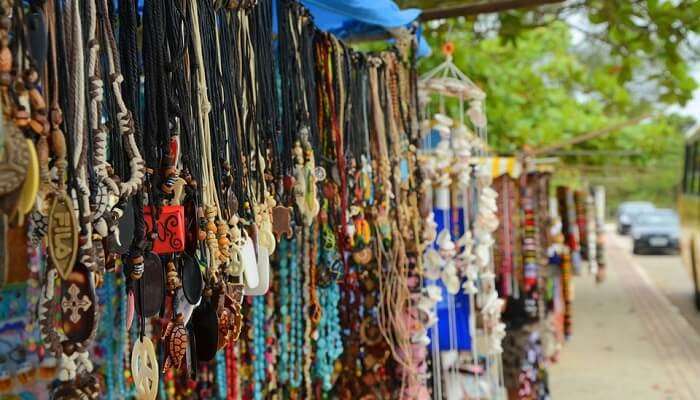 Image Credit: Grutka for Pixabay
How can a trip to any place remain complete without a little bit of shopping experience? So, if you are wondering what to do in Andaman in the evening then head to the markets and buy some souvenirs for your loved ones. You will find several kinds of items being sold here like handicrafts, pearl and shell jewelry, and handbags. You will be spoilt for choices while shopping at the markets in Andaman.
Cost: As much as you want to spend
Duration: 2-3 hours
Suggested Read: Kerala Vs. Andaman: Which Is The Best Coastal Travel Destination?
41. Nightlife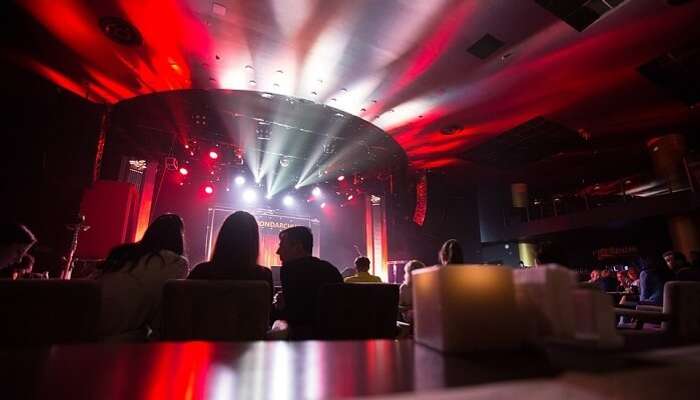 Image Credit: Sergei for Pixabay
Andaman is not only about beaches but also about late-night parties. You might have heard that Andaman is not lively after sunset but these places beg to differ. Exploring the nightlife is one of the most enticing things to do in Andaman and Nicobar. You can head to different bars and pubs that offer the most lively nightlife like Pink Fly Lounge Bar, Nemo Cafe, Bonova Cafe & Pub, Venom Bar, and Full Moon Cafe. These places will make you realize that there are more to Andaman than just beach hopping.
Cost: Different costs for every cafe or bar
Duration: 2-3 hours
Suggested Read: Andaman Travel Tips: Know About The Do's And Don'ts Before Planning Your Vacation In 2021!
42. Spa Session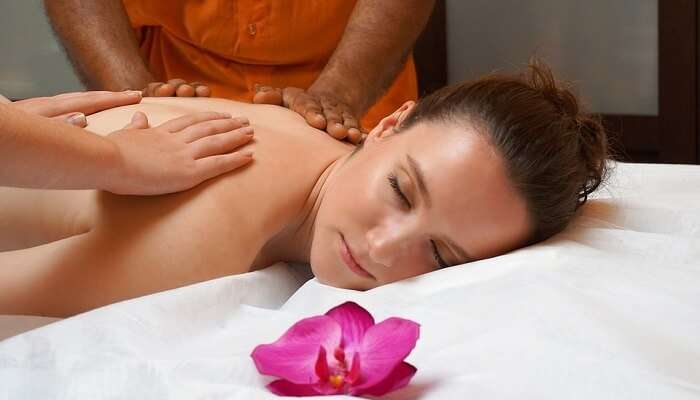 Image Credit: Gundula Vogel for Pixabay
If you are planning a vacation to Andaman with your partner then you cannot miss out on a rejuvenating spa session. After a long sightseeing day, you can head to one of the spa centers and relieve all your body stress. If you are in Port Blair then you can go to Qua Spa or Style & Smile and if you are in Havelock then you can head to Barefoot or SilverSand Beach Resort which offers a great spa session.
Cost: Different cost for a variety of sessions
Duration: 1 hour
Suggested Read: Baratang Island: Nature's Secluded Retreat In Andaman In 2021!
Tips
Here are a few tips for all those who are excited about trying the various things to do in Andaman. Take a look!
Get yourself checked. If you have any health condition, then avoid indulging in activities like trekking, scuba diving, and more.
Pre-book your scuba diving, snorkeling, and kayaking sessions.
Pack smartly and keep your luggage light.
Listen to all the instructions given by the trainers and follow them.
While shopping, take care of your belongings and money.
Always carry cash.
Keep your important documents with you at all times and carry them safely.
How To Reach Andaman Islands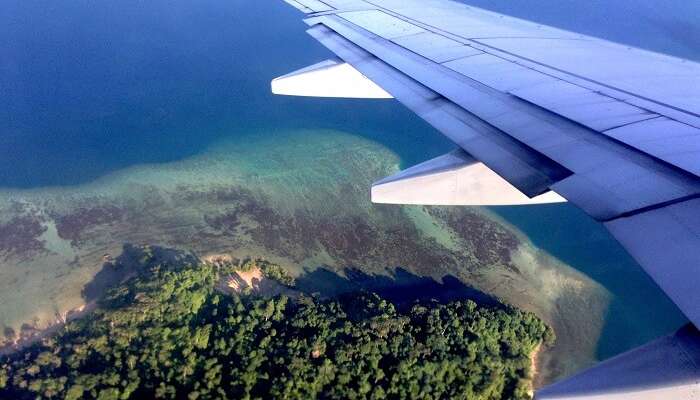 While you have an idea of the must-do things in Andaman and Nicobar, make sure to plan your trip accordingly. Andaman can be reached via air and water both and here is a route guide to know how to reach Andaman.
By Air: Deboard at Vir Savarkar Airport in Port Blair
By Ship: Alight at Haddo Wharf Port in Port Blair; ship services are available from Chennai, Kolkata, and Vizag
Further Read: Pranav's Solo Trip to Andaman
So what are you waiting for? Plan a trip to Andaman and try these amazing things to do in Andaman and Nicobar Islands. Also don't miss out the chance to explore the isolated islands of Andaman and relax on the exotic beaches.
Disclaimer: TravelTriangle claims no credit for images featured on our blog site unless otherwise noted. All visual content is copyrighted to its respectful owners. We try to link back to original sources whenever possible. If you own rights to any of the images and do not wish them to appear on TravelTriangle, please contact us and they will be promptly removed. We believe in providing proper attribution to the original author, artist or photographer.
Frequently Asked Questions About Things To Do In Andaman
Q. Is it safe to visit Andaman in 2021?
A. In 2021, the world is experiencing a massive spike in the cases of coronavirus and it is quite important that all the destinations are clean and free of virus spread. The health commission ministry of this place has taken sufficient number of measures to make sure that no tourist gets infected while they are just trying to have fun and roam.
Q. What are the best things to buy in Andaman?
A. Wooden artifacts, coconut carved decoration pieces, ornaments made of shells, sarongs, and hats, and pearl jewelry are some of the best things to buy in Andaman.
Q. What are the top things to do in Andaman in December?
A. Some of the top things to do in Andaman during December are beach hopping, coastal ride to Kalapathar Beach, scuba diving, shopping, and visiting the Cellular Jail for the famous light and sound show.
Q. What is the best time to visit Andaman?
A. While Andaman is a year-round tourist destination and can be visited during any month, the best time to plan a vacation is between October to May. The weather during this time is mostly pleasant, making it easier for you to explore and experience the beauty of the island.
Q. What should I not miss in Andaman?
A. Some of the activities that one shouldn't miss on a trip to Andaman are:
1. Scuba Diving
2. Parasailing
3. Glass-bottom boat ride
4. Beach Hopping
Q. What is famous in Andaman?
A. Andaman is famous for a lot of things like its beautiful clear beaches, adventurous water activities, pearls, and spices.
Q. What not to do in Andaman?
A. Some of the things that one should take care of when traveling to Andaman are:
1. Do not throw garbage in the open or litter the beaches or the sea.
2. Do not collect corals to take back home without permission from the Fisheries Department.
3. Avoid swimming in the sea during the monsoon season.
Q. Which language is spoken in Andaman?
A. The most commonly spoken language in Andaman is Bengali followed by Hindi.
Q. How many days are enough for Andaman?
A. One should plan a trip for a week to 10 days to be able to fully cover the Andaman islands.
People Also Read:
Things To Do In Chandigarh Things To Do In Kerala Things To Do In Calicut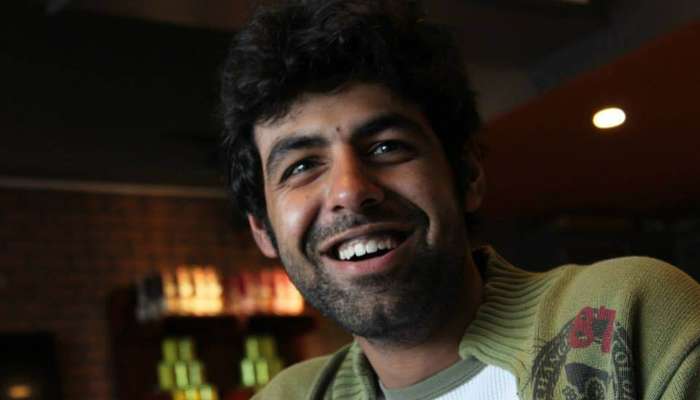 Comments
comments