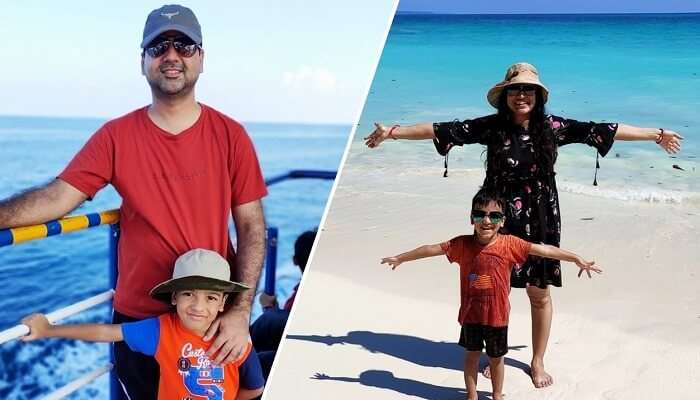 Whether people like it or not as trends change, they too do and that is exactly the case with family trips! Family trips are no more just about visiting either religious places nor just a trip to the nearby park but much more. As studies suggest, as trends change, people prefer destinations that offer variety and are beautiful. So, a destination known for its stunning beaches and tropical rainforests is everything magical became an escape for Hemant and while he with his family spent 7 days in Andaman and Nicobar he set out major travel goals. Don't believe us? Well, read what he has to say and know!
The memories that we made on our Andaman trip from Delhi are priceless and something we would treasure for a lifetime! My family and I wanted to visit a place where we can get the experience of beaches, long coastlines and mainly the underwater activities. The place is not so crowded and somehow offbeat and that was why we chose Andaman as our travel destination and we are so happy that we made that choice!
Details Of Our 7 Days In Andaman And Nicobar
Trip Type: Family Trip
Cost: INR 45,000
No. Of People: 2 Adults, 1 Child
Duration: 7 Days, 6 Nights
Inclusions: Breakfast, Sightseeing, Transfers, Accommodation, Ferry Transfers, Private vehicle, entry tickets and permits
Exclusions: Lunch, Dinner and Water sport activities
Travel Agent From TravelTriangle: Pearl Andaman Tours And Travels
53 Best Places To Visit In Andaman In 2023 For A Mesmerizing Holiday Experience
Trip Itinerary For 7 Days In Andaman And Nicobar
Day 1: Arrival; Light & Sound Show
Day 2: Havelock Island
Day 3: Beach Hopping
Day 4: Sightseeing
Day 5: Baratang Trip
Day 6: Water Sports
7: Departure
Weather In Andaman In November
We visited Andaman during mid November and it is the most suitable time to visit this place as the tourist season has just started after monsoons and one will not find much crowd. It was a typical tropical climate there with average temperature around 24°C. Days were mostly sunny and the best part was the clear sea water and to explore underwater life. You should definitely consider all the factors before finalising your Andaman trip plan. 
Experiences From 7 Days In Andaman And Nicobar
If you are feeling that 7 is such a big number and spending so many days in a small place then wait till we tell you about our experiences here and you will know why we decided for a long trip!
1. Cellular Jail: Light & Sound Show


If you are looking for best places to visit in Andaman in 7 days, this will be our top pick. The Light and sound show at Cellular Jail was spectacular and very realistic. It will take you to the pre-independence era and will give you an actual feeling of the atrocities done by cruel Britishers on our brave freedom fighters. Narration is just superb. The history of this historic monument will give you goosebumps.
Snorkeling In Andaman Is All About Witnessing The Magical World Underwater In 2023
2. Havelock Island: Beachy Vibes





Havelock Island is famous for a reason and we saw that when we spent 7 days in Andaman and Nicobar. Radhanagar Beach is one of the most serene and beautiful beaches. We actually felt that one day was not enough to experience this place in its entirety. We enjoyed it a lot there and didn't want to come back, and would definitely recommend to include this in your Andaman itinerary for 7 days. 
3. Beach Hopping: Too Many Beaches, Yet Not Enough




We took a ferry from the Swaraj Dweep to Shaheed Dweep where the Kalapathar Beach is located and realised that missing this place would have been such a huge mistake! This beach is stunning. We saw high and low tides on the beach and the black rocks after which this beach was named. Most stunning and gorgeous pictures of our tour were captured here. It's the only place in Andaman to experience six shades of water altogether. It is famous for its eye-catching sunrise. It gives an opportunity to watch many shades of Red, Pink, Orange, etc in sea water due to hide and seek play between the sun and clouds. We then went to the Shaheed Dweep and went to Laxmanpur Beach to see the natural coral bridge. It has two living natural coral formations in shape of a bridge
Visiting Andaman In June 2023 Is A Bang On Idea, Know Why!
4. Baratrang: Witnessing Jarawas



It was the most awaited moment from the trip because we so wanted to see 'Jarawas", which is one of the most ancient tribes that exist on earth and are still live in their primitive state. We were so lucky to sight them 4-5 times during the 100 kms road journey through the restricted and preserved forest area by the administration. Amazing! A family of five (a man, a woman and 3 kids) just 4 feet tall and wearing only garlands carrying water pots to their house was such an amazing sight. It was a lifetime moment, actually and one of the best things of our Andaman 7 days itinerary. 
5. Water Activities: The Most Fun


We visited Ross Island and explored the well maintained British set-up of pre-independence era. It was great to know how this small island played an important role in saving the main Port Blair city from the destructive Tsunami. Secondly, we went to North Bay island where we enjoyed scuba-diving, snorkelling and Coral Safari which was a great experience.
8 Best Cruises To Andaman In 2023: Guide To Fares And Ferries From Kolkata, Chennai And Vizag!
Our Hotels In Andaman And Nicobar
In Port Blair, we stayed in two different Hotels. First was Hotel Palika Palace. It is located at a prime location just 3 kms away from the Veer Savarkar International Airport and very near to Cellular Jail, Anthropological Museum, and many other tourist places. The room offered was on the 3rd floor, a big one to accommodate four persons. The second one was Hotel Suriya (LYME Hotels), situated very near to Phoenix Bay Jetty. It is also an ordinary one with small rooms but the facilities offered were amazing. In Swaraj Dweep (Havelock Island), we stayed in Radhakrishna resort. There are very limited accommodations in Swaraj Dweep and this resort is one of the best. Warm welcome, excellent room service, beautiful interior (totally wooden finished), in-house restaurant with tasty meals are the USPs of this resort. In Shaheed Dweep (Neil Island), we stayed in Coral Garden Resort. Again, this resort is one of the best places to stay here. There are numerous options for good hotels and resorts to include in your Andaman tour plan for 7 days. 
Restaurants In Andaman And Nicobar
Since we are vegetarians, we preferred taking our lunch in restaurants where we can get good and hygienic vegetarian food. Vegetarian food is easily available at almost every restaurant in Andaman, so getting homely food far from home was very easy and satisfying. A normal home like vegetarian meal for people can be availed for just 400 bucks. Andaman is heaven for sea-food lovers. They can enjoy a long listed variety of sea-food. One can have Coconut water, fruit-salads, snacks etc at beach-side outlets during outings. If you are travelling with kids, it is advisable to carry some handy dry snacks and drinking water all the time during the tour.
Andaman Travel Tips: Know About The Do's And Don'ts Before Planning Your Vacation In 2023
Shopping In Andaman
Our shopping experience in Andaman was amazing. We shopped at Neil Island at a small shop situated at Lakshmanpur Beach. Outside every beach you will find many shops selling different items made from seashells like earrings, key rings, necklaces made from real pearls etc. One can also explore "Sagarika", a chain of official outlets of the Andaman administration across the Andaman Islands. Here, one can find a vast range of souvenirs (handicraft items made of sea-shells and pearls, coconut shell, virgin coconut oil, etc)for near and dear ones of all age groups, for very reasonable pricing (Fixed prices, No bargain). One can buy idol sets of the Jarawa tribe, t-shirts with printed tags and maps of Andaman Islands, ornaments of pearls and shell as token of long lasting memories of this trip.
What To Pack For 7 Days In Andaman And Nicobar
Some of the things that you must not forget while packing is you are planning to spend 7 days in Andaman and Nicobar are listed here. Keep some extras for your forgetful friends and they will love you forever! Thank us later.
Polyester Clothes
Sunscreen
Sunglasses
Caps/ Hats
Umbrella
Ocean pack
Bathroom slippers
Basic medicines
Andaman And Nicobar Travel Tips
Keep your original ID proofs always handy throughout the trip.
Check-out time at all the hotels/ resorts is 08:00 AM. Be on time.
Cruise/ Ferries have fixed departure times. So, respect the time schedule.
Islanders are given preference while issuing tickets for journey by government ferries between the islands. If seats are left vacant, then only tickets are issued to the tourists.
Don't waste water and electricity as it takes a lot of resources to generate and supply these two islands.
Follow traffic rules (don't break or change lanes) while roaming through Port Blair city.
If you want to take memorable pics standing on deck of the ship, prefer government ferries for journey between the islands. While on private cruise (Makruzz or others), you will be locked inside the AC cabin and not allowed to go on the deck.
Always keep yourself hydrated during outings. Always carry drinking water.
Always keep extra clothes while visiting beaches or going for water sports activities.
Mobile connectivity in islands is very limited. Even, forget to use mobile internet in Port Blair city. Here, only BSNL, Airtel and Vodafone networks work. In Swaraj Dweep and Shaheed Dweep, only BSNL network works.
To make your trip economically cheaper, you can hire a scooter (Activa and others)/ bikes on rent for local roaming for just 600 bucks per day. Here, you can bargain too. This facility is available on almost all islands.
Don't forget to watch the light & sound show at Cellular Jail.
Go scuba diving or snorkelling if you really want a close view of under-water life. Knowing how to swim is not at all mandatory for these activities. Coral safari and glass bottom ride are not giving that good view of corals and other sea species.
Never collect sea shells on beaches. It destroys the natural life of aquatic species. There are provisions of hefty penalties as well as imprisonment under the laws, if found in possession of these items during security check at airport/ seaport while returning from Andaman Islands. If you want to bring items made of shells, you should buy these items from authorised shops and get proper bills for the same (prefer "Sagarika" outlets, one is there inside the airport too).
Our Experience With TravelTriangle
The experiences we had! Our 7 days in Andaman and Nicobar were awesome and honestly we wouldn't want it any other way. We are so happy that we planned our trip with TravelTriangle because the services offered and everything else was great. Our trip planner assisted us throughout and helped us with everything we needed and cleared all our doubts. Will definitely come back to them for more.
How To Make Andaman With Family Super Fun? Take Tips From Ankita's Experience
Did Hemant's experience of 7 days in Andaman and Nicobar inspire you and you will be planning for a family trip to the beautiful islands? Well, you have all the reasons to! Just keep the suggestions and tips in mind and have fun on your thrill filled trip to Andaman and Nicobar Islands and have the time of your life.
For our editorial codes of conduct and copyright disclaimer, please click here
Frequently Asked Questions About Andaman And Nicobar Islands
How much does it cost for a trip to Andaman?
A trip to Andaman can cost from anywhere between INR 8000 to INR 30,000 or even more depending on the number of days and the kind of trip you plan.
Can I bring corals from Andaman?
No, you cannot deadlift corals or seashells from the beaches but you can buy seashells and conch in Samudrika.
Is alcohol banned in Andaman?
No, alcohol is not banned in Andaman. There are government owned liquor stores in Andaman which sell liquor and except some parts there is no prohibition on alcohol consumption.
What should I wear in Andaman?
Light cotton clothing, flowy dresses, sarongs, sun dresses, hats, caps, board shorts and bathing suits are some of the things that you can wear in Andaman.
What is the famous food of Andaman?
Rice, Fish Curry, Chilli Curry, Macher Jhol, Coconut Prawn Curry and Tandoori Prawns are some of the famous foods of Andaman.
People Also Read: