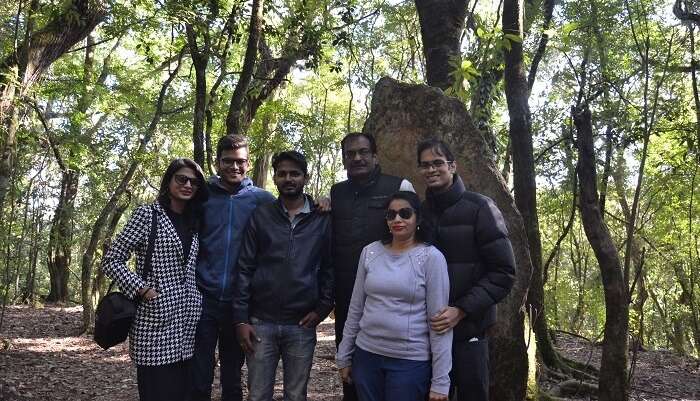 The North-East has always fascinated us and we wanted to go there for a long time since one of our family members had already been there once. The vast landscapes and alluring views were something we were truly seeking along with some quality family time. So, we started putting our thoughts into action as we began planning our trip upon doing which, we came across TravelTriangle. Having undergone discussions with them, TravelTriangle soon came up with the 6 days family trip to Meghalaya
A Look At Our Holiday Package
Cost: INR 74000
Duration: 6 days
No. Of People: 6 days
Inclusions: Sightseeing, Transfers, Parking, Taxes, Drivers Allowance
Exclusions: Air Fare, Train Fare, Personal Expenses, Camera Fees, Guide, Entrance Fees
Travel Agent From TravelTriangle: Ride And Climb Adventure
6 Days Itinerary
Day 1: Arrival at Guwahati airport
Day 2: Umiam Lake, Laitlum Canyon
Day 3: Cherrapunji, Mawsmai Caves
Day 4: Jinkieng Nongriat, Dawki
Day 5: Leisure
Day 6: Shillong, Cathedral Catholic Church, Kamakhaya Temple, Departure
Explore 20 Best Places To Visit In Meghalaya For A Surreal Trip In 2022 To The NorthEast!
Meghalaya Weather
The weather in Meghalaya was pleasant and chilly – the days were warm and sunny but the nights were really cold and the temperature went down to 4 degrees Celsius on most days. Thankfully, most of our travel was during the day so we could enjoy the warmth of winters soothing us!
Top Places We Visited On Our Trip
There were a lot of places to see in Meghalaya and we spread our arms wide open to experience every amazing thing! Here are the top experiences we had on our trip.
1. Umiam Lake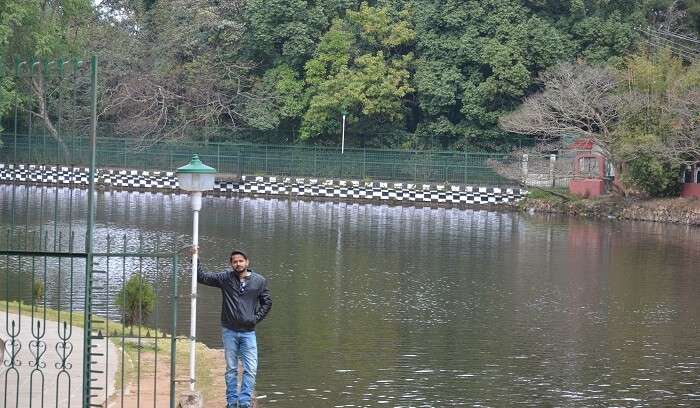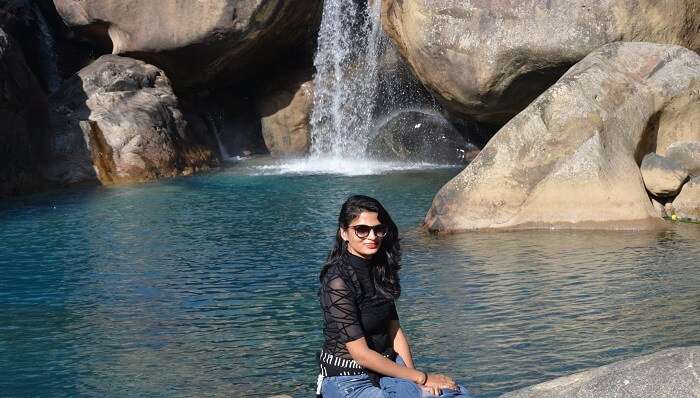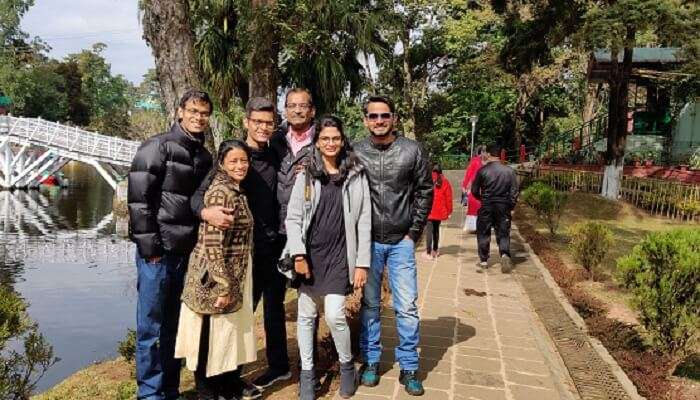 We went to Umiam Lake on the second day of our trip. It was breathtaking beauty and it was really soothing for us to just sit by the lake drinking some tea and enjoy the quiet solace it offered. It was even more amazing since we visited in the morning when nature is at it's best and there are fewer people. Umiam lake is undoubtedly one of the best tourist attractions in Shillong and we are glad to have experienced its beauty!
8 Fabulous Places For Shopping In Meghalaya For A Vivid Experience In 2022
2. Mawsmai Caves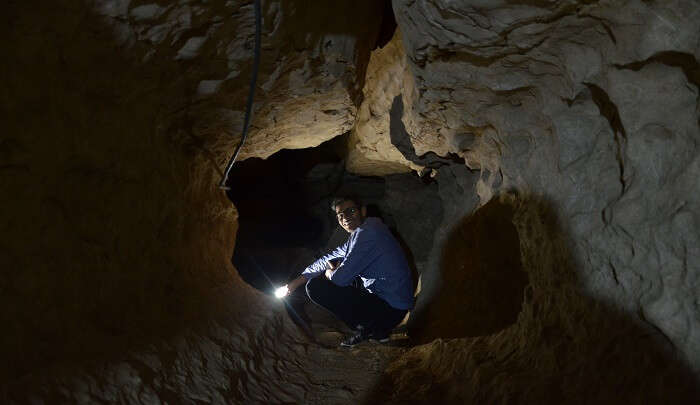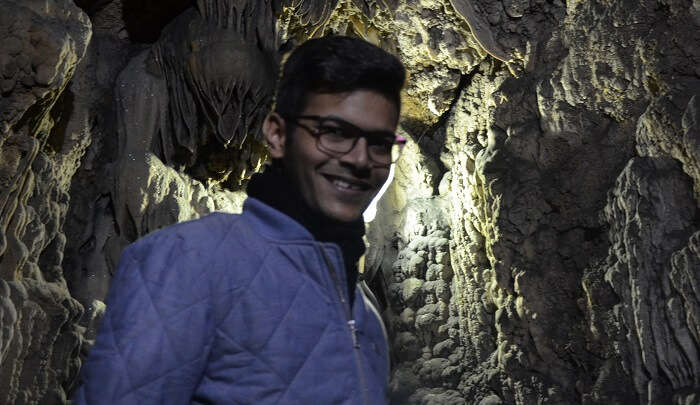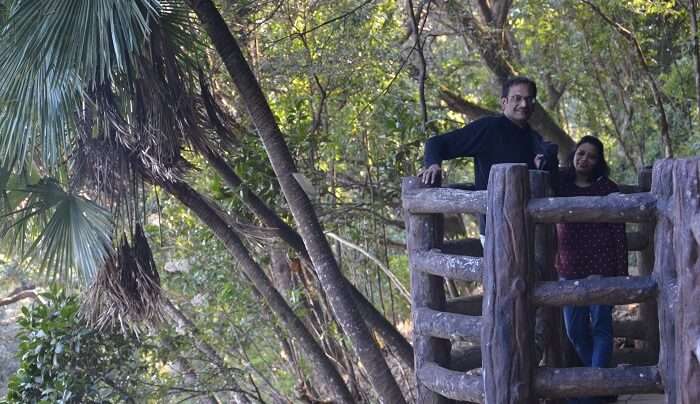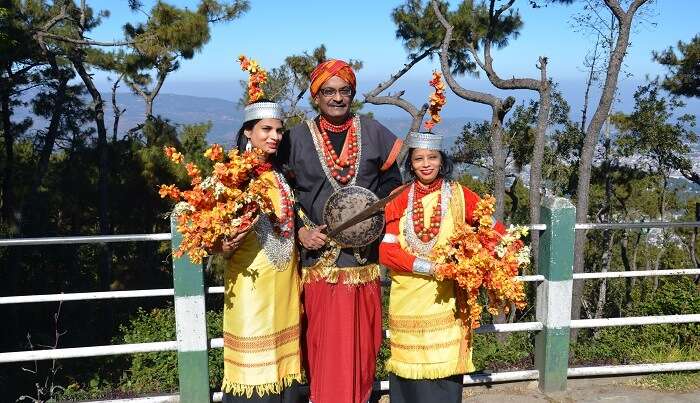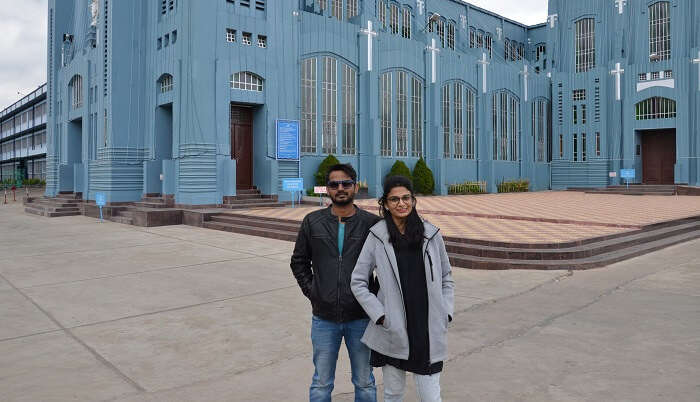 These beautiful caves are located in Cherrapunji and have a lot of alluring landscapes to offer. It was fun taking loads of photographs and videos here and we had a great time exploring the caves.
3. Double- Decker Suspension Bridge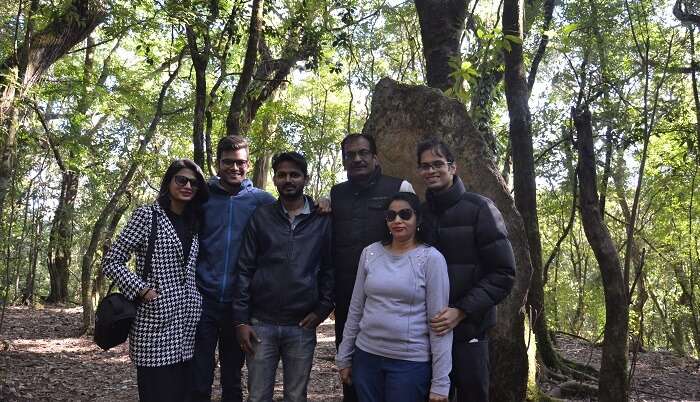 Also known as the Jingkeing Nongriat, visiting this place was one of the best highlights of our trip. We had to trek our way up to the place and even though it was a bit tiring, the beauty and the charm of the place made us feel totally worth our effort.
4. Dawki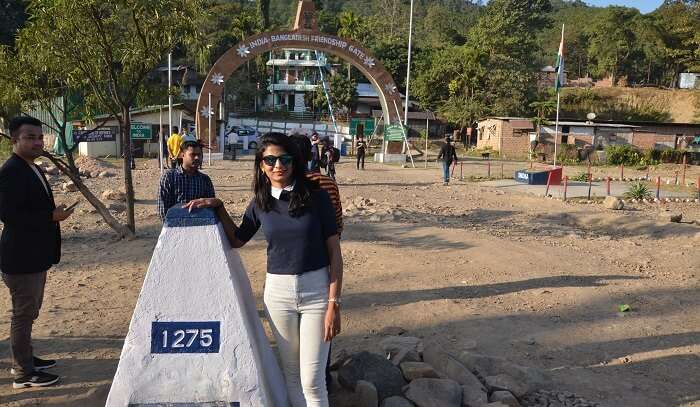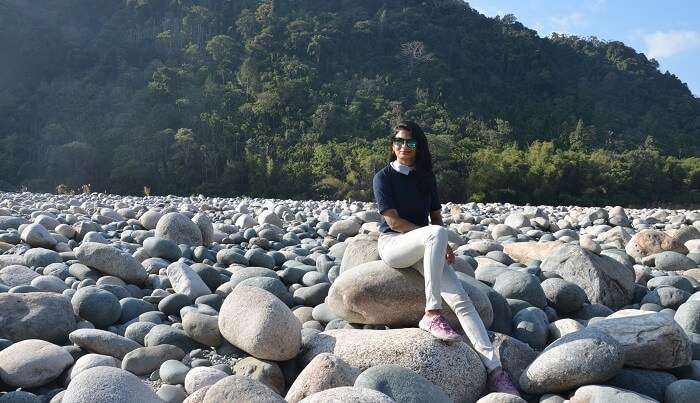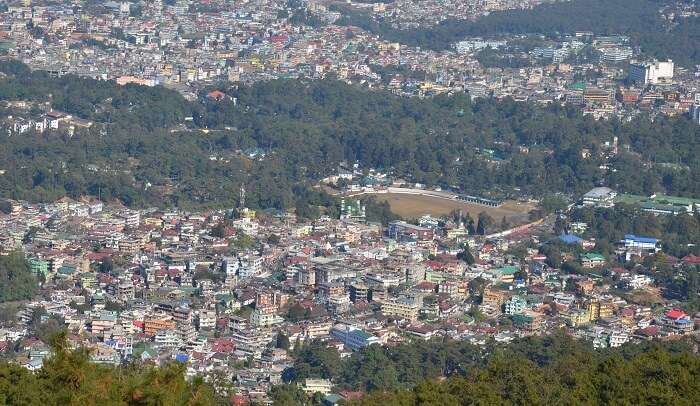 Dawki was undoubtedly, the best experience of our trip as we went boating on the clear waters of the river where we could see the beautiful river bed embellished with stones and greenery. It was an experience of a lifetime and we would recommend you to visit this place during winters because the water is crystal clear only during this time.
18 Interesting Things To Do In Meghalaya For A Vacation To Remember In 2022!
Our Hotels
On our Meghalaya tour in December, we stayed at three accommodations and all of them were really comforting and hospitable. Thanks to TravelTriangle, we got lucky with the dwellings and they helped us relax a huge deal on our trip. Here are three of the places we stayed at.
1. Hotel Eee Cee
On our first two days of the trip, we stayed at this beautiful hotel where our stay was comforting and relaxing.
Hotel Eee Cee is located in Shillong and is really close to all the local markets in the place which is why we could shop hassle-free! Breakfast was provided to us on both days and we got a chance to taste the delectable cuisine of Meghalaya because of that.
2. Hill Top Castle
We spent 2 days at this beautiful homestay in Cherrapunji, the location of which was great as we could enjoy the view of the beautiful surroundings and it gave us a quiet and comforting atmosphere to rejuvenate. The staff at this stay were really helpful and we could easily approach them with any problem and they would get it fixed. Our stay here was nice as we did not have to worry about anything.
3. Hotel Saad
The last two days of the trip, we were in Shillong and we couldn't have asked for better accommodation to justify our relaxing trip. We had the best hotel experience at Hotel Saad and it was even more special for us as we were putting up here on 31st December so our entire family celebrated New Year's eve at this hotel. The place was really well-maintained and the services were top-notch.
Visiting Meghalaya In June? Take Tips From Manogna's Thrilling Escapade To Plan Yours Right
How To Reach Meghalaya
Since our family is based in Pune, all 6 of us took a flight from the city to New Delhi and then further from there to Guwahati. The TravelTriangle agent picked us up from the airport in Guwahati and then we commenced our beautiful trip to Meghalaya via cab. We booked a cab for the entire 6 days trip and it was a really good decision to do so.
Our Budget For The Trip
Even though we were six people, our personal expenses did not come out to be a lot since we were only paying for food and entry tickets to tourist spots. The food in Meghalaya was really cheap and so were the entry tickets and our overall personal expense only went to INR 3000 per day for all six of us.
Tourists Will Now Need An Inner Line Permit To Visit Meghalaya
Shopping In Meghalaya
We were glad that all the hotels that we stayed in were close to the markets so we could shop to our heart's content without worrying about the time. We shopped for a lot of souvenirs such as fridge magnets, natural speakers made out of cane, and many handmade items such as handmade coasters for our family members. Shopping for handmade products sold in the local markets of Meghalaya our a major recommendation from our end as they are exquisite and beautiful. Other items that you can also shop for include bamboo handicrafts, shawls, Scottish cloth, and fresh fruits. Overall, it was great shopping in Meghalaya and brought back many memories!
Meghalaya Food
Since traveling constituted most of our trip, we were trying out many local restaurants on our way from one spot to another. We tasted some local dishes of Meghalaya during our stay at Hotel Eee Cee and found them absolutely delicious! While we expected the local food to be delectable, much to our surprise, the North-Indian food, and Chinese food items were also equally good. If you are traveling to Meghalaya, then do try some of the dishes such as rice with meat or Jadoh, pickled bamboo shoots, and Tungrymbai or soybean food. Overall, we can say that Meghalaya cuisine is delicious and made with love!
What To Pack For 6 Days Meghalaya Trip
Carry warm clothes and heavy jackets as it is really cold during December; and anyway, pack according to the season.
Pack light jackets for daytime but heavy sweatshirts and gloves and scarves for the night as the temperature drops significantly during that time.
Pack ready-to-eat food items in case you feel hungry at night.
Pack the basic medicines needed for a trip.
The Ever Growing Living Root Bridges, Meghalaya – A Nature's Marvel In The Northeast
Meghalaya Travel Tips
If you will be booking a car to travel across destinations, carry a neck-pillow to avoid neck pain
It may be the case that you might need to walk with your luggage a lot, so carry bags with handles
It might rain anytime so always wear sturdy shoes and carry an umbrella
Eat at the local restaurants rather than spending a lot at expensive places
Our Experience With TravelTriangle
We loved our entire experience with TravelTriangle and the agent who helped us plan our trip. The planning was done so efficiently that no challenges or difficulties came our way throughout our trip. The best part about booking a trip with TravelTraingle was that we could customize our package and include activities that our family wanted. The team also suggested to us the best places that could be explored during December and their inputs were really helpful. We look forward to taking more trips with TravelTriangle in the future!
Meghalaya Travel Tips: Remember These Essential Things Before Visiting This Beautiful State!
Our 6 days trip to Meghalaya from Pune was exciting and truly, memorable. We made some unforgettable memories that will be cherished forever and are glad to have taken a family trip together as it gave us a chance to bond more. Meghalaya is truly a beautiful and mesmerizing place with landscapes that look painted and surroundings that soothe your mind and soul. If you too want to take a relaxing vacation, then plan your trip to Meghalaya with TravelTraingle soon!
Common Questions You May Want To Know
How is the weather in Meghalaya in December?
The weather in Meghalaya in December is cold and chilly but also really pleasant with the average temperature recorded between a minimum of 8 degrees Celsius and a maximum of 28 degrees Celsius.
When is the best time to visit Meghalaya?
The best time to visit Meghalaya is between October and June as the weather is blissful and there are a lot of activities for everyone to enjoy.
What is Meghalaya famous for?
Meghalaya or ' abode of clouds' is famous for its landscapes, subtropical forests and biodiversity, and amazing weather.
Where can one shop in Meghalaya?
Some of the best shopping places in Meghalaya are:
1. Polo Bazaar
2. OB Shopping Mall
3. Bara Bazaar
4. Lew Sohra Bazaar
5. Dawki Market
Are there any waterfalls in Meghalaya?
Yes, some of the most alluring waterfalls in Meghalaya are:
1. Elephant Falls
2. Seven Sisters Falls
3. Dianthlen Falls
4. Langshiang Falls
5. Bishop and Beadon Falls