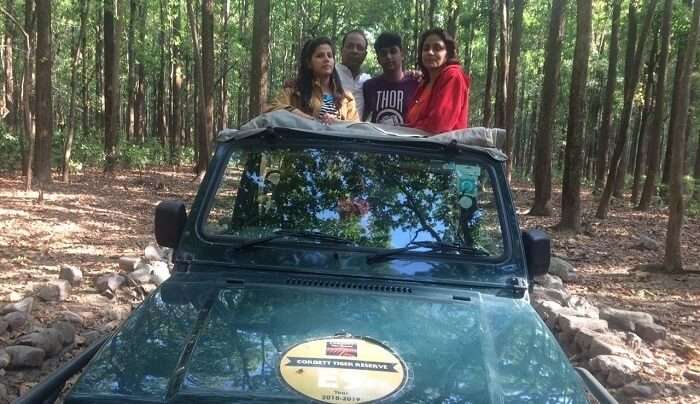 The unmatched beauty of Himalyan peaks and a serene vibe of Uttarakhand captivates travelers from far and wide. Famous for its trekking trails and enchanting villages, this destination gives all its visitors a wonderful time. There nothing there in Uttarakhand which make it any less of an ideal tourist destination. We have been to many places but Uttarakhand was still left to be explored. So, after so much of research and planning, we finally decided to go on family trip to Uttarakhand. Since we already knew about the amazing packages that TravelTriangle provides, so we actually didn't have any other trip organizer in our minds. Just like we thought, we got our package customized is the best way possible. And needless to say our family trip was indeed a fantastic one!
Details Of Our Family Trip To Uttarakhand
Trip Type: Family Trip
Cost: INR 98350
Duration: 8 days & 7 Nights
No. Of People: 5 Adults
Inclusions: Accommodation, Breakfast, Free Wifi, Taxes, Private Cab, Sightseeing
Exclusions: Lunch, Dinner, Trip supplements, Personal Expenses
Our Uttarakhand Itinerary
Day 1: Hotel Check in & stay in Corbett
Day 2: Enjoying jungle safari at the Corbett National Park
Day 3: Exploring the beauty of Kausani
Day 4: Driving to Auli & hotel Check in
Day 5: Sightseeing in Auli
Day 6 Driving to Nainital
Day 7: Exploring Nainital
Day 8: Departure
Must Read: 15 Places To Visit In Uttarakhand This Winter 2020-21
Uttarakhand Weather
We visited Uttarakhand in the month of May and the temperature must have been around 14°C – 30°C. The weather was somewhere in between hot and cold. But, the cool breeze was always there that made our vacation all the more pleasant.
Highlights Of Our Family Trip To Uttarakhand
Just like we imagined, we had a wonderful time in the lap of nature. Be it trying out various activities or visiting tourist attractions, we enjoyed all. Wish so much excitement, here we are sharing our best experiences.
1. Paragliding In Nainital
Adventure was something we were all looking forward to and what could be better than paragliding. Even though it was a little scary initially, but the trained staff made sure that all our doubts were cleared. All in all, it was one of a kind experience for all of us. Paragliding is not for light hearted people, but all of us enjoyed it immensely. Frankly we all are so busy in our metropolitan lives that we miss to get into an adventure like this.
2. Enjoying Safari In Jim Corbett Jungle
Next, we visited the Jim Corbett National Park and I must say the jungle was absolutely lush green and beautiful. We were able to see different animals and birds, but missed the tiger sightings by seconds on two different occasions. We also did a small trekking on a hill which ultimately took us to very old Shiv temple in Kausani. After taking blessings at the temple, we went to a local restaurant where we had utterly delicious food.
Suggested Read: 8 Best Places Near Uttarakhand That You Should Add To Your Itinerary Right Now!
3. Getting Swayed In Auli
Climate in Auli was awesome we had a ropeway ride which took us to highest peak to visit artificial lake constructed with technical help from Italian Firm.
We had a great time while trying out various experiences in Auli. And honestly, it is not something we get to do everyday. So, whatever we did or tried was altogether a new experience for us.
Suggested Read: Shopping In Uttarakhand: 5 Souvenirs You Cannot Leave 'Devbhoomi' Without
Shopping In Uttarakhand
NWe were enjoying every moment of our family trip to Uttarakhand and shopping was also something we thoroughly enjoyed. We bought various items like warm clothes, vastu materials from Wangli Arts etc. Handicrafts were also something that we bought in abundance. There are quite a few markets in Uttarakhand where travelers can find all these things. Tibetan Market and Bada Bazaar are two of the best markets where one could buy plenty woolens, handicrafts, and other souvenirs.
Hotels In Uttarakhand
On our 8 days & 7 nights trip, we stayed at 4 different hotels. Our first accommodation was Corbett View Resort which was an average resort and the food that was served to us was also up to the mark. Next in Kausani, we stayed at Natures Valley Resort which was great in every sense. However, we felt that our accommodation in Auli which was Blue Poppy Resort Auli needed a bit more cleanliness and better staff management. But, the meals served at the resort were utterly delicious. For the last 2 days that we spent in Nainital, we accommodated at Royal Rossette which also turned out to be a great experience for all of us.
Suggested Read: Dehradun Travel Guide: A Traveler's Handbook To Explore The Capital City Of Uttarakhand!
What To Pack
If you are going on an 8-day trip, you need to carry a lot of things just like we did. These are some of the essentials you should carry with you:
Warm Clothes
Waterproof trekking shoes
Binocular Camera
Sun protection cream
Power bank/extra phone charger
Mini medical kit
Important Tip For Future Travelers
Limited yourself too few destination like two to three places. Due to hilly region travel time is more from one destination to another which is very tiring.
Our Experience With TravelTriangle
It was the first international trip for my mother, and I couldn't ask for a better experience! You guys have made things so smooth! The contact details of all the guides, drivers & hotels were given. So perfectly organized!
Further Read: Fun, Entertainment, And Thrill: Our Adventure Trip To Uttarakhand Had It All!
The mesmerizing views, and the tranquil vibe of Uttarakhand captivate vacationers from all over the world. While enjoying a family trip to Uttarakhand, Saurav had a fantastic time which he was waiting for since eons. Like them, you can also make memories by going on a Uttarakhand tip with TravelTriangle.
Common Queries You May Have About Uttarakhand
Q. How can one reach Auli by train?
A. Dehradun railway Junction is the nearest connection by rail for Auli. Well connected to major Indian cities and towns, trains to Dehradun play regularly on the route. From the train station avail taxis or bus services to cover the almost 160 km to get to Auli.
Q. What is famous about Nainital hill station?
A. Beautifully places in the Kumaon region of the outer Himalayan range, Nainital is widely famous for its scenic beauty that captivate travelers from far and wide.
Q. What should one buy from Nainital?
A. You can also buy fresh Cherries, Apples, Strawberries, Mulberries, Peaches and Blueberries from here. There are some well-known shops in Nainital such as Sardar Sons, John Players, Kashmir Craft Emporium, Nagpal Gift Centre, Himjoli, Darshan Brothers etc
Q. Which is the best time to visit Uttarakhand?
A. Uttarakhand can be visited throughout the year except for the peak monsoon season in July and August. Uttarakhand is an ever embracing state, but summer is the best time to visit this state when the temperature is cold and pleasant.
Q. Is Uttarakhand safe for tourists?
A. Unfortunately, Uttarakhand has recently been in the news due to the floods that have devastated some isolated areas. Thankfully much of the state has not been affected and is still safe to travel through. … As many tourists are staying away, you may also find that the region is cheaper to travel through and less crowded.
Comments
comments