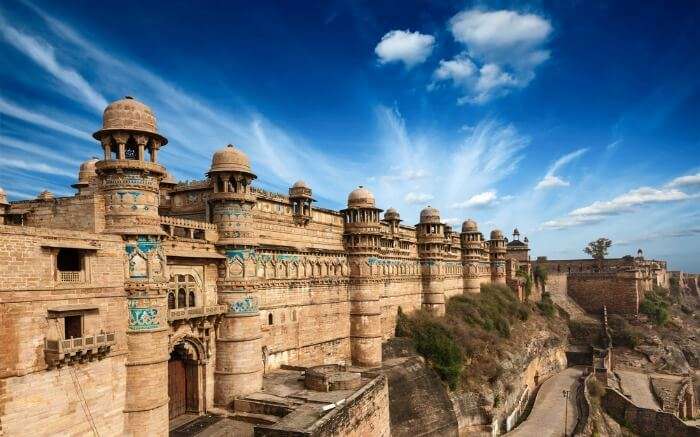 Standing as proof of a glorious past and excellent craftsmanship, the forts in India are popular tourist attractions today. Spread over the entire country, these forts find mention in important history chapters and many of them have interesting stories around them.
The two most famous forts – the Agra Fort and the Red Fort – are among the UNESCO World Heritage sites in India. Just like them, there are a number of hill forts, marine forts, and jungle forts that are perfect for a day out. Explore the ruins – preferably with a guide – and take a walk down the history lane.
Hill Forts of India
1. Kangra Fort in Kangra, Himachal Pradesh – A Himalayan wonder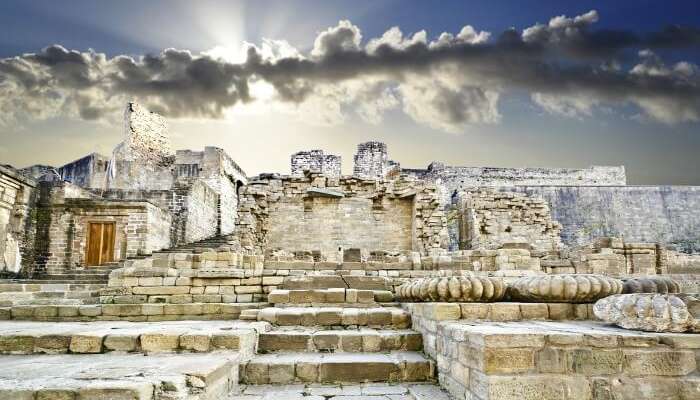 Located in the beautiful hills, Kangra Fort has massive seven doors with a cobbled and narrow path that leads to the fort. From the inside, you can glance at the Banganga and Manjhi river streams meandering through the verdant hills.
In Akbar's siege in 1615, Kangra Fort was able to withstand the attacks, but in 1620 his son took control of the fort. And so, with the passing time it went under rules of many kings, including British rulers, until it was destroyed by an earthquake in 1905.
---
Looking To Book A Holiday Package?
Book memorable holidays on TravelTriangle with 650+ verified travel agents for 65+ domestic and international destinations.
---
2. Amer Fort in Jaipur, Rajasthan – A timeless beauty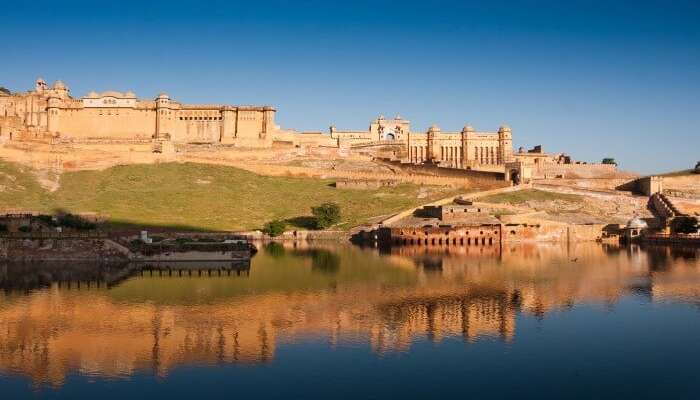 One of the most beautifully crafted forts of India, Amer Fort is a UNESCO World Heritage Site as a part of Hill Forts of Rajasthan. Constructed in 1592, it overlooks Moata Lake and showcases precision and brilliance of Rajasthani architecture, which is why it tops the list of tourist places in Jaipur.
3. Chittorgarh Fort in Chittorgarh, Rajasthan – The fort with many waterbodies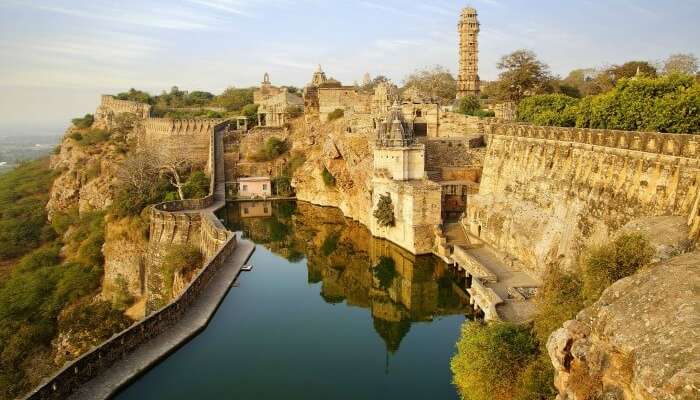 Spanning over 700 acres of area, and housing 22 water bodies inside it, Chittorgarh fort is perched upon a hill that's 180 meters high. The fort was at its full glory under the rule of famous rulers like Bahadur Shah and Maharana Udai Singh.
Must Read: 12 Historical Places In Rajasthan That Will Take You Back To The Glorious Past
4. Mehrangarh Fort in Jodhpur, Rajasthan – The charm of the Blue City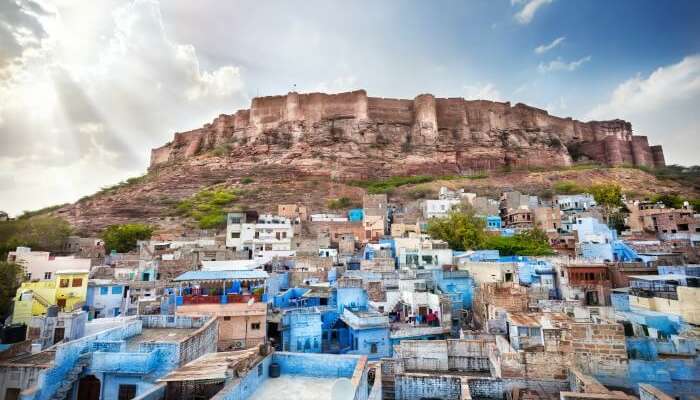 Standing strong and tall above the Blue City Jodhpur, Mehrangarh Fort has its history dating back to 1460, when Rao Jodha commissioned its construction. Like other forts in Rajasthan, it is a treat to the eyes. It it also listed among the top tourist places in Jodhpur.
5. Jaisalmer Fort in Jaisalmer, Rajasthan – The Golden Fort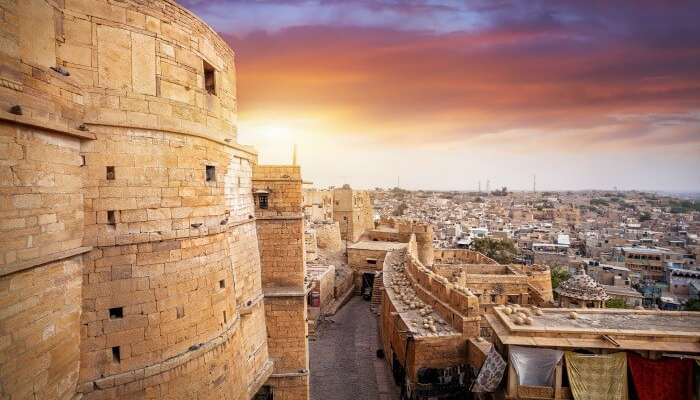 Jaisalmer Fort, also known as Sonar Quila or the Golden Fort, dominates the landscape of the city as it sits on a hill. And the name comes from the beige color of the fort which complements the sandy Thar Desert. It was built in 1156 AD, and until the British Raj, the fort was used as a refuge for the travelers of the Silk Route.
6. Kumbhalgarh Fort in Udaipur, Rajasthan – The second largest fort in the state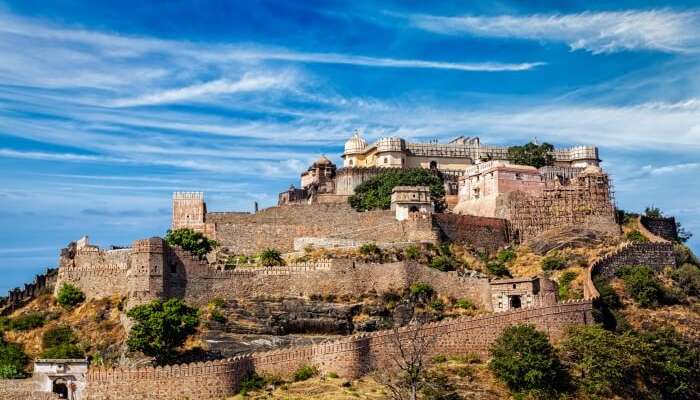 One of the best forts in India, Kumbhalgarh Fort is famous for its 36 km long fortified walls. Badal Mahal – a palace inside the fort is the birthplace of famous warrior Maharana Pratap and offers a panoramic view of the vicinity.
Must Read: 11 Alluring Places To Visit In Udaipur
7. Ranthambore Fort in Prempura, Rajasthan – A fort amid the wild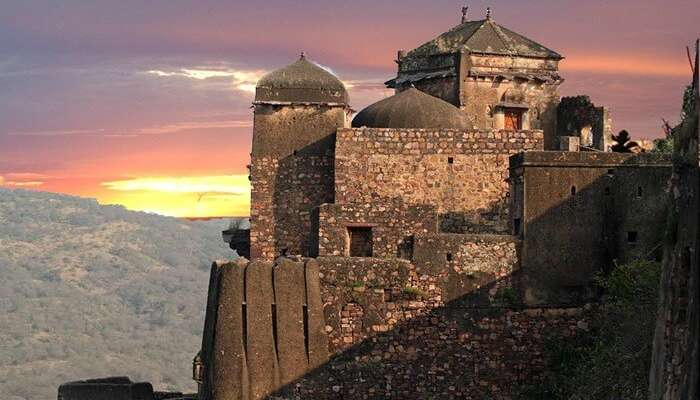 The Ranthambore Fort is located in the former hunting grounds of Jaipur's rulers, the Ranthambore National Park. Interestingly, there more than one theories that narrate the history of the fort – one theory says it was built by Chauhan Rulers in 944 CE, the other says it was built in 1110 CE, while the government maintains that it was built in the 10th century.
Nevertheless, it is a beauty to behold, especially if you love wildlife.
Suggested Read: 10 Hotels In Ranthambore For A Royal Stay
8. Jhansi Fort in Jhansi, Uttar Pradesh – Home to Rani Lakshmi Bai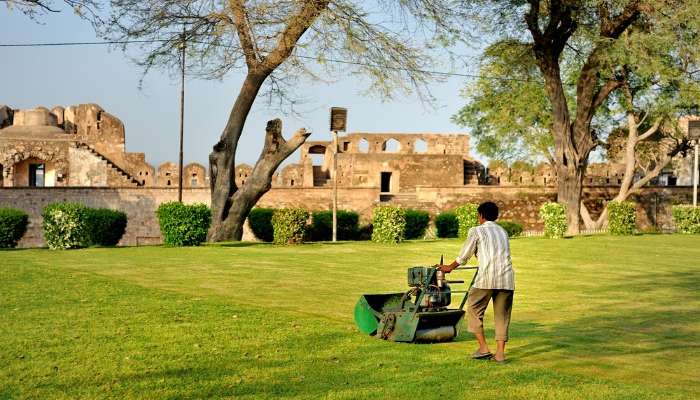 Rani Jhansi Ka Quila, or Jhansi Fort is among the really old forts in India. It is more than 400 years old, and flaunts an architectural mesh of Bundela and Maratha styles. After many poor reigns, it was ruled by Raja Gangadhar Rao and Rani Lakshmi Bai.
9. Gwalior Fort in Gwalior, Madhya Pradesh – An 8th century hill fort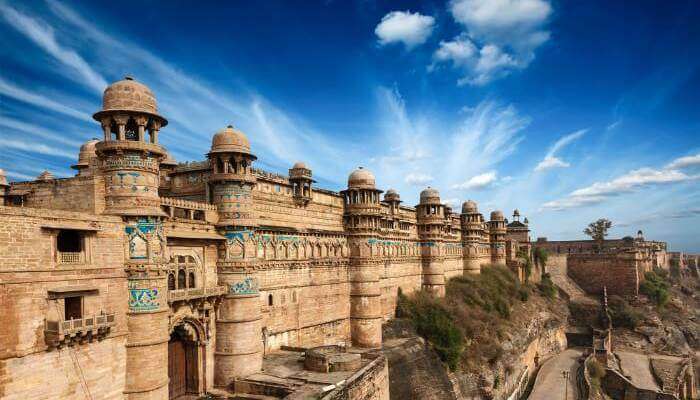 Gwalior Fort is one of the largest forts in India that comprises of many palaces, water tanks, temples, and museum. Covering an area of 3 km sq, it has two entry points, named Hathi Pul, which is the main gate, and Badalgarh Gate. The museum exhibits religious sculptures dating back to 1st and 2nd century BC, along with other rare artefacts.
10. Madan Mahal Fort in Jabalpur, Madhya Pradesh – Intriguing with its roughness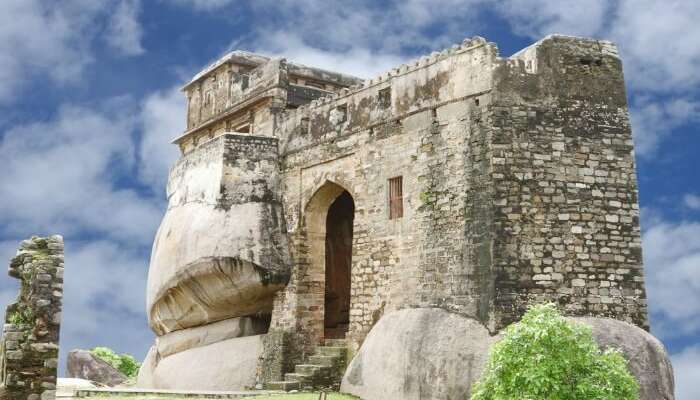 The ruins of Madan Mahal Fort is not something very artistic or delicate, but the ruggedness surely does intrigue. Those who love losing themselves in the worn-out stoned walls, this can be the best fort in India for them. This 11th century fort narrates the tales of Rani Durgavati, who was considered as Indian martyr and died fighting the Mughals.
11. Raigad Fort in Raigad, Maharashtra – A beautiful hill fort by the Marathas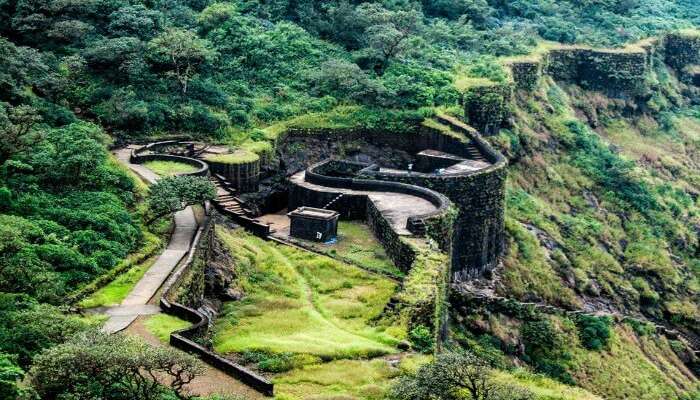 One of the best fort in India, Raigad Fort was commissioned by Chhatrapati Shivaji, who made it his capital in the early days of his reign. The fort is located 820 metres above sea level, and the views of the mist-laden Sahyadri Range are mesmerizing. Also, it is among the popular trekking destinations near Mumbai and Pune.
Suggested Read: Camping Near Mumbai: 10 Spots To Escape City Life & Kick Back
12. Daulatabad Fort in Daulatabad, Maharashtra – Standing on a conical hill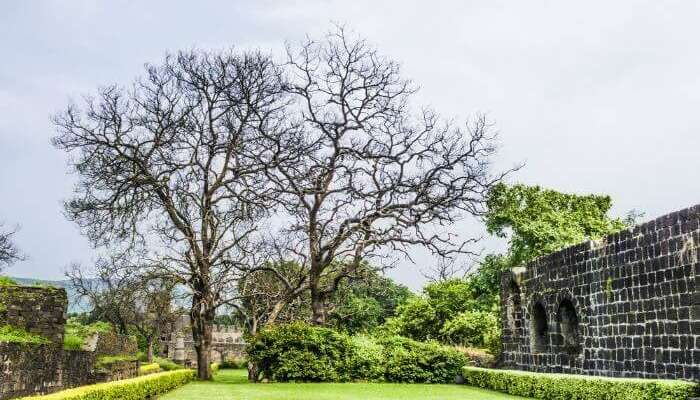 Daulatabad Fort is just 16 km away from the city of Aurangabad, and is regarded as one of the Seven Wonders of Maharashtra. The fort stands on a conical hill, and is mainly known for serving as a capital for Tughlaq Dynasty. As you'll explore the fort, you'll come across many meandering secret passages which helped in tricking the attackers.
---
Planning your holiday but confused about where to go? These travel stories help you find your best trip ever!
Real travel stories. Real stays. Handy tips to help you make the right choice.
---
13. Rajmachi Fort in Khandala, Maharashtra – Hills, waterfalls, and mist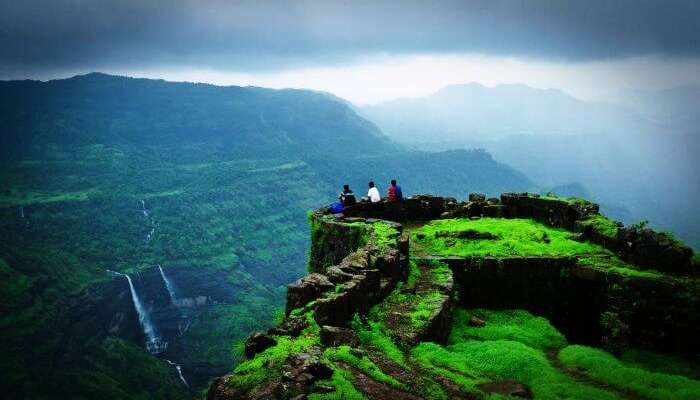 Counted among the most favourite weekend getaways from Mumbai and Pune, Rajmachi Fort is a scenic delight, located amid the Sahyadri Range of Western Ghats. It was built by the Satavahanas and played an important role in the Anglo-Maratha war. After being ruled by Shivaji Maharaj, Aurangzeb, and then Kanhoji Angre, it was finally acquired by the British in 1818.
Suggested Read: Monsoon Weekend Getaways From Mumbai And Pune
14. Chitradurga Fort in Chitradurga, Karnataka – Picturesque marvel from the 17th century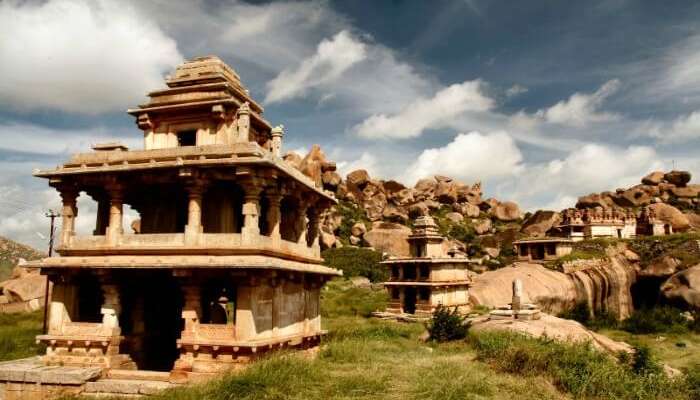 A 3 hour drive from Bangalore, Chitradurga Fort boasts of pristine environs and a legendary past. The 17th century marvel derives its name from the Kannada word Chitrakala Durga, which means 'picturesque'. It is said there never had been a water shortage, thanks to many interconnected water tanks. Along with citadels and mosques, Chitradurga Fort has 18 temples.
Must Read: 21 Road Trips From Bangalore You Must Plan With Your Friends
15. Golconda Fort in Hyderabad, Telangana – Displaying architectural brilliance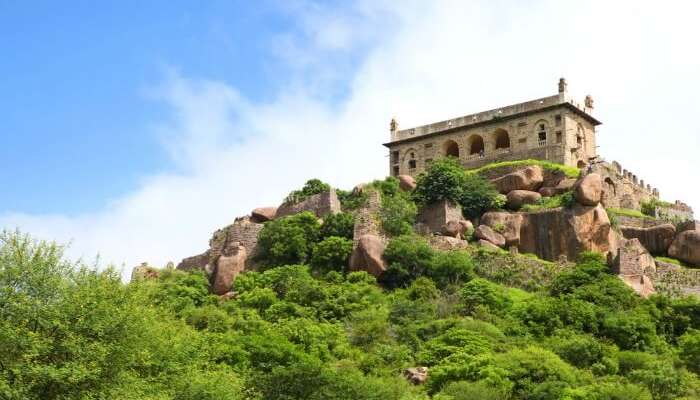 Golconda Fort is one of the largest forts in India, and the Golconda Fort Complex is nothing less than an archeological marvel. Along with perfect architecture, there's great intellect involved in the construction as the handclaps done under the dome are audible a kilometre away at the 'Bala Hisar' pavilion.
Besides, it is also famous for once storing the Kohinoor and Daria-i-noor, among many other famed diamonds.
Marine Forts of India
16. Murud Janjira Fort in Raigad, Maharashtra – One of the strongest sea forts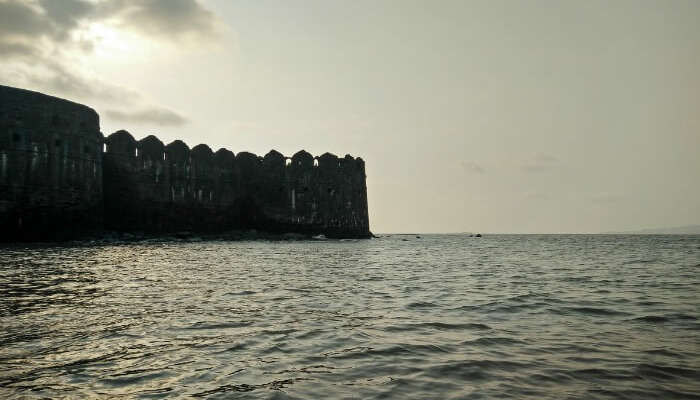 Once counted among the mightiest marine forts in India, Murud Janjira lies in ruins, but its cragginess doesn't fail to captivate. The 26 bastions of the fort have always been the way they are currently. There are many Indian and European cannons sitting on the bastions, placed to fight the enemies. As of today, they are rusted and mainly used for posing for pictures.
17. Sindhudurg Fort in Malvan, Maharashtra – A mighty fortress on the shore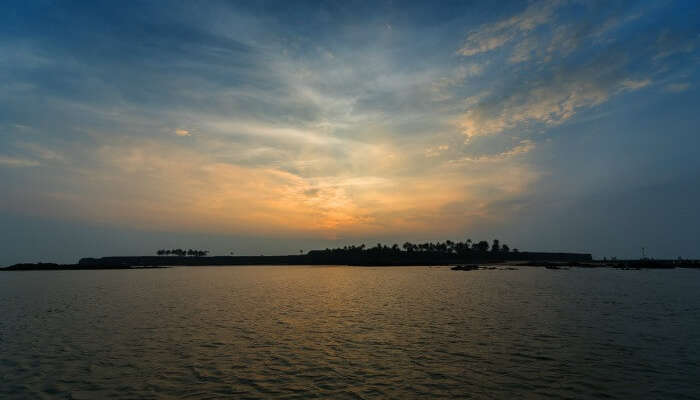 Sindhudurg Fort is a 17th century fort that lies on an islet in Arabian Sea, and houses the only temple in the world dedicated to Shivaji Maharaj, who constructed this fort. Visit here to be mesmerized by the massive walls, the 3 km long rampart, and the lovely view of the sea.
18. Fort Aguada in Sinquerim, Goa – The Dil Chahta Hai fort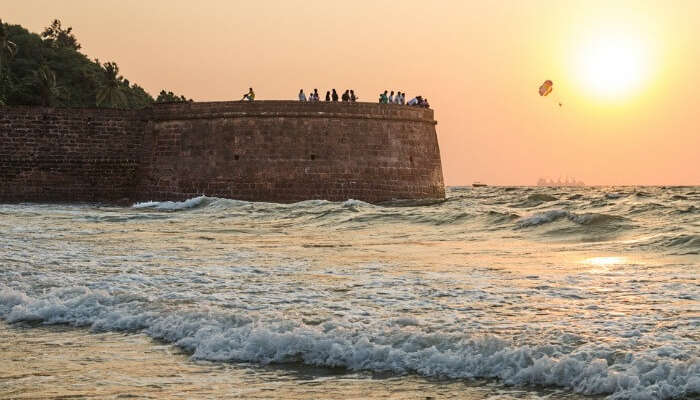 Aguada, which means water, gets its name from a freshwater spring within the fort, which was the source of water that was supplied to halting ships. Popularized by the Aamir Khan movie Dil Chahta Hai, Fort Aguada, today, is one of the most popular tourist places in Goa. The 17th century Portuguese Fort was built to ensure security from the Dutch and the Marathas.
19. Chapora Fort in Bardez, Goa – Akbar's base camp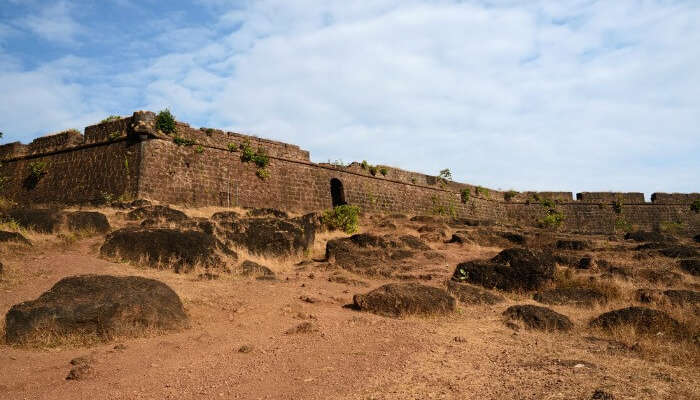 Chapora fort is named after river Chapora and is one of the historically important forts in Goa. In 1638, when Akbar joined hands the Marathas to kick out the Portuguese, he made fort Chapora his base camp. The current design we see is a 1717 construction that replaced older designs.
Suggested Read: North Goa VS South Goa: The Never Ending Dilemma
20. Bekal Fort in Bekal, Kerala – The largest fort in Kerala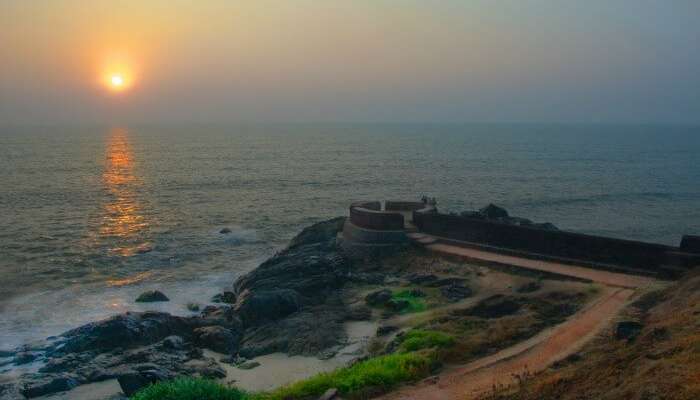 One of the largest forts of India, Bekal Fort is a 300-year-old marine fort. This keyhole-shaped structure was built for defense purposes back in 1650, by Shivappa Nayaka. Today, Bekal Fort is a preferred shooting spot for the film-makers, and the The Observation Center offering a bird's eye view of the surrounding is a tourists' favorite.
Must Read: 10 Charming Places To Visit In Kerala [Infographic]
Other must see forts of India
21. Red Fort in Chandni Chowk, Delhi – A Delhi Fort with an inspiring architecture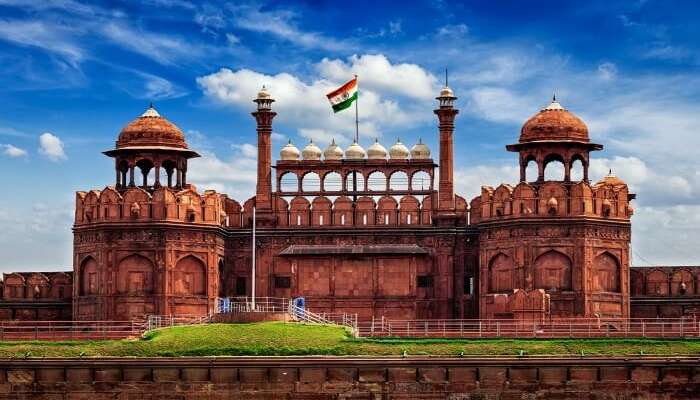 The Red Fort holds patriotic significance as it serves as official venue of Republic Day celebration. This is one of the major tourist places in Delhi, with its history dating back to 1638, when Shah Jahan built it. The architecture of the fort projects a mesh of Islamic, Persian, and Timurid styles. Later this style inspired the construction of many gardens and buildings in Delhi, Kashmir, and other places.
22. Agra Fort in Agra, Uttar Pradesh – Former residence of the Mughals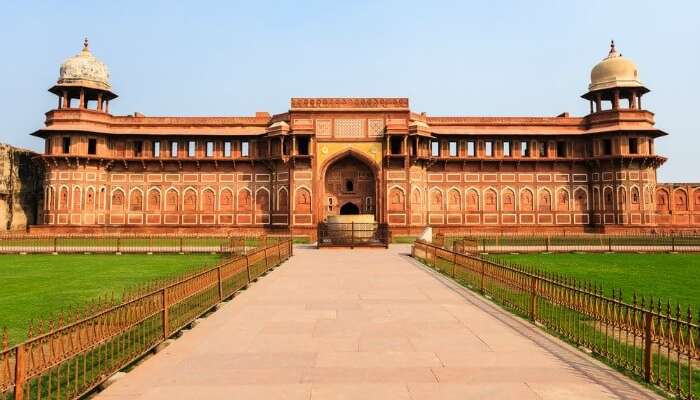 Agra Fort is merely two and a half kilometers away from one of the Seven Wonders of the World, Taj Mahal. The fort is among the well-maintained forts in India, and totally deserves the title of UNESCO World Heritage Site.
This opulent and charismatic structure once used to be the residence of the Mughals. The fort was originally built by Lodis, Mughals renewed it and did everything they could to erase Lodi's name from its history altogether. There are many false stories about this fort, some created by locals and some by the Mughals themselves.
23. Junagarh Fort in Bikaner, Rajasthan – The pride of the Thar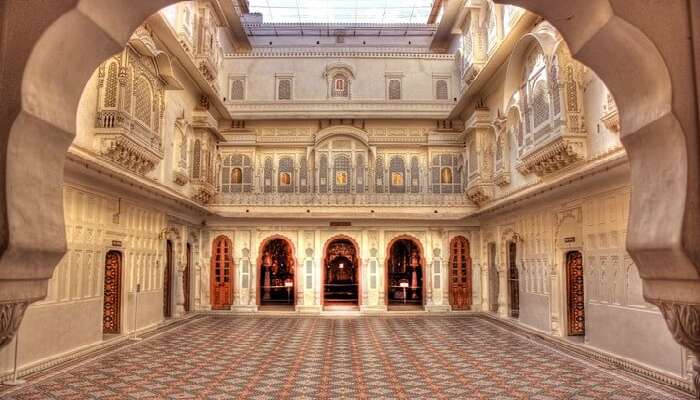 Falling into the category of few forts in Rajasthan that aren't built on a hill, Junagarh Fort is enveloped by the Thar Desert with the Aravali Range in the backdrop. As per records, the 16th century fort braved numerous attacks by enemies with just one exception when Kamran Mirza, the second son of Babur attacked and took control for one day.
24. Warangal Fort in Warangal, Telangana – The emblem of Telangana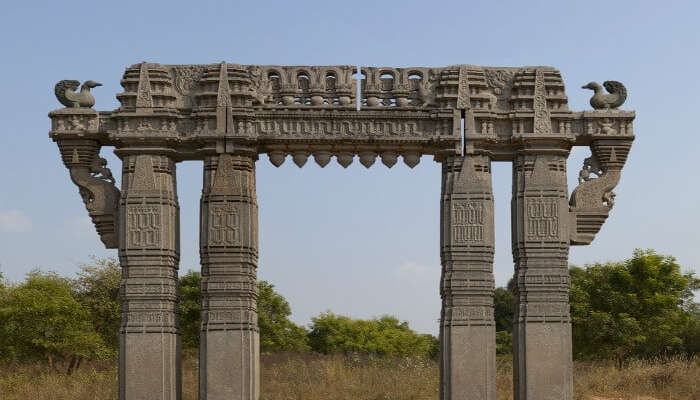 Warangal Fort is among the important forts of India because of its ornate arch, known as Kakatiya Kala Thoranam, which is adopted as official emblem of Telangana state. This ornamental arched gateway along with three others formed gateway to the Shiva Temple, which today lies in ruins. Historians believe that the fort was built in the 12th century, and has been under the rule of Yadava Kings and the Kakatiya Dynasty.
25. Palakkad Fort in Palakkad, Kerala – Blend of history and nature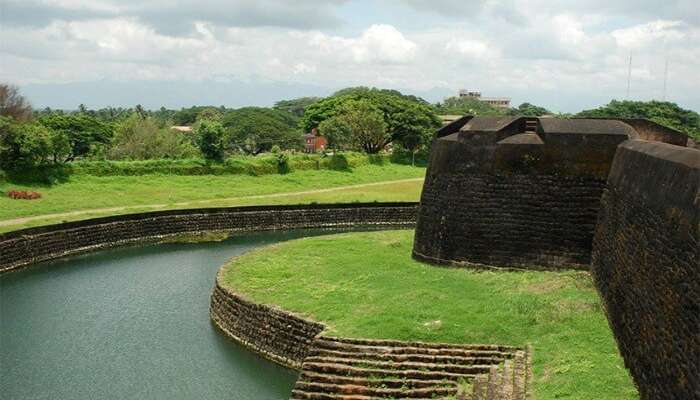 One of the well-preserved forts in India, Palakkad Fort is also known as Tipu's Fort. It is nestled in the foothills of Western Ghats' Sahyadri Range, and is enveloped by thick forests with river streams. It is said that the fort has been around since ancient times, but recorded history says it was built in 1766 AD by Haidar Ali.
Further Read: 10 Best Places To Visit In Kerala
Hoping this list of forts in India has already urged you to go out and explore! Which of these are you visiting first? How many out of these 25 have you visited already?
Frequently Asked Questions About Forts In India
Q. How many forts are there in India?
A. India has a vast and rich cultural history and many forts adorn this beautiful country. There are approximately 1000 or more forts in India. Some of the famous ones that one should visit here are Amber Fort, Mehrangarh Fort, Jaisalmer Fort and more.
Q. Which is the largest fort in India?
A. Chittorgarh Fort is one of the largest forts in India among other magnificent forts in the country.
Q. Which is the smallest fort in India?
A. Murud Janjira Fort is one of the lesser known and small forts in the Indian state of Maharashtra.
Q. Who built Chittorgarh fort?
A. Chitrangad Mori who belonged to the Maurya Dynasty is believed to have built Chittorgarh fort in the 7th century AD.
Q. Why is Red Fort famous?
A. Red Fort is famous as it was an important structure in Indian history. The fort was the residence of Mughal emperors. It is also famous for its color which gives it the name. The fort is red because of the red sandstone used in its construction.
Q. When was the Mehrangarh fort built?
A. The fortress was built in the middle of the 15th century but a lot of additions which have survived till date were added to this fortress complex during the 17th century.
Q. Which are some of the forts that one should visit on India tour?
A. Some of the major forts that one should visit on a tour of India are Amer Fort in Jaipur, Chittorgarh Fort in Chittorgarh, Mehrangarh Fort in Jodhpur, and Jaisalmer Fort in Jaisalmer.
Q. Which are those forts that are UNESCO World Heritage Sites in India?
A. Some forts that are UNESCO World Heritage Sites in India are Agra Fort, Red Fort Complex, and hill forts of Rajasthan which include  Amer Fort, Jaisalmer Fort, Chittor Fort, Kumbhalgarh Fort, Ranthambore Fort, and Gagron Fort.
---
Looking To Book An International Holiday?
Book memorable holidays on TravelTriangle with 650+ verified travel agents for 65+ domestic and international destinations.
---
Comments
comments