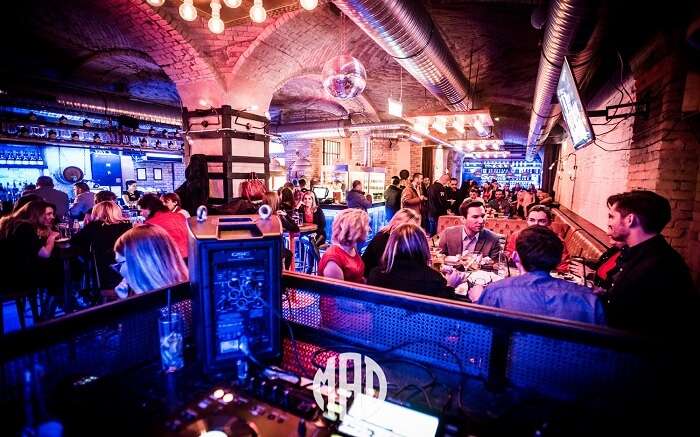 Hungary, known to be the most interesting country in Central Europe, truly has an interesting blend of things to offer. To enjoy Hungary nightlife to the fullest, one must explore the country during summer time. From the happening nightclubs to the lively pubs, the landlocked country has great places to chill at night.
And if you're on your night journey through the buzzing streets of Hungary, these top ten splendid spots will enliven you like never before.
Let 10 Hungary nightlife make you groove like never before
Peaches and Cream Club
Morrison's 2
Cafe del Rio
MAD Budapest
Barrio Latino Cafe
Tutu
Barrio del Tango
Beat On The Brat
Kraft
A 38
1. Peaches and Cream Club

Situated in the center of Hungary, engrossed in a crowd of millennials, Peaches and Cream offers great music and best-in-class services. Take a peg of your favorite drink and revel in the dancing atmosphere; you will love it. Good place for both, singles and couples. Who knows singles may find their love of life while being at this awesome club full of fun. All these factors, when combined, make it one of the best nightclubs in Hungary.
Location: Nagymezo utca 46 – 48, Budapest 1065, Hungary
Open till: 5:00 am
Suggested Read: Budapest Nightlife: A Handy Guide To Find The Best Ruin Clubs And Bars In 2022!
2. Morrison's 2

The best part of Morrison's 2 is: it is one of the oldest discos in Hungary. Their servings are really reasonable. It's a place where you may go for having some cocktails and end up coming back, drunk and happy. To all the people out there who are looking for some budget-friendly nightclubs, this is the answer to them. Karaoke, music, dancing atmosphere, varieties of drinks and snacks; you will get everything and that too at a very reasonable price.
Location: H-1055 Budapest | Szent Istvan krt. 11, Budapest, Hungary
Open till: 4 am
Cost for two: Rs 512 /- only
Suggested Read: Hungary In Winter: Come To Enjoy The Scenic Views Of Snow-capped Landscapes
3. Cafe del Rio

Awesome music, cool vibes, Rio is a perfect place to crash in for all who crave for nightout parties in clubs. Rio will offer you a fabulous nightlife experience of Hungary and you can come and join the crowd with your wolfpack. You must have partied in myriad clubs but this one will leave an impact on you guys. What's more than expected from this club is hardcore party ambiance.
Location: Vizpart utca 1., Budapest 1117, Hungary
Open till: 5 am
Must Read: Your Guide To Budapest: The Most Stunning City In Europe
4. MAD Budapest

With such friendly and amazing staff with fancy ambiance on the backdrop, MAD Budapest offers great food, especially the barbeque hamburgers coupled with a special sauce and dip. It also has an eclectic range of drinks in its offerings. In short, we can call it a wild nightclub with delectable food and diversified drinks. A perfect spot to enjoy your weekend and see the Hungary nightlife through the eyes of MAD Budapest.
Location: Sas utca 17., Budapest 1051, Hungary
Open till: 12 am
under Rs 2160
5. Barrio Latino Cafe

With friendly staff and fast and quality service, clubbing at Barrio Latino Cafe is a fabulous experience in itself. At Barrio Latino, you will be immersed in great salsa and Latin music; it's also a good spot to meet people from all over the world. The Cuban drinks and mojitos are its specialty and you must try it. It is one of the best nightclubs in Hungary and you will love it for sure.
Location: O utca 33., Budapest 1066, Hungary
Open till: 2 am
Suggested Read: 30 Unpredictable And Non-Clichéd Places To Visit In Your 20s
6. Tutu

An awesome nightclub theatre with nice and friendly bar, good music shows, great ambiance, and quick services. However, the drinks are a bit expensive. For budget guys, don't miss out the pre-drink. Remember, there is no entry fee until midnight. So, be careful about timings if you want to save money. There are two VIP sections as well, which are amazing. You must try it, but only when you have a heavy pocket.
Location: Hercegprimas utca 18., Budapest 1051, Hungary
Open till: 5 am
7. Barrio del Tango

Locals love it, but tourists and other people are served with a warm welcome, too. Even if you are lost and you drop in here, these people will help you with all the relevant information of the city. Barrio del Tango is popular for its wide varieties of quality coffees. Plus, they also have amazing food treats such freshly baked croissants and Italian paninis. It feels awesome when you enter this club and enjoy these offerings with Argentine Tango music in the background.
Location: Iranyi utca 18-20., Budapest 1056, Hungary
Open till: 10 pm
Suggested Read: Most Popular Euro Trips To Plan 2022's Ultimate Escape
8. Beat On The Brat

Looking for a place to chill with good food, drinks, and music? This is it, guys! It's an authentic underground club that offers fresh music ranging from rock, electro to indie, punk and many more. Not very crowdy, this is a highly recommendable place to go, relax and have a good time in Hungary. Also, if you have already been to hi-fi clubs of Hungary and now looking for a bit soft and sophisticated place, you are welcome.
Location: Nagydiofa utca 17, Budapest 1072, Hungary
Open till: 4 am
9. Kraft

One of the hottest places in Hungary, Kraft boasts of its impressive food offerings that have international cuisines. The best part comes later. Until it is eleven o'clock, Kraft is a fine restaurant, the moment it crosses 11 pm, it turns into a huge party place with great DJs, splendid music and you can dance all night long with whomsoever you want. Hiphop, R'n'B , EDM, what more you want?
Location: Szechenyi Istvan ter 7-8., Budapest 1051, Hungary
Open till: 5 am
10. A 38

A ship that offers a blend of club, restaurant, and bar on the water. Immersed in the good music performances mostly by Hungarian bands, you can have a great time here. Drinking a cocktail or having dinner on the roof terrace is peace in itself. The restaurant will serve you with some of the best delectable food in the area and that too at affordable prices. After this, you can step into the club on A 38 which hosts some of the best live concerts in entire Hungary and invites DJs from around the world.
Location: A38 Ship | Petofi Bridge Buda Side, Budapest, Hungary
Open till: 11 pm
Those who want the best of Hungarian nightlife and want to make the best of their European vacation must checkout some of these world-class pubs and clubs with their pals.
Further Read: 40 Most Romantic International Honeymoon Destinations for Every Budget
---
Looking To Book An International Holiday?
Book memorable holidays on TravelTriangle with 650+ verified travel agents for 65+ domestic and international destinations.
---