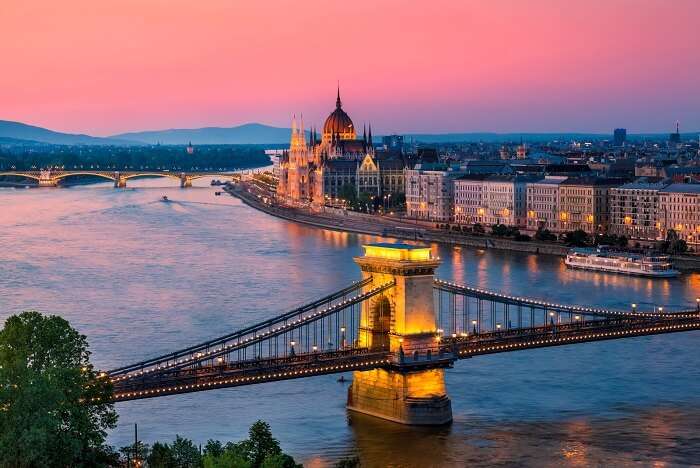 Statuesque castles', stunning lakes, extraordinary caves, thick forests, and magnificent churches, Hungary is more than just its glittering capital 'Budapest'. The myriad places to visit in Hungary are fast turning one of the most popular countries in Eastern Europe into a hot and happening tourist destination. The country has been heavily influenced by its conquerors, which is evident in its interesting architecture and culture.
The Diverse Places To Visit In Hungary
Know where you can explore the secrets and treasures of Hungary before you proceed to plan your trip to this amazing country:
1. Budapest – The shining capital of Hungary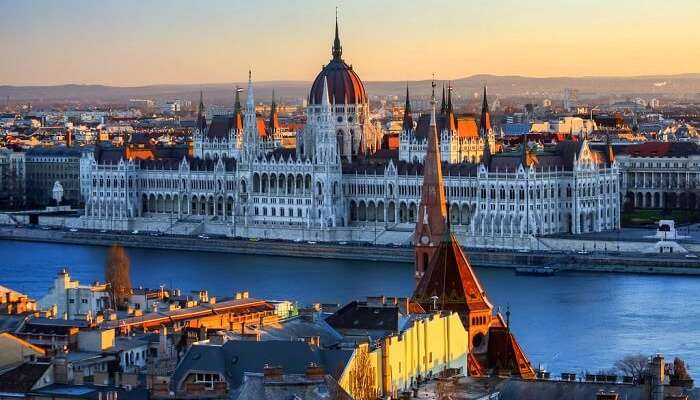 Budapest is one of the must-visit places to visit in Hungary to understand the country's history and progress in the modern times. Historic & ancient buildings stand regally alongside the modern architectural wonders. No wonder, the length of Banks of the Danube River, Royal Castle Quarter and Andrassy Avenue has been deemed a UNESCO World Heritage Site! It's also a paradise for foodies. In fact, other than Hungarian cuisine, you're sure to find a lot of Indian restaurants in Budapest.
Places to visit: Buda Castle or Royal Palace, Great Synagogue, Basilica of St. Stephen, Parliament, Memento Park, Hungarian State Opera House, House of Terror
Famous for: Cruise over Danube River, Hungarian cuisine, Performances at Budapest Opera House
Tip: Do not change money in the streets. It's against the law and there are chances you can be cheated.
---
Europe Holiday Packages On TravelTriangle
Explore the most beautiful places to visit in Europe, from Paris to the Venice canals and from the Greek islands to the Swiss Alps. Book customized packages by expert agents on TravelTriangle. Inclusive of airport transfers, cab, resort, sightseeing, and meals. Best holiday experience Guaranteed. Book Now
---
2. Szentendre – An artistic getaway in a quaint town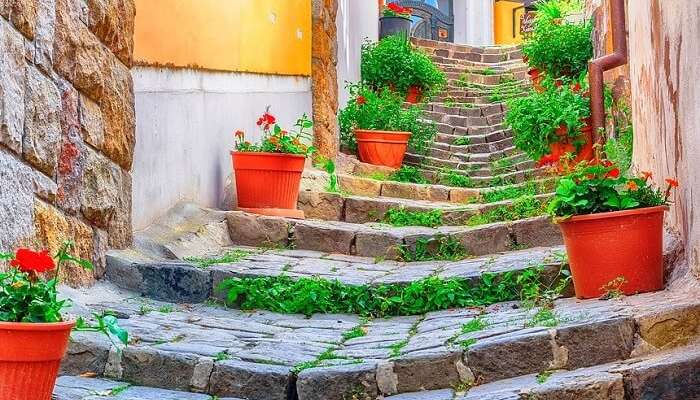 Szentendre or St. Andrews is a mere 20 KM away from the city of Budapest is one of the best places to visit near Budapest Hungary. The picturesque town is every tourist's favourite and looks absolutely magical with cobbled streets lined with colorful Baroque houses. Lot of galleries, museums, and stores keep visitors occupied.
Places to visit: Art Mill, Belgrade Cathedral, Hungarian Open Air Museum, Ferenczy Karoly Museum, Blagoveschensk Church
Famous for: Museums, Artists colony with galleries & cafe
Tip: If you're short on time, take a boat ride to Szentendre in the afternoon since it takes twice as long to travel upstream to the town in the morning.
Suggested Read: Top 10 Hotels In Hungary To Suit Every Mood & Persona
3. Eger – A town with a bloody history and blood-red wine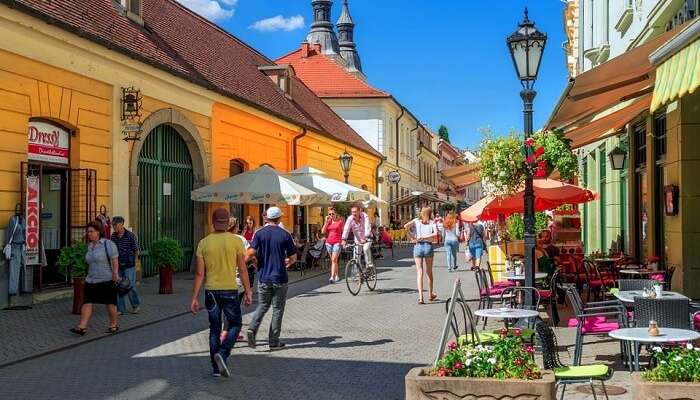 Located on the Eger River, Eger is one of the top places to visit in Hungary. Visitors witness the remnants of the Turkish invasion which influenced the architecture of the town. A short distance away is the Valley of Beautiful Women which produces Hungary's best red wine known as 'Bikaver' or Bull's Blood.
Places to visit: Eger Castle, Cathedral Basilica of St. John the Apostle, Magic Tower, Lyceum, County Hall, Kossuth Lajos Utca
Famous for: Vineyards of Eger, Baroque and neo-classicist architecture of the city
Tip: Don't forget to stop by at the churches for the most stunning sights.
4. Esztergom – A peek into the history of Hungary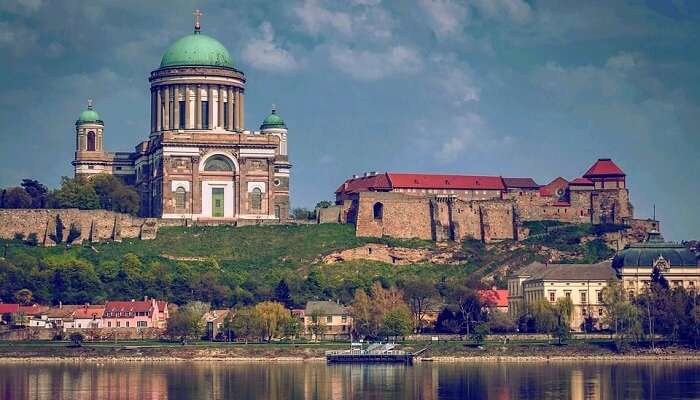 Esztergom is among the best places to visit in Hungary to see the influence of Christianity on the country. It has the largest church of Hungary – the Esztergom Basilica, and its museum has the largest collection of Christian relics. The city was also the capital of Hungary between the 10th and 13th centuries.
Places to visit: Esztergom Basilica, Christian Museum, Castle Museum, Danube Museum
Famous for: Interiors of the Esztergom Basilica, Museum with Christian relics
Tip: The Esztergom Cathedral is closed in the winters, so plan your trip accordingly.
Suggested Read: Hungary Nightlife: 10 Places Where You Can Twist & Twirl All Night Long
5. Debrecen – An expedition to the great grasslands of Hungary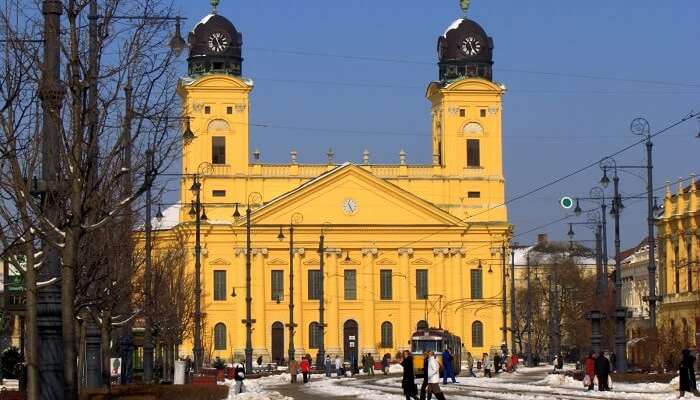 Debrecen is among the popular places to visit in Hungary and is also the second largest city after Budapest. While it has a unique history of its own, it is more popular for being the gateway to the great plains of Hungary and especially as the base for a visit to the Hortobagy National Park.
Places to visit: Calvinist College, Great Church, Deri Museum, Timar Haz, Centre of Modern & Contemporary Art
Famous for: Day trip to Horotbagyi National Park, Flower Carnival in August, Lake Fancsika
Tip: Stop by at the local food joints for an authentic lunch of thick beef soup and pasta.
6. Tihany – A historical village with picturesque views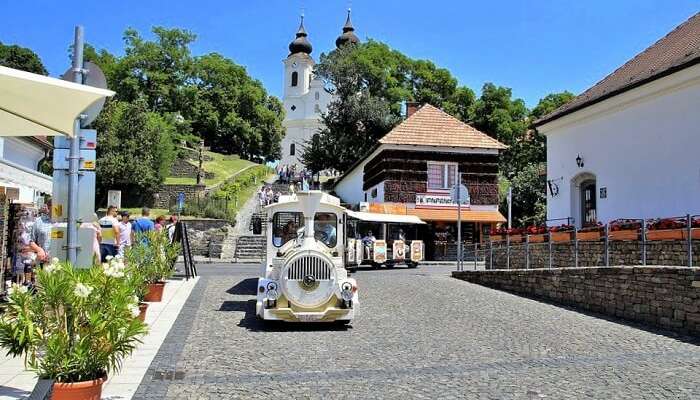 Tihany is a tiny village located in the Lake Balaton region with a rich history. One of the top places to visit in Hungary outside Budapest, Tihany is known for its Abbey where the first records of Hungarian language are found! The functioning church is thronged by visitors throughout the year.
Places to visit: Benedictine Abbey Church, Lavender House, Visszhang-hegy, Open-air Folk Museum, Benedictine Abbey Museum
Famous for: Lavender Garden, Bird watching at Inner Lake & Outer Lake, Loczy Nature Trail
Tip: Visit the church in the evening hours to escape the throngs of the crowd.
Suggested Read: 15 Places To Visit In Budapest Which Makes This City An Architectural Gem
7. Lake Balaton – A sojourn into nature with lakes and forests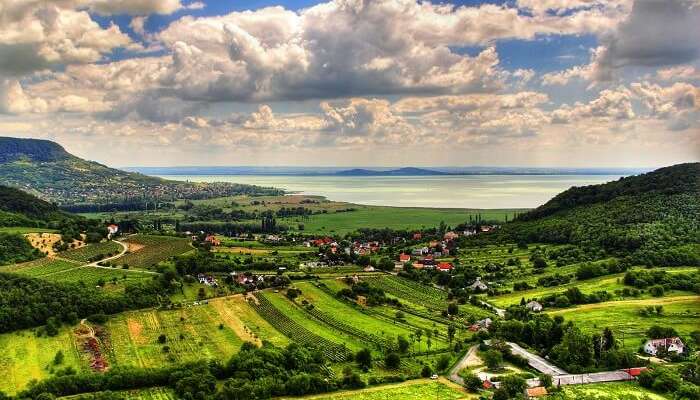 The Lake Balaton is undoubtedly one of the best places to visit in Hungary. The lake also dubbed as the Hungarian Sea has a long shoreline of 197 KM which is in fact circuited by a cycle path which visitors can cycle on! The lake is surrounded by resort towns and has beautiful forests especially in the Balaton Uplands National Park.
Places to visit: Herend Porcelain Factory, Festetics Palace
Famous for: Szigliget Fortress, Heviz Spa, Balaton Sound Festival
Tip: Getting to Lake Balaton by public transport is affordable and reliable, but make sure you consult the official timetables of buses and trains before you start planning your day.
8. Aggtelek – A walk through mysterious caves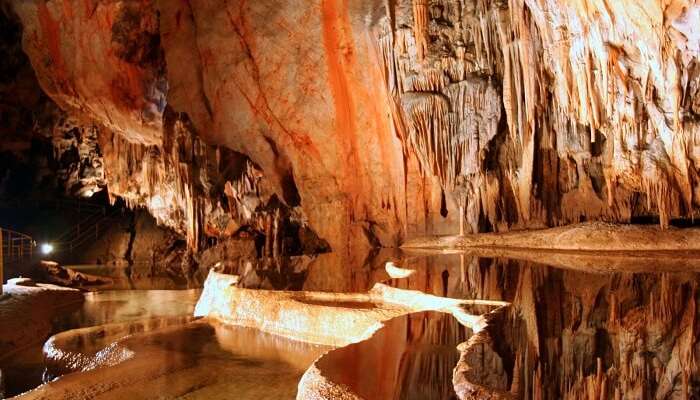 Aggtelek is a village that is the gateway to the popular UNESCO World Heritage Site of Aggtelek and Slovak Karst. One of the most interesting places to visit in Hungary, Aggtelek's Baradle Cave has the most stunning stalactite formations. Especially the cavern 'Giant's Hall' is spectacular and a treat for nature lovers.
Places to visit: Aggtelek Cave System
Famous for: Baradla Cave, Rakoczi Barlang Cave
Tip: Arrive early to escape the crowd.
Suggested Read: 10 Best Places For Shopping In Budapest And What To Pick There
9. Lillafured – A hike up to the mountains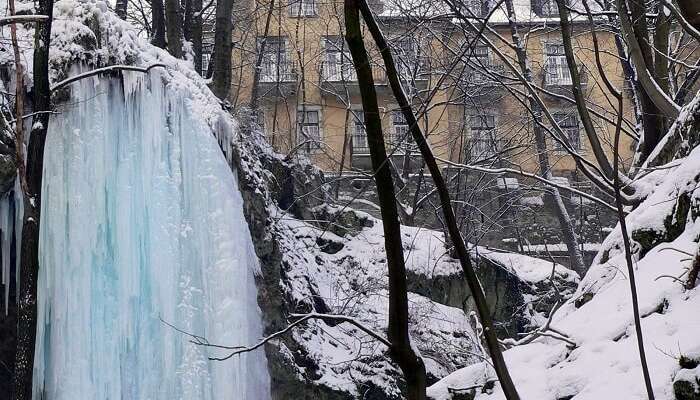 The Bukk Mountains are one of the most beautiful places to visit in Hungary. Lillafured is the perfect place as a base to visit the Bukk National Park. The park has more than 1,000 caves, beautiful freshwater lakes, and thick woods ideal for hiking. The Lillafured waterfall is also the highest waterfall in Hungary.
Places to visit: Bukk National Park, Lillafured Waterfall, Lake Hamori, Anna Cave
Famous for: Trekking in Bukk National Park, Miskolc Zoo
Tip: Cave bathing is the most popular thing to do among tourists.
10. Sopron – Wander in an ancient city with a colourful history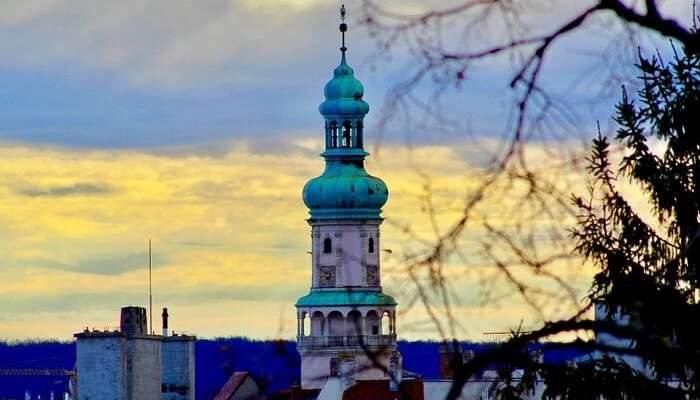 Sopron has witnessed history through the ages and one of the most historic places to visit in Hungary Europe. It settled by the Celts, Romans, Germans, Avars, Slavs, and Magyars, each of whom left their imprint on the culture and architecture of the city. While the city has expanded, its inner town, Belvaros, is still charming and a delight to wander.
Places to visit: Lake Neusiedl, Storno House, Firewatch Tower, Old Synagogue, Harrer Chocolate Factory
Famous for: Fertő-Hanság National Park with Lake Ferto, Fire Tower with 200 steps
Tip: Take a stroll on Sopron's cobbled streets.
Suggested Read: 15 Intoxicating Things To Do In Budapest For Every Kind Of Traveler & Budget
11. Tapolca – A picturesque resort town with caves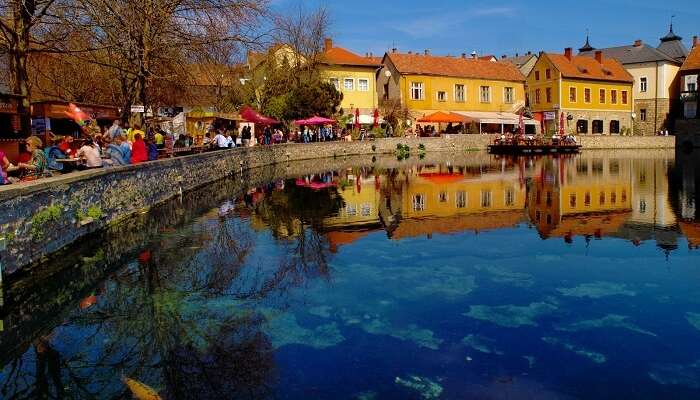 Not many towns or cities have a vast underground cave but Tapolca does! It is the beautiful underground 'Lake Cave' that features Tapolca among the famous places to visit in Hungary. Located right in the middle of the town, the lake cave is open to the public and is also famous for its medicinal properties.
Places to visit: Lake Malom-to, Szent Gyorgy Hill, Lake Cave
Famous for: Little Princess Statue, Kotenger
Tip: Do not visit the caves alone. In fact, you'll find that all guides pertaining to Europe travel tips discourage travelers from engaging in this practice!
12. Tokaj – Stroll through dreamy vineyards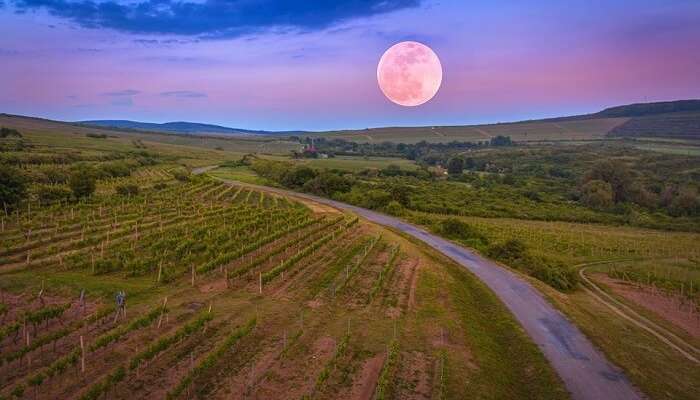 Tokaj is at the center of the wine country and among the best places to visit in Hungary to sample the best wines. The tiny town is filled with pretty houses and offers excellent views of the Zemplen Hills. Perfect for wine connoisseurs, Tokaj has been producing sweet wines since the 15th century!
Places to visit: Tokaj Museum, Wine Tasting Tours, Vineyards
Famous for: UNESCO World Heritage Tokaj Wine Region, Sarospatak Castle
Tip: There's no dress code for wine tastings, but we suggest you give the white outfit a miss.
Suggested Read: 10 Extraordinary Things To Do During Your Summer Holidays In Europe
13. Pecs – For heritage by day and entertainment by night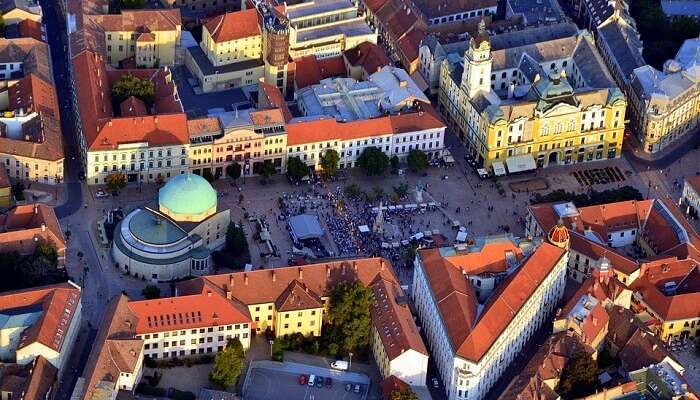 Pecs is one of the most popular places to visit in Hungary, next only to Budapest. With a pleasant climate through the year, it is thronged by visitors who come to see the ancient architectural landmarks. Drawing many young backpackers and travelers, the city offers an exciting nightlife.
Places to visit: Zsolnay Cultural Centre, Mosque Church, Csontvary Museum, Modern Hungarian Gallery, Zsolnay Porcelain Museum
Famous for: Trekking at Mecsek, Mosque of Pasha Qasim, St. Peter and Paul Cathedral
Tip: Photography is allowed at Mosque of Pasha Qasim but you should refrain from taking pictures of worshippers during prayer time.
14. Holloko – Relive history at the UNESCO World Heritage Site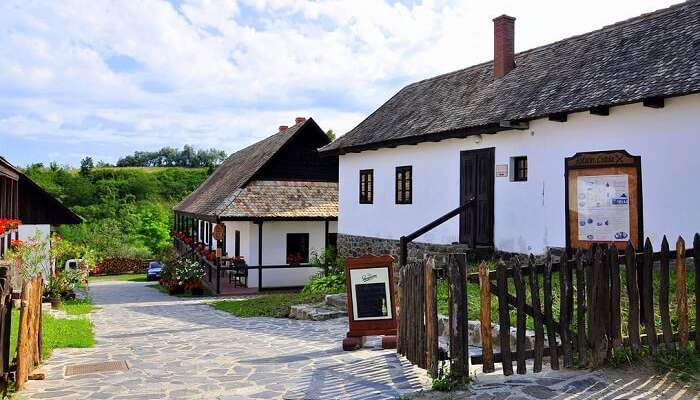 Often featuring among the top 10 best places to visit in Hungary, Holloko is a living piece of history. The tiny village has just two streets but is deemed as a UNESCO World Heritage Site thanks to its unique architecture. The houses are built in a technique known as 'wattle and daub' that uses sticks and clay or mud.
Places to visit: Holloko Castle, Church of St. Martin, Village Museum, Guzsalyas, Paloc Doll Museum, Postal Museum
Famous for: Paloc Babamuzeum, Hollokoi Falumuzeum
Tip: You are likely to find greeters at the Church of St. Martin, so be prepared to shake hands with someone when you enter.
Suggested Read: 10 Best Hotels In Budapest For A Delightful Hungarian Holiday
15. Visegrad – Of Renaissance monuments and skiing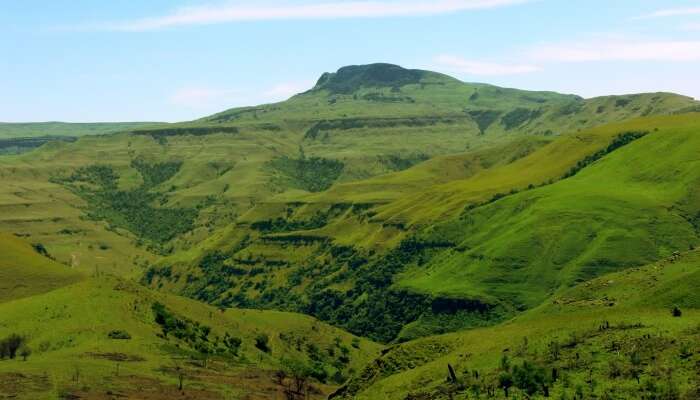 Visegrad is a quaint castle town situated in Pest County, Hungary. It is in the north of Budapest, on the bank of the Danube in the Danube Bend. Roughly 1,864 people live in this remote town. The destination is known for the remains of the Early Renaissance summer palace of the late King Matthias Corvinus and the ancient citadel.
Tip: The best way to really enjoy Visegrad is to take a hike.
16. Hortobagy – Must-visit for amazing sunsets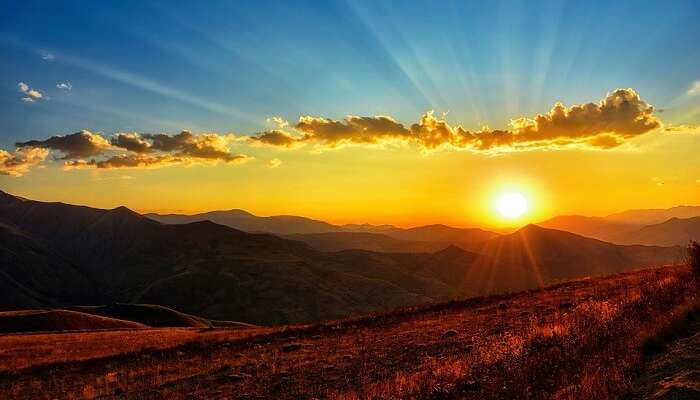 Image Source
Hortobagy is the plainest plain anywhere in Europe! This site is known all over the world for its iconic sunsets, unique flora and fauna, and an amazing display of horsemanship by the Hungarian cowboys.
Places to visit: Nine Holed Bridge
Famous for: Bridge Fair, National Herdsmen Competition
Tip: Be careful not to disturb the fauna.
17. Siofok – Move over nightclubs, day clubs are here to stay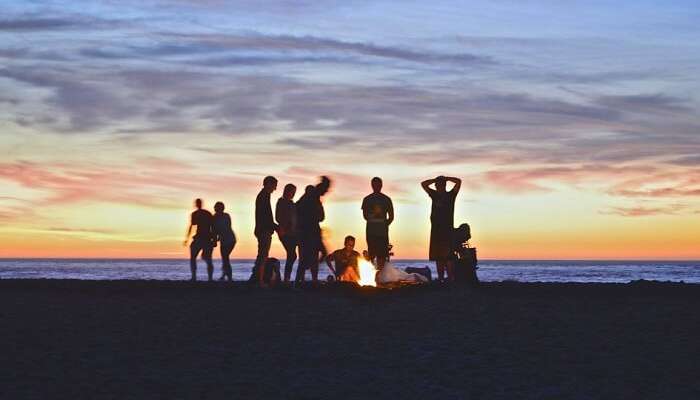 Image Source
Siofok is a charming quaint town on the south coast of Lake Balaton. One of the most popular holiday resorts in Hungary, it hosts around 200,000 travelers in the summer season.
Places to visit: The Villa Jokai, Museum of Egg, Water Tower
Famous for: Coke Club, Galerius Thermal Spa and Wellness Centre
Tip: Visit Balaton Sound, the country's biggest EDM festival, which is held a few kilometers away in Zamárdi village.
Further Read: Planning A European Holiday? Here's How You Can Get Paid To Travel Across Europe!
So, this was our list of the top places to visit in Hungary that you must tick off your list on your next Europe tour. Know any more? Pop them in the comments below, before you book your Hungarian tour with TravelTriangle for an exciting vacation with friends and family!
Frequently Asked Questions About Places To Visit In Hungary
Q. What is Budapest most known for?
A. Budapest is known for a great many things. Some of these include the Parliament Building, the Gellért Baths, Heroes' Square, Margaret Island, Danube Promenade, House of Terror, St. Stephen's Basilica, and the Hungarian State Opera House.
Q. What is there to do in Hungary in the winter?
A. There are plenty of things to do in Hungary in winter to explore this wonderland when it's covered in snow. You can explore the Christmas markets since it's the festive season, you can go ice skating at the City Park Ice Rink, watch the Basilica Light Show, rejuvenate yourself in the thermal baths and spa, and visit the many Ruin Bars. You can also watch an opera performance at the Hungarian State Opera House, ride the Christmas light tram, and cruise over River Danube. You can also visit the various theme parks in Hungary while you're here.
Q. How many days do you need in Budapest?
A. You need 2-3 days in Budapest. Ideally, just 2 days are enough to see the whole city of Budapest and all its major attractions. But if you wish to spend some leisure time and relax as well, you should stay here for a day longer!
Q. Do people speak English in Budapest?
A. Yes, English is widely spoken all across Budapest in restaurants, hotels, metro stations. You'll even be able to get English audio guides for various tours and tourist attractions in Budapest.
Q. Is Budapest easy to walk around?
A. Yes, Budapest is really easy to explore on foot. It's quite small a city where one attraction is just a walking distance away from another one. In addition, there are plenty of good hotels and restaurants located in close vicinity to these attractions. If you do not wish to walk, you can choose to travel via Budapest's reliable subway metro service that is well-connected to all the major places in the city.
Q. Is Hungary expensive?
A. Getting around in Hungary can be termed as a little expensive because the metro and bus tickets are priced slightly higher than what you'll find in other European countries. However, you'll find that accommodation and food are moderately priced in Hungary. You'll be able to find several affordable hotels and restaurants in Hungary.
Q. How safe is Budapest?
A. Budapest is actually safer for tourists than most big cities in Europe. It does, however, have certain common tourist traps that you should be aware of beforehand. For instance, don't agree to exchange currency to just anyone on the street just because they offered to do it for you. Always exchange it at a certified currency exchange outlet, preferably Western Union. At any outlet other than Western Union, make sure you check and confirm the commission rate before you sign any reciept and hand in your money. Also, always keep an eye on your belongings no matter where you are in the world.
Q. What is the best time of year to go to Budapest?
A. The most ideal time to visit Budapest is from March to May and then from September to November. The weather during these months is pleasant and suitable for exploring this city. Also, Budapest is relatively less crowded in these months.
Q. Can you drink the tap water in Budapest?
A. Yes, you can drink tap water in Budapest without a worry. The tp water in most restaurants and hotels in Budapest is safe to drink.
---
Looking To Book An International Holiday?
Book memorable holidays on TravelTriangle with 650+ verified travel agents for 65+ domestic and international destinations.
---
Comments
comments