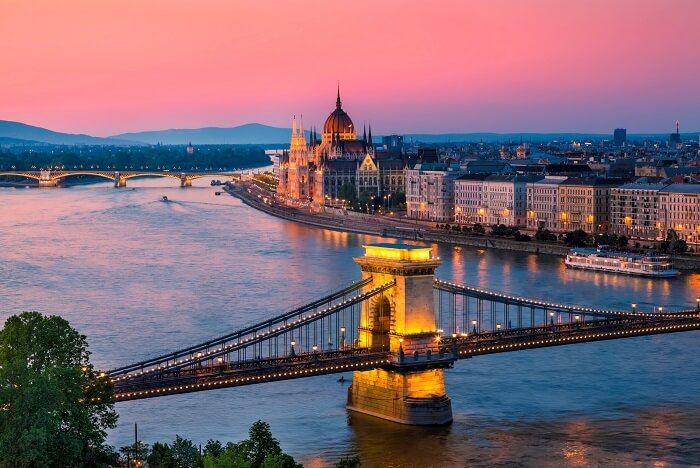 Statuesque castles', stunning lakes, extraordinary caves, thick forests, and magnificent churches, Hungary is more than just its glittering capital 'Budapest'. The myriad places to visit in Hungary are fast turning one of the most popular countries in Eastern Europe into a hot and happening tourist destination. The country has been heavily influenced by its conquerors, which is evident in its interesting architecture and culture.
The Diverse Places To Visit In Hungary
Here's where you can explore its secrets and treasures:
1. Budapest – The shining capital of Hungary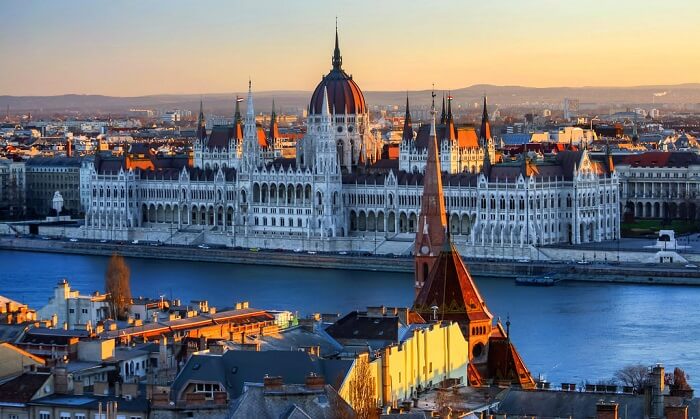 Budapest is one of the must-visit places to visit in Hungary to understand the country's history and progress in the modern times. Historic & ancient buildings stand regally alongside the modern architectural wonders. No wonder, the length of Banks of the Danube River, Royal Castle Quarter and Andrassy Avenue has been deemed a UNESCO World Heritage Site!
Places to visit: Buda Castle or Royal Palace, Great Synagogue, Basilica of St. Stephen, Parliament, Memento Park, Hungarian State Opera House, House of Terror
Famous for: Cruise over Danube River, Hungarian cuisine, Performances at Budapest Opera House
---
Europe Holiday Packages On TravelTriangle
Explore the most beautiful places to visit in Europe, from Paris to the Venice canals and from the Greek islands to the Swiss Alps. Book customized packages by expert agents on TravelTriangle. Inclusive of airport transfers, cab, resort, sightseeing, and meals. Best holiday experience Guaranteed. Book Now
---
2. Szentendre – An artistic getaway in a quaint town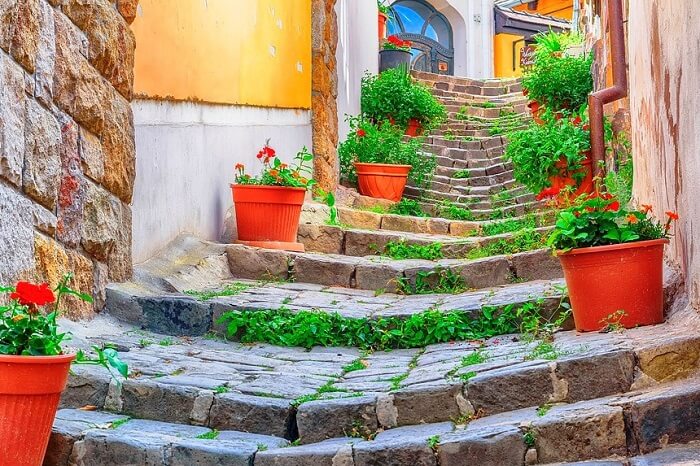 Suggested Read: Top 10 Hotels In Hungary To Suit Every Mood & Persona
Szentendre or St. Andrews is a mere 20 KM away from the city of Budapest is one of the best places to visit near Budapest Hungary. The picturesque town is every tourist's favourite and looks absolutely magical with cobbled streets lined with colorful Baroque houses. Lot of galleries, museums, and stores keep visitors occupied.
Places to visit: Art Mill, Belgrade Cathedral, Hungarian Open Air Museum, Ferenczy Karoly Museum, Blagoveschensk Church
Famous for: Museums, Artists colony with galleries & cafe
3. Eger – A town with a bloody history and blood-red wine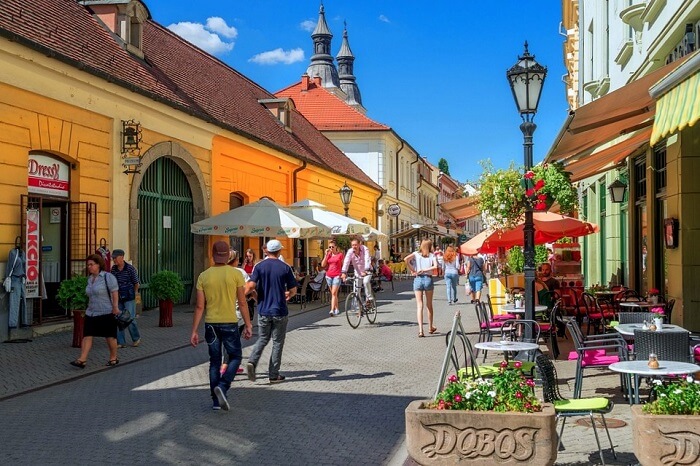 Located on the Eger River, Eger is one of the top places to visit in Hungary. Visitors witness the remnants of the Turkish invasion which influenced the architecture of the town. A short distance away is the Valley of Beautiful Women which produces Hungary's best red wine known as 'Bikaver' or Bull's Blood.
Places to visit: Eger Castle, Cathedral Basilica of St. John the Apostle, Magic Tower, Lyceum, County Hall, Kossuth Lajos Utca
Famous for: Vineyards of Eger, Baroque and neo-classicist architecture of the city
4. Esztergom – A peek into the history of Hungary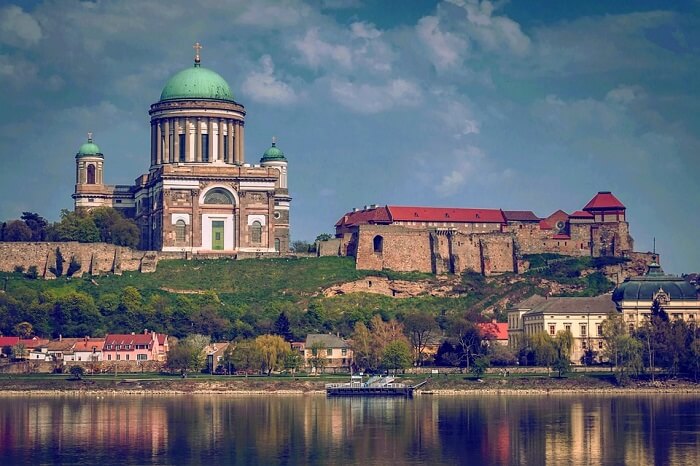 Suggested Read: Hungary Nightlife: 10 Places Where You Can Twist & Twirl All Night Long
Esztergom is among the best places to visit in Hungary to see the influence of Christianity on the country. It has the largest church of Hungary – the Esztergom Basilica, and its museum has the largest collection of Christian relics. The city was also the capital of Hungary between the 10th and 13th centuries.
Places to visit: Esztergom Basilica, Christian Museum, Castle Museum, Danube Museum
Famous for: Interiors of the Esztergom Basilica, Museum with Christian relics
5. Debrecen – An expedition to the great grasslands of Hungary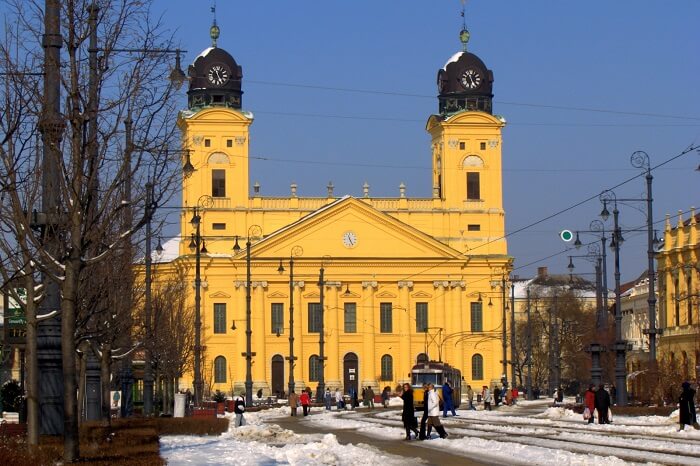 Debrecen is among the popular places to visit in Hungary and is also the second largest city after Budapest. While it has a unique history of its own, it is more popular for being the gateway to the great plains of Hungary and especially as the base for a visit to the Hortobagy National Park.
Places to visit: Calvinist College, Great Church, Deri Museum, Timar Haz, Centre of Modern & Contemporary Art
Famous for: Day trip to Horotbagyi National Park, Flower Carnival in August, Lake Fancsika
6. Tihany – A historical village with picturesque views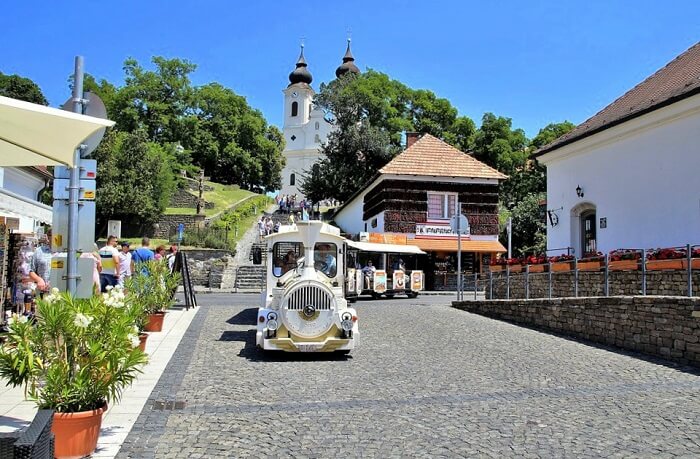 Suggested Read: 15 Places To Visit In Budapest Which Makes This City An Architectural Gem
Tihany is a tiny village located in the Lake Balaton region with a rich history. One of the top places to visit in Hungary outside Budapest, Tihany is known for its Abbey where the first records of Hungarian language are found! The functioning church is thronged by visitors throughout the year.
Places to visit: Benedictine Abbey Church, Lavender House, Visszhang-hegy, Open-air Folk Museum, Benedictine Abbey Museum
Famous for: Lavender Garden, Bird watching at Inner Lake & Outer Lake, Loczy Nature Trail
7. Lake Balaton – A sojourn into nature with lakes and forests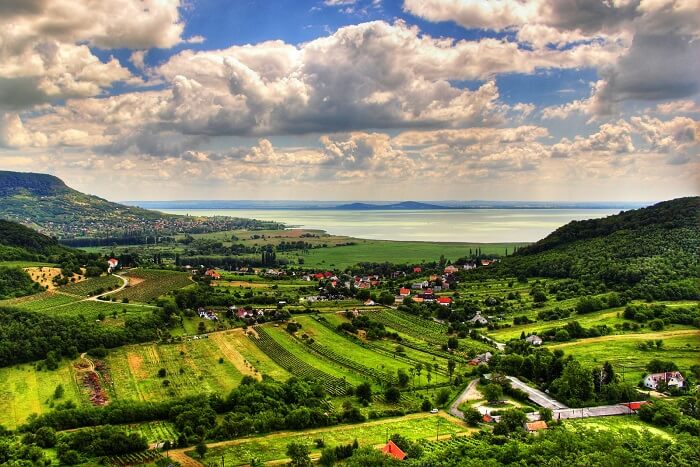 The Lake Balaton is undoubtedly one of the best places to visit in Hungary. The lake also dubbed as the Hungarian Sea has a long shoreline of 197 KM which is in fact circuited by a cycle path which visitors can cycle on! The lake is surrounded by resort towns and has beautiful forests especially in the Balaton Uplands National Park.
Places to visit: Herend Porcelain Factory, Festetics Palace
Famous for: Szigliget Fortress, Heviz Spa, Balaton Sound Festival
8. Aggtelek – A walk through mysterious caves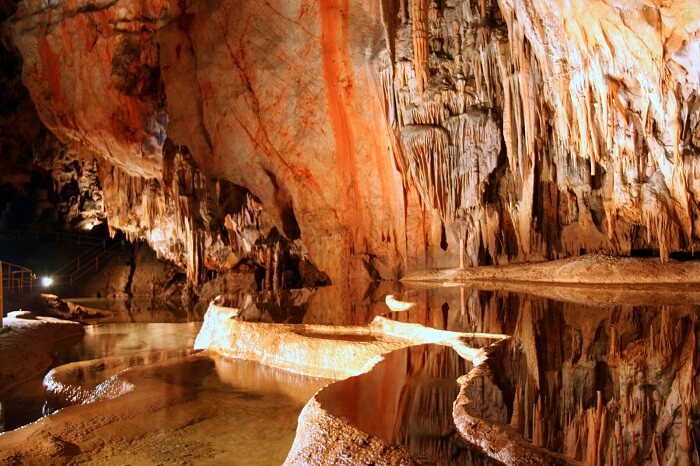 Suggested Read: 10 Best Places For Shopping In Budapest And What To Pick There
Aggtelek is a village that is the gateway to the popular UNESCO World Heritage Site of Aggtelek and Slovak Karst. One of the most interesting places to visit in Hungary, Aggtelek's Baradle Cave has the most stunning stalactite formations. Especially the cavern 'Giant's Hall' is spectacular and a treat for nature lovers.
Places to visit: Aggtelek Cave System
Famous for: Baradla Cave, Rakoczi Barlang Cave
9. Lillafured – A hike up to the mountains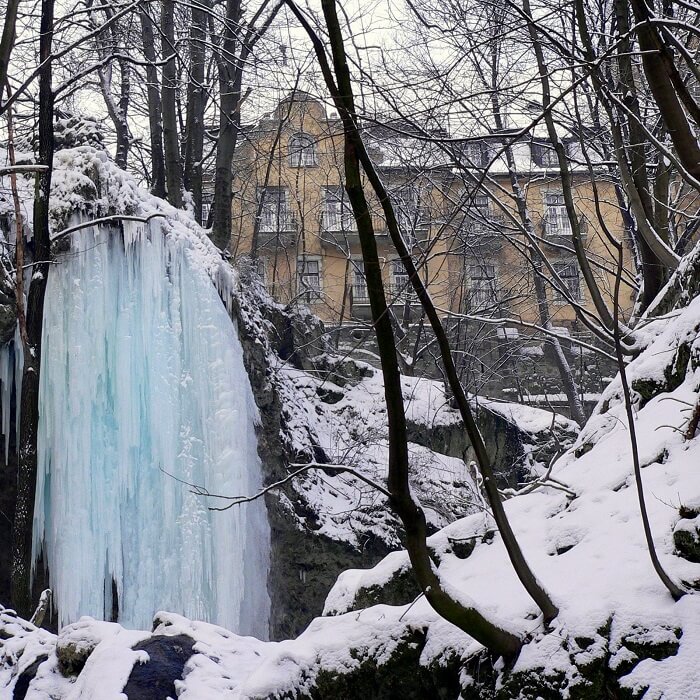 The Bukk Mountains are one of the most beautiful places to visit in Hungary. Lillafured is the perfect place as a base to visit the Bukk National Park. The park has more than 1,000 caves, beautiful freshwater lakes, and thick woods ideal for hiking. The Lillafured waterfall is also the highest waterfall in Hungary.
Places to visit: Bukk National Park, Lillafured Waterfall, Lake Hamori, Anna Cave
Famous for: Trekking in Bukk National Park, Miskolc Zoo
10. Sopron – Wander in an ancient city with a colourful history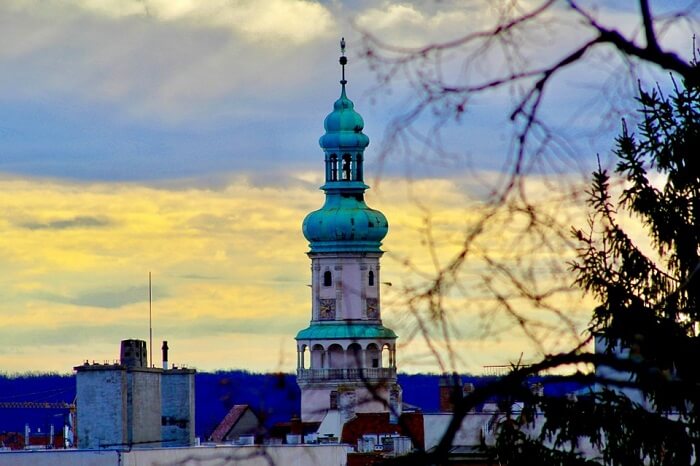 Suggested Read: 15 Intoxicating Things To Do In Budapest For Every Kind Of Traveler & Budget
Sopron has witnessed history through the ages and one of the most historic places to visit in Hungary Europe. It settled by the Celts, Romans, Germans, Avars, Slavs, and Magyars, each of whom left their imprint on the culture and architecture of the city. While the city has expanded, its inner town, Belvaros, is still charming and a delight to wander.
Places to visit: Lake Neusiedl, Storno House, Firewatch Tower, Old Synagogue, Harrer Chocolate Factory
Famous for: Fertő-Hanság National Park with Lake Ferto, Fire Tower with 200 steps
11. Tapolca – A picturesque resort town with caves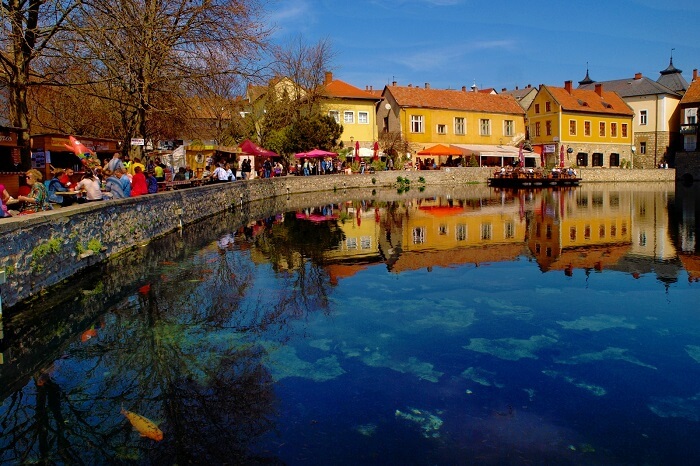 Not many towns or cities have a vast underground cave but Tapolca does! It is the beautiful underground 'Lake Cave' that features Tapolca among the famous places to visit in Hungary. Located right in the middle of the town, the lake cave is open to the public and is also famous for its medicinal properties.
Places to visit: Lake Malom-to, Szent Gyorgy Hill, Lake Cave
Famous for: Little Princess Statue, Kotenger
12. Tokaj – Stroll through dreamy vineyards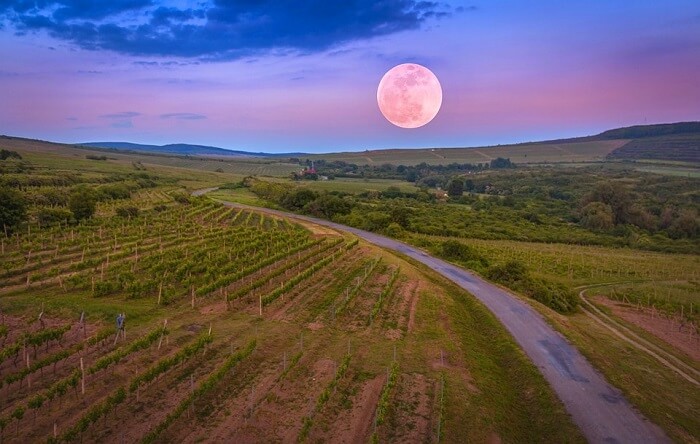 Suggested Read: 10 Extraordinary Things To Do During Your Summer Holidays In Europe
Tokaj is at the center of the wine country and among the best places to visit in Hungary to sample the best wines. The tiny town is filled with pretty houses and offers excellent views of the Zemplen Hills. Perfect for wine connoisseurs, Tokaj has been producing sweet wines since the 15th century!
Places to visit: Tokaj Museum, Wine Tasting Tours, Vineyards
Famous for: UNESCO World Heritage Tokaj Wine Region, Sarospatak Castle
13. Pecs – For heritage by day and entertainment by night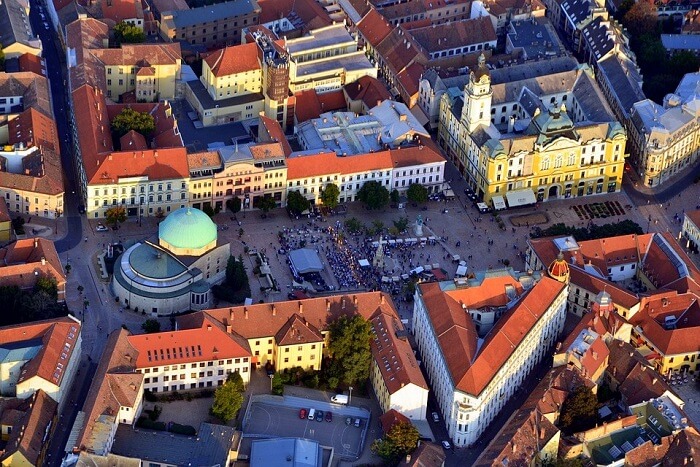 Pecs is one of the most popular places to visit in Hungary, next only to Budapest. With a pleasant climate through the year, it is thronged by visitors who come to see the ancient architectural landmarks. Drawing many young backpackers and travelers, the city offers an exciting nightlife.
Places to visit: Zsolnay Cultural Centre, Mosque Church, Csontvary Museum, Modern Hungarian Gallery, Zsolnay Porcelain Museum
Famous for: Trekking at Mecsek, Mosque of Pasha Qasim, St. Peter and Paul Cathedral
14. Holloko – Relive history at the UNESCO World Heritage Site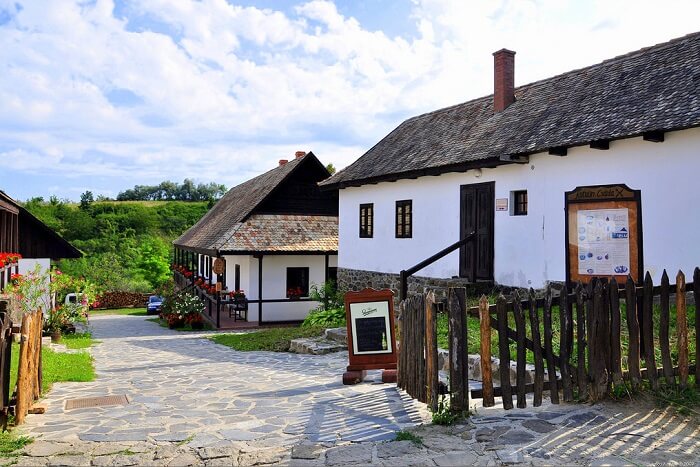 Suggested Read: 10 Essential Europe Travel Tips For The Newbies!
Often featuring among the Top 10 best places to visit in Hungary, Holloko is a living piece of history. The tiny village has just two streets but is deemed as a UNESCO World Heritage Site thanks to its unique architecture. The houses are built in a technique known as 'wattle and daub' that uses sticks and clay or mud.
Places to visit: Holloko Castle, Church of St. Martin, Village Museum, Guzsalyas, Paloc Doll Museum, Postal Museum
Famous for: Paloc Babamuzeum , Hollokoi Falumuzeum
15. Visegrad – Of Renaissance monuments and skiing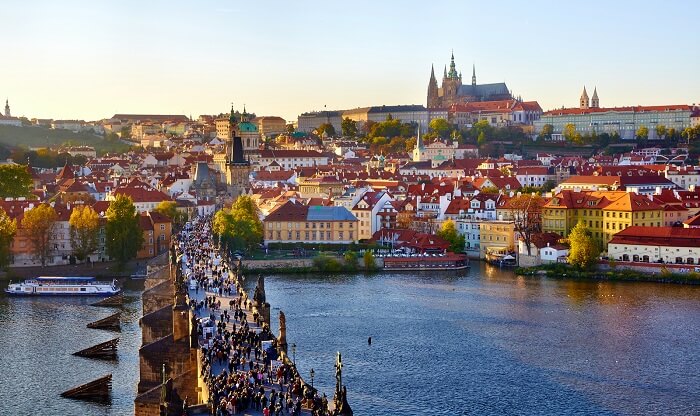 Visegrad is world-famous for the 'Bridge on Drina' which is a UNESCO Site and for the Andricgrad. But it is among the top places to visit in Hungary in December as it transforms into a winter resort. The mountains of Visegrad become perfect for skiing and other winter activities.
Places to visit: Visegrad-Mokra Gora Railway, Visegrad Castle, Duna-Ipoly National Park
Famous for: Royal Palace of Matthias Cornivus, Matyas Kiraly Museum
Further Read: Planning A European Holiday? Here's How You Can Get Paid To Travel Across Europe!
So, this was our list of the top places to visit in Hungary that you must tick off your list on your next Europe tour. Know any more? Pop them in the comments below, before you book your Hungarian tour with TravelTriangle for an exciting vacation with friends and family!
---
Looking To Book An International Holiday?
Book memorable holidays on TravelTriangle with 650+ verified travel agents for 65+ domestic and international destinations.
---
Comments
comments