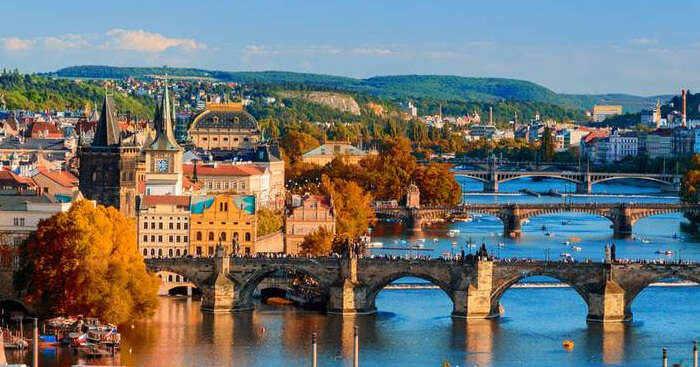 The vintage city of Budapest is a favorite European destination amongst many. Not only its amazing castles, churches and other monumental structures that attract travelers but its amazing location by River Danube make up for a great catalyst for alluring wanderers, in this capital city of Budapest. To top it up, the place is also adorned by some surreal and scenic places, that can be visited as thrilling and enchanting day excursions.
Take a glance at the best day trips from Budapest and choose which all you wish to explore.
Day Trips From Budapest To Explore The Nearby Towns
There are quite a few beautiful places around Budapest. One can either visit them and return to Budapest the same day or spend a couple of days in the destination as well. These places are immensely charming and make up for best day trips from Budapest.
1. Szentendre : A Closest Getaway
Known for museums, art galleries, and markets and restaurants; Szentendre is a buzzing cultural hub in Hungary. Located on the banks of River Danube, this quaint little town makes up for one of the idyllic day trips from Budapest, for those looking for a short yet engaging excursion. Once you are done with the city tour at Budapest and have few hours in hand, plan for Szentendre and make the most of your Hungarian vacation. The unique culture and heritage of this city is sure to give you a sweet respite from the buzzing city of Budapest.
Distance from Budapest: 22 kms
Time taken: 32 minutes
Places to see in Szentendre: Hungarian Open-Air Museum, Annunciation Church, Szamos Marcipan Museum and Margit Ceramic Museum
Must Read: Your 2022 Guide To Budapest: The Most Stunning City In Europe
2. Vac : An Offbeat Yet Beautiful Destination
Perfectly set at the foothills of Naszály Mountain, Vac is another riverside town of Hungary. The perfect weather, stunning view of meandering River Danube and the hills have made Vac- a perfect summer getaway and one of the most popular day tours from Budapest Hungary. With spectacular churches, buildings, cathedrals and buzzing public squares; Vac looks stunning and picture perfect. Owing to the fact that it is offbeat, this cultural hub will provide you the best experience of touring Hungary since you won't be bothered by those annoying crowds of tourists.
Distance from Budapest: 32 kms
Time taken: 28 minutes (by train)
Places to see in Vac: Church of the Whites, Assumption Cathedral, Naszaly, and Tragor Ignac Museum
Suggested Read: Gellert Spa: The Popular Thermal Spa In Budapest
3. Visegrad : To Rejuvenate Your Mind And Body
If you are thinking of engaging day tours from Budapest, do consider Visegrad. Adorned by renaissance buildings and castles; this picturesque hilly castle town sits by River Danube and makes up for a rejuvenating getaway. One can explore these monuments or just sit in any riverfront bar or cafes, relax and enjoy the stunning scenery. The Visegrad Castle should also figure on your itinerary when you take this day trip, since it is the most charming example of Hungary's heritage and architecture. Also, don't forget to try the famous spritz wine at any of the cafes inside the castle.
Distance from Budapest: 44.7 km
Time taken: 1 hr 9 mins
Places to see in Visegrad: Castle of Visegrad, Royal Palace of Matthias Corvinus and Matyas Kiraly Museum
4. Esztergom : A Vintage Town
Planning a short excursion from Budapest? One of the best day trips around Budapest, Esztergom sits perfectly on the Hungary Slovakia border. Its vintage castles, cathedrals, boulevards, public squares, and cobblestoned alleys enhance the charm quotient of the place. Adorned with the largest church in Hungary, Esztergom allures tourists round the year. It will surely make for one of the most delightful day trips from Budapest by train with family or friends.
Distance from Budapest: 47 km
Time taken: 1 hr 6 mins
Places to see in Esztergom: Esztergom Basilica, Dobogoko, Maria Valeria and Ram- szakadek
Suggested Read: 10 Best Hotels In Budapest For A Delightful Hungarian Holiday
5. Kecskemét : A Picturesque Vintage Town
Kecskemét is a picture-postcard like town, famous for its architectural marvels. Stunning castles and palaces leave everyone in awe while the enthralling zoo of Kecskemét makes it a perfect family holiday destination and one of the most sought-after day tours from Budapest. It is the best place to visit near Budapest for those who wish to explore the age-old architecture of Hungary that makes this country popular among history geeks and art lovers.
Distance from Budapest: 89.3 km
Time taken: 1 hr 19 mins
Places to see in Kecskemét: Cifra Palace, Kecskemét Vadaskert and Co-Cathedral of the Ascension of the Lord
6. Lake Balaton : Admire The Scenic And Surreal Beauty
An hour of a scenic train ride from Budapest will take you to Lake Balaton- a beautiful freshwater lake in the Transdanubian region of Hungary. Much famed as a wine-growing region, this place exudes natural beauty in every corner. Featuring sun-kissed beaches, volcanic hills and swanky resorts, Lake Balaton is the top priority of every traveler, planning day trips near Budapest. So, if one wants to move ahead beyond exploring streets, monuments, and castles, they can visit this natural beauty for a refreshing picnic.
Distance from Budapest: 135.3 km
Time taken: 1 hr 27 mins
Places to see around Lake Balaton: Balaton uplands, Tihany monastery, Tihany Felsziget, and Festetics Palace
Suggested Read: 15 Intoxicating Things To Do In Budapest For Every Kind Of Traveler & Budget
7. Miskolc : For A Fun-filled Short Vacay
One among the most popular day trips from Budapest, Miskolc presents a perfect weekend getaway. From forests, wildlife, hiking, to State Forest railway ride, the place has everything. You can spend some thrilling time in Miskolc Zoo and Cultural Park. Or, one can also choose to rejuvenate at any of the thermal spas known for their medicinal properties. A dip in this natural jacuzzi is sure to revitalize your senses and it makes this place worthy of a fun getaway from Budapest.
Distance from Budapest: 186 km
Time taken: 2 hours
Places to see in Miskolc: Bukk, Diosgyor Castle and Szinva
8. Bratislava : An Engaging Excursion
Located on the border of Austria and Hungary, Bratislava is a surreal destination, located by the banks of River Danube. This buzzing city is the capital of Slovakia and mostly frequented by those planning for day trips from Budapest to Slovakia. It is a scenic destination, adorned by lush green vineyards on one side and a beautiful vintage city on the other. Being the only city, bordering two sovereign states, day trips from Austria to Bratislava is as common as day trips from Budapest to Bratislava. If an engaging one-day trip from Budapest to Bratislava is in your mind; book a ride in tourist train and explore the entire city and its major attractions.
Distance from Budapest: 201 km
Time taken: 2 hrs 4 mins
Places to see in Bratislava: Devin Castle, Bratislava Castle, St. Martin's Cathedral and Old Town Hall
Suggested Read: 15 Places To Visit In Budapest Which Makes This City An Architectural Gem
9. Vienna : Reliving History And Heritage
There is no need to highlight Vienna. The enriching cultural history of this capital city of Austria is known to all. If you are in Budapest and planning to see surrounding places as well, surely include Vienna. Day trips from Budapest to Vienna take about 3 hours on the train and the beauty of the city and its rich history and heritage make the journey worth every bit. It sure makes up for one of the most fun and revitalizing day trips from Budapest to other countries.
Distance from Budapest: 243 km
Time taken: 2 hrs 30 mins
Places to see in Vienna: Hofburg, Belvedere, Schonbrunn Palace and St. Stephen's Cathedral
10. Prague : An Epitome Of Heavenly Beauty
If you can manage 6 hours train journey or an hour-long flight; keep Prague in your plan. It is a fantastic idea to enjoy a 2-day trip from Budapest to Prague, where you can admire the surreal beauty of this vintage city, located on the Vltava River. Featuring museums, clock tower, castles, galleries, cafes, and an amazing nightlife, Prague is the place to be if you wish to pamper your wanderlust soul. But one must make sure they have a flexible itinerary as the day trips from Budapest to Prague require a lot of travel time.
Distance from Budapest: 525 km
Time taken: 5 hrs 6 mins
Places to see in Prague: Prague Castle, Charles Bridge and Old Town
Further Read: 10 Indian Restaurants In Budapest If You Want A Desi Zaika
There are many interesting places for day trips from Budapest and we have listed the most popular names. In addition to these, you can also take the many day trips from Budapest to Romania to explore this other charming nation. Take a look and see how many you can explore, while finalising your customised Budapest holiday with Travel Triangle.
---
Looking To Book An International Holiday?
Book memorable holidays on TravelTriangle with 650+ verified travel agents for 65+ domestic and international destinations.
---
Comments
comments